Hotel Review: Quinta do Lago CC, Algarve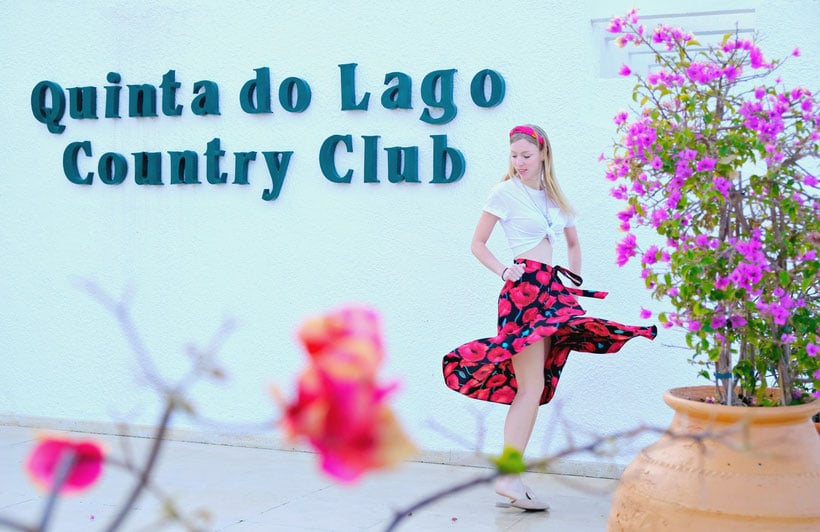 I'm just back from a short trip to sunny Algarve where I stayed at the lovely Quinta do Lago Country Club in the natural reserve of Ria Formosa. Traveling to Algarve during off-season does not only have a bunch of advantages, but staying at the Quinta do Lago will give to the necessary amount of rest and inner peace to confront Northern European winter at your return.
Indeed a little escape to the Algarivan sun during the cold February was especially appreciated. Whereas the Northern half of Europe is still covered in grey colors and cold temperatures, Algarve seems to be the place of eternal spring: birds are singing, the flowers are blossoming already in an infinity of colors and you'll already be able to wear some pieces of your summer wardrobe.
Algarve during the off-season is free from mass tourism and you'll enjoy almost empty beaches. Especially if you decide to stay in the area of Quinta do Lago Country Club near Faro, you'll enjoy large, sandy beaches, pristine marsh lands and absolute quietness.
The perfect evidence for this sensation of unwinding and proximity to nature is Quinta do Lago Country Club, located at the shore of the area's main lake.
Video of a Perfect Getaway in Quinta do Lago CC
---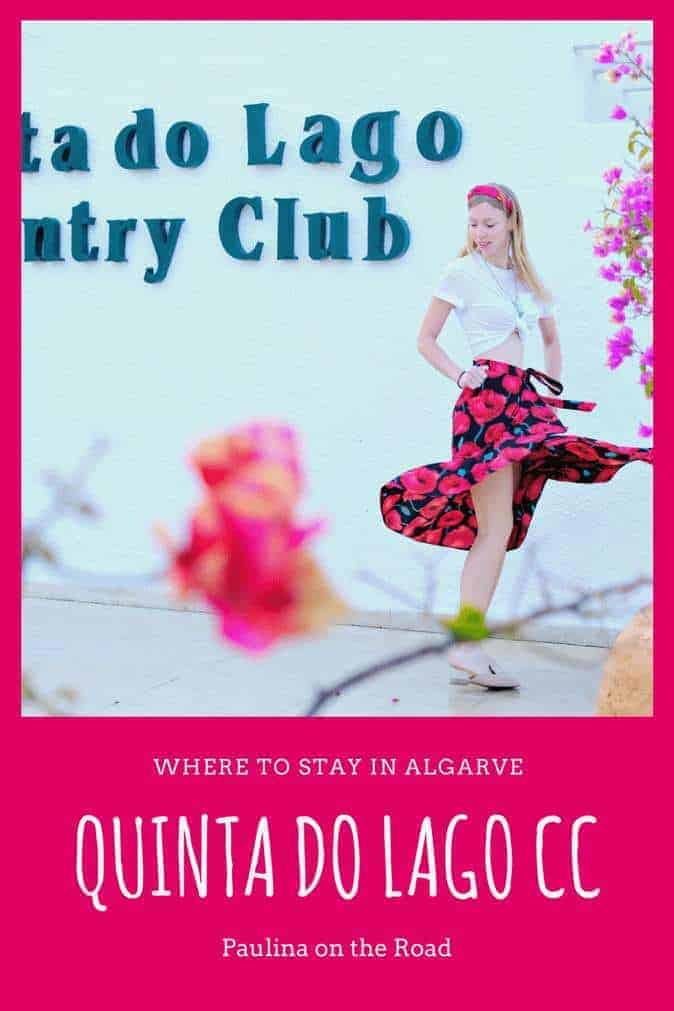 ---
Review of Quinta do Lago CC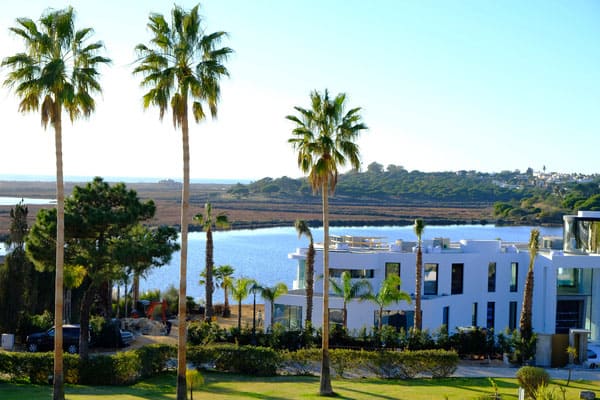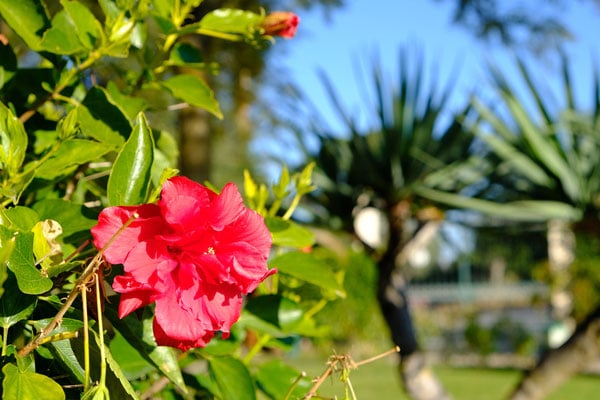 Getting There
I recommend to rent a car, as public transport is not very extended in Quinta do Lago area. On top, it will give you the necessary freedom to discover the surroundings and visit some of the most remote beaches. Compare here all the prices for major European car hire companies.
Quinta do Lago, a residential estate and golf resort, is located west of Faro Airport. A short 20-minutes drive will bring you to Quinta do Lago Country Club. Find here the best deal for your flight to Faro Airport.
You just need to take the main road N125-10 and take IC4 and N125 to Estrada do Ludo.
Driving Distance from Faro: 15km
Driving Distance from Albufeira: 37 km
Driving Distance from Lisbon: 270km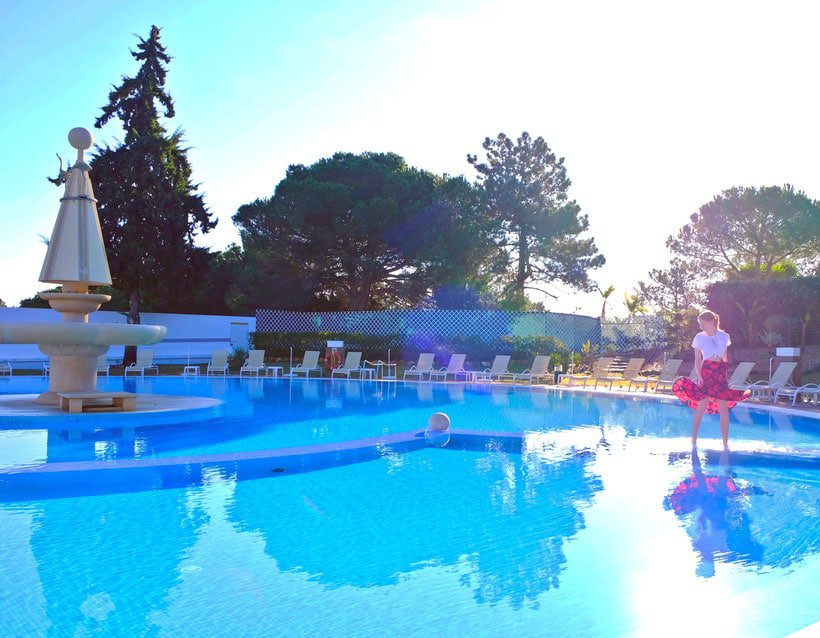 Location
Quinta do Lago, a golf resort and residential estate, It's is one of the three corners of the Algarve's Golden Triangle, comprising Vale do Lobo and Vale do Garrao. It's one of the most luxurious areas of Southern Portugal. It holds several properties, among them Quinta do Lago Country Club, one of the first resorts of the area.
Quinta do Lago Country Club is nestled along the natural reserve of Ria Formosa, an area of privacy and tranquility. Due to the warm Mediterranean climate, you'll be able to enjoy an active outdoor lifestyle all year around.
In the last years much has been invested in walking trails along the marshes. Indeed this was one of my favorite activities when staying in Quinta do Lago: walking along the swamps and spot all kind of birds.
The landscapes are shaped by wide, desert beaches, dunes, pines and several golf courses which figure among the most prestigious ones in Portugal.
The closest beach "Praia Quinta do Lago" is only a 10 minutes walk away from the Quinta do Lago Country Club.
The closest supermarket and shops can be found after a 10-minutes drive.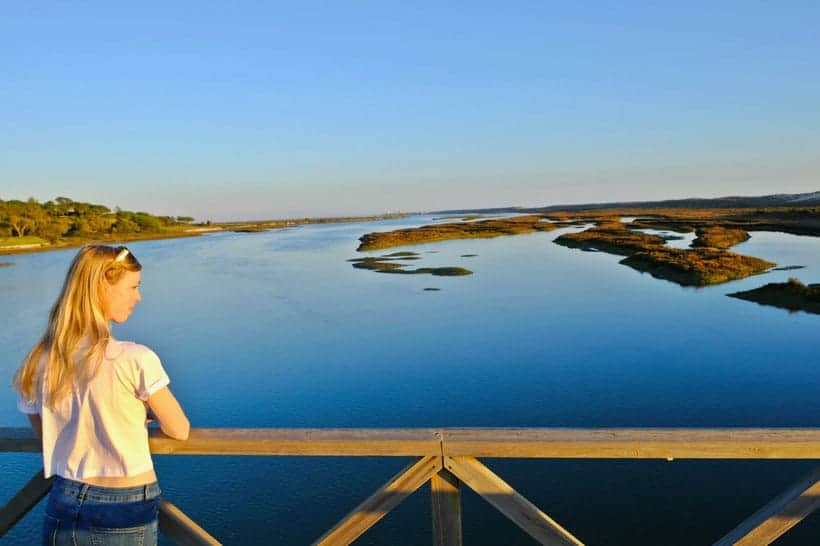 The Property
The property of Quinta do Lago Country Club is one of the first resorts of the Quinta do Lago real estate area. It was opened 30 years ago but since then it has always been renovated on the go. It hosts 36 fully equipped apartments.
Recently the areas of the reception, restaurant and corridors have been renewed. Also the apartments are expecting a full renewal, again. However you might not even slightly guess the age of the resort.
The interior is dominated by soft, pastel colors, luminous spaces with bright wood material. Most of you know that I have a soft spot for the combination of grey and turquoise colors. Well, Quinta do Lago Country Club got to the heart of this. The maritime colors intuit that the sea isn't very far and the paintings of the corridors give you an idea of the area's rich and variegated fauna.
The apartments come in soft, beige colors with sparks of turquoise, light blue and soft green. All emblematic colors of the resort's surroundings. Apartments differ by their size and view. They can have up to 3 bedrooms and a view over the lake or the garden. The balconies are super spacious and I could have spent all day long listing to the singing birds.
All of them are fully equipped with a kitchen, large living room, (interior and outdoor) dining area and super spacious bathrooms. Housekeepers make sure that you don't need to spend your holiday with cleaning all day long.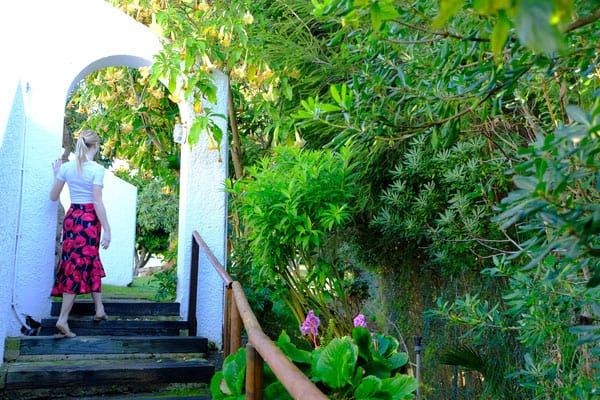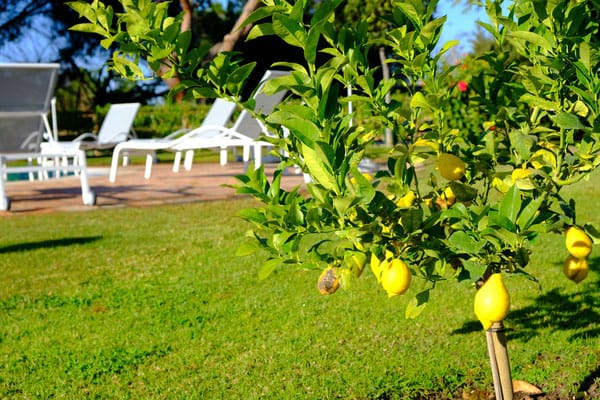 Facilities and Service
As previously mentioned, Quinta do Lago Country Club is rather comparable to an apartment-hotel. It's composed of 36 luxurious apartments but having a reception, restaurant and swimming pool area like any other hotel.
This being said, a stay in Quinta do Lago Country Club is optimal when you're considering to stay more than only 2 or 3 days. As the apartments are very homely, a longer stay will give you the necessary time to relax and explore the gorgeous natural surroundings.
Even though it should be a standard nowadays, I absolutely want to mention that Quinta do Lago CC has seamless fast working WiFi connections in the apartments and common areas.
Furthermore the property has a fitness center and is extremely well prepared for disabled guests. Quinta do Lago offers dry cleaning service and has a little business corner to print your documents and use their PC. In case you're traveling with toddlers, Quinta do Lago Country Club offers babysitting services as well.
One of my favorite corners is the library with magazines and books coming in several languages.
The property is surrounded by a large garden full of lush vegetation including bright colored flowers and exotic plants. It's just perfect to have morning walks in the sun. You'll have the choice between an indoor and outdoor pool. The snack bar at the outdoor pool opens in March and offers fresh snacks.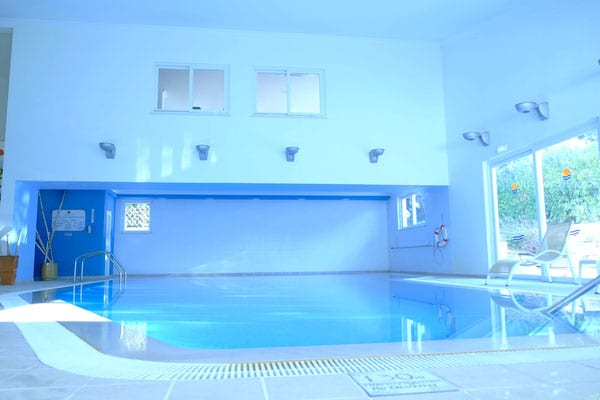 In case you're looking for the ultimate relaxation, the Wellness area of Quinta do Lago Country Club will be your favorite area. It includes massages, sauna and a jacuzzi.
One of the unique selling points of Quinta do Lago Country Club are the numerous outdoor activities it can arrange for the guests. You'll be spoilt for choice when it comes to golfing, birdwatching, horse riding and much more.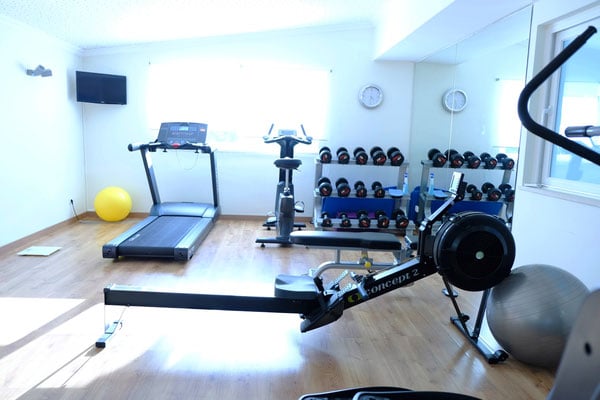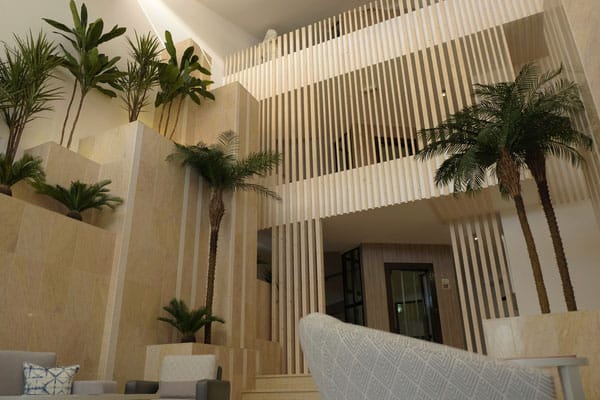 Food
Quinta do Lago Country Club has 2 food areas. The main one is the "Quinta Lounge" functioning as breakfast and lunch area. The second one is the snack bar located next to the outdoor pool serving fresh snacks as soon as the pool season begins.
Quinta Lounge CC offers a breakfast buffet with Portuguese specialties from 8.00-10.00 and is available at an extra cost of ~10€. During lunchtime, Quinta Lounge has healthy salads, pasta, hot meals and some regional specialties. I really appreciated their broad offer of fresh and light food. I guess this will be especially pleasant during the hot summer days. They also offer takeaway for their meals, in case you're not in the mood of cooking in your apartment.
Maria, the manager of Quinta Lounge, and her staff will take good care of you and are always open for a quick, friendly chat. I particularly like the interior design of the Quinta Lounge, which comes in the same marine, soft colors as the reception area. It gives the place such a clean but still homely feeling.
In case you'd like to dine out, there are several fine dining options in the surroundings of Quinta do Lago CC:
Casa da Quinta
Casa do Lago
Thai Bistro
Casa Florian
During the summer you'll enjoy the laid-back, but still very elegant atmosphere of beach bars such as
The Shack
2 Passos
Gigi's Beach Bar
Don't be surprised to see some famous people at these locations since Quinta do Lago area is home to many VIPs from TV, football or racing sector.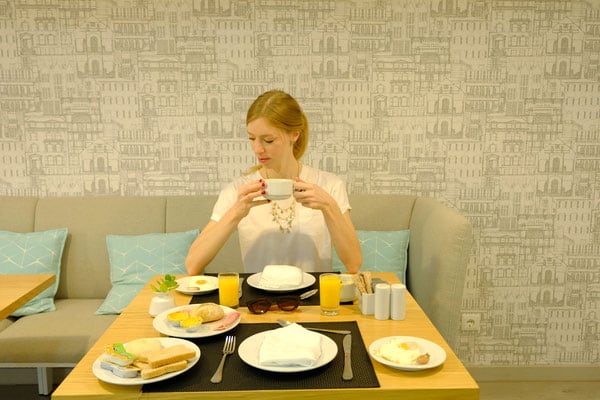 Eco-friendly Aspects
The most striking eco-friendly aspect of Quinta do Lago Country Club is its location amidst the natural reserve of Ria Formosa which is considered one of the most important bird sanctuaries in Southern Europe.
The area of Ria Formosa has also been elected as one of the 7 natural wonders of Portugal due to the gorgeous interaction between wind, tides, and currents.
Thus the area of Ria Formosa is perfect for sustainable activities such as hiking, birdwatching or cycling along the marshlands.
Quinta do Lago Country Club certainly has made several efforts to include environmental protection measures in the management of the resort. In this context, they attach great importance to recycling and using eco-friendly cleaning products. They also remind guests to hand out their towels to the cleaning service only if really necessary.
Whereas the restaurant's menu offers a large variety, I would have loved to discover more regional and local dishes made with local products. After all, the stomach travels as well and loves to get spoiled with typical delicacies.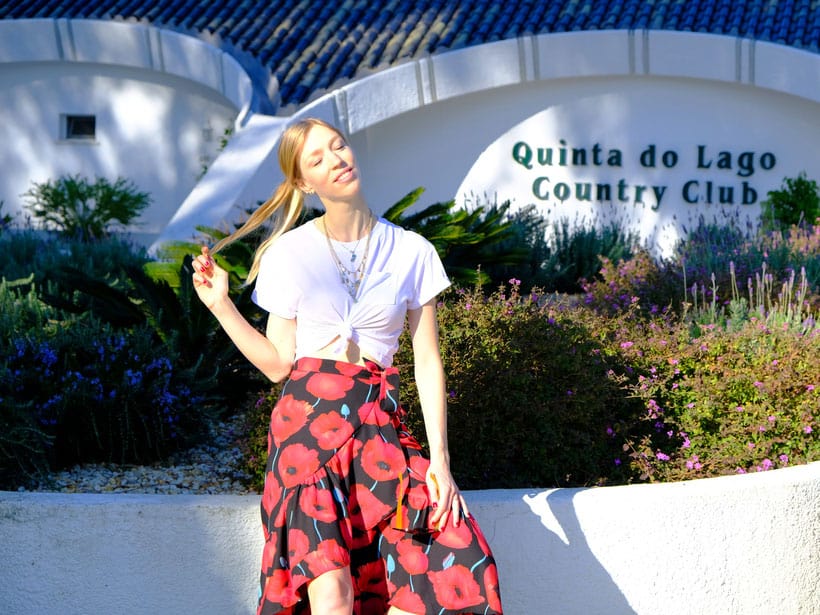 The Cost
When it comes to the cost, it's relevant to point out that Quinta do Lago Country Club is place to stay longer than only a few days. I'd recommend a minimum stay of 1 week to fully explore the area, have long walks along the Ria Formosa marshlands, eventually make an excursion to the emblematic Ponta da Piedade or take some golf lessons.
Prices fluctuate between low and high season. Make sure to check out their special offers when it comes to last minute booking, golf lessons or visiting Algarve during winter.
As we went in February, I can fully confirm that you'll be spoilt with sun and warm temperatures during your stay. It was the ideal refreshment and energy shoot we needed after a long, cold & grey winter in Luxembourg.
In case you book directly via the site of Quinta do Lago CC, you'll get all the price options for the introduced dates.
In that way, you can decide whether you'd go for the "golf special", "winter sun" or "last minute" package. Another advantage of booking directly via the site of Quinta do Lago CC is that you'll have a calendar displaying the different rates for every night/week on throughout the year. This allows you to play around with the dates and nail the best offer.
When booking your stay at Quinta do Lago CC, keep in mind that you'll be staying at an apartment which means that breakfast or lunch at the resort will come with an extra fee and that you'll need to do grocery shopping during your stay.
Unless you'd prefer to eat out every day… which I fully support as the food, especially the fish & seafood from Algarve is amazingly delicious.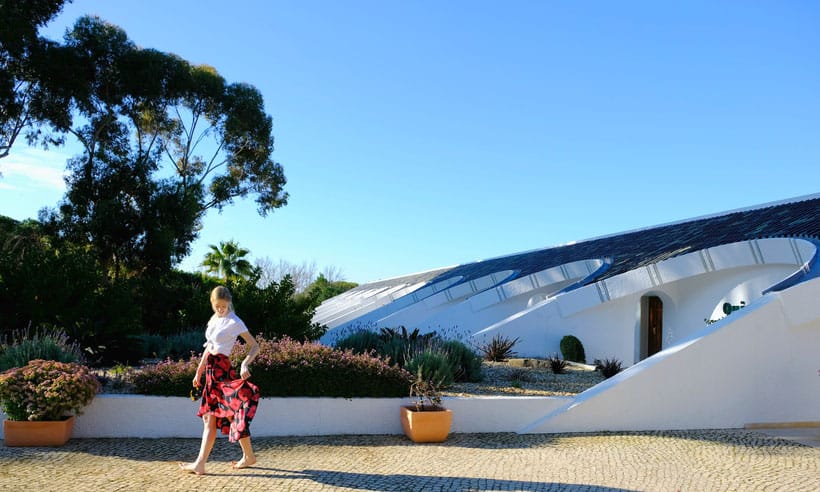 Outdoor Activities
So, you wonder what to do in Algarve Portugal? When it comes to outdoor activities near the Quinta do Lago Country Club, you'll be spoilt for choice.
First, the surrounding area of Ria Formosa marshlands is a huge playground for young and old. It invites for long walks, bike trip and birdwatching. Just ask at the reception for bike rental services or a birdwatching guide ( I recommend Luis Carvalho as a guide!)
There is a water sports center at the lakeside that offers windsurf boards, pedaloes and sailing boats to hire. The long golden beach, only at a 10-minutes walk away from the Quinta do Lago CC, is another huge playground for young and old.
In case you're looking for a full immersion of the culture, history and traditions of Algarve, I recommend to take Diana from Portugal4u as your guide. I could have listened for hours to her background stories of the Algarve… she seems to be an expert when it comes to traditional recipes, birds and local shopping.
Quinta do Lago CC is surrounded by over 30 golf courses, thus, golf is one of the prominent things to do when staying in this part of Algarve. You'll have a hard choice when it comes to decide between a golf course with sea views, along the nature reserve or the Algarvian inland.
Quinta do Lago CC offers special packages for golfers and will be happy to arrange your first golf lesson. We got our at Paul McGuinley Golf Academy and, seriously, we had a blast. A big kudos to Luis who had all the patience in the world to work on my swing.
Quinta do Lago CC also has a pin board where they announce the activities that you can do in the surroundings and they organize golf competitions among the guests on a frequent basis.
You'll never be bored while staying at Quinta do Lago CC.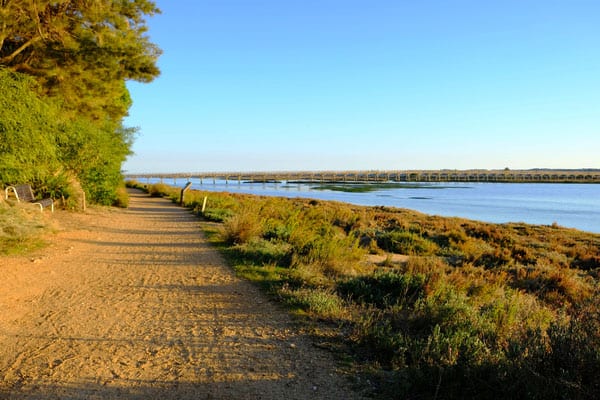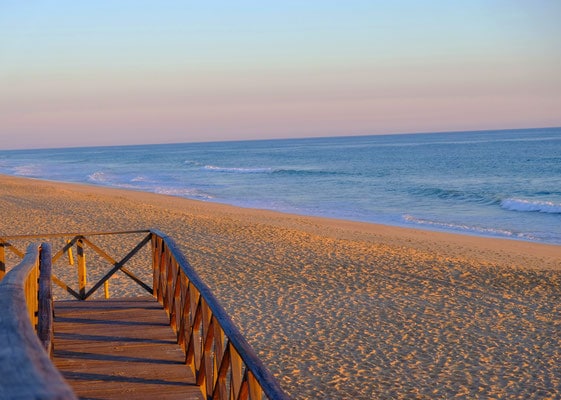 Best Features
Tasteful interior design of the apartments that will give you the sensation of having a home away from home
The privacy of an apartment combined with extras of an hotel such as daily cleaning, breakfast etc.
The surroundings of the natural reserve of Ria Formosa
Calm and quietness
Proximity to the beach
Wide range of outdoor activities: birdwatching, trekking, cycling, golfing…
The staff was extremely helpful and warm-hearted
Activities board
The library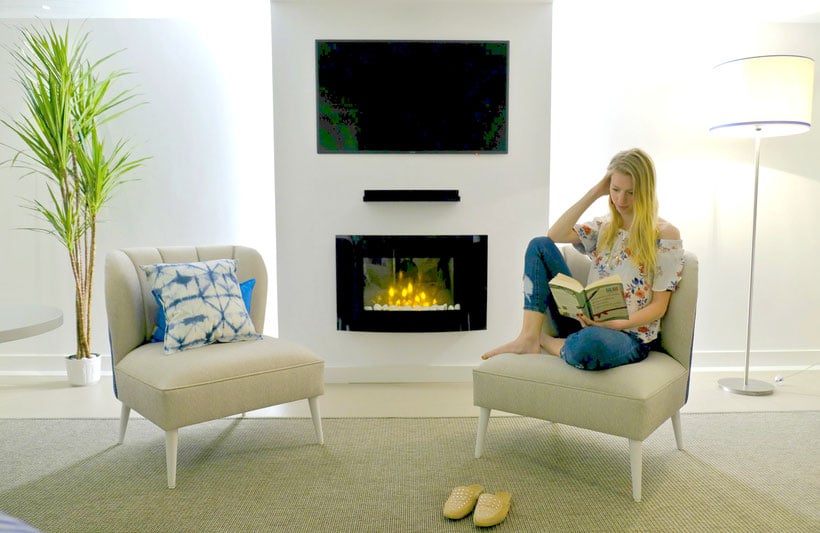 My Verdict
Quinta do Lago Country Club is the perfect place to stay if you're looking for a home away from home in the sunny setting of the natural reserve of Ria Formosa, Algarve.
You'll enjoy the privacy of an apartment combined with the appreciated services of an hotel such as breakfast service, activity organization, cleaning service etc
The refreshing interior design and the lush garden of Quinta do Lago CC is emblematic for the sensation that you'll experience throughout your stay: coming to rest, re-connect with the beauty and richness of nature and feeling free at empty, sandy beaches. The natural landscape is entirely preserved and protected, thus you'll be far away from panel block buildings that you can find on other parts of the Algarve.
Even though summer is the main season to travel to Algarve, I can only recommend a stay during the winter months, when the area is still quiet and beaches not overcrowded. In case you're coming from the Northern part of Europe, you'll especially appreciate the warm temperatures in this time of the year.
Due to its central location, Quinta do Lago Country Club is the perfect base to explore the most emblematic sites of Algarve: Ponta da Piedade, Praia da Marinha, Cabo Sao Vicente…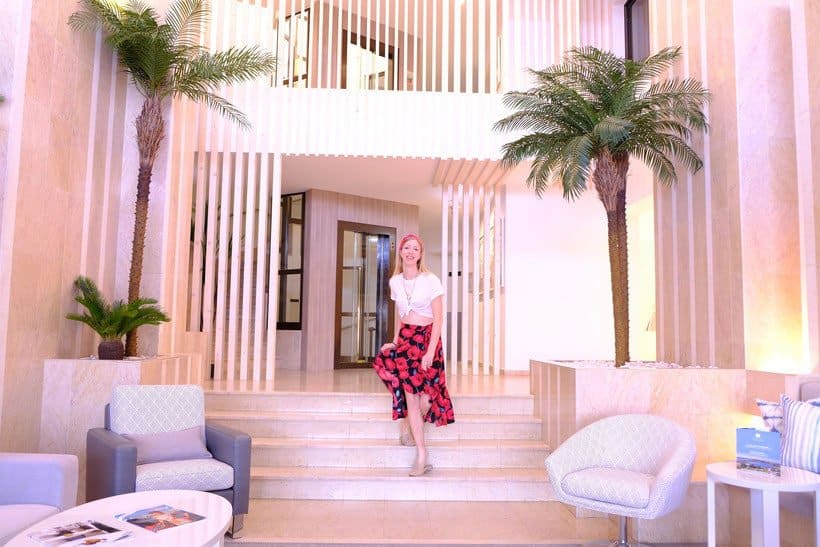 ---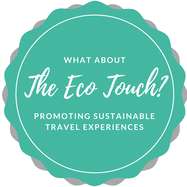 Brief Summary of the advantages of traveling off-season:
More affordable prices.
More attentive service.
Accommodation is easily available.
Unlikeliness that your pictures will be photobombed by huge travel bus groups.
Better travel photos: The autumn/winter season will take your pictures to a different level. Just imagine this: the last bright pink bougainvilleas blossoming around houses lost in time, fertile landscapes in bright colors, desert, golden beaches… And all this, most likely with a blue sky, a deep blue ocean and the emblematic golden beaches from Algarve. A photographer's dream come true!
No crowds: You'll have the picturesque narrow streets of Algarve's charming villages almost for your own. Is there any better way than to get lost then while strolling through narrow Mediterranean streets and discovering hidden gems without being pursued by massive coach travel groups?
Friendlier locals because their cities/villages are not being invaded and they don't need to wait in endless queues in order to follow their daily grind.
---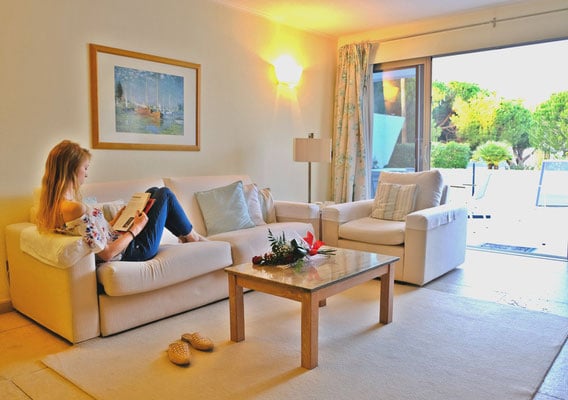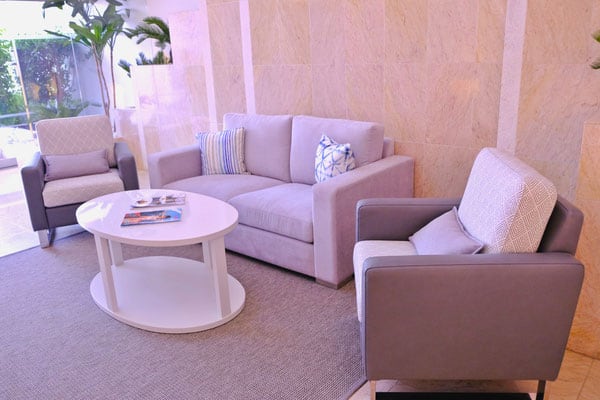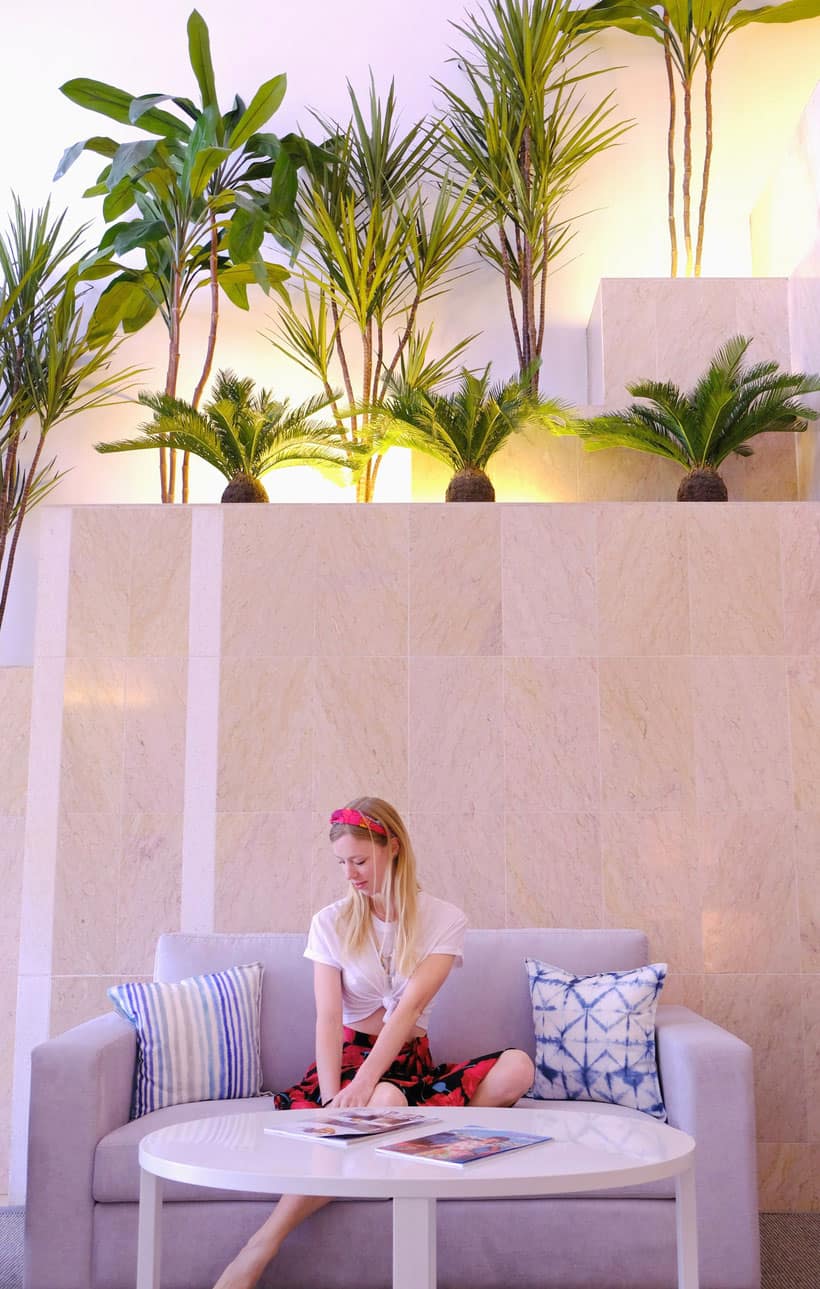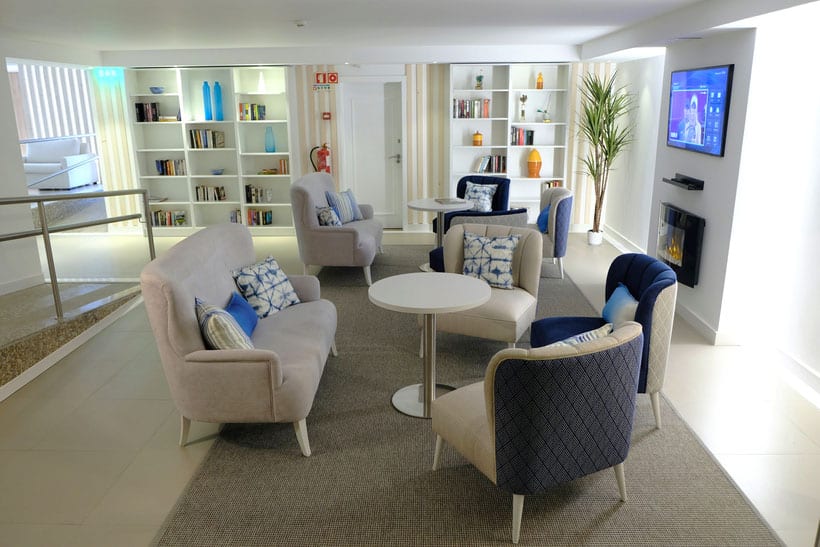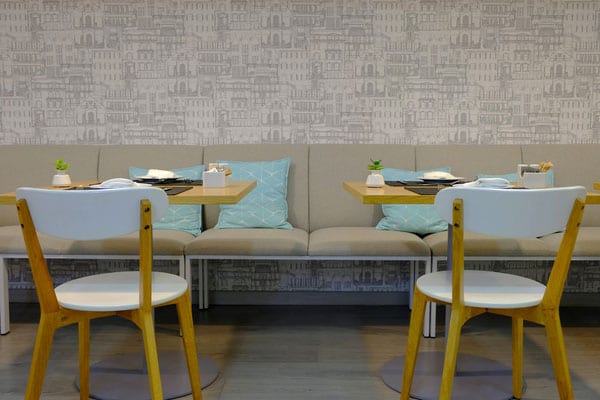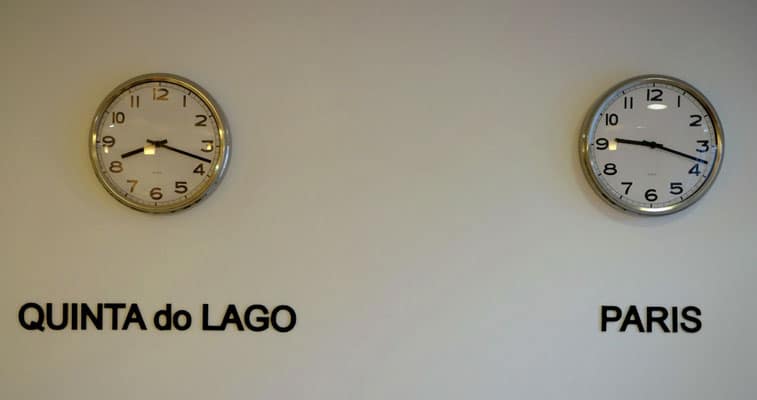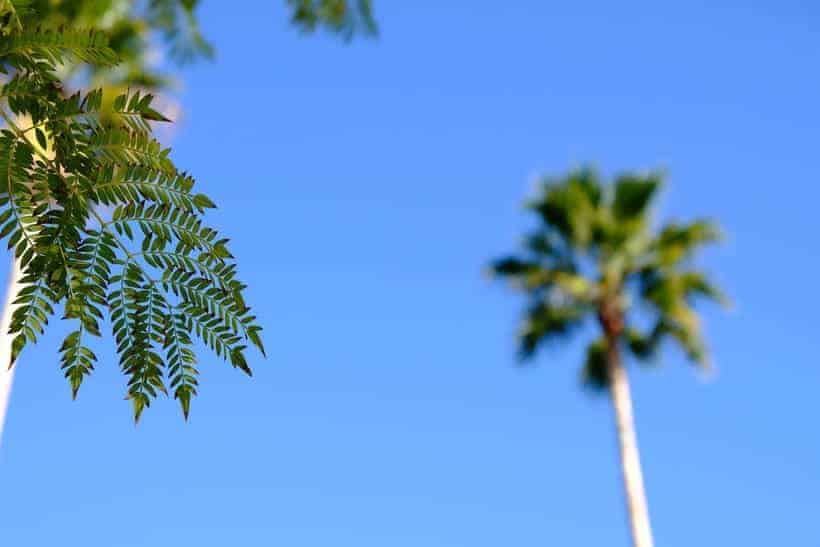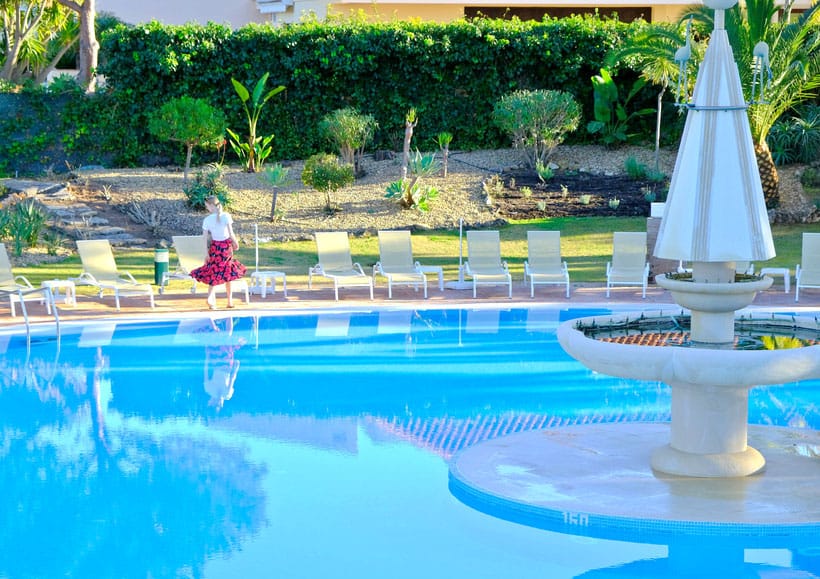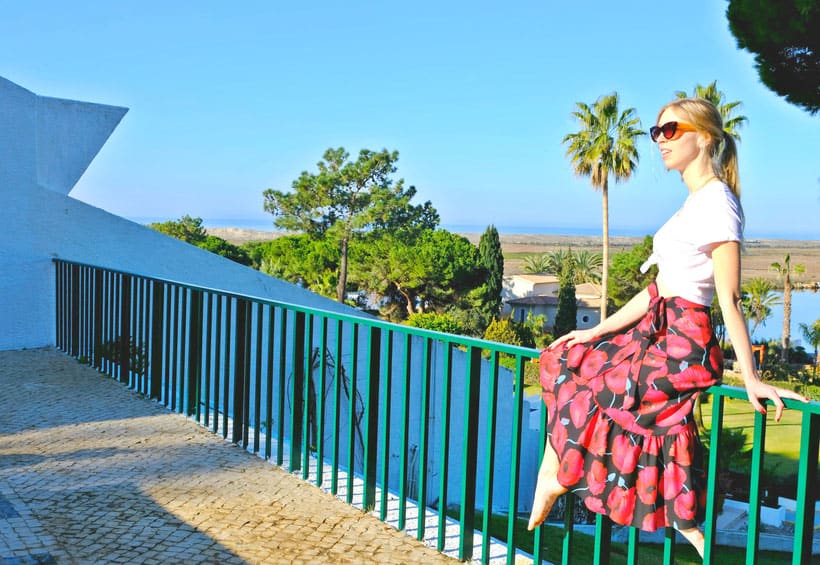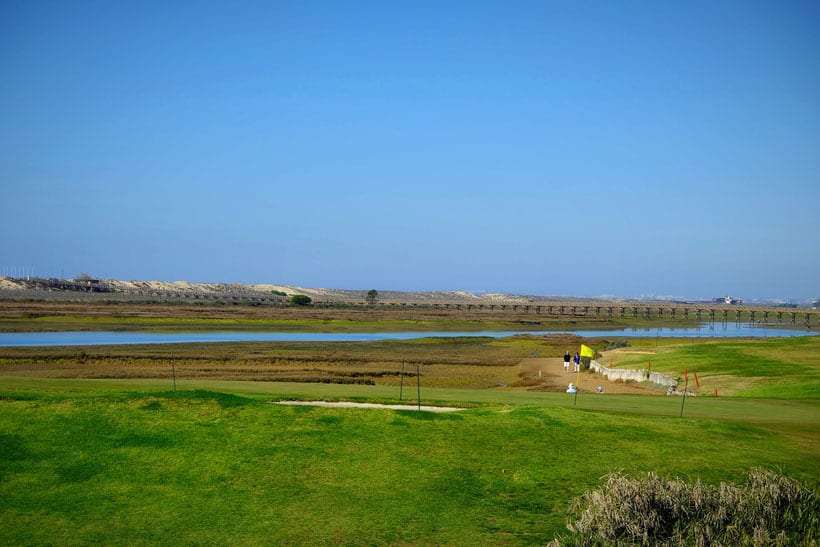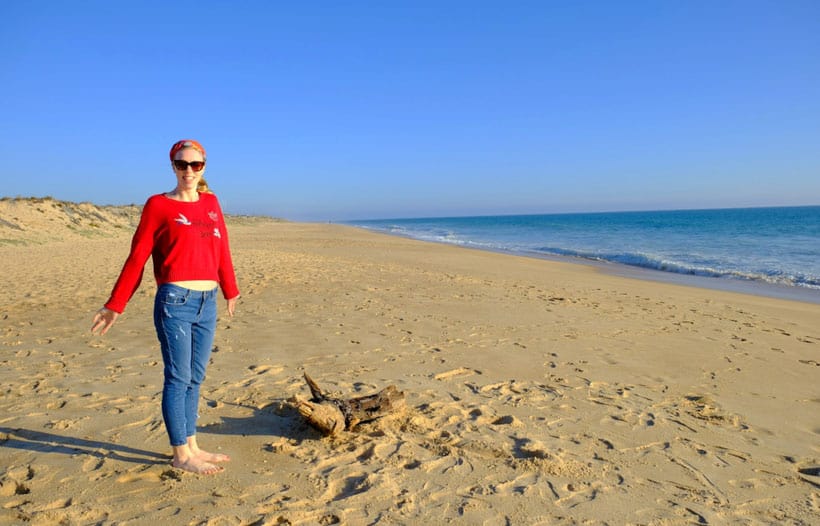 ---
In order to get more information on tourism in Ria Formosa, Algarve, Belgium, I recommend the site of Algarve Tourism.
For guided tours in Algarve and surroundings, I recommend Portugal4U.
Disclaimer: I have been a guest of the Quinta do Lago Country Club. All my opinions, as always, are my own.
---
---