Guide to Faro Winter Activities, what to do and where to stay in Algarve in winter
The Algarve is the most popular tourist destination in Portugal and one of the most popular ones in all of Europe.
The sandy beaches and the impressive cliffs near Lagos attract people from all over the world resulting in a triplication of Algarve's population during peak the holiday season of summer.
But winter in Algarve is a totally different story!
During peak season, you'll be confronted with masses of tourists during the months of June – August, most of them from the United Kingdom, Ireland, and Germany.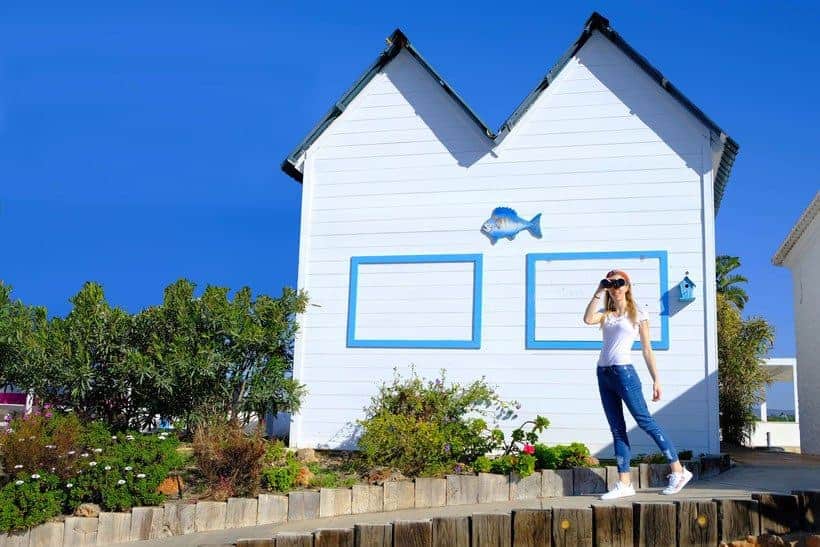 However, winter in Algarve is a fabulous idea as the area boasts mild temperatures throughout the year. There are so many things to do in Faro in November through February.
This post is about all the best things to do in and in winter in Algarve region.
"Paulina on the Road" is supported by you, dear reader. As you buy through my links, I earn a small commission. As an Amazon Affiliate, I earn from qualifying purchases. Thank you for your support
Useful Travel Information About Algarve, Portugal
⚘ Avoid tourist traps with the customizable "Algarve Like a Local" itinerary. – Buy here for less than 10€

✈ Book cheap flights to Algarve with Skyscanner

✔ Book tours in Algarve with GetYourGuide

➳ Find the best hotels in Algarve with Trivago

❖ Rent a car with the best discounts at Discover Cars

☘ Get the best discounted outdoor clothes (outlet) at REI.com

✎ Never leave without travel insurance. I got mine at HeyMondo. It is cheap and easy to set up.

$ Withdraw money without hidden fees and avoid exchange rates with Wise (you'll get a free card on top!)
---
Where to stay in Faro, Algarve
If for some reason none of these sound appealing to you, you can check out my ultimate guide on where to stay in Algarve in winter for any kind of traveler.
Book Winter Holiday Rentals in Faro, Portugal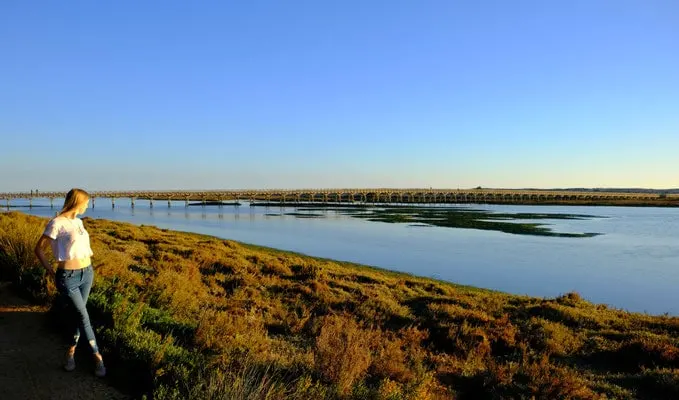 ---
1. Birdwatching in Algarve
Birdwatching is one of the most popular activities to do near Faro, Algarve during the winter months mainly due to 2 reasons:
Temperatures are mild and allow you to observe birds all day long.
West European waders can especially be seen during the months of autumn and spring as the wetlands near Faro become refueling grounds for the birds on their migration route.
For those associating birding with boredom, elderly people, and weird safari outfits… you couldn't be more wrong!
To me, birdwatching was the ultimate opportunity to appreciate nature's beauty and wealth. On top birdwatching in Algarve was not only extremely educational but ultimately very relaxing.
It's comparable to get a drink and watching nature happen.
The ideal site for birdwatching in Eastern Algarve is the famous Ria Formosa Natural Park which consists of 18.000 hectares of marshlands protected by a 60 km long sand dunes and islands.
This natural protection stops the ocean from entering the marshlands and created a wonderful harmony between sweet and saltwater, an ideal habitat for unique biodiversity including waterbirds, reptiles, and amphibians.
The marshlands are only a few meters away from Algarve's main airport, Faro airport, but our guide informed us that the birds apparently got quickly used to the noise of the planes.
There was a slight decrease in species right after the construction of the airport, but over the years the bird population recovered and the area is now considered as one of the most important wetlands in the world.
Book here fun family activities in the Algarve
I did my initiation in birdwatching in the swamps between Quinta do Ludo and the Quinta do Lago Country Club ****, the famous luxury estate.
This area is especially appropriate for novice birders as during a walk of 2 or 3 hours you can easily spot a large variety of species. The density and diversity of birdlife are considered unmatched by the rest in the natural reserve of Ria Formosa.
The real curiosity of the swamps near Quinta do Lago is that some of the ponds are located on golf courses. Thus don't be surprised to spot a "Red-crested Pochard" next to golfers perfecting their swing.
Some of the spotted species include "black-winged stilts", "Kentish plovers" and the "Purple Swamp-Hen", the symbol of Ria Formosa Natural Park.
I even got to see a few flamingos! (Apparently, their population increases up to over 2000 between August and March.) Did you know that flamingos are not really pink? They only turn pink when they eat a lot of shrimps, else wise their plumage is rather greyish.
Needless to say that I was a bit disappointed when discovered that flamingos are not as pink as nail varnish…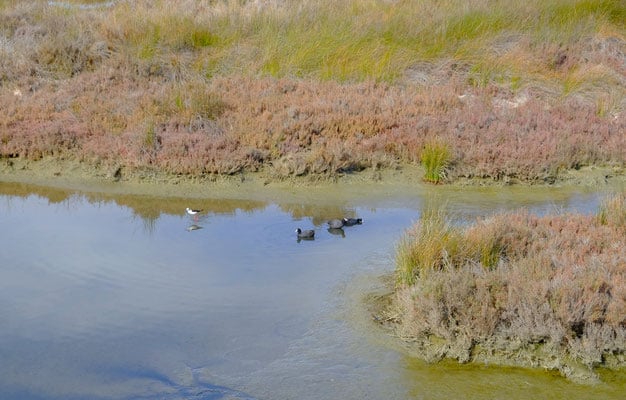 2. Visit the Salt Mines of Ria Formosa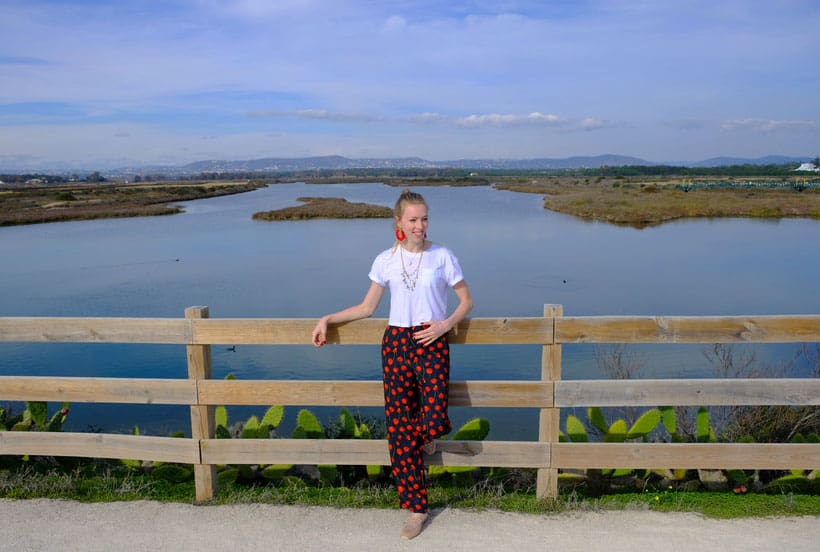 The Natural Park of Ria Formosa has been since the Roman ages a ground for salt farming. Indeed the Algarve salt from Ria Formosa is appreciated all over the world by top chefs because it's unrefined, uncontaminated, and unprocessed.
Salt mining has a very long tradition in this part of the Algarve, Portugal and nowadays you can still stumble upon ruins of salt mines from Roman times.
Until the implementation of stricter rules and laws defined by the European community, the salt of Ria Formosa was harvested like 2000 years ago.
The design of the salt mines still contains historic elements such as basins and tide mills used for salt harvesting for centuries.
Due to the traditional way of harvesting, the salt from Algarve contains high natural levels of magnesium and potassium.
Book here Algarve activities for the whole family
3 kinds of quality levels are produced in the Salinas of Ria Formosa:
The most coveted part of salt is the "Flor de Sal", which is richer than any other salt in minerals and trace elements. Gathering the Flor de Sal is compared by the local population to skimming the cream off the milk as it needs to be harvested by hand.
"Sal Tradicional": this salt is gathered by hand as well and dried in the sun which maintains the sea water's minerals. The sal tradicional precipitate to the clay bottoms of the ponds.
"Sal do Mar": Is gathered at the end of the season by small machinery and is of a more solid structure.
The excellent qualities of the Algarve salt are due to the fact that the salt mines of Ria Formosa are protected from the sea by 2 peninsulas and 5 barrier islands and that the area is mostly car-free.
Indeed low air pollution significantly contributes to the high quality of Portuguese salt. The rest is a result of the combined work between the hot Algarve sun and fresh ocean winds.
The saline wetlands of Ria Formosa are easily reachable whether you're staying near Faro, Loulé or the prestigious Quinta do Lago Country Club **** area.
During the off-season, the marshlands of Ria Formosa are not massified and you'll enjoy a pleasant walk in the mild autumn or winter months of the Algarve.
Book here fun winter tours in Faro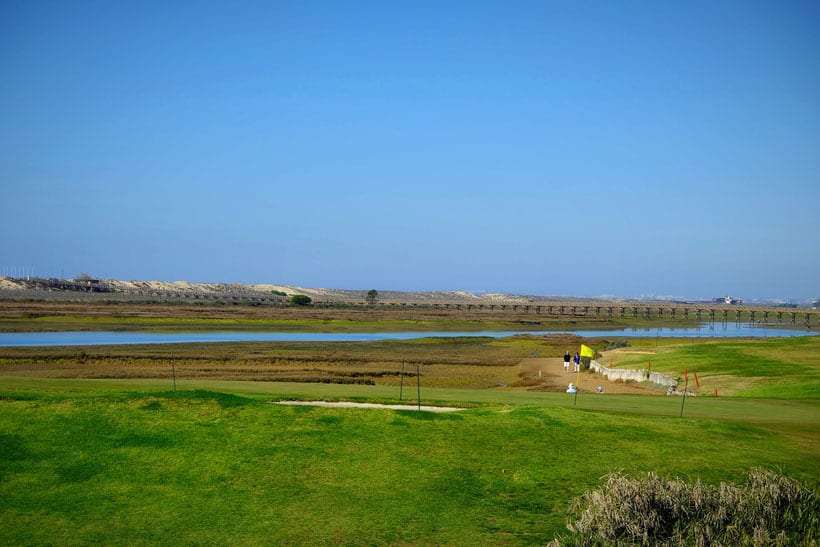 3. Play Golf in Algarve!
Playing golf is one of the top things to do in Algarve, especially in months between the autumn and spring months when temperatures are still mild.
Algarve seems to be heaven for golfers as it boasts not only sunshine almost all year round but also a large variety of over 40 golf courses.
There must be a reason why sunny Algarve is winning such prestigious golf awards in a row.
IAGTO, the International Association of Golf Tour Operators elected the Algarve as Europe's Best Golf destination in 2014 and 2016 and the region was ranked several times as the Best Golf Destination in 2015, 2017, and 2018 by the renowned "Today's Golfer" magazine.
As you might know from my first golfing experience, I initially had some difficulties to see the interest of golfing.
I am more the kind of "active" sports lover such as surfing, cycling or sailing.
But never say never and I finally ended up enjoying my first golf lesson in Italy during beautiful autumn at Lake Garda. I even got absolutely hooked to the long shots!
All the better when I got to work on my swing at the prestigious Paul McGuinley Academy in the beautiful area of the Quinta do Lago Country Club ****.
Luis, the most patient/passionate golf instructor I had so far, gave valuable tips on how to improve my golf technique.
Only long shots for 1 hour! Somehow the long shots have such a relaxing and balancing effect on me…
The reasons why golfing in the Algarve is one of the most popular things to do during the off-season is obvious.
Some of the golf courses have direct views of the ocean, and others are surrounded by the natural reserve of Rio Formosa where the scarcest bird species are looking for their daily meal.
The region of the "Golden Triangle" between Vilamoura, Quinta do Lago and Vale do Labo is famous for this harmony between the swamplands and golf courts. Some of their holes are even located on edges of a ravine and require a shot over a beach!
Some of the courses have been designed by legendary players and champions such as Ronald Fream, Rocky Roquemore or Arnold Palmer.
As most hotels and resorts are used to golf-loving clients, they'll easily make all the necessary arrangements for you to get you on the golf court.
If you're a beginner like me, you'll be spoilt for choice of Golf Academies along the coast of the Algarve that works with multilingual instructors.
In case the idea of golfing never crossed your mind, why don't you try something different and enjoy the mild sun on the golf courts of Algarve.
Book here the best Algarve winter activities
4. Visit Loulé Market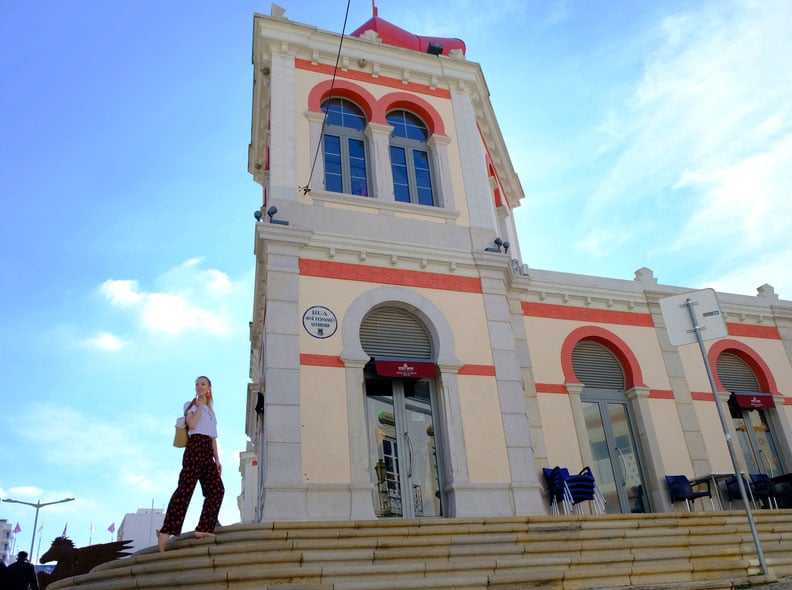 A visit of the emblematic market of Loulé will be the highlight of your trip to Faro, Algarve during winter.
The picturesque town of Loulé is located in the inland of Algarve and was not affected by the tourist mass constructions.
As the town is well connected by public transport, it's a perfect day trip when visiting Algarve.
Book the best winter tours in Loulé
Its narrow, cobblestone-paved streets, its impressive castle, and a very traditional Portuguese atmosphere will make you fall very quickly in love with Loulé.
After experiencing the rather touristy coastline, I was happy to mingle with locals and have a Portuguese coffee on one of the numerous terraces.
I really enjoyed all the bright, white houses and some of the leftovers from Loulé's carnival, which is one of the most important ones in the region. The town also boasts an impressive Moorish heritage.
When visiting Loulé, you can't leave without strolling through the traditional market.
The Moorish-inspired construction was finished in the twentieth century and was built on purpose to attract visitors from all over Algarve. Indeed the combination of bright red and white is a perfect photo motive.
As I absolutely love Mediterranean markets, I couldn't wait to immerse myself in the pulsing atmosphere of Loulé market.
Of course you'll find loads of fish, fresh vegetables and exotic fruits from Algarve and Alentejo region. But my attention is naturally drawn to the things that you can find nowhere else.
Things that you'll only get to experience here in Algarve…
And Loulé market is a treasury for hidden, local gems. First, there was the impressive bacalhau (salted cod) stand followed by a family offering a large variety of sausages, choriços and sheep cheeses from Alentejo.
Another stand offers "Fig Stars" which is a coveted dessert made of almonds and dried figs.
Algarve is famous all over Portugal and Europe for its traditional hot, spicy piri-piri sauce. Thus you'll see hanging peppers and chilies everywhere! I fell in love with their bright, bold colors.
The piri-piri sauce is available in different degrees of spiciness and you'll find a different piri-piri sauce on almost every stand.
Don't miss to visit the stall of the expat ladies that are growing their own chilies and producing hot piri-piri sauce with promising names such as "Bloody Hell", "Satan's Breath" or "Smoke Bomb".
But Loulé market is not only about food. There's a little cork shop in the right corner, which sells locally made bags, baskets, purses, and jewelry made of cork from Algarve and Alentejo. You shouldn't miss the colorful pottery stand either!
The best day to visit is Saturday morning, when there are even more stalls outside.
If you are lucky enough to be in Faro in December, make sure to check out the Loulé Christmas market and get some traditional Portuguese Christmas treats!
Opening times: Mon-Sat from 7am to 3pm.
Book here the best Loulé tours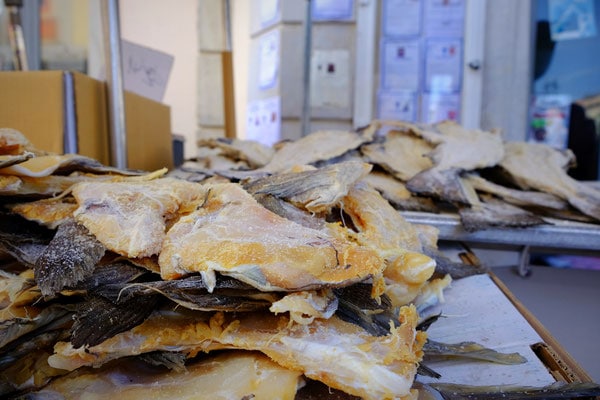 5. Enjoy Desert Algarve Beaches
Well, the desert beaches in Algarve, Portugal are to me the biggest advantage of visiting the Algarve and especially the region of Faro during winter.
Beaches are already the most prominent attraction of sunny Algarve, but they tend to be very crowded during the summer months.
Ponta da Piedade, Praia do Camilo and Praia da Marinha became emblematic of the golden cliff coast of Southern Portugal.
They are part of almost every itinerary through the Algarve.
Everybody wants to get that perfect photo shot of the spectacular cliffs near Sagres or the wide beaches near Tavira … preferably without any other people standing in the frame.
Can you imagine the thrilling sensation when you're approaching a beach and it's totally empty?
Well this situation is very likely to occur when visiting the Algarve during the winter months in off-season.
After having visited already the most emblematic beaches in the western part of Algarve, I was amazed by the wide, long sandy beaches near Faro.
Some of the prettiest beaches in the area of Faro are:
Quinta do Lago Beach with a sand dune backdrop and the natural reserve of Ria Formosa,
Praia de Faro
Cabo de Santa Maria on the Ilha da Deserta Island
Praia de Garrao
Praia do Ançao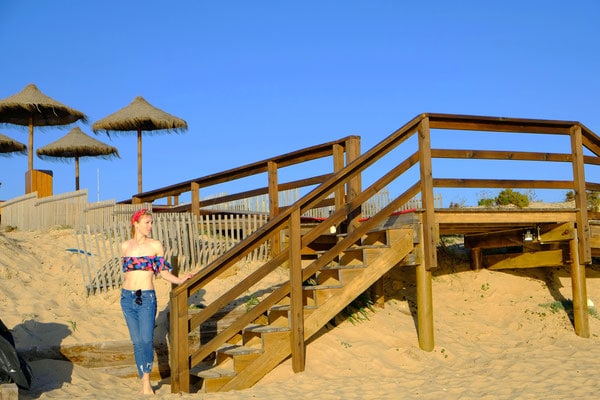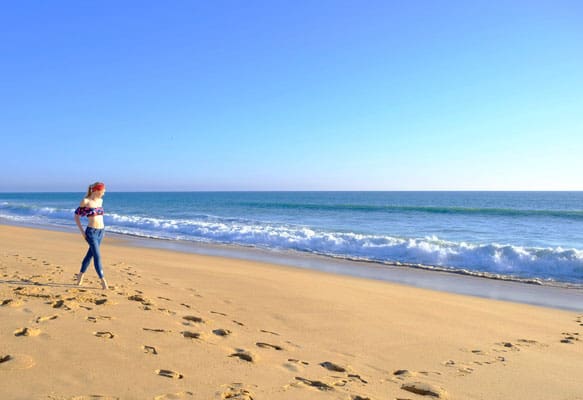 6. Visit Ponta da Piedade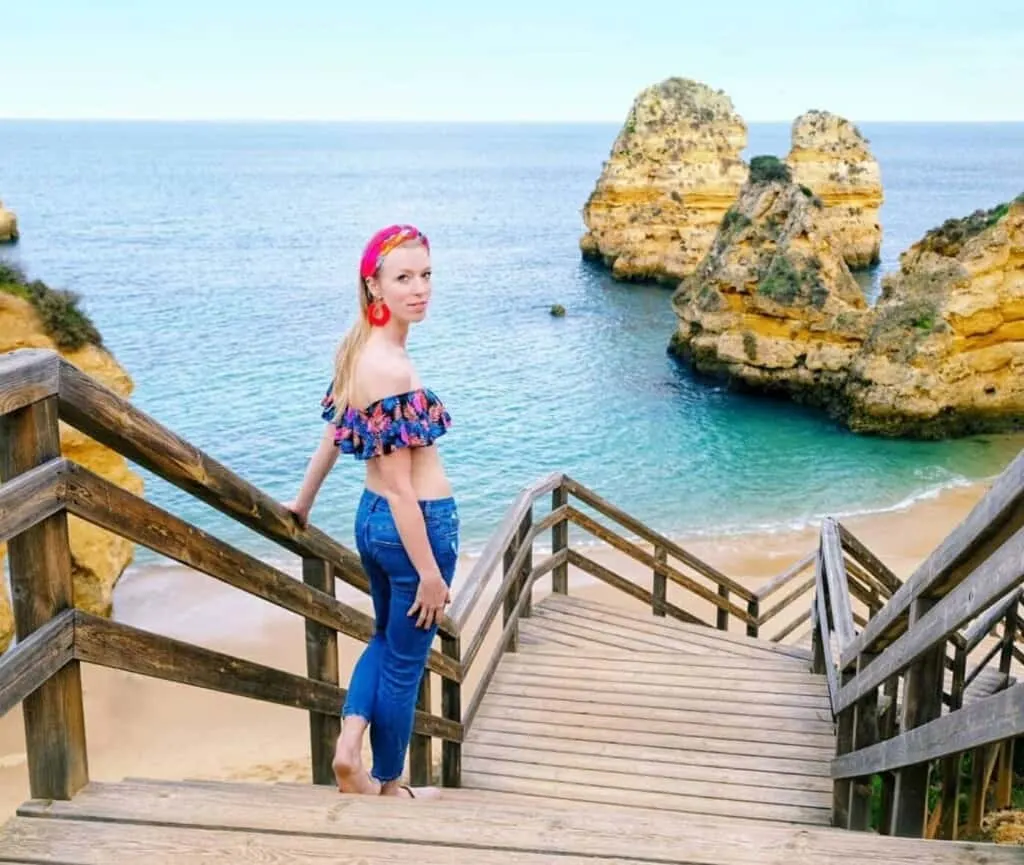 A winter trip to Algarve isn't complete without visiting the most emblematic beaches and fascinating coastline of Ponta da Piedade near Lagos.
The interplay of wind, erosion, and seawater created a truly unique setting including natural tunnels, grottos, towering cliffs and rock pillars towering inside the ocean.
It's easy to understand why this breathtaking setting attracts thousands of visitors during the summer months, and why it's one of the top things to do in Lagos, Portugal.
If you want to experience Ponta da Piedade away from the masses, you'll fancy the idea of visiting during the months from November – March.
Even if temperatures don't get as high as during the summer months, just bring a jacket to enjoy sunset from the almost desert viewpoint of Ponta da Piedade.
From here it is only a short drive to the famous Benagil cave, a must of any visit to Algarve.
Other emblematic beaches you'll likely enjoy near Lagos in winter are:
Camilo Beach, idyllic beach set amidst the sandstone cliffs of the coastline, with a long staircase leading to the beach
Praia da Marinha with Benagil cave close to Portimão
Praia Dona Ana, a small beach sheltered by high sandstone cliffs, turquoise waters lap the golden sands.
Praia da Batata, the closest beach to Lagos town center
Book here fun water sports in Algarve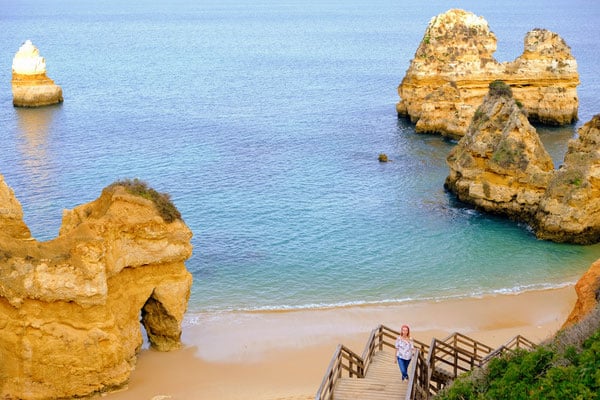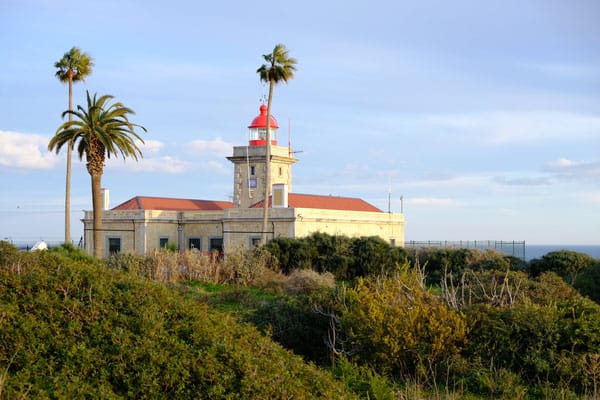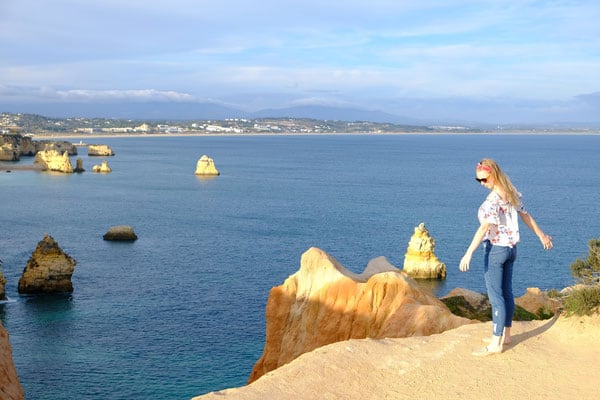 7. Enjoy Local Portuguese Food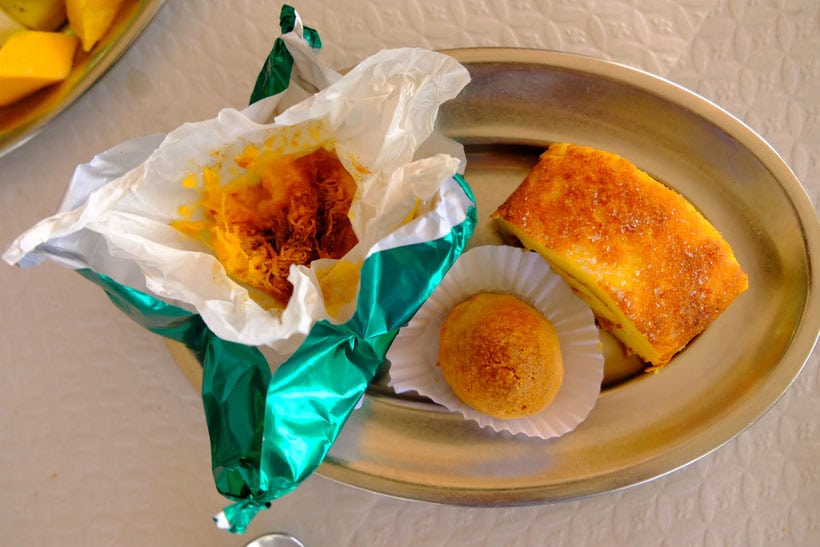 What to do in winter in Algarve, Portugal when you are a foodie? Portuguese food is not only one of the most delicious foods that you'll ever get but also some of the healthiest.
Especially the region of Algarve boats some very tasty traditional delicacies that you need to try.
Book here the best food tours in Algarve
The most known are:
Frango piri-piri: hot & spicy piri-piri chicken
Cataplana de marisco
Leitão: suckling pig
All kinds of fresh fish and seafood
The couvert (my favourite!), a starter consisting of a bowl of olives, marinated carrots or a selection of cheeses
Off-season is a great time to enjoy the best food from Portugal and Algarve, as restaurants are not packed and you'll enjoy more attentive service.
Even if it may be very tempting to stay close to your resort or hotel, I recommend visiting some of the following restaurants that are super popular among locals….
Which means VERY tasty food at a good price.
Here are some of the tried & recommended restaurants near Faro and Loulé:
Book here the best food tours in Algarve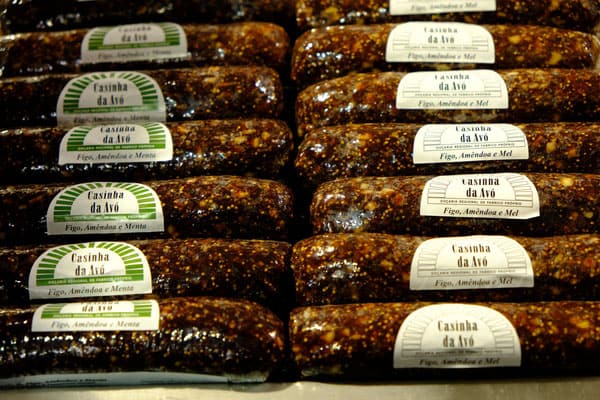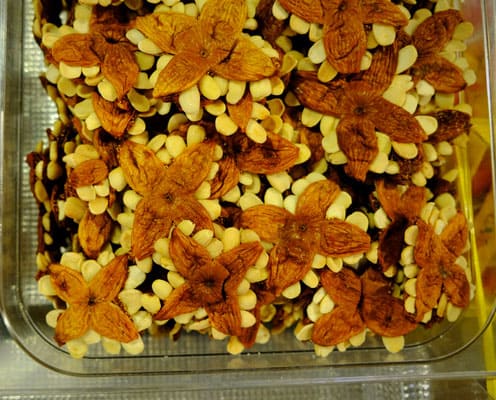 8. Shopping in Faro
As temperatures during the winter in Algarve are still not warm enough to lay on the beach, I love to go shopping as an alternative to the beach.
I tend to avoid large shopping malls (they have the same shops as everywhere else on the planet) and immerse in the historic city centers of Algarve's picturesque towns.
A shopping experience in cobblestone paved streets and white house fronts framed by the first spring blossoms just isn't comparable to shopping in the mall.
If you're staying in the area of Faro, I recommend a shopping afternoon in Faro, Olhão or Loulé.
In Faro, the main shopping area is next to the Jardim Manuel Bivar and in the Rua Dr. Francsisco Gomes, you'll find everything from shoes, clothes, textile shops etc.
Head then to Rua de Santo Antonio, Galerias Faro and Rua de Portugal for independent boutiques.
Look out for shoes made in Portugal as you'll hardly find such high quality for an affordable price. On top you're purchasing a local good!
If you're looking for fresh cheese, cold meat, fish or healthy fruit you shouldn't miss the Mercado Municipal (market halls) of Faro, Olhão, and Loulé.
You want to bring a typical souvenir from sunny Algarve?
Basketware,
hand-painted ceramic tiles and honey pots,
cork products
Food such as olive oil, choriço, goat cheese, dried meat, piri-piri sauce
Typical liquors: Ginjinha or Medronho (tree strawberry) spirit.
Don't forget if you're visiting Faro in November or December to do some last minute Christmas shopping at the markets!
If you're looking for an Airbnb in Algarve to stay close to Faro, have a look at my curated list here.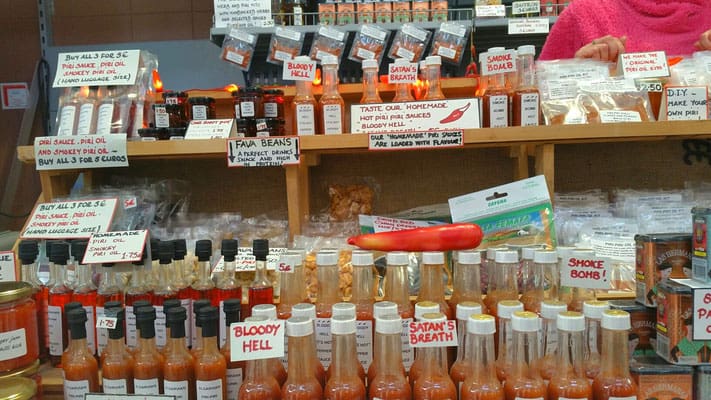 9. Biking in Algarve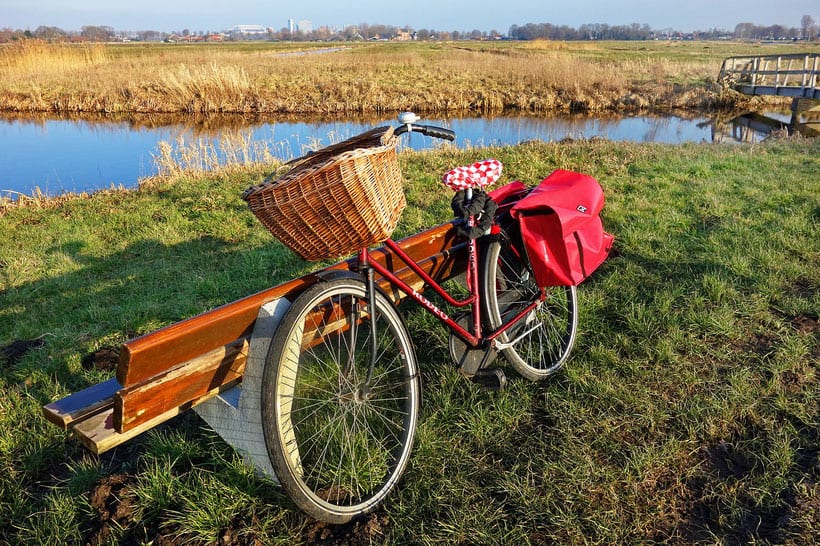 Winter in Algarve is made for long cycling tours. When temperatures are still not warm enough to lay on the beach, then it's about time to enjoy the sunshine on your bike.
You'll be spoilt for choice when it comes to choosing a cycling route.
Whereas the western coast is steep but completely unspoilt, you'll find flatter routes along the seashore and in the natural parks of Ria Formosa and Guadiana river.
I also recommend having a looking at the very scenic trail of Ecovia do Litoral in Algarve.
The inland of Algarve is a gratifying destination for a cycling tour as well as you'll see the natural beauty of the scenery: valleys, hills, blossoming flowers, scents of the lush countryside etc.
And you'll likely be tempted by stopping by at one of the several bars serving delicious, traditional Portuguese food.
The most known cycling routes are the Via Algarviana, Grande Rota do Guadiana, Rota Vicentina, or the Ecovia do Litoral. By the way, all of them are also great hiking trails.
If you're not interested in biking, I would also recommend taking a Costa Vicentina road trip.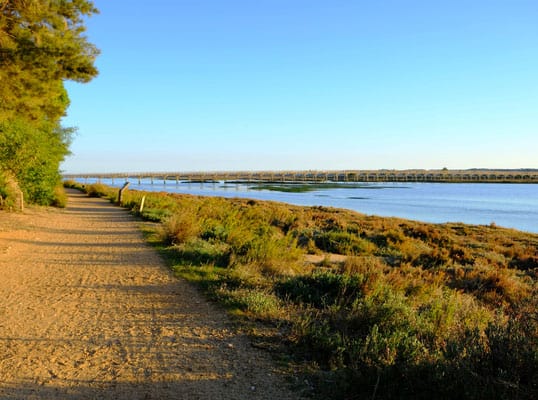 10. Unwind in Ria Formosa, Natural Park
As mentioned earlier, one of the least expected things to visit in Algarve is a natural reserve that is famous all over the world for being a bird sanctuary and having unique fauna in Southern Europe.
Indeed Algarve is not all about beaches! And especially when traveling in winter, alternatives to the beach are most welcome.
In case you're looking to relax and unwind from your daily stress back home, I recommend staying close to the Ria Formosa Natural Park. There are plenty of options for where to stay in Algarve near the park.
Nature created a unique microcosm in which large sand dunes and barrier islands are protecting the ocean from coming into the riverbed which resulted in one of the largest area of marshlands in Southern Europe.
The natural park of Ria Formosa is ideal for wandering and absorbing nature's beauty. The only noise you'll here are the birds and the splashing of the water. Can it get more relaxing than this?
Whether you're into biking, trekking, Stand Up Paddling or birding… Ria Formosa will be your happy place when visiting the Algarve during off-season.
I loved observing a hundred kinds of birds and how the landscape was changing according to the tides, the wind or the currents.
11. Do a Wine Tour in Algarve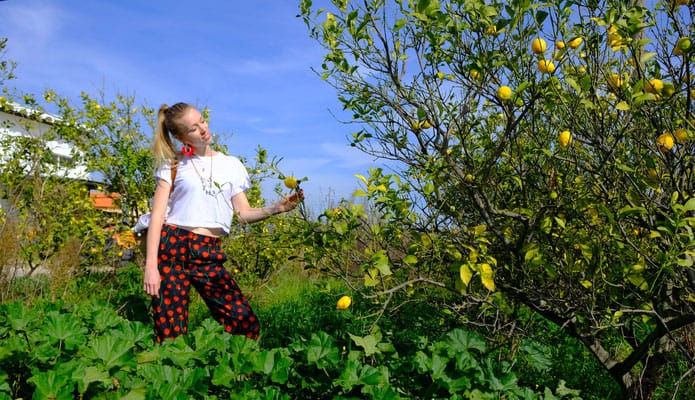 Every winter Algarve, Faro District itinerary needs to include a wine tour in the Algar region.
After all, wine warms you up, and walking around the vineyard can't hurt. Not that Portuguese winters get particularly cold, but they are chilly.
This is also the perfect romantic outing for Faro in February if anyone is here over Valentine's Day!
Wine tastings are one of the most popular Faro activities for a reason. There are a bunch of places to do wine tours, but one of my favorite is the Wine Tasting Tour and Silves Visit in Albufeira.
Silves is a Medieval town with a beautiful Gothic cathedral and a Moorish castle on a hilltop.
Book here your Algarve wine tasting tour
12. Have a night out in Albufeira
One of the best things to do in Albufeira is to make the most of the nightlife!
I've had some of the best nights of my life out in Albufeira in winter. Not that summers are boring, but winter is low season in Albufeira and there tend to be fewer tourists, so you'll meet more locals.
And, because the evenings are colder, going clubbing is more popular because it's indoors.
Two of my favorite Albufeira clubs are Libertos Lounge Club and Matt's Bar. The Old House Karaoke Lounge Bar is also a lot of fun if you're willing to stand up and sing publicly.
If you plan to stay overnight – or longer – check out my guide on the best hotels in Albufeira.
13. Visit the Islands near Olhao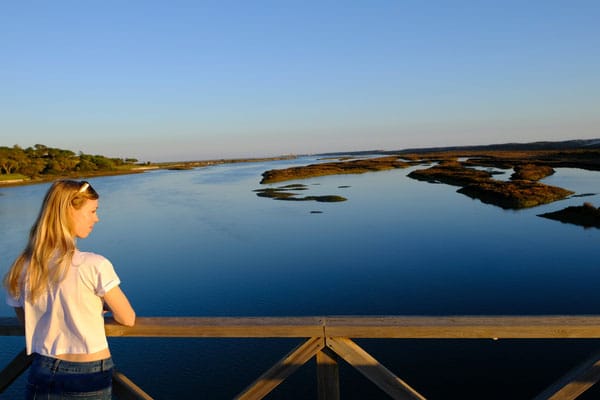 One of the most unique things to do during winter in Algarve is take a boat trip out to the Olhao Islands (Ilha da Culatra).
There is a ferry, and boat rentals in Faro, Portugal available, and you can head over for the day to explore and soak up the winter sun.
The beach stretches for miles, so you'll easily be able to find your own spot to sunbathe.
Book here your holiday villa in Olhao
There are approximately 1000 people who live on Ilha da Culatra, and most work as fisherman. Cars are only permitted on Faro Island, though, so you'll have to walk everywhere.
There are plenty of fun aquatic things to do on the Olhao Islands, such as surfing or paddle boarding. Visitors can also rent canoes or see dolphins swimming in the ocean.
Visiting the Olhao Islands is a great thing to o in Faro in February for couples who want a romantic winter getaway!
Book here Algarve water sports
14. Go Hiking in Algarve
Winter in the Algarve is ideal for hiking since the cooler weather prevents you from getting too hot and sweaty.
In fact, Faro in January is one of my favorite times to go hiking in Algarve.
Two of the best Algarve winter hikes are Ponta da Piedade and the Telheiro Beach Trail.
I recommend the Ponta da Piedade during the winter because Lagos in winter is quiet, so I always get the trail almost entirely to myself – otherwise it can be a bit busy!
The trail goes along the coast and offers some of the most stunning views of the Algarve coastline. The hike is 6km roundtrip and takes around 2-3 hours total.
The Telheiro Beach Trail is much less popular, but very unique.
This trail takes you along the Vicentine Coast Natural Park where you can find ancient geologic unconformities. Birdwatchers will find many species here, as well.
And it's also popular with botany enthusiasts as it's home to many rare plants.
15. Take a boat tour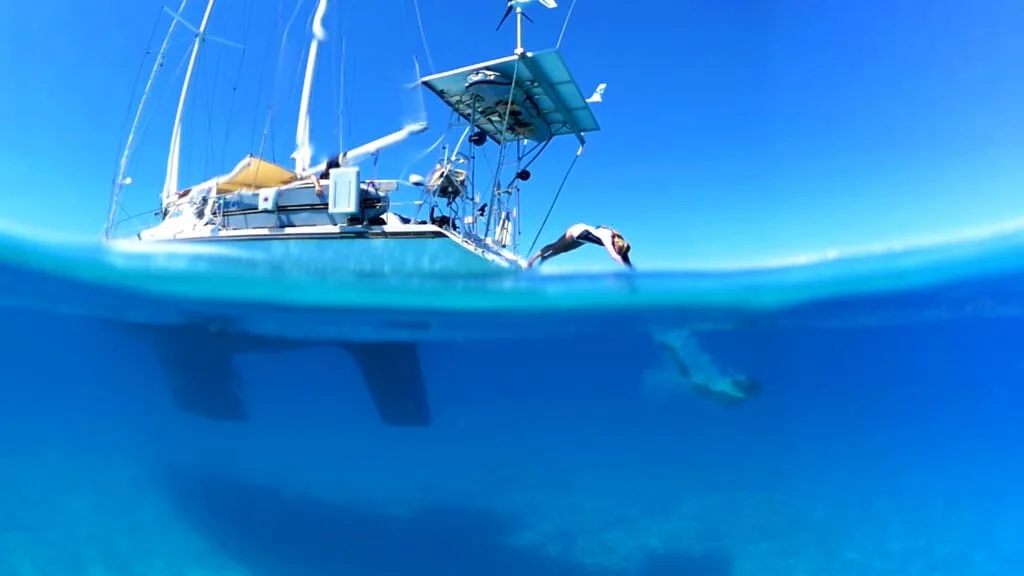 Taking a boat along the coast is the perfect way to get jaw-dropping photos of Portugal. Faro, in particular, has a stunning coastline.
And in the Algarve winters it is less busy, so you won't have to fight to get the best photos.
The most popular boat tours are to the Olhao Islands and through Ria Formosa. These tours are also a great way to learn more about the local fishing industry and see local villages you might not otherwise know about.
Book here a winter in Algarve boat trip
---
Why Winter is perfect for Algarve Holidays!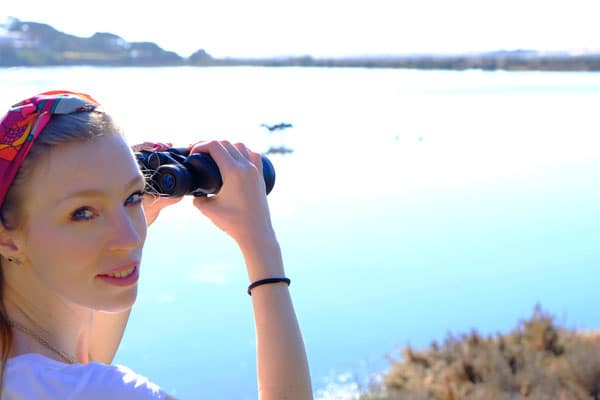 In case you want to avoid the crowds, enjoy empty beaches and appreciate the vernal beauty of Algarve's countryside, you'll highly fancy the idea of traveling during winter in Algarve.
Indeed, with winter Algarve weather, temperatures are generally around 16°C!
Don't worry about the weather: Algarve's Mediterranean climate boasts an average of 170+ hours of monthly sunshine from November – February. Winter in Algarve is the perfect getaway during long, cold and grey winters in Northern Europe!
Unlike the widespread idea, that there is a lack of things to do in the Algarve during the winter months, you'll be spoilt for choice when it comes to outdoor activities.
Not only are there over 25 top-class golf courses, but the Algarve also became a very popular destination for birdwatching. During the migration and winter season, several hundreds of different bird species can be found in Southern Portugal.
This post will give you an overview of things to do in winter in Algarve.
Do you wonder what to do in Algarve Portugal? Here they go, the Best Things to do near Faro in winter… in sunny Algarve!
Book here fun winter tours in Faro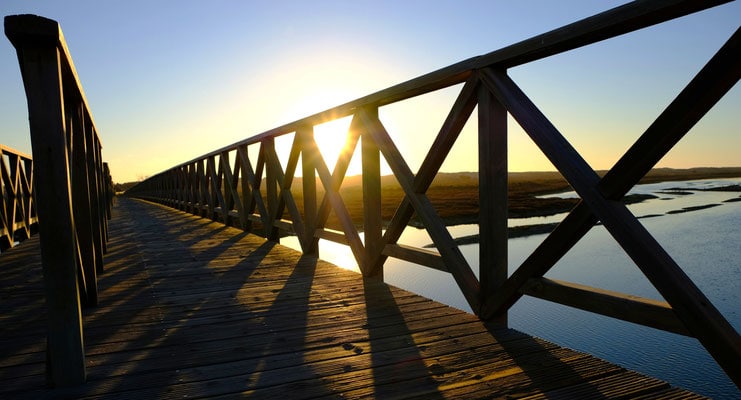 ---
I hope some of these, admittedly very personal, highlights of my visit to Faro and the rest of Algarve, could convince you to include Algarve in your winter travel plans.
Have you been in Algarve in winter? Did you enjoy it? I would love to hear about the things you loved (or loved less) in the comment form.
---
Map: Highlights of Winter in Algarve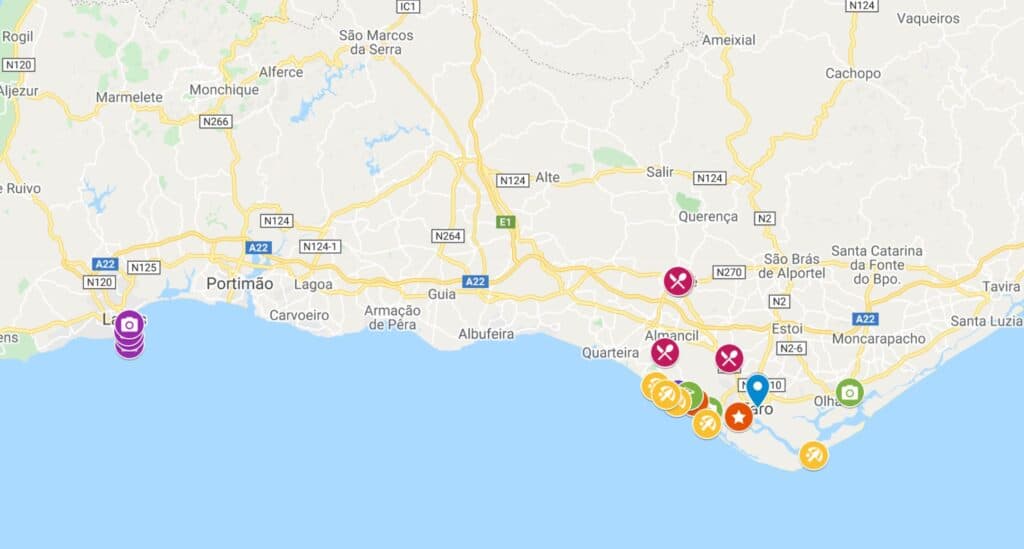 ---
In order to get more information on tourism in Algarve, Portugal, I recommend the site of Tourism Board of the Algarve.
Do you need a guide to get the best background stories of Algarve? Drop a message to Diana from Portugal4U, she was a real enrichment of our visit.
Still looking for a place to stay near Faro, Algarve? Why not stay at the relaxing Quinta do Lago Country Club ****, in the heart of Ria Formosa Natural Park.
---
---
Short FAQ about Algarve in Winter
1. Where to stay in Algarve in winter?
My absolute favorite place to stay is the Quinta do Lago Country Club, which is located inside the Natural park Ria Formosa
2. How cold is the Algarve in winter?
The average winter Algarve temperature is 16°C, which makes it the perfect winter destination!
3. What to do in Algarve in November?
Faro in November is perfect weather for hiking Ponta da Piedade, and a great way to see the coastline away from the tourists.
4. What is the weather like in the Algarve in winter?
The weather in the Algarve, Portugal during the winter months (typically December to February) is generally mild, with temperatures averaging between 12-15 °C (54-59 °F) during the day and around 8-10 °C (46-50 °F) at night.
5. What is the best place to live in Algarve in winter?
Some of the best places to live in Algarve in winter are Albufeira, Lagos, Portimão,
Vilamoura and Faro.
---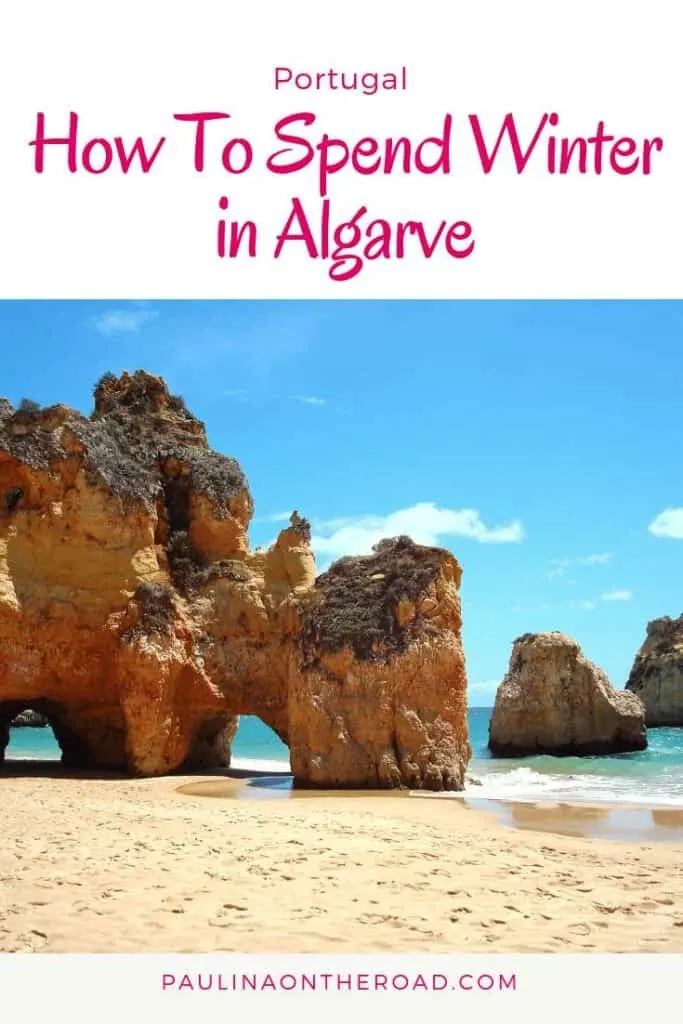 Hola! I am Paulina, a fervent travelette who crossed the Atlantic Ocean by Boat HitchHiking. On my blog, you'll find all the tips to make the most of your holiday. Get ready to enjoy outdoor and sustainable travel like hiking, cycling or sailing. Let's hit the road together!