Alentejo travel guide: what to do, where to stay and all the best beaches for your visit to the Alentejo region, Portugal
These days, Alentejo in Portugal is often dubbed as the New Tuscany or the "affordable Tuscany". That's because it is an amazing wine region with mesmerizing nature and enchanting views in Western Europe.
So where is Alentejo, Portugal? The Alentejo area is located in south-central Portugal, just above the Algarve region.
If you look at a map of Portugal, you'll see that part of Alentejo borders Spain, but there is also a lot of the region along the coastline.
However, Alentejo is often overlooked by tourists for other cities in Portugal. There are no major cities in the Alentejo region and very few luxurious resorts. But this is exactly why you should plan your next holiday in Alentejo, Portugal.
If you want to experience authentic Portuguese culture, cuisine, and nature, Alentejo is the place to go. You can have lots of fun at great prices, and without crowds of tourists getting in your way. Anyway, here are the 7 reasons that will convince you to visit Alentejo, Portugal!
Thanks to affiliate links, I pay my bills. If you make a purchase through them, I may receive a small commission at no cost to you. As an Amazon Associate I earn from qualifying purchases. All opinions are always mine. Merci!
Useful Travel Information About Alentejo, Portugal
✈ Book cheap flights to Portugal with Skyscanner

✔ Book tours in Portugal with Viator

➳ Find the best hotels in Portugal with TripAdvisor

❖ Rent a car with the best discounts at DiscoverCars

☘ Get the best discounted outdoor clothes (outlet) at REI.com

✎ Never leave without travel insurance. I got mine at HeyMondo. It is cheap and easy to set up.

⚘ Get a travel guide in order to prepare your trip. I recommend the Lonely Planet Portugal.
Best places to stay in Alentejo, Portugal
Budget:
Hotel D. Luis – Elvas ***
Hotel de Moura ***
Mid-Range:
Hotel Sao Joao De Deus ****
Santiago Hotel Cooking & Nature ****
Luxury:
Lago Montargil & Villas *****
Quinta Da Comporta – Wellness Boutique Resort *****
1. Old Towns, Ruins, and Castles
Most of Portugal is full of medieval ruins, walls, towers, and fortresses. The Alentejo region is no different – except that it is one of the few parts of Portugal that has entire old towns.
If you're wondering where to stay in Alentejo, Evora is the capital of the region, and probably the most touristy place in the area. That's because the town is considered a UNESCO World Heritage site, thanks to many ancient monuments and buildings.
Perhaps the most famous part of Evora is the Roman Temple. It was built in the 1st century AD, and it is among the most significant historic landmarks in entire Portugal, which relate to the ancient civilizations.
Another old town worth seeing in this region is Elvas. It is most famous for its military architecture, which includes bastions and forts. In fact, this was the main frontier fortress south of the river Tagus for quite a long time.
Today, the town is considered a World Heritage Site, thanks to all the remains of ancient architecture.
A good part of it is encircled by old town walls, with many monuments, churches, a castle, and two magnificent forts. The Amoreira Aqueduct is also an astonishing sight, and an attraction you can't miss if you're ever in the area of Central Portugal. Elvas is like entire Portugal, a great place to visit with kids.
Because Portugal is well connected, travel around the Alentejo area is easy by bus or train.
Book here the best tours in Alentejo
2. Beaches of Alentejo Coast, Portugal
Beaches in Alentejo region are just as gorgeous as in the rest of the country. But they're pretty far away from any major cities – why drive two hours from Lisbon or Faro just to go to a beach?
Because there is rarely beachside accommodation in Alentejo, many people prefer to find accommodation in Algarve at a beach resort and travel between the two.
However, while you can't get a room directly on the Alentejo beaches, you can get one that's just 15-20 minutes away from one. But here's the thing – fewer people means less litter, fewer crowds and more privacy and space for you.
Alentejo encompasses the western coast between the Algarve and greater Lisbon area. That is almost a hundred miles of sandy beaches along the coast. Praia da Vigia and Praia da Aberta Nova are just two examples of miles and miles of golden sand.
Book here the best tours in Alentejo
So, if the thought of being alone on a huge beach in Portugal sounds appealing to you, Alentejo is where you should go for your holiday. Especially if you love the idea of staying in a small village where you'll barely see any people during your week off.
The Alentejo Coast and Costa Vicentina are one of the prettiest in Europe. This is why a visit to the beaches is one of the best things to do in Alentejo, Portugal. Read more about the beaches of Alentejo.
Here some of my favorite ones:
Praia dos Aivados
Praia dos Aivados is also known as Buzinheiro beach. It is located near the border of the Alentejo area and Setúbal region.
This is a very relaxed beach that is popular with surfers and local fishermen. If you're looking for a beach where you can swim in peace, or even read a good book, this is a great option.
Because it is one of the largest Alentejo beaches, it doesn't get very crowded, and everyone has their own space.
Praia do Carvalhal
A lot of beaches on the Alentejo coast, Portugal aren't very accessible. However due to a rather large parking lot just off the highway, Praia do Carvalhal is the exception.
But don't let that put you off, this is still one of the most beautiful Alentejo beaches. Praia do Carvalhal is surrounded by forests and sandy dunes, making it a favourite in the region.
Praia de Melides
Want to go horseback riding along the Alentejo coastline? Praia de Melides is the beach for you!
Considered the be the largest beach in Portugal, this beach is probably the busiest on this list. However, compared to those in Algarve region and elsewhere in Portugal, it is still relatively quiet.
Praia da Samoqueira
Situated between Porto and Sines, Praia da Samoqueira is one of the most isolated beaches in the Alentejo region. The beach is in a rocky alcove, and almost no one ever visits here. Even better, the water is so clear you can see the sandy bottom!
If you're looking for things to do in Alentejo that don't involve people, Praia da Samoqueira is the beach spot for you.
Comporta Beach
Need another reasons to add Alentejo travel to your bucketlist? At some of the beaches in Alentejo you can see dolphins!
Comporta is one of the beaches, which is why it is one of the top reasons to visit Alentejo. While still pretty quiet, it is one of the busier beaches, especially in summer when you can buy street food and souvenirs, or take surfing lessons.
If you're wondering what to do away from the beach, the Comporta area is full of cute traditional Portuguese villages where you can get pastel de nata!
3. Enjoy Alentejo Wine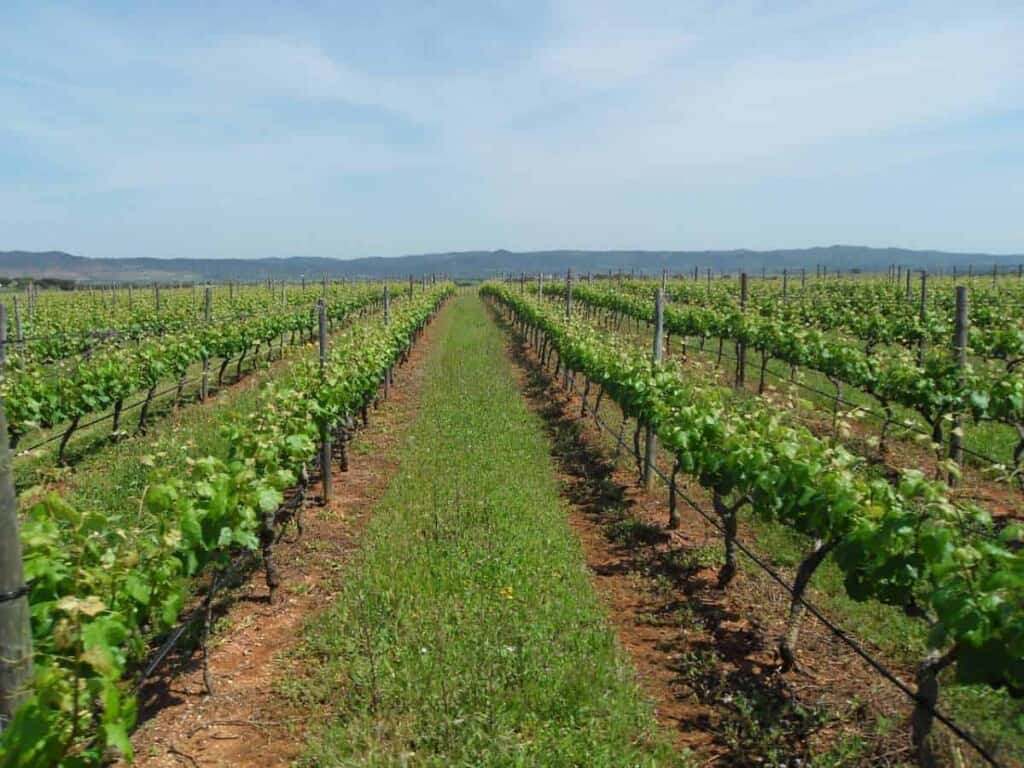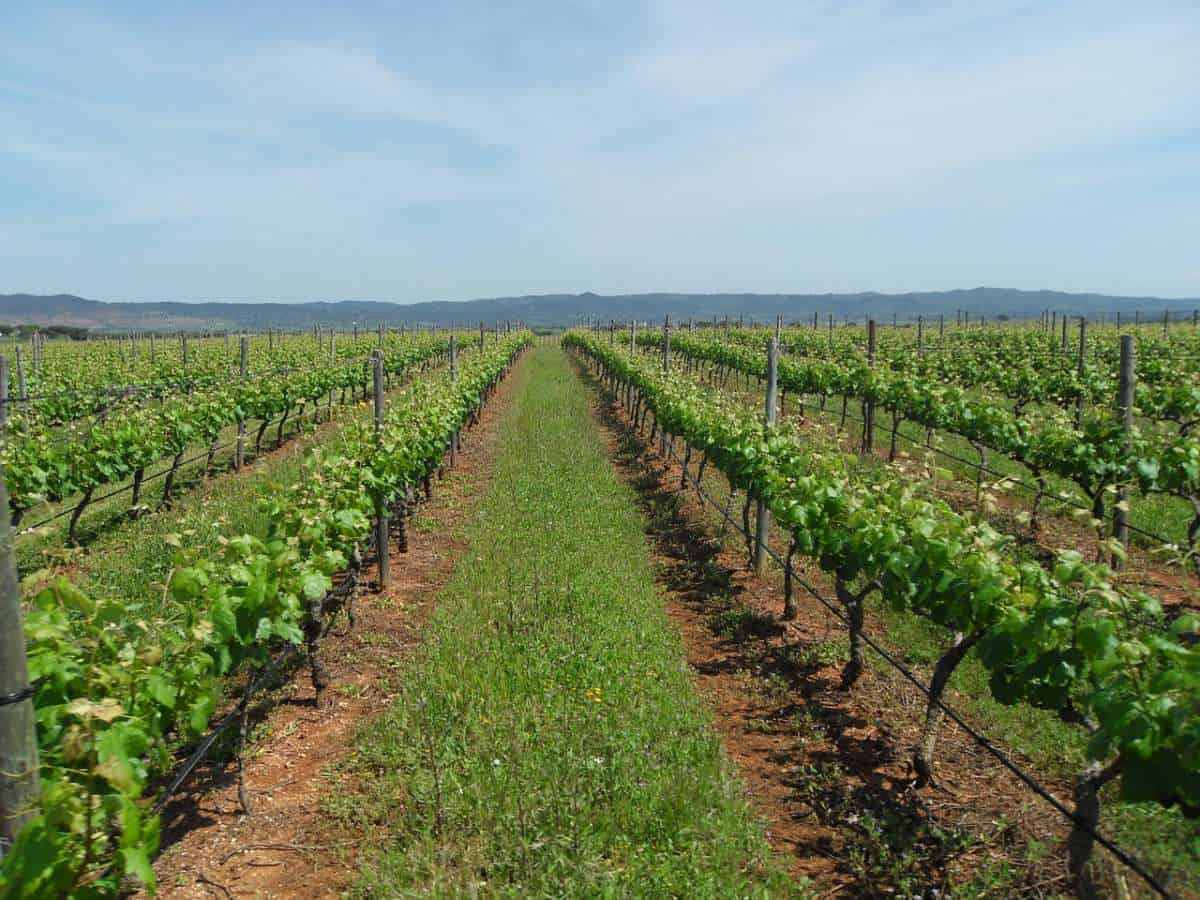 In case you're wondering what to do in Alentejo, Portugal for wine lovers, do not worry! A few years ago, the Alentejo region was crowned the best wine region in the entire world.
You don't have to be a true sommelier to enjoy some of the finest wines ever made. But it is not just the wine that makes this wine region one of the best ones in the world – it is the entire experience.
The environment plays a big part in this. After all, who doesn't like a wine tasting with a scenic view?
It should come as no surprise that a lot of Alentejo tourism caters to the wine industry!
A great Alentejo winery is Enoturismo Cartuxa, right in the city of Evora. They offer tastings of best food and wine in the region, as well as tours of their wine cellars. There's also the Herdade do Esporão winery, which is great for people who want to experience something unique.
Book here the best tours in Alentejo
How does a blind wine tasting sound? Or a bicycle tour of the area, which ends with a tasty picnic? Throw in some bird watching as well.
Of course, I can't go without mentioning João Portugal Ramos. Because, how often do you have to opportunity to try and make your own wine? And that's just one of the several different things you can experience there.
The wineries are just one of the many reasons why you should visit Alentejo.
Related: Things To Do in Fatima
4. Great Hikes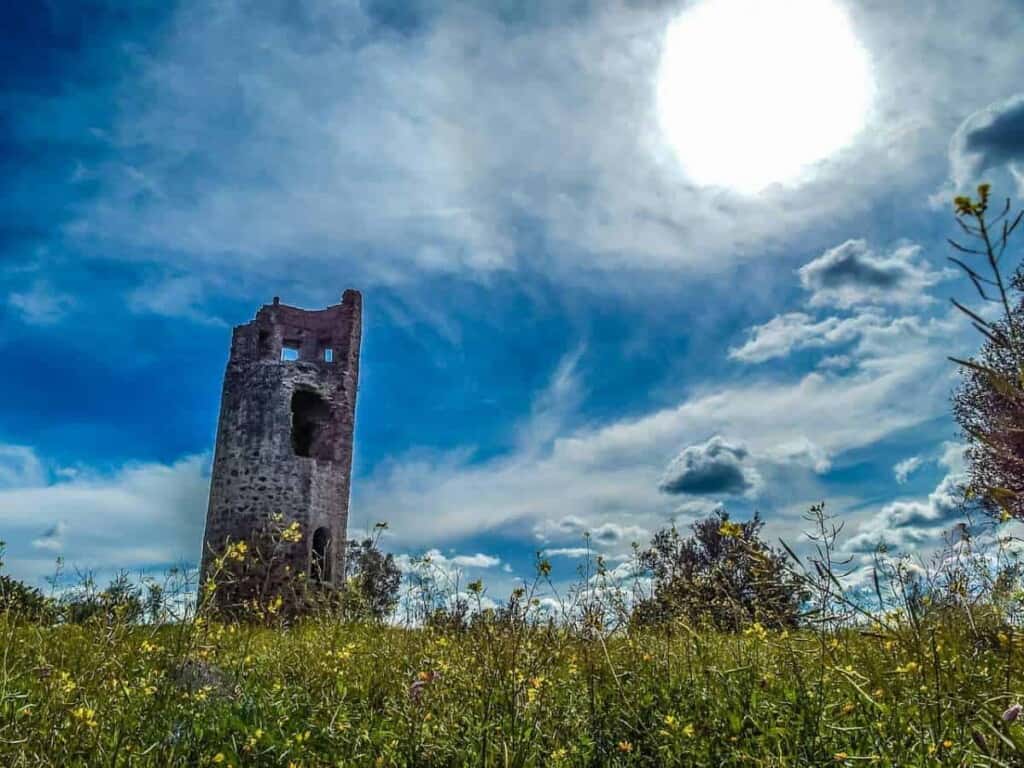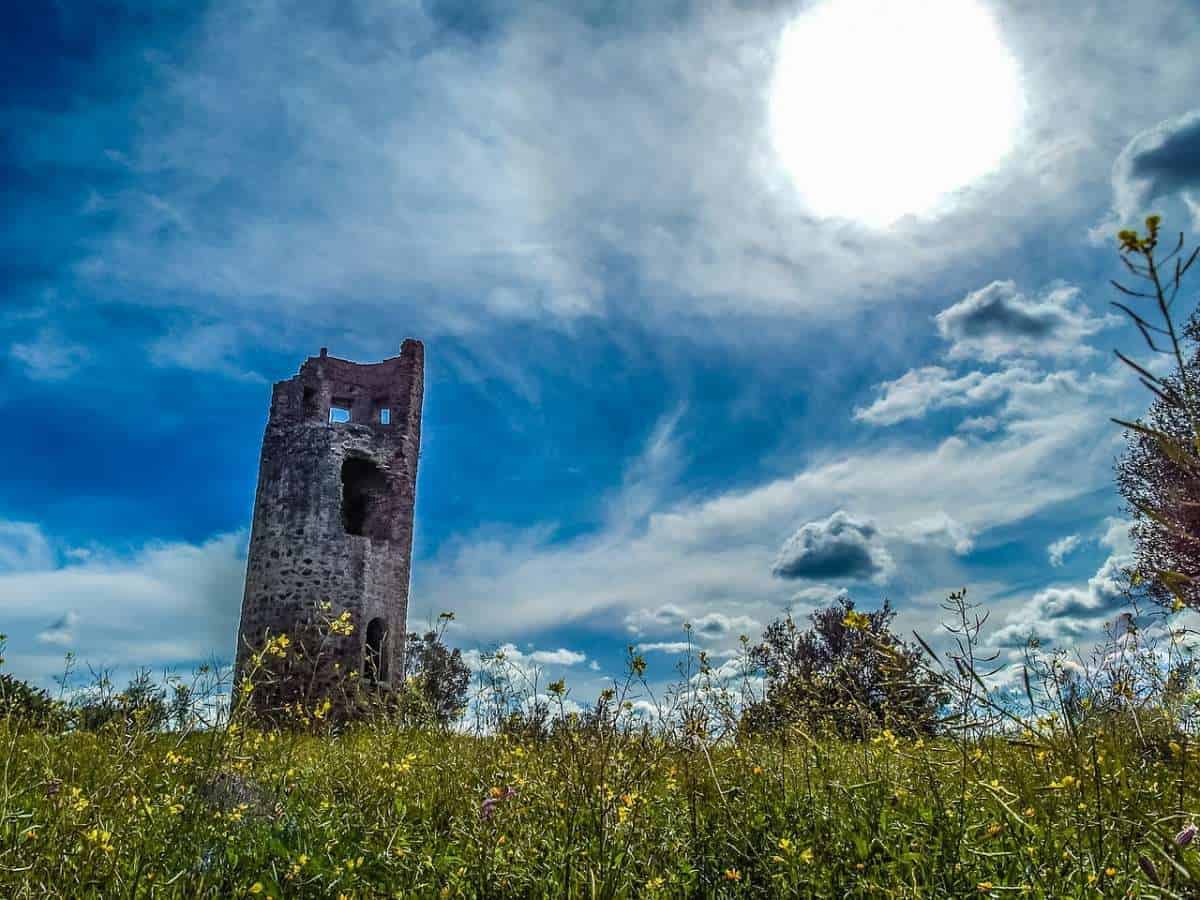 The only thing better than reading about adventure is experiencing it, and the Alentejo region of Portugal is perfect for adventurers! The landscape of Alentejo consists mostly of vast plains and rolling hills. Which means lots of different hiking trails, from ones that are really easy, to trails that even a pro would have to think twice about!
But they all have one thing in common – the views are incomparable to anything else you can imagine. The entire region is picturesque, and wherever you look, it is almost like you are looking at a postcard.
One attractive option is to just put on your hiking boots and explore the hills at your own pace.
Buy here all my favorite hiking gear
There are also some amazing routes near Santa Clara Lake. Most of them go from Santa Clara a Velha to the dam on the lake, which is a magnificent sight on its own. Especially when you think of the significance dams have in this region.
Whichever hiking trail you choose, exploring the outdoors is definitely one of the best things to do in Alentejo, Portugal!
5. Enjoy the legendary Vicentine Coast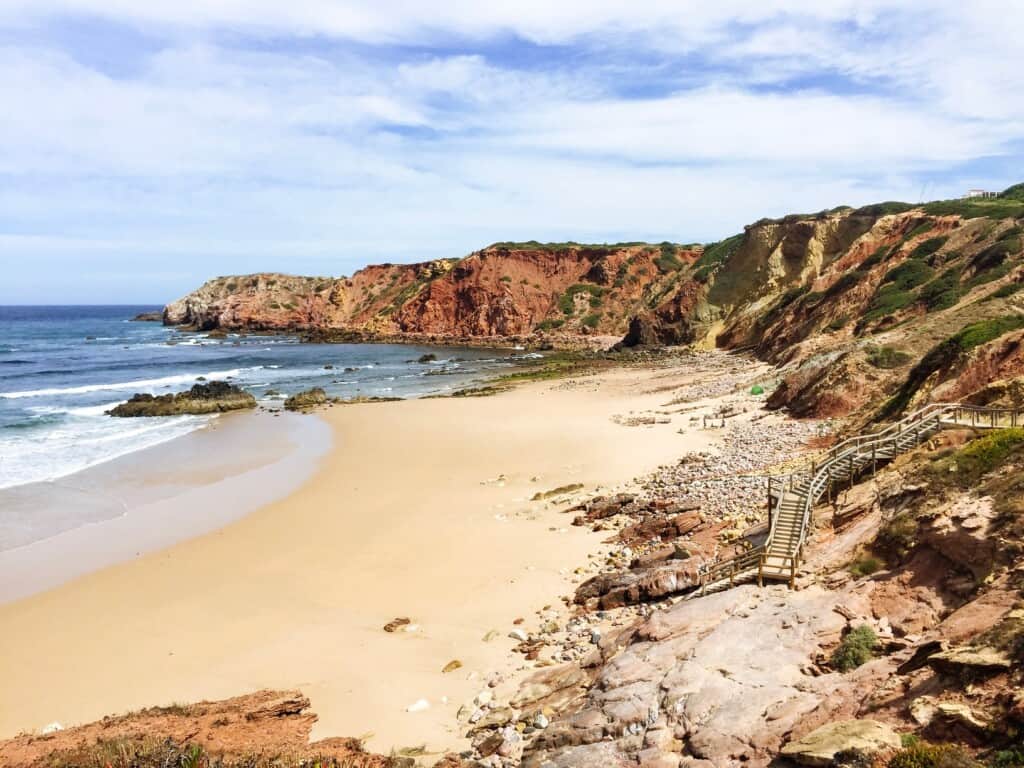 Or you could take on any one of the existing hiking trails. The best ones are in nature parks – Southwest Alentejo and Vicentine Coast Natural Park, in particular, has several great hiking trails.
Southwest Alentejo and Vicentine Coast Natural Park stretches through both Alentejo and Algarve and encompasses most of Portugal's western coastline south of Lisbon. The park has several amazing beaches, dramatic cliffs, lots of wildlife and even a fortress.
Rota Vicentina is a particularly popular hiking trail, since it takes you through eucalyptus plantations, across the vast plains, and along the coastline.
6. Visit Alentejo Nature Parks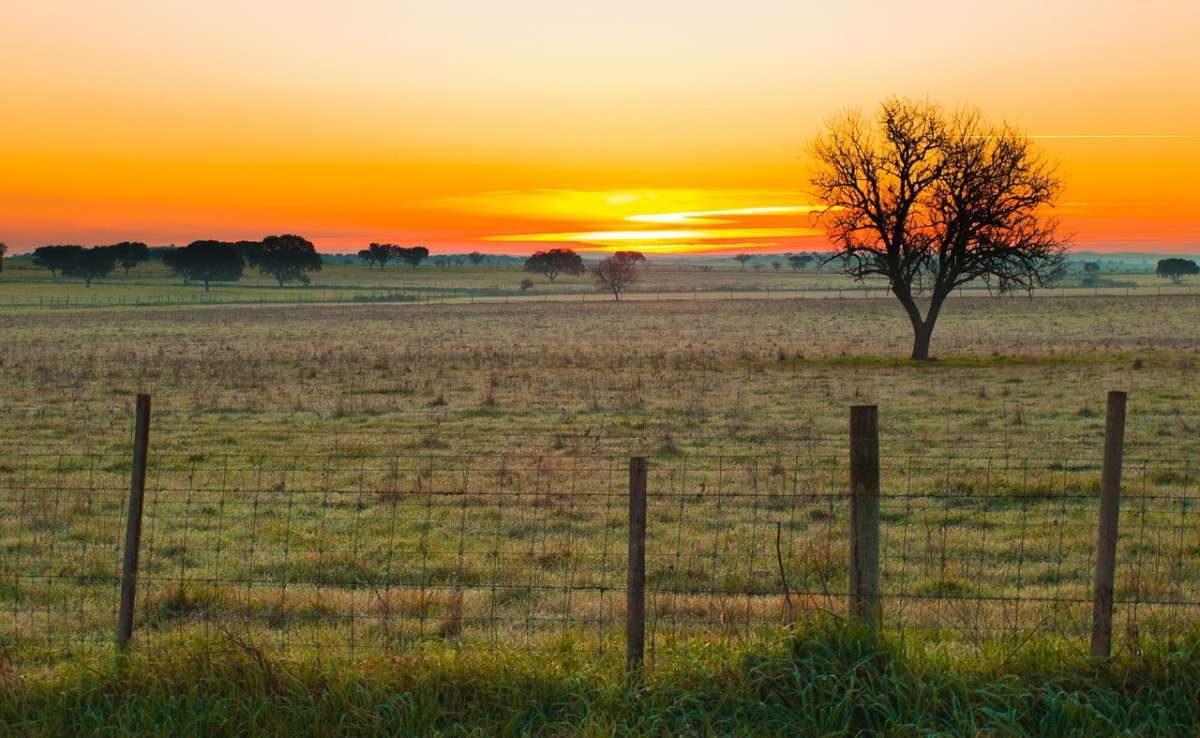 If you want to spend your holiday in nature, you really don't have a lot of options other than Alentejo. A quick look at an Alentejo, Portugal map shows that the region encompasses 30% of Portugal, which includes some of the best natural parks in the country.
Guadiana Valley Natural Park is just above the eastern Algarve region, and close to the border with Spain. This natural park lies in the valley of Guadiana river, and it even includes a few small towns that are the definition of traditional architecture.
You can have some amazing experiences here, like canoeing down the river.
There are several great birdwatching spots here, and you can also see other wild animals like sea otters and raptors. Birdwatching is one of the best things to do in Alentejo and in Algarve during winter.
Book here the best tours in Alentejo
7. Paradise for Outdoor Lovers
There's also an awesome safari park, just north of Sines. It's the Badoca Safari Park, and it's an amazing place for adrenaline lovers. Not only do you have the chance to go on some amazing rides, but you can also try rafting.
And there are over 600 different animals in this safari park – just how many do you think you will see?
Nature is one of the top reasons to visit Alentejo, Portugal. So don't forget your camera, binoculars and other safari essentials with one of these awesome eco-friendly backpacks made of recycled materials!
8. The Portuguese Food
Most wineries in Alentejo include food tastings in addition to wine tastings. And we're not talking any plain store-bought snacks – we're talking homemade, fresh and possibly unique treats.
While you won't find any Michelin star restaurants in Alentejo, you will find unique specialties in almost every town.
Isn't that a better way to get a true sense of Portuguese cuisine? You can try things like peppery olive oils and desserts with egg yolk as the main ingredient. And proper, delicious meals with some of the region's staple main ingredients – black pig, sheep's cheese, salt cod, and many others.
If you want a proper Portuguese meal, Alentejo will not disappoint you. There are lots of great restaurants in the region, which are not nearly as expensive as the ones in Lisbon or Porto. No surprises there.
A lot of those restaurants are in Evora, the capital of the region. One of the best restaurants in the town is the family-run Taberna Tipica Quarta Feira. It's a place where the locals go, which tells you a lot.
You just have to be open-minded – there's no menu, so you can't really choose what you eat. But every course you're served will leave you wanting more.
Book here the best tours in Alentejo
Another that I absolutely loved, but might be too pricey for some, is Origens, down one of the smaller side streets. It's quite small, so you need to book ahead, but it's worth it.
The chef is top-notch, as is the food and wine, and you can see the kitchen from your seat. We were right next to it, so the experience was even better!
The tasty food is definitely one of the reasons why you should visit Alentejo.
9. Serene and Affordable
If you want a peaceful location, you will have a much better time in Alentejo than in any other part of Portugal. The region is usually overlooked by tourists – most people flock to Lisbon, Porto and the Algarve. And that means empty beaches, deserted roads, and untouched nature.
Despite its beauty, this place is not well known. Where is the Alentejo region of Portugal, people always ask me when I say it's the best part of Portugal! But soon as you mention the stunning nature parks and empty Alentejo beaches, they understand it is worth a visit!
And it goes without saying that this region is much more affordable than resort towns and big cities.
Hotels and apartments are obviously cheaper, but so is everything else – food, wine, museum tickets, etc. This is great if you're on a budget, but you still want to go on a long holiday.
You can have just as much fun as you would in Porto or Lagos, but you will spend a lot less money.
Book here the best tours in Alentejo
10. Perfect for families!
If you're someone who hates crowds, then you will truly enjoy Alentejo.
You get all the beauty of Portugal – the long sandy beaches, medieval castles, and amazing hiking trails, but without dozens of other tourists getting in your way. If that's not true relaxation, I don't know what is!
This region is also great for families with children. You can fly a kite for miles on the beach with your little one, and you don't need to worry about bothering other people or tripping over someone.
The entire beach can be a playground for you and your kids!
Book here the best tours in Alentejo
---
About the author: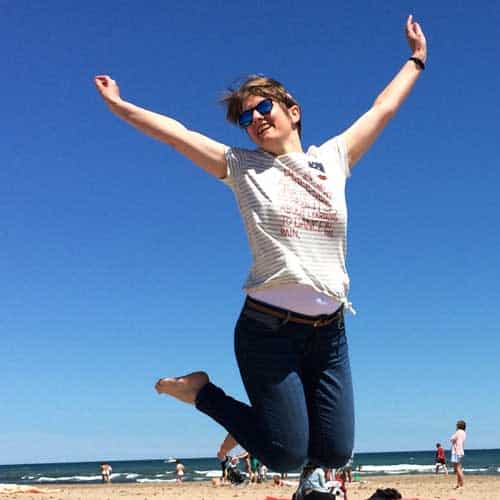 Anna was born to travel the world having studied languages all her life. Although she has traveled the world, she now calls Switzerland home and spends her time writing about her experiences on her travel blog with her husband.
---
Short FAQ
Where is Alentejo, Portugal?
The Alentejo region of Portugal is in the south-central part of the country and spans from the coast to Spain.
What to do in Alentejo, Portugal?
There is so much to do in Alentejo, you can explore nature, go for a hike or learn about the history. People love going to the Alentejo beaches along the coastline.
What are the best places in Alentejo?
Evora, the capital of the Alentejo region of Portugal is the most popular city. Visitors should also visit Marvao, the Guadiana Valley Natural Park, and Costa Vicentina for some of the best Alentejo beaches.
---
---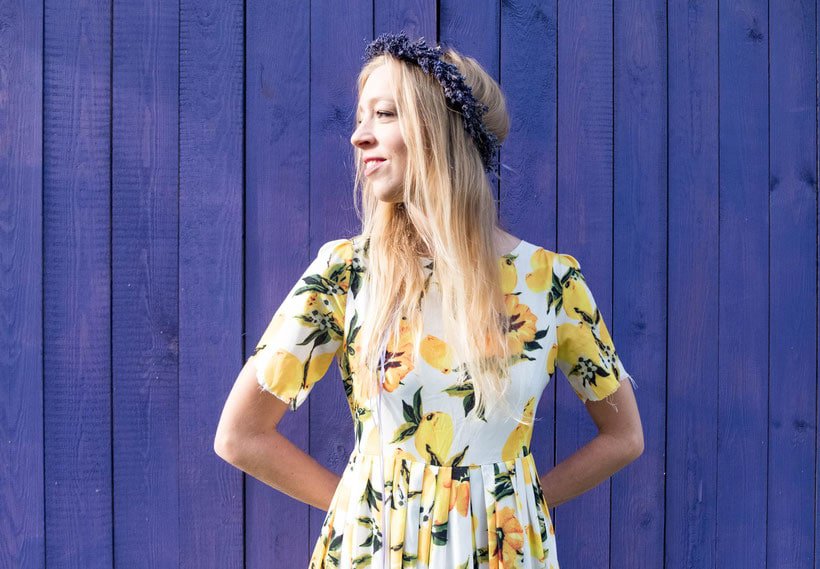 Hola! I am Paulina, a fervent travelette who crossed the Atlantic Ocean by Boat HitchHiking. On my blog, you'll find all the tips to make the most of your holiday. Get ready to enjoy outdoor and sustainable travel like hiking, cycling or sailing. Let's hit the road together!