A travel guide on the best tourist attractions and what to visit in Amman, Jordan
"Welcome to Jordan!" That's how you're greeted at every corner of Jordan's capital Amman. Whereas many skip Amman on their Jordan itinerary or just do a quick visit of the citadel before leaving to the Dead Sea or Petra, Amman has plenty of things to offer to its visitors.
If you want to do know what to do in Jordan, Amman is a city not to be missed.
Unlike the main tourist attractions in Jordan such as Petra or Wadi Rum, Amman gives you the perfect opportunity to get a unique insight into the local culture and the daily grind of Jordanian people.
It is also a great introduction to the Middle East.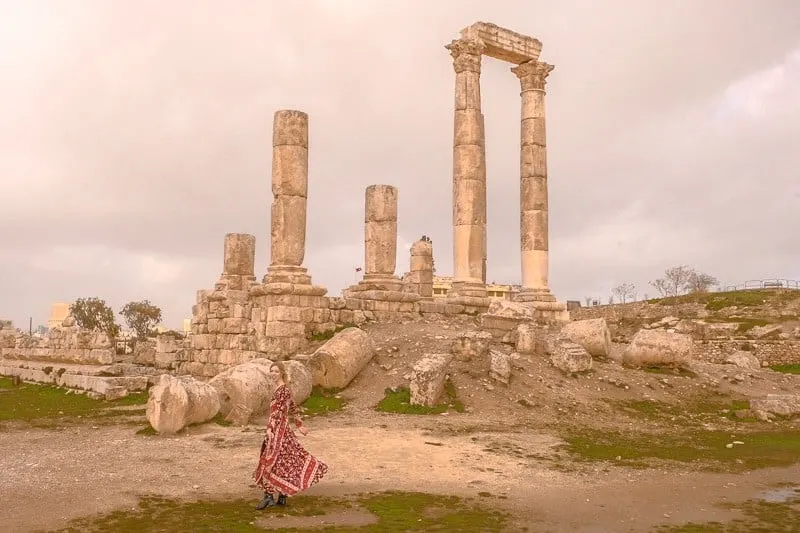 I spent a day in Amman (although originally I had planned to stay 2 days but due to a general strike in Belgium, I had to reduce my stay) and want to share with you the best things to do in Amman in one day.
This blog is supported by you, dear reader. If you purchase through a link, I earn a small commission. As an Amazon Affiliate, I earn from qualifying purchases.
Practical Information for travel to Amman, Jordan
✈ Book cheap flights to Amman with Skyscanner

✔ Book your tours in Amman with GetYourGuide

➳ Find the best hotel deals in Amman with Trivago

❖ Get the best car rental deals with Discover Cars.

☘ The best discounted outdoor gear (outlet) at REI.com.

✎ Never leave without travel insurance. I get mine at HeyMondo. It's easy to set up, cheap and reliable.

$ I withdraw money without hidden fees and avoid exchange rates with Wise (you'll get a free card on top)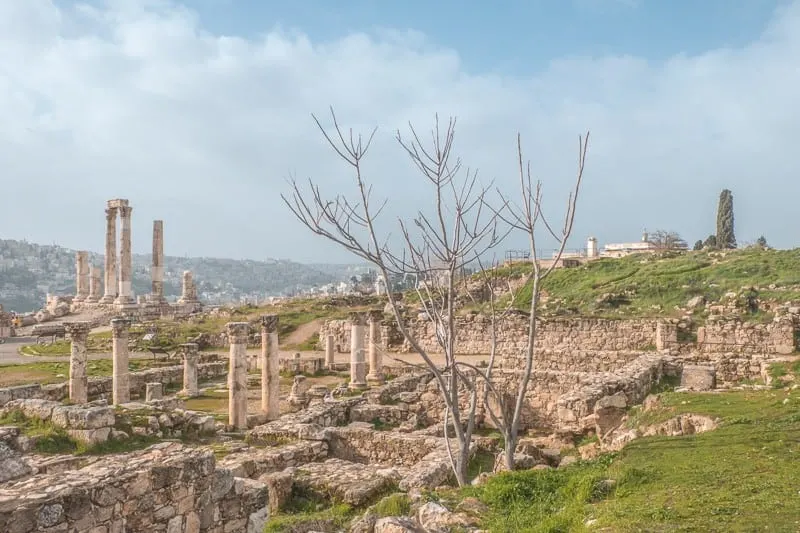 101 Travel Tips for Amman
How to get to Amman downtown:
Most visitors arrive at Queen Alia International airport. From here, you can get to Amman city center by:
Where to stay in Amman
I highly recommend staying in Amman downtown as it is the closest to all the attractions. Downtown is definitely the best area to stay in Amman. We stayed in Amman Pasha Hotel and it's only 10 minutes uphill walk to the Citadel. The Amman Pasha Hotel has a fabulous rooftop view of the Roman theatre, a great restaurant and the staff was very warm-hearted.
If you want to stay in Amman or elsewhere, read my handy guide on where to stay in Jordan and the best hotels in Jordan.
Hotels in Amman, Jordan:
Beirut Hotel ***
Olive Hotel ***
The Signature Hotel ****
The Sanrock by LeReve Hotels ****
5-star hotels in Amman:
The House Boutique Suites *****
Amman Rotana *****
W Amman *****
Fairmont Amman *****
Is it safe to Travel to Jordan?
Yes!
I didn't feel unsafe one single second during these 10 days in Jordan. Even though I was not traveling alone, I had some me-time where I was on my own and I didn't feel uncomfortable at all. That being said, we never went out of the town centers.
Okay, yes, some Jordanians are flirty but with a firm "No, thank you!" they get your point.
The extreme safety in Jordan, despite being surrounded by countries at war, is mostly due to the very severe penalties pending for those Jordanian citizens harming tourists.
So, yes, in retrospect, I would travel solo as a woman to Jordan. Particularly Wadi Rum is a lovely experience for any solo traveller.
Book here a day trip to Wadi Rum
Renting a car in Jordan
I visited Jordan with a rental car and absolutely recommend the experience.
Doing in total 1000 km in 10 days in Jordan, we had no bad experiences. Of course, you need to be a bit more careful than on European roads, but Jordanians usually drive cautiously.
Be aware of forgotten indicators and for countless speed controls on the road.
Our rental car was from Arena Cars at Amman airport. Check here the best prices for renting a car in Jordan.
Tours and Day trips from Amman
For activities, guided tours and day trips from Amman, I recommend GetYourGuide. Both have very competitive prices.
1. Visit the Citadel of Amman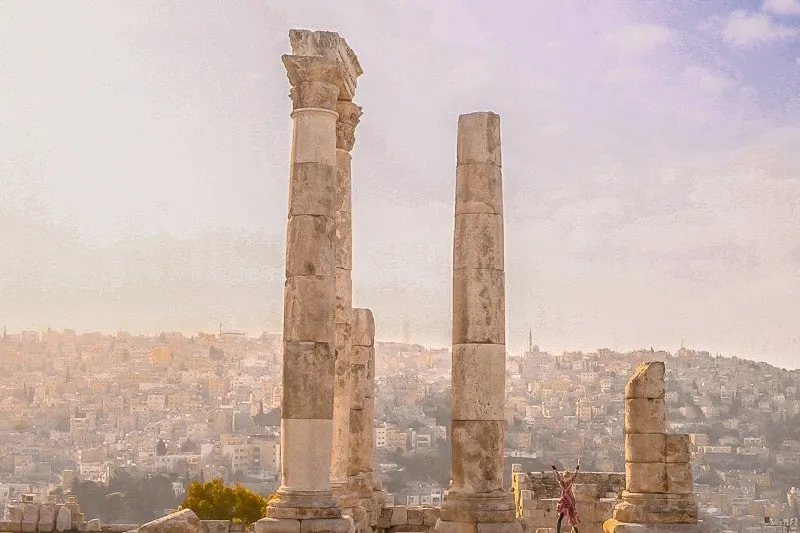 2 JOD, free with Jordan Pass
Whether you want to explore history or go sightseeing, the citadel is one of the biggest tourist attractions in Amman, Jordan. You can walk up to the citadel but should be aware that there are a lot of steps. Alternatively, a taxi ride to the citadel will cost around 1 JOD (1.41 USD).
I know that this is one of the most obvious places to visit in Amman, Jordan.
Even though I try to skip the most touristy things when I travel, the Citadel of Amman impressed me a lot and it's on the top of my favorite things to do in Amman. It is also where I got some of my best photos of Jordan.
I highly recommend visiting the Citadel as early as possible in order to avoid the suffocating heat and the crowds. Sunset and sunrise are particularly enchanting moments from the 850 m high Jebel Al Qala'a hill.
The origins go back to 1800 BC and you don't need to be a history buff in order to be blown away by the beauty of the site and the views.
It's here where you realize what a cultural melting pot Jordan really is!
Book here your guided Amman City Tour
The site includes a Roman temple, a Umayyad Palace, a Byzantine church, a 1700 meter wall from the Bronze Age and much more. This architectural mix is truly unique and gives you an idea of Jordan's cultural wealth and diversity. In my eyes, it is one of the best things to do in Jordan.
The most iconic place of Amman's citadel is without any doubt the Temple of Hercules. The majestic columns and podiums are visible from several parts of Amman.
The Umayyad Palace is the next highlight of Amman's citadel. Indeed, the citadel was also used as residential and royal complex in 720 AD. The domed audience hall and the cistern are testimonials of the architects of that time.
Watching the sunset or sunrise from the citadel hill is one of the most romantic things to do in Amman. Be aware that nights in Amman can get cold, thus check this packing list for Jordan.
Calculate at least 2 hours to visit one of the best places to see in Amman, the capital city of Jordan.
Book here your guided Amman City Tour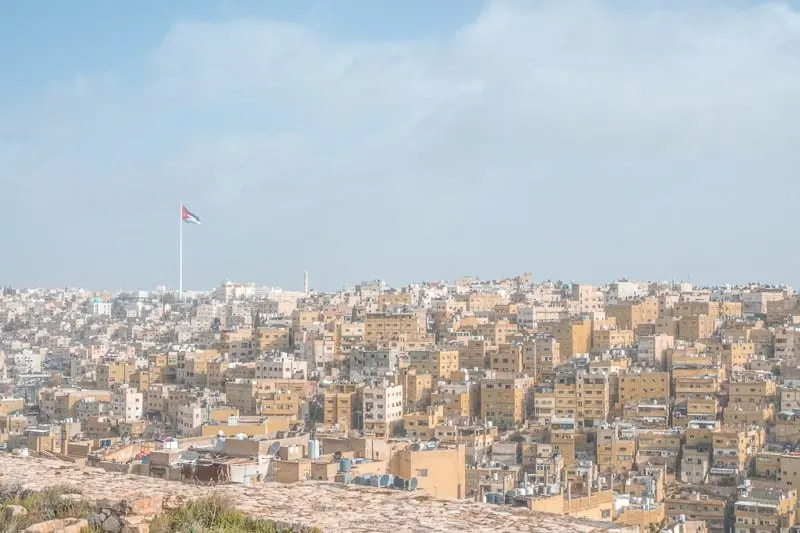 2. The Roman Theatre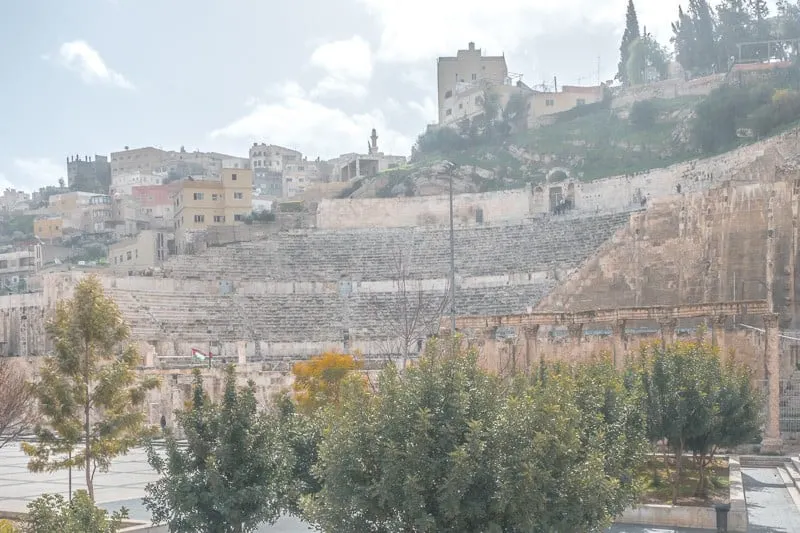 Yes, this is another historical attraction that is a must see in Amman. So far, I have only seen Roman amphitheaters in Spain and Italy, but this one truly has blown me away by its size and almost perfect condition!
Located at a 20 min walk from Amman's citadel, the Roman theatre is one of the most impressive legacies of Roman Philadelphia (Amman's name during the Roman empire). I
t could hold up to 6000 people!
Book here your guided Amman City and Food Tour
Even though the theatre was restored in the 1950s with non-original materials, the result is certainly impressive. Nowadays, several cultural events such as concerts are hosted and I recommend to ask in your hotel's reception or tourist office for the events schedule.
To me, it was one of the best tourist attractions in Amman and on top of my bucket list. The visit was for free.
Explore Downtown Amman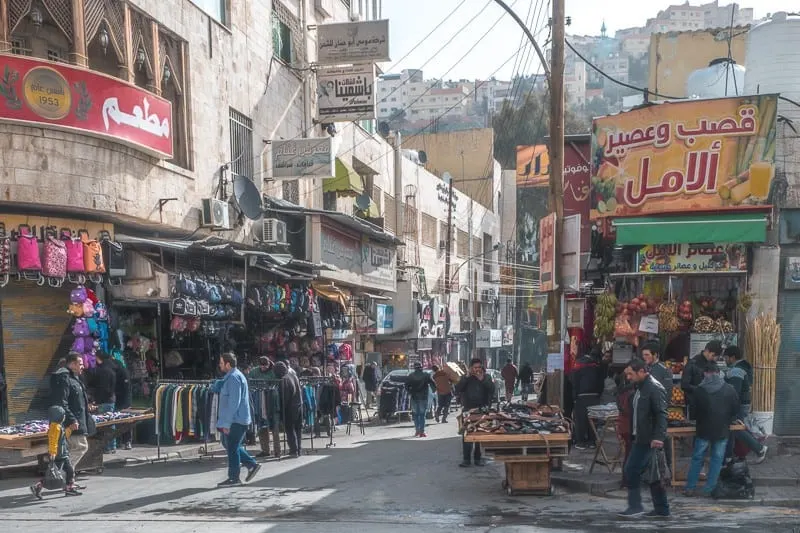 After checking 2 of the most emblematic Amman tourist attractions, it's about time to mingle with the locals! There is no better way to do so than in Amman downtown.
What to do in Amman? Well, the question should be rather, what NOT to see in Amman downtown!
The city center of Amman is surrounded by seven hills and is composed by the following main streets: Prince Mohammad, King Talal, Quraysh, Al-Salt, Al-Hashemi, and Basman.
All of them are packed with shops, markets, and trades selling everything from clothes to food, gold, and antiquities.
Book here your guided Amman Down Town Tour
Every street has its very own specialty when it comes to selling goods. Can you guess which one belongs to which street? There are plenty of things to see in Amman downtown and the souks are one of the highlights of every visit.
Amman's downtown is also known as Al Balad and it's perfect to wander around, observe the daily grind and have a fruit juice at any of the numerous stands. I found it to be one of the most fun places in Amman.
I felt very safe during the stroll.
4. Al Husseini Mosque Amman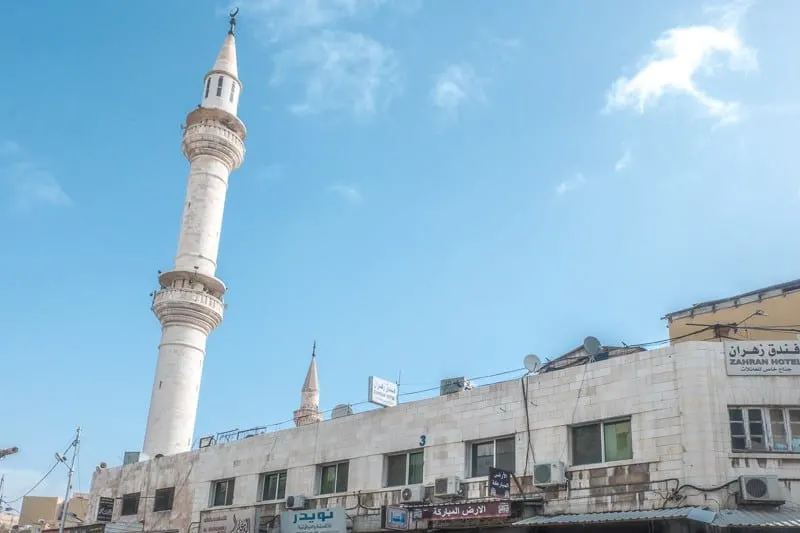 The Al Husseini Mosque in Amman's downtown is one of the top places to visit in Amman, Jordan. Located in the buzzing King Talal Street, the mosque is one of the oldest in Amman. It's also one of the biggest in the area.
Built in 1932 on top of a former mosque built around 640, it can be visited by tourists if you're dressed appropriately.
The mosque is close to 2 of the most famous souks in Amman: the Souq Al-Sukar selling spices, fruits, vegetables and nuts and the Souq Bukharia with its souvenir stalls.
Book here your guided Amman City Tour
5. Visit the Pigeon Market of Amman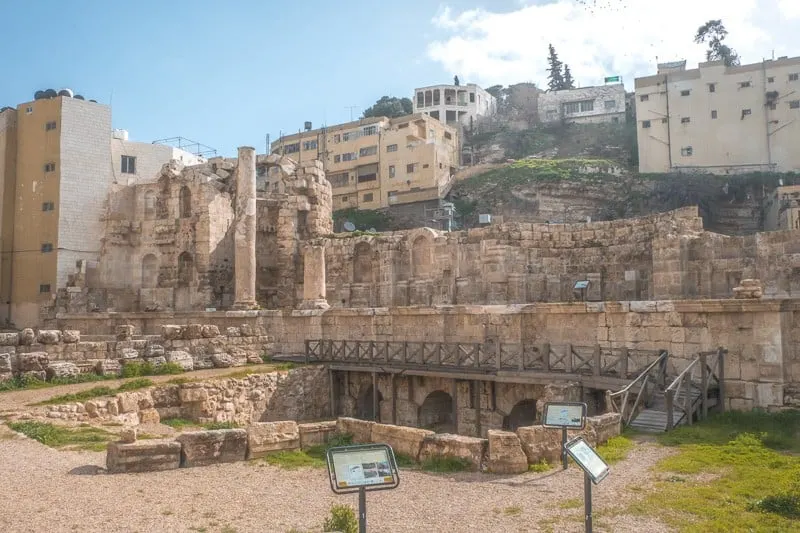 The Pigeon Market is one of the most curious attractions in Amman, Jordan. Located close to Al-Hashemi street, at a stone's throw from the Roman Nymphaeum, the gathering of hundreds of men caught my attention.
Then approaching them, I saw that they were selling paper bags… with pigeons in them! Needless to say that I was shocked to see all the poor pigeons captivated and being surrounded by such a commotion.
What are they doing with all those pigeons? There were thousands of them. Do they eat them?
No, not at all!
The pigeon market of Amman is important cultural spot because pigeon training is one of the national sports and pastimes in Jordan.
Dating back to 1150, the aim is to have as many pigeons as possible and to train them. Some are trained to fly back to their masters' rooftop at their whistle, some fly back at the call of the muezzin' call for prayer.
Strolling through the pigeon market is one of the top free things to do in Amman, Jordan.
Read more about the intriguing art of pigeon keeping in Amman.
6. Grab a fruit juice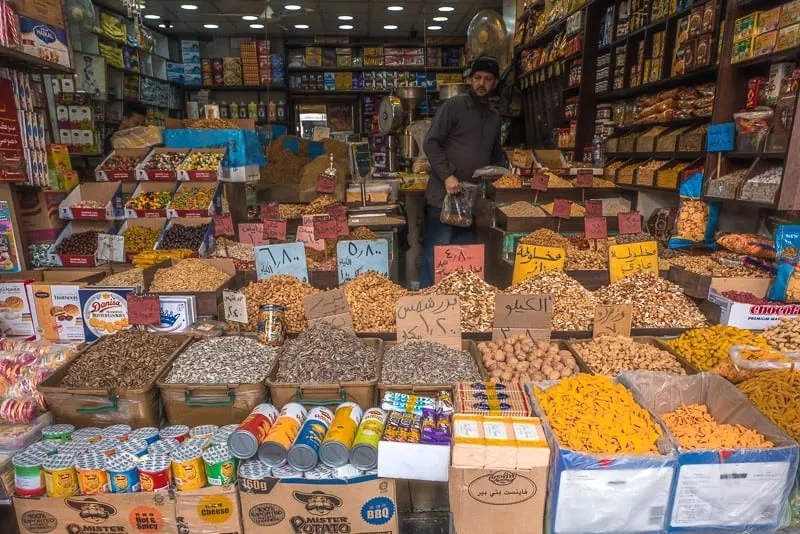 While walking the streets of downtown Amman and the Al Husseini mosque, you'll stumble upon numerous fruit stalls selling fresh fruit juices.
Every fruit stall is different and you'll be spoilt for choice!
Another typical drink sold in the streets in the city center of Amman is sugar cane juice. You'll recognize the stalls by the green-yellowish sugar canes behind the seller.
Sugar cane juice has the same effect as a Red Bull.
But don't drink too much of it, as it's known for its laxative effects!
The juice stand should be part of every Amman walking tour.
Book here your food tour in Amman.
7. Visit Jabal Amman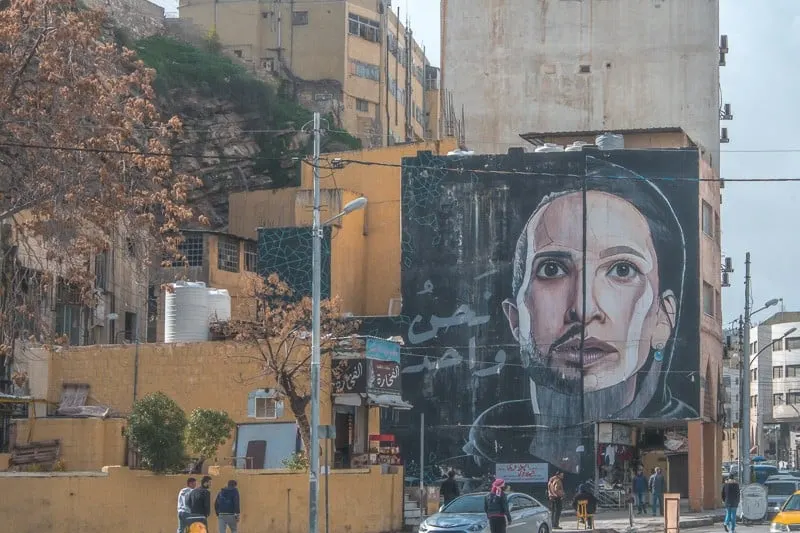 The area of Jabal Amman is located close to the city center of Amman and is known as the 1st circle on Jabal. Named after the hill where the area is located, only the rich and wealthy used to live in this neighborhood.
Nowadays, Jabal Amman is becoming increasingly famous for its bohemian atmosphere and for being a cultural hub. There are plenty of cafés, book shops, and galleries to be explored. In fact, there is so much stuff to do in Jabal Amman, you could spend a whole day here!
The main streets of Jabal Amman are Rainbow Street, Fawzi Malouf Street, Omar bin al-Khattab Street (also known as Mango Street) and Khirfan Street. The next point will be entirely dedicated to Rainbow street.
Fawzi Malouf Street is famous for its beautiful villas and Jordan River Designs which supports traditional crafts throughout Jordan. It is definitely one of the best things to do in Jordan.
Omar bin al-Khattab Street is home to the famous Mango House, built in reddish stone. The street is also famous for being home to the Jordan Royal Film Commission and hosting the popular BooksatCafé.
While being in Jabal Amman, you should make sure to have a drink or/and lunch in Wild Jordan Café Amman supporting ecotourism and local craft from all over Jordan.
It has a lovely view over Amman and you can stock up on souvenirs that support the local community such as baskets, tea, olive oil soaps, cushions and much more.
If you travel to Amman, visiting Jabal Amman will give you a different view on the Jordanian capital. For that reason it is one of the most fun things to do in Amman.
8. Rainbow Street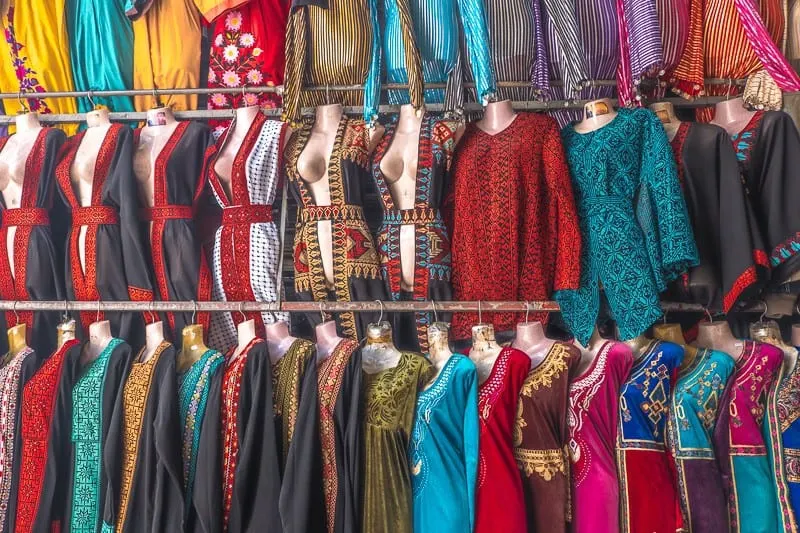 Rainbow street is probably the most famous street of Jabal Amman, if not of entire Amman. With its countless cafés, it's a hotspot for socializing.
Being also one of the busiest streets in Amman, you'll be spoilt for choice when it comes to choosing your bar or café to hideaway.
Indeed, there seems to be a bar for everyone: tea lovers, hipster sit-ins, stylish espresso bars,… Some even come with their own DJ!
Rainbow street is one of the top places to visit in Amman and will convince you of the upbeat atmosphere of the capital.
Rainbow street is also famous for its colorful ice cream shops.
9. Indulge in Hummus and Falafel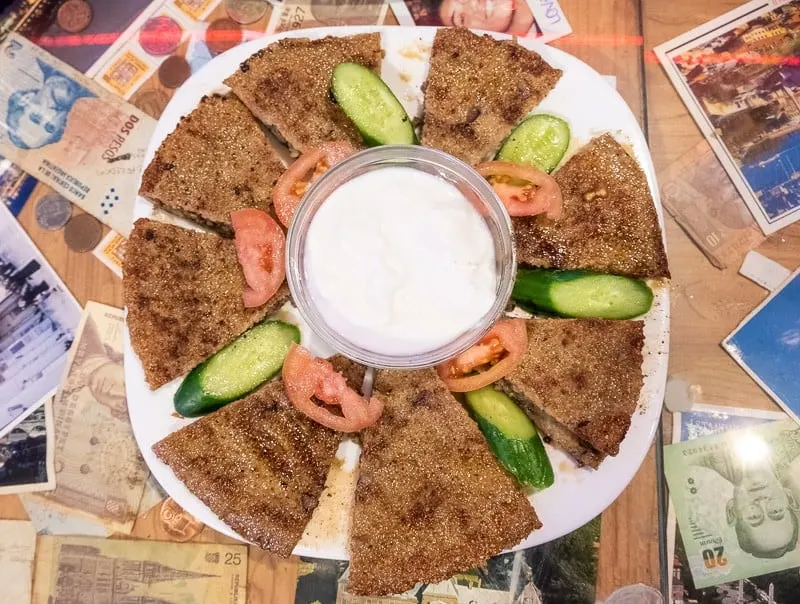 If you're wondering what to do in Amman, Jordan for foodies: you can't really leave Amman without enjoying Jordanian mezze.
Mezze refers to a variety of food served in small portions. Similar to the concept of tapas in Spain, having mezze for lunch or dinner is an excellent opportunity to get to know a lot of traditional Jordanian food in a short time.
Going for mezze is one of the most popular activities in Amman.
Book here your food tour in Amman.
The most famous foods that are part of every mezze are hummus and falafel. Both are so popular that they are even sold separately in the numerous food stalls of downtown Amman.
The most famous place to eat falafel and hummus in Amman is the legendary Hashem. Dating back to the 50s, this place is an institution and you should definitely book your table ahead. It is considered to be one of the best restaurants in Amman for hummus and falafel.
Hashem
Al Malek Faisal St
Hours: 24hr
Or for the best falafel in Amman:
Al-Quds
Al-Rainbow Street
Open 10 am – 9:30 pm daily
Book here your food tour in Amman.
10. Enjoy a Shawarma in Amman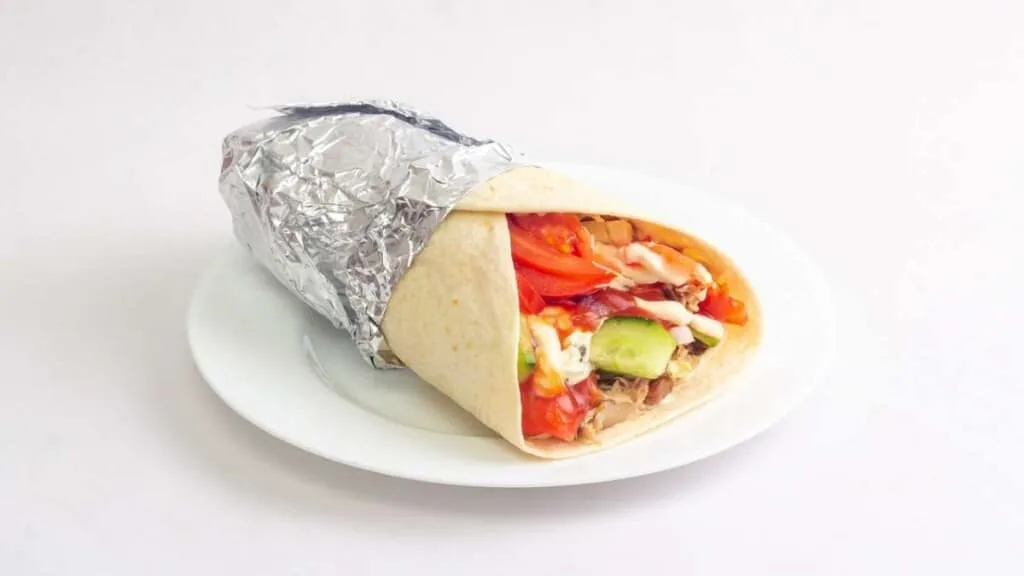 After hummus and falafel, eating shawarma in Amman is one of the top things to do in Amman.
Similar to what is known as "Turkish pizza" or "pita gyros" in Western Europe, the shawarma is a pita filled with grilled, marinated meat that is shaved off in bits from a big skewer.
Some people add yogurt to it, some onions and tomatoes. Book here your food tour in Amman.
Hungry? So, where can you eat the best shawarma in Amman?
Even though I didn't have the chance to visit this place by myself, I have heard that Shawarma Reem is the best place to have shawarma in Amman with queues standing on the street in order to get the best shawarma in town.
Shawarma Reem
Al Eslamiyah St 54
Book here your food tour in Amman.
11. Get pampered in a spa
Having a spa experience in Jordan is a must! Indeed, Turkish baths, massages, and hammams have centuries of tradition in Jordan.
They are yet another sign of the cultural influences brought over by the Romans and other civilizations.
Whereas many travelers think you can only enjoy a wellness retreat at the Dead Sea, they're wrong. Amman also boasts several great spa options.
In fact, a spa treatment is one of the best things to do in Amman, you will thank me later!
Some of the best Wellness retreats in Amman can be found within the hotels and can be booked with a day pass at the reception. Where to go in Amman for a spa experience:
W Amman: Not only is the rooftop bar one of the trendiest spots in Amman, but the hotel boasts one of the best massages and spa experiences in the Jordanian capital. You can choose your treatments on the extensive menu.
Fairmont Amman: With its Dead Sea pool, the Fairmont Amman offers its visitors one of the most emblematic spa experiences in Jordan. Indeed, the Dead Sea is well known for its health benefits. The large space boasts several pools and jacuzzi.
Al-Pasha Turkish Bath is the most famous hammam in Amman. Read here a detailed guide on how to visit a hammam including soaping, scrubbing, and olive oil massages.
12. King Abdullah Mosque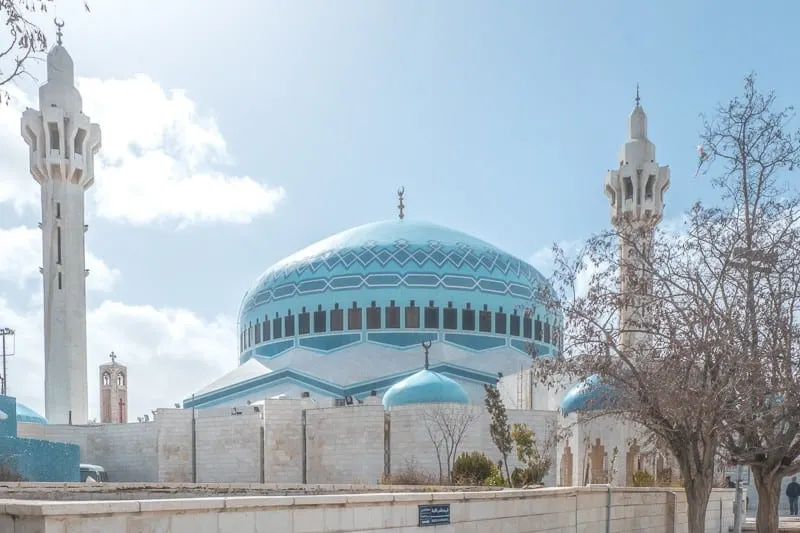 The King Abdullah Mosque is probably the most impressive mosque in Amman. The enormous, light-blue dome will definitely leave you in awe for some time.
We walked around for a couple of minutes to find the best angle to take a picture and it's probably from Al Mamoun Street where you get the best one.
King Abdullah Mosque can host up to 7000 worshippers and the cupola has a diameter of 35 m! The mosque is definitely one of the best places to visit in Amman.
With such an impressive cupola, we thought that the inside must be breathtaking too. Well, it was not as spectacular as expected, but it was a nice experience to have a glimpse in one of the most important mosques in Jordan.
It is still one of the most beautiful attractions in Amman from the outside.
Even if you are not religious, visiting the King Abdullah Mosque is one of the top things to do in Amman, Jordan. The entrance hosts several souvenir shops where you can buy sand bottles, traditional keffiyehs (scarves), Dead Sea products and painted ostrich eggs.
Entrance costs 2 JOD (not included in Jordan Pass) and abayas (black or brown full-length dress) are available and mandatory to cover bare arms, legs or jeans. Shoes must be removed before entering the prayer hall.
13. Enjoy Amman at night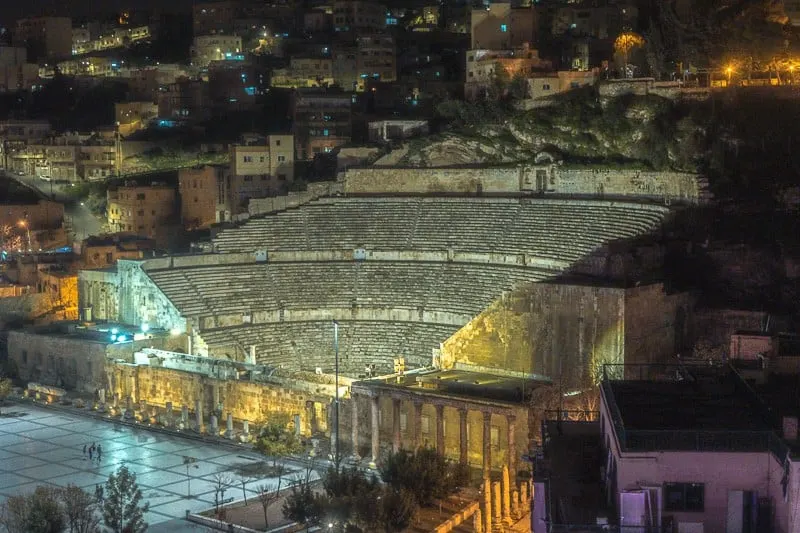 Unfortunately, I didn't get to experience all the fun things to do in Amman at night as we only spent one night there, and we mostly indulged in traditional mezze.
Our hotel Amman Pasha Hotel had a lovely rooftop, sp we would have loved to enjoy a drink with views of the Roman theatre. However, it was way too cold!
But someone once told me that Amman is less about sightseeing but about "being". It's thus perfect to mingle with the locals and get a unique sense for the daily grind in Jordan, far away from the main tourist attractions in Amman.
However don't get fooled by my experience since I have heard that Amman has a great nightlife. Clubs, bustling cafés, and lounges are just some of the best things to do in Amman at night!
Book here your Amman by Night tour
14. Take a day trip to the Dead Sea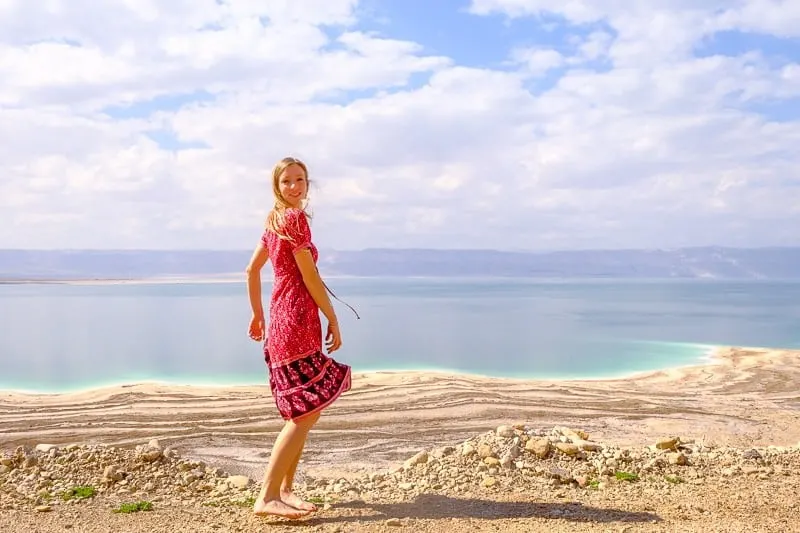 Book here your day trip from Amman to Dead Sea
It might be cheating to recommend day trips as top things to do in Amman, but The Dead Sea is a must for every Jordan itinerary.
If you only have limited time, I recommend taking a day trip from Amman to the Dead Sea. For only a 1-2 h drive, you'll get away from the hustle and bustle of the capital.
If you go by car, I highly recommend taking the road via Mount Nebo. It's one of the most important religious sites in Jordan and it's supposed to be the place where Moses saw the Promised Land for the first time.
The view is simply breathtaking … if it's not too cloudy!
From here, you'll drive down to the lowest point on earth, -423 m. The downhill journey to the Dead Sea was one of the most scenic parts of my trip to Jordan. Here and there, you'll spot Bedouin tents, goats, camels, …
The Dead Sea is famous for its spas as the salty water and its mud has been known for centuries for its health benefits.
It's important to know that most beaches are private, thus they belong to one of the numerous 4* or 5* hotels. So you pay for your stay or you pay 20-25 JOD to enter.
Book here your day trip from Amman to Dead Sea
The shoreline of the Dead Sea is rocky and has no easy access to the water. And, I'm sure you'll want to rinse off the salt after your "swim".
When it comes to public beaches in the Dead Sea, you'll want to visit Amman Beach which comes with showers. However, you'll pay for mud (3 JOD) and towels! – Read more about where to stay in Jordan and the best hotels in Jordan.
If you have the time, I highly recommend staying at one of the luxurious hotels in the Dead Sea as it will only enhance the relaxing effect of your wellness experience in Jordan.
I stayed at the Hilton Dead Sea Resort & Spa***** and I loved the laid-back but still luxurious vibe of the hotel.
READ: The Best Dead Sea Resort and Hotels in Jordan
15. Take a day trip to Jerash
Free entrance to Roman ruins with Jordan Pass, 8 JOD
Book here your day trip from Amman to Jerash
Jerash was one of my favorite places to visit in Jordan, along with Petra and Wadi Rum. Jerash is often skipped by many travelers. However, I highly recommend visiting the Roman ruins of "Gerasa".
They are probably the biggest and best maintained Roman ruins in the Middle East.
Located at 1 h drive from Amman, you can opt to either stay in Jerash or return in the evening. I only visited the Roman ruins, so I can't really say whether the town of Jerash is worth a night over.
The ancient city is packed with columns, arches, theatres, a magnificent forum, several temples, a huge hippodrome and much more.
You can easily spend up to 4 hours (and more!) here. During the summer months, it can get very hot, so make sure to bring a hat, sunscreen, and water with you.
Book here your day trip from Amman to Jerash
The most emblematic parts of the Jerash site are the following:
Hadrian's Arch: built for the visit of Emperor Hadrian in 129 AD
The breathtaking hippodrome which could host up to 15.000 people
The Forum: built in limestone and surrounded by over 50 columns. It links the Cardo Maximus to Zeus temple
Zeus Temple: One of the most impressive temples. Next to the temple, you can see a broken column that was destroyed by the earthquake
South Theatre: One of my favorite places in Jerash! Hosting up to 5000 spectators, the theatre is perfectly maintained and the acoustic is excellent. Occasionally, a drummer and a bagpiper are playing in order to give an example of the perfect acoustic
Cardo Maximus: the main street of Jerash connects the Forum to the North Gate. The street is still paved with its original stones and is about 800 meters long. It takes you to the Nymphaeum. Over 500 columns in different sizes are set along the main street of the ancient Roman City.
You see that there are plenty of things to do in Jerash and I promise that you don't need to be a history buff in order to enjoy the beauty of this ancient site. At some moments, I really felt like in a movie set of Gladiator or Ben Hur.
It's really a UNIQUE opportunity to get to know what it was like to live in a Roman city thanks to the excellent condition of the Roman ruins. Jerash is thus one of the best day trips from Amman.
Book here your day trip from Amman to Jerash
16. Visit a Spice Shop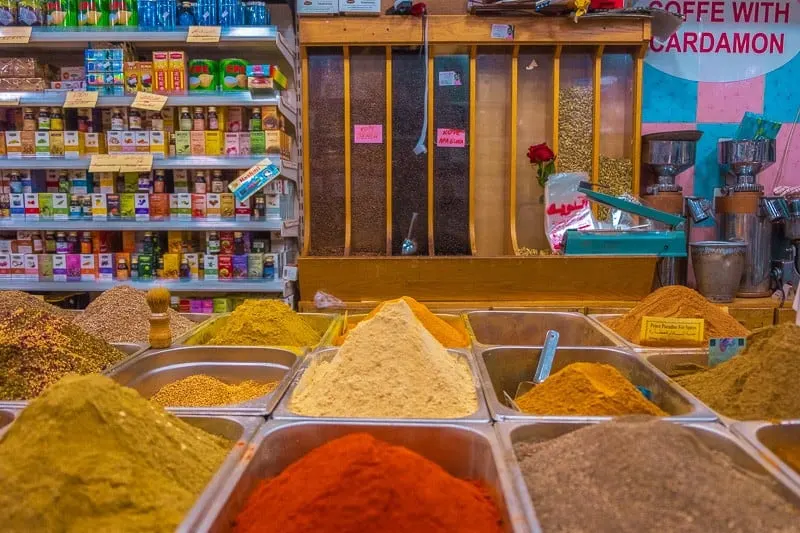 Anyone looking for stuff to do in Amman for foodies will want to head for a spice shop. When you see one, you will know why.
The spice shops in Jordan have what seems like hundreds of different spices on display, all different colors and flavors.
Here you will find everything: za'atar, mint, sumac, cardamom! If you tried some Jordanian food you loved and want to try making the stuff back home, I recommend buying some spices.
Spice shopping is one of the most cultural and fun things to do in Amman, Jordan. If you like photography, it is also a great opportunity for sightseeing in Amman because of all the colors! – Book here guided Amman tours
17. Enjoy a Jordanian Coffee in Amman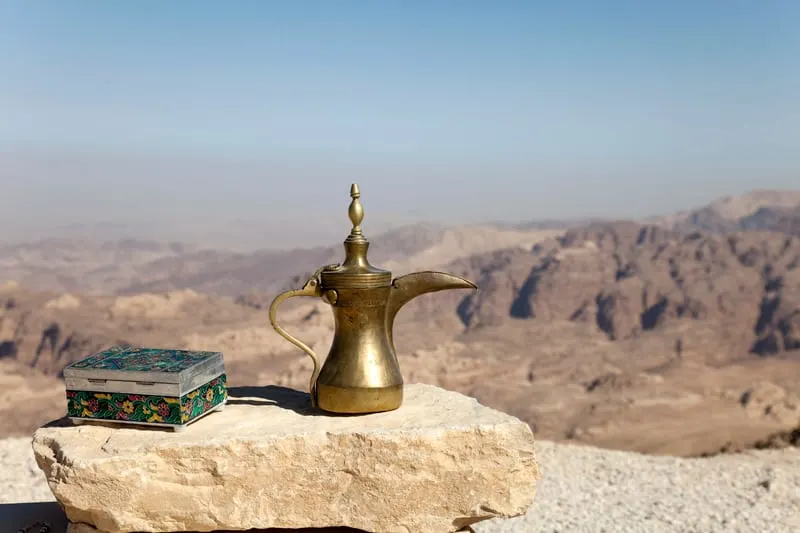 If you are invited to drink coffee with a local, you must say yes!
There is a whole important culture around coffee in Jordan, especially to Bedouins, which has been around for hundreds of years. In Jordan, coffee is used to create dialogue and build friendships.
But if it is not possible to go to a local's house, when you want a relaxing break from all the Amman sightseeing, go to a cafe to try out some Jordanian coffee.
Some of the best cafes in Amman are BooksatCafé, Seven Pennies and Rumi.
18. Visit Art Galleries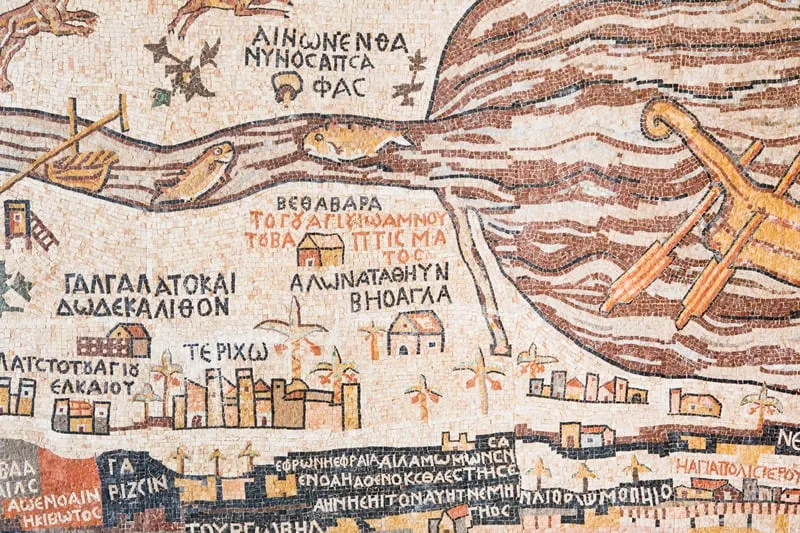 There are lots of wonderful cafes, shops, and ancient ruins in Amman. But what to see in Amman, Jordan for art lovers? An art museum, of course!
There are several cool art museums in Amman, but maybe the most famous one in Darat Al Fun. This gallery is one of the oldest in the city and an essential part of Amman's art history.
For a truly unique visit, you want Jacaranda Images. This museum is only about paper and even has an exhibit on Indigenous Australian art.
If you love art, treating yourself to a top notch art museum is one of the best things to do in Amman.
19. A Day Trip to Al Ma'wa Sanctuary
If you want to know what to visit in Amman to make a difference, I recommend the Al Ma'wa Sanctuary.
Al maw's means 'the shelter' in Arabic, which is what it tries to do. This place is dedicated to protecting rescued wildlife. Because of its location, many animals are trafficked through Jordan, and if the animals are rescued, but unable to return home, they go to the Al Ma'wa Sanctuary.
The Al Ma'wa Sanctuary is home to a few bears and tigers, but most of the rescued animals are lions. Seeing and supporting these amazing creatures is one of the best things to do in Amman, Jordan.
Th area is also home to some of the best hiking trails in Jordan.
20. Enjoy Luxury Hotels in Amman
Amman is a very amazing place to visit, and you will never run out of things to do. But sometimes, you do just need a break.
What to do in Amman when you want to relax? For world-class treatment, enjoy time in a luxury hotel. You can have spa treatments, go swimming or eat 5-star meals!
Here is where to stay in Jordan for the best luxury holidays!
I hope this list of the best things to do in Amman, Jordan has inspired you to visit this beautiful city. As you may have noticed, what to do in Amman can depend on the kind of person you are. But with so much history, culture and delicious food there is something for everyone!
---
Amman Attractions Map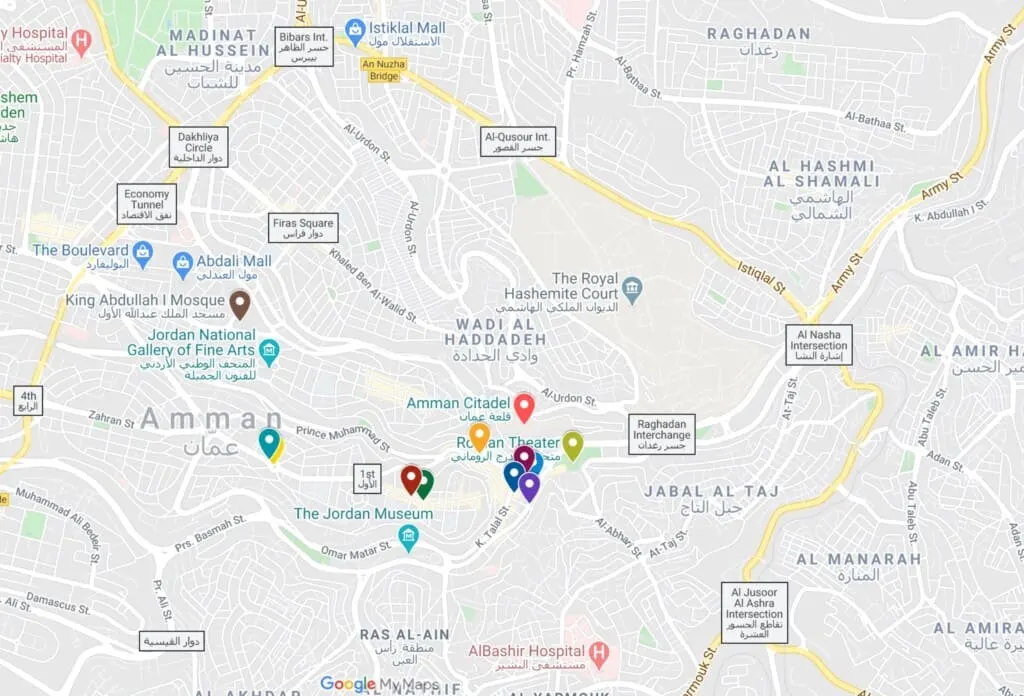 ---
Before You Go: Top Tips for your Trip
You'll snap a ton of photos and I love to take my GoPro in order to shoot even in extreme situations.
Make sure to wear comfortable walking shoes and hiking sandals when traveling to warm countries.
Sunscreen is key! I always take with me my eco-friendly sunscreen by Thinksport.
I always carry a light rain jacket, just in case.
Travel insurance is essential! If you haven't already obtained travel insurance for your trip, travel protected against all odds with SafetyWing.
To make the most of your Jordan trip, I recommend the Lonely Planet Jordan.
---
Short FAQ
What to do in Amman at night?
Get to know the locals and enjoy clubs, cafés, and lounges.
What are fun things to do in Amman, Jordan?
There are so many fun things to do in Amman, but some of the more unique ones are visiting the pigeon market and going to the Bohemian district of Jabal Amman. Also make time to see all the historical sites!
---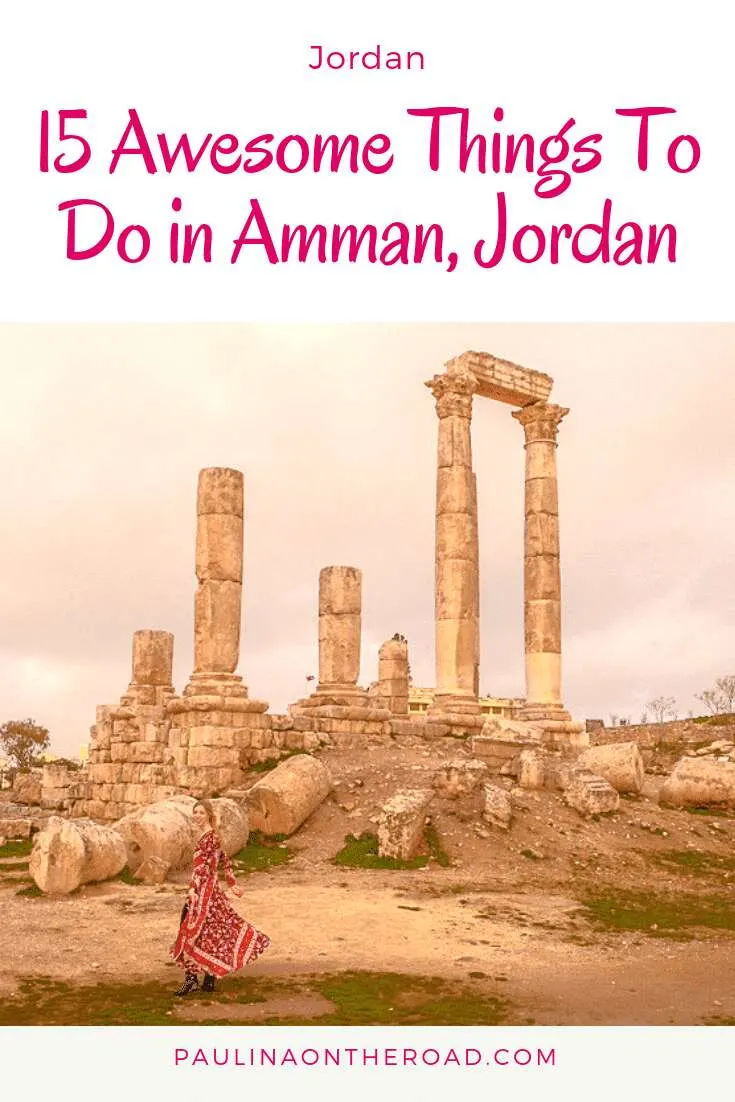 Hola! I am Paulina, a fervent travelette who crossed the Atlantic Ocean by Boat HitchHiking. On my blog, you'll find all the tips to make the most of your holiday. Get ready to enjoy outdoor and sustainable travel like hiking, cycling or sailing. Let's hit the road together!