Discover the best Wadi Rum Camp activities and attractions in Jordan while staying at a Wadi Rum camp managed by Bedouin people
Are you looking for an unforgettable travel experience? If so, a visit to the stunning Wadi Rum Bedouin Camp in Jordan should be at the top of your list!
Located in the desert landscape of southern Jordan, this unique camp offers visitors the chance to explore breathtaking pink sand dunes and canyon walls from a traditional Bedouin viewpoint.
From 4×4 jeep tours through extraordinary rocky valleys to therapeutic yoga sessions among petroglyphs, there's something for everyone at this incredible destination.
So get ready for an adventure — start making your plans today and let us show you why a trip to Wadi Rum is truly unforgettable and one of the best things to do in Jordan.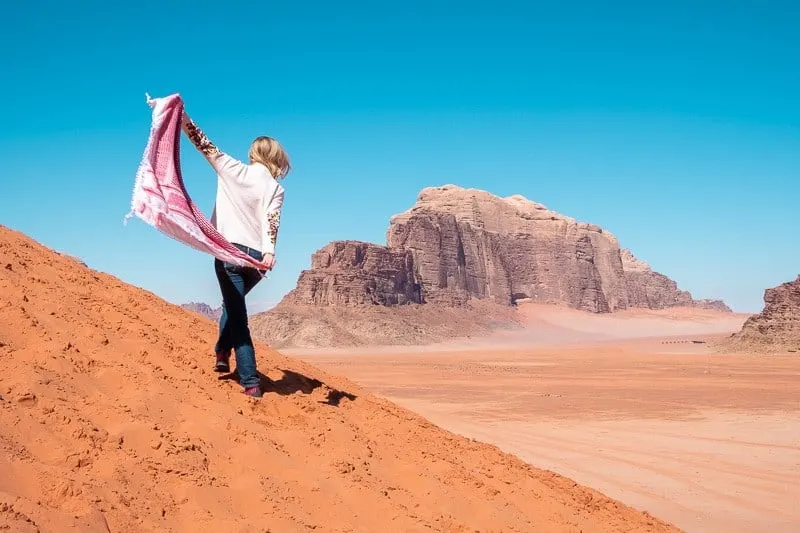 This post contains affiliate links. if you buy via them, I'll earn a small commission which helps me to keep this blog running. I received services for free for an honest review. All opinions are my own.
Practical Information for travel to Jordan
✈ Book cheap flights to Jordan with Skyscanner

✔ Book your tours in Jordan with GetYourGuide

➳ Find the best hotel deals in Jordan with Trivago

❖ Get the best car rental deals with DiscoverCars

☘ The best discounted outdoor gear (outlet) at REI.com

✎ Never leave without travel insurance. I get mine at HeyMondo. It's easy to set up, cheap, and reliable.

$ I withdraw money without hidden fees and avoid exchange rates with Wise (you'll get a free card on top)

⚘ Get a travel guide in order to prepare your trip. I recommend the Lonely Planet Guide – Jordan
Where to stay in Wadi Rum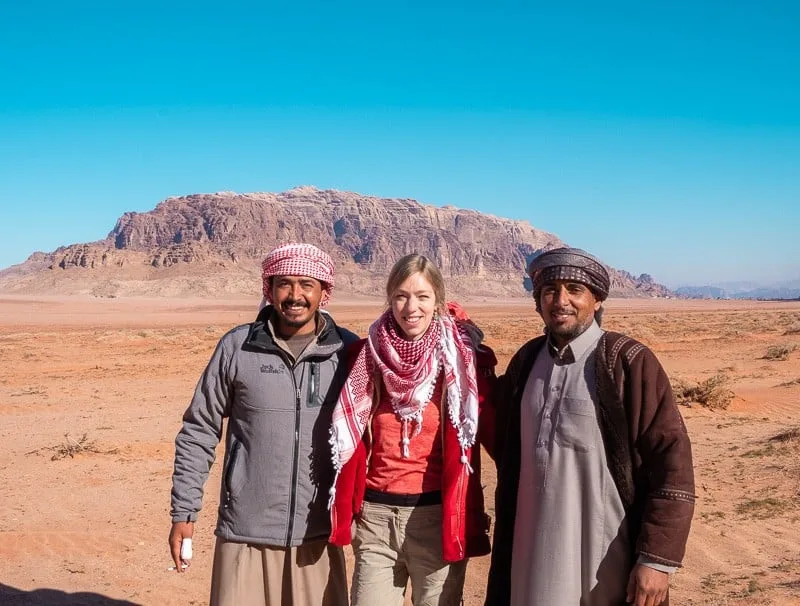 There is a large choice of where to stay in Wadi Rum, Middle East; you can either stay in the Wadi Rum village, a Bedouin camp in the desert or a Wadi Rum Luxury Camp.
Some even spend the night in a sleeping bag below the desert's stars!
In truth, the more you sacrifice on comfort, the more memorable the experience and the more Wadi Rum bedouin camp photos you'll want to take!
Read more about where to stay in Jordan to help you decide the best fit for you and your budget.
Wadi Rum Desert Camps:
Captain Desert´s Camp Wadi Rum
Wadi Rum Dream Camp
Wadi Rum Sky Tours & Camp
Wadi Rum Fire Camp
The one and only: Wadi Rum Quiet Village
Luxury Desert Camps:
Bait Ali Lodge, Rum
Memories Aicha Luxury Camp
Space Village Luxury Camp
Wadi Rum Night Luxury Camp
Sun City Camp
Every desert camp in Wadi Rum is different and the personality of your hosts will make or break your Wadi Rum trip.
Additionally, the offered tours vary a lot: some even offer air balloon excursions.
Read more about where to stay in Jordan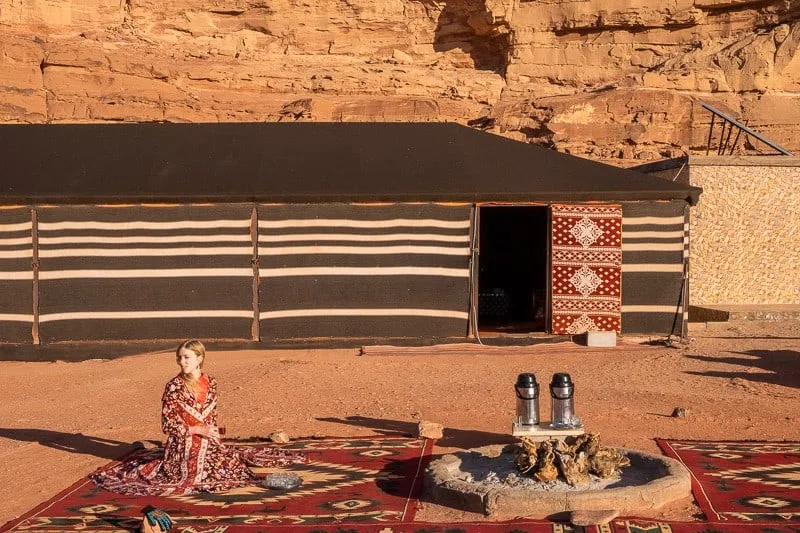 Wadi Rum General Information:
Weather in Wadi Rum: weather conditions are rough in summer and in winter. During winter, temperatures can go as low as 0°C at night and go up to 15°C during the daytime. Thus, bring extra pajama! In the summer months, the heat can be really intense: always carry water, apply a lot of sunscreen and plan your activities for cooler times of the day. At nighttime, even in summer, temperatures can go very low: make sure to bring extra warm layers.
Check out outlet REI.com for amazing discounts on outdoor apparel
Dress appropriately: If you're wondering what to wear in Wadi Rum, I recommend wearing comfortable hiking shoes (I don't recommend sandals) and wear light, long, cotton clothes. The Bedouin have traditional values, thus it would be inappropriate to wear miniskirts and short tops in a Wadi Rum Bedouin camp. During the winter I would recommend adding a fleece jacket from REI.com to your Wadi Rum outfit for cold nights.
Photography lovers: the desert holds countless scenic photo motives. However, the best are probably the colors of Wadi Rum desert at sunset or sunrise. Ask your Wadi Rum camp staff where to find the best spots. Wadi Rum is also a great location for night photography.
Be open-minded and listen. The Bedouins have unique stories to tell and their sense of community is something you won't find everywhere. For me, it was a deeply touching experience, listening to the songs of Hussein in the Wadi Rum Quiet Village and how the desert shaped their lifestyle during generations.
Even though there is wifi in the main tent, I didn't touch my phone for 2 days – and one of my biggest Wadi Rum tips is to do the same!
I felt like renewed after this digital detox and fueled up with the positive energy of Saleem and his staff from Wadi Rum Quiet Village.
Book here your day trip from Aqaba to Wadi Rum
What do to in Wadi Rum: Must-Dos!
1. Do a Wadi Rum Jeep Tour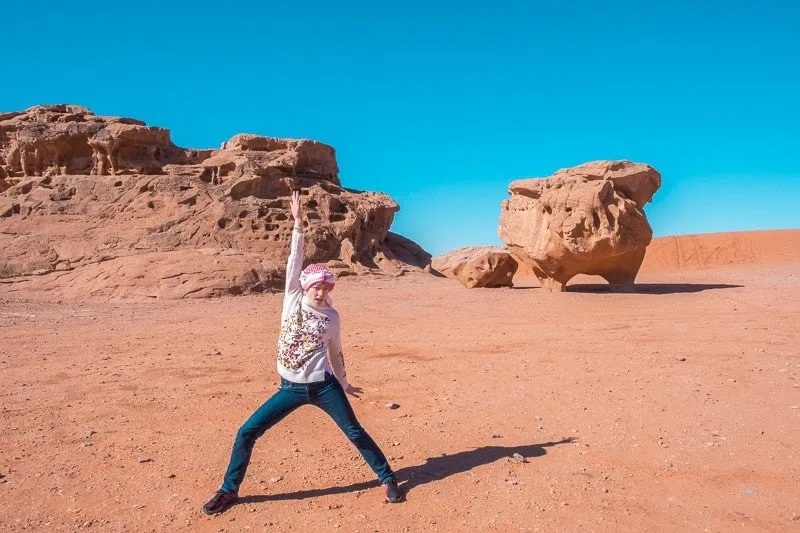 One of the most popular things to do in Wadi Rum Jordan is a jeep tour to the highlights of the desert.
The jeep tours can last anything between a few hours or an entire day.
In the old days, Bedouins used to roam the desert with camels or on foot, but nowadays, almost every camp has a few jeeps to pick up clients.
Additionally, the Bedouins living only in the desert often have a jeep.
Thus, even if I prefer to travel sustainable, a jeep tour in Wadi Rum is like joining the Bedouins on their daily routes.
Most of the best Wadi Rum Jeep tours can be booked at the camp or at the Visitor's Centre.
If you go on a day trip, don't forget to bring water and food. You can buy some food in the Rum village.
The Wadi Rum Jeep Tour was the first I did in my life and I found it quite fun.
As the Wadi Rum desert is large and the main attractions are spread out all over the area, the jeep tour was the best Wari Rum tour. – Check rates & reviews for Wadi Rum Tours here
The highlight of the Wadi Rum Jeep Tour, however, was the camel mummy and her baby.
Because you're free to stop whenever you feel like it, we took a couple of minutes to pet the camel baby.
I can thoroughly recommend taking a desert tour!
Click here for day trips from Amman to Wadi Rum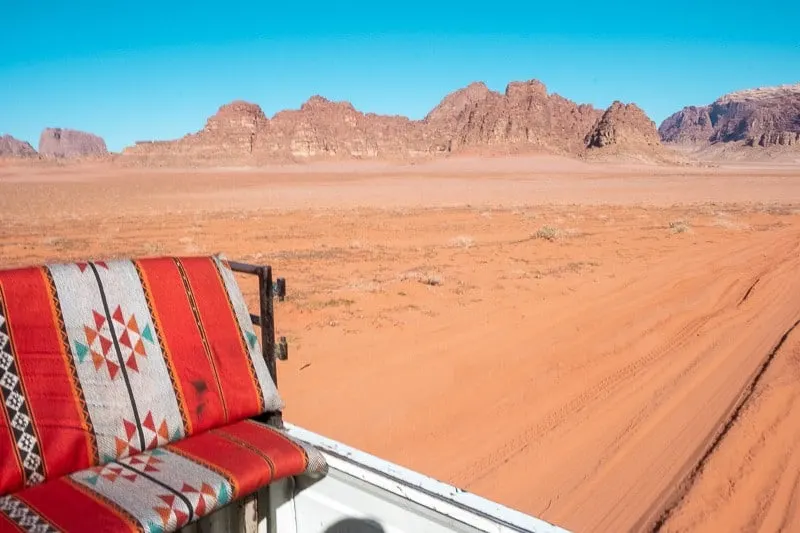 2. Go Camel Riding in Wadi Rum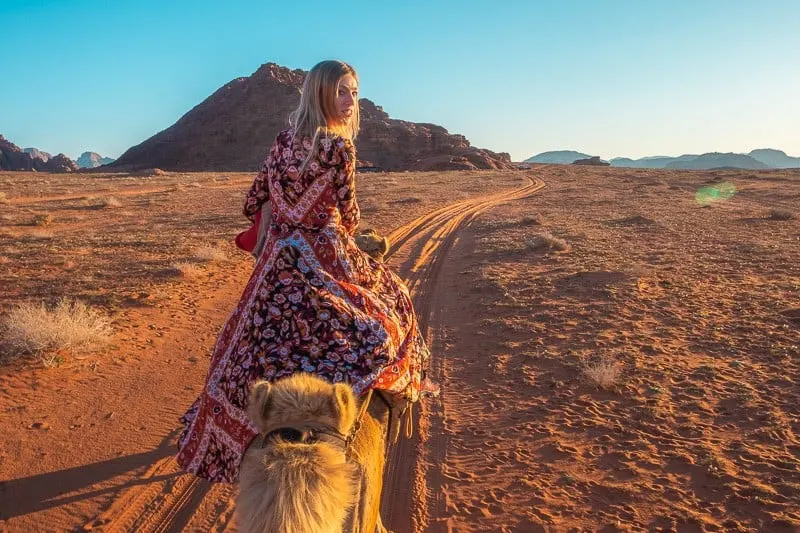 The second unmissable thing to do in Wadi Rum is going for a camel ride!
In fact, I would argue that no Wadi Rum itinerary is complete without at least a quick camel ride.
Wadi Rum sightseeing couldn't get any better than this – and it's perfect for Wadi Rum bedouin camp photos.
Unlike the camels in Petra which looked to be a little too skinny and exhausted, the camels of Wadi Rum are living in the desert for many generations and are cherished by their owners.
During many years, they were the main mean of transport to roam the desert and were particularly helpful in everyday life.
Also known as the "ships of the desert", they can carry up to 270 kg and are often the main source of wool, milk, and meat in the desert.
On top, their entire body is made to resist the harshness of the desert: they can close their nostrils against sandstorms and two rows of long lashes protect their eyes.
On top, they are some of the most resistant animals you can find out there: they can survive up to 6 months without food or water!
The Camel Trek in Wadi Rum was one of my highlights as it allows to be close to nature and to travel slowly.
It gives you plenty of time and quietness to appreciate the beauty of the breathtaking orange-pink landscapes.
A little bummer was the fact that the guide was all the time walking in front of us and the trek was thus really slow and you know my love for adventure.
Camel riding is one of the classic Wadi Rum tours and can be booked at any camp.
You can also choose between a sunrise or sunset camel ride in Wadi Rum.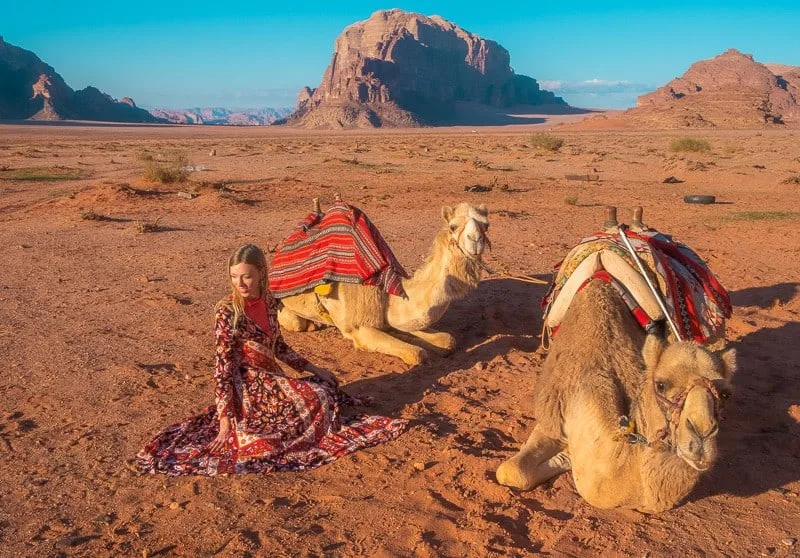 3. Watch the Sunset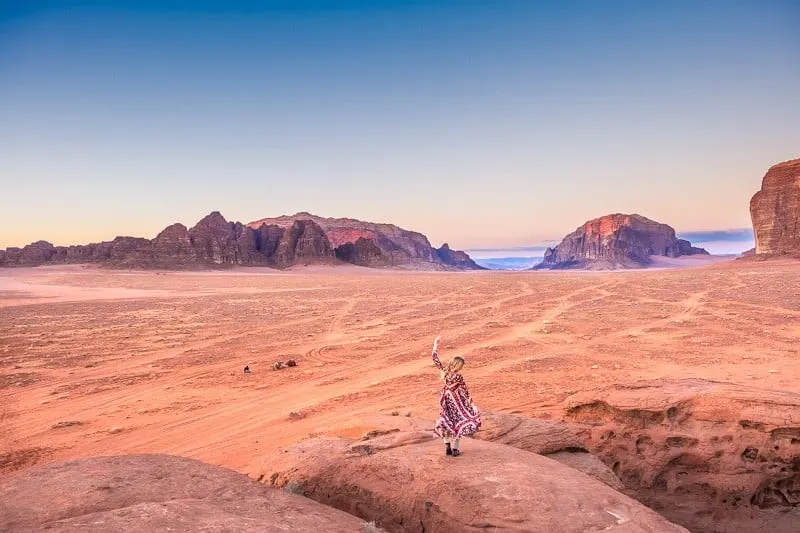 Our camel ride ended at a little hill from where we could watch the sunset.
I think after the sunset in the Dead Sea, the sunset in Wadi Rum was one of the most epic experiences and one of Wadi Rum things to see during these Jordan holidays.
It was a very quiet moment (until the jeep tourists arrived) and it was awe-inspiring to see how the colors of the desert changed slowly with the sun going down.
The colors turned from light pink to dark orange and brown in only a few minutes.
Watching the sunset in Wadi Rum is definitely a highlight of any trip to the Jordanian desert, and it is thus just one reason more to stay in a Wadi Rum Desert camp.
Because if you only go for a day trip from Aqaba or Petra, it will be almost impossible to enjoy this natural, colorful show.
I found that it was at sunset when Wadi Rum looks the most like Mars and it's no wonder that it had been chosen as a movie set for blockbusters such as "The Martian", "Aladdin" or "Lawrence of Arabia".
But at certain moments, the landscape and other places to see Wadi Rum also reminded me of the settings of "Star Wars".
4. Stargazing in the Desert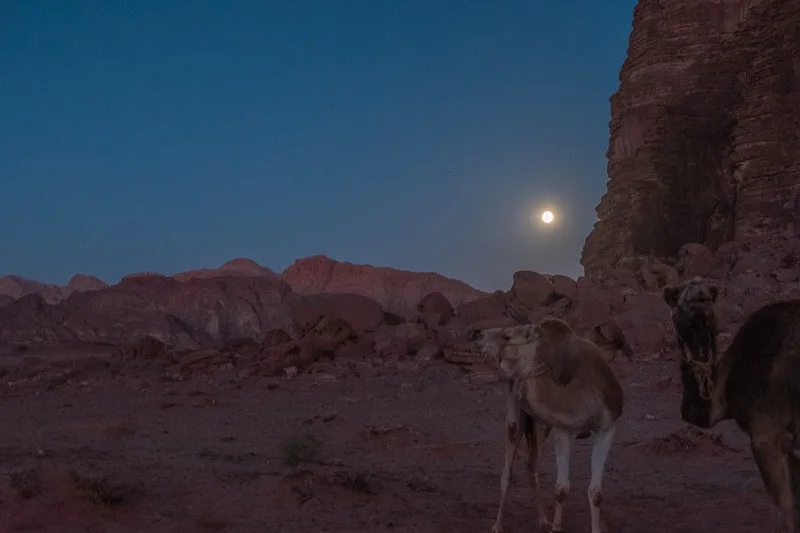 Stargazing in Wadi Rum is something you cannot miss when visiting this natural gem.
Whether you're a photography lover or prefer just to be a silent observer, the stars of Wadi Rum will not leave you indifferent.
All you need to do is step out of your tent and watch the starlit sky.
However, you'll appreciate their beauty even more if you walk for a few miles and get out of your Bedouin camp. Indeed, light pollution diminishes the effect of the stars.
There are guided tours in Wadi Rum that will introduce you to the magnificent sky of the desert.
The guys from Rum-Sky have modern observatories and give you detailed explanations about the universe, our planets, and stars.
You'll definitely love the unique stargazing conditions in Wadi Rum desert, and I would consider this one of the best things to do in Jordan.
Although I recommend EVERYONE enjoy this, this is definitely one of the more romantic things to do in Wadi Rum for couples.
5. Have a Bedouin Dinner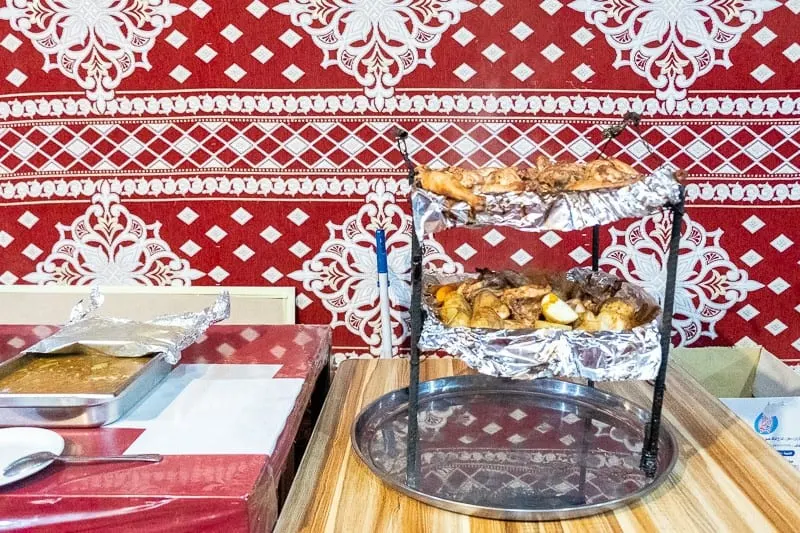 Having a traditional Bedouin dinner is one of the top things to do in Wadi Rum desert.
Indeed, the food served in the Bedouin camps is very different from all the other food in Jordan.
Food is being prepared based upon traditional Bedouin recipes and methods: it's slow-cooked for 2 hours under the earth.
The chicken will melt in your mouth like butter and I can't remember when I ate vegetables with such intense flavors.
I also want to make a big shoutout to the food served at Wadi Rum Quiet Village as it was the best I've eaten on the entire Jordan trip.
The guides really took care to explain to us the process in every detail and how the cooking methods changed over time.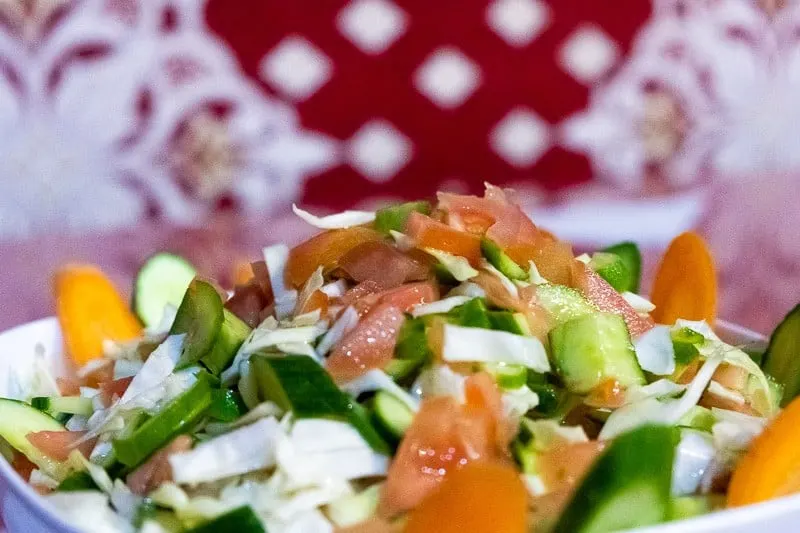 6. Go Hiking in Wadi Rum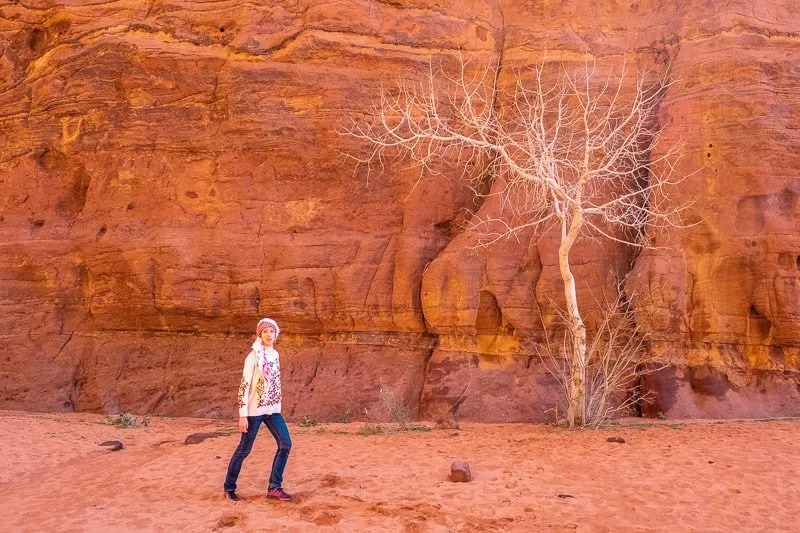 Wadi Rum desert is one of the most extraordinary places to hike in the world.
Hiking in Wadi Rum means that you'll be confronted with vast plains, desert landscapes, dazzling heights, and challenging situations.
There are hiking trails for any level and you'll find all the information you need at the Visitor's Centre in Wadi Rum Village.
Please remember that Wadi Rum is a protected area and home to many species of flora and fauna.
Some of them are endangered and very rare, so please be a responsible traveler and don't forget to have some good hiking sandals on.
Your hike can be combined with a 4×4 tour or a camel tour.
One of the most spectacular (and challenging) hikes is the one that will lead you up to Burdah Rock Bridge.
However, the views will be worth it all, after all, you're standing on top of Wadi Rum's most important attractions. – Book here your hiking holiday in Wadi Rum
Other popular treks are the "Makharas Canyon Hike", the "Jebel Rum Round Trip" or the "Rakhabat Canyon", these are one of Wadi Rum highlights.
If you want to go hiking in Jordan, Wadi Rum is a must and you'll get to see lots of beautiful places in Wadi Rum.
Make sure to register your route at the visitor center before heading out.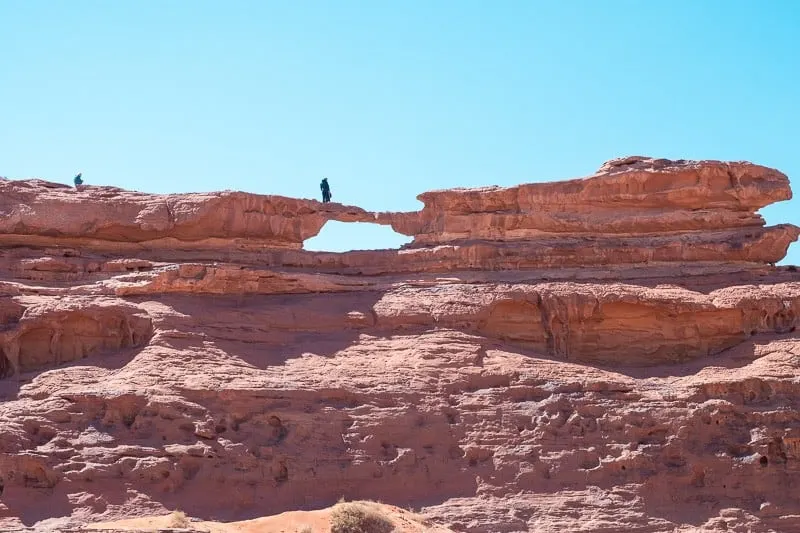 7. Buy Local Souvenirs and Learn About Desert Life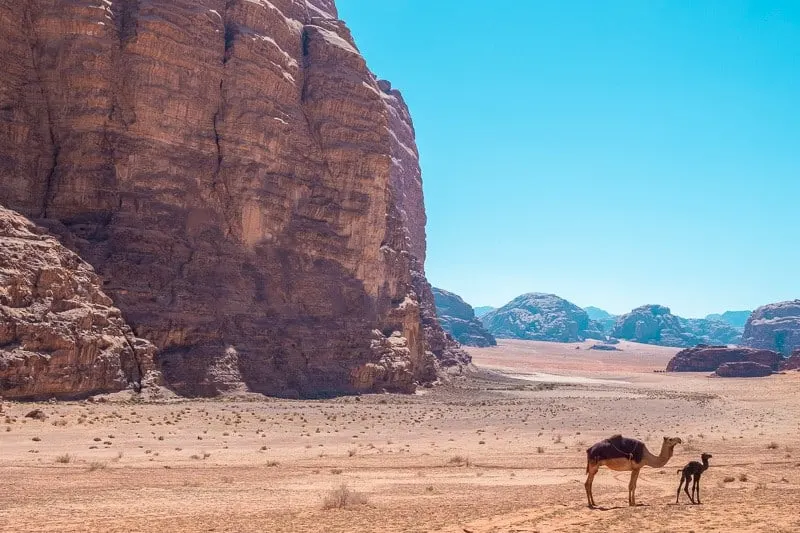 I highly recommend taking the time to visit the Visitor Centre Museum of Wadi Rum.
While you are buying your ticket to enter Wadi Rum, take 30 min to visit the informative museum, which helps to give a human context to the desert.
The displays also explain environmental issues through information panels in English and natural history exhibits.
You may also ask to see the 10-minute film on some of the highlights of Wadi Rum.
This is a good place to look for local souvenirs and thus support the Bedouin community as most items are made by local women to whom most of the profits are returned.
It's possible to visit the workshop in Rum village (closed Friday and Saturday) – ask for directions at the Rest House.
There are also ceramics, textiles and Bedouin goat-hair rugs on sale.
8. Visit Lawrence Spring (Ain Abu Aineh) and Lawrence House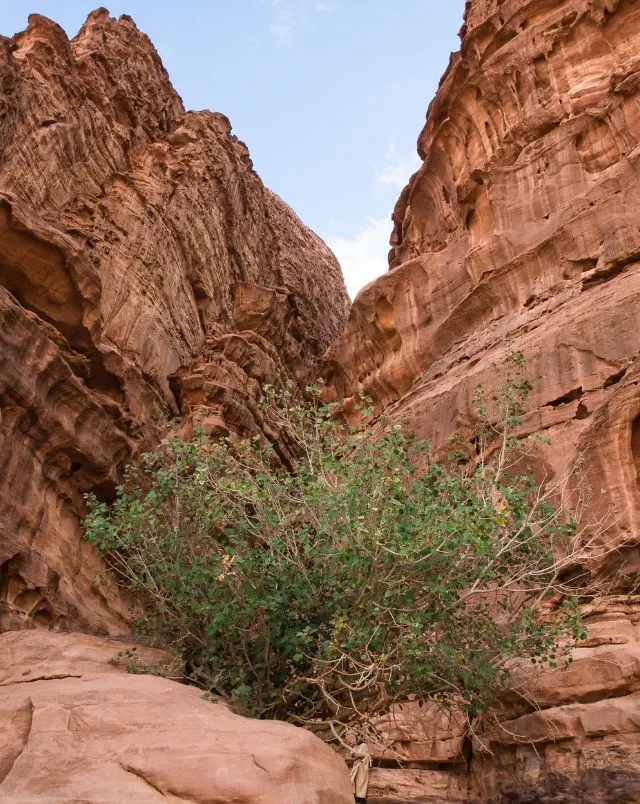 A must on any Wadi Rum itinerary is the Lawrence Spring (also known as Ain Abu Aineh) and Lawrence House.
Both are named for T.E. Lawrence – "Lawrence of Arabia" – who famously made the area his military base and home.
Lawrence Spring is marked by a water tank near the entrance of Wadi Shallalah.
The official name of the small spring is Ain Abu Aineh, and the views are spectacular from the top.
This spring, on the edge of the open sands, is a regular stop on the 4WD circuit.
Alternatively, it can be reached on a soft sand hike from the Rest House; the walk takes about 1½ hours return.
Look for a white water tank at the opening of Wadi Shallalah. After the tank, a path climbs the hill to the spring.
At Lawrence House, there is little left of this building, erected on the Nabataean ruins of a water cistern.
Nonetheless, legend has it that Lawrence stayed here during the Arab Revolt and that makes it a must on the regular 4WD circuits of the area.
Near the building is a Nabataean inscription that mentions the area's ancient name of Iram.
The remote location and uninterrupted view of the red sand dunes are the main attractions.
9. Sandboarding or rolling down the Al Hasany dunes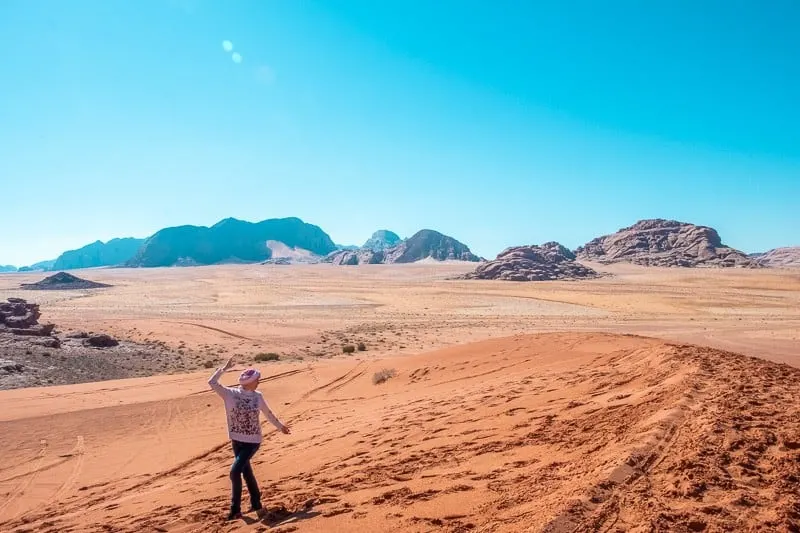 While there are dunes in several places around Wadi Rum, the most striking are the red sands that bank up against Jebel Umm Ulaydiyya.
If you are on a 4WD or camel tour, drivers will stop near a pristine slope for you to plod your way to the crest of the dune.
It is usually one of the extra free things to do in Wadi Rum once you are on tour.
The Al Hasany dunes are particularly lovely at sunset.
10. See the Anfisheyyeh and Alamaleh inscriptions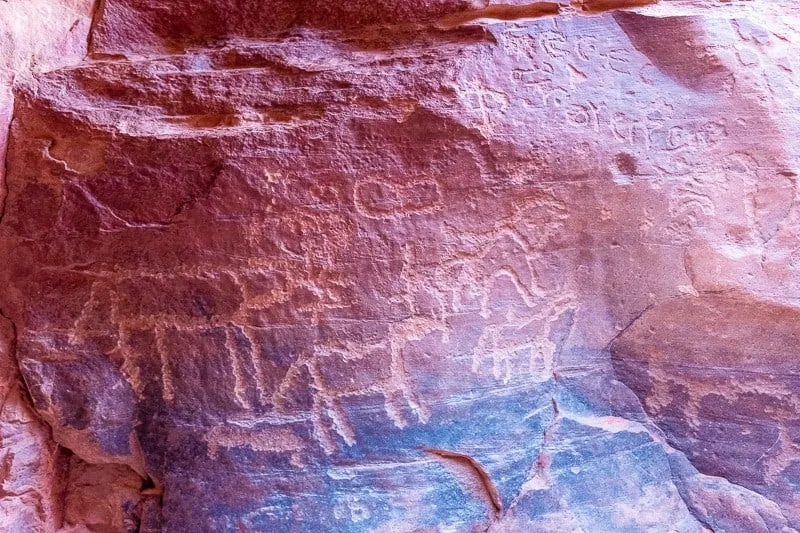 Wondering what can you do in Wadi Rum for history buffs?
The rock art is a must, and none are more impressive than the Anfisheyyeh and Alamaleh inscriptions
The Anfishiyyeh Inscriptions are located on the side of a mountain.
They showcase an especially impressive collection of Thamudic and Nabataean petroglyphs, complete with ancient drawings of camel caravans.
Second is Khazali Canyon, a long, narrow canyon known for the impressive number of ancient petroglyphs and inscriptions on the rock walls known as the Alamaleh inscriptions.
The first 100 yards are accessible to all visitors; beyond that point, you'll need rock climbing skills (and gear).
11. Take a photo at Mushroom Rock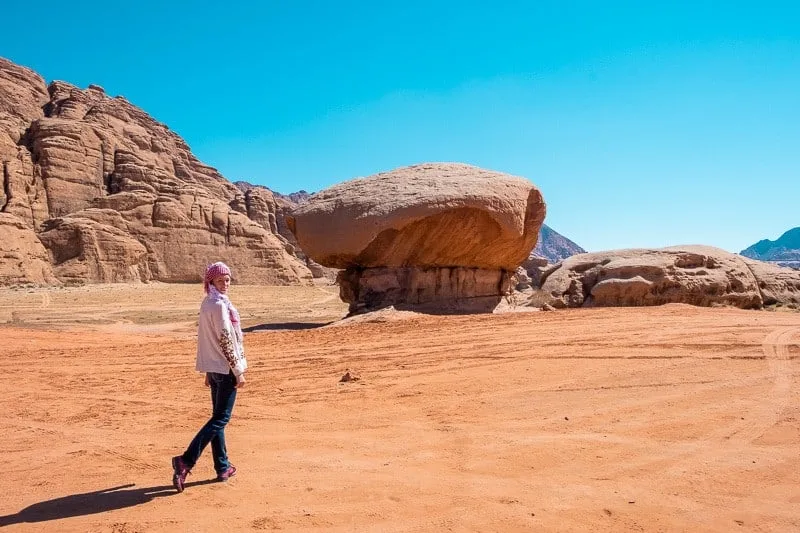 The Mushroom Rock Wadi Rum photo is an absolute must if you are looking for what to do at Wadi Rum for photos.
Mushroom Rocks are naturally occurring rock formations in deserts that occur over time due to erosion over thousands of years.
The Mushroom Rock Wadi Rum offers actually looks like a mushroom (well, at least compared to many Mushroom rocks).
Mushroom Rock is usually visited as part of an all-day tour and is one of the most unique places to see Wadi Rum.
Aside from the fun photo op itself, this is a great way to take a break from the sun and rest in the shade.
12. Other Top Things to See in Wadi Rum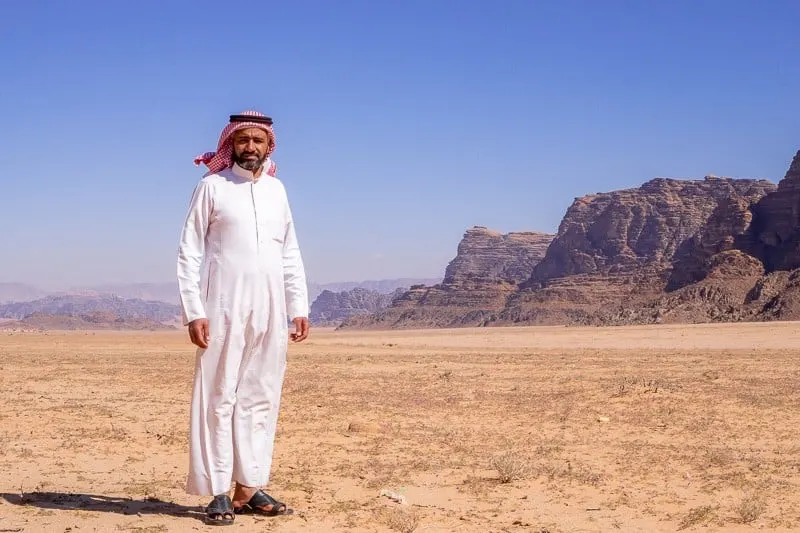 You'll wonder what to do in Wadi Rum?
Maybe you'll think for a second that you're in the desert and there's nothing to do… but you couldn't be more wrong!
There are plenty of things to see and do in Wadi Rum and this list will give you a good overview of the most important things to see in Wadi Rum.
These are must places to visit in Wadi Rum on any Wadi Rum trip, others are more off the beaten path.
Most of them are included in classic Wadi Rum tours. – Book here you Wadi Rum Tour
Barrah Canyon: At five kilometers in length, this expansive canyon is a popular tour stop, perfect for a variety of activities: hiking, rock climbing, and camel tours to name a few. One of the most visited of numerous canyons that riddle Wadi Rum, this 5km-long corridor of rock through the mountains offers opportunities for hiking, camel trekking, climbing or simply napping in the shade and absorbing the special atmosphere of Wadi Rum's hidden heartland.
Burdah Rock Bridge: The tallest natural rock bridge in Wadi Rum, worth the moderately challenging climb to the top for the fantastic views.
Um Fruth Rock Bridge: Another unique arch, and one of the most photographed landmarks in the area, this fifteen-meter high bridge is featured on many guided tours.
Seven Pillars of Wisdom: A rock formation named after the famous book by T.E. Lawrence, accessible by hike or easily visible from the visitor center.
Um Sabatah: An ideal perch for sunset views, this hilltop affords gorgeous vistas of the desert.
Khazali Siq: An easy siq to explore is the narrow fissure that cuts into Jebel Khazali. You can explore on foot for about 150 m, far enough to appreciate the cool shade and to see inscriptions made by the ancients who used the siq for the same purpose. Look out for drawings of ostriches, pairs of feet and a woman giving birth. You need ropes and a guide to penetrating further and 4WD transport to reach the siq.
Jebel Rum: The western flank of Wadi Rum is formed by Jebel Rum (1754 m), which towers over Rum village. It is a popular destination for scramblers and climbers who tackle parts of the ancient Thamudic Way to the summit (guide required – ask at the visitor centre). Similar pathways, once used for hunting ibex and collecting medicinal plants, link one massif to another throughout the area, giving limitless scope for hiking, scrambling and climbing.
Wadi Rum Travel Tips
How to get to Wadi Rum
Wadi Rum entrance fee is 7 JOD to be paid at the Visitor center, or it's free with the Jordan Pass.
You can visit Wadi Rum in several ways:
Rental Car. I visited Wadi Rum with a rental car and drove from Petra to Wadi Rum. If you are staying in a Wadi Rum Bedouin Camp, you'll need to leave your car in Wadi Rum village and get picked up by the camp staff. One of my top Wadi Rum tips is DO NOT drive in the desert with your rental car as you can easily get stuck.
Driving in Jordan is not dangerous but still, you need to be more prudent than on EU or US streets. –Check here the best rates for rental cars in Jordan
Quiet Wadi Rum Village: the best Wadi Rum Camp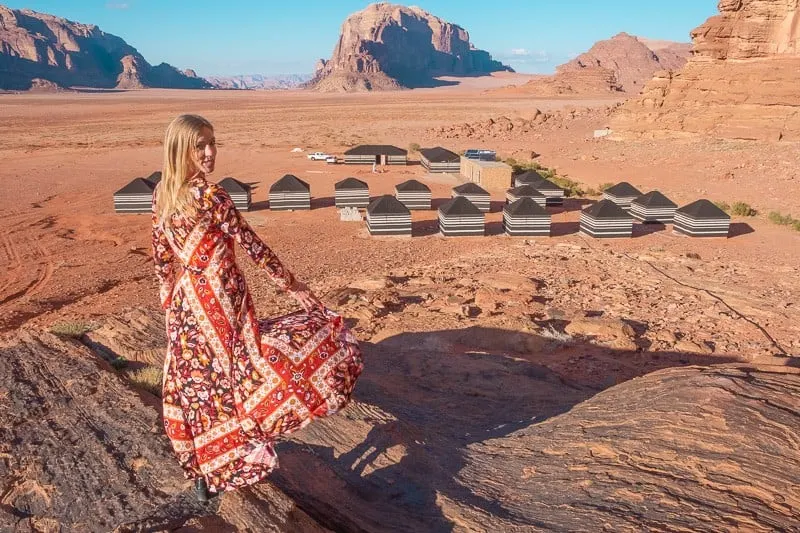 Before booking your stay in a Wadi Rum Bedouin camp, you'll need to ask yourself: am I ready to renounce on some comfort in exchange for a more authentic desert experience?
Or do I want to visit Wadi Rum in a more convenient, luxurious way?
Most Bedouin camps come with Western-styled commodities such as wifi in common areas, super comfortable beds, and fabulous food.
However, you'll have a shared bathroom and they sometimes lack a heater.
But In exchange, you get unique, first-hand stories told in the main tent or around a bonfire!
All this makes it one of the best hotels in Jordan with a totally unique experience.
We went for the authentic experience with Wadi Rum Quiet Village and I wouldn't trade our stay for any luxury stay in the world.
That being said, the Wadi Rum Quiet Village can easily keep up as the best camp, Wadi rum: the tents are spacious, the beds are super comfortable and the food was OUT OF THIS WORLD!
There was even wifi in the main tent, which was completely unexpected.
And most importantly, the entire camp is managed by a local Bedouin family that has been living in the desert since many generations.
Thus, they know the Wadi Rum desert like their trousers pocket. – Check rates & reviews here
I've created a list of what to see in Wadi Rum.
All these Wadi Rum attractions and activities described in this post can be booked at this Wadi Rum night camp at very affordable rates.
You can read my full guide on where to stay in Jordan for more great options so you can shop around and get the best Wadi Rum quotes for yourself.
Book here your tent in Wadi Rum Quiet Village
What makes Wadi Rum, Jordan special?
To me, Wadi Rum looked like the exact opposite of Petra, because even during low season, Petra was a stressful experience.
If you're not among the first visitors, you'll likely be overrun by groups of bus tourists.
Be prepared to constantly be invited to buy or take a camel ride and you're stressed to see as much of the huge Petra complex as possible.
Whereas Petra is all about how humans left their footsteps and their remnants carved into nature, Wadi Rum is how human civilizations live in accordance with nature.
They simply blend in seamlessly to their surroundings.
The deep-red desert is vast, you feel lost in space and sometimes you don't see anybody for several kilometers.
There is no wifi, desert life is rough and subject to extreme weather in Wadi Rum – so make sure you're equipped with good quality eco-friendly sunscreen.
After being the setting for blockbuster movies such as "The Martian", "Lawrence of Arabia" or "Aladdin", Wadi Rum is becoming an increasingly popular destination.
Of course, you can visit the desert on a day trip from Amman or Aqaba.
However, if only possible, I especially recommend staying in a Wadi Rum Bedouin Camp: you'll learn a lot and get a unique insight into the Bedouin lifestyle.
---
Wadi Rum Map with the most important sights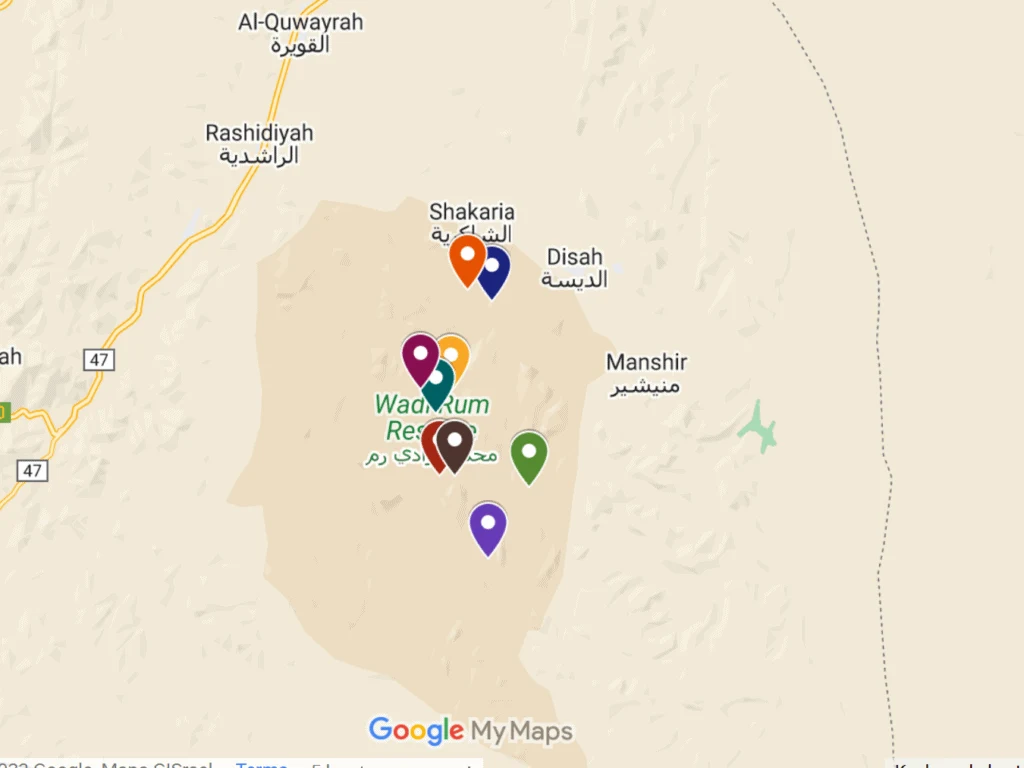 ---
Short Faq About Things to do in Wadi Rum
What to wear in Wadi Rum?
Your Wadi Rum outfit should fully cover your arms and legs and protect you from the sun, but are also lightweight. Long, light cotton clothing is best – especially paired with sunscreen. Even for days when you aren't in the sun as much, it is important to respect Bedouin culture when considering what to wear to Wadi Rum. So be sure to always have your knees and shoulders fully covered to be respectful.
What are things to do in Wadi Rum for couples?
While really every activity is ideal for couples, some of the more romantic things to do in Wadi Rum for couples include stargazing and sunset watching. There are also many beautiful places in Wadi Rum for couple photos or exploring.
Is Wadi Rum worth visiting?
Yes, absolutely! Visiting Wadi Rum is a once in a lifetime experience. There are many amazing places to see Wadi Rum
---
Before You Go: Top Tips for your Trip
You'll snap a ton of photos and I love to take my GoPro in order to shoot even in extreme situations.
Make sure to wear comfortable walking shoes and hiking sandals when traveling to warm countries.
Sunscreen is key! I always take with me my eco-friendly sunscreen by Thinksport.
I always carry a light rain jacket, just in case.
Travel insurance is essential! If you haven't already obtained travel insurance for your trip, travel protected against all odds with World Nomads.
To make the most of your Jordan trip, I recommend Lonely Planet Jordan
---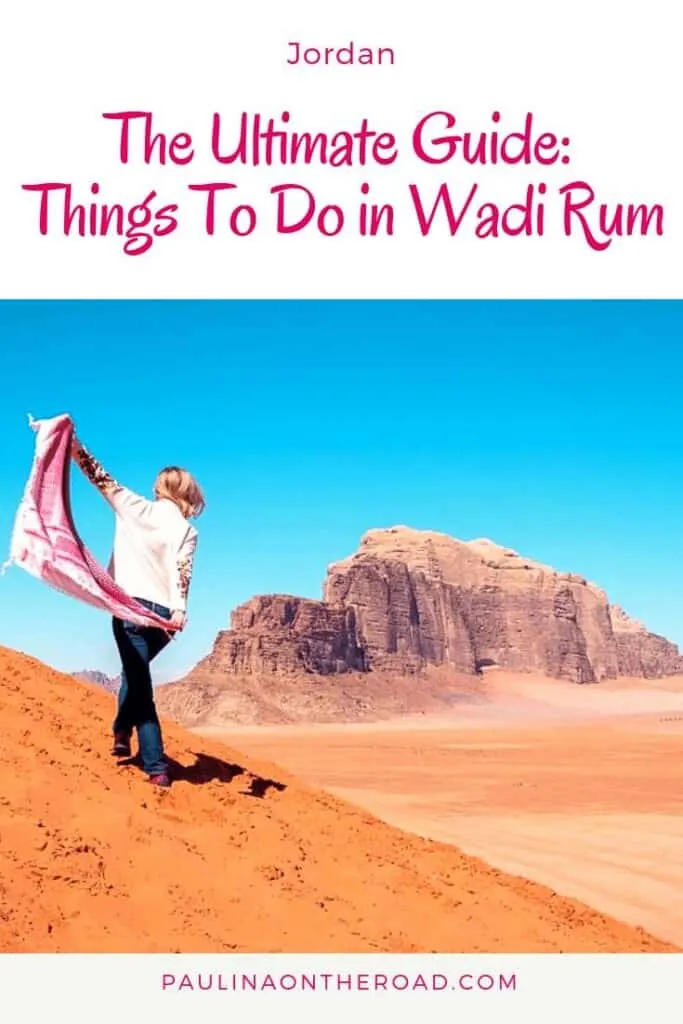 ---
Hola! I am Paulina, a fervent travelette who crossed the Atlantic Ocean by Boat HitchHiking. On my blog, you'll find all the tips to make the most of your holiday. Get ready to enjoy outdoor and sustainable travel like hiking, cycling or sailing. Let's hit the road together!