A Guide to the best things to see in Aqaba, Jordan: A Guide with Top Aqaba Tips
Are you looking to experience the unforgettable beauty of Aqaba, Jordan? From snorkeling in the Red Sea to exploring historical ruins, there is something for everyone in Aqaba!
Whether you're an adrenaline junkie or just looking to relax and enjoy nature, Aqaba has much to offer its visitors.
In this blog post, I'll take a look at some of the best things to do in Aqaba which was actually the last city I visited after spending 10 days in Jordan.
Hey! Don't forget to grab my free Aqaba Insider Checklist below!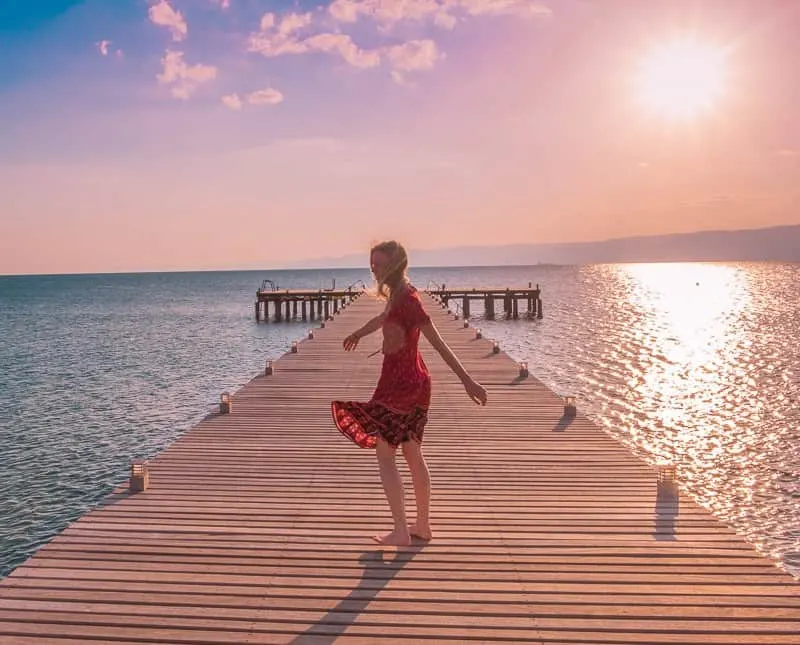 Pssst…!!?? You can't get enough of beautiful Jordan? Have a look at my other articles:
This Post Contains Affiliate Links. If You Buy Via Them, I'll Earn A Small Commission Which Helps Me To Keep This Blog Running. I Received Services For Free For An Honest Review. All Opinions Are My Own.
Practical Information for travel to Jordan
✈ Book cheap flights to Jordan with Skyscanner

✔ Book your tours in Jordan with GetYourGuide

➳ Find the best hotel deals in Jordan with Trivago

❖ Get the best car rental deals with DiscoverCars

☘ The best discounted outdoor gear (outlet) at REI.com

✎ Never leave without travel insurance. I get mine at HeyMondo. It's easy to set up, cheap, and reliable.

$ I withdraw money without hidden fees and avoid exchange rates with Wise (you'll get a free card on top)

⚘ Get a travel guide in order to prepare your trip. I recommend the Lonely Planet Guide – Jordan
Things to do in Aqaba, Jordan: What to See & Experience
1. Visit Aqaba Old Town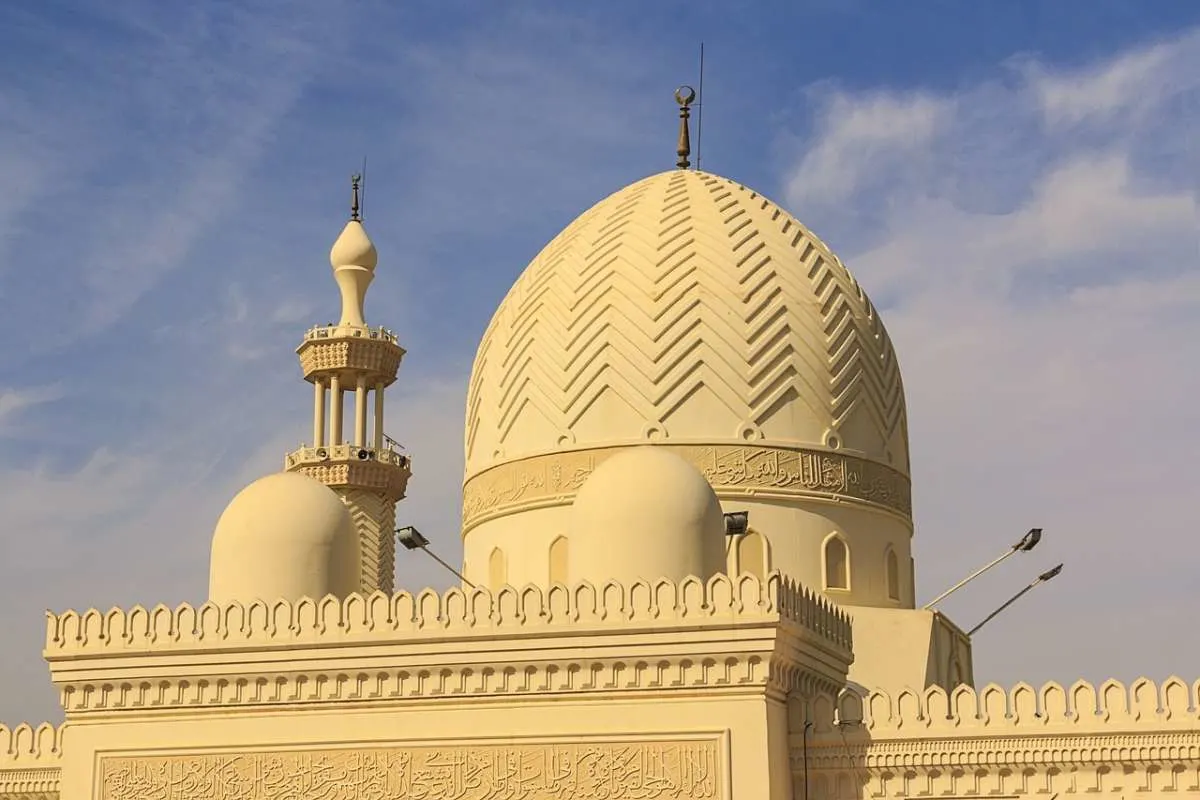 Sometimes, the best things in life are for free! A stroll through Aqaba's old town will give you plenty of impressions and experiences that won't cost you a dime! Or a diner!
I loved wandering through the streets of Aqaba's center, doing some window shopping in Aqaba, and exchanging a few words with the locals ("Welcome! Where do you come from?")
However, I invite you to include shopping in its marketplace and small shops! There are plenty of them and it would be a sin to leave Jordan, or any Middle East country without visiting a traditional "souk".
There is a wide variety ranging from spice and herbs shops, to local Jordan souvenirs, clothes or incense stalls. Needless to say that I fueled up on tea, infusions (black cinnamon tea!), scarves, and jewelry.
As Aqaba is part of the special economic zone, prices are more competitive.
However, you should still try to negotiate prices. That's part of the authentic "souk" experience". It's a must of any shopping in Aqaba experience.
The main areas for shopping at the souk and strolling through Aqaba city center are the winding streets around Sharif Al Hussein Bin Ali Mosque. It's one of the main things to do in Aqaba Jordan.
Other Souks:
Raghadan Street: Fruit & vegetable markets
Zahran Street: Spice souk
2. Sweet Pastry Shopping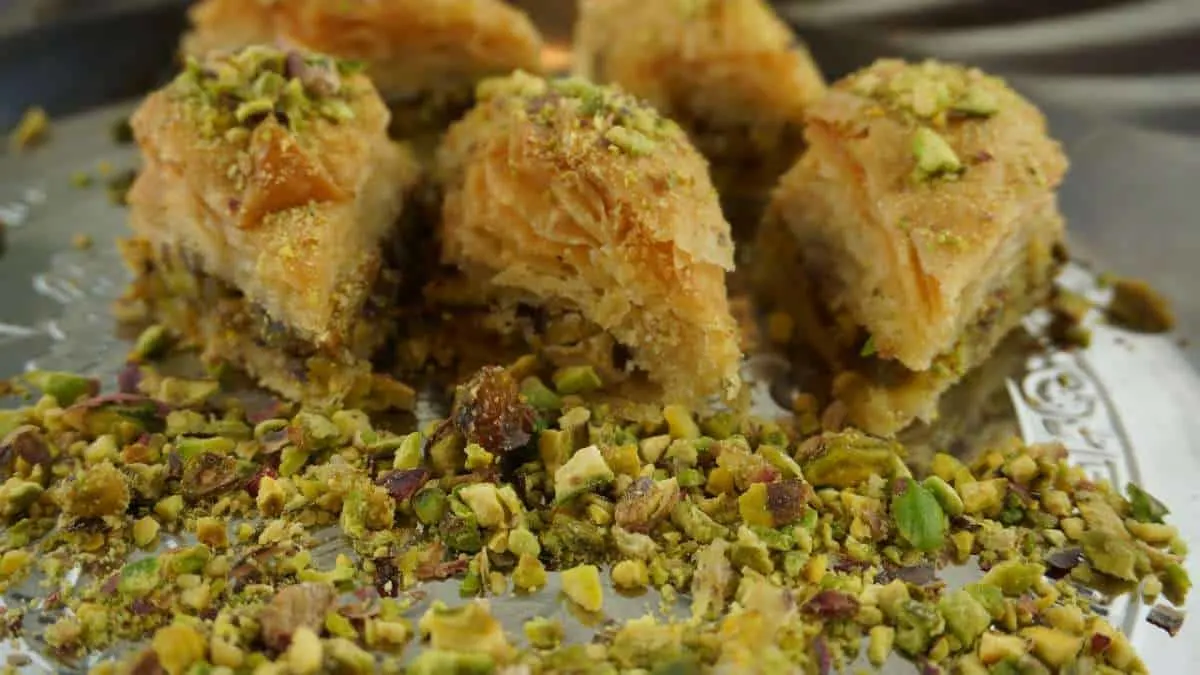 Stocking up on local pastry is a must when visiting Aqaba! There are a few pastry and sweet shops. You'll thus have a hard time choosing where to buy your Arab sweets.
Why don't you try all the shops and decide afterward which was your favorite? Indeed, the recipes vary from shop to shop!
Some of the most coveted spots for traditional sweets are Abu Gharbiya Sweets and Pistachio Sweets & Café. I think in 3 days in Aqaba, I visited Pistachio 4 times. 🙂
It's heaven for those among you who have a sweet tooth or for those who just want to try the local food.
From the moment you step in, you'll be blown away by their colorful variety of Arab sweets!
And they prepare lovely smoothies too! For many, Pistachio Sweets & Café has the best sweets and is the best bakery in Aqaba.
It's the perfect occasion to indulge in kunafeh (a popular pastry dessert made of fried cheese, drenched in syrup, and sprinkled with pistachios). It's very sweet! But still, you should also try some of the nut pastries…
I never saw so many pistachio cakes in my life! All of them are the perfect match with any tea you can buy at the souk! In my opinion, it is one of the best things to do in Jordan.
Pistachio Sweets & Café: Al Hammamet AL Tunisia St
3. Visit the old settlements
Aqaba is not all about shopping! If you are interested in history and architecture, Aqaba holds a few gems for you! Unluckily, you really need to search for these historical gems, as much of Aqaba town is newly built.
The most important historic Aqaba places to visit are the following:
Ayla
Ayla was the first settlement of Aqaba and was the first Islamic town built outside the Arabian peninsula. Unfortunately, it was destroyed by the Crusaders and Bedouin attacks.
The remains of the old settlement were only re-discovered in the 1980s. Consequently, the ruins became one of the most popular of Aqaba's attractions and one of the best things to do in Aqaba.
If you visit, you can still spot the city gates, a mosque, marketplaces, and much more.
Located a stone's throw from the Aqaba city center, Ayla ruins are a must of every Jordan holiday and are one of the main Aqaba attractions.
Mamluk Castle
Mamluk Castle is one of the most important historic sites in Aqaba and is also known as Aqaba Fort or Aqaba Castle.
The fortress was originally built by the Crusaders in the 12th century and after its destruction, it was rebuilt by Mamluk Sultan.
The fort is located next to the huge flagpole close to the Corniche (beach walk).
The castle became once again the setting for historic events when it became the backdrop of the great victory in the Arab Revolt which was also depicted in Lawrence of Arabia.
The fort is close to the Aqaba Archaeological Museum, an Aqaba must-see, not only for history buffs.
4. Diving and Snorkeling in Aqaba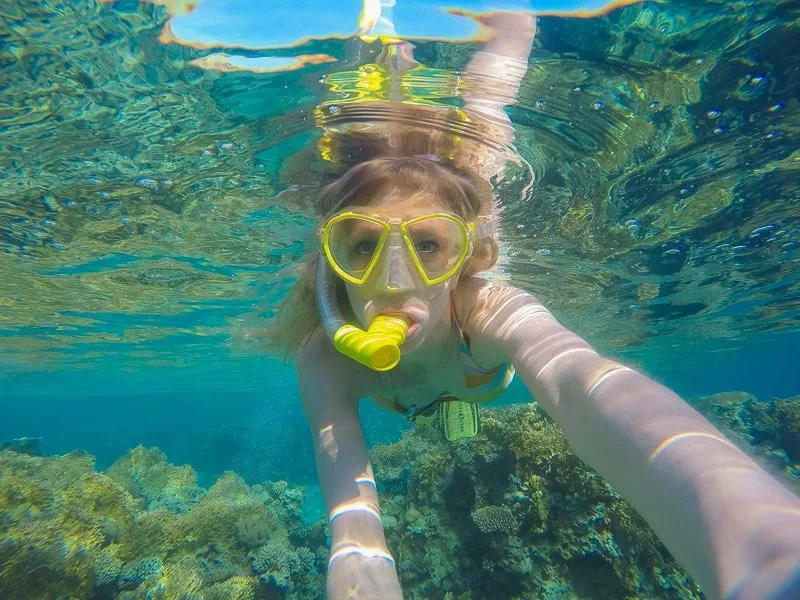 Aqaba is world-famous for its top diving and snorkeling sites. Located on the coast of the Red Sea, Aqaba attracts divers from around the world that want to enjoy its gorgeous underwater world.
Thus, make sure to add this to your Aqava to-do list and bring your action camera!
Despite climate change and global warming, the corals and underwater life in the Aqaba Gulf are expanding and getting more diverse over the years.
However, the biggest threat to this precious underwater world still is human beings and pollution.
I was shocked by the number of motorboats in the gulf and the trash on the public beaches! I hope that soon measures will be taken in order to preserve this treasury that attracts people from around the world.
Book here your "clean the ocean" snorkeling tour
The unique ecosystem of the Aqaba Gulf counts on more than 1000 fish species and 240 coral species. You'll also be able to spot turtles or snappers.
Due to the clear and calm water conditions, many travel to Aqaba in order to make their PADI certificate in Scuba diving.
Many schools in Aqaba offer courses for beginner, intermediate and advanced divers. I heard really good things about the dive club at Berenice Beach Club! Book here your diving experience in Aqaba.
There are over 25 dive sites in Aqaba and some have been enhanced artificially by introducing shipwrecks, tanks or plane wrecks. This makes diving in Aqaba even more enjoyable. Thus, make sure to bring your action camera!
Some of the most popular dive sites and the best snorkeling sites in Aqaba are:
Wreck of Cedar Pride, is probably the most famous dive site in Aqaba. The 80-meter-long cargo ship is the highlight of this site!
Blue Coral in Tala Bay
The tank and Seven Sisters (with a sunken American tank)
Yellowstone Reef in Tala Bay
Rainbow Reef North
Book here your diving experience in Aqaba
5. Beach Time in Berenice Beach Club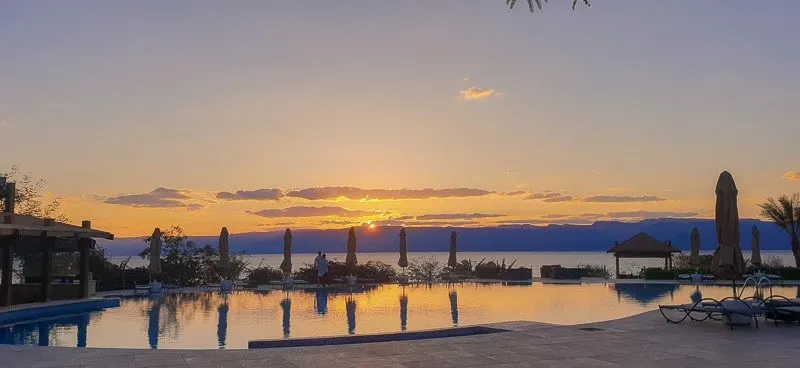 The Berenice Beach Club was my favorite place to hang out in Aqaba. It is located only 15-min drive from Aqaba downtown and it's the perfect place to relax and spend some quality beach time.
So, why should you opt for a private beach club instead of public beaches in Aqaba?
First, I found the main beach of Aqaba quite dirty and loud. There were tons of people and countless motorboats. On top, it is not recommended to wear a bikini. You should at least wear a t-shirt above your swimsuit.
Boasting warm temperatures even in winter, I'm sure you'll want to spend some time on the beach. For a perfect beach day in Aqaba, I recommend the Berenice Beach Club.
I spent 3 days in a row here, as it's the closest you can get to paradise: crystal clear water, breathtaking views on Egypt's mountains, great, tasty food, several swimming pools, a wide offer of water sports and animation…
The entry fee is 10 JOD (14$ or 12€) and includes a towel, sun loungers, and discounts on water sports.
For 5 JOD, you can rent a snorkel and the beach club comes even with its own diving center! Prices are thus really competitive! Berenice Beach Club is getting increasingly popular and is planning to expand.
The Berenice Beach Club has a shuttle that takes and brings you from Aqaba (15 min of a scenic drive).
There are several beach clubs in Tala Bay, 15 min from Aqaba downtown, but Berenice was the best when it comes to the services offered, the cleanliness of the beach, the tasty food, and the atmosphere.
Tala Bay itself is a coveted destination for its beaches. Located at only 15 minutes from Aqaba, people love it for being calm and away from the buzz in Aqaba.
Check here the best Tala Bay Aqaba Hotels
6. What to do in Aqaba at Night and Souk by the Sea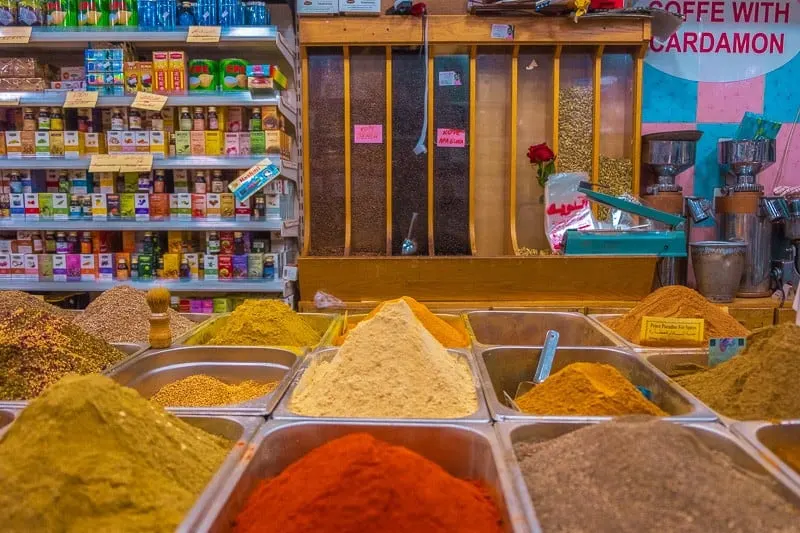 I loved Aqaba's nightlife! That doesn't mean that I spent my nights dancing out in the clubs… Actually, I cannot recommend you any dance club in Aqaba because I didn't visit any! So what to do in Aqaba, Jordan at night, if you're not a club kind of person?
It's at night when the bars, the restaurants, and the terraces fill up. The city gets very lively and there is such a positive, young atmosphere in the streets.
You'll smell tons of enchanting scents, music everywhere, and happy giggles. There are plenty of restaurants to choose and you'll be tempted by a shisha after dinner. Shops are open until late, so you should consider a shopping spree at night.
One of the highlights of things to do in Aqaba at night is the Souk by the Sea.
This lively market is a street event that takes place every Friday night in downtown Aqaba.
The market features over 50 local artisans, Jordanian food and drinks, music and much more. This is thus a great occasion to support the local community.
I bought many souvenirs at the Souk by the Sea such as jewelry, bags, scarfs and (more) tea. The souk creates an opportunity for local artisans to show their products and manage their small businesses.
I found it also a great opportunity to get in touch with the locals, as most of the artisans spoke great English and were very interested in your background.
I don't recommend bargaining as the prices at Souk by the Sea are fair and the vendors have been coached on marketing and pricing.
You may end up staying longer in Souk by the Sea as there will be music, food and an energetic atmosphere.
7. Eat out in Aqaba, Jordan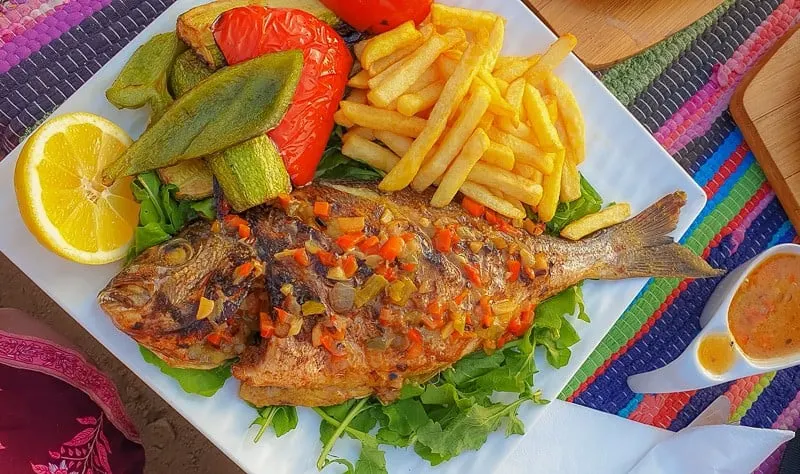 The restaurants in Aqaba are famous all over Jordan and the Middle East for its fish! Eating out is a must on every list of places to visit in Aqaba.
While eating out in one of Aqaba's numerous restaurants, you should absolutely try the typical dish from Aqaba: Sayadieh Fish! It's a dish of grouper served in a tasty sauce with caramelized onions and peanuts. They usually serve rice with it.
The best places to eat Sayadieh are "Captain's Tourist Restaurant" or the "Ocean Restaurant" in Aqaba.
Are you wondering where to eat in Aqaba or what the best restaurants in Aqaba are? Well, there are numerous restaurants and here's just a short list of the most popular ones:
8. Have fun at Ayla Oasis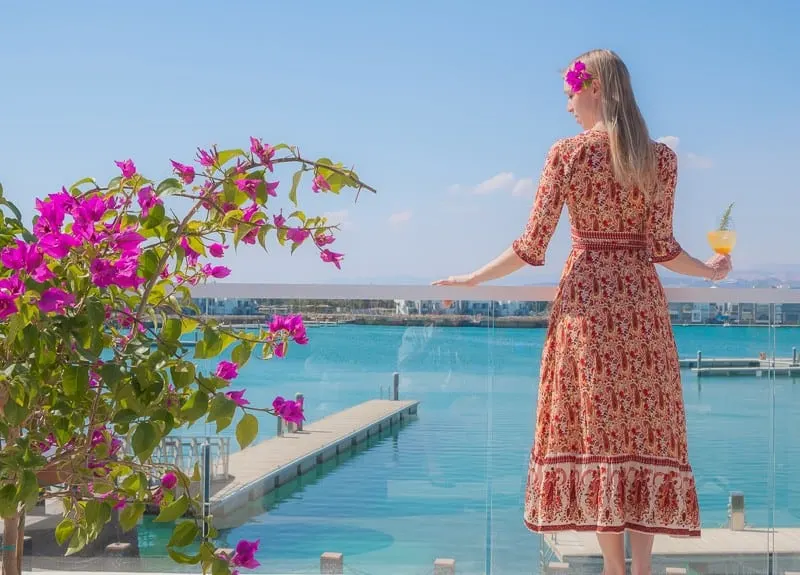 Ayla Oasis is one of the biggest projects in Aqaba and it will put Aqaba among the top (luxury) travel destinations in the Middle East.
Located on the border with Israel, the redevelopment project aims to add 17 kilometers of beachfront to Aqaba.
Ayla Island is also home to the prestigious Hyatt Regency Aqaba Ayla Resort ***** which is one of the best places to stay in Aqaba.
The scenic retreat is nestled amidst mountains and turquoise lagoons, the resort boasts a spa, a gorgeous infinity pool, a beach club, and much more. They even offer sunset yoga free of charge!
For all golf lovers, one of the best things to do in Aqaba is to visit the golf course in Ayla Oasis. The Ayla Oasis is home to a few beach clubs and Jordan's first green golf course.
It's supposed to be the most eco-friendly golf courses in the world. The marina will welcome the jet-set and in the marina village, you'll enjoy a luxury shopping experience.
Ayla Oasis was still under construction during my visit. However, some of the beach clubs, the marina, and the golf course were already operating.
Ayla Oasis will be the place to enjoy some laid-back holidays in Aqaba with a luxury touch.
9. Walk the Aqaba Beach Promenade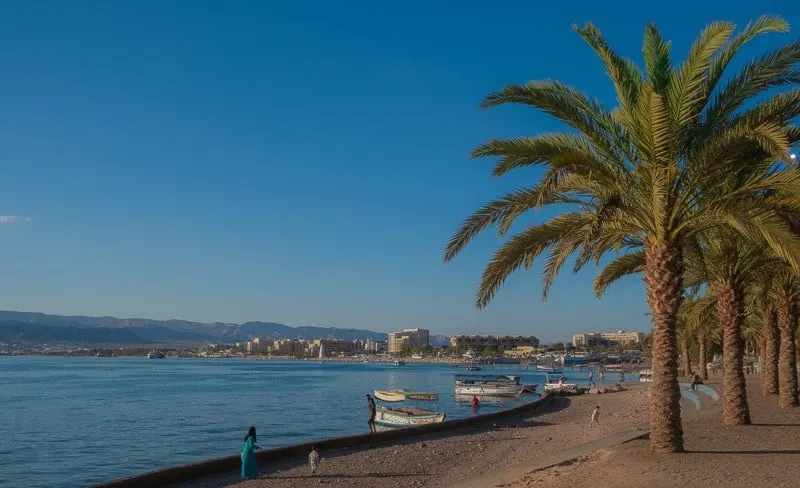 The Beach Promenade of Aqaba, known as the corniche should also be on your what to see in Aqaba, Jordan list.
It's the perfect place for long strolls along the sea and for people-watching. Several merchants sell sweets and local goods.
Thus walking the Aqaba beach promenade is really an activity to forget about time. At night, people bring music and some might even dance.
Even though there are several beaches in Aqaba downtown, most of them belong to luxury hotels such as the Intercontinental, Kempinski, or Mövenpick.
The beach promenade of Aqaba stretches along the Al-Ghandour beach to Al-Hafayer Beach, parallel to King Hussein Street. It will lead you to the Arab Revolt Plaza and the Al Hafayer Park which hosts Aqaba Castle.
However, I don't recommend taking a swim here as the water seemed very polluted and bikinis are not recommended on public beaches in Jordan.
Strolling along the Corniche is one of the top things to do in Aqaba, Jordan. It's free and it will be perfect to learn more about the daily grind in Aqaba. On top, the sunset with tea from the Corniche was a memorable experience.
Aqaba Port Jordan, close to the Aqaba beach walk, is yet another highlight to visit on a walking tour in Aqaba. There is nothing more entertaining (for me maybe?) than watching boats.
10. A glass-bottom boat tour (or not!)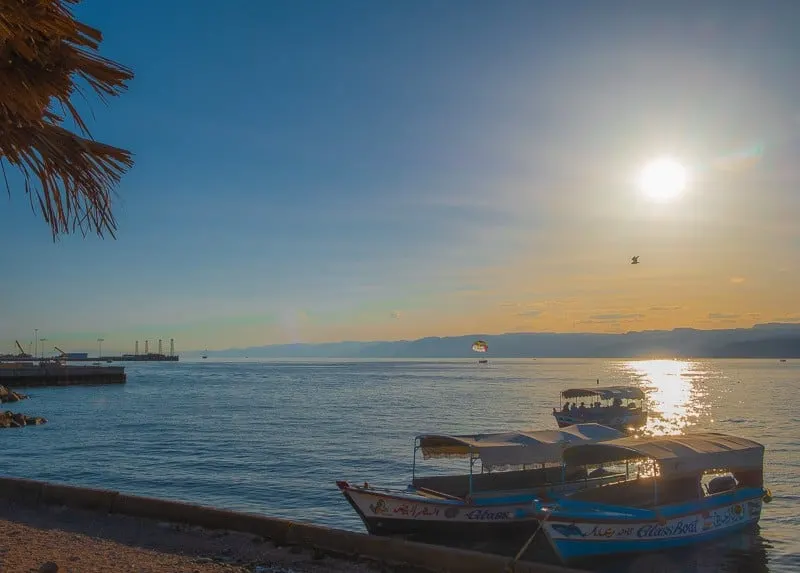 The Corniche of Aqaba is also the place where most of the legendary glass-bottom boats depart. Apparently, they are an institution in Aqaba and it's one of the most popular things to do in Aqaba. Also among the local population!
If you wonder what to do in Aqaba, Jordan, a tour with a glass-bottom boat is on top of the list for one day in Aqaba!
I have to admit that I didn't go on a glass-bottom boat tour from Aqaba downtown but from Tala Bay.
As the Berenice Beach Club hosts a wide range of water sports and it's close to some of Aqaba's most prestigious diving sites, I decided to take the ride from Tala Bay. They even had snorkeling gear onboard!
Glass-bottom boats are a great opportunity to explore the beautiful underwater world of the Aqaba Red Sea if snorkeling or diving is not your thing.
There are different types of glass-bottom boats and you should make sure that the glass surface is wide (and clean) enough to see anything.
The glass-bottom tour was a great experience to see the underwater world. However, it's not eco-friendly at all!
Honestly, I was disgusted by how much fuel was pumped into the seawater and how other boat drivers raced carelessly…
If I'd known before, I don't think I'd done it as it's a major threat to Aqaba's gorgeous underwater world.
11. Mingle with the locals on Asaba Street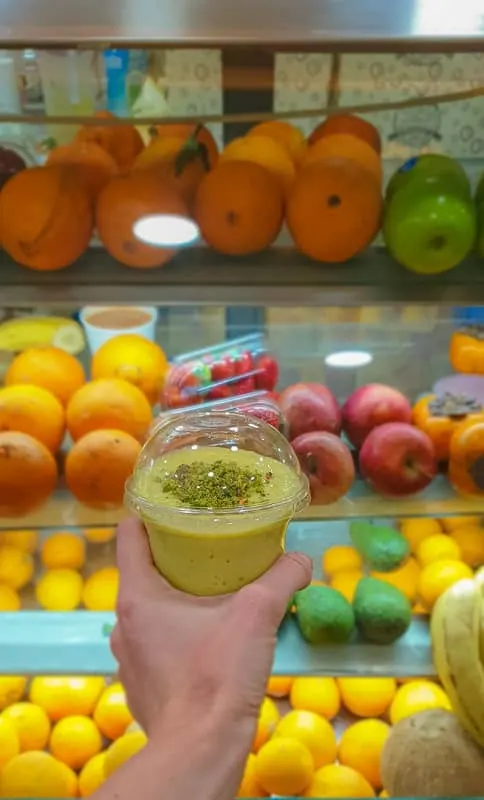 Somehow, the atmosphere in Aqaba was different from what I experienced in Amman, Jerash, or Petra.
Being a coastal town and open to the waterways, a synonym for commerce, new influences, and cultures, Aqaba felt like any town in the Mediterranean.
As you might know, long walks at night and strolling through the streets at nightfall, are one of the most established activities in Mediterranean towns. Well, the same happens in Aqaba!
At nightfall, tons of people from all generations gather in the street in order to enjoy milder temperatures. They meet up for a shisha, a snack or for shopping.
So, where to go in Aqaba for people-watching? My favorite place to stroll around and pop into shops was Al-Saada street. It was crowded, full of smells and music! Just my kind of place to be!
There are plenty of juice stands in the old town and it will be hard to resist!
12. Visit Aqaba Fort
The Aqaba Fort in Jordan dates back to the 14th century and has been beautifully preserved, making it a must-visit destination for history buffs and cultural enthusiasts.
To get there, take a short stroll through the winding streets of the old town and prepare to be awestruck by the stunning architecture.
From atop the fort's ramparts, visitors can take in breathtaking views of the Red Sea and the surrounding mountains.
Make sure to visit the museum exhibits that showcase artifacts and relics from Aqaba's rich history.
Pro tip: If you're looking to avoid the crowds, visit early in the morning or later in the day.
13. Explore the Aqaba Archaeological Museum
If you're looking to discover the rich cultural landscape of Aqaba, visiting the Aqaba Archaeological Museum should be at the top of your list!
This immersive museum showcases Jordan's extensive historical legacy with fascinating artifacts and engaging exhibitions.
From ceramics and coins to weapons and mosaics, the collection explores the region's diverse cultural heritage, including ancient Nabataean, Roman, and Islamic periods.
Visitors can even take part in guided tours and workshops, making it a must-visit for anyone eager to delve into Jordan's rich past.
The interactive exhibits and educational displays keep visitors engaged, ensuring an unforgettable and informative experience. Don't miss your chance to learn more about Jordan's rich cultural heritage.
14. Relax on the beach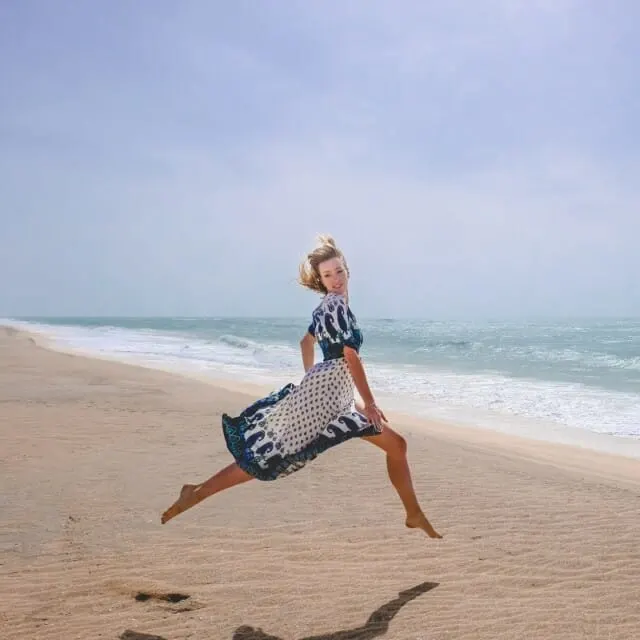 If you love the sun, sand, and sea, Aqaba's beaches are not to be missed!
With crystal-clear waters, a gorgeous sandy beach, and exciting coastal amenities, it's easy to see why Aqaba's beaches are a traveler's favorite.
With a range of water sports available, from snorkeling and scuba diving to jet-skiing and parasailing, visitors of all ages can enjoy the water activities on offer.
Some of the most popular beaches in Aqaba are: South Beach, Tala Bay Beach, Coral Beach, Al Raha Beach and of course the Berenice Beach Club.
Don't forget to indulge in the local cuisine, like freshly grilled fish and succulent kebabs, to complete your beach experience.
Pro tip: Ladies, be culturally respectful and avoid bikinis on Aqaba's beaches. Keep them for the private beach clubs.
15. Visit the Aqaba Islamic Ayla City
A visit to the Aqaba Islamic Ayla City is a must! This ancient city dates back to the 7th century and is steeped in history and culture.
You'll be transported back in time as you explore the city's beautifully preserved architecture, which features stunning Islamic motifs and mosaic floors.
Don't miss the chance to visit the city's museum, which exhibits artifacts from Ayla's rich past.
Take a stroll through the bazaar, where you can shop for souvenirs and trinkets, and indulge in the local cuisine, like shakshuka or mansaf.
More things to see in Aqaba, Jordan: Day Trips
1. Day Trip to Wadi Rum from Aqaba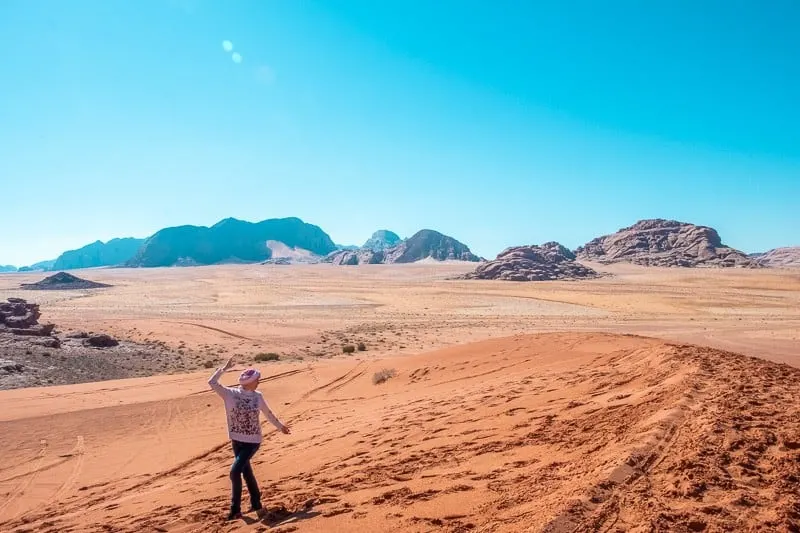 Spending your Jordan holidays in Aqaba has one considerable advantage!
You're very close to some of the best attractions in Jordan. Indeed, Aqaba forms together with Petra and Wadi Rum the so-called "Golden Triangle".
As Aqaba is not too big, you'll have plenty of time to organize day trips to Wadi Rum and Petra.
Wadi Rum was one of the highlights of my 10 days in Jordan. The landscapes are unlike anything I'd seen and the Bedouins, the local community were so warm-hearted that I didn't want to leave.
Book here your tour from Aqaba to Wadi Rum
I highly recommend spending a night in a Bedouin desert camp as it will allow you to get a unique insight into Bedouin culture.
Some of the classical Wadi Rum tours are the Jeep tour, a camel trekking tour, or hiking in Wadi Rum. Indeed, Wadi Rum is home to some of the best hiking trails in Jordan!
Related: Things to do in Wadi Rum.
2. Day Trip from Aqaba to Petra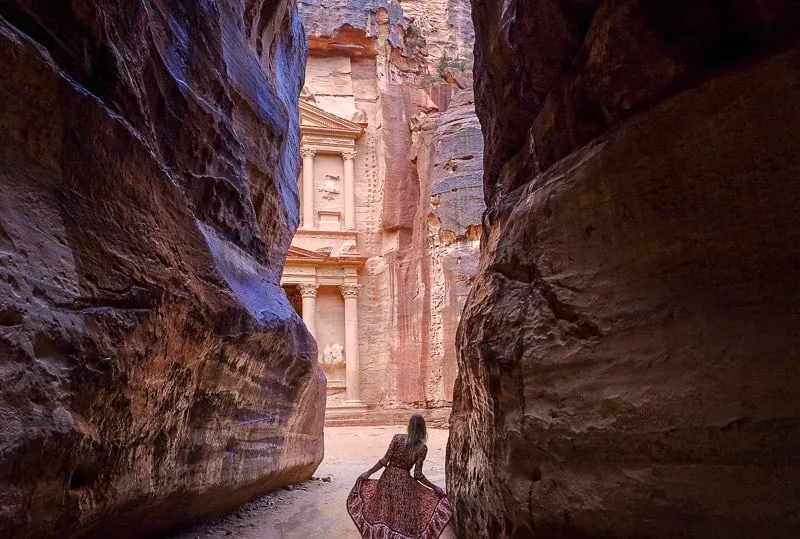 The ancient city of Petra is one of the highlights of any Jordan trip.
It is a must-do and I don't think that your Jordan holiday is complete if you didn't see the Pink City. Visit Petra from Aqaba is thus one of the best things you can do to make your trip unforgettable.
Petra can easily be visited from Aqaba with an organized day tour.
Some operators even offer combined one-day tours from Aqaba to Wadi Rum and Petra.
However, I recommend, if possible, visiting one destination at a time. Petra and Wadi Rum are very different from each other and huge! You can easily spend up to 2 days in Petra and 2-3 days in Wadi Rum.
Book here your tour from Aqaba to Petra.
It takes about 2 hours from Aqaba Jordan to Petra.
If you visit Petra, please consider the following tips:
Read about Petra before visiting. You'll enjoy the visit more and the background of the Nabatean civilization is fascinating.
Consider visiting in low season (October – March) in order to avoid the crowds and unbearable heat.
Wear comfortable shoes: you'll walk a lot! It takes 20 minutes to walk from the entrance to the Treasury and calculate 3 hours (including return) to visit the monastery accessible via 822 steps.
Bring food and enough water (min 2 l). There are great places for picnics, but please don't litter! Some hotels offer lunch packages.
The viewpoints on the treasury are hard to reach and unless you're a (very) independent traveler, they will be hard to find. We went without a guide following the steps to the High Place of Sacrifice. From here, up to the summit before hiking down a siq (canyon). The entire trail took us about 2 hours. There is a shortcut when you turn left from the Treasury. Many guides will offer their help to get to the viewpoint. As we went without and on a different trail, I cannot tell whether their services are useful or not.
Book here your day tour from Aqaba to Petra
Book here day tours from Aqaba to Wadi Rum and Petra.
---
Useful Travel Tips for things to do in Aqaba
Where to stay in Aqaba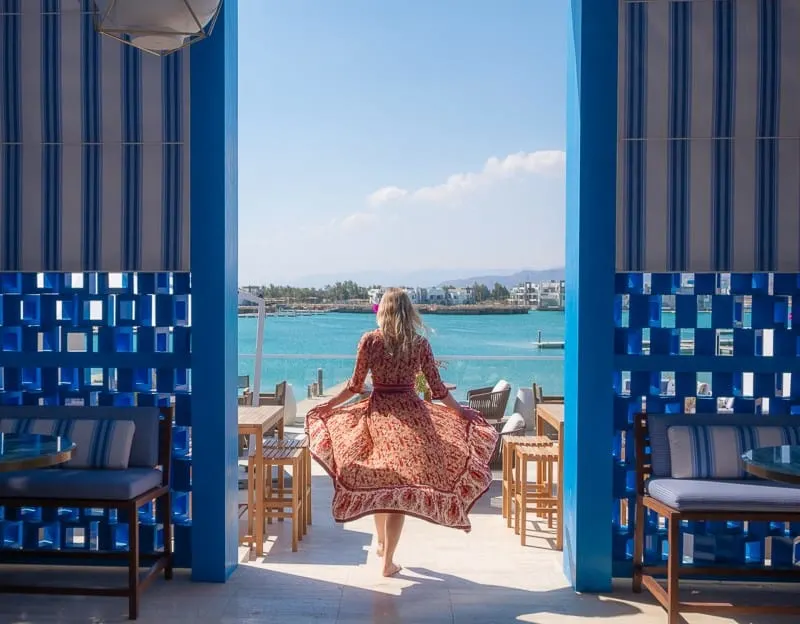 Best Hotels in Aqaba, Jordan:
Budget Hotels in Aqaba
Mid-Range Hotels in Aqaba
Lacosta Hotel ****
Dweik Hotel 3 ****
City Tower Hotel ****
Luxury hotels and resorts in Aqaba
Al Manara, a Luxury Collection Hotel, Savaya Aqaba *****
Kempinski Hotel Aqaba *****
Hyatt Regency Aqaba Ayla Resort *****
Mövenpick Resort & Spa Tala Bay Aqaba *****
You can either opt for a downtown hotel or a hotel close to the beach, thus more resort-style. Aqaba is home to many luxury hotels and 5-star resorts that offer high-quality service and will make you feel like a queen or king.
I opted for the Hyatt Regency Aqaba Ayla Resort***** which is located on the Ayla oasis.
The scenic retreat is nestled amidst rolling hills and turquoise lagoons, the resort boasts a spa, a gorgeous infinity pool, a beach club and much more. They even offer sunset yoga free of charge!
Read more about where to stay in Jordan and the best hotels in Jordan.
How to get to Aqaba:
Option 1
Aqaba has an international airport that was connected to Europe thanks to major low-cost airlines. Flights to Aqaba can thus be really cheap! Check the best prices to Aqaba airport here.
However, schedules and connections are subject to change.
Option 2
Many visitors arrive in Amman, at Queen Alia International airport. From Amman to Aqaba, you can either opt for:
Is Aqaba safe?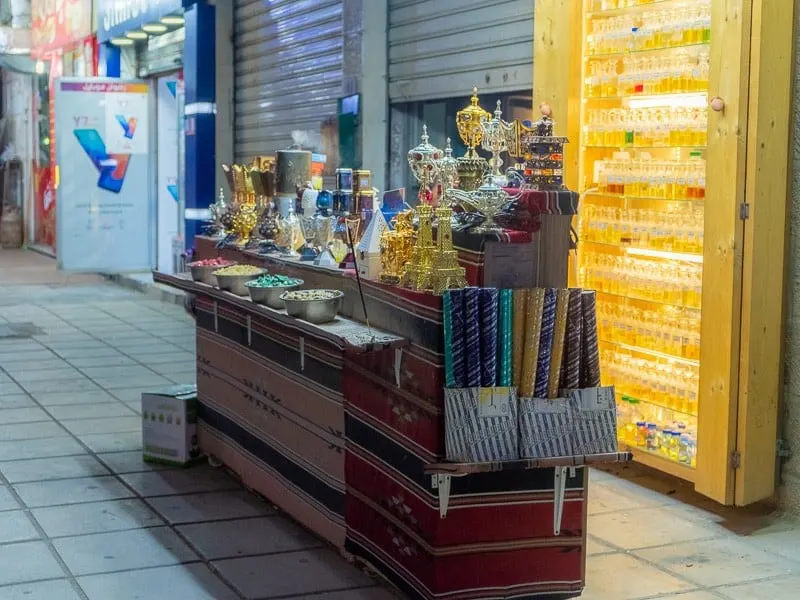 Yes! I didn't feel unsafe for one single second during these 10 days in Jordan.
And Aqaba was no exception. Even though I was not traveling alone, I had some me-time where I was on my own and I didn't feel uncomfortable at all.
That being said, we never went out of the town center. Okay, some Jordanians are flirty but with a firm "No, thank you!", they get your point.
The extreme safety in Jordan, despite being surrounded by countries at war, is mostly due to the very severe penalties pending for those Jordanian citizens harming tourists.
So, yes, in retrospect, I would travel solo as a woman to Jordan and particularly to Aqaba.
Is Aqaba worth visiting?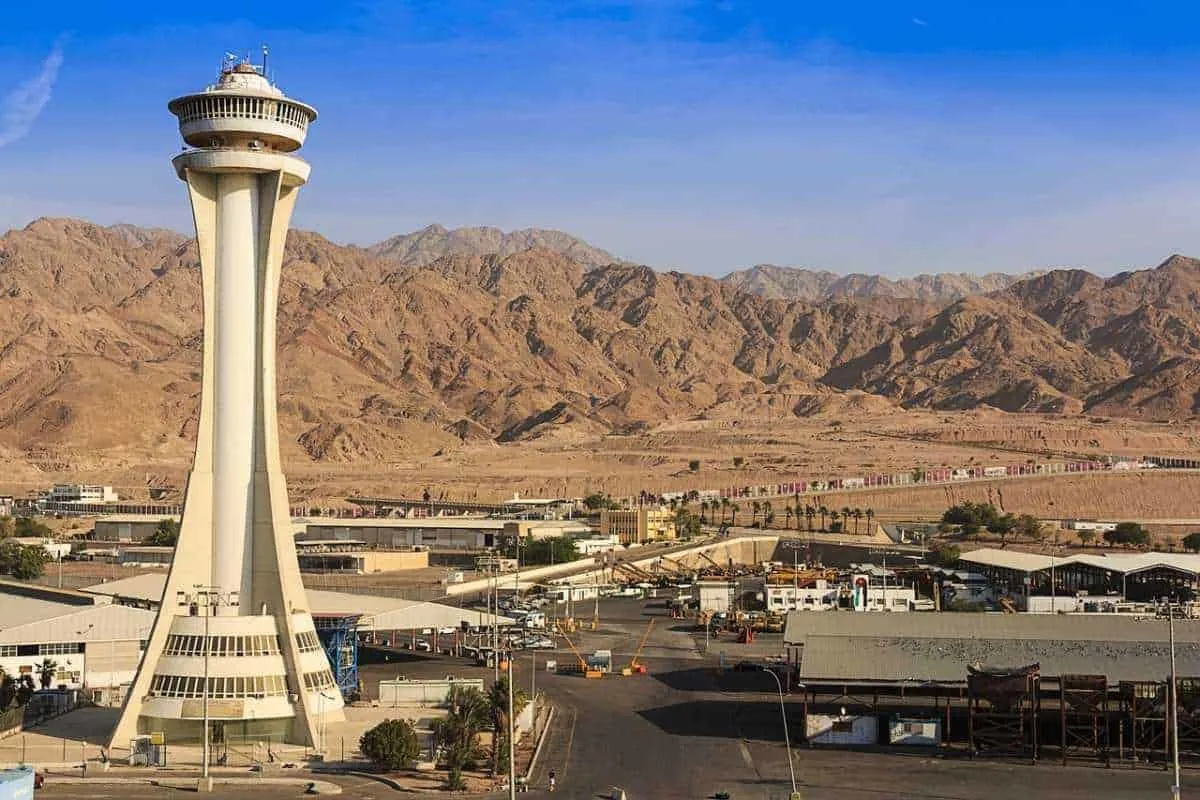 Besides being the only coastal city in Jordan, Aqaba has the largest population in the Gulf of Aqaba. Located between the continents of Africa and Asia, Aqaba port has played a strategic role for centuries.
The city has been ruled by the Byzantines, was under Latin Catholic rule, and was the setting of the Great Arab Revolt's Battle of Aqaba, depicted in the film Lawrence of Arabia.
Aqaba has thus this bustling mix of cultures that characterizes many port towns.
However, many of its ancient monuments have been destroyed. I found that the main attraction of Aqaba were its beaches, the wonderful weather, its marine life and nightlife.
It's also interesting to note that Aqaba is a low-tax, duty-free town! You'll find more liqueur shops here than anywhere else in Jordan!
Due to its status as Special Economic Zone, several mega projects have been built in the last years.
Some of them have the potential and intention to convert Aqaba into one of the top leisure travel destinations in the Middle East.
In total, I spent 3 days in Aqaba, which was perfect to develop a sense of the city. Due to its laid-back but still vibrant atmosphere, I ended up liking this place a lot!
---
Tours and Day tours from Aqaba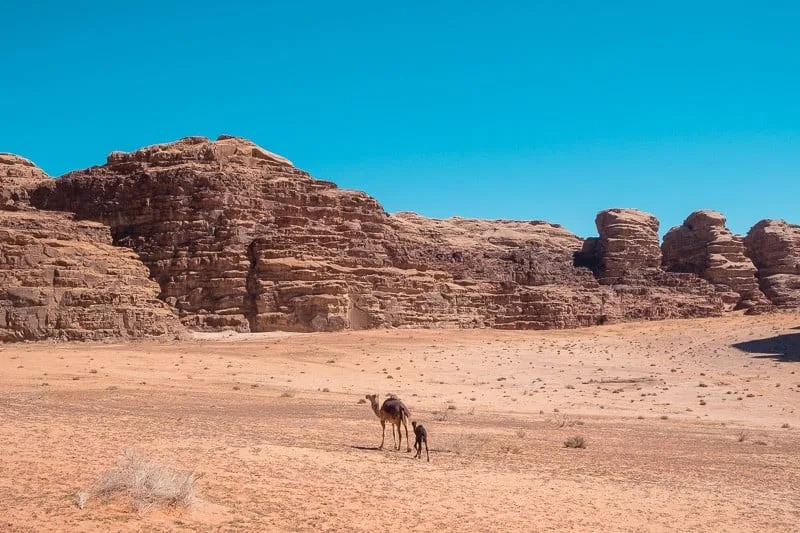 For activities, guided tours and day trips from Aqaba, I recommend GetYourGuide. Both have very competitive prices.
See below, the last point, for more day trips from Aqaba.
---
Aqaba City Map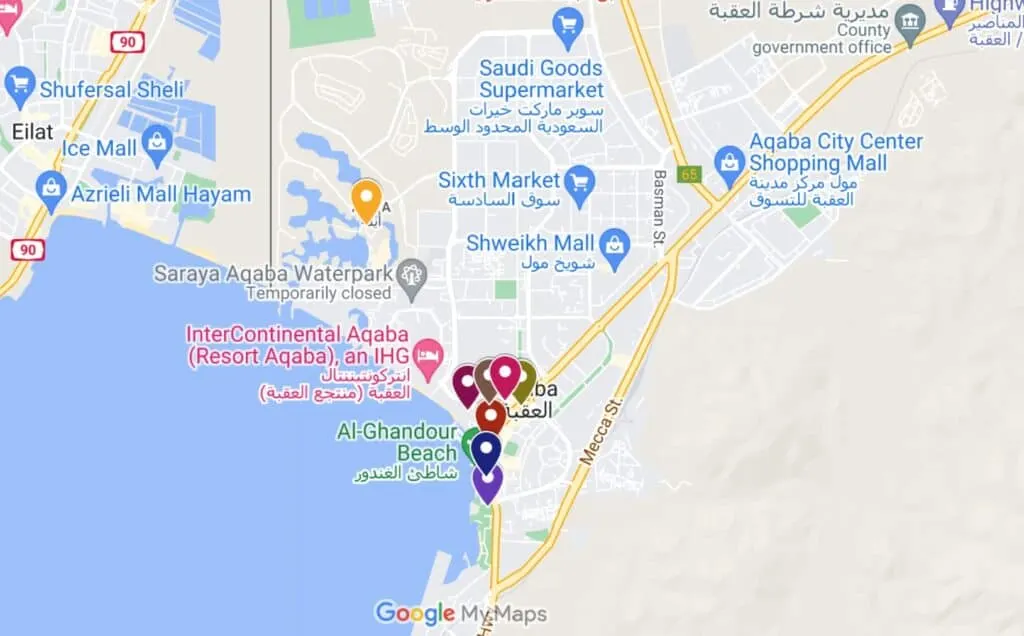 ---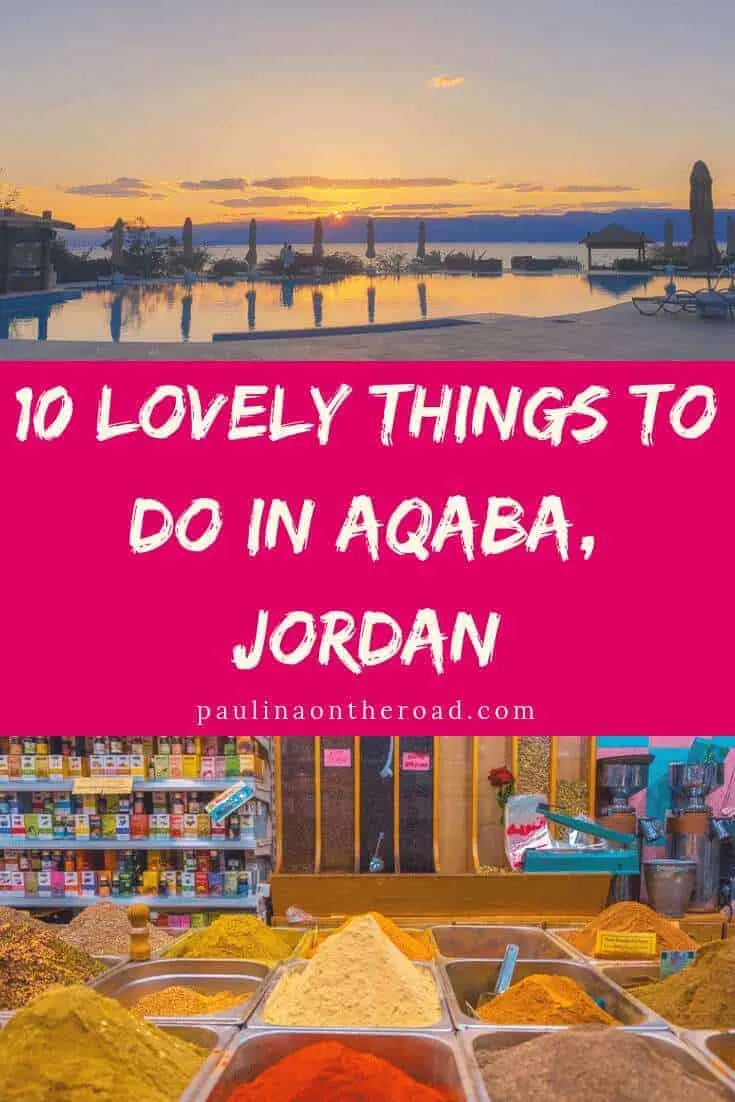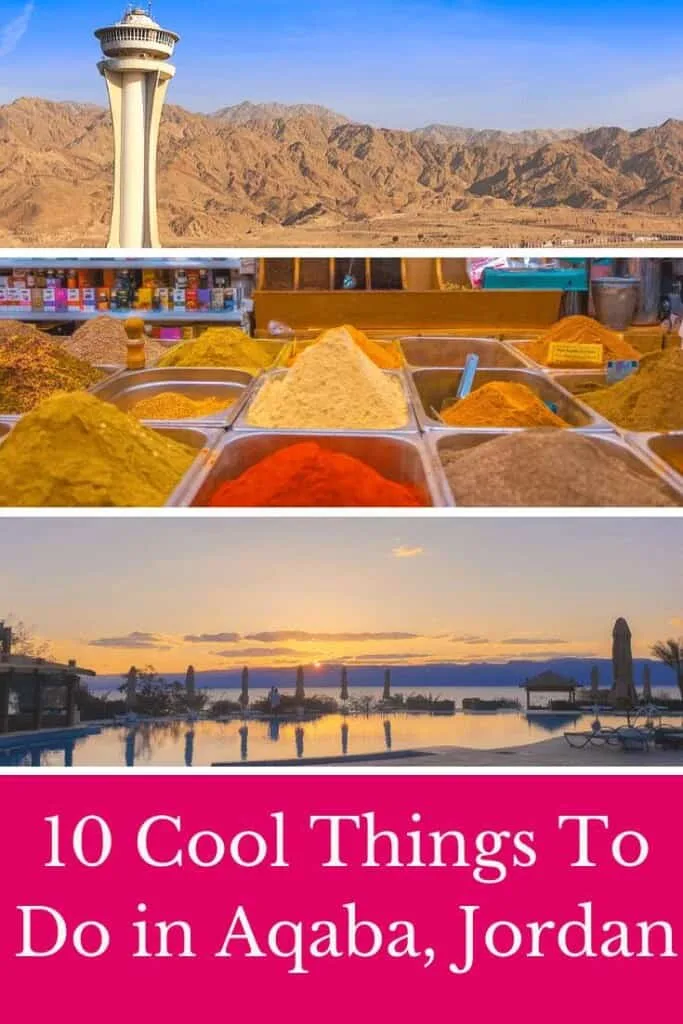 ---
Before You Go: Top Aqaba Tips for your Trip
To make the most of your Jordan trip, I recommend Lonely Planet Jordan
---
---
FAQ: Best Things to do in Aqaba Jordan
What are some of the best beaches in Aqaba, Jordan?
Some of the best beaches in Aqaba are Tala Bay, South Beach, Marsa Zayed,
Aqaba City Beach, Mövenpick Resort & Residence Aqaba and Aqaba Coral Beach.
What are some of the best restaurants in Aqaba, Jordan?
There are so many to choose from! Some of the best restaurants in Aqaba are
Al Fanar, Al Shatt Al Arab, Al Tawaheen Al Bahri, Al Wadi and Le Royal Aqaba.
What are some of the best hotels in Aqaba, Jordan?
In my opinion, some of the best hotels in Aqaba are InterContinental Aqaba Resort,
Movenpick Resort & Residence Aqaba, Aqaba Gulf Hotel, Mövenpick Resort Tala Bay Aqaba and Aqaba Hotel.
What are the best places to shop in Aqaba, Jordan?
Shopping in Aqaba is amazing! Here are some of the best places to shop in Aqaba: Aqaba Fort Souk, the Aqaba Mall, the Aqaba Special Economic Zone, the Aqaba Heritage Village and the Aqaba Port.
What are the best things to do in Aqaba at night?
Some of the best things in Aqaba at night are enjoying a sunset cruise on the Red Sea, visiting the Aqaba Castle, eating at a traditional restaurant, enjoying live music, relaxing at a beach and watch the sunset.
What to do in Aqaba for a day?
If you're in Aqaba for a day, you might consider visiting the Aqaba Fort, snorkeling or diving in the Red Sea, exploring the Aqaba Heritage Village, visiting the Aqaba Marine Park, taking a boat ride on the Red Sea, visiting the Aqaba Museum and shopping in traditional souks.
What is Aqaba famous for?
Aqaba is famous for scuba diving and snorkeling, history and culture, relaxation, shopping, outdoor activities, and amazing sunsets!
Hola! I am Paulina, a fervent travelette who crossed the Atlantic Ocean by Boat HitchHiking. On my blog, you'll find all the tips to make the most of your holiday. Get ready to enjoy outdoor and sustainable travel like hiking, cycling or sailing. Let's hit the road together!