Written by Ellen Blacow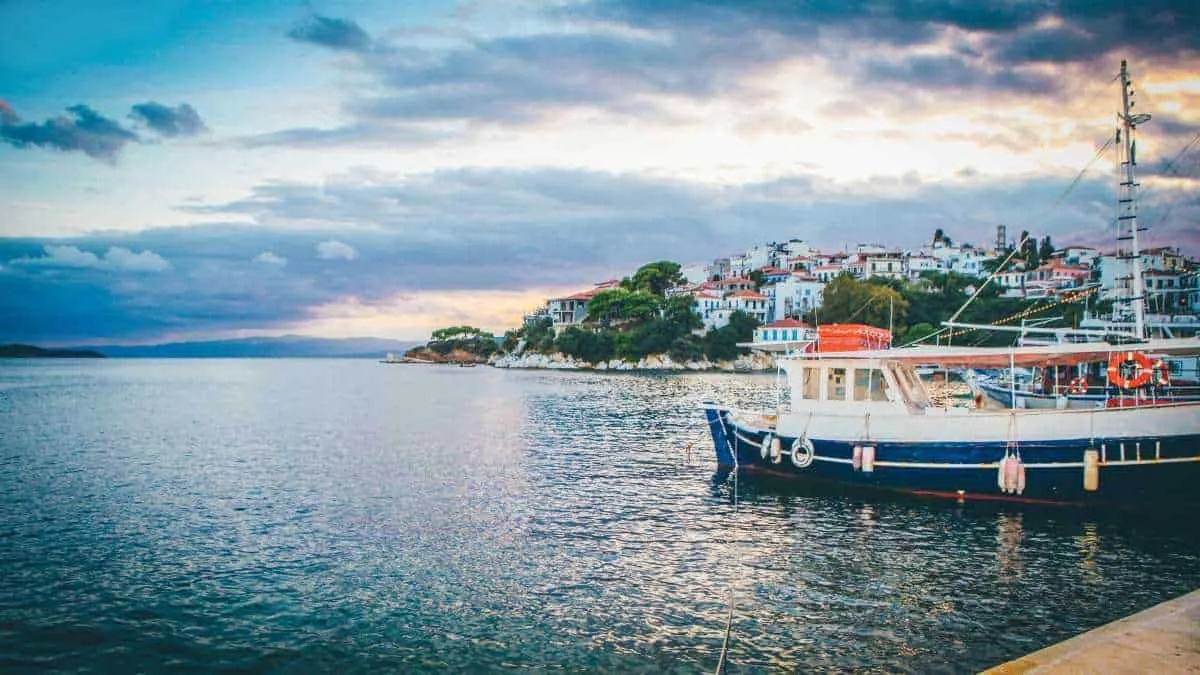 If you're looking for beautiful sandy beaches in Europe this summer, look no further than the Greek island of Skiathos. With 60 stunning beaches scattered along a 44 km coastline, the island is small but mighty.
From highly-organized beaches with sunbeds, watersports, and bars, to secluded, quiet beaches which can only be reached by boat, Skiathos offers something for every type of holiday goer.
Below, you'll find a guide to the 7 best beaches in Skiathos with information on how to reach them and handy insider tips.
1. Koukounaries Beach
Koukounaries is a colloquial Greek term for pine trees so you can begin to picture the surrounding areas of this stretch of coastline. Located at the southwest part of the island, Koukounaries is one of the busiest beaches on the island. But don't let that put you off; this beach is also closely managed by the local authorities to ensure it remains as one of the island's biggest assets.
Stretching only a couple of kilometers long, the beach boasts some of the best sand and swimming conditions on Skiathos. Alongside its natural beauty, the beach is accompanied by an array of sunbeds, watersports, bars, supermarkets and restaurants, making it a great place to take all the family.
Koukounaries beach can be reached by boat, moped, car, taxi or bus. If taking the bus, get on the bus going away from Skiathos Town and get off at Bus Stop 26 (you can't miss it, it's the end of the line).
If you are looking for natural Skiathos beaches, you should definitely keep this one in mind.
Insider tip
Get to the beach early so that you can have your choice of sunbeds. Aim for the end ones as they guarantee more space when the beach inevitably gets busier later in the day.
2. Troulos Bay Beach
Troulos Bay is a must visit when touring Skiathos. Located on the southern side of the island, the beach is easily accessible, sandy and generally wind-free. An ideal beach for those located in the nearby tourist resort, also named Troulos, the sandy shore offers both sunbed and untouched sand for lounging upon.
Also accompanied by several restaurants and a hotel, there are plenty of places to grab a drink or snack during your time in Troulos.
Best for those traveling with a young family, Troulos is reachable by boat, moped, car, taxi or bus, and is a great place to start if you're new to the island. If taking the bus, get on the bus going away from Skiathos Town and get off at bus stop 20.
Put this one on your list as it is one of the most beautiful beaches in Skiathos, Greece.
Insider tip
For the ultimate way to end a day at Troulos beach, head to the Troulos Bay Hotel beach bar around 5 pm for a cold drink and watch the sunset over the beach.
3. Elia Beach (aka Mandraki Beach)
If you're looking for a beach which is more secluded, less touristy and largely untouched by sunbeds and watersports, you'll love Elia Beach. Located on the northern side of the island, it is one of the lesser frequented beaches due to its slightly less accessible nature, lower infrastructure and tendency to be windy.
However, don't let any of that deter you. This beach is ideal for anyone wanting to relax and escape some of the hustle and bustle of the southern side of the island. With a sandy shoreline, clear water and a rustic taverna, this beach encompasses everything beautiful about Greece.
To reach Elia Beach, take a car or taxi and ask for Mandraki Beach. They'll know where to take you.
If you want to enjoy Skiathos and all its pine tree glory, take the bus going away from Skiathos Town and get off at bus stop 23. Follow the sign-posts for Mandraki beach and walk for about 1.5 km along a sandy track.
Insider Tip
Make sure you take plenty of water and food with you to this beach. The food and drink options are limited and you wouldn't want to leave early on account of your hunger!
4. Banana Beach (Big & Little)
Skiathos' Banana Beach guarantees you a different sort of day on the island. Split into two sections ('big banana' and 'little banana'), the two very closely located beaches offer two very different experiences.
For a quiet, relaxed day at the beach, head to Small Banana where the golden sand and crystal clear waters are accompanied by a general sense of tranquillity.
For a slightly more vibrant atmosphere, turn towards Big Banana Beach which hosts music, partying and some of the most beautiful people on the island.
Frequented primarily by young Greek and Italian tourists, the beach is known for its fun in the sun where party-goers stay until the sun sets.
Both of these beaches are reachable by taxi, moped, car and bus. If taking the bus, get off at bus stop 26 for Koukounaries and take the short but steep walk to the shore.
Insider Tip
Small Banana Beach has a section which is permitted as a naturist beach so please bear this in mind if traveling with children.
5. Lalaria Beach
If you've Googled 'Skiathos', you've probably seen photos of Lalaria. From striking white cliff faces and a small pebbled beach to crystal-clear waters and a naturally-formed rock archway, this beach is every traveler and photographer's paradise.
Hidden away on the north-eastern tip of Skiathos, the beach is often considered one of the most picturesque and worthwhile beaches to visit whilst on the island. Free from all infrastructure, sunbeds and watersports, the island is remote and is the perfect destination for anyone in need of some peace and quiet.
Whether you're looking to indulge in a book, swim under the rock archway or simply get snapping photos for Instagram, this beach should not be missed whilst in Skiathos.
Reachable only by boat, this beach is a little trickier to get to. Go into Skiathos Town and head to the old harbor (where the smaller boats are and the expensive yachts aren't) and search out a small boat which will take you to Lalaria.
Alternatively, there are several larger boat trips which will stop off at the beach and some of Skiathos' even smaller sandy shores.
Insider Tip
On days where there are high winds at sea, even boats will be unable to reach this beach. Boat trips can cost anywhere between 10-25 € per person.
To really amp up your Instagram game, head to Kolymbithres Beach in Paros. Kolymbithres Beach is one of the best beaches in Paros and famous for its unique rock formations.
6. Diamandi Beach
If you're looking for another beautiful beach to visit whilst in Skiathos, look no further than Diamandi Beach.
Located on the southern coast of the island, it is small, sandy and the perfect stop-off point on a trip around the island. Free from overcrowded sunbeds, watersports and music, this idyllic beach simply offers turquoise water and a quaint taverna serving local food.
Like Lalaria, this beach is best reached by boat. Either hire out your own or join an organized tour of the island to visit Diamandi and all its beauty.
Insider Tip
The taverna can get busy at lunch time so you better book a table as soon as you arrive at the beach.
7. Kastro Beach
If you're looking to combine history with a trip to the coast, look no further than Kastro Beach.
Located on the northern tip of the island, this beach offers something a little different to the others on the island. Whilst similarly comprised of Skiathos' signature golden sand and crystal-clear waters, this beach sits at the foot of the medieval town of Kastro which was once this island's capital.
Previously used as a defensive town against invading pirates the local town is now home to ruins and abandoned cannons. Not only does Kastro beach offer a great place to relax in the sun, but it's also great to explore on an afternoon stroll.
Kastro beach is only accessible by car, taxi, moped or boat. If traveling by car, taxi or moped, please be advised that there is a short walk from the carpark to the shoreline which also involves some stairs so it may not be suitable for small children or the elderly.
Insider Tip
If you decide to explore Kastro town, take your own water and food as there are very little shops in the town.
Read more about Greece
Athens, between glorious past and uncertain future
---
---
Author Bio:

Without A Tour was founded by London based Ellen following a year of living and teaching in China. Whilst abroad, Ellen realised that too many people were over-paying for organized tour groups and hence set up her blog to prove it's possible to travel the world without a tour.
With special emphasis on Asia and Europe, Without A Tour encompasses all that's needed for a budget-friendly adventure; providing advice in the form of location-specific guides, reviews, itineraries and so much more.
---
---
Before You Go: Top Tips for your Trip
To make the most of your trip, I recommend Lonely Planet Greece
---
Hola! I am Paulina, a fervent travelette who crossed the Atlantic Ocean by Boat HitchHiking. On my blog, you'll find all the tips to make the most of your holiday. Get ready to enjoy outdoor and sustainable travel like hiking, cycling or sailing. Let's hit the road together!