12 Things To Do in Paros, Greece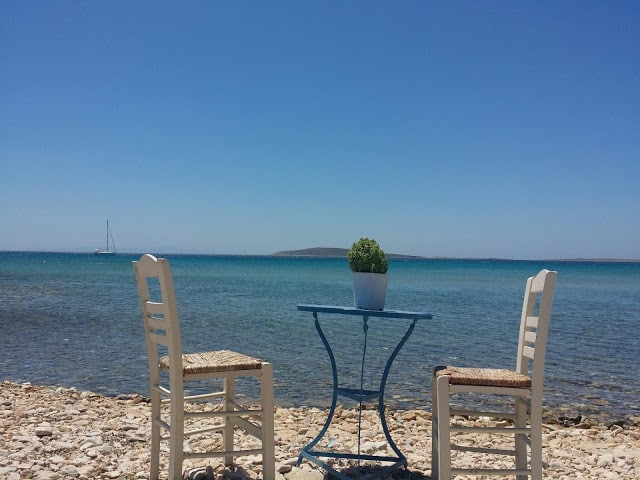 If Mykonos is considered to be the party island on the Cyclades and Santorini as the romantic one, Paros' image seems still indefinite and all to be explored.
Like most Cycladic islands, Paros architecture is all about white houses and churches with blue rooftops. But besides picturesque villages, what else Paros has to offer?
Ferries to/from Paros
1. It's all about water sports!

SUP in Antiparos
Paros crystallizes as the sporty island: water sports can be done on nearly every beach of the island!
Kite surfing can be done in Pounta, Golden Beach and Molos, Windsurfing in Pounta, Molos, Antiparos, New Golden Beach (Tserdakia), SUP in Antiparos, Golden Beach, Paros Park (my favorite place!). Scuba Diving is offered in Pounta and Aliki.
Before heading to Paros, I read in many guides that "regular" surfing could be done in Paros. But: there was not one single surfable wave for 2 weeks!
However, the very wide range of other eligible water sports compensated this first deception. If you are not that much into water sports, get a pair of goggles and discover the blue underworld of the sea by snorkeling.
And why not take a boat tour to Santorini or Mykonos?

Watersports in Pounta
2. Hiking & Swimming in Paros Park

Over the sea in Paros Park
The natural park on St. Ioannis Detis peninsula near Naoussa offers a wide range of activities: hiking to the lighthouse or a cave, discovering the headquarters of the Russian fleet, water sports at its finest or relaxing at the small Monastiri beach…
This remote beach is protected from the winds and is equipped with sunbeds for 3,50 € per day and has a beach bar offering light healthy food.
By night you can watch a movie at the open air cinema, or if you're lucky see a concert at the open air theatre. All of this right next to the beach and respecting the idea of cultural and sustainable tourism.
A unique place on Paros and most definitely one of my favorites!
Check it out on: Paros Natural Park

On the way to Paros Park
3. Santa Maria: Town of Water Sports

"Private" beach near Santa Maria
It's a center for watersports (diving, snorkeling and windsurf) and has a quiet, not yet crowded golden sandy beach with gorgeous views on the neighbor island Naxos.
If you walk a little along the coast, you may discover your own private beach, as I did.
Santa Maria figures among the best beaches on Paros Island.
If you don't want to miss any of Paros' hidden beaches, then I'd take a bus & boat Island Tour.
---
---
4. Go hiking… in spring!

Greek detail in Parikia
In spring and autumn, when the temperatures are still to bear and the island not invaded by tourists, Paros is ideal for hiking.
Hiking routes are well indicated and offer impressive views on the sea and the neighboring islands.
I don't recommend hiking in the summer months (June/July – September) since it gets extremely hot during these months and hiking in the mountains of Paros could harm your health.
5. Party in Naoussa!

Sunset in Naoussa
After so much hiking and swimming, what comes better than a great Greek party near the sea?
Naoussa… this lively white port town is ideal if you're looking for a night out. Many restaurants along the sea offer the catch of the day of the Mediterranean sea.
Enjoy your after-dinner cocktail in one of the many rooftop bars before heading to one of the numerous clubs in town.
If you are looking for an original souvenir: Naoussa has also a lot of shops with beautiful Greek designer jewelry.

Sunset dinner in Naoussa

Sunset dinner in Paros
6. Lefkes

Charming corner in Lefkes
If you are looking for a day off the beach, Lefkes is a perfect option. Situated in a breathtaking valley, this white little town remains cool when Parikia or Aliki are boiling under the Mediterranean sun.
Take the Byzantian Route to discover the hidden spots of this charming village.
Many public squares in marble invite for a "Frappé" (coffee with milk and crushed ice) and to watch the Cycladic daily grind.
On the way to Lefkes, you'll pass along Marathi Marble Quarry where the famous Paros' marble comes from. Many Greek masterpieces such as the Venus from Milo have been sculpted in this finest marble variety.
An elderly warm-hearted couple sells self-made marble souvenirs. You should definitely pass by to say hello to them 😉
The Marathi Marble Quarry is quite difficult to reach with an ordinary car, but a guided visit is included in this Full-Day Paros Tour.

Lefkes
7. Rent a Scooter!

Into the blue!
Although local public transportation is cheap and brings you the main spots of the island, a scooter will allow you to discover the hidden jewels of Paros. And it is definitely more breezy than a bus without aircon!
Stay away from the rental agencies at the port. If you walk for 10 min you'll find scooters for 15€ a day a quads for 20€ i.e. on the Periferiaki street at Iannis' car rental.

These views are included in the rental fee of the scooter
8. Eat out!

Greek breakfast… –
Eating out in Paros is cheap and it's definitely a must to discover the local delicacies. My favorite place was, upon local recommendation, "Coralli", near the camping at the end of the harbor bay in Parikia. I repeated twice!
Food was amazingly fresh and a price-quality relationship was great: Tzaziki and fish roe salad for 3€ each, 1/2 l of local wine also 3€ and the best Greek yogurt on the island was served with cherries for 0,60€! Don't forget to try the local specialty: the sun-dried fish!
A little bit more expensive, but with great, if not unique views on a desert beach and its crystalline bay, is "Siparos" near Santa Maria.
This seaside restaurant all in white gives you that special Ibiza feeling while degustating modern interpretations of the traditional Greek cuisine. Flavors are intense and all-natural.
Ask for the homemade Baklava filled with ice cream!

Sunset at "Coralli"

Stuffed vine leaves with red peppers in "Siparos"

"Siparos"' salad with fresh fruit and almonds

Linguini vongole straight from heaven

Sun dried fish
9. Wander in Parikia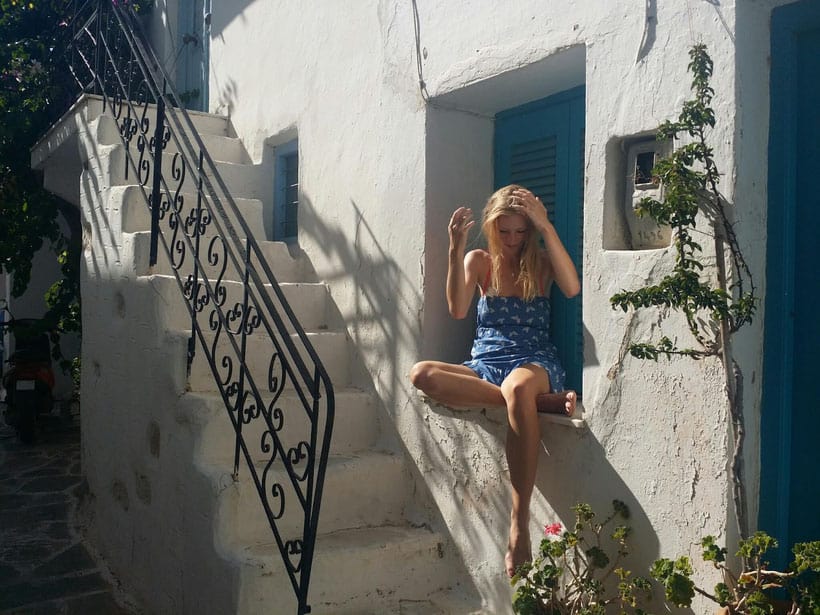 Parikia, the capital of the Cycladic island, is the nervaltic center of the island. Whereas Golden Beach and Naousa are coveted tourism destinations, Parikia managed to maintain some of its local and authentic vibes.
I particularly loved to stroll through its quaint streets by nights when all the shops are open and temperatures still mild. Hers you'll find souvenirs, clothes and artisan crafts.
Sitting on a terrace in a white cobbled street, surrounded by bougainvilleas, while enjoying a refreshing drink is just pure bliss!
10. Visit Panagia Ekatontapiliani
The Panagia Ekatontapiliani is one of the most important Byzantine monuments. The church is located int eh city center of Parikia. It is also known for being the Church with the Hundred Doors.
However, so far only 99 doors could be found and the legend says that when the 100rd door will be found, Istanbul will belong to Greece again.
Entrance is free
11. Day Trip to Antiparos
The small island of Antiparos is just located in front of Paros island. It is the perfect day trip from Paros, in case you are staying a little longer on the island.
You can either go by jetski (like we did) or you take the ferry which departs every 30minutes from Parikia and takes only 10 minutes.
Antiparos is known for its pristine beaches and for being very calm. That is why it is a coveted home for several celebrities. I recommend to enjoy the relaxing beach vibe and explore its caves.
12. Enjoy Stunning Sunsets in Parikia
Let the pictures talk by themselves!

Sunset in Parikia

Best place in town for sunset: Lochagou Kourtinou

Waiting for sunset in Parikia

Mandatory: Greek cats!

Paros, see you soon!
Tell me about your highlights in Paros!
---
How to get to Paros
By Ferry
Where to stay in Paros, Greece
Budget:
John's Rooms & Studios (The owner was very helpful and generous. We got a free upgrade on our room and the hotel is very close to all the main sights.)
Luxury:
Rent a Car in Paros, Greece
Excursions from Paros
---
---