14 Amazing Luxury Villa Rentals in Paros, Greece
The ultimate guide to amazing luxury villa rentals in Paros, Greece
I like to travel around the cities surrounded by sea and beaches. Paros is one of the greatest places to visit around the world.
The Island of Paros, Greece is in the central Aegean Sea, and famous for many things such as windsurfing and kitesurfing.
There are many of the world's best beaches in Paros. These things make it to be part of the list which includes the best travel destination in Europe.
Some international windsurfing competition of windsurfing takes place on the island of Paros, Greece.
The Cycladic villages and phenomenal beaches in Paros are famous all around the world. These things make it to include this location in my bucket list and visit Greece.
Many ancient places such as Panagia Ekatontapiliani, Parikia, Lefkes, Marcello Beach, Paros Park, Archaeological Museum of Paros, and many other beaches make Paros a great holiday destination.
Thanks to affiliate links, I can pay my bills. If you make a purchase through them, I may receive a small commission (for which I'm deeply grateful) at no cost to you. All opinions are always mine. Merci!
Useful Travel Information About Paros, Greece
✈ Book cheap flights to Paros, Greece with Skyscanner

☘ Book ferries to Paros with Ferries in Greece

$ Get the best tours and activities in Paros, Greece with GetYourGuide

➳ Rent a car at the best rates with DiscoverCars

❖ Get the best discounted outdoor gear (outlet) at REI.com

✎ Never leave without travel insurance. I get mine at HeyMondo. It is reliable and easy to setup.

⚘ Get a travel guide in order to prepare your trip. I recommend the Lonely Planet Guide – Greece (get a 10% discount with the code "PAULINA10").
Why Rent a Villa in Paros, Greece?
When it comes to accommodation in Paros, I would strongly recommend you to book a holiday villa. Why?
In Paros, holiday villas are preferred as they have an attached kitchen, more space than an average hotel room, and are cheaper as compared to hotels because they are rented weekly.
It's just perfect to feel like in your own home while enjoying the gorgeous beauty of Paros. So just sit back and relax. During your visit to Paros, don't worry about where to stay in Paros, Greece.
Check all rentals in Paros here
Best Holiday Villas in Naoussa, Paros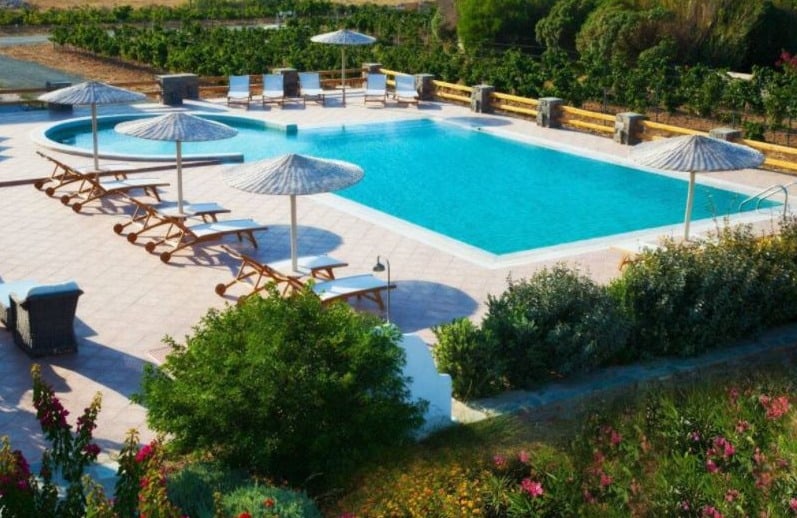 Highlights:
Swimming pool
Playground for children
Basketball court
Free Internet
3 bedrooms
This holiday villa is located in a unit of 5 villas in Naoussa, Paros. It has 3 bedrooms with 5 beds, 2 bathrooms, and 6 guests can stay in it. It is surrounded by some of the best Paros beaches.
Interesting activities can be done such as visiting Naoussa village, morning walk around the green olive fields, swimming, and BBQ parties. The green olive trees provide an amazing look around the villa.
The villa is located only 150 steps away from the sea! One of the best Paros beaches, Santa Maria is just a few steps away from this property.
The surrounding of this Paros villa rental attracts more people to stay and enjoy their vacation.
Favorite parts
The prominent thing which makes this holiday villa outstanding is its spectacular swimming pool.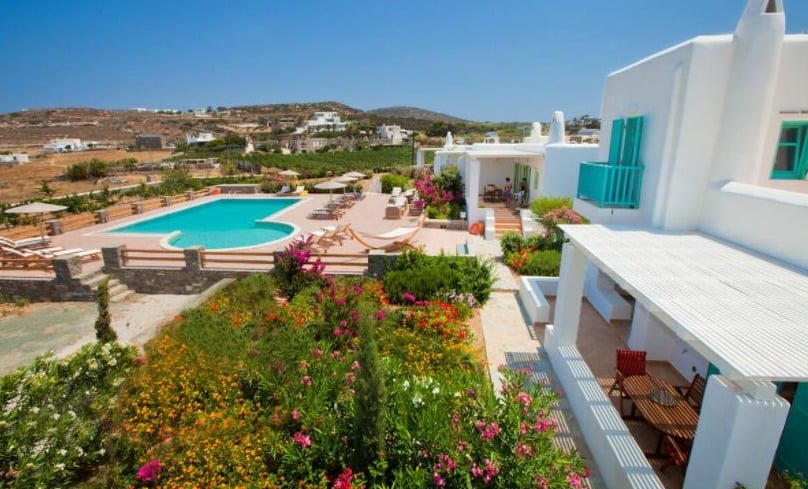 Highlights:
Pool
Sea view
150m away from the sea
Luxurious and elegant design
This beautiful holiday villa, known as "Villa Aliki", is one of the luxury villas of "Noussa Bay Villas". It's located in the beautiful village of Naoussa, and one of the most beautiful villas in Naoussa.
Swimming, exploring, and visiting the best Paros beaches are the activities that can be done here. The surrounding areas are covered with flowers and green fields that reflect nature.
It's one of the prettiest Paros villas for rent with great views and surrounded by green fields and mountains.
Favorite parts
The views around it, the beautiful beach, and the swimming pool make it one of the best villas in Paros, Greece.
Highlights:
Fully Equipped two kitchen areas
Barbecue
Big outdoor spaces with shaded verandas and garden
Wonderful view of pool and beach
Villa Pactia is one of the luxury villas located on the island of Paros, Greece. This vacation rental feels like an entire home. You will find 3 bedrooms with queen size beds, and 3 fully functional washrooms.
This villa in Paros can accommodate up to 6 or 8 persons. A Parian-German couple created this villa with passion and love, and with the help of local architects and construction teams which came from the island to support the local economy.
Swimming is one of the favorite activities that can be done in this luxury Paros villa. You can go for a walk in the morning or evening as well.
The surrounding area is full of natural beauty, having a small mountain and green field. Some beautiful villages are located close by. The village of Naoussa is located a few minutes' drive.
Favorite parts
The private swimming pool!
Highlights:
Cycladic style villas
Panoramic view of the Aegean sea
Room massage service
Manicure/Pedicure service
Pool
Stagones – Premier Villa is one of the finest Paros villa rentals. It has two separate bedrooms equipped with king-size beds and silicon mattresses.
The kitchen is designed with Italian wood. You can relax on fluffy couches in the living room. The two amazing bathrooms of this holiday villa are made from local marble used in luxury villas only.
Besides swimming, you can sunbathe on the luxury sunbeds around the swimming pool. You can also go snorkeling, scuba diving, sailing, and boating on this beautiful island.
You have an amazing view of one of the best beaches in Paros from your dining room.
Favorite parts
The entertainment and the interior of this holiday villa make it even more valuable than other villas in the area.
Best Villa Rentals in Paros with Pool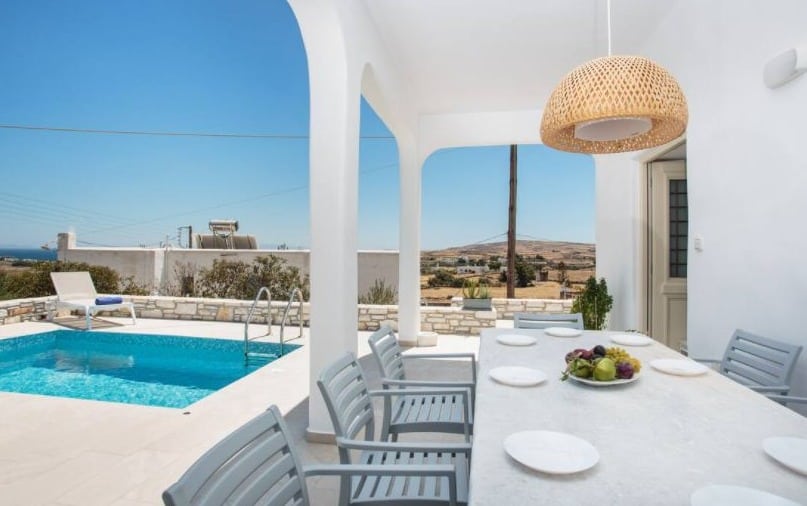 Highlights:
90-sq meter veranda
Cycladic architecture
Swimming pool with barbecue
This villa in Paros has 3 bedrooms with 5 beds. The kitchen of these luxury villas is fully equipped with all the necessary things for cooking. Villa Emilia boasts a gorgeous Cycladic architecture.
One of the nicest things to do is visiting the olive fields around the villa.
You'll have a stunning view on the mountains, beaches and olive fields from inside of the villa. The sunset and sunrise view are amazing and can be enjoyed from the villa.
You can enjoy your holidays here with all of your family because it can accommodate up to 9 people, and you can cook your food or do fishing as well on the beach.
Favorite parts
The minimal style and modern facilities.
Highlights:
Sea view
Swimming pool
Close to Golden Beach
The stunning and luxury Aelia Master Villa is one of the prettiest Paros villas. The whole villa is managed by Georgios and comes with 3 bedrooms. It's located 10 km away from Naoussa.
There are a bunch of activities to do here such as visiting the old town of Parikia or head to Golden Beach which is only 200 m away. It's definitely one of the best things to do in Paros.
The scene of the sea is very charming from this villa. You can take a sunbath at the poolside on comfortable sunbath beds.
You can spend your holidays here doing swimming, long walks, and cooking as well.
Favorite parts
The large king-size beds, the sea views, and the close location to Golden Beach.
Highlights:
Contemporary spin on traditional Greek style
Ocean view
Expansive terrace
Nereids Villa is hosted by Elena. The entire villa is gorgeously furnished and the interior and exterior are designed with local marble. Having 2 bedrooms with 3 beds and 2 baths, it can accommodate up to 6 guests.
The villa is huge and there are many things to do such as swimming, cooking and enjoying sunbathing. It has an open dining area as well. Surrounded by peaceful nature, you can enjoy your meals with a great outside view on the ocean.
Favorite parts
Its capacity and huge area compared to other villas.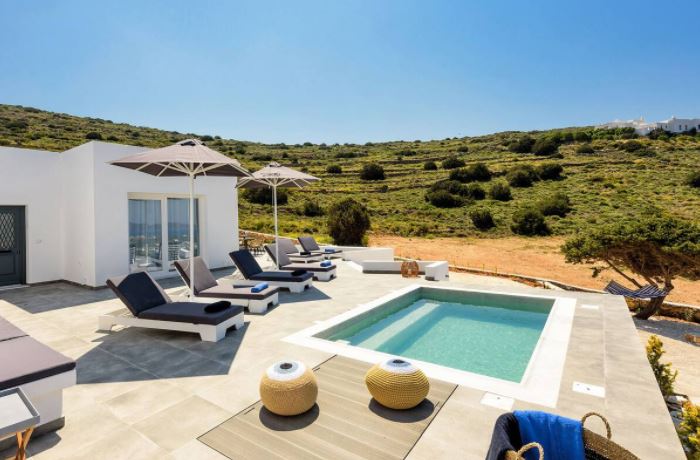 Highlights:
5 bedrooms
Private swimming pool
Luxury touch
Close to the pristine beaches of Aliki
The luxury Villa Rosemary contains 5 bedrooms with 7 beds and 3 baths. It can accommodate up to 10 guests.
It's located 2 km away from the village of Aliki, one of the best beaches in Paros. Pristine beaches are located a few minutes' drives from here.
The great thing that urges to stay here is the view of the Aegean blue sea. You can relax at the gorgeous pool/jacuzzi and on the terrace, there's a sunbath facility as well.
The bathroom is equipped with luxury items and designed with attractive marble textures. The complete villa is decorated with modern furnishing and soft muted colors.
Favorite parts
Its huge capacity for guests, interior, amazing views, and close location to the cute fishing village of Aliki.
Best Holiday Villas near Parikia, Paros island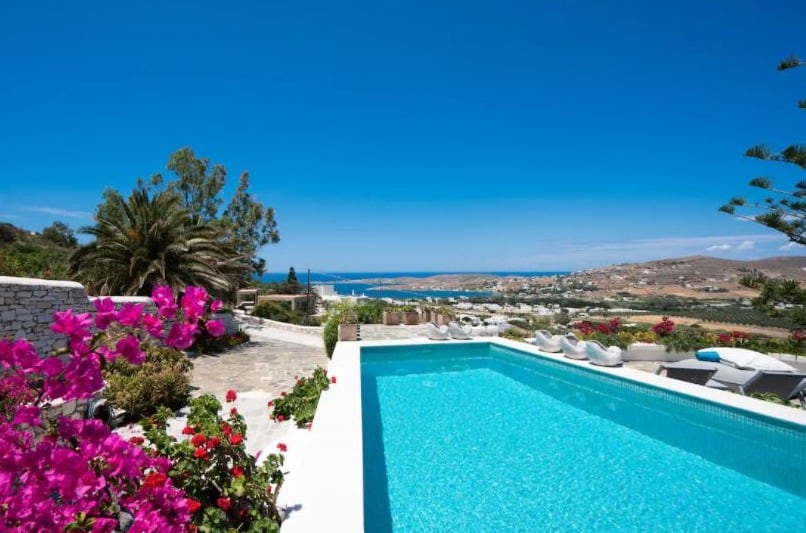 Highlights:
Private pool/jacuzzi
Just outside Parikia
Simple luxury
Haritomeni villa in Paros and hosted by Aldo, is a typical Greek villa where you can relax and enjoy the Greek style of life.
It has 3 bedrooms and all are equipped with A/C. It's located near the village of Parikia within walking distance, where you can explore Greek restaurants, lifestyle, shops and culture.
You'll fall in love with the beautiful view of the sea from this luxury villa.
There are three different yards as this villa consists of 3 apartments. Each apartment has it's own place for sun-beds, barbecue, coffee tables, etc.
Favorite parts
The natural surroundings and the close walking distance to Parikia.
Highlights:
Swimming pool
Huge kitchen
Large barbecue and outside dining area
This beautiful luxury villa near Parikia is hosted by Katerina. It's one of the luxury villas, and located in Ayia Irini. This brand new villa offers 5 bedrooms and 3 bathrooms. Up to 10 guests can easily enjoy their holidays here.
It has its private swimming pool, outside dining place, amazing barbecue, two entrances, and a huge garden with trees. In the evening, you can enjoy the sunset view.
The host can arrange different things on your requests such as island tours, babysitter, private chef, etc.
Favorite parts
The large bedrooms and the gorgeous views from the pool!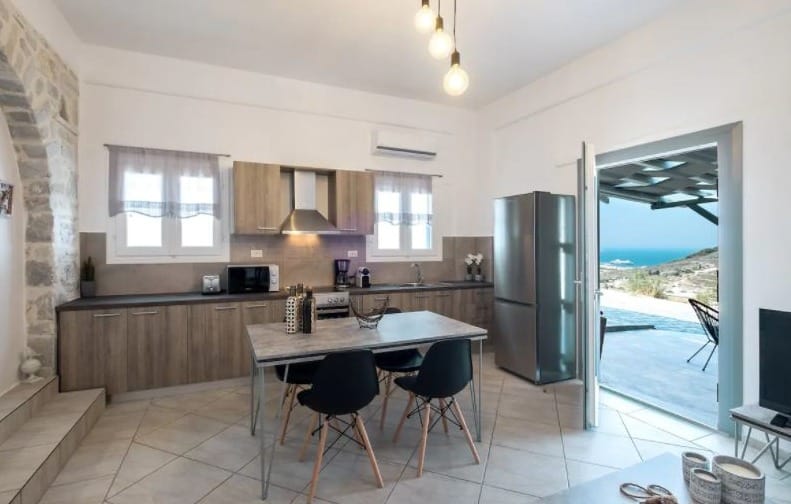 Highlights:
Magnificent sunset view
Brand new furniture
Gorgeous swimming pool (particularly by night)
Villa Galatea is one of the top luxury villas in Paros. It has 2 bedrooms with 2 beds and 1 bathroom. Up to 4 people can easily enjoy their holidays at this property. It's thus a perfect choice for a small family or 2 couples.
It has a kitchen that's fully functional and equipped. The night view from the villa on the island is stunning. You can enjoy swimming and barbecue parties.
Favorite parts
The swimming pool at night and the stylish interior design.
Best Luxury Holiday Villas in Paros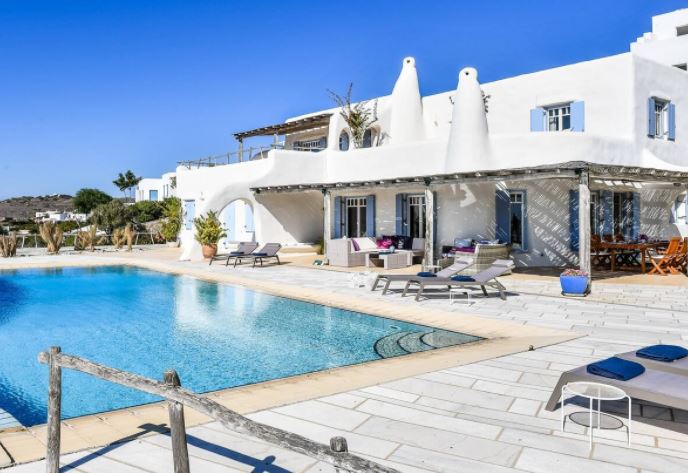 Highlights:
Luminous presence
The sculptural form of classical Cycladic architecture
Beautiful interior
Sea view
The luxury Villa Delion is located near to the best Paros beaches such as Krios beach and Martselo Beach. Its architecture is based on Cycladic architecture.
It has 6 bedrooms with 7 beds and 7 bathrooms that are capable of accommodating up to 12 guests.
It's strategically located close to Parikia, Lefkes and Naoussa, and has a huge swimming pool and dining place outside from which you can see the clear waters of the sea. Sun-beds are placed around the pool too.
Favorite parts
One thing which makes this Paros house rental a great place to stay at is the sea view of the Aegean Sea. Cycladic architecture is a unique feature too!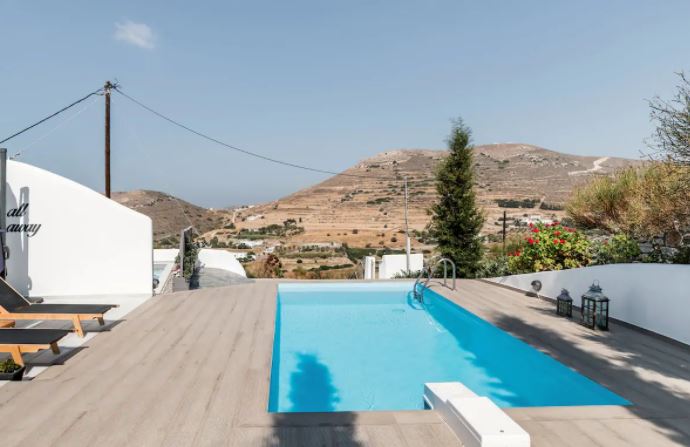 Highlights:
Bathrooms with walk-in shower
Air-conditioning
Backyard with swimming pool
Outside dining places
This beautiful Paros villa rental is hosted by Elena and located close to Parikia, the capital of Paros. Its beautiful interior is designed with rope lighting and polished stone.
It has a big living room, 2 bedrooms, a dining room, a backyard, and 2 full bathrooms.
You can enjoy outdoor dining, the sun loungers, and the private pool in the backyard.
Great views of the ocean and the mountains around can be enjoyed on this property. Swimming and exploring the surrounding places is one of the most popular things to do here.
It has a luxury interior such as fluffy couches, the kitchen is equipped with an Nespresso machine, and the TV lounge has a fire burner as well. It's equally close to many beaches in the area.
Favorite parts
The villa is fully whitewashed and decorated with luxury items from inside. The bathrooms have great space and are equipped with all the necessary items.
Highlights:
Traditional Greek architecture
Views to the ocean
Sleek, minimalist but yet sophisticated interior
This relaxing villa is surrounded by a grassy lawn in front of the veranda. The living room is fully equipped with large sofas and a big TV. It has 5 bedrooms with 7 beds and 5 bathrooms.
The floor and walls are fully whitewashed. Sunlight can easily be enjoyed in the building inside.
There are interesting things to do such as exploring the small street shops, boutiques, restaurants, and waterfront small serving food points.
Favorite parts
The host can provide a variety of add on services such as fresh groceries, airport transfer, family gear, spa services, equipment rentals, etc.
---
How to get to Paros, Greece
How to get from Athens to Paros
By flight: By flight, it will take 40 min. from Athens international airport to Paros island. – Check flights here
By ferry: It can get you to Paros from the port of Piraeus to Paros islands in 4 hours. – Get tickets here
How to get from Mykonos to Paros
By flight: Flight from Mykonos to Paros Greece and it will arrive in 2 hours having 1 stop. – Check flights here
By ferry: Take a ferry from Mykonos to Paros and it will take 1-2 hours. – Check ferries here
How to get from Santorini to Paros
By flight: Flights from Santorini to Paros usually takes 2 hours. – Check flights here
By ferry: Catch a ferry from Santorini to Paros and it will take 2-3 hours – Get tickets here
---
---