A guide to the best beaches Paros, Greece has to offer for holiday fun in the sun
Are you looking for the perfect place to catch some sun, throw a beach party, and find pristine waters that will take your breath away? Look no further than Paros in Greece!
Known as one of the most beautiful Cyclades islands, it's filled with countless stunning beaches just waiting for you to explore.
From incredible green and blue coves that have been drawing travelers back year after year to secret hidden gems yet undiscovered – there's something here for everyone!
Read on as I uncover the best beaches in Paros so that you can plan your dream vacation.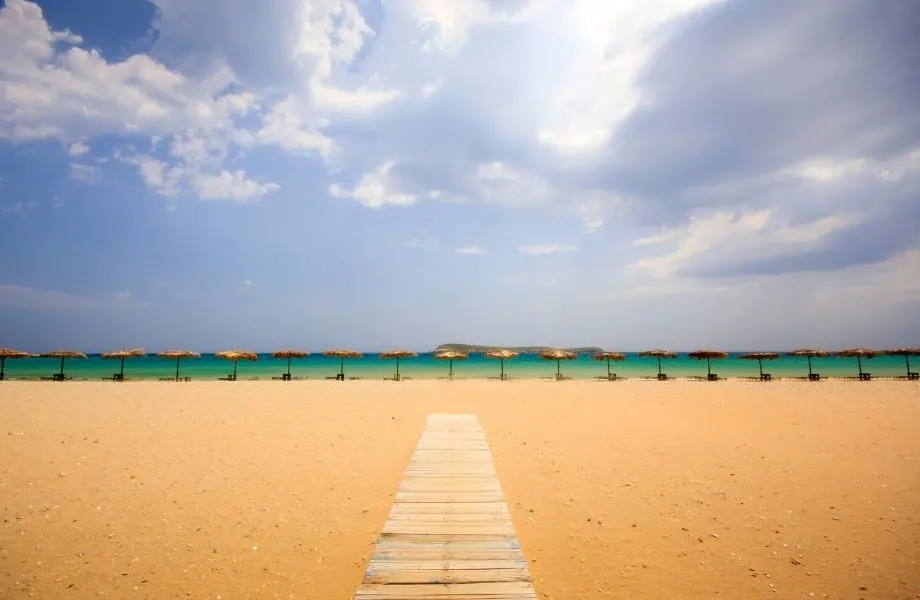 Pssst…!!?? You can't get enough of Paros? Have a look at my other posts about the Greek island:
Thanks to affiliate links, I pay my bills. If you make a purchase through them, I may receive a small commission at no cost to you. As an Amazon Associate I earn from qualifying purchases. All opinions are always mine. Merci!
Top resources to travel Paros, Greece
✈ Book cheap flights to Paros, Greece with Skyscanner

☘ Book ferries to Paros with Ferries in Greece

❖ Best hotel deals with Trivago

$ Get the best tours and activities in Paros, Greece with GetYourGuide

➳ Rent a car at the best rates with DiscoverCars

✎ Never leave without travel insurance. I get mine at HeyMondo. It is reliable and easy to set up.
Where to Stay in Paros
Once you've sorted out how to get to Paros and your travel arrangements, you'll want to know you have the best accommodation waiting when you arrive.
Fortunately, there are many great hotels and resorts in Paros to choose from.
But if you want to stay as close as possible to the best beaches in Paros, here are my top recommendations.
If none of those are exactly what you're looking for, you can check out my guides on where to stay in Paros, luxury Villas in Paros, and luxury hotels in Paros.
Now, on to the best beaches in Paros!
1. Santa Maria Beach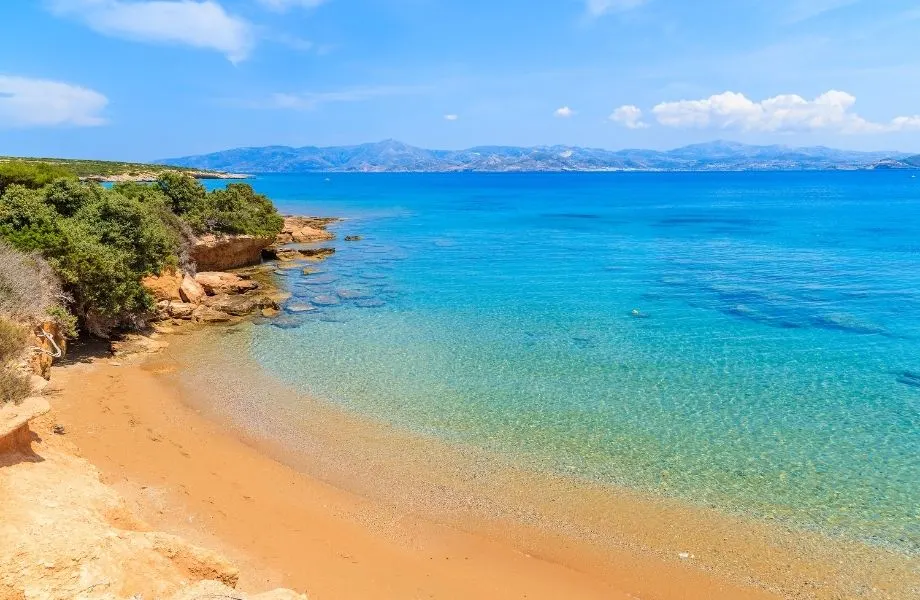 Santa Maria is a popular beach bar in Paros, at a 5-minute drive away from Naoussa.
It's a sandy beach with crystal clear water and has one of the best beach clubs in Paros. If you're looking for a lively beach where you can chill, party, and have fun, this is the place to be.
At Santa Maria Beach, you can enjoy delicious food while vibing to music from some of the best DJs. It truly provides you with an unforgettable experience.
You can even catch a glimpse of the beautiful Naxos island from the beach while tanning on a sunbed. The sunbeds here can be rented for a reasonable price.
However, because many consider this the best beach in Paros, it can get crowded at peak times. So if you're looking for a secluded beach, you should take a look at the other best beaches in Paros.
It's a great beach for couples looking for some fun and adventure. The weather here is usually pretty windy so make sure you're prepared for strong winds and currents.
Book here the best tours on Paros
2. Piso Livadi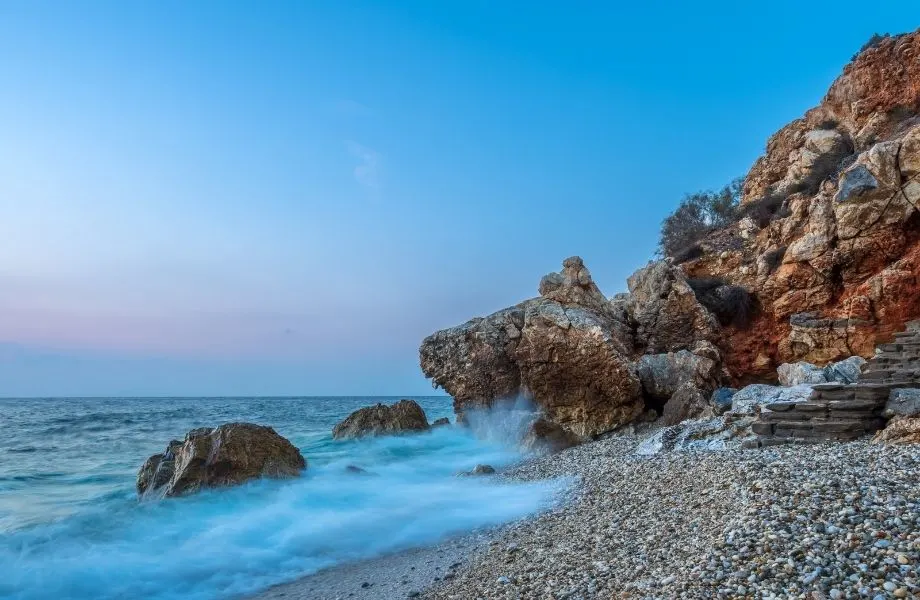 Adjacent to the Piso Livadi village is the Piso Livadi beach, a pristine and tranquil sandy beach.
There are many amazing beachside restaurants that serve delicious fresh seafood right at the beach. In fact, Piso Livadi village is a fishing village so you're guaranteed fresh fish.
If you buy drinks or eat a meal, you can lie on the sunbeds here for free. If not, you can rent them for a small price.
It's a great beach for swimming because the water is usually calm and shallow.
There are lots of trees here as well that provide you with adequate shade in case you don't get any of the sunbeds.
The beach is accessible from Parikia via a bus, which takes about 30 minutes to get you here.
It's family-friendly so it's a great place to retreat with your family and spend some quality time with them. Kids are allowed here, making it a great family day out.
Book here the best villas on Paros
3. Piperi Beach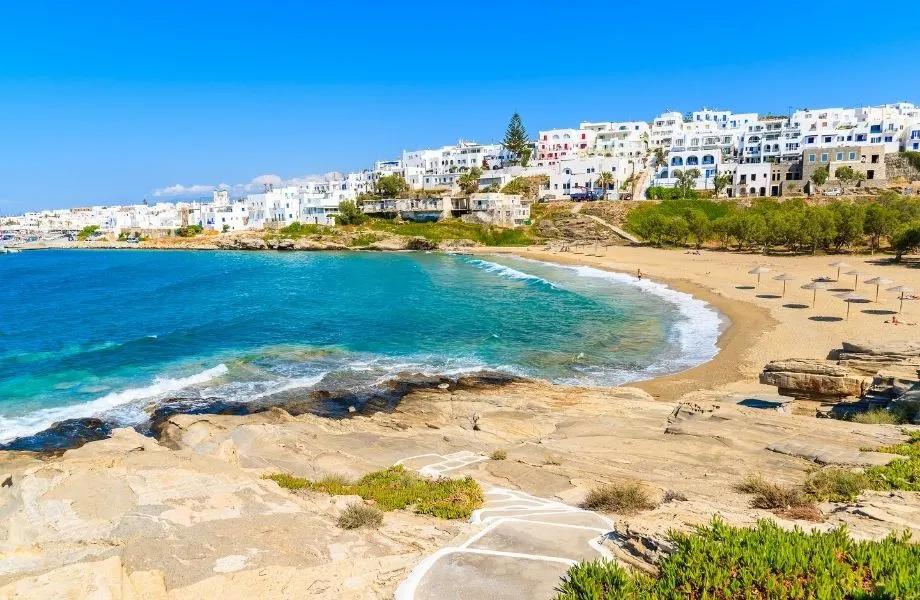 Situated within walking distance of the port of Naoussa, Piperi beach is a small yet stunning beach that will definitely catch your attention.
Unlike other Paros beaches, it doesn't have any restaurants or bars, making it the perfect spot to retreat and relax away fro the crowds..
The beach is also ideal for swimming, with occasional strong winds. There are many hotels nearby where you can use restroom facilities if needed.
You can find a few sunbeds to rent, but make sure you arrive here a bit early so you can easily get a spot.
While swimming, you can also appreciate the beauty of the town of Naoussa, which is situated just behind the beach.
Piperi Beach is an easily accessible beach, and so you can go for a few dips several times a day if you're stationed in the town of Naoussa.
Other activities you can enjoy here include scuba diving and snorkeling. Alternatively, you can just walk on the beach with your thoughts and meditate.
One end of the beach leads to the Naoussa port while the other end leads to beautiful rock formations.
4. Kolymbithres Beach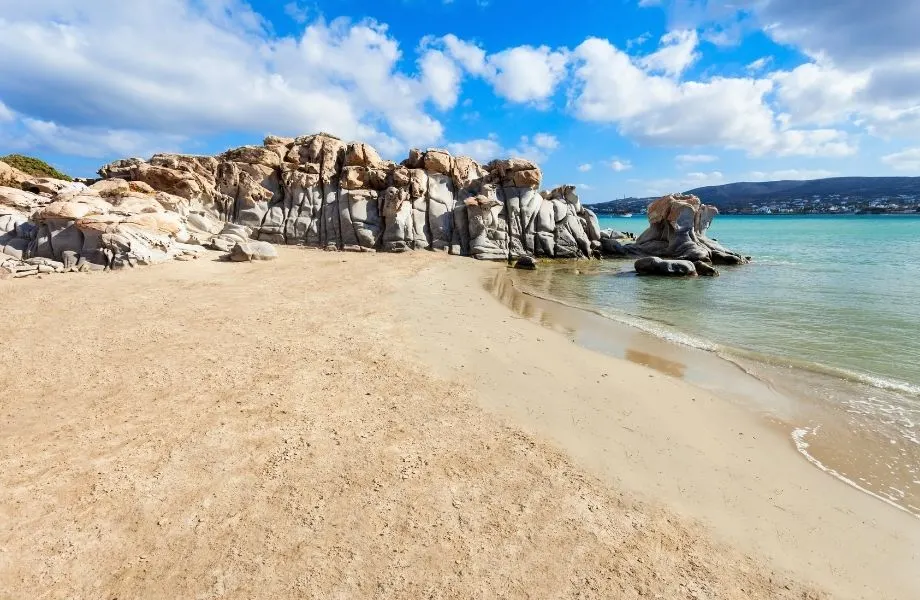 One of the best beaches in Paros, Kolymbithres Beach is a must-visit. It's a stunning beach with beautiful granite rock formations that have been carved by the waves over millions of years, depicting Mother Nature's art at its finest.
It's one of the most popular beaches in Paros so you can expect it to be quite crowded, especially during the peak tourist season from July to August. So if you want some privacy, arrive early.
It's a great place for photographers who want to capture nature's beauty at its best.
The water here is crystal-clear and there are many water activities available including windsurfing, kayaking, stand-up paddle boarding, and others.
The beach has many sunbeds and loungers that you can rent. However, the prices here are a bit higher compared to other Paros, Greece beaches, which was quite expected given its popularity. There are some pretty amazing taverns here as well.
The beach is just a short drive away from Naoussa. To make your day even more thrilling, you can rent a quad bike in Naoussa and drive to one of Paros' best beaches yourself!
Book here the best tours on Paros
5. Chrissi Akti Beach/Golden Beach
If you ask most people, Golden Beach is the best beach Paros has to offer, and it is a favorite for a reason.
Chrissi Akti Beach, also called Golden Beach owing to the beautiful golden sand that you can spot here, is a wonderful Paros beach.
It's bordered by waves of crystal clear water that crash and wash up against the shore.
The beach gets very windy during July-August, which makes it the perfect spot to indulge in water sports activities like kite surfing and windsurfing.
In fact, the Professional Windsurfing Association's Annual World Cup is held at the New Golden Beach, which is right next to Golden Beach. Other water sports available here include scuba diving and snorkeling.
The beach also contains an amazing hotel that offers delicious Greek and Mediterranean cuisines at its restaurant. You can also host weddings and other special events here.
The beach has a nice bar that's open 24/7. Sunbeds are also available for you to use.
If you're not interested in water sports and just want to have a nice and relaxing time, it's best to avoid July-August because that's the most crowded season.
Rent here a car to drive across Paros
6. Monastiri Beach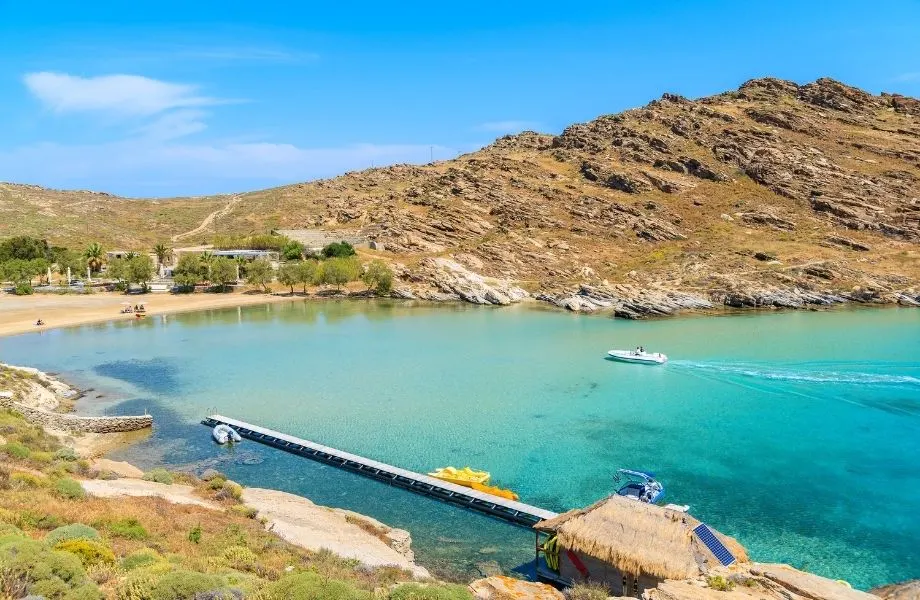 Monastiri Beach is one of the best beaches in Paros, offering not only an amazing swimming experience but also fun events.
The beach is located a few steps away from Paros Park, a great nature park with three hiking trails, a nice cafe, a beautiful lighthouse, and an amazing outdoor theater.
The Park hosts many events from June to September every year including free concerts, parties, exhibitions, and other events. Thus, the beach is pretty crowded during this season.
The beach also has a nice cafe with umbrellas and sunbeds where you can sunbathe and chill.
The water here is very shallow – it's only 1 meter deep for about 100 meters into the Sea, making it an ideal place for families with kids who haven't learned how to swim yet but want to spend some time in the water.
Book here the best tours on Paros
7. Faragas Beach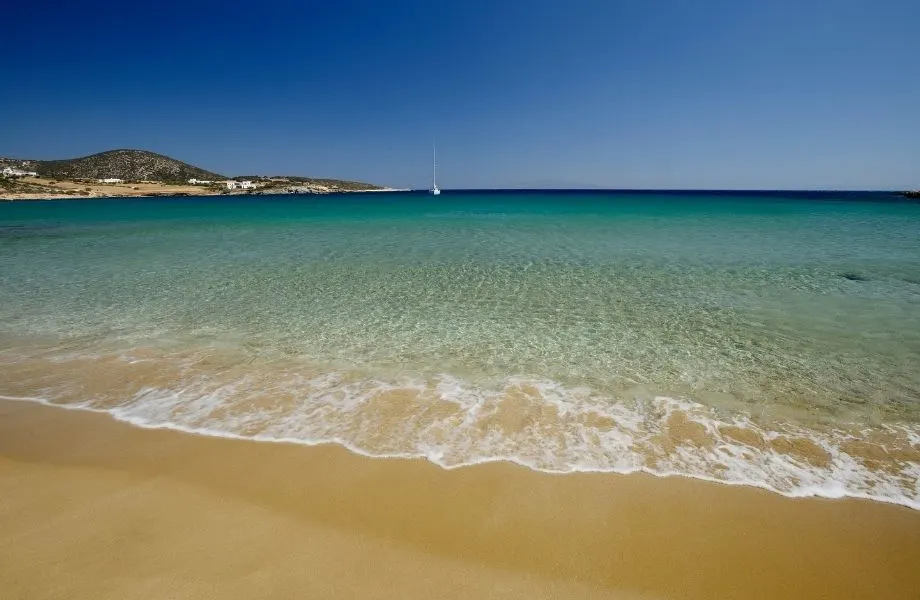 Located on the southern coast of Paros, Faragas Beach is a beautiful golden sandy beach that offers tourists a great place to sit back and relax by the shore.
There's also a beach bar here with sunbeds and umbrellas that you can rent. Alternatively, you can bring your own towels and picnic baskets if you don't want to rent sunbeds/loungers.
The beach does get a bit crowded during the peak tourist season. However, if you walk along the beach, there's a portion without any sunbeds with rocky bays. You can get more privacy there.
This beach is relatively protected from strong winds, making it one of the best Paros beaches for swimming with kids.
The facilities available include showers and changing cabins. The beach bar also serves above-average food and drinks!
Compared to other beaches, Faragas Beach is a bit on the pricier side because it's pretty popular.
However, it's definitely worth a visit, especially if you're looking for some protection from the wind. Indeed, it's one of the best beaches in Paros, Greece!
Book here the best villas on Paros
8. Livadia Beach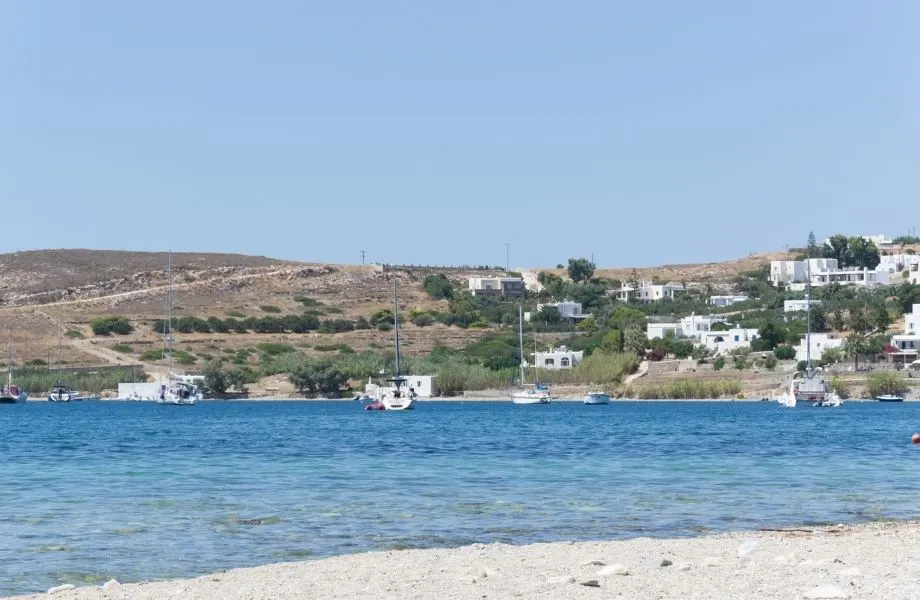 Livadia is a stunning beach located about 300-400 m away from the Paros Fishing Shelter and the Paros Port.
The beach isn't exactly secluded so you might hear some traffic noise every now and then. However, it's immensely beautiful and the water here is crystal-clear, making it one of the best Paros beaches.
The restaurants here offer amazing food at reasonable prices. Moreover, you can even get complimentary sunbeds to use if you order food or drinks.
The only downside is that the shore is a bit rocky as you go into the water so you need to be careful. Nonetheless, watching people trying to get in and out of the water is very fun and entertaining!
Livadia Beach also offers a picture-perfect view of the sunset so it's one of the top beaches in Paros for photographers interested in capturing beach sunsets.
9. Aliki Beaches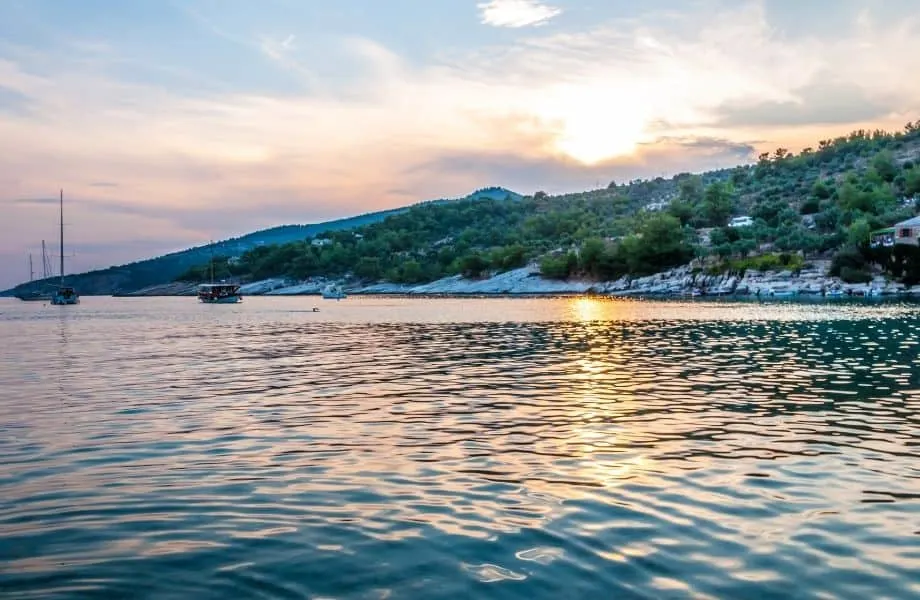 The Aliki beaches consist of three beautiful beaches with picturesque views. Scenically, it consists of the best beaches in Paros.
The turquoise water and the soft sand in your feet will freshen you up instantly and calm your mind.
It's a great place to unwind at the end of a tiring day. The only downside is the wind here can be so strong that it could blow sand in your face.
So make sure you check the forecast and wind situation whenever you go!
The beach is generally sandy but there are plenty of rocks in the area where the water begins. It's pretty shallow for many meters into the water so you don't have to worry about your kids spending time in the water.
The main beach is the best of them all while the two smaller ones don't have a lot of facilities.
Try to go early if you want to rent out the sunbeds. You can also put your towels in front of the restaurants there if all of the sunbeds are occupied.
Book here the best tours on Paros
10. Agia Irini Beach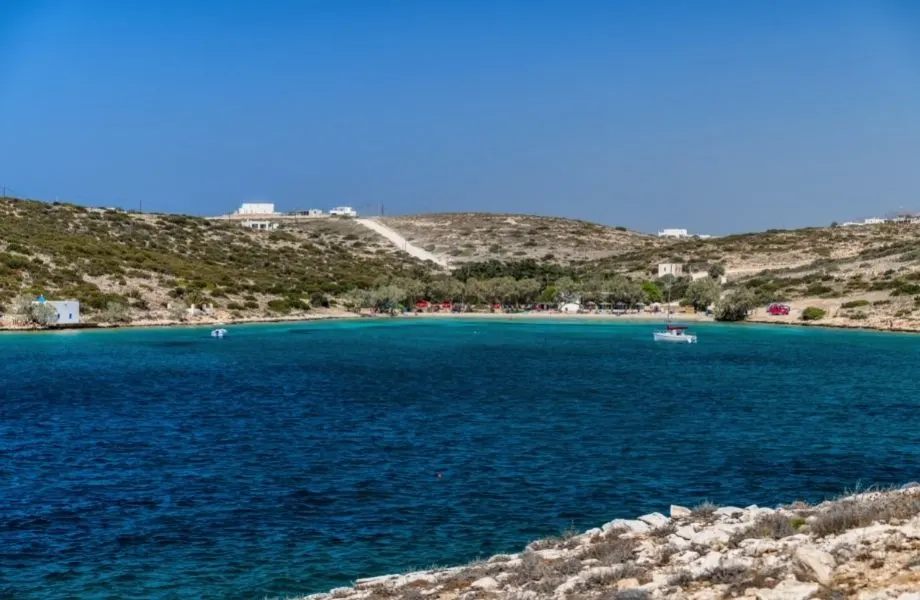 Agia Irini Beach is also called Palm Beach owing to the numerous palm beaches lining its shore. This gives tropical vibes, straight out of a fancy movie.
Although the beach is small and narrow, it's worth a visit owing to its beauty and protection from strong winds.
You can go swimming and snorkeling as well. There's a tavern, beach bar and many sunbeds and umbrellas here to make your stay worthwhile.
Additionally, the beach is usually not crowded. So it's one of the best beaches in Paros if you want to avoid the crowds.
Agia Irini Beach is also a great place to head for dusk. Watch beautiful views of the sunset as the sun paints the sky with numerous warm hues.
The services here are very reasonable so it's going to be light on your pocket.
Rent here a car to drive across Paros
11. Lageri/Langeri Beach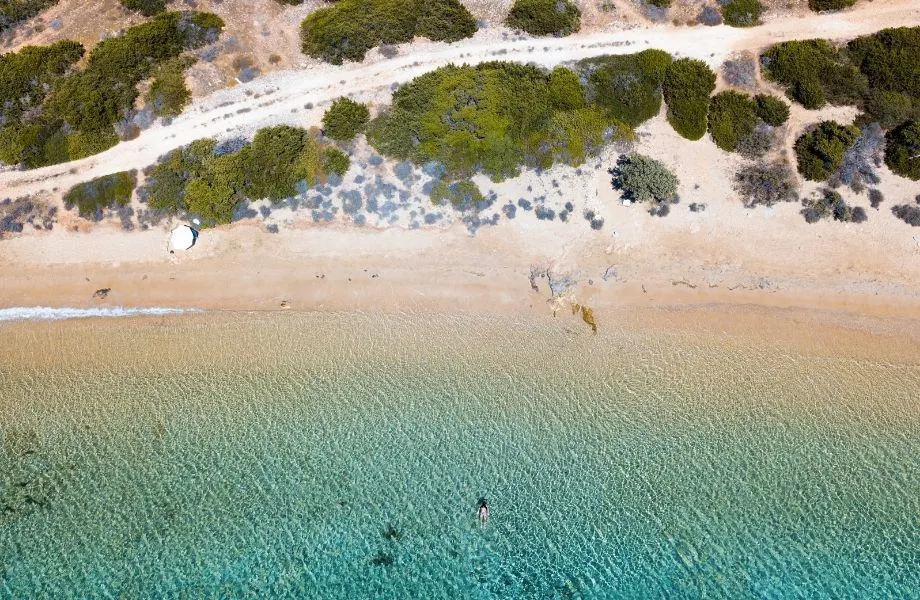 Lageri Beach is a nudism-friendly beach that's pretty secluded so you get all the privacy here you need. For this reason, it's a very popular nude beach in Greece.
It's a beautiful beach that faces the sunset and is protected from the wind as well.
Lageri beach makes for a perfect romantic getaway with your significant other. Spend time, hand in hand, walking down the shore of this secluded beach as you enjoy and immerse in each other's company.
The road to the beach is not well-maintained, so you'll have to access it via a water taxi from Naoussa's Port. Another option is to park your car at the closest white church and then get a quad bike from there.
Since the beach doesn't have any bars or restaurants, you need to bring your own food, snacks, and even towels. There are no sunbeds here either. Also, keep in mind that kids aren't allowed on the beach.
Moreover, there's no cleaning service at the beach so please make sure you keep the environment clean and avoid throwing any trash there.
Book here the best tours on Paros
12. Molos Beach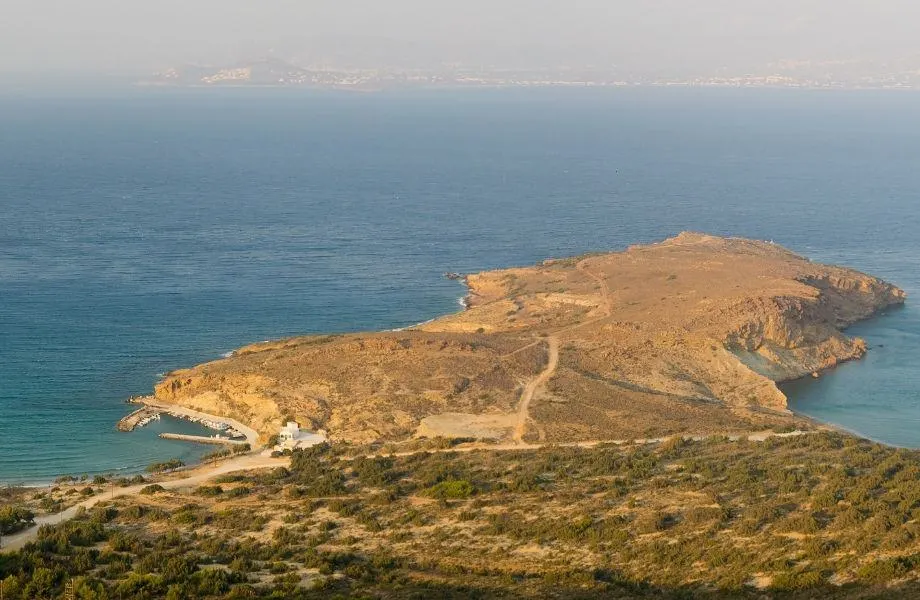 Molos beach is located at a walk of only 5 minutes from Kalogeros beach so you can visit both these beaches in one go.
This is one of the most pristine beaches with no sunbeds or umbrellas so you can get an authentic beach feel without any human alterations.
It's a great place to go swimming for kids and beginners because the water is very shallow.
The beach is mostly visited by locals so you're likely to have an authentic Greek experience here!
You can find a seafood tavern on the southern side of the beach. Have some food here and chill with your family while enjoying the beautiful views.
Other than the tavern, there are no other shops so it's better to bring all your food with you. You can setup a picnic if the wind allows.
Book here the best villas on Paros
13. Glyfa Beach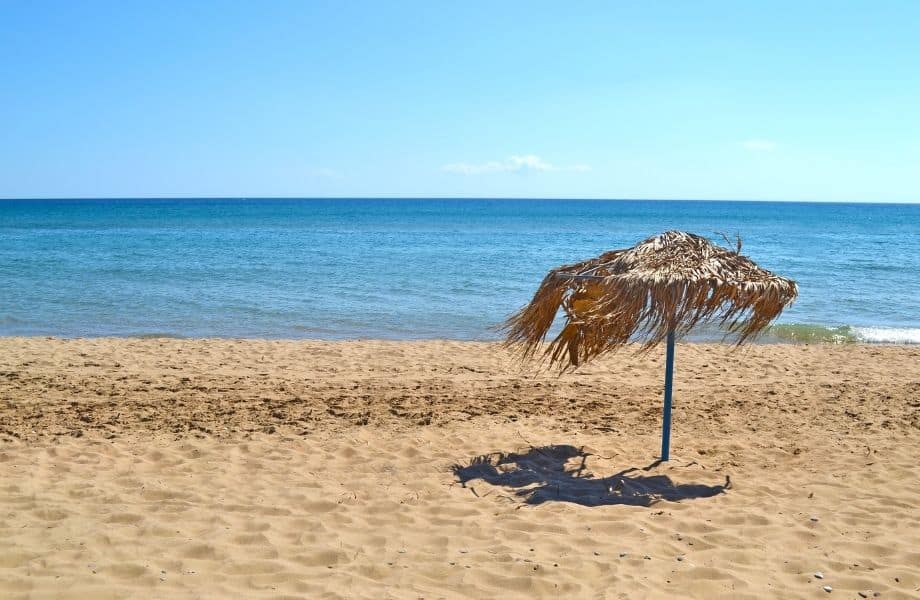 Glyfa beach is a rather secluded and quiet beach with a base of pebbles dispersed with a few sandy patches.
It has transparent water and is easily accessible. However, despite being easily accessible, the beach is never crowded.
There are plenty of trees there to give you shade. Make sure you take your swimming shoes with you because the pebbles can be very uncomfortable.
The beach doesn't have many facilities available like showers and bathrooms but it's definitely worth a visit owing to its exclusivity and beauty.
14. Tripiti Beach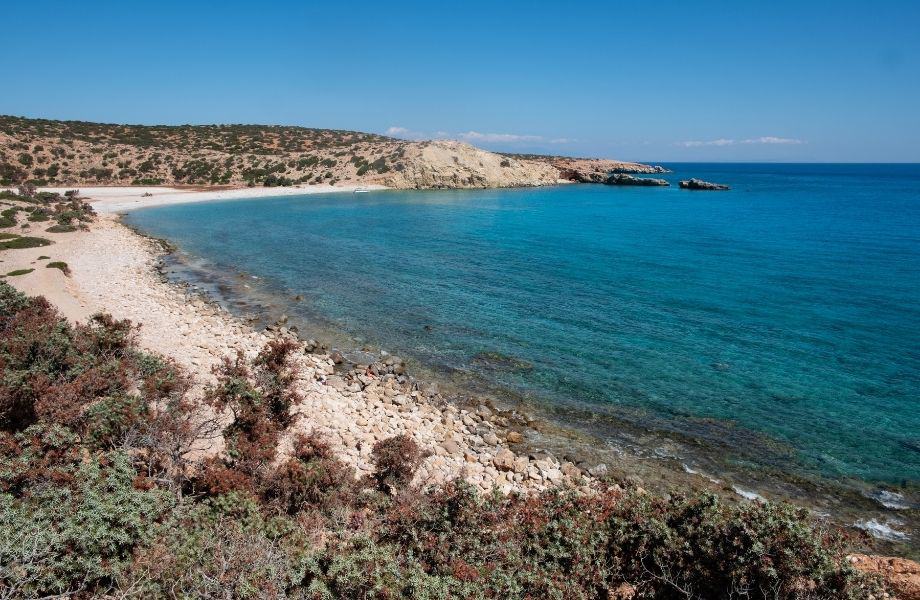 Tripiti Beach is a hidden gem in Paros! The beach is very secluded so you'll get a private experience here.
It's great for snorkeling, swimming, and other water sports activities, making it one of the best beaches in Paros for anyone who loves water sports.
There are no sunbeds, umbrellas, or taverns here so you need to rely on the shade provided by the trees. Bring all your beach with you because there are barely any shops nearby.
The parking isn't that great but the beach is worth a visit if you're looking for some private family time.
This beach is also a great spot to go on a romantic getaway with your significant other.
Book here the best tours on Paros
15. Punda Beach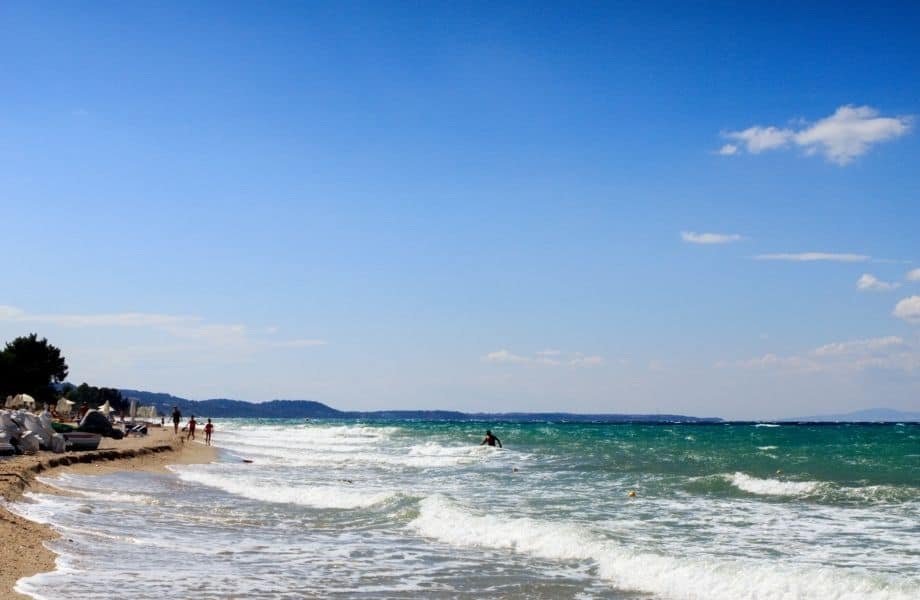 Punda Beach is a lively beach situated a few km away from the main village of Parikia and is the best beach in Paros for party-goers.
It's a great beach with a lot of activities and entertainment options. It's a great place to go with your friends or significant other.
Punda Beach also has the best beach club in Paros that will keep you entertained and dancing on your feet. The music does get a bit loud so don't bother going if you're easily spooked or annoyed by it.
Other activities available here include bungee jumping, kite surfing, and windsurfing.
The beach is clean and has many taverns to keep you full while you enjoy yourself. You'll also find sunbeds and umbrellas here with excellent facilities.
It's a bit on the pricier end but the experience you get here is definitely worth it.
Rent here a car to drive across Paros
---
These are some of the best beaches in Paros where you can chill and have a great time! The peak tourist season tends to get a little crowded so avoid going from July-August if you're looking for some peace and quiet.
From that same port, you can take a day trip to explore all the cool things to do in Folegandros (the ferry goes via Naxos).
With so many options, it can be hard to decide which Paros beaches are worth going to and which beaches you should skip, which is why this guide on the best beaches in Paros, Greece will help you out.
If you aren't totally beached out after Paros, and want to further explore the islands of Greece, the beaches of Skiathos also rank amongst some of the best in the country!
So, what are you waiting for? Book a trip to the beautiful Paros island, you won't regret it! You deserve to sunbathe and bliss out on some of the best beaches in Paros, Greece.
---
Before You Go: Top Tips for your Trip
---
Short FAQ About the Best Beaches in Paros
1. Does Paros have sandy beaches?
Yes, many of the best beaches in Paros have long, sandy beaches where you can relax in a sunbed or suntan on a towel.
2. What is the best part of Paros to stay in?
If you want to make the most of your beach holiday, it is worth staying near the Paros beaches. The best beach towns in Paros are Naoussa or Chrissi Akti. If you want a mix of beach and other things to do, Parikia is a great option.
3. What are the best Greek islands beaches
The Paros beaches are some of the best beaches in all of Greece. Paros does not rely on tourism and so is not as busy as nearby Crete. This means the beaches are cleaner and the water clearer!
---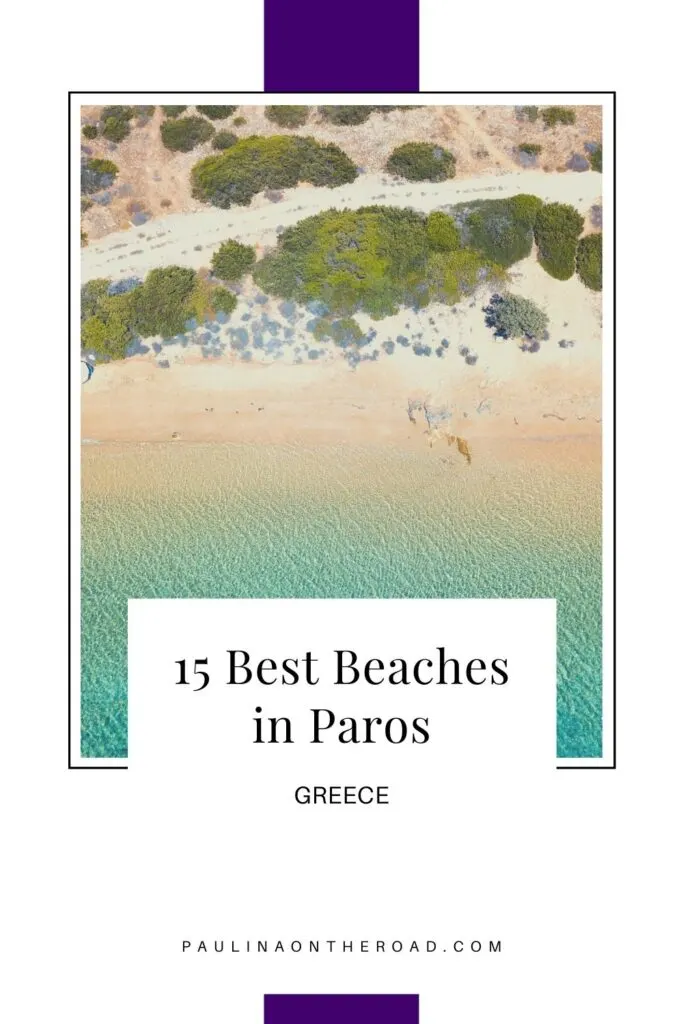 Hola! I am Paulina, a fervent travelette who crossed the Atlantic Ocean by Boat HitchHiking. On my blog, you'll find all the tips to make the most of your holiday. Get ready to enjoy outdoor and sustainable travel like hiking, cycling or sailing. Let's hit the road together!