A guide to the best places best places to stay in Door County for couples, families & those looking for a little luxury
Looking for the best resorts in Door County, WI to make your vacation memorable?
Luckily there are so many spectacular places to stay in Door County you'll be spoiled for choice!
Blessed with natural beauty and opportunities for recreational activities, Door County, Wisconsin is perfect for every vacation type.
Whether you are looking for unique Wisconsin vacation ideas or the best hiking trails in Wisconsin, you will fall in love with Door County.
The best part is that it also has resorts that suit every vacation purpose and need.
Whether you want to visit with family, your partner, your pet, or a group of friends, the resorts here will enhance your experience.
Here is a curated list of the best resorts in Wisconsin to ease your decision-making.
Thanks to affiliate links, I pay my bills. If you make a purchase through them, I may receive a small commission at no cost to you. As an Amazon Associate I earn from qualifying purchases. All opinions are always mine. Merci!
Useful Travel Information for Wisconsin
✎ Plan the ultimate Wisconsin road trip (no backtracking!) with the Perfect Wisconsin Road Trip itinerary – Get it here

✈ Find the best hotel deals in Wisconsin with Trivago

➳ Book vacation rentals in Wisconsin with VRBO

✔ Book tours in Wisconsin with Viator

☘ Get the best discounted outdoor gear (outlet) at REI.com

$ Get Wisconsin hiking guides and maps at REI.com

✎ Never leave without travel insurance. I get mine at SafetyWing. It is easy to set up, cheap, and reliable.
Overview: 5 Best Resorts in Door County
Best Luxury Resorts in Door County, Wisconsin
A luxury vacation is a fabulous way to take that much-needed break and give yourself some self-love. Door County has amazing resorts that will spoil you with their luxurious amenities and services.
The best resorts in Door County in terms of luxury usually have master suites, whirlpools, private seating areas, and cozy fireplaces.
Some of them even have spa facilities that will revitalize you and allow you to reconnect with yourself.
When looking for the best Door County vacation rentals, you should consider the booking platform CozyCozy. Cozycozy is a metasearch engine that takes offers from 100+ sites like Airbnb or Expedia and brings them all to one place. What I liked best about this site is that all the results are displayed on the map, so you can easily find a place to stay based on your itinerary!
Where: Egg Harbor, WI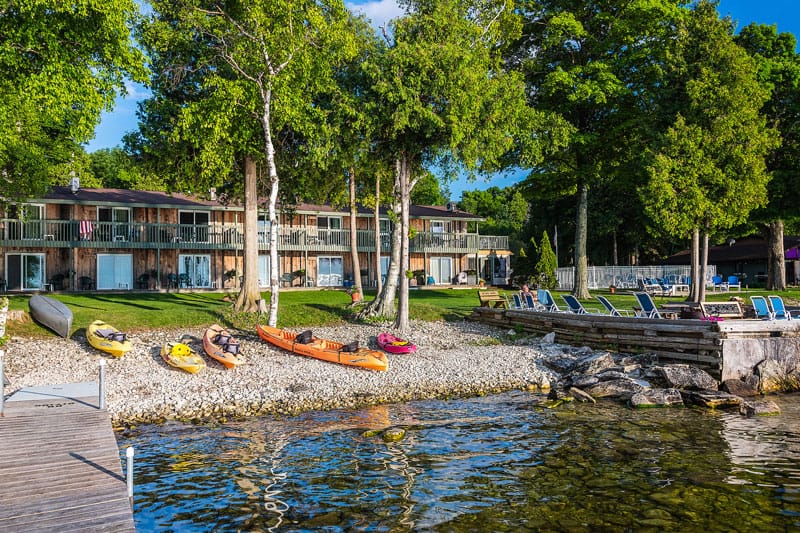 Highlights: Access to 400 feet of private Green Bay shoreline
The Shallows Resort in Egg Harbor is one of the best resorts in Door County for an enriching vacation experience.
With 400 feet of private Green Bay shoreline, it allows guests to enjoy scenic views and unwind. It stands out among the best Luxury resorts in Wisconsin as it offers state-of-the-art amenities.
You can choose to stay in waterfront lodging, cottages, or luxury homes with decks and screened-in porches.
There is no shortage of activities here as the resort has pools, picnic areas, bonfire areas, and even tennis courts.
Guests of the hotel can also use the complimentary kayaks and canoes to hit the water.
Where: Egg Harbor, WI
Highlights: Private balconies and fireplace in every suite
If relaxation and comfort define the meaning of luxury for you, then Newport Resort is your most ideal choice.
Located in Egg Harbor, this resort features one and two-bedroom suites with a private balcony, whirlpool tub, and kitchen.
If you seek an even more indulgent vacation, you can book the premium suites with spa-like amenities.
The Newport resort has a game room, grilling area, outdoor playground, and indoor pool to keep you busy through the day.
Nearby are some of the best hiking, skiing, and snowmobile trails in Wisconsin for the adventure seekers.
In the evenings, soak in the cozy ambiance relaxing in front of the log fireplace in your suite.
Where: Sturgeon Bay, WI
Highlights: Beautiful shorefront area for picnic and sunset viewing
Located in Sturgeon Bay, Westwood Shores Waterfront Resort features 38 suites that let you experience luxury like never before.
For a picnic with partners or family, this is one of the most amazing resorts Door County, WI has to offer.
Every suite has a fireplace, kitchen, whirlpool tub, and private balcony that offers sublime views of the bay.
Guests can make use of complementary paddleboards, relax in the indoor heated pool and enjoy a shorefront barbeque. If you want to bring your own, check out my guide on inflatable paddle boards with seats.
Hiking is one of the most popular things to do in Door County and this resort offers ample opportunities for it nearby.
You can also embark on a wine tasting journey as Sturgeon Bay has some of the best Wineries in Door County.
Where: Green Bay, WI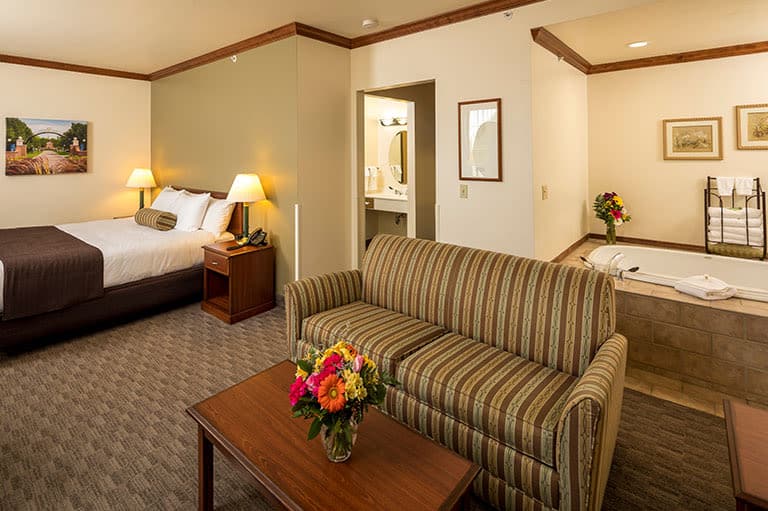 Highlights: Free deluxe continental breakfast for a bright start to the day
Kress Inn is admired by guests for its idyllic riverfront location on the edge of the St. Norbert College campus.
The hotel is also known for its unrivaled hospitality and its furnishings that let you relax in the lap of luxury.
From premium beddings, plush mattresses to modern amenities like the coffee maker and microwave, it has everything for a comfortable stay.
Additionally, the Kress Inn is pet-friendly and also has Whirlpool/fireplace suite that is sure to elevate your experience.
Located in De Pere, this resort is conveniently close to downtown Green Bay that has many exciting restaurants and specialty shops.
Do not miss taking a stroll through the campus and also visit the Riverwalk nearby for magnificent views.
Best Family Resorts in Door County, Wisconsin
Family vacations are always special and Door County is a great destination for unforgettable adventures with your clan.
From state parks and hikes in Door County to some of the best beaches in Wisconsin, Door County has something for everyone.
Moreover, when it comes to family-friendly resorts, Door County Wisconsin has remarkable choices to offer for every budget.
Whether you are looking for wonderful winter getaways in Wisconsin for celebrations or recreational activities, you won't be disappointed here.
In Door County, kid-friendly resorts generally have playgrounds, games, and movie DVDs for entertaining the little guests.
You could even stay in and watch one of your favorite movies set in Wisconsin on a rainy day.
Consider visiting Door County in October with the family to make the most of the cool fall festivals and Halloween celebrations.
Where: Bailey's Harbor, WI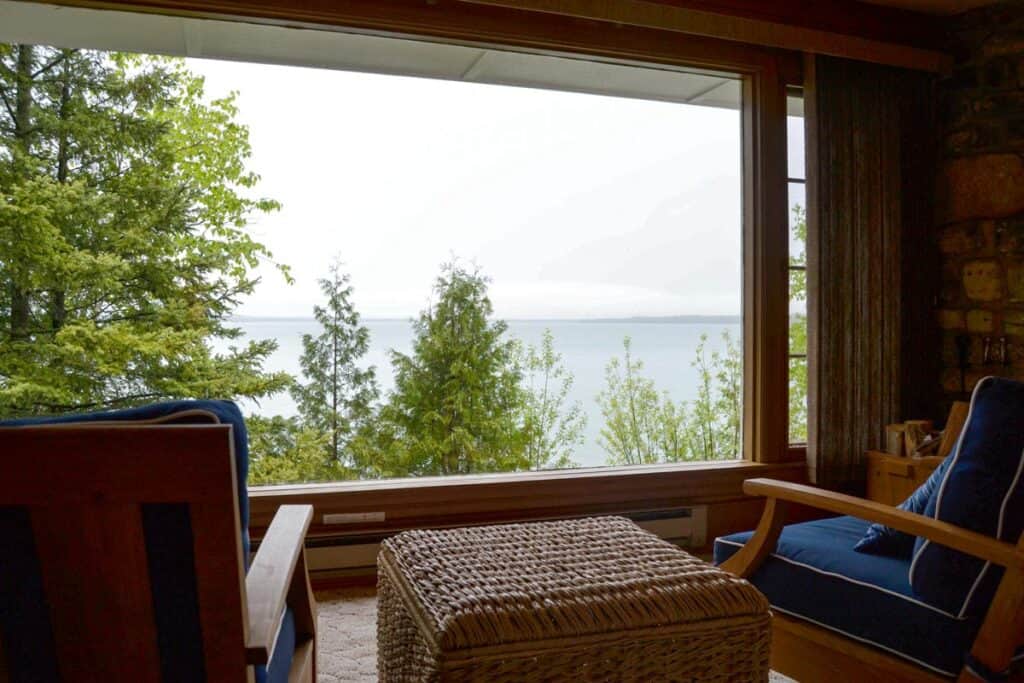 Highlights: Complimentary kayak and bicycle rentals
Gordon Lodge in North Bay is a great choice for families seeking an exciting vacation filled with recreational activities.
This stunning property is spread across 130 acres and allows guests to make use of its 300 ft private beach along Lake Michigan, one of the best lakes in Wisconsin.
It boasts accommodation ranging from comfortable cottages, lodge rooms, suites to a white birch house for large families.
At the resort, guests are provided with a complimentary breakfast buffet that gives an excellent start to the day.
Free kayaks, bicycles, paddleboards, and fishing poles are also available for guests of Gordon Lodge.
The presence of marked hiking trails, a top deck restaurant, and an outdoor pool ensures that families never have a dull moment here.
Where: Egg Harbor, WI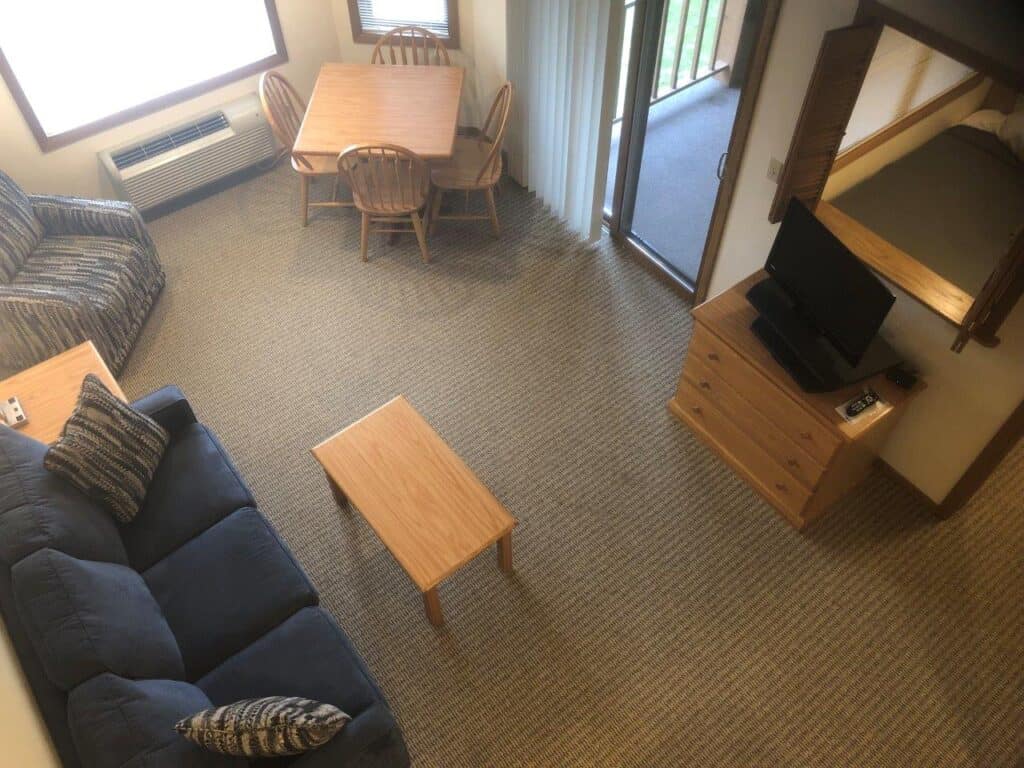 Highlights: A kitchenette or fully equipped kitchen in every suite
The Landing Resort is ranked among the best places to stay in Egg Harbor for a relaxing family vacation.
It is situated in a peaceful wooded setting, yet is close to amazing markets, shops, parks, and restaurants.
The arcade games and children's playground make The Landing Resort one of the best Door County kid-friendly resorts.
The resort offers suites with up to 3 bedrooms that are equipped with all the amenities for a comfortable stay. Every suite has a kitchenette or fully equipped kitchen, cable TV, and air-conditioning to make you feel at home.
You can also make use of the indoor pools and the picnic areas with gas grills to make your family time unforgettable.
Where: Sister Bay, WI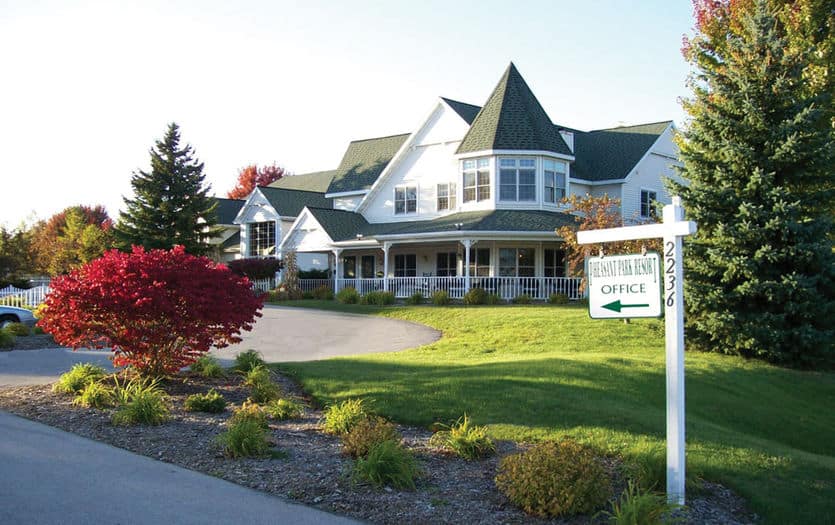 Highlights: Kitchen and dining area in every suite for enjoying scrumptious meals with family
Pheasant Park Resort in Sister Bay is adored for its tranquil location and its proximity to downtown at the same time.
The resort has 2 and 3-bedroom suites with a spa tub, balcony, and fireplace for a memorable vacation. The suites also have full kitchens for you to prepare a feast for your family.
It is one of the best family resorts in Wisconsin as it has something to please everyone in the family.
Pheasant Park Resort has a children's playground, sauna, fitness center, library, indoor and outdoor pools, that will keep each guest occupied.
Families will also enjoy playing table tennis here, and gathering around the grill for a fun-filled barbecue night.
Where: Fish Creek, WI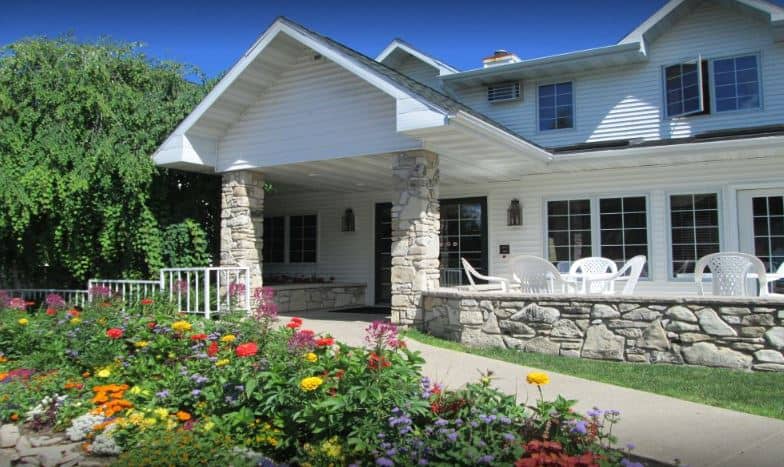 Highlights: Heated indoor pool and sauna for great relaxation
Your search for the best places to stay in Door County for families ends at the Homestead Suites in Fish Creek.
Located adjacent to Peninsula state park, this kid-friendly resort offers abundant opportunities for family recreational activities like hiking, skiing, and kayaking.
From condos, guest houses, suites to a park house that accommodates 14 guests, the choices of accommodation at Homestead Suites are impressive.
It is also one of the best Door County hotels in terms of the superior amenities offered. The whirlpool and sauna will let you enjoy moments of relaxation after a long day of exploring Door County.
Games room, fitness room, walk-out deck, or balcony are all additional brilliant facilities that place it among the best hotels in Door County.
Best Pet-Friendly Resorts in Door County, Wisconsin

Your beloved pets are nothing less than family and they deserve a vacation just like all of us. Door County is an exceptional place to explore with your pets as it has great parks and trails
Fortunately, it also has some of the best pet-friendly cabins in Wisconsin with facilities like dog-ready rooms and waste stations.
Where: Sister Bay, WI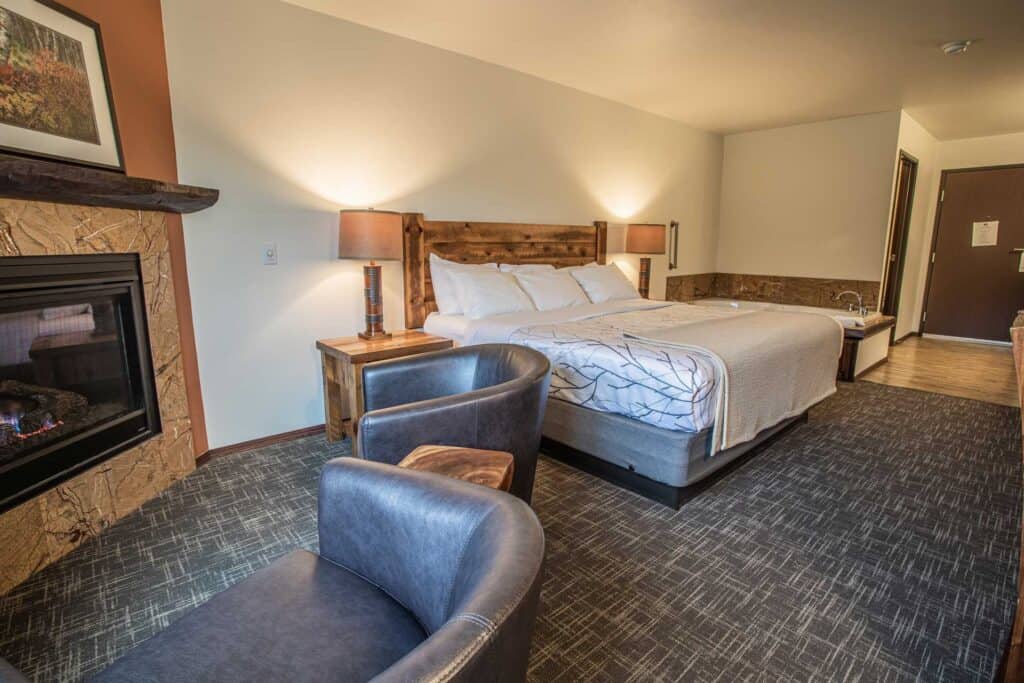 Highlights: Huge yard and playground for everyone to have fun
Surrounded by nature in Sister Bay, the Open Hearth Lodge is crafted to offer you home-like comforts during your vacation.
The resort exudes a cozy vibe and is a perfect family getaway to escape the monotonous city life. Free continental breakfast, stone patio with fire pit, the large whirlpool, and playground will make your vacation even more delightful.
It's one of the best resorts in Door County to bring your pets as they offer marvelous dog-friendly rooms. Watch your four-legged friends jump in joy as they get to play on the massive 6.4-acre lawn.
Clean-up is mess-free and effortless at Open Hearth Lodge as waste stations are installed around the grounds.
As the name suggests, the Open Hearth Lodge is also one of the best winter resorts in Wisconsin.
Where: Sister Bay, WI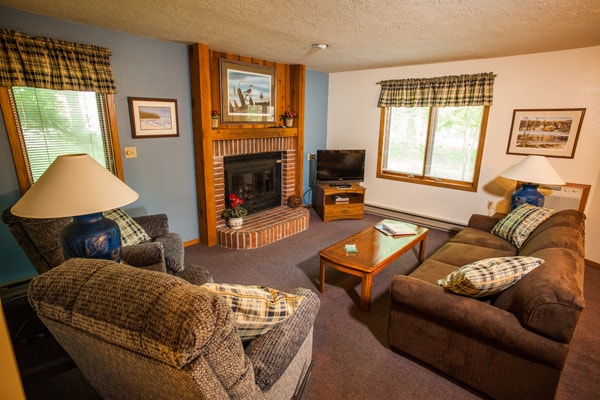 Highlights: Private deck in every room
Nestled in a serene setting between Ephraim and Sister Bay, the Nordic Lodge promises a peaceful vacation.
The rooms of this resort are spacious and all have a private deck where you can sit back and relax. It also boasts exceptional facilities like free continental breakfast, free internet, microwave, and coffee maker.
The picnic area with gas grills is perfect for gathering with your group and engaging in fun conversations.
If you plan to bring your well-behaved furry friend along to the resort, you can book the designated dog-friendly rooms.
The resort is just a short drive from Peninsula State Park, one of the best state parks in Wisconsin. There you can enjoy a day out hiking with your pet.
Where: Sturgeon Bay, WI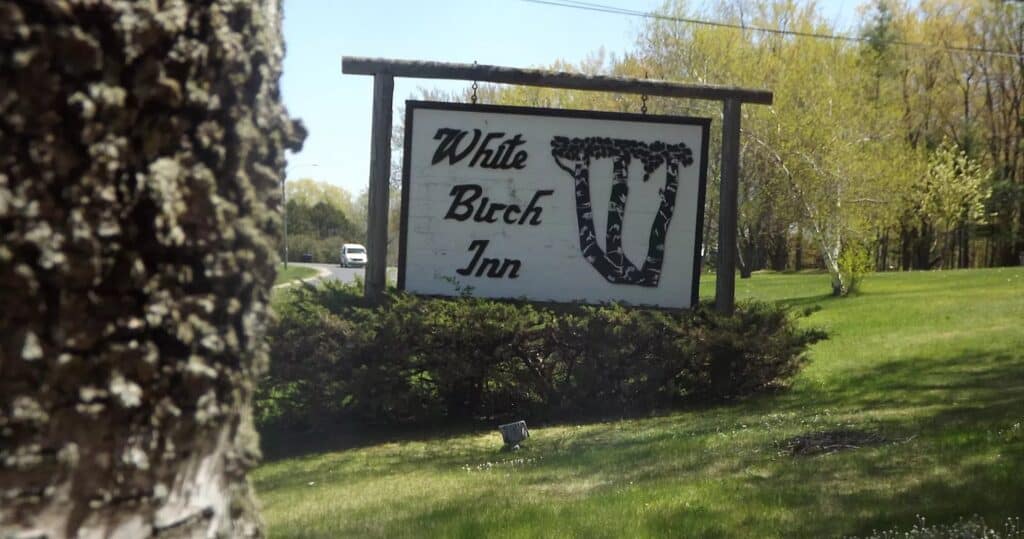 Highlights: Fabulous dining experience at the restaurant serving everything from burgers to barbecue
A hidden gem in Sturgeon Bay, the White Birch Inn will make your dream of a relaxing vacation come true.
This resort has comfortable rooms with charming décor and modern amenities. White Birch Inn also takes pride in having a restaurant that offers an astounding dining experience to the guests.
It's a great choice for vacation plans with your furry friends as they have special rooms that accommodate pets.
As the name suggests, the resort is surrounded by Birch Trees and your pets will surely love a walk with you around the property.
If your pet enjoys kayaking or hiking, you can find excellent options in Sturgeon Bay.
Where: Ephraim, WI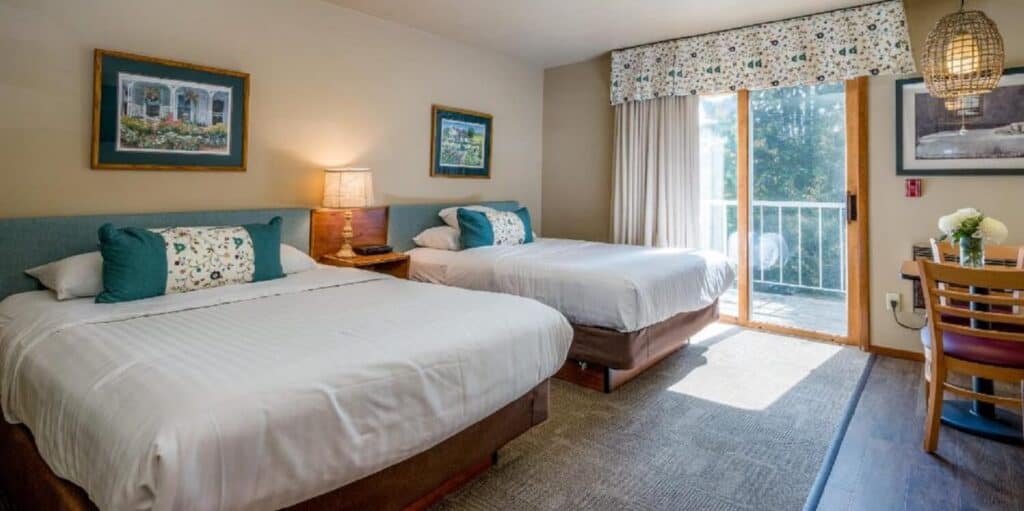 Highlights: Designated Pet-Friendly Rooms
Somerset Inn & Suites definitely deserves a spot on the list of best places to stay in Door County with pets.
This family-owned resort is tucked away in 5 acres of picturesque woodlands in Ephraim – perfect for your furry family members.
For those traveling with pets, the resort offers traditional rooms with a private patio where the pets can have a great time.
The warm hospitality and red-carpet services make it one of the best resorts in Door County. Some wonderful amenities you can find here are a sundeck, picnic areas, playground, hot tub, free coffee, and tea bar.
The immensely popular Wilson's Ice Cream Parlour is just minutes away from this resort, so make sure to pay a visit.
Best Lake Resorts in Door County, Wisconsin
Door County is home to some of the best resorts in Northern Wisconsin for an alluring lakefront vacation experience.
It lets you escape the hustle of daily life and immerse yourself in nature by offering breath-taking views.
Another fun part of staying in the best lake resorts in Wisconsin is that you get wonderful opportunities to get in the water. Most of the best places to stay in Door County on the water provide kayaks and paddleboards to guests for use.
Where: Sturgeon Bay, WI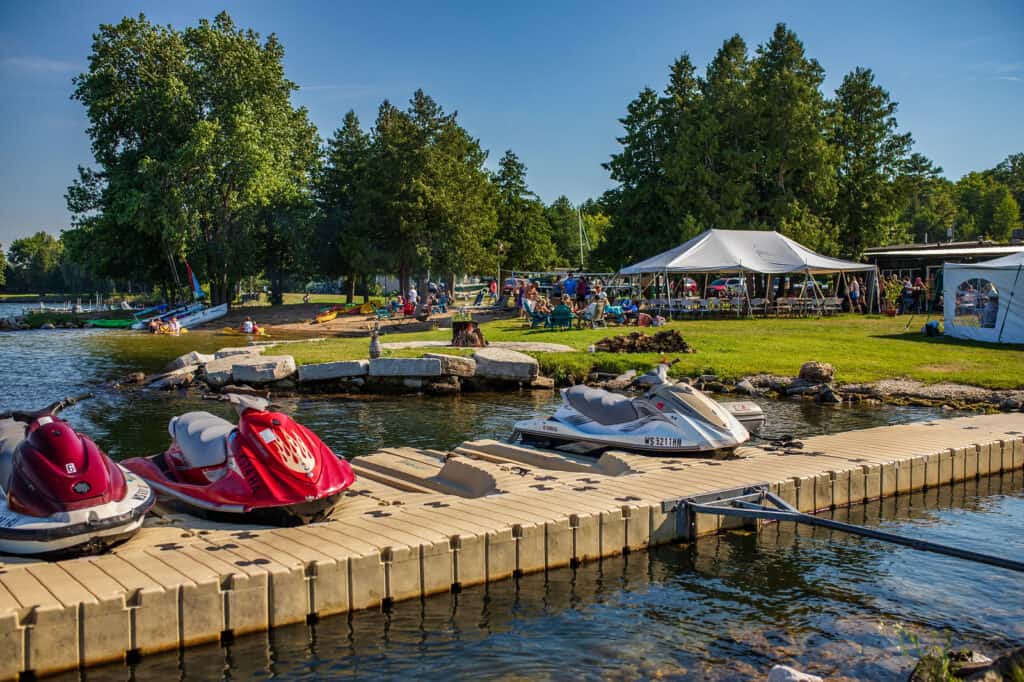 Highlights: Access to 500 feet park-like water frontage
The Beach Harbor Resort with 500 feet of water frontage is an exceptional choice for a couple's tour and family vacations alike.
When it comes to affordability, cleanliness, and activities, it is one of the best places to stay in Sturgeon Bay. The private rooms and cottages of the resort are equipped with amenities like cable TV, free Wi-Fi, microwave, and mini-fridge.
The resort is located next to the Potawatomi State Park where you can enjoy fun activities like fishing and skiing.
You can make use of the free kayaks and stand-up paddleboards available at the resort to venture out on the water.
Post the aquatic adventures, make sure to enjoy a delicious meal at the Waterfront Mary's Bar & Grill.
Where: Ephraim, WI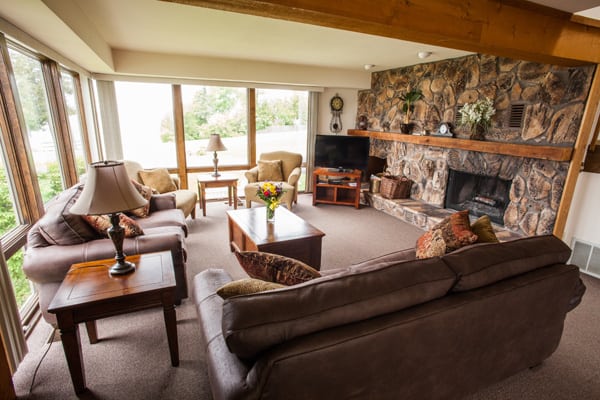 Highlights: Screened-in gazebo with gas grills for enjoyable family moments
Nestled on the shores of Eagle Harbor in Ephraim, The Pine Grove Resort is a remarkable destination to unwind.
It has a private shoreline with a 40-foot pier and screened-in gazebo that lets you make the most of your waterfront vacation.
Every room at the resort features great amenities for your comfort and most of them offer stunning views of the water.
The resort has a heated indoor pool, whirlpool, and sundeck that are perfect to escape into a world of relaxation.
Although in a tranquil setting, it is close to many great restaurants, galleries, and the popular Peninsula State Park.
Guests can even enjoy plenty of activities nearby like fishing, hiking, horseback riding, and boating.
Where: Egg Harbor, WI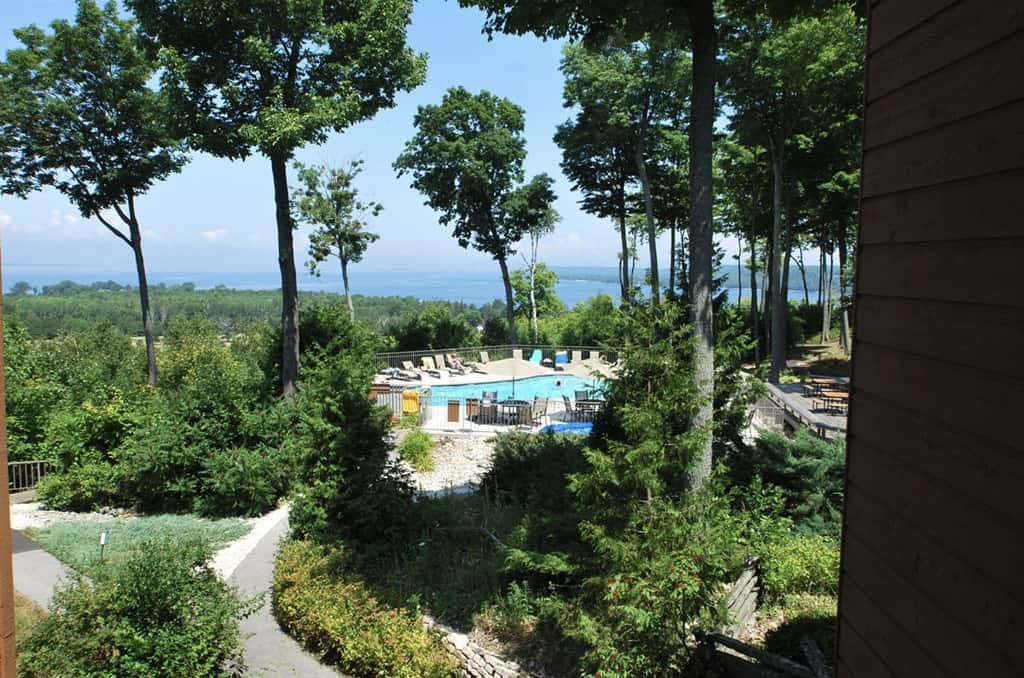 Highlights: Amazing indoor pool and whirlpool that are open 24/7
Sprawling across 40-wooded acres in the picturesque Egg Harbor, The Landmark Resort is a destination unto itself.
The resort has 294 aesthetically pleasing suites adorned with artworks and comfortable furnishings. It overlooks the spectacular bay of Green Bay that lets you witness enthralling sunsets.
The Landmark Resort is one of the best places to stay in Door County on the water with your family. From swimming pools, a volleyball court, kids' playgrounds to steam rooms, it has something to entertain guests of all age groups.
Additionally, the resort has beautifully landscaped grounds, dedicated picnic areas and fire pits for you to create treasured memories.
Where: Ephraim, WI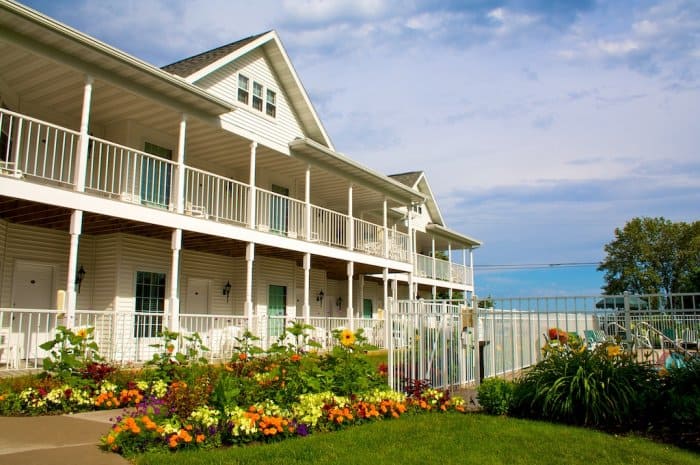 Highlights: Private sand beach access for stunning views
If you are looking for the best resorts in Door County, WI with a private beach, head straight to the Bay Breeze Resort.
Located in Ephraim, this amazing resort overlooks the beautiful Eagle Harbor and is just a short drive from Peninsula State Park. Kids and adults will enjoy the sand beach alike as it's perfect for both relaxing and playing.
From luxury suites to deluxe single rooms, the Bay Breeze Resort offers accommodation to suit every budget and vacation needs.
Some rooms here have a whirlpool tub while the others let you enjoy the unparalleled Kohler rain shower experience. You can also choose the stay in a room with a fireplace or great views of the garden or harbor.
Best Couple Resorts in Door County, Wisconsin
Door County is a great vacation destination for a tranquil escape to make your love blossom. Here you can find some most romantic getaways in Wisconsin with special experiences for couples.
In Door County, places to stay for honeymooners are beyond perfect.
Relaxing in the whirlpool tub together and cuddling in front of fireplaces are some experiences you will treasure forever.
The romantic resorts here offer supreme privacy and also lets you witness the best sunsets together. I recommend watching the sunset by Sturgeon Bay Lighthouse, one of the most unique lighthouses of Wisconsin.
For nature lovers, Door County also has some of the top outdoor activities in Wisconsin, so you can spend the day working up a sweat!
Where: Sister Bay, WI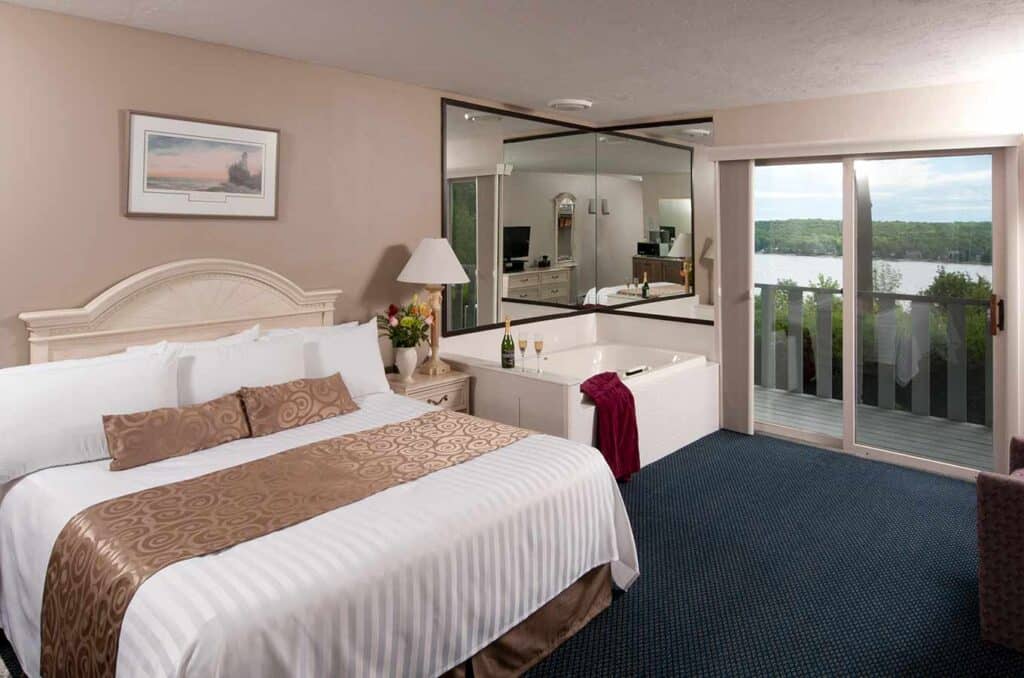 Highlights: Tranquil location for rekindling romance
A secluded accommodation in Sister Bay, Country House Resort ticks all the boxes for an unforgettable couples vacation and is one of the most romantic hotels in Wisconsin.
This adult-only resort with 1100 feet of shoreline offers breath-taking views of Green Bay waters and guarantees utmost privacy. The choices of rooms are splendid here as it caters to every budget and taste.
Most of the rooms have private balconies where you can spend quiet and cozy moments with your partner.
Every room features excellent amenities like a flat-screen TV, microwave, refrigerator, and plush robes.
Some rooms even have in-room whirlpools and gas fireplaces that make Country House Resort perfect for a couple's getaway.
Take a romantic walk hand-in-hand with your loved one through the gorgeous nature trails here. This is one of my favorite romantic winter getaways in Wisconsin.
After all, it's impossible not to fall in love with Door County in winter.
Other activities you can enjoy together include fishing from the dock, boating, kayaking, and biking.
Where: Green Bay, WI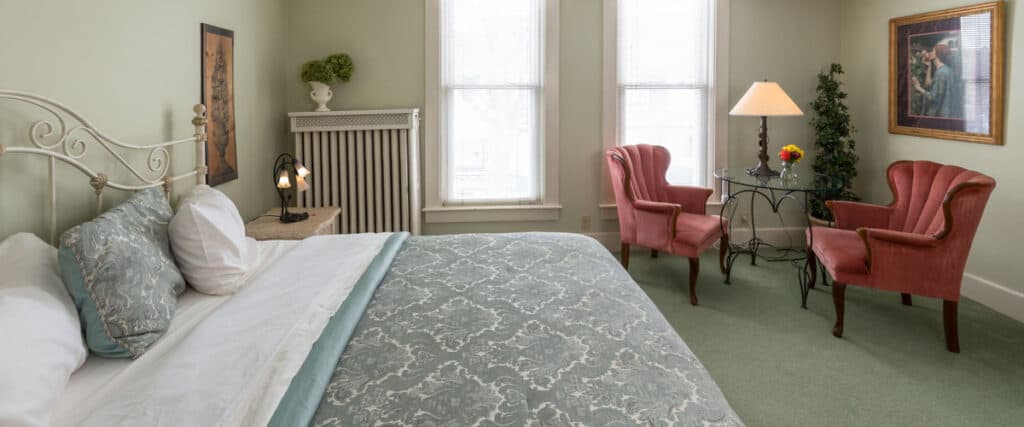 Highlights: Rooms with double whirlpool tubs for couples
If you are planning for a romantic escape, The Astor House in Green Bay is a great choice.
It has been appreciated for its aesthetics and warm hospitality since it began operating as a B&B in 1994. The popular Lambeau Field, Green Bay's best restaurants, parks, and malls are just a short drive from the Astor house.
The resort is the perfect base for getting out and enjoying all the cool things to do in Green Bay, one of my favorite cities.
Each room here features a unique design and boasts best-in-class amenities for a comfortable stay.
Double whirlpool tubs are a part of most of its rooms where couples can relax and enjoy a soothing soak together.
Guests are pampered here with a delicious breakfast every day at the parlor.
Where: Sturgeon Bay, WI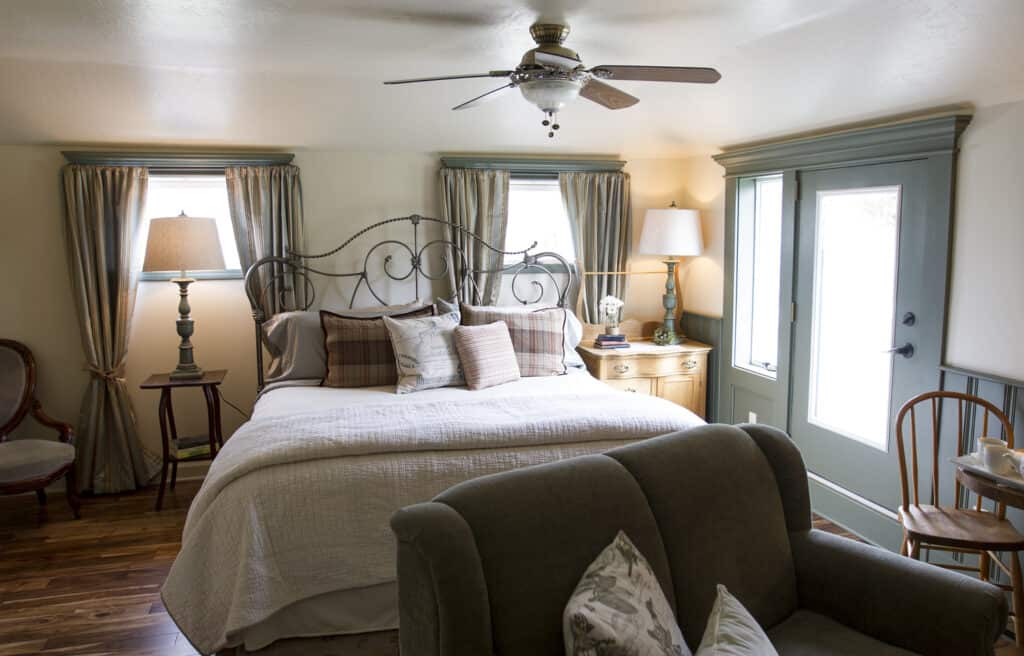 Highlights: Each room comes with breakfast in bed making it an extra special romantic getaway
Located in Sturgeon Bay, Foxglove Inn features spacious suites that redefine the meaning of comfort, privacy, and luxury.
The charming suites have got everything from high-end amenities, double whirlpool tubs, and cozy fireplaces for an incredible stay.
But Foxglove Inn's most special feature is the scrumptious breakfast that's delivered at your doorstep to make your mornings extra special.
The resort can arrange unique and special packages according to your desire with extras like flowers, chocolate-covered strawberries, champagne, and spa treatments.
This gives wonderful opportunities to bring out your most romantic side and surprise your special one.
In the evenings you can take a walk to the restaurants and bars located nearby for an exceptional dining experience.
Where: Ephraim, WI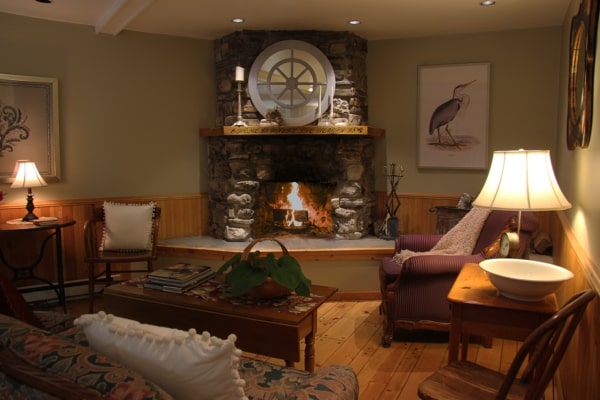 Highlights: Personalized packages for making intimate wedding ceremonies and honeymoons special
Eagle Harbor Inn is spread across 5 tranquil acres, just a block away from Ephraim beach, and is one of the best places to stay in Door County for couples looking for a secluded vacation.
Guests staying at this cozy resort can choose to stay in the whirlpool suites or the traditional Inn rooms that are equipped with impressive amenities.
The resort even has a special honeymoon package with curated experiences to fuel up the romance. You can also customize the experience with romantic dinners, carriage rides, and limo service to explore the gorgeous Door County.
Some other must-try experiences here for couples are launching the wish lantern and taking a romantic walk in the garden.
---
Short FAQ About the Best Resorts in Door County
1. What is the best area to stay in Door County?
All of Door County is beautiful and unique for its own reasons. However, if you only stay in one place, Egg Harbor or Sturgeon Bay are the best areas as they have the most activities and it is easy to get around to the rest of Door County.
2. Where should I stay in Door County in the winter?
I'm sure all of the resorts in Door County, WI are great for a winter break. However, I personally recommend Country House Resort for a winter getaway.
3. What is the best time to visit Door County?
Door County is a great place to visit year round. However, June to August is most popular, and so the most crowded. April to May is a great time to visit to see everything bloom. Door County is also a perfect winter vacation spot as there are festivities, winter sports and more!
---