A guide with the most amazing resorts in Door County on the water
Door County, Wisconsin, is a picturesque destination known for its stunning waterfront views, charming coastal towns and of course top-notch Wisconsin resorts.
If you're planning a visit to this beautiful area and want to make the most of its waterfront beauty, you'll want to find the perfect resort.
To help you with your search, we've compiled a list of outstanding resorts in Door County on the water.
Whether you're seeking a relaxing getaway, outdoor adventures, or family fun, these resorts have it all.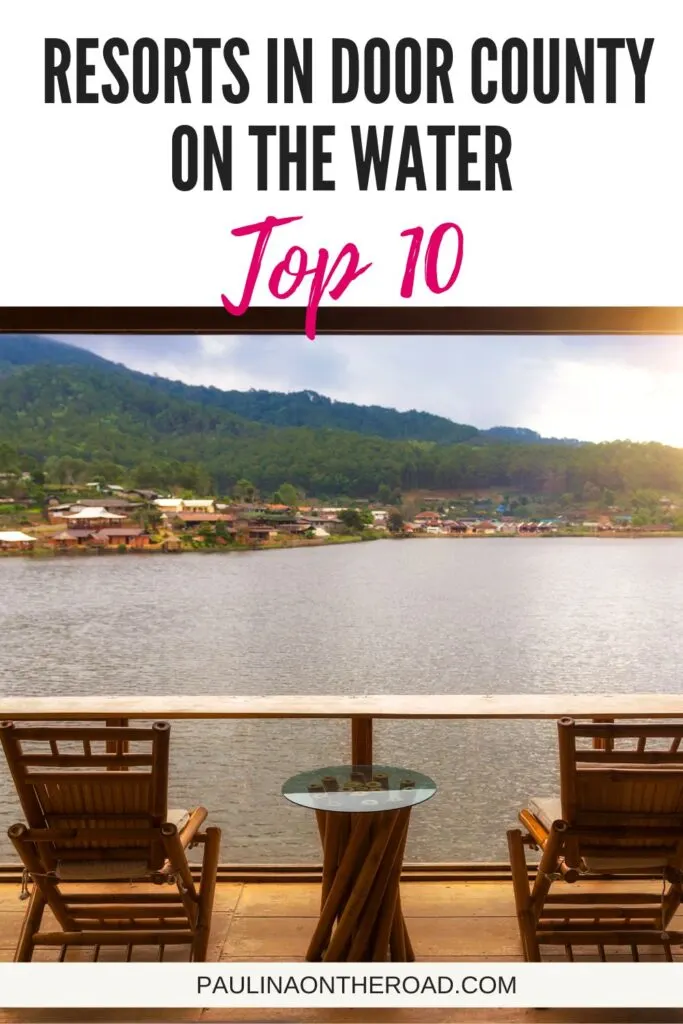 This blog is supported by you, dear reader. If you purchase through a link, I earn a small commission. As an Amazon Affiliate, I earn from qualifying purchases.
Psssst…!!?? You can't get enough of Wisconsin? Have a look at my other posts:
Resorts in Door County on the Water
Located in Sister Bay, Wisconsin, Open Hearth Lodge offers comfortable hotels in Door County on the water experience with a rustic charm.
You'll find an indoor pool, sauna, and a cozy fireplace lounge. Once you're at the resort, you can unwind in the lodge's peaceful atmosphere, take a dip in the pool, or relax by the fireplace.
If you're looking for activities around the resort, I recommend exploring Sister Bay's famous shops and restaurants, go kayaking on Lake Michigan, or hiking in nearby Peninsula State Park for a unique outdoor experience.
The Peninsula State Park is also a great area for things to do in Door County in Winter like snowshoeing, which is a must if you visit during the snowy season.
Eagle harbor Inn is located in Ephraim, Wisconsin, right across the Bay on Ephraim's main street.
This inn features spacious suites and cottages, each with its own unique character combining the classical charm of a traditional inn with the amenities of a luxury resort
Enjoy their lush gardens and an indoor pool with sun loungers, while your kids have the time of their lives on the newly built playground.
Eagle Harbor Inn comes with beautiful gardens for relaxing strolls, private cottages equipped with everything you need, and a savory breakfast delivered to your door.
As for activities around one of the best kid-friendly resorts in Wisconsin, you won't want to miss visiting the historic Ephraim village, going sailing on Eagle Harbor, or hiking in Eagle Harbor Woods State Natural Area.
Homestead Suites is one of the most relaxing and exciting resorts on Lake Michigan in Wisconsin.
Located in the scenic Fish Creek region of Door County, this waterfront resort offers exceptional amenities and plenty of opportunities for indoor and outdoor activities.
The elegantly designed cabins feature fully equipped kitchens, comfortable living areas, and private patios with picturesque views of the surrounding forest.
While staying at Homestead Suites, guests can explore the nearby Whitefish Dunes State Park, Peninsula State Park, and Door County Maritime Museum.
From amazing natural landscapes to thrilling adventures, Homestead Suites is the ideal resort for those who want to experience the best of waterfront resorts in Door County, Wi.
Perspective: As a nature lover, I can't wait to experience the scenic beauty and exciting activities at Homestead Suites.
White Gull Inn is another great option if you're looking for best hotels in Door County, Wisconsin. This historic inn boasts charming rooms, am award-winning restaurant, and beautiful gardens.
You can savor a delicious meal at the inn's renown restaurant, relax in the garden, or attend one of their popular fish boils.
If you're looking for the best things to do in Door County, make sure to visit Fish Creek's art galleries, visit the Eagle Bluff Lighthouse, or hike along the shore at Cave Point County Park for a pictorescque view.
Located in Egg Harbor, Wisconsin, Landmark Resort offers spacious suites, both indoor and outdoor pools, and stunning water views.
Guests can take a refreshing dip in one of the resort's pools, including its spacious outdoor pools with a lovely view of the water.
If you're looking to break a sweat, you can play a round of tennis, before enjoying a superb dinner with your entire family.
For those wishing to explore the surrounding area, we recommend visiting the charming town of Egg Harbor, go wine tasting at best wineries in Door County, or hike in Newport State Park.
Discover the perfect beachfront escape at Beachfront Inn in Baileys Harbor, one of the must-visit beach resorts in Door County.
When it comes to Door County hotels on the water like the Beachfront inn, you can relax directly on the Inn's private beach, watch breathtaking sunsets, or enjoy a bonfire by the shore.
As for guests venturing around Baileys Harbor, you should definitely visit Ridges Sanctuary, go fishing on Lake Michigan, or explore the Baileys Harbor Maritime Museum.
In my opinion this is one of the best fishing resorts in Wisconsin, where you unwind and also have a ton of fun activities.
Open year-round, this charming resort is located right next to the beaches of Baileys Harbor, Wisconsin.
Baileys Harbor Yacht Club offers condo-style accommodations, a marina, and boat rentals.
Take a boat out on the water for the day, relax on the sundeck and cook up a delicious barbecue in the picnic area at the end of the day.
While you're in Baileys Harbor, make sure to check out the hikes in Door County at Toft Point Natural Area, or go sailing on Lake Michigan and visit Cana Island Lighthouse for a scenic view.
Located in Baileys Harbor, Wisconsin, Blacksmith Inn offers cozy rooms with views of Lake Michigan, homemade breakfast, and a peaceful garden for guests seeking a quiet afternoon.
Guests can enjoy a delicious breakfast, sip wine in the quiet garden, or simply take in the serene lake views directly from the resort.
For those looking for things to do in Door County in October, I can suggest exploring the Baileys Harbor Birdcage Lighthouse, going birdwatching, or visiting the Door County Brewing Co.
Welcome to the Beach Harbor Resort, one of the top resorts in Door County!
Nestled right on the shores of Lake Michigan, this resort boasts stunning views, cozy cabins, and plenty of activities to keep you and your family entertained.
With easy access to the marina, you can rent boats, kayaks, and stand-up paddleboards to explore the pristine waters.
Take a stroll along the beach and relax while the kids build sandcastles. The cabins are equipped with modern amenities, including a full kitchen, balcony, and free Wi-Fi.
From golfing to winery tours, there are endless things to do at this Lake Michigan resort for families.
From my perspective, I can guarantee that this is the perfect place to unwind, connect with nature, and create unforgettable memories.
You can find a large selection of Door County resorts on the water and yet this Bridgeport Waterfront Resort located Sturgeon Bay stands out from the rest.
You can work out in the resort's fitness center, relax on their private balcony, or enjoy a game of volleyball, in addition to spacious suites, sauna, a indoor pool and beautiful views of the bay.
Relax by the seasonal outdoor pool while your kids play safely in the children's pool, which in my opinion is a great thing stay over with kids.
While visiting Sturgeon Bay, make sure to take a stroll along the Sturgeon Bay Canal, visit the Door County Historical Museum, or go on a fishing trip with the family.
When searching for the places to stay in Door County on the water, these waterfront best resorts in Door County, Wisconsin, should be at the top of your list.
Don't miss the chance to experience the natural beauty and charm of this incredible destination.
My final thought on the best resorts in Door County on the water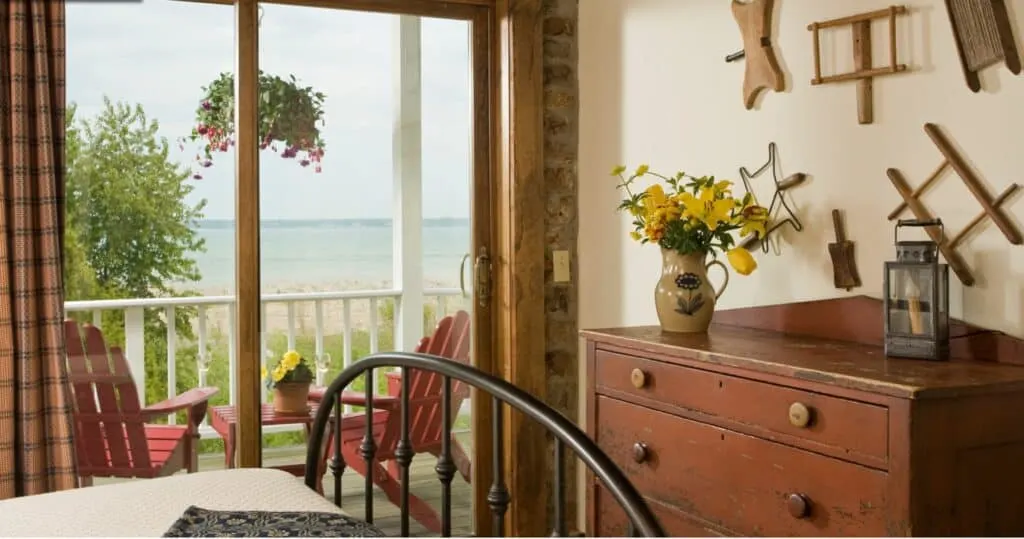 I hope this blog post has enlightened your understanding of why resorts in Door County on the water are so alluring and helped you comprehend that it's worth the time and effort to choose the right one for an unbeatable trip.
Whether you're looking for physical activities or a peaceful atmosphere, resorts in Door County on the water have something beautiful to offer.
This is why I always recommend planning your visit as soon as possible to take full advantage of all that these spectacular locations have to offer.
The breathtaking scenes, relaxing environment, and vibrant recreational activities make this place ideal for a luxurious getaway.
So when considering your next vacation spot, be sure to check out resorts in Door County on the Water – you won't regret it!
FAQ about best resorts in Door County on the water
What are the best luxury resorts in Door County on the water?
Some of the best Luxury resorts in Door County on the water are Bay Shore Inn, Bridgeport Waterfront Resort, or Baileys Harbor Yacht Club Resort.
What are the best resorts in Door County?
Some of the best resorts in Door County are the Shallows Resort in Egg Harbor, the Landing Resort, or Eagle Harbor Inn. Resort.
What are the best places to stay in Door County for couples?
Some of the best places to stay in Door County for couples are the Inn at Little Sister, Bay Breeze Resort, or the Water Street Inn.
---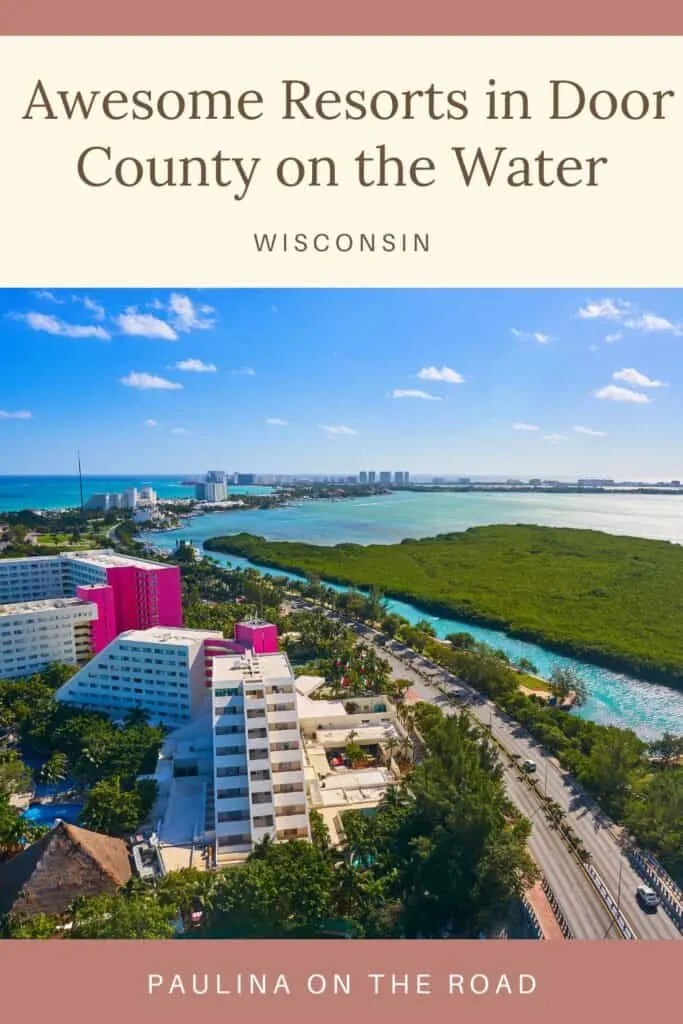 ---
Hola! I am Paulina, a fervent travelette who crossed the Atlantic Ocean by Boat HitchHiking. On my blog, you'll find all the tips to make the most of your holiday. Get ready to enjoy outdoor and sustainable travel like hiking, cycling or sailing. Let's hit the road together!