A guide to October in Door County, including where to find the best fall colors, fall festivals and Halloween in Door County
October is the perfect time to travel Wisconsin, and Door County October attractions are surprisingly varied.
While it is not difficult to find a Jack O' lantern festival anywhere you go in this season, the fall in Door County is not limited to Halloween!
Instead, there are a wealth of things to do in Door County in October no matter your interests, budget, or location.
Let's go on a Door County fall tour, with all you need to know about Door County in fall including Halloween in Door County and much, much more!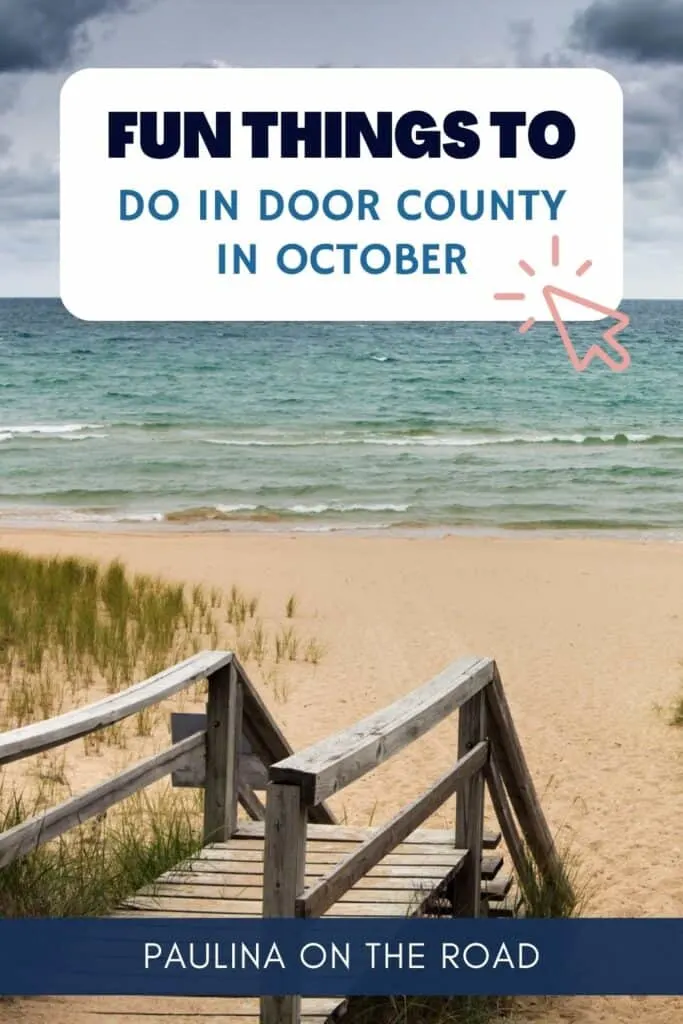 This blog is supported by you, dear reader. If you purchase through a link, I earn a small commission. As an Amazon Affiliate, I earn from qualifying purchases.
Top resources to travel Wisconsin
✎ Plan the ultimate Wisconsin road trip (no backtracking!) with the Perfect Wisconsin Road Trip itinerary – Buy now for less than 12$

✈ Find the best hotel deals in Wisconsin with Trivago

➳ Book vacation rentals in Wisconsin with VRBO

✔ Book tours in Wisconsin with Viator

☘ Get the best discounted outdoor gear (outlet) at REI.com

$ Get Wisconsin hiking guides and maps at REI.com

✎ Never leave without travel insurance. I get mine at SafetyWing. It is easy to set up, cheap, and reliable.
Where to Stay in Door County in October
There are tons of great places to stay in Door County, but my favorites are:
However, I recommend checking out my accommodation guides for Door County if none of those are exactly what you're looking for!
Best Resorts in Door County
Best Airbnbs in Door County
Cozy Cabins in Door County
1. Attend a Festival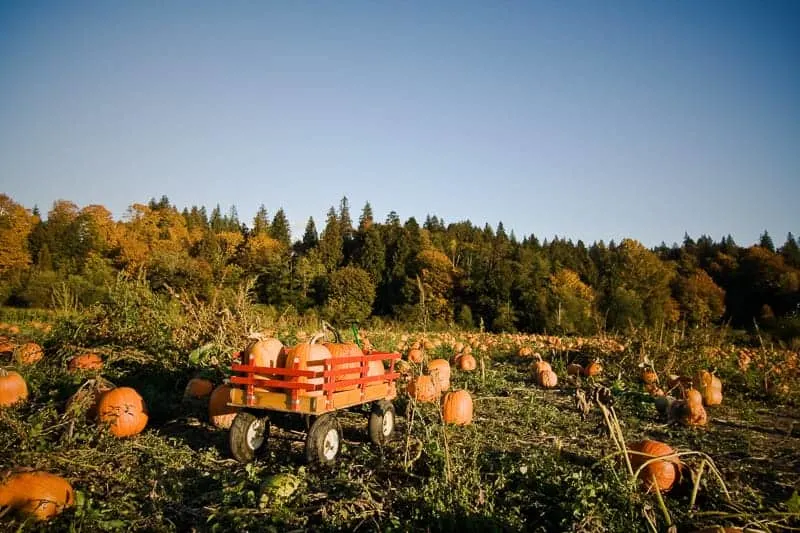 When it comes to October festivals, Wisconsin is a five-star destination. Some of the best fall festivals in Wisconsin are in Door County.
Festivals are also the perfect way to get in the fall mood, and get excited for Halloween in Wisconsin.
Here are some of the most popular Door County fall festivals, perfect as cool weekend trips in Wisconsin:
Sister Bay Fall Fest: More than 70 years of tradition with three days of arts and crafts, the Lion's Club Fish Boil, Saturday's Pancake Breakfast, the Fall Fest Parade, a Soap Box (*gravity-powered vehicles) Derby Race, and the famous Ping Pong Ball Drop

Pumpkin Patch Festival in Egg Harbor: packed full with some of the best fall activities in Wisconsin: carnival rides, arts and crafts vendors, a silent auction, live music, scarecrow and pumpkin displays, a visiting storyteller and magician, delicious local food. Attending this very popular pumpkin fest Door County offers is a great fall acitivity.

Jack O' Lantern Days in Fish Creek: This classical Door County Halloween event is a family-friendly Jack O' Lantern festival but also sports an Adults-Only Art Night at the Hands-On Art Studio. Enjoy a trolley ghost tour, an interactive owl demonstration, a costume contest, mask-making for kids, pumpkin carving, a haunting Halloween parade, trick-or-treating, costume parties for kids, adults, and dogs.

Oktoberfest at Door County Cherry Hut: Oktoberfests, the glorious Bavarian-style beer festivals, are cherished October events in Wisconsin. The one in Fish Creek offers live music, Giant Steins (* traditional German beer jugs), and plenty of bratwurst!
Buy here your Insiders Guide to Wisconsin
2. Experience the Amazing Fall Colors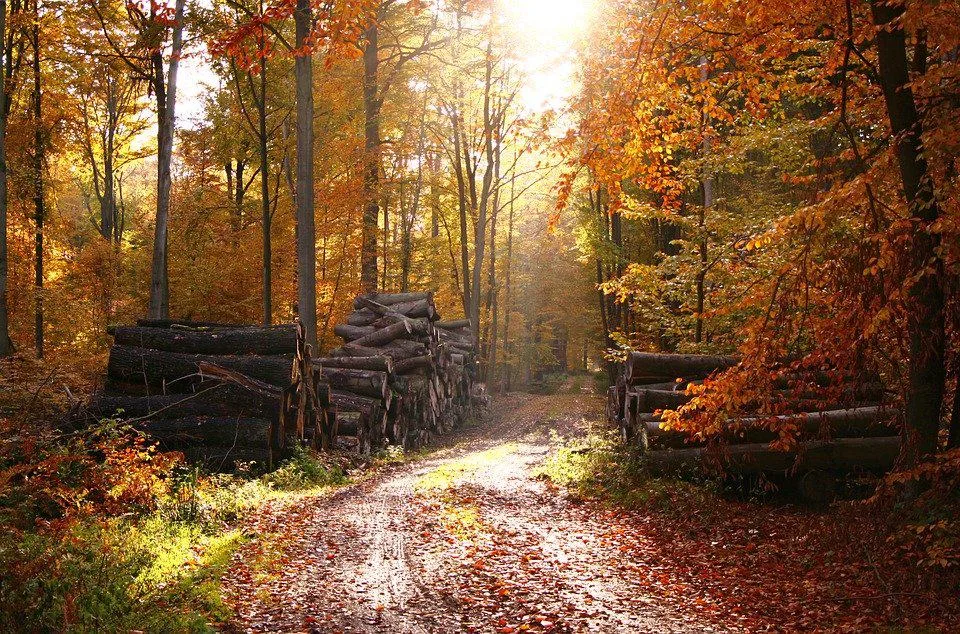 One of the most celebrated October events in Wisconsin is the explosion of colors in the foliage of trees, and Door County is one of the best places for fall colors in Wisconsin.
You will find a spectacular array of scarlet, gold, vermilion, and russet that takes the parks, woods, and forests of Brewer State by storm.
The trees put on their best autumn attire in Door County in October too.
Hunting for the most spectacular colorful woods is one of the most original, awesome fall activities in Wisconsin.
Fall colors in Door County come earlier to the middle of the peninsula, with the peak at the end of the second week of October.
Along the shores of Green Bay and Lake Michigan, you can see Door County fall colors until Halloween.
Sturgeon Bay is also a popular spot to enjoy the fall foliage.
Check out my list of best lake resorts in Wisconsin to find the perfect place to stay when you go on your color quest.
Book here the best Door County cabins
3. Solve an Escape Room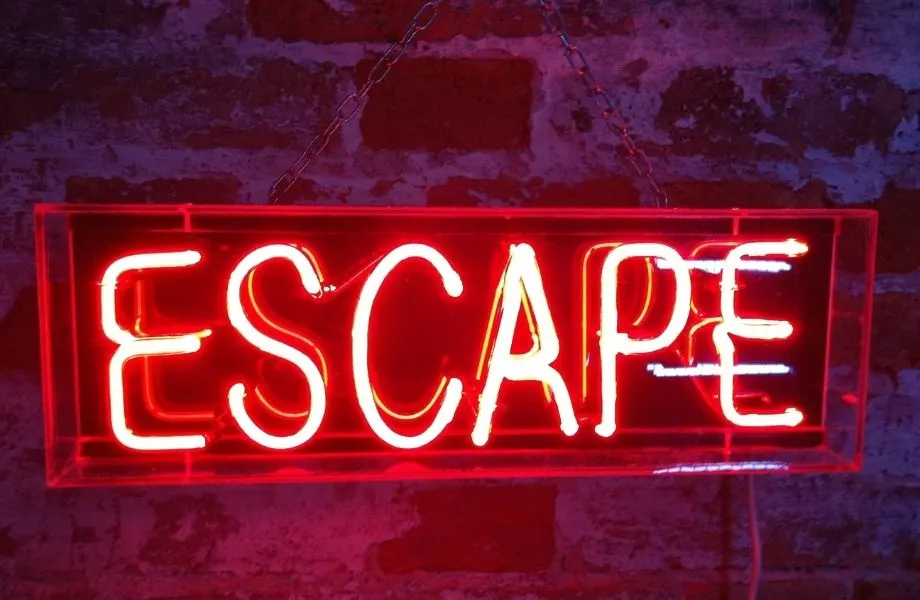 Have you ever tried an escape room? Simply put, it is a sort of real-life puzzle, a challenge you need to solve to get out of a locked room or series of rooms.
Getting out of the "Encrypted Escape" in Green Bay is one of the most entertaining, amazing things to do in Door County.
Choose one of 6 different puzzle rooms: "Wonderland", "221B", "Black Hat", "Peter Pan's Second Star To The Right", "Insert Coins" and "The Call".
What you need to do:
Book one of the escape rooms.
Get locked in for 60 minutes.
Find clues & solve puzzles.
Escape!
Play with teams of 2 to 8 friends. This is great entertainment if you bump into a rainy day in Door County in fall season!
Want some more? I have a full list of awesome escape rooms in Wisconsin!
If you plan on staying a night or more, there are lots of great hotels and resorts in Green Bay to choose from.
Book here the best city tours of Green Bay
4. Go Hiking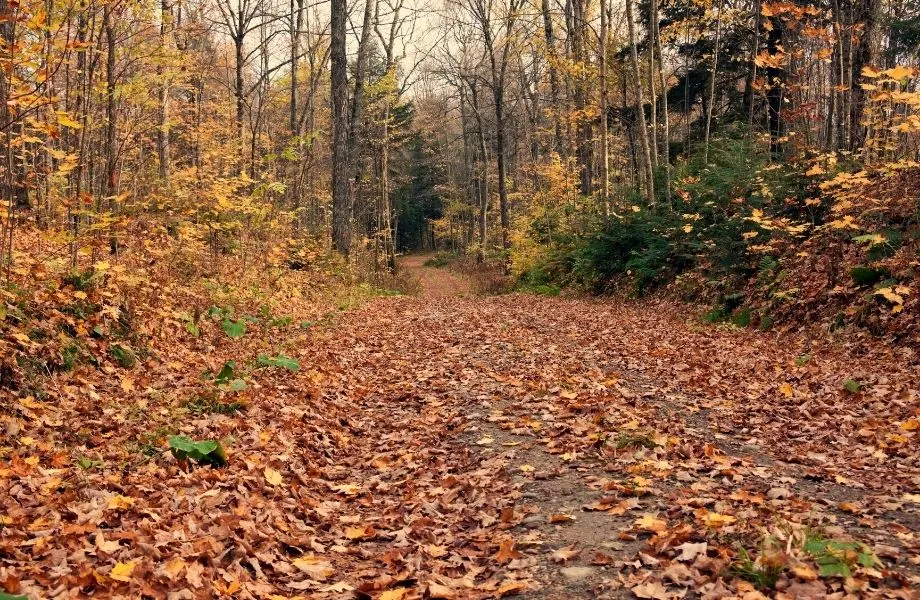 Thanks to the changing colors and decreasing crowds, fall in Wisconsin is the perfect time to go hiking.
Door County in October is a swell destination for hiking in nature, as the only county in Wisconsin with five state parks, one state trail (Ahnapee State Trail), and 19 county parks.
Combine the wild nature experience with your favorite Door County fall fest, and you will obtain some unique Wisconsin vacation ideas.
Door County sports some of the best hiking trails in Wisconsin, and fall is the ideal time to take advantage of the trails!
Some of the best hikes in Door County to try are:
Eagle Trail in Peninsula State Park (just outside the park you'll also find the Alexander Noble House, one of the most haunted places in Wisconsin!)
Europe Bay Trail in Newport State Park
Tower Trail in Potawatomi State Park
Red Trail in Whitefish Dunes State Park
Or arrange it the other way round: choose a suitable accommodation from my list of the best resorts in Door County, then find the nearest hiking trails.
Don't forget to pack one of the best water bottles for hiking!
Buy here your REI hiking guides to Wisconsin
5. Enjoy a Romantic Getaway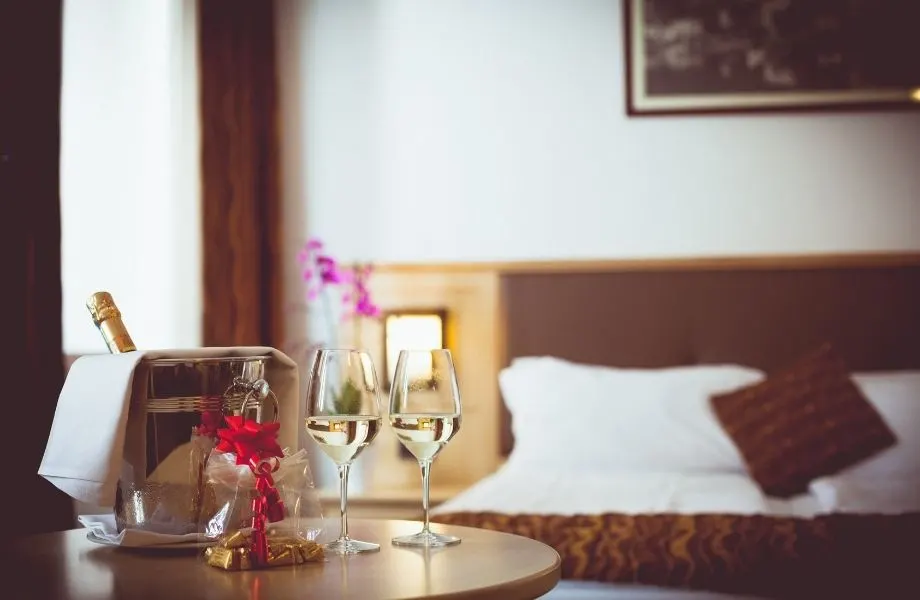 What better time than the fall, to sneak away from the hustle and bustle of everyday life with your significant one?
Find your ideal love nest in my list of the most romantic hotels in Wisconsin.
If you want more seclusion from the outside world, choose one of the cozy cabins in Door County tucked away in the beautiful nature of the peninsula.
Is your partner looking to be pampered? Then, have a look at this list of amazing luxury resorts in Wisconsin.
If you think that Door County in October is not romantic enough, I'll let you in on a little secret: this is a region with excellent vineyards.
Help yourself to my choice of the best wineries in Door County and arrange a surprise wine tasting evening for your partner.
The best hotels in Door County are exactly what your need for a great romantic getaway with your loved one.
Book here romantic tours in Door County
6. Go Lighthouse Hopping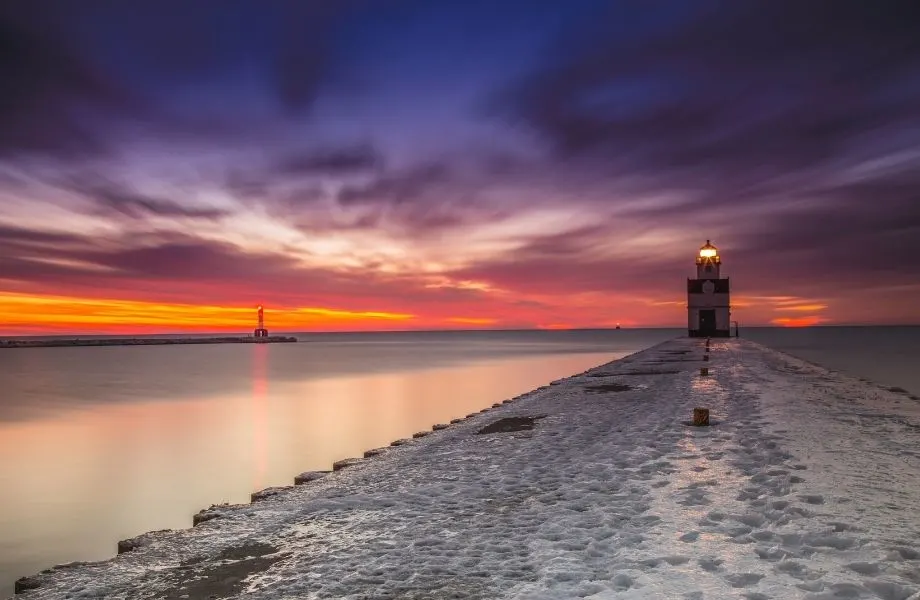 Navigation was vital to the development of Wisconsin thanks to the thousands of lakes on its territory.
Lakes can get as dangerous as they are beautiful, though. Storms are a common feature of October weather in Wisconsin, and they can be deadly for ships.
Lighthouses are the lifesavers that guide sailors safely to the harbor!
Take a tour of the amazing lighthouses of Wisconsin that come in all sorts of shapes, dimensions, and colors. Many of them have been transformed into museums that you can visit.
Learning about navigation on the Great Lakes and the lives of lighthouse keepers is one of the most amazing things to do in Door County in the fall.
Door County in October can show you some phenomenal lake storms.
And you can watch safely from the shores and enjoy the sight of the wild waves and the dark colors of the clouds and water at one of these amazing lake resorts in Wisconsin.
Book here the best cabins in Door County
7. Pick apples in the Oneida Tribe orchard in Green Bay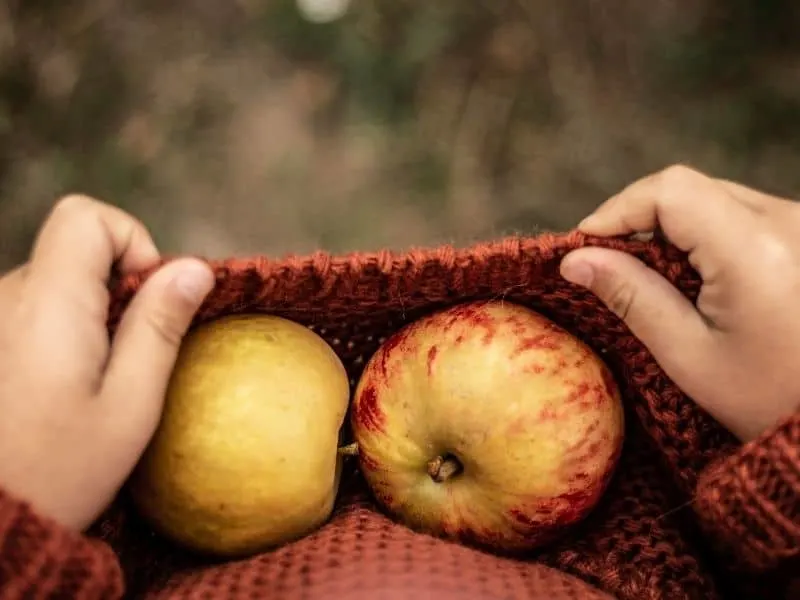 Some of the most entertaining things to do in Door County in October are connected to harvest season. Orchards, where you can experience a bit of farming life, are some of the best Wisconsin fall getaways.
One of the coolest things to do in Green Bay is to visit a remarkable farm, where you can support an interesting social project while you enjoy picking your own apples.
The property belongs to the Oneida Tribe, one of the original Five Nations of the powerful Iroquois Confederacy. They are promoting agriculture and the importance of fresh food production.
Originally the 30-acre plantation had 2400 trees. Then an additional 10 acres were acquired, and today the orchard has about 4000 apple trees.
Other fresh produce includes strawberries, raspberries, blackberries, sweetcorn, squash, and pumpkins.
Rent here an RV in Green Bay to travel Door County
8. Discover the inland lakes in Door County
Wisconsin has more than 15,000 lakes! Find a selection in my list of best lakes in Wisconsin.
Door County may have only 19 inland lakes, but they are a great fall destination.
Among the coolest things to do in Door County in October, there are two lake-related sports: fishing and kayaking.
Initially, you might think that these are not things to do in Wisconsin in October because it is too late in the season. Indeed, the October weather in Wisconsin can get pretty rough.
But fortunately, the inland lakes of Door County are smaller, shallower, warmer, and much quieter than Lake Michigan or Lake Superior, without the dramatic storms and high waves of the Great Lakes.
The peninsula is rich with lesser known getaways in Wisconsin, like the Whitefish Dunes State Park on Lake Clark.
Or check out the Europe Bay Woods State Natural Area, between Lake Europa and Lake Michigan, where you will find some of the best fall colors Door County has to offer.
Paddling on a quiet water surface, surrounded by a symphony of red, yellow, orange woods, is one of the most amazing things to do in Door County in October.
Buy here the best itinerary for Wisconsin
9. Learn to make cider on Washington Island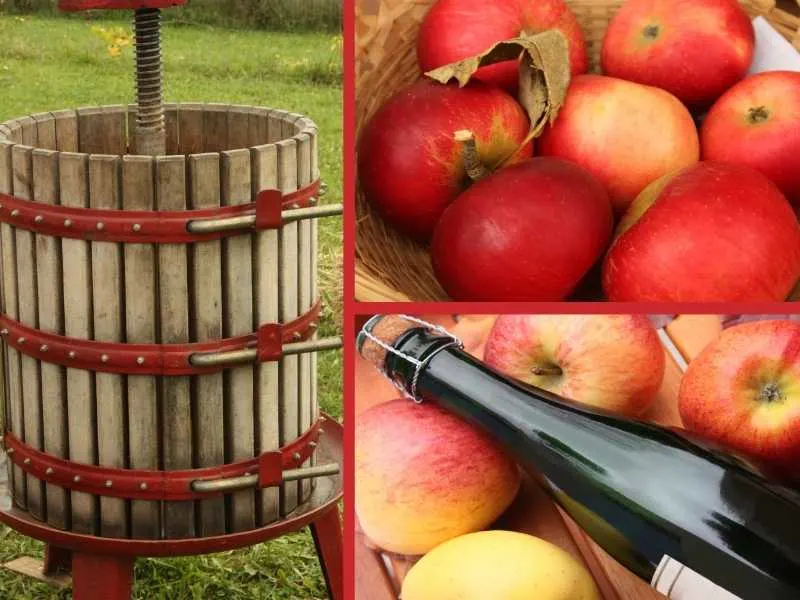 The Washington Island Farm Museum is a fantastic place to visit in Door County in October. On Columbus Weekend, you can attend a Cider Pressing Party there, one of many fun things to do in Wisconsin in October.
Bring the apples of your choice, or buy a bucket of local ones there. Use the historical equipment of the Museum and produce a gallon of your own cider!
Cyder pressing is part of the annual Fall Fun Fest, one of the recurring Door County fall events since 1987.
Visitors can get free wagon and horse rides, dip their own caramel apples on the spot, enjoy local food and drink, like bratwurst, chili, hot and cold freshly pressed cider. Old fashioned games are organized for children.
The Farm Museum is a 20-acre compound with nine original farm buildings.
Admire their collections of farm implements, old-time tools and kitchen items, small farm animals in a pen, and a photo collection representing the farm life of pioneers in Wisconsin.
Book here your stay on Washington Island
10. Run Wild in Potawatomi State Park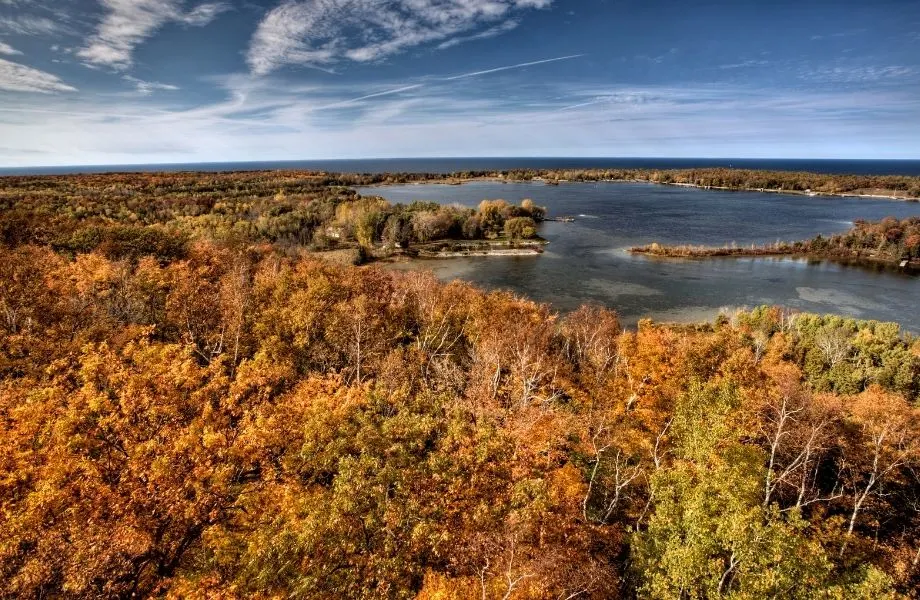 Have fun on Columbus weekend, an ideal moment for cool weekend trips in Wisconsin: attend one of the traditional Door county fall events, the running race organized by the Friends of Potawatomi State Park.
"Run Wild" is their main event to fundraise for park programs and equipment.
The competitions include a 5K & 1/4 marathon and a Smokey Bear run for kids ages 2-10. Run Wild is the oldest race in the region and an excellent opportunity to experience October in Door County.
Potawatomi State Park is one of those great places to vacation in Wisconsin where you can bike, run, camp, swim, fish, boat, ski, snowshoe, relax, and more!
Plus, its location in Sturgeon Bay also allows you to visit some of the most amazing lighthouses of Wisconsin.
Buy here the best guides to Wisconsin
11. Admire Local Art in Ephraim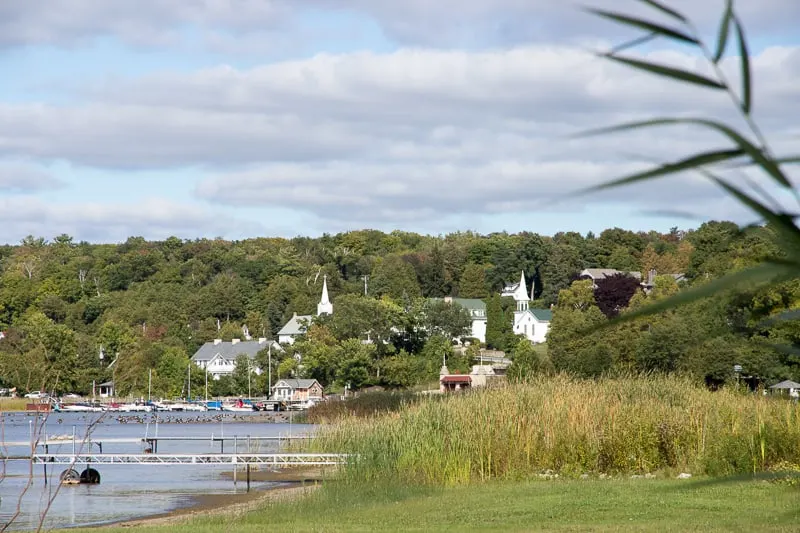 Did you know that Ephraim was founded by Norwegian immigrants? This picturesque village on the shore of Green Bay is home to one of the most original October events in Wisconsin: the "Art in Ephraim" weekend.
Ephraim boasts a high concentration of art galleries and crafts shops. Local artists like to share their creative space with visitors.
So on the second weekend in October, they organize an open doors event throughout the village – and visitors to the area are more than welcome, as well!
Strolling down the streets in Ephraim and popping into the various galleries is one of the coolest things to do in Door County in the fall.
Discover stunning works of art: paintings, pottery, jewelry, furniture, printmaking, and beyond.
Book here the best cabins in Door County
12. Run the Door County Fall 50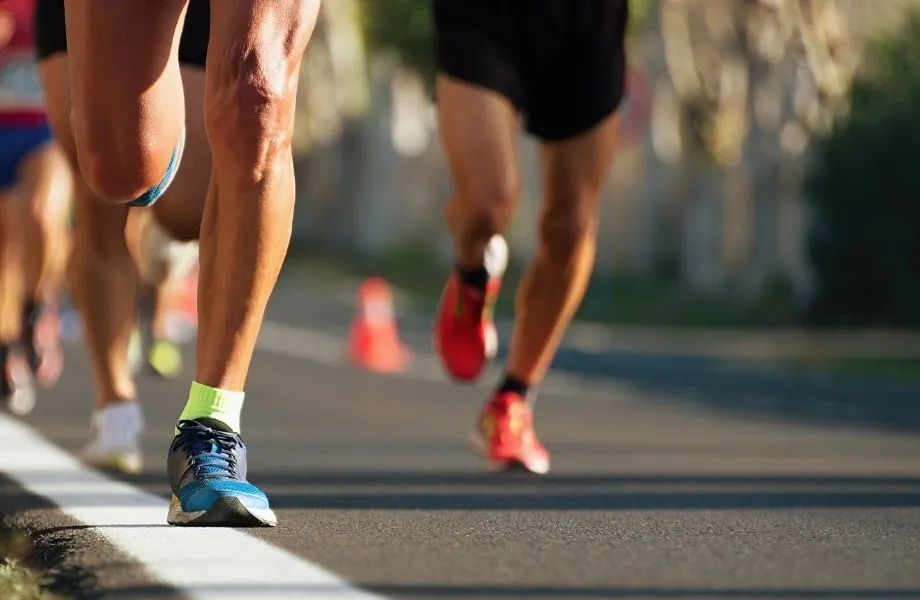 The 50-mile race known as "Door County Fall 50" is one of the top things to do in Door County in October.
The race is "a daylong running adventure", strategically scheduled on the fourth weekend in October to catch the peak of the fall colors Door County season.
Race in a team of 2-5 runners or as a solo ultra-marathoner.
As you run, admire picturesque villages and beautiful park areas including Ellison Bay, Sister Bay, Ephraim, Peninsula Park, Fish Creek, Juddville, Egg Harbor, Murphy Park, Little Harbor, Old Stone Quarry Park, and Sturgeon Bay.
Attend the final party at sunset and celebrate your accomplishment with your fellow runners!
Enduring 50 miles in a day on your legs through beautiful Wisconsin is one of the most amazing Door County fall events.
Buy here durable running shoes
13. Enjoy the Fall Art Crawl in Ellison Bay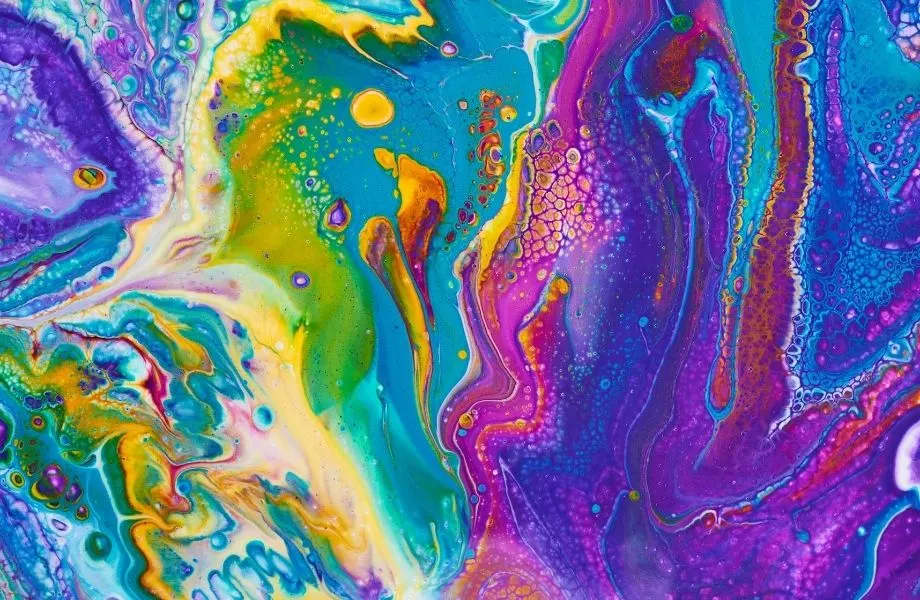 The Ellison Bay Art group was born in 1998. Among its members, there is a folk school, 3 potters, photographers, painters, fiber and leather artisans, a cider house, and a coffee shop with a gluten-free bakery.
On the weekend following the Door County fall fest in neighboring Sister Bay, the members of Ellison Bay Art Group open their doors to visitors.
Galleries and craft shops display their best products, offer refreshments and demonstrations.
Pick up a map of the circuit at any member gallery and find all sorts of things: new art, classes, clothing, household furnishings, Asian antiques, cheese, pottery, paintings, cider, and coffee.
Find a nice place to stay in my list of best airbnbs in Door County so you will have more time to hang out with the hospitable Ellison Bay artists.
Buy here your Like a Local gauide to Wisconsin
14. Sing Dark Songs in Sturgeon Bay
There is a very special motel in Sturgeon Bay where musicians and songwriters can get in the right creative mood for Halloween in Door County.
"Dark Songs" is one of the most creative October events in Wisconsin.
More than thirty songwriters converge upon the Holiday Music Motel to collaboratively write, record, and perform spooky songs to fit the season.
The Holiday Motel was the first-ever motel in Door County in 1952. In 2007 it was purchased by Holiday Motel Management LLC, a group of musicians and music enthusiasts from the Steel Bridge Songfest.
The Songfest was born as part of the "SOB" (Save Our Bridge) citizens' grassroots campaign to save Sturgeon Bay's historic Michigan Street Bridge from being demolished.
Today Sturgeon Bay still has its Steel Bridge, plus a refurbished historic motel that is one of the most original places to visit in Door County in October.
Staying with musicians at the Holiday Motel is one of the most unique Wisconsin vacation ideas.
You will frequently find live music here because the Motel has its own recording studio and often plays host to performances by talented artists from around the world.
Book here your stay at the Holiday Music Motel
15. Explore the Door County Wine Trail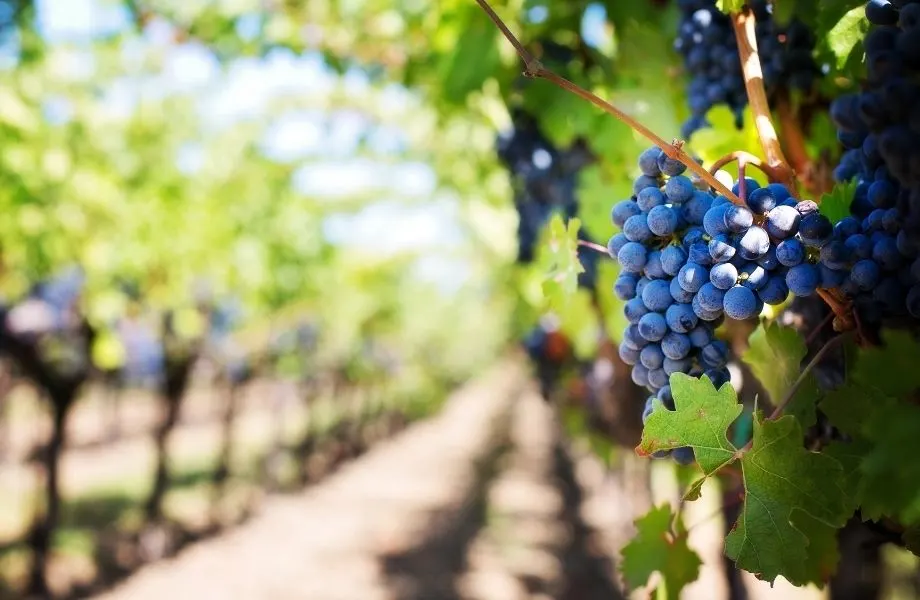 Door County in October is the ideal destination for your dream wine tasting tour. While you discover the best wineries in Door County, you will also get fantastic views of Door County fall colors.
The peninsula boasts a Wine Trail that you can follow from winery to winery, one of the most amazing things to do in Door County.
Several estates will give you a full tour of their farming operations and wine production facilities, accompanied by complimentary glasses of their best wines.
If you can appreciate a good glass, the Door County Wine Trail is one of the best Wisconsin fall getaways you can think of.
Book here the best tours of Door County
---
Why you should visit Door County in October
The list of Door County fall events is very rich! The crisp October air brings out the joe de vivre in Wisconsinites.
The October weather in Wisconsin is mild enough for outdoor activities. Door County has spectacular nature and some of the best places for fall colors in Wisconsin.
Enjoy your food and drink. Door County in the fall is still in harvest season (think pumpkin and apple pies, cheese, bratwurst, and other autumn specialties), plus wine and beer season!
---
Before reading this article, would you have thought that Door County in October is such a great off-season destination?
Far from being boring and sad, fall in Door County is an exciting time to be around.
Many of the events I listed are festivals organized by local communities for their own enjoyment. When you attend them, you will get a test of genuine Door County life.
---
Before You Go: Top Tips for your Trip
---
Short FAQ About Things to do in Door County in October
1. Is October a good time to visit Door County?
Yes! Door County in October is one of the best times to visit, especially for families as there are so many fun events going on.
2. Where are the fall colors in Door County?
Door County in general is one of the best places to go for fall colors in Wisconsin. But the best places to enjoy the foliage are Sturgeon Bay and along the Europe Bay Woods State Natural Area.
3. What are the best things to do in Door County in October?
It depends on why you're visiting: Romantic getaway? Family vacation? Nature break? However, no matter why you're here, I think the best things to do to get the most out of Door County in October are attending one of the many fall festivals or events, going for a hike, and admiring the fall colors.
---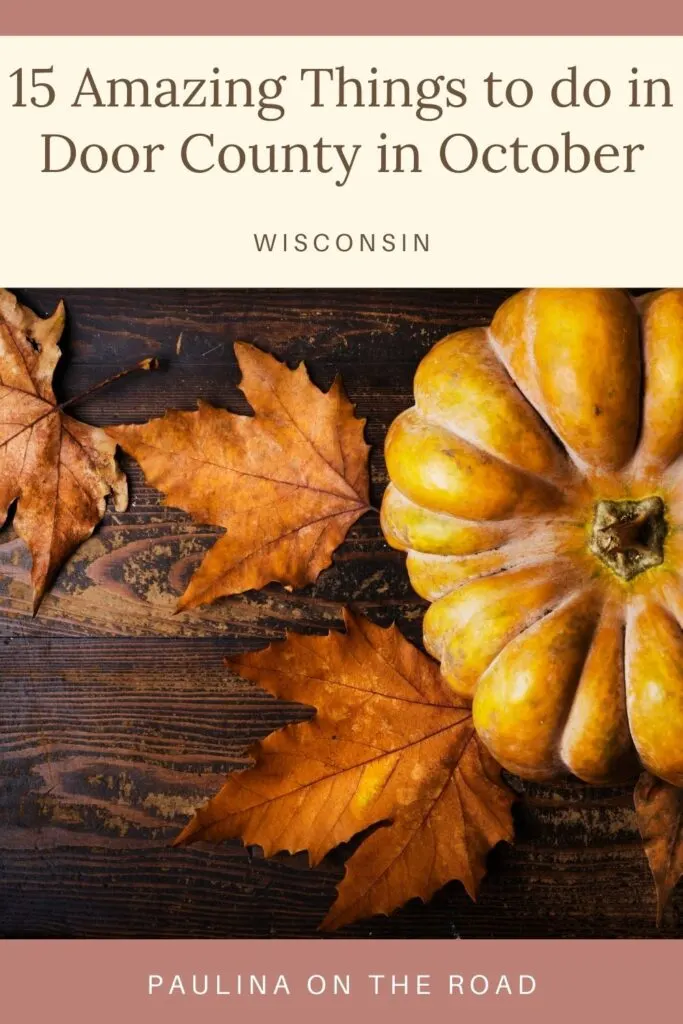 ---
Hola! I am Paulina, a fervent travelette who crossed the Atlantic Ocean by Boat HitchHiking. On my blog, you'll find all the tips to make the most of your holiday. Get ready to enjoy outdoor and sustainable travel like hiking, cycling or sailing. Let's hit the road together!