20 Best Fall Festivals in Wisconsin
A guide to best fall festivals in Wisconsin, with Apple Festivals, Cranberry and other fall fests in Wisconsin
Important Note: Please note that due to the current pandemic situation, many festivals have been canceled in 2020/21. Please check the website of the local tourism office for further information.
Although winters in the state are famously cold, fall in Wisconsin is both mild and beautiful.
There are plenty of cool things to do in Wisconsin in winter but before the cold season, make sure to enjoy the very best fall activities in Wisconsin such enjoying fall foliage, pumpkin patches, or apple fests.
As the state's seemingly endless forests begin to turn into a sea of yellows, oranges, and reds, Wisconsin draws thousands of visitors eager to observe the arrival of fall.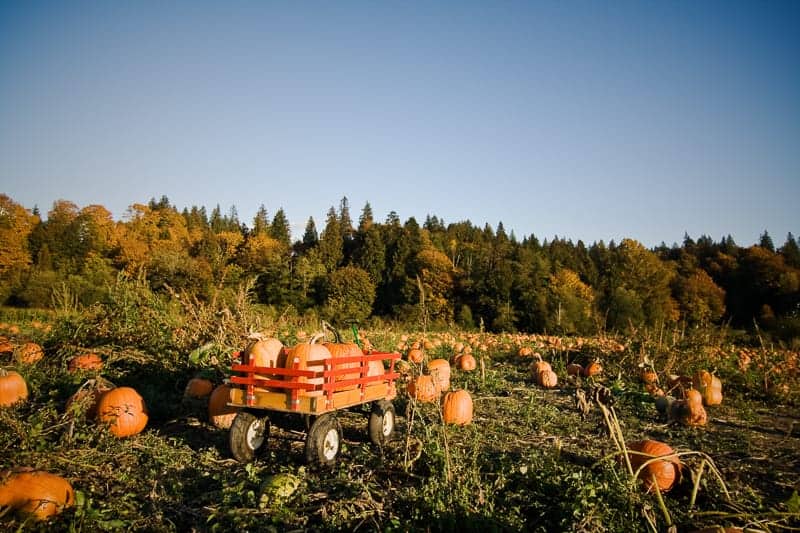 But the colours of the leaves are not the only thing that becomes more lively. Fall ushers in dozens of harvest festivals across the state, and with them parades, stalls, music, dancing, and celebrations.
This article is all about fall festive fun in Wisconsin, showcasing some of the best festivals in the state. Whether you choose to visit just one or follow the fall around Wisconsin, you'll be sure to make some unforgettable memories!
Thanks to affiliate links, I pay my bills. If you make a purchase through them, I may receive a small commission (for which I'm deeply grateful) at no cost to you. All opinions are always mine. Merci!
Useful Travel Information for Wisconsin
✎ Plan the ultimate Wisconsin road trip (no backtracking!) with the Perfect Wisconsin Road Trip itinerary – Get it here

✈ Book cheap flights to Wisconsin with Skyscanner

✔ Book tours in Wisconsin with Viator

➳ Book holiday and vacation rentals in Wisconsin with VRBO

❖ Rent a car at the best rates with DiscoverCars

☘ Get the best discounted outdoor gear (outlet) at REI.com

$ Get Wisconsin hiking guides and maps at REI.com

✎ Never leave without travel insurance. I get mine at SafetyWing. It is easy to set up, cheap, and reliable.
What is a fall festival?
A fall festival is a celebration of the arrival of fall and of the local harvests. Traditional fall festivals involve sampling of local food and drink, flea markets, games and famously silly contests, as well as live music and other entertainment.
Not all fall festivals are the same. Many follow the Oktoberfest theme, with authentic German food, beer, and polka dancing, among other attractions. Wisconsin is also home to harvest-specific celebrations, such as apple and cranberry festivals.
Fall festivals are not unique to Wisconsin, but they definitely have a particularly festive vibe here. Especially those held in quaint, picturesque little villages and towns.
1. Pumpkin Patch Festival – Egg Harbor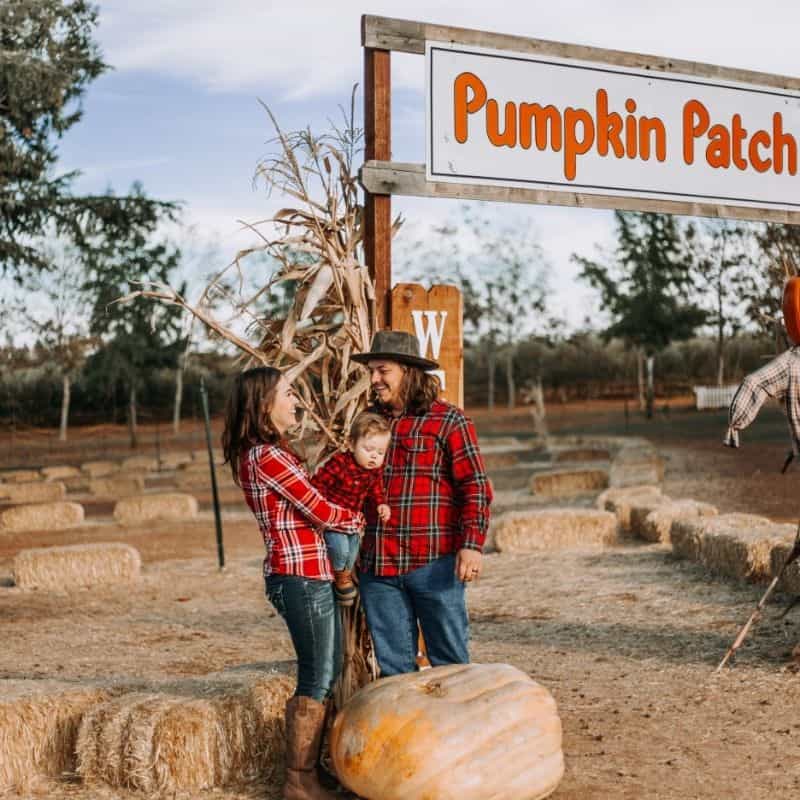 About 60 miles north of Green Bay in northern Wisconsin, the village of Egg Harbor hosts an annual weekend Pumpkin Patch Festival. This is one of the coolest things to do in Green Bay, Wisconsin.
The festival features food, live music, arts and crafts vendors, auctions, raffles, carnival rides, scarecrow displays, and plenty of other fun and quirky activities for the whole family.
Kids will be particularly thrilled with the magician and the storyteller who regularly visit this festival.
Although Egg Harbor is tiny, reaching just over 200 in total population, there's plenty to do here beyond the fall festival. There is a golf course and an orchard nearby that you can explore.
On the other side of the peninsula, just a 20 minute drive away, you'll find the beautiful Moonlight Bay Bedrock Beach State Natural Area, and the Baileys Harbor Ridges Park recreational park.
Related: Best Resorts in Northern Wisconsin
2. Sister Bay Fall Fest – Sister Bay
Sister Bay is a small village in Door County, Wisconsin. Each October, for one weekend the little community becomes a vibrant hub of fall-related activities.
The Sister Bay fall Fest has over 70 years of tradition and offers a series of activities and concerts. Past events include a raffle, a classic car show, a customary parade along the Downtown Bay Shore Drive, and lots of games and family fun.
There is also a regular arts and crafts show where you can buy souvenirs and unique artwork handmade by local artists.
Several music venues (both indoor and outdoor) are prepared for the occasion, with live bands performing day and night.
Of course, food is also a major part of the festival, with a pancake breakfast on Saturday, a fish boil at the local Fire Station, and endless stalls selling beer and authentic Wisconsin delicacies.
The area is also great for a cabin getaway! From kayaking to bonfires…it doesn't get cozier than with a cabin rental in Door County. – Check cabins in Door County here
If you are staying longer, and you definitely should – make sure to have a look at my guide about the best things to do in Door County.
Related: Things to do in Wisconsin in October
3. Wine & Harvest Festival – Cedarburg
Just over 20 miles north of Milwaukee, the historic town of Cedarburg hosts an early fall event known as the Wine & Harvest Festival. It's thus perfect when looking for a day trip from Milwaukee in fall!
For one weekend, four streets in Cedarburg turn into huge marketplaces, offering everything from local produce to handmade gifts and accessories.
Locally produced cheese, sausage, honey, and syrup are joined by the excellent wines by Cedar Creek Winery, located right there in Cedarburg.
Live music and other entertainment complete the experience, with the Giant Pumpkin Charity Regatta stealing the show every year. These all make the Wine & Harvest festival to become one among many great Wisconsin vacation ideas and great fall getaway in Wisconsin.
Check cool AirBnBs in Cedarburg
4. Wo-Zha-Wa Days Fall Festival – Wisconsin Dells
2nd week of September
If you visit Wisconsin Dells in the fall, you'll be in for a treat. In mid-September, the city hosts the uniquely named Wo-Zha-Wa Days fall festival.
In the language of the Ho-Chunk Native American Tribe, "wo-zha-wa" means "to have fun", and that's exactly what you can expect if you stay for the festival weekend.
Food and live entertainment are just the start of it. There's also a huge antique flea market to browse, an arts and crafts fair, and a street carnival including a large parade.
Interestingly, this fall festival also holds the oldest long-distance race in Wisconsin, a half-marathon in the city streets.
Check cozy cabin rentals in Wisconsin Dells
5. AutumnFest – St. Croix Falls
For a fun, one-day fall festival, come to the quaint, picturesque town of St. Croix in eastern Wisconsin, right on the border with Minnesota.
The St. Croix Falls AutumnFest offers everything you could expect from a small fall festival: live bluegrass music, food trucks, a farmer's market and lots of activities for kids.
This festival is the perfect choice for outdoor enthusiasts eager to explore the St. Croix area, with a free self-guided tour of the many surrounding hiking and biking trails.
Check top AirBnBs in St.Croix Falls, WI
6. Al & Al's Oktoberfest – Sheboygan
The city of Sheboygan on the shore of Lake Michigan is home to a surprising and very different festival; Wisconsin's answer to the classic Oktoberfest!
For two days at the beginning of October, you can feel as if you've stepped into a small Bavarian town. Expect live music, authentic German cuisine, folk dancing, thematic events, and of course, lots of German beer and wine.
To make the experience even more unique, don't miss the annual Wiener Dog Races taking place during AI & AI's festival. It's one of the most fun things to do in Wisconsin in October.
The city of Sheboygan is full of other attractions, too, including museums, historic sites, and even a haunted house!
Check rates for top AirBnBs in Sheboygan
7. Madeline Island Fall Fest – La Pointe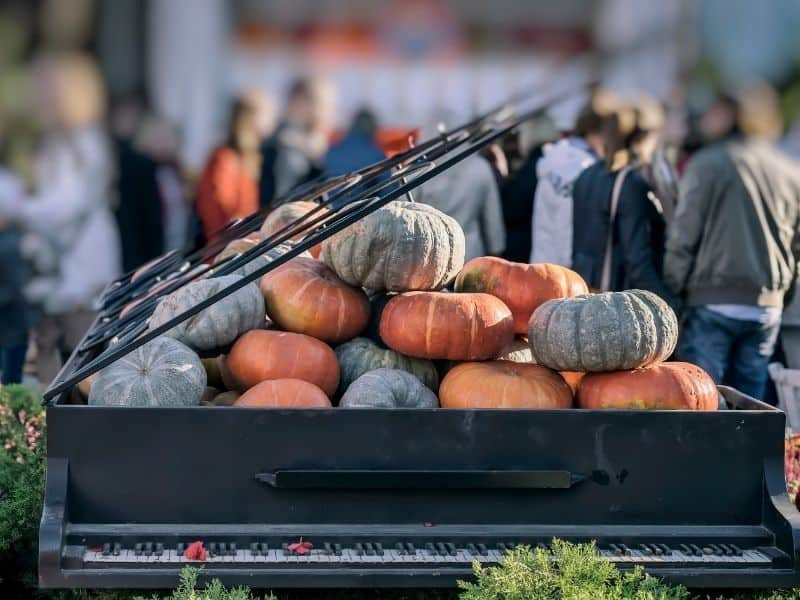 One of the biggest Wisconsin October festivals, this series of events takes place in a unique location: Madeline Island, the largest of the Apostle Islands.
The city of La Pointe on Madeline Island turns into a huge playground for kids and adults alike for an entire weekend.
Alongside your typical fall festival fare, the Madeline Island Fall Fest involves lots of interactive events. You can learn how to make candles, carve pumpkins, and even make apple cider with locally sourced produce!
Make sure to try the local delicacy known as "waples" which are waffles filled with apple cheesecake and caramel sauce.
To get to the island, you'll need to take a ferry from Bayfield. Weather permitting, don't miss the chance to explore the Apostle Islands National Lakeshore's spectacular sea caves and cliffs. Indeed, there are plenty of things to do in Apostle Islands, WI.
It's also the perfect location to do a fall cabin getaway! – Check cozy cabins in Apostle Islands here
8. Jack O' Lantern Days – Fish Creek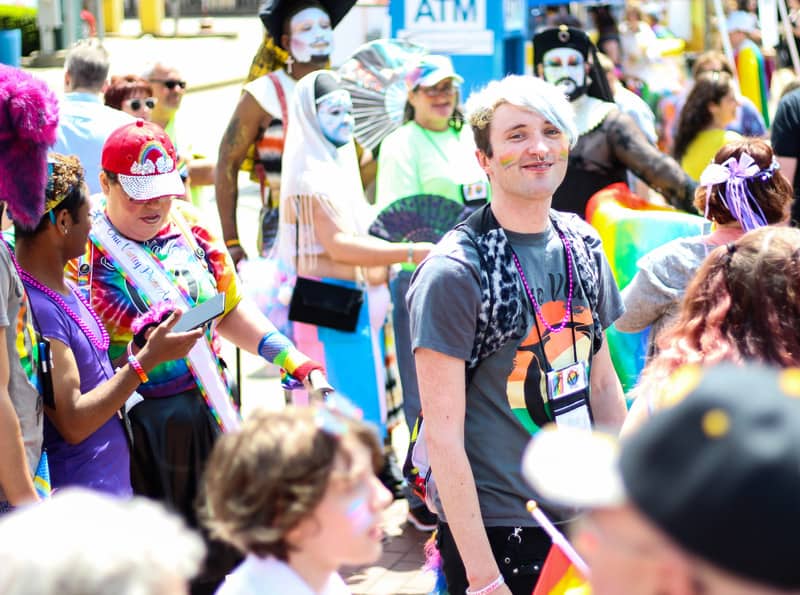 Fish Creek is home to another Door County fall festival, located about an hour's drive north from the city of Green Bay.
Its spooky fall event provides the ultimate Halloween experience, suitable for kids of all ages. It's thus perfect when looking for great weekend trips in Wisconsin.
The Jack O' Lantern Days offer Halloween-themed games and activities, mask making, a costume contest, a parade, and many other unique and surprising interactive events.
And of course, town-wide trick-or-treating! Experience a truly unforgettable Halloween at this most unique of Wisconsin's October festivals.
IF you plan to stay longer, have a look at my list of the prettiest Airbnbs in Door County.
While you're in Fish Creek, be sure to check out the Lautenbach's Orchard Country Market and Winery, one of the best wineries in Door County.
9. Wauktoberfest – Waunakee
Another Wisconsin Oktoberfest-style festival, the Wauktoberfest takes place over a whole weekend in September, in the village of Waunakee, just over 12 miles north of Madison, on the other side of Lake Mendota which is one of the best lakes In Wisconsin.
Alongside plenty of German beer and of course, live polka music, the festival offers lots of quirky events and activities.
Helicopter rides, cheese and sauerkraut eating contests, dachshund races, and beer keg races are just some of the surprising attractions you're in for!
If you're staying a bit longer, the city of Madison, only 20min drive away, offers all sorts of activities, including museums and a zoo to visit.
The area is also home to the best beaches in Wisconsin which are a perfect setting for romantic fall walks.
10. Harvest Fest – Sturgeon Bay
Also on the Door Peninsula, the town of Sturgeon Bay hosts a yearly, one-day festival to celebrate the arrival of fall.
Alongside the usual festival attractions such as regional food and drink, the Sturgeon Bay Harvest Fest also involves art shows, stalls showcasing local craftsmanship, and a classic car show comprising over 150 vehicles.
Children's activities and live entertainment ensure that there's something to do for the whole family.
Interestingly, the city of Sturgeon Bay is built at the natural end of Lake Michigan's bay of the same name. An artificially-built ship canal crosses right through the city, with a steel bridge connecting the two halves.
There is a large maritime museum in Sturgeon Bay, as well as an art gallery and historical museum, and of course, plenty of opportunities to admire Door County in fall in one of the nearby natural areas.
The area surrounding Sturgeon Bay is home to plenty of hiking trails which are among the best hiking trails in Wisconsin. The perfect activity for a cabin getaway in Door County, WI.
Check cozy cabins in Door County here
11. Great Lakes BrewFest – Racine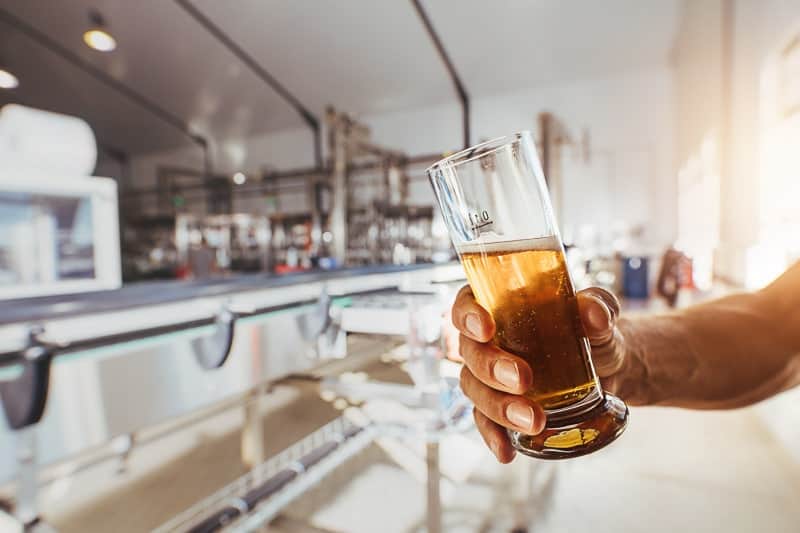 The primary theme of this festival is simple: beer! Every year, visitors can sample over 450 different beers, as well as ciders and hard sodas. There's also live music and delicious food from local food vendors.
Keep in mind that due to the nature of this event, only those aged 21 and over are allowed to attend!
Still, the city of Racine, just 20 miles south of Milwaukee, offers plenty of family-friendly attractions. Between several museums, a gorgeous beach, and a zoo, there are lots to do for visitors of all ages.
View cool cabin getaways in Racine
12. Oktoberfest – Cedarburg
Cedarburg sure likes its fall festivals! Soon after the September Wine & Harvest Festival (#3 on this list) comes the Cedarburg Oktoberfest.
To give a feel of a real Oktoberfest celebration, the festival takes place outdoors. Every year, a huge tent is erected, with tables, stalls, and a wooden dance floor within.
Expect live German folk music, polka, and lots of beer and authentic food. Alongside other entertainment, there is a recurring live comedy event: the Glockenspiel Show.
Check cool AirBnBs in Cedarburg here
13. Milwaukee Oktoberfest – Milwaukee
A brat-eating contest, a Weiner dog race, and lots of beer, what more could you ask for?
The Oktoberfest is one of the most popular Milwaukee fall festivals, delivering everything expected from a German-style fall celebration, and more!
Alongside live polka music and German food and drink, the Milwaukee Oktoberfest also includes a Miss Oktoberfest contest and a stein-hoisting competition.
While the former probably doesn't require an explanation, the latter is a traditional German contest of strength. The idea behind it is simple: contestants must hold up a stein filled with a litre of beer for as long as they can.
Taking place on the Fiserv Forum Plaza in central Milwaukee, this full-weekend event offers lots of entertainment for the whole family. It's a must when looking for fall festivals in Wisconsin.
Unlike many other beer festivals and Oktoberfests, Milwaukee's is kid-friendly and hence one of the best things to do in Milwaukee in October for families.
Related: Where to stay in Milwaukee – The Ultimate Guide
14. Octoberfest – Appleton
Appleton, the hometown of Houdini on the northern shore of Lake Winnebago, is the host of the largest party of the year across all of the Fox Cities. The local Octoberfest draws in more than 100,000 visitors each year!
The festival is spread over two days (usually Friday and Saturday). The first day involves a massive classic car show with over 400 vehicles and live entertainment, as part of an alcohol-free, family-friendly celebration.
The second day features the usual Oktoberfest fare, German beer, authentic food, and live polka music, but on a grand scale.
In 2019, there were over 80 food stalls, 10 alcohol stands, 150 arts and crafts vendors, and more than 20 live bands performing in one day!
Related: Cool Things to do in Appleton, WI
Best Apple Festivals in Wisconsin
15. Apple Festival – Bayfield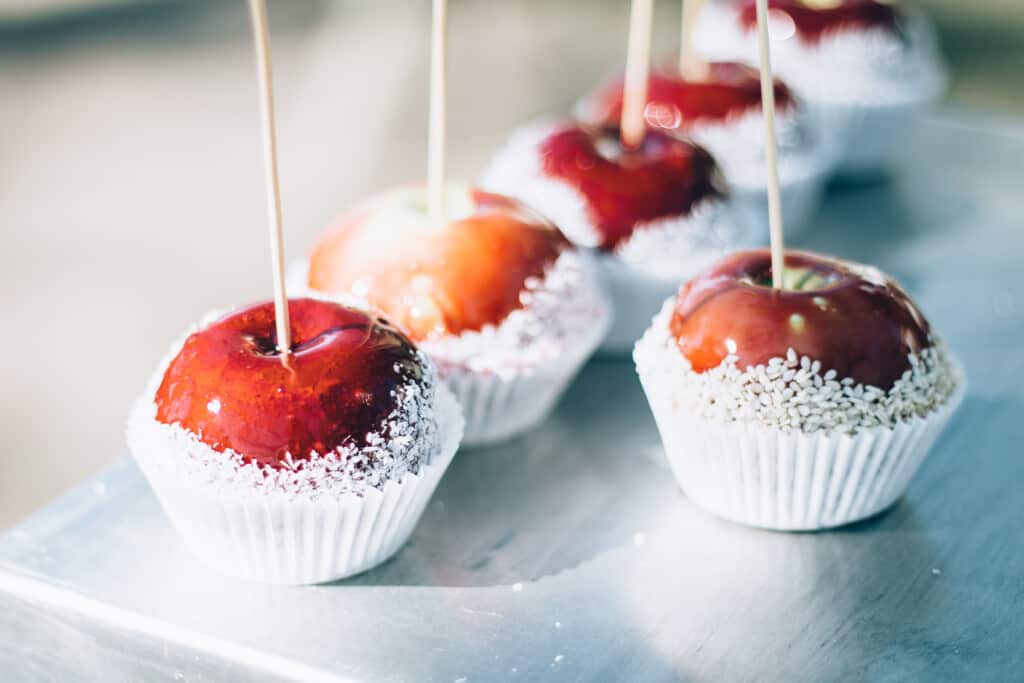 Taking place annually for almost 60 years now, the Bayfield Apple Festival is a celebration of fall, nature, and agriculture.
The local orchards and wineries are open to visitors, and unique events take place during the entire weekend.
In addition to sampling local produce, including jellies, syrups, and wine, you can browse countless arts and crafts stalls, and enjoy live music at this famous apple festival in Wisconsin.
There are plenty of other fun events like the annual apple peeling contest to attend, as well as an authentic Wisconsin fish fry. At the end of the festival, there is a huge parade which features a band with 400 members!
Bayfield is also perfect for a romantic getaway as it has one of the best romantic hotels in Wisconsin.
16. Fall Fun Fest & Cider Pressing Party – Washington Island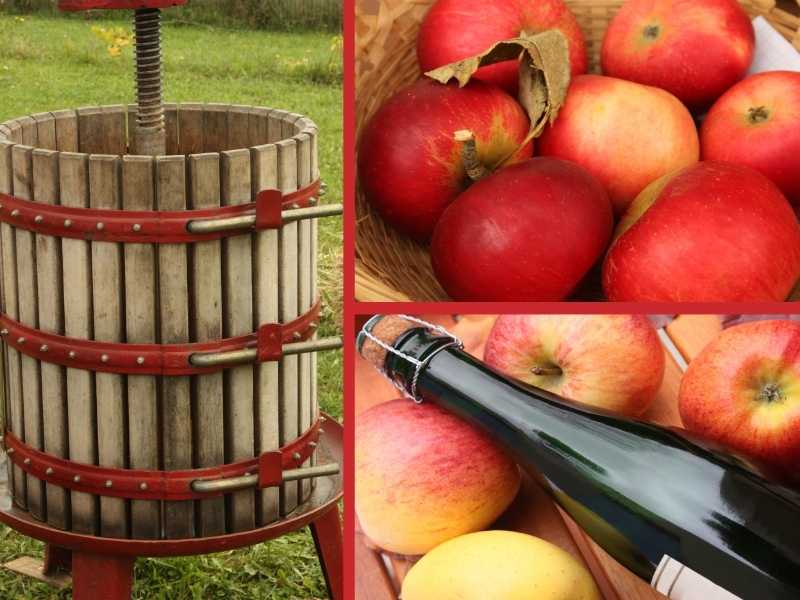 Washington is a fairly large island on Lake Michigan. Since 1987, its Farm Museum has been holding an annual fall festival where you can press your own cider using the museum's historic equipment.
You can bring your own apples to press or buy local ones on site. Every year, there's live entertainment, games and activities for kids, and free horse and wagon rides.
Local cider and authentic Wisconsin cuisine are available too, including brats, chili, cookies, and caramel apples.
Washington Island can be reached by ferry, departing from the town of Northport at the tip of the Door Peninsula.
If you stay a while longer, you can explore Washington's many natural areas, museums, and historic sites. All this makes Washington Island a great place to vacation in Wisconsin.
Washington Island is also just perfect for a cozy cabin getaway! – Check all cabins here
17. Gays Mills Applefest – Gays Mills
For full immersion in authentic fall harvest celebrations, visit the Mills Apple Festival at the end of September. The festivities include live music, dancing, a parade, carnivals, and lots of local food and drink to sample.
There is also a flea market to visit and many arts and crafts stalls with interactive activities. You can also spectate live games and sports, including volleyball and basketball tournaments, as well as an old-timey horseshoe pitching contest.
Gays Mills is a small village on the Kickapoo River in southern Wisconsin, about 85 miles northwest of Madison. If you're planning on staying overnight, the nearby towns of Boscobel and Soldiers Grove offer hotel accommodation.
For a more rustic experience, rent a cabin in Ferryville on the Mississippi River, only 15 miles away.
If you ar planning to visit with your beloved one, why not have a look at a romantic cabin in Wisconsin! – Check cabins here
Best Cranberry Festivals in Wisconsin
18. Warrens Cranberry Festival "Cranfest" – Warrens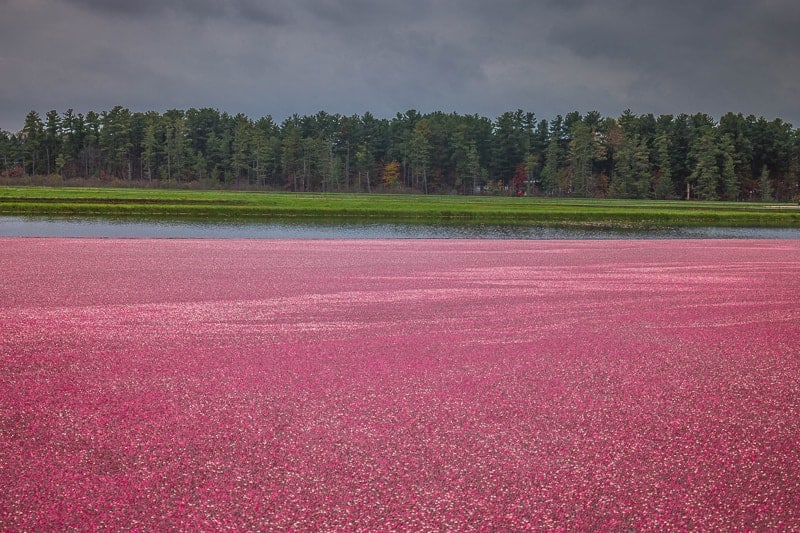 Cranberry festivals make for popular fall activities in Wisconsin. The village of Warrens proudly calls itself "Wisconsin's Cranberry Capital", so it only makes sense that it would be home to the largest cranberry fall festival in the state!
Located in southwestern Wisconsin, just over 10 miles north of Tomah, Warrens has a population of less than 400 but for one weekend in September, it's one of the busiest places in the county!
In 2019, Cranfest featured the largest band parade in Wisconsin.
Every year, there are (literally!) thousands of stalls all over the village, with souvenirs, arts and crafts, food and drink, and of course, lots of cranberry-based produce.
The festival also provides an opportunity to take a guided bus tour of the surrounding cranberry marshes, which make for a truly unforgettable sight!
Back in town, there are lots of fun competitions to observe and take part in, including a costume contest, a pie-eating contest, and a scarecrow competition.
While here, make sure to visit the Cranberry Museum, it's one of the best things to do in central Wisconsin.
19. Cranberry Fest – Eagle River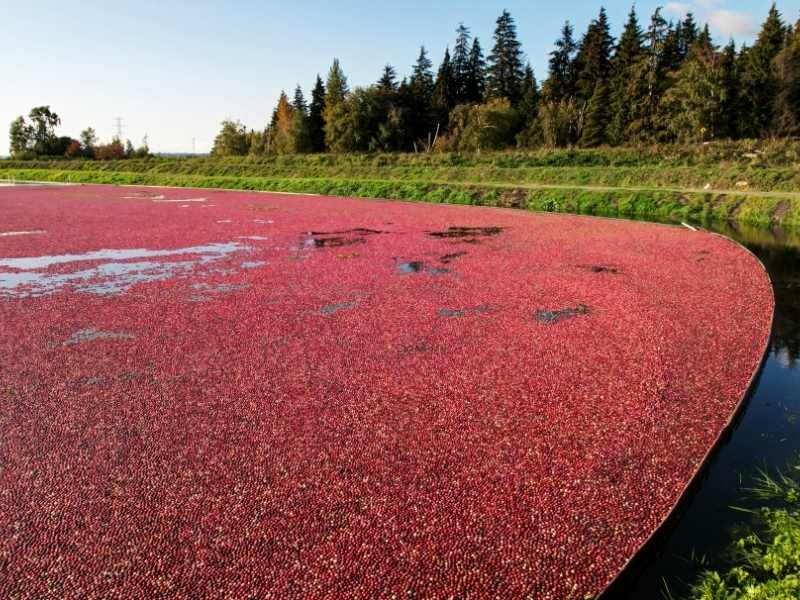 Cranberry brats, cranberry baked goods, cranberry beer and wine, cranberry soups,… You can sample all of these and more at the Cranberry Fest in Eagle River, northern Wisconsin.
In addition to all the cranberry-infused delicacies, the festival also offers tours of cranberry marshes, wine tours, a flea market, an arts and crafts show, and plenty of live entertainment.
With more than 40,000 people attending this cranberry festival in Wisconsin annually, this isn't one to miss!
While you're in Eagle River, don't forget to check out the Northwoods Escape Room, one of my favorite escape rooms in Wisconsin!
20. Cranberry Festival – Stone Lake
The usually quiet little community of Stone Lake in northwestern Wisconsin bursts with life at the beginning of October, as thousands arrive for the annual Cranberry Festival.
Live music, marsh tours, parades, food and drink stalls, and plenty more await cranberry lovers in Stone Lake.
The main festival parade is followed by a recurring event called Krate Derby – Stone Lake take on crate derby, alive, street racing event.
---
Short FAQ about Wisconsin Festivals in Fall
What are the best fall festivals in Wisconsin Dells?
The Wo-Zha-Wa Days fall Festival and the Dells On Tap Weekends are the best fall festivals in Wisconsin Dells.
What are some of the best places to visit in Wisconsin in Fall?
Stone Lake, Eagle River and Bayfield are are some of the best places to visit in Wisconsin in fall.
What are the best Wisconsin fall fests this year?
Some of the coolest fall festivals in Wisconsin to visit are Pumpkin Patch Festival in Egg Harbor, Sister Bay Fall Fest in Sister Bay and Wine & Harvest Festival in Cedarburg.
---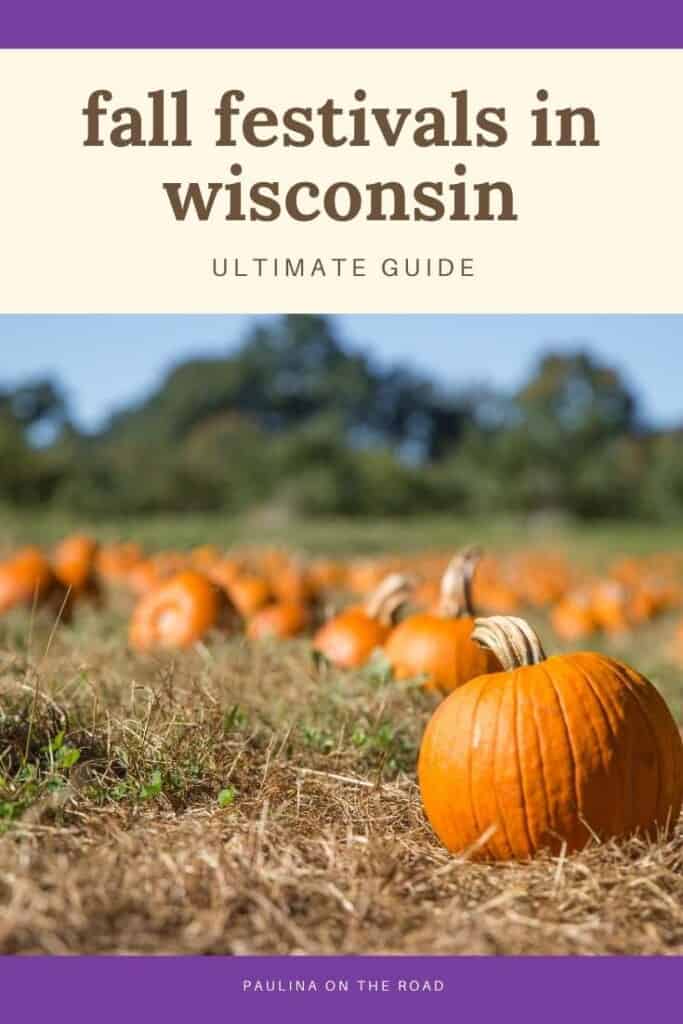 ---