Guide to the most magical fall weekend getaways Wisconsin has to offer
Fall is when the temperature drops in Wisconsin, the days shorten, and the state's iconic forests turn orange.
Fall weekend getaways in Wisconsin are the perfect opportunity to explore nature in this changing landscape.
Or you can travel Wisconsin and have fantastic cultural experiences in cities like Milwaukee, Wisconsin Dells, and Green Bay.
The fall weekend getaways Wisconsin offers are long enough to explore a new area and enjoy a fun, short vacation.
Choosing a few of the best activities for your fall in Wisconsin is better so that you don't feel rushed.
This article helps by introducing you to the activities perfect for all the best fall vacations in Wisconsin.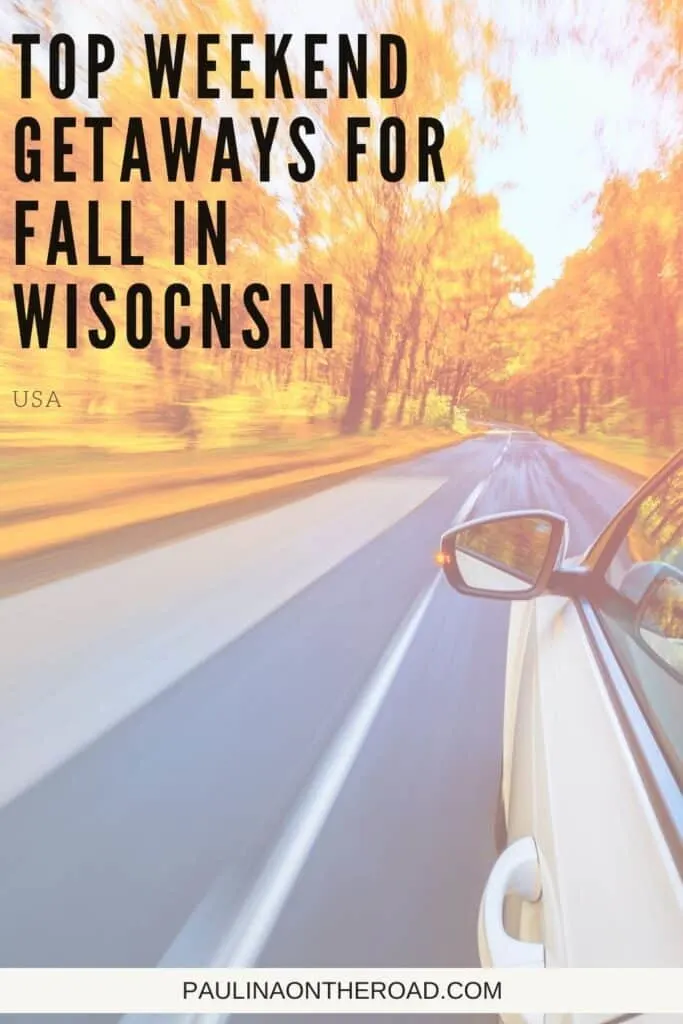 Pssst…!!?? You can't get enough of Wisconsin? Have a look at my other posts:
This blog is supported by you, dear reader. If you purchase through a link, I earn a small commission. As an Amazon Affiliate, I earn from qualifying purchases.
Top resources to travel Wisconsin
✎ Plan the ultimate Wisconsin road trip (no backtracking!) with the Perfect Wisconsin Road Trip itinerary – Buy now for less than 12$

✈ Find the best hotel deals in Wisconsin with Trivago

➳ Book vacation rentals in Wisconsin with VRBO

✔ Book tours in Wisconsin with Viator

☘ Get the best discounted outdoor gear (outlet) at REI.com

$ Get Wisconsin hiking guides and maps at REI.com

✎ Never leave without travel insurance. I get mine at SafetyWing. It is easy to set up, cheap, and reliable.
Overview: Top 3 Fall Weekend Getaways in Wisconsin
Catch a View from the Scenic Tower at Holy Hill
Taste the Local Apples
Visit Lake Geneva
1. Catch a View from the Scenic Tower at Holy Hill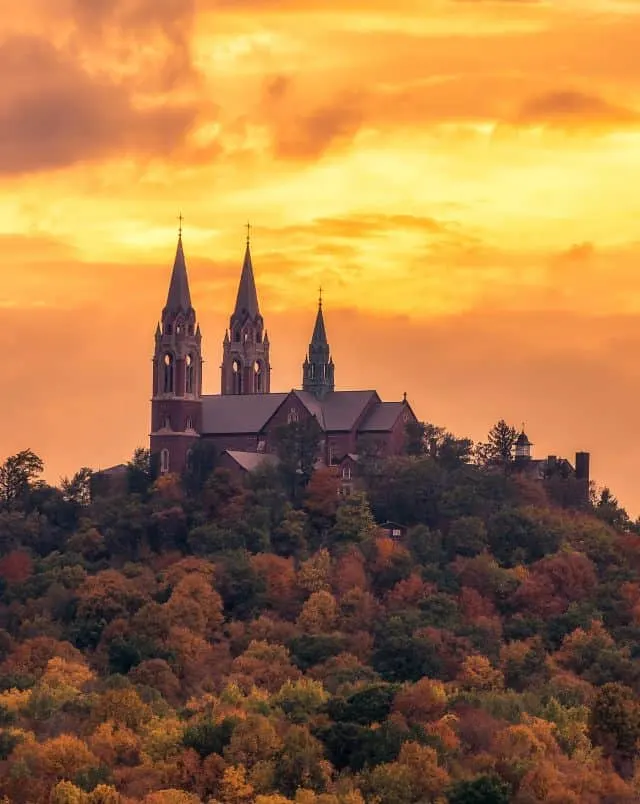 Holy Hill is a breathtaking 1,300-foot hill known for its thick forests, but it has to be on your activity list for fall weekend getaways in Wisconsin because of the stunning basilica.
This tremendous 192-foot structure features a scenic tower that will give you an unforgettable view of the Kettle Moraine area.
This is perfect amongst the best Wisconsin fall vacation ideas if you love catching the best views possible.
Holy Hill is one of the best places to enjoy the fall colors in Wisconsin, making it perfect for romantic fall getaways in Wisconsin.
Although this is one of my favorite Wisconsin fall getaways, sadly, the scenic tower cannot be accessed in bad weather – so try to plan accordingly!
If wind, rain, fog, lightning, or cold weather is forecast, it might be worth choosing something else on this list to ensure you don't waste any time during your fall trips in Wisconsin.
Buy the perfect Wisconsin road trip itinerary
2. Visit Lake Geneva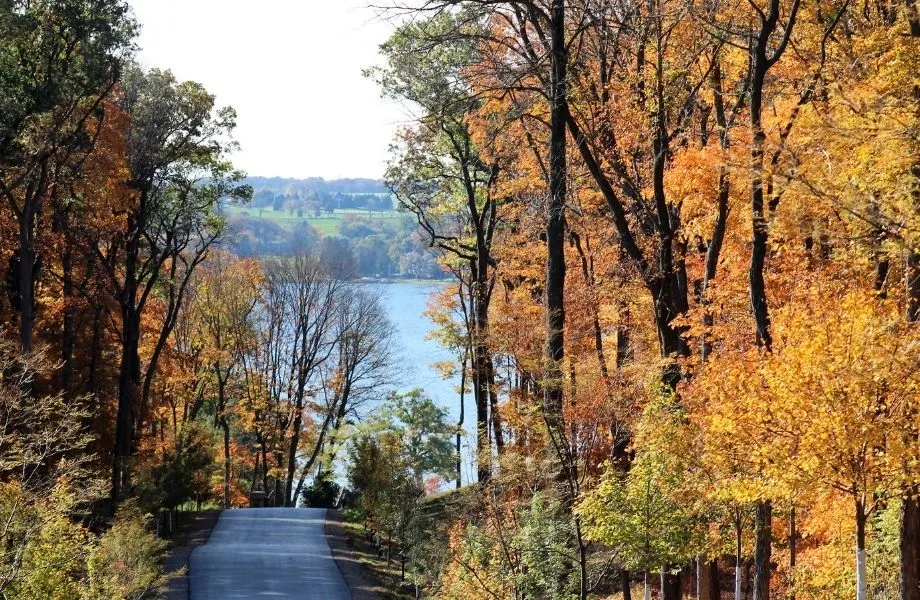 During the summer, Lake Geneva is a summer hotspot for relaxing and swimming.
However, it is also worth a visit during your fall getaways in Wisconsin because of the huge opportunities for family adventures.
If you don't suffer from vertigo, then a hot air balloon over the orange canopy of the surrounding foliage is an absolute must.
Meanwhile, if your kids like a thrill, then they would be delighted to experience the zip line run by Lake Geneva Canopy Tours.
This site is also a must-visit for October weekend getaways in Wisconsin if you are on a trip with other adults.
Their Oktoberfest jollities are famous throughout Wisconsin, and people come from miles around to enjoy it.
While here, watch dachshund racing, eat traditional German food like bratwurst, listen to live music, and of course, try lots of beer.
Lake Geneva is also perfect for romantic fall weekend getaways in Wisconsin as you'll find a range of romantic getaways in Lake Geneva to enjoy.
Whether a family, a couple, or a solo traveler, Lake Geneva is one of the best cities for long weekend getaways in October.
Book the best cabin rentals in Lake Geneva, WI
3. Connect with Nature at the University of Wisconsin Arboretum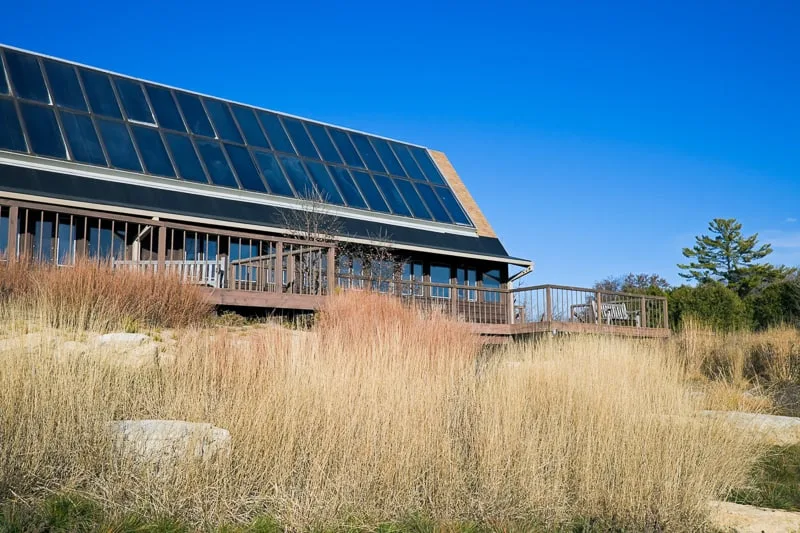 Much of the joys you can have from fall weekend getaways in Wisconsin can be had from walking amongst the stunning colors of a forest in fall.
There is no place better in the whole state than the arboretum run by the University of Wisconsin.
Trees from all over the United States and the wider world have been grown here since 1932, and now over 1,200 acres of beautiful forest runs along the shores of Lake Wingra.
This site is a research facility, but public members have free access to enjoy the delights of a walk in the woods.
Another feature of the arboretum that makes it perfect for weekend getaways in Wisconsin is how versatile your experience can be.
If you don't have much time, you can drive through the forest on Arboretum Drive. This road can also be used for a longer adventure, as cycling through the arboretum is very popular.
Finally, there are many trails and picnic spots if you want to spend much longer in this paradise.
As entry is free, the arboretum is ideal if you're looking for cheap weekend getaways in Wisconsin.
Book the best vacation rentals in Madison, WI
4. Find Unique Plants at Lodde's Mill Bluff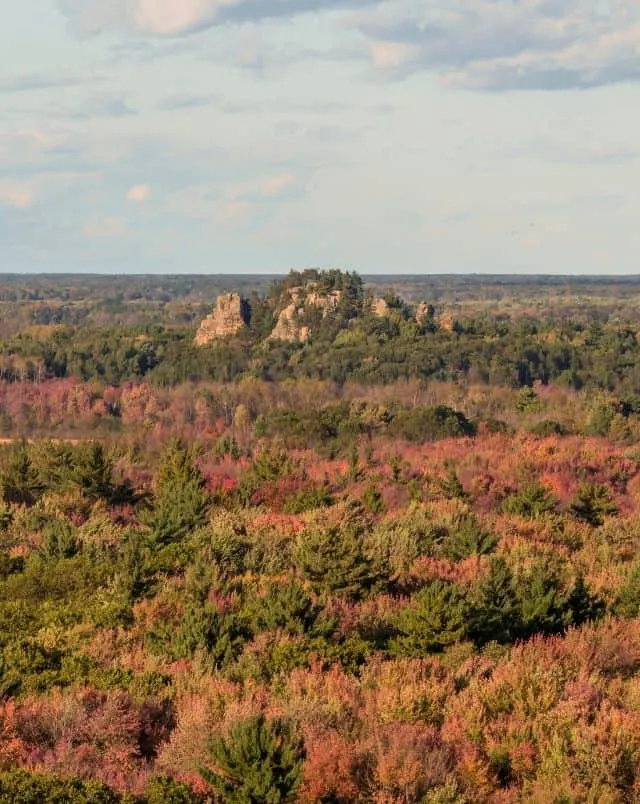 Towering trees are not the only type of foliage that show their beauty in the fall.
Lodde's Mill Bluff is popular for people on fall weekends in Wisconsin because of the myriad of rare plants found there.
This area has been a protected state natural area since 1967, and since then, these beautiful plants have flourished around the location's iconic 300-foot-tall bluff.
This is not a sight to miss if you are staying in the Sauk City area and a must for those wanting active weekend fall getaways in Wisconsin.
5. Have a Spooky Halloween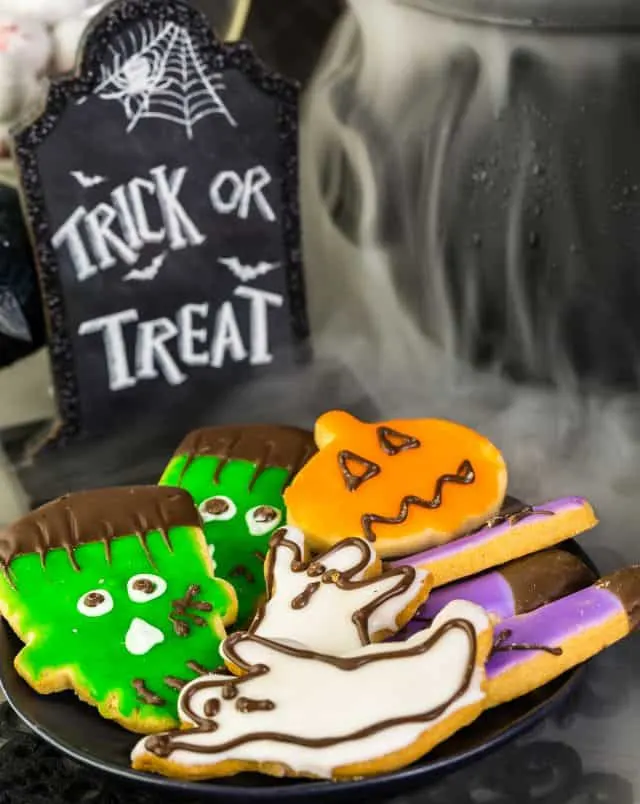 Fall weekend getaways in Wisconsin for families have to feature fun Halloween activities.
Luckily, there are countless options in the state, so you will surely find the perfect spooky Halloween for your children.
The ideal event is Zoo Boo, hosted over Halloween weekend at the NEW Zoo in Green Bay.
During this weekend, the zoo revamps its exhibits with Halloween decorations and Halloween themes for the animals.
Younger children will love the Happy Haunted Maze, which is located in the children's zoo and one of the best things to do for Halloween in Wisconsin.
Meanwhile, if your kids are more daring, you must take them into the Haunted Zoo Zone, where spooky experiences wait.
Halloween in Milwaukee is also one of my favorite fun fall getaways in Wisconsin.
Milwaukee in October is magical and ideal if you're looking for seasonal weekend getaways in southern Wisconsin.
6. Raise Money for Charity on a Motorcycle Adventure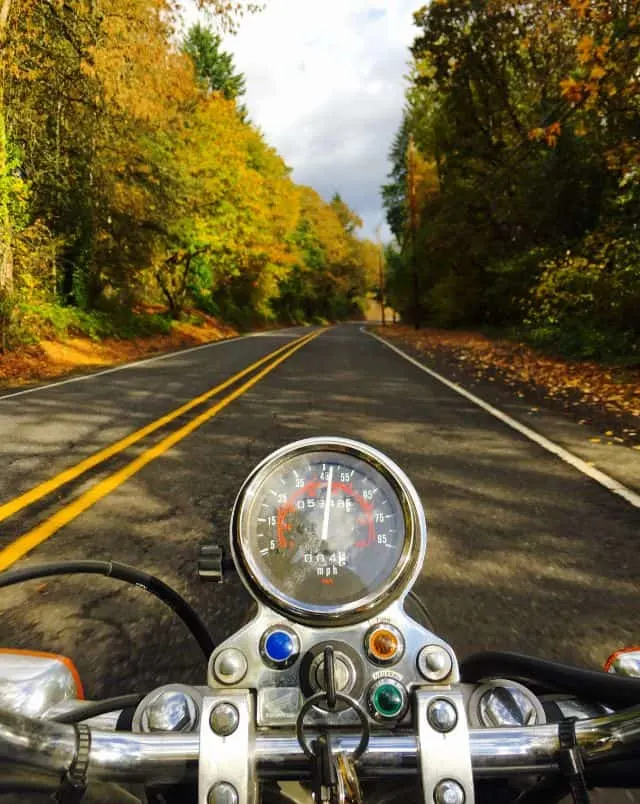 Your weekend getaway in Wisconsin will be rewarding if you can use the opportunity to do some good.
Motorcycle fans can't miss the Flood Run held in Pepin County during the fall.
At this event, 50,000 motorcyclists take a fantastic route, stopping to enjoy sensational viewpoints, delicious dinner dinners, and live music.
The event has become hugely popular and is now the largest one-day motorcycle event in America.
This event is fun and is also a chance to help raise money for great causes.
All riders are charged for a wristband to participate in the flood run, and proceeds go to charities, including those that help people with cerebral palsy.
7. Cycle through Stunning Landscapes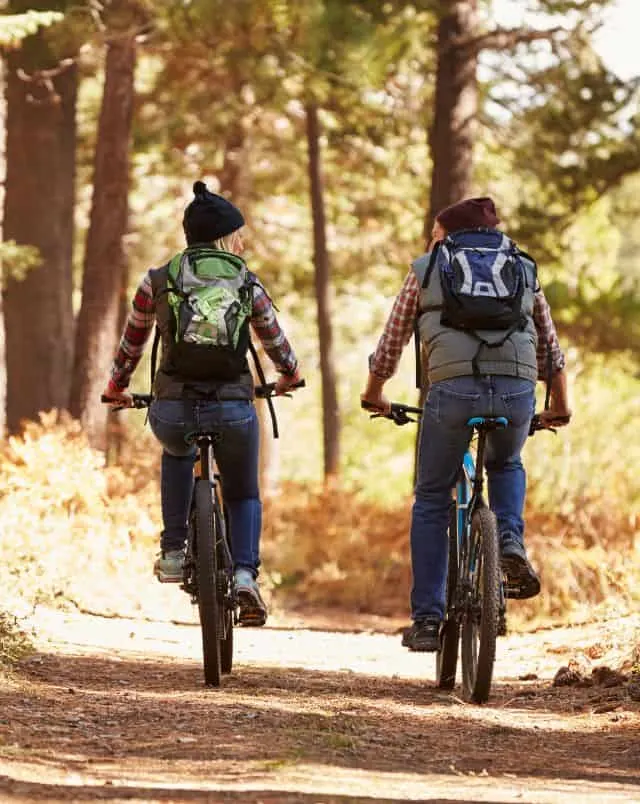 If you want your fun fall getaways to be driven by adventure, you must consider cycling the Red Cedar State Trail, which runs from Menomonie to the Chippewa River State Trail.
This is a great relaxed activity for couples because the trail is a comfortable distance of 14.5 miles and follows the path of an old railway, so it is mostly flat.
If you follow this trail, you will be taken through a diverse array of Wisconsin fall landscapes.
I can't think of a shorter trail that would allow you to enjoy prairies, forests, unique rock formations, marshlands and farmlands.
This is also an essential activity for fall weekend getaways in Wisconsin for couples because it passes through the charming towns of Irvington and Downsville.
These locations are ideal for pausing for a romantic meal during fall in Wisconsin.
8. Taste the Local Apples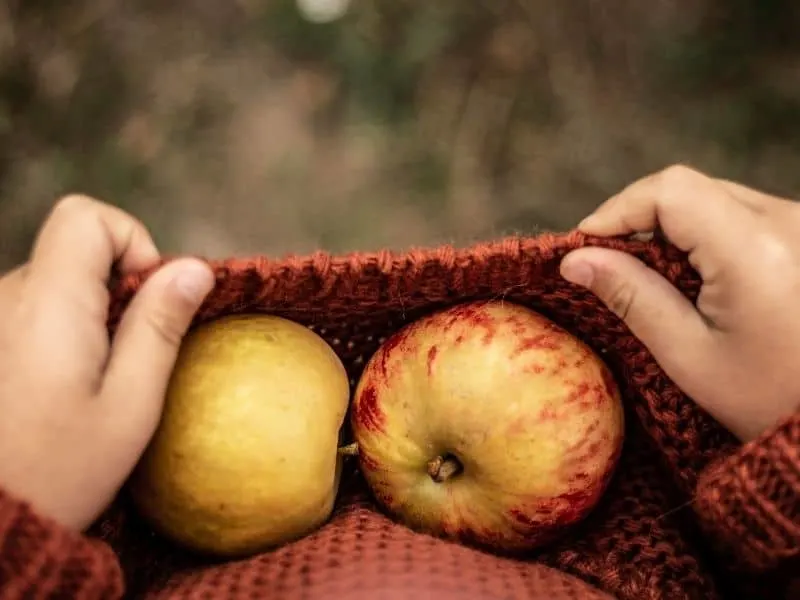 If you are looking for fall weekend getaways in Wisconsin for early October, you can't miss the Bayfield Apple Festival.
Located in the Bayfield Penisula of Lake Superior, this is one of my favorite fall festivals in Wisconsin.
During this weekend festival, you can try a range of local apples and delicious ciders while enjoying live music, great foods, and various crafts.
All the best fall vacations in Wisconsin also allow you to try something new. The festival site has its own orchard, and you can take part in pick-your-own apples.
This is one of my favorite fall activities in Wisconsin for the whole family to enjoy.
This could be a great way to learn more about how apples are grown, especially if you are used to life in the city.
While you're in Bayfield, be sure to pop over and explore all the amazing things to do in the Apostle Islands.
Book the best Apostle Island vacation rentals
---
All of these amazing ideas for fall weekend getaways in Wisconsin will surely inspire you to go on vacation.
Most of them are great ways that you can become closer to nature, spending time in forests and natural areas that become orange during the fall.
Hopefully, you can understand from my list that there are fall weekend getaways in Wisconsin for everyone.
Whether you are a couple looking for a romantic adventure, a family trying to get some treasured time together, or a solo traveler, you will love visiting Wisconsin in October.
---
Short FAQs About Fall Weekend Getaways in Wisconsin
Where is the best place to see fall colors in Wisconsin?
There are many great places to enjoy fall colors in Wisconsin, but one of the best places is Holy Hill.
Is Wisconsin pretty in the fall?
Wisconsin in the fall is stunning and quite magical due to the beautiful fall colors that you can see throughout the state.
What are the best fall weekend getaways in Wisconsin?
There are a lot of fun fall weekend getaways in Wisconsin worth doing, but a few of my favorites are visiting Holy Hill and Lake Geneva and attending the apple festival in Bayfield.
---
Before You Go: Top Tips for your Trip
---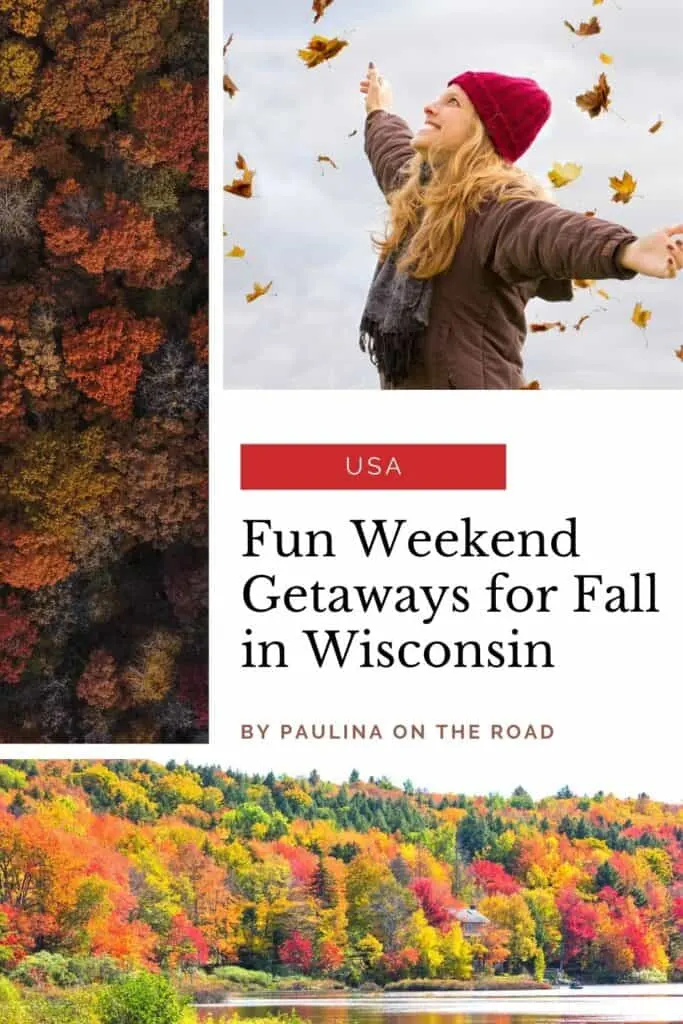 ---
Hola! I am Paulina, a fervent travelette who crossed the Atlantic Ocean by Boat HitchHiking. On my blog, you'll find all the tips to make the most of your holiday. Get ready to enjoy outdoor and sustainable travel like hiking, cycling or sailing. Let's hit the road together!