A simple guide to help you choose the from best Lake Geneva resorts for families
Welcome to the land of sparkling lakes, grand resorts, and beautiful family-friendly getaways!
If a dreamy escape filled with fresh air, stunning scenery, and countless recreational activities sounds like your ideal vacation destination, then travel Wisconsin to the best Lake Geneva resorts for families.
From long days out on one of the five pristine lakes that make up this area to endless opportunities for adventure all around them– it is easy to see why this sprawling region has become such a popular traveler destination.
So if you are looking for an incredible lake resort experience in Wisconsin that will keep everyone entertained, let me introduce you to my top picks of the finest Lake Geneva family resorts.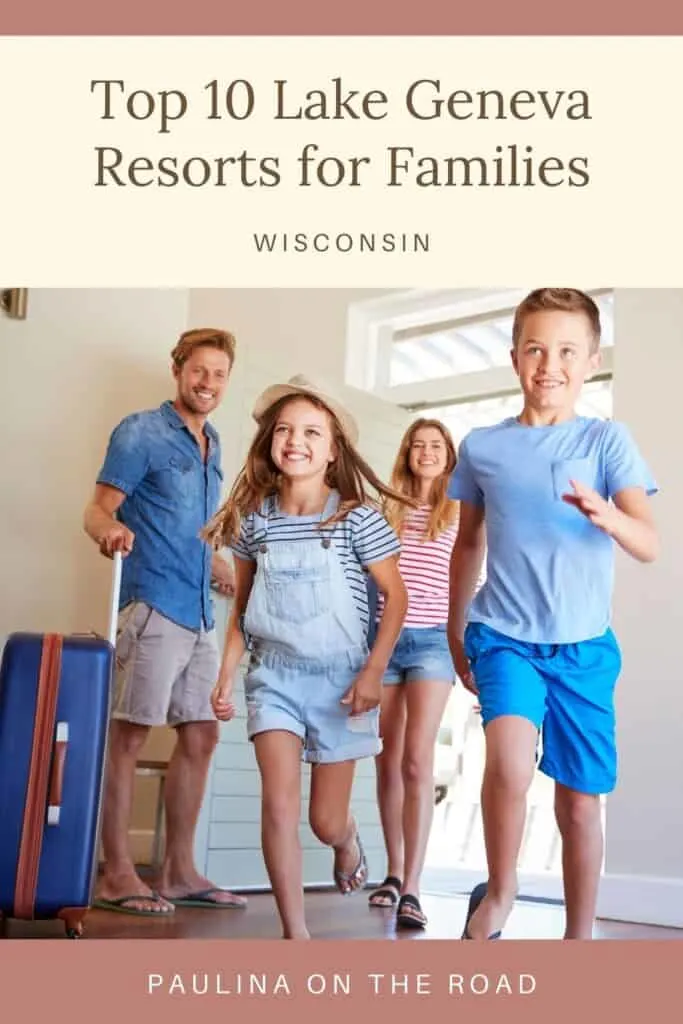 This blog is supported by you, dear reader. If you purchase through a link, I earn a small commission. As an Amazon Affiliate, I earn from qualifying purchases.
Psssst…!!?? You can't get enough of family-friendly accommodation in Wisconsin? Have a look at my other posts:
Top Lake Geneva Resorts for Families
As someone who loves planning family vacations, I've always been drawn to places that offer a little bit of everything.
That's why the Grand Geneva Resort & Spa has piqued my interest. With so many family-friendly activities to choose from, like horseback riding, golf, skiing, and water sports, there's sure to be something for everyone.
And let's not forget about the kid-friendly amenities, including a waterpark with slides, pools, and a lazy river.
There are children's programs and activities, ranging from arts and crafts to outdoor adventures.
As for accommodations, the spacious suites and connecting rooms sound like they'd be perfect for families.
And the fact that the resort is pet-friendly is a huge bonus making it one of the best pet-friendly hotels in Lake Geneva.
With indoor and outdoor pools, onsite dining options, and a full-service spa, it seems like the Grand Geneva Resort & Spa has all the makings of a perfect Lake Geneva family vacation.
If you're after kid-friendly resorts in Wisconsin for an unforgettable family vacation, the Abbey Resort in Lake Geneva, WI is the one for you.
Sitting just steps from the beach, this resort is all about keeping the whole family entertained and relaxed.
I'm sure kids will love the on-site arcade and game room, while parents can unwind at the full-service spa.
Outdoor enthusiasts will want to take advantage of the boating, fishing, and biking options available.
With special family packages and seasonal events, there's always something happening at the Abbey Resort.
Even mealtime is stress-free here with kid-friendly menus at the on-site dining options. And if you're looking to explore the area, the resort offers free bicycle rentals.
Nestled in the heart of Lake Geneva sits the stunning Lake Lawn Resort. Perfect for families seeking an idyllic beach getaway, this resort offers a plethora of activities for guests of all ages.
With private beach access and water sports rentals, it's easy to spend all day soaking up the sun and enjoying the lake's pristine waters.
But that's not all- families can also enjoy mini-golf, the best Southern Wisconsin hiking trails, and seasonal festivals.
Parents can unwind at the full-service spa or hit the links at the resort's golf course while the little ones are entertained at the children's club with arcade games, crafts, and movie nights.
With both an outdoor and indoor pool complete with sun loungers and pool umbrellas, guests can indulge in some much-needed relaxation any time of the year.
In my opinion, Lake Lawn Resort truly has it all for families seeking a kid-friendly summer vacation.
When it comes to finding a kid-friendly resort in Lake Geneva, the Cove of Lake Genava resort has got you covered.
With both an indoor and seasonal outdoor pool, there's no shortage of water fun for the little ones.
And parents, don't worry, there are plenty of cabanas, sun loungers, and pool umbrellas for you to relax on while the kids make a splash.
When it's time to refuel, head to the onsite restaurant, Sprecher's, for some delicious American cuisine.
And if that's not enough entertainment for everyone, there's also an arcade and game room to keep the whole family occupied.
And the best part? You're just a short walk away from all the shops and attractions of downtown Lake Geneva, like Riviera Beach, the Lake Geneva Balloon Company, or the Lake Geneva Cruise Line.
Trust us, it doesn't get much better than this when it comes to the finest Southern Wisconsin resorts.
As an avid lover of lake resorts for families, Timber Ridge Lodge & Waterpark is a must-visit.
From hitting the slopes to splashing around in the indoor water park, the lodge offers endless hours of entertainment for all ages.
The spacious suites provide plenty of room for families to spread out and relax in, while the full-service spa is the perfect place to unwind after an action-packed day.
With on-site dining options catering to all palates, including picky eaters, and fun activities like mini-golf and bonfires, there is never a dull moment at Timber Ridge.
Parents can enjoy some well-deserved alone time with the supervised activities for children and the babysitting services available.
Whether you're seeking adventure or relaxation, this family-friendly ski aparthotel has everything you need for the ultimate family vacation, especially if you're after things to do in Lake Geneva in winter.
Harbor Shores on Lake Geneva is the perfect place for families looking to create unforgettable memories.
With a range of amenities available, including a playground, indoor and outdoor pool, sauna, gym, and even a business center, there's something for everyone to enjoy.
The 108 rooms are beautifully appointed with fireplaces and premium bedding, as well as microwaves and refrigerators to make you feel at home.
And with its ideal location, you'll have endless things to do in Lake Geneva right at your doorstep.
As someone who has visited this family-friendly hotel, I can wholeheartedly recommend it as the perfect place for your next adventure.
Experience the best of Lake Geneva family-friendly hotels with Harbor Shores.
Lake Geneva is the perfect destination for a family getaway and the Holiday Inn Club Vacations at Lake Geneva Resort is one of the best lakefront resorts in Wisconsin.
With a family-friendly atmosphere and a stunning view of the lake, there's something for everyone.
The resort is just a short distance away from the Mountain Top at Grand Geneva Resort and Studio Winery where guests can enjoy a round of golf or a glass of wine.
Kids will love the children's pool in addition to the seasonal outdoor and indoor pools with sun loungers.
For those looking for more adventure, there are activities like horseback riding, volleyball, and basketball.
The 136 rooms with separate sitting areas and air conditioning provide plenty of space for families while cribs are available free of charge.
On the shores of Lake Geneva, Bella Vista Suites offers the perfect escape for anyone looking to indulge in a little relaxation and fun.
With its marina and full-service spa, guests can spend their days kayaking, fishing, or taking a dip in the crystal-clear waters of the lake.
For those traveling with kids, the hotel offers a playground and free cribs, as well as a separate sitting area where families can unwind and spend quality time together.
With 39 rooms that include luxurious amenities like jetted bathtubs, premium bedding, and balconies with breathtaking views, the Bella Vista Suites is the perfect space to unwind and indulge.
And for those looking for a little something extra, the hotel even offers Lake Geneva spa packages that are sure to leave guests feeling relaxed, rejuvenated, and ready to take on the world.
As someone who has stayed plenty of Lake Geneva resorts for families, I can confidently say that this is the ultimate place for anyone looking for a little lakeside luxury at one of the best fishing resorts in Wisconsin.
Delavan Lake Resort is the epitome of a perfect vacation getaway for families. This resort offers a variety of fun-filled activities to keep everyone engaged throughout their stay.
With both a seasonal outdoor pool and indoor pool, the whole family can take a dip in the water no matter what the weather is like.
The arcade and game room offer endless entertainment for kids while the on-site laundry facilities are a huge convenience for busy parents.
Guests who stay here can also enjoy spacious rooms with kitchenettes that include full-sized refrigerators, dishwashers, and microwaves. To make traveling with little ones easier, the resort provides free cribs.
All in all, Delavan Lake Resort is one of the best Lake Geneva resorts for families, and I can't wait to return!
Geneva National Resort is the ideal spot for families looking for Lake Geneva kid-friendly hotels.
With plenty of activities on offer, including a golf course, tennis court, and pool with three slides, everyone can find something fun to do during their stay.
Additionally, there are plenty of activities for children such as Wii bowling tournaments or movie nights!
The spacious rooms offer all the comforts of home with premium bedding, kitchenettes, and microwaves.
Plus, the hotel provides free cribs so you don't have to bring your own. It's the perfect place for families who want to relax and explore the beautiful surroundings of Lake Geneva without missing out on any of the fun.
My family and I had a wonderful time at Geneva National Resort, and I would definitely recommend it to anyone looking for an unforgettable vacation experience.
And if you plan to travel only with your significant other, this resort offers one of the best romantic getaways in Lake Geneva.
My final thoughts on the best Lake Geneva resorts for families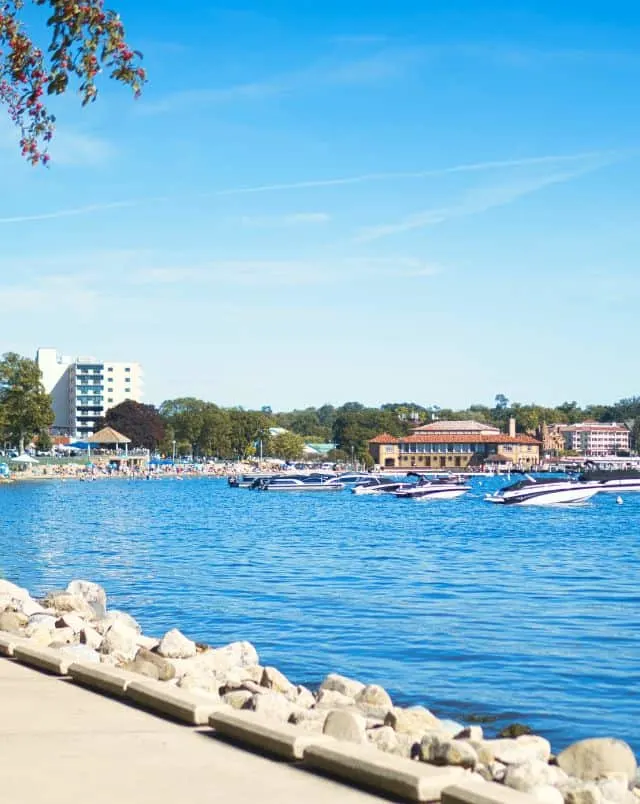 Every family deserves a chance to experience the breathtaking scenery and majestic boating of Lake Geneva, while creating memories that will last a lifetime.
With the world-class resorts located on its shores, it's easy to plan an exciting and entertaining adventure that is tailored exactly to your family's needs.
If you are ready for an unforgettably unique getaway with your loved ones, then take this opportunity and book a stay at Lake Geneva – you will be truly surprised by the natural beauty it holds!
I would encourage you to wait no more and go ahead and start planning your amazing trip today to one of these Lake Geneva resorts for families.
FAQ about the best Lake Geneva resorts for families
What are the best Lake Geneva resorts for couples?
Some of the best Lake Geneva resorts for couples are Grand Geneva Resort & Spa, Abbey Resort, or the Ridge Hotel.
What are the best Lake Geneva hotels?
Some of the best Lake Geneva hotels are Bella Vista Suites Lake Geneva, Harbor Shores on Lake Geneva, or Comfort Suites Lake Geneva.
---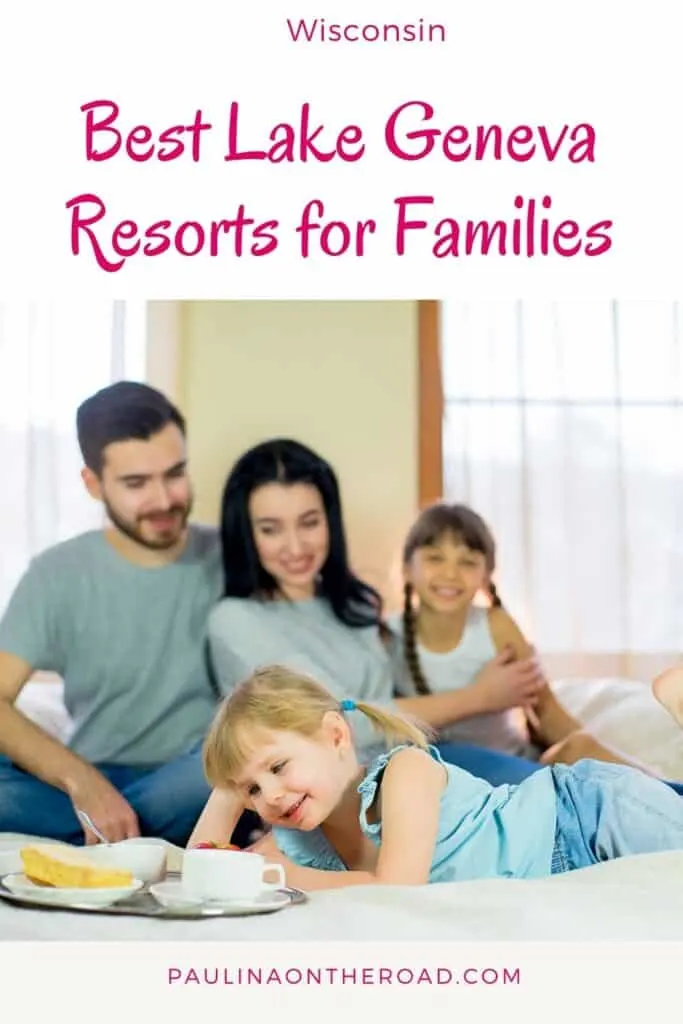 ---
Hola! I am Paulina, a fervent travelette who crossed the Atlantic Ocean by Boat HitchHiking. On my blog, you'll find all the tips to make the most of your holiday. Get ready to enjoy outdoor and sustainable travel like hiking, cycling or sailing. Let's hit the road together!