An extensive guide to help you choose the best Wisconsin lake resorts for families
Ahhh, Wisconsin – home to cheese, beer, and some of the most beautiful lakes in the country!
Are you ready to pack up the family and head out for a fun-filled lake trip?
There are plenty of options in Wisconsin where you can enjoy crystal clear waters, sand beaches, swimming, fishing, and more while reconnecting with your loved ones.
From budget-friendly cabins to luxurious retreats that will make you feel like royalty, these Wisconsin lake resorts for families have something for every type of traveler!
Whether you are looking to get away from it all or just spend some quality time outdoors with your family, there's no doubt that Wisconsin has the perfect destination for a memorable vacation.
Read on to learn more about these fantastic lake resorts and travel Wisconsin for unforgettable memories.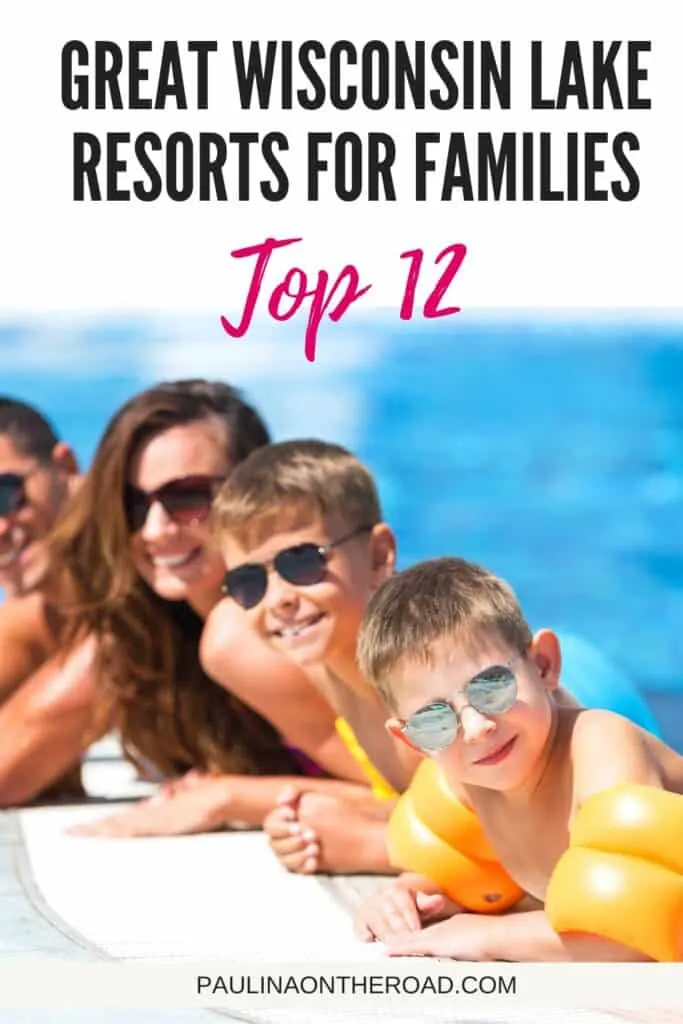 This blog is supported by you, dear reader. If you purchase through a link, I earn a small commission. As an Amazon Affiliate, I earn from qualifying purchases.
Psssst…!!?? You can't get enough of Wisconsin? Have a look at my other posts:
Top Wisconsin Lake Resorts for Families
Blue Harbor Resort & Conference Center in Sheboygan is the perfect getaway for families looking for a fun and relaxing vacation.
With free water park access, a beach bar, and a poolside bar, there is something for everyone. The 54,000-square-foot indoor waterpark is sure to impress with thrilling slides, a lazy river, and even a surf simulator.
Situated right on the beach, guests can also enjoy the beachfront location and dining and take advantage of the best outdoor things to do in Sheboygan.
From my perspective, this resort offers the perfect combination of fun and relaxation for families looking to escape to one of the best Lake Michigan resorts for families.
As someone who loves spending quality time with family, the Abbey Resort in Fontana has got to be one of the best Wisconsin resorts for families.
The resort boasts both indoor and outdoor pools, guaranteeing fun no matter what the weather is like.
It also offers a variety of family activities that everyone can enjoy together, from paddleboarding to mini-golf.
And with live music events happening regularly, there's always something special going on.
Plus, the newly-renovated lake-inspired guestrooms are simply stunning, ensuring a comfortable stay for everyone.
And for those looking for some serious relaxation, the full-service Avani Spa is on-site to cater to all your needs.
But what really sets the Abbey Resort apart is their Immersion Cinema, perfect for keeping the kiddos entertained while you unwind.
Trust me, this resort ticks all the boxes for a memorable family vacation, and if you don't know where to stay in Lake Geneva this is the one.
In my opinion, Lake Lawn Resort in Delavan is one of the best lake resorts in Wisconsin.
The family-friendly resort spans across two miles of Delavan Lake's shoreline and offers a variety of accommodations, from resort rooms to suites and even a stunning lakeside house.
But it's not just a place to stay, there's plenty to do as well, including boat rentals, an arcade game room, supervised children's activities, and other outdoor activities.
For those looking to cool off during the summer heat, Lake Lawn Resort has one indoor and two outdoor swimming pools, 2 hot tubs, and a kiddie pool.
It's the perfect place for a relaxing getaway, a fun-filled family vacation where you can also explore relaxing outdoor things to do in Wisconsin.
Pack your bags for the perfect family-friendly vacation at the Osthoff Resort in Elkhart Lake! This AAA Four Diamond resort offers everything you need for a fun and relaxing getaway.
From the moment you step into your suite, you'll feel right at home with the cozy gas fireplace, convenient coffee maker, and private balcony, ideal for taking in the beautiful views of the lake.
The on-site sports amenities are a blast for the whole family, with activities like tennis, boating, and a kids club.
Don't miss out on live concerts and delicious dining options during your stay, and make sure to take some time to unwind at the luxurious on-site spa.
This might just be one of the best spa resorts in Wisconsin and trust me, the Osthoff Resort is the perfect choice for your next kid-friendly vacation.
Grand Geneva Resort & Spa, located in Lake Geneva, Wisconsin, is the ultimate 4-star family-friendly resort and one of the best pet-friendly resorts in Wisconsin.
Speaking from my own experience, it's easy to see why this resort stands out from other kid-friendly resorts in Wisconsin.
With amenities such as a pet-friendly policy, golf course, nightclub, and poolside bar, there's something for everyone.
And let's not forget the indoor and outdoor pools, complete with sun loungers and pool umbrellas for when you're ready to take a break from all the fun and sun.
You can also take pampering to the next level with a sports massage, hydrotherapy, or a body scrub at the WELL Spa + Salon.
Whether you're looking for Lake Geneva resorts for families or a romantic getaway, Grand Geneva Resort & Spa is the place to be.
The Landing Resort in Egg Harbor, Wisconsin, not only offers picturesque views of the surrounding lake but also family-friendly amenities that cater to guests of all ages.
As someone who loves indulging in the beauty of nature and the best Southern Wisconsin hiking trails, the scenic location of this lake resort in Wisconsin is a major highlight for me.
The resort's suites offer incredible amenities like an indoor pool and a seasonal outdoor pool, which allows families to take a dip in the water regardless of the time of year.
Additionally, there is a terrace, playground, and arcade/game room on-site, perfect for keeping everyone entertained during the stay.
And when you do feel adventurous, make sure to stop by attractions like the Egg Harbor Fun Park and Plum Loco Animal Farm to add even more excitement to your trip.
There's no shortage of lakeside hotels in Wisconsin, but the Heidel House Resort & Spa in Green Lake takes family-friendly amenities to the next level.
As someone who has visited the resort with family, I can attest that there's something for everyone here.
Whether you want to sip on a cool drink at the poolside bar or rent bikes to explore the surrounding area, the suites at Heidel House have got you covered.
One unique feature is the on-site grocery store, where you can stock up on snacks and essentials for your stay.
And if you're traveling with little ones, the children's pool is sure to be a hit. For those rainy days, the indoor pool is always an option, but during the summer months, the seasonal outdoor pool is an unbeatable way to soak up the sun.
All in all, Heidel House Resort & Spa is a top choice for anyone seeking a lakeside getaway in Wisconsin.
If you're looking for the perfect family-friendly getaway, Eagle Waters Resort in Eagle River, Wisconsin should definitely be on your list.
The resort offers a range of cabins, including lake-front, lake-view and wood-view cabins, ensuring you'll find the best family cabins in Wisconsin for your home away from home.
As for amenities, the resort definitely doesn't disappoint.
From an outdoor heated swimming pool and outdoor heated whirlpool to a playground, swim area, docks, shuffleboard, game room, and fire pits, there's something for everyone here.
But that's not all – guests can also benefit from sauna rooms, an exercise facility, tennis courts, and kayaks, canoes and bikes for exploring the beautiful Wisconsin cabin resorts on a lake.
Needless to say, a stay at Eagle Waters Resort is one that you won't forget anytime soon.
Nestled on the shores of Sturgeon Bay, the Bay Shore Inn offers the perfect mix of relaxation and family fun.
From the bay view condo suites with private decks, you can enjoy stunning views of the water while taking advantage of top-notch amenities like the outdoor heated pool and whirlpool.
As a frequent visitor to resorts on the lake in Wisconsin, I was thrilled to find that the Bay Shore Inn has everything a family could want – complimentary kayaks and boats, a bonfire pit, bikes, tennis courts, basketball, a playground, fitness center, and even a game room for rainy days.
And when it's time to unwind, guests can take advantage of the heated indoor and outdoor pool, hot tub, and on-site massage therapist – all in all one of the best resorts in Door County.
And on top of that, Sturgeon Bay resorts like Bay Shore Inn, is perfect if you want a full American experience.
There's no secret I'm a big fan of lakefront resorts in Wisconsin and I can confidently say that Heartwood Resort in Trego is a must-visit for families seeking a fun-filled vacation.
Apart from being one of the best beach resorts in Wisconsin, the resort boasts amazing suites that offer a home-away-from-home experience.
What blew my mind is their exceptional amenities, which include a playground, a fireplace in the lobby, and a 24-hour gym.
Families can also rent bikes, enjoy an outdoor tennis court, or have a barbeque with loved ones. The icing on the cake is the onsite activities like rowing, canoeing, fishing, and kayaking.
Trust me, Wisconsin lake resorts for families like Heartwood Resort, will give you memories that will last a lifetime.
The Cove of Lake Geneva is a wonderful family-friendly resort located near the Riviera Ballroom and the Lake Geneva Cruise Line.
From my perspective, it is one of the best lake resorts in Wisconsin. The resort offers an array of suites that come equipped with fantastic amenities.
Guests can dive into the seasonal outdoor pool or take a dip in the indoor pool which is equipped with cabanas, sun loungers, and pool umbrellas.
Kids can enjoy the children's pool while parents lounge by the poolside bar.
The resort also offers an arcade room, onsite shopping, a cafe, and an onsite restaurant. It is a great place for families to unwind or for couples looking for a romantic getaway.
If you're in the mood for an escape to a family-friendly resort in Wisconsin, Delavan Lake Resort is an excellent option.
With 58 cozy rooms that come with fireplaces, kitchenettes, and balconies, there's something for everyone.
Personally, I love the fact that the suites come with a terrace for enjoying the fresh Wisconsin air.
The arcade room is also a fantastic amenity that kids (and adults) of all ages will appreciate.
If you're traveling with young ones, you'll be happy to know that the resort has a seasonal outdoor pool as well as an indoor pool, so you can enjoy a refreshing swim year-round.
The on-site cafe and restaurant make dining options a breeze, but the poolside bar is the perfect spot to unwind and catch up with loved ones.
Plus, with shopping on-site, you won't have to venture far for any forgotten necessities. And who wouldn't appreciate the ease of laundry facilities on vacation?
Delavan Lake Resort should absolutely be on your list of must-visit Wisconsin lake resorts.
My final thoughts on the best Wisconsin lake resorts for families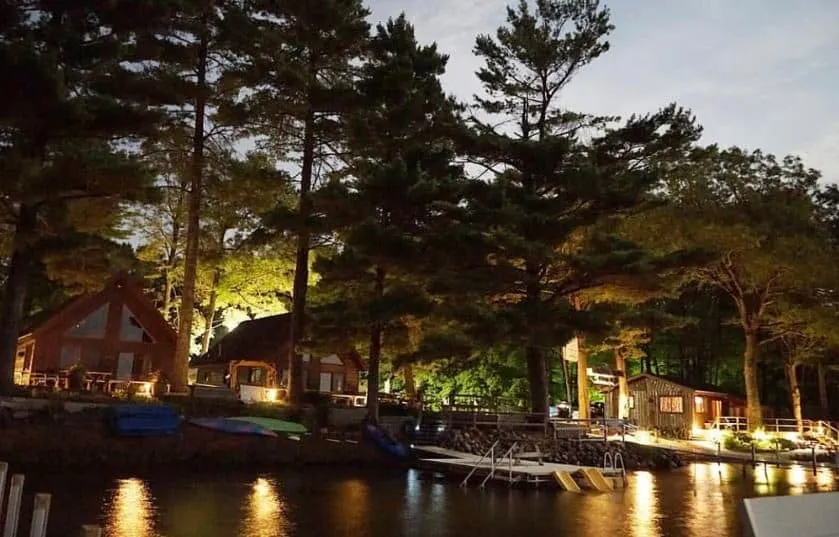 Wisconsin lake resorts offer something special for everyone: stunning lake views, family-friendly activities, and endless opportunities for fun.
Whether you're looking for a spot to relax or adventures on the lake, there's something special waiting for you at these wonderful resorts.
Put your worries aside and get ready to make amazing memories with your loved ones at one of these spectacular Wisconsin lake resorts.
So what are you waiting for? Start planning your next dream vacation today!
FAQ about the best Wisconsin lake resorts for families
What are the best family resorts in Wisconsin Dells?
Some of the best family resorts in Wisconsin Dells are Delton Grand Resort & Spa, Cedar Lodge & Settlement, or Kalahari Resorts & Conventions.
What are the best family cabins in Wisconsin?
Some of the best family cabins in Wisconsin are Nature Lover's Paradise, Lafayette, Rustic Log Home, Green County, or Dells TimberLand Camping Resort.
What are the best all-inclusive family resorts in Wisconsin?
Some of the best all-inclusive family resorts in Wisconsin are Kalahari Resorts & Conventions, Chula Vista Resort, or Trademark Collection by Wyndham.
---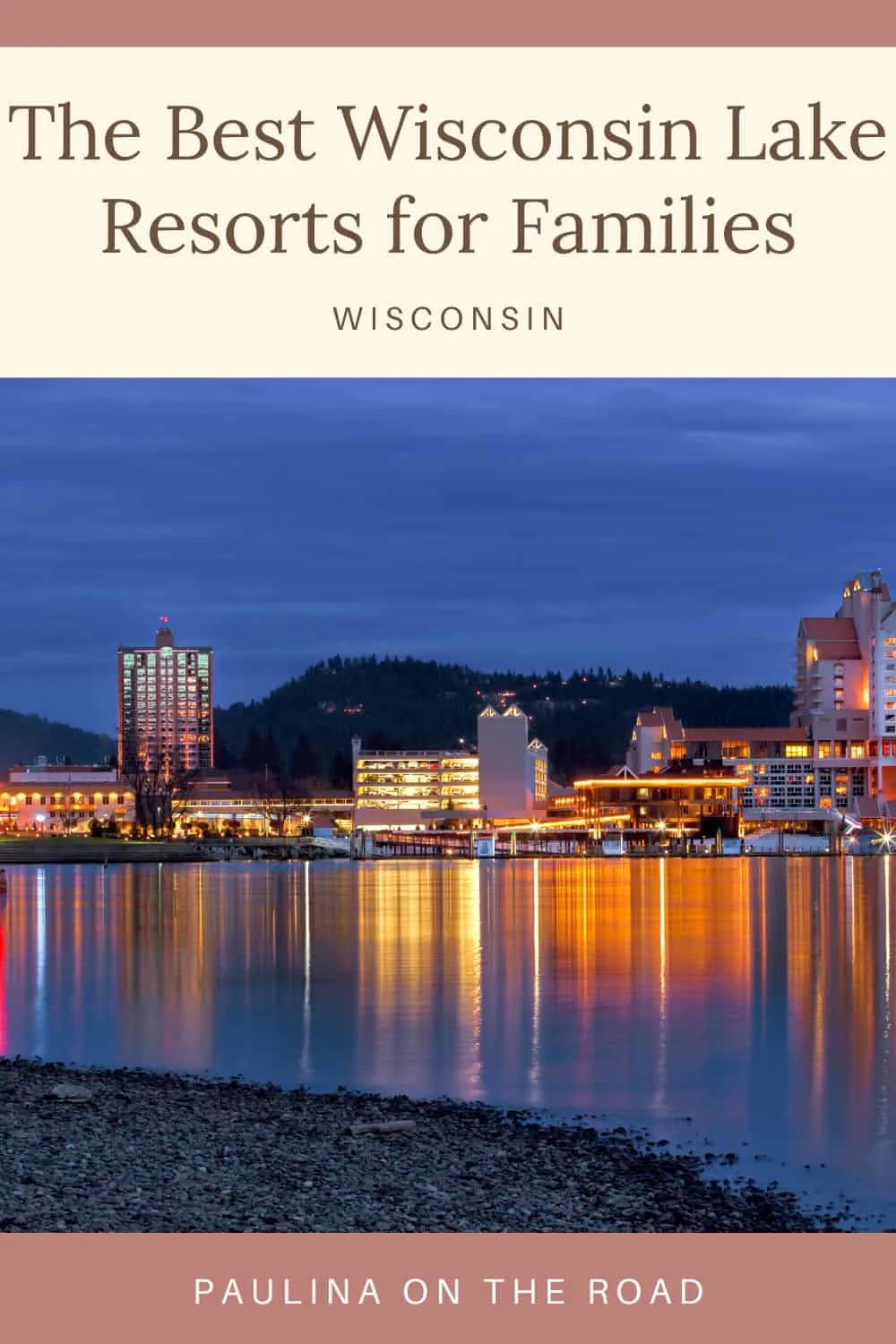 ---
Hola! I am Paulina, a fervent travelette who crossed the Atlantic Ocean by Boat HitchHiking. On my blog, you'll find all the tips to make the most of your holiday. Get ready to enjoy outdoor and sustainable travel like hiking, cycling or sailing. Let's hit the road together!