A guide to help you choose the best family cabins in Wisconsin for your loved ones
Welcome to my blog post dedicated to the best family cabins in Wisconsin.
If you're planning a memorable family vacation and seeking the perfect accommodation for your loved ones, look no further.
Wisconsin offers a wealth of family-friendly cabins nestled in picturesque landscapes, where you can create lasting memories surrounded by nature's beauty.
From cozy campgrounds to luxurious resorts, I have curated a list of the top family cabins that cater to all ages and interests.
Get ready for a fantastic adventure as I explore the best family cabins Wisconsin has to offer.
"Paulina on the Road" is supported by you, dear reader. As you buy through my links, I earn a small commission. As an Amazon Affiliate, I earn from qualifying purchases. Thank you for your support
Psssst…!!?? You can't get enough of Wisconsin? Have a look at my other posts:
Best Family Cabins in Wisconsin
Looking for fun Wisconsin vacation ideas for your entire family? The Nature Lover's Paradise in Lafayette, Wisconsin might be just the place.
The cozy log cabin offers the perfect getaway surrounded by lush nature sure to ignite your sense of discovery.
Not only do they offer a family-friendly cabin, but they also have a playground and toys to keep young ones entertained for hours.
If exploring the great outdoors is more your style, I would suggest trying kayaking through the nearby waterways.
At Nature Lover's Paradise, the goal is to provide an engaging experience that will create lasting memories for the whole family.
Go on and see why this cabin is the perfect place to stay in Wisconsin.
Located in the picturesque town of Green County, this family log cabin is a rustic retreat that blends natural beauty with modern amenities.
Surrounded by forests and rolling hills, this rusting log home offered me and my family a unique experience that I won't easily forget.
From the cozy fire pit to the Sawmill stream that flows through the front yard, the cabin is designed to be a fun and engaging getaway for families looking to have a peaceful time.
With plenty of room for everyone and a host of exciting activities, it's no wonder that family cabin rentals in Wisconsin are the perfect destination for those seeking a true home away from home experience.
If you're looking for the best family cabins in Wisconsin with plenty of outdoor recreational opportunities, then I recommend you take a look at Dells TimberLand.
The cozy cabins provide a comfortable retreat for all ages, and the resort's emphasis on outdoor activities means you'll never run out of things to do.
Whether you want to swim in the pool, play mini golf, or go hiking in the woods, there are many fun things to do in Wisconsin Dells that you can take part in.
And, if you're looking to explore beyond the resort, you'll be pleased to know that Dells TimberLand is conveniently located near the attractions of Wisconsin Dells.
With so much to offer, it's no wonder Dells TimberLand Camping Resort is one of the top cabin resorts in Wisconsin.
In the heart of Wisconsin Dells lies Yogi Bear's Jellystone Park Camp-Resort, a haven for families seeking a cozy escape from city life.
Guests can choose from a range of log cabin rentals in Wisconsin, each equipped with modern amenities for a comfortable stay.
I think the real draw of this resort lies in its incredible outdoor recreational opportunities – from swimming pools and mini-golf, to hiking trails and playgrounds, there's something for everyone to enjoy.
And if you're looking to explore the nearby Wisconsin Dells attractions, you're in luck – the resort is just a short drive away from the most popular tourist spots.
With all this and more, Yogi Bear's Park is an ideal destination for a fun-filled family vacation and one of the best places to stay in Wisconsin Dells.
Welcome to your cozy lakefront cabin in beautiful Barron County, Wisconsin.
Hidden away in the heart of nature, the family-friendly cabin provides the perfect opportunity to unplug, unwind, and create lasting memories.
I loved I could Immerse myself in the stunning natural surroundings, taking in the fresh air, sounds of the forest, and panoramic views of the lake.
There's a wide range of outdoor recreational options available, including swimming, boating, fishing, and hiking.
And when it's time to relax, the cabin offers a comfortable retreat, complete with all the amenities and a family-oriented atmosphere that ensures a stress-free vacation for all.
Experience the beauty and warmth of one of the most beautiful and cozy cabins in Wisconsin.
Escape from your busy life and experience a peaceful retreat at the Lakefront Cabin in Eagle River, Wisconsin.
This rustic cabin is situated right on the edge of Dad's Lake, which offered my family an incredibly tranquil and scenic stay.
With access to the lake right from your doorstep, kayaking and swimming are just mere steps away.
The cabin boasts spacious accommodations, perfect for families looking to bond and relax in a cozy environment.
Enjoy everything that Lakefront Cabins in Wisconsin has to offer, book your stay today.
If you're seeking a relaxing escape, look no further than this comfortable Lake Nebagamon cabin.
This cozy wooden retreat in Douglas County offers everything you need for a memorable holiday.
With only a short 15-minute walk to Lake Nebagamon, water activities, and sun-soaked relaxation are just a stone's throw away.
The cabin features on-site amenities such as a welcoming playground, which in my opinion set a perfect family-friendly atmosphere.
Spend your days swimming and fishing out on the lake, or take a short walk into town to explore the charming local shops and restaurants.
This cabin getaway in Wisconsin is the perfect place to unwind and create lasting memories with loved ones.
The Wilderness Resort in Wisconsin Dells is a large resort that offers a variety of accommodations and amenities to satisfy any family's needs.
With family cabins and access to both indoor and outdoor water parks, there was plenty to do for my family.
Kids can also enjoy the on-site arcade and adventure parks, with activities like mini golf and go-karts.
Don't fret about the weather either; the indoor water park means that fun can be had rain or shine.
You can either rent a cabin in Wisconsin for a weekend getaway or stay for a whole week of family fun.
The Wilderness Resort also has the best waterparks in Wisconsin Dells so the fun is guaranteed.
One place that can offer everything you need for a great vacation with the family is Mt.Olympus Resorts in Wisconsin.
With a wide range of accommodations, including family cabins with modern and comfortable designs, my family was more than happy here.
You'll have access to not one, but two water parks – an indoor park for year-round fun and an outdoor park for summer days.
But that's not all – there's also an arcade and adventure parks to keep everyone entertained.
With so many amenities, it's easy to see why families love staying at Mt. Olympus Resorts. Book your next trip today.
Welcome to Red Cedar Lake Narrow Lodge, your go-to destination for cabin rentals in Wisconsin on a lake.
The cabins offer a spacious and family-friendly atmosphere, perfect for creating memories that will last a lifetime.
The fishing pontoons are perfect for casting a line, while access to Balsam Lake and Hemlock Lake offers even more opportunities to get out on the water.
If you're visiting in the winter, like I was, their snowmobile and ATV trails provided us with endless fun in the snow.
And when it's time to rest, the spacious accommodations ensure that everyone in the family has enough space to relax and unwind.
If you're looking for a family getaway spot in Wisconsin, you can't go wrong with Christmas Mountain Village.
This resort offers rental cabins in Wisconsin that are perfect for families of all sizes, and there is no shortage of outdoor activities for the entire family.
From playing basketball or billiards to going on a peaceful canoe or kayak ride, there was always something for me and my loved ones to do.
And when you need a break from all the action, you can hang out at one of the pools or hit the links at the nearby golf course.
Plus, with all the family-oriented activities available, you're sure to have a great time together.
And don't forget about the proximity to Wisconsin Dells attractions – there's no shortage of fun things to do in the area.
Escape to nature's beauty at Beechwood Cottage in Sister Bay, one of the best cabins in Door County.
These family-friendly cabins provide the perfect state park setting for a fun and relaxing vacation.
Spend your days exploring hiking trails, picnicking areas, and go to some of the best beaches in Wisconsin all around you.
I enjoyed discovering the natural beauty of Wisconsin with my family and the accommodation was on point.
With plenty of amenities to keep the whole family entertained, Beechwood Cottage is a must-stay on your list of Wisconsin cabins for rent.
The Tamarack Resort is located near Mirror Lake State Park in Wisconsin, and it offers family cabins that will make your stay feel just like home.
On top of that, you'll have the opportunity to explore the outdoors with endless recreational activities such as hiking, swimming, fishing, and boating.
And if your family is still craving more, Tamarack Resort offers a variety of amenities including an indoor pool, hot tub, and fire pit for making s'mores under the stars.
With its family-friendly atmosphere and proximity to attractions like Wisconsin Dells, in my opinion, renting a cabin in Wisconsin on the lake has never been easier or more enjoyable.
Welcome to the best secluded cabin in Wisconsin. This newly renovated waterfront home in Rowleys Bay is perfect for families looking for a peaceful retreat.
Overlooking the stunning Lake Michigan, you'll be able to relax and take in the beauty of your surroundings.
With plenty of outdoor activities in Wisconsin, from swimming to fishing, I'm sure you'll never be bored at this waterfront cabin.
Plus, the house amenities such as Ping Pong tables, kayaks or canoes, and fishing ponds are sure to keep everyone happy.
Escape to a home away from home at Wolf River Cabins in Fremont, Wisconsin. The cozy and family-friendly cabins are perfect for a weekend retreat or an extended stay.
Located just overlooking the Wolf River, you'll be surrounded by breathtaking views of nature.
Feel free to explore nature with a variety of activities right at your doorstep. Take advantage of the fishing and boating opportunities, play a round of golf, or go on a hike or bike ride.
With so many outdoor activities to choose from, I think you'll and your family will enjoy your time together to the fullest.
Go on and enjoy the peaceful serenity of Wisconsin at Wolf River Cabins, your perfect vacation spot.
Conclusion on the best family cabins in Wisconsin
In conclusion, Wisconsin is an amazing destination for families who are looking to make memories that will last a lifetime.
With its stunning natural beauty and a ton of exciting attractions, the state offers something for everyone.
Not to mention the fact that you can choose from some of the best family cabins in Wisconsin to turn your vacation into an unforgettable experience.
No matter where you stay, I'm positive you'll find activities both indoors and outdoors that your whole family can enjoy.
So why not take the plunge this year? Start planning your family vacation to Wisconsin today and see what it has in store.
FAQ about best family cabins in Wisconsin
---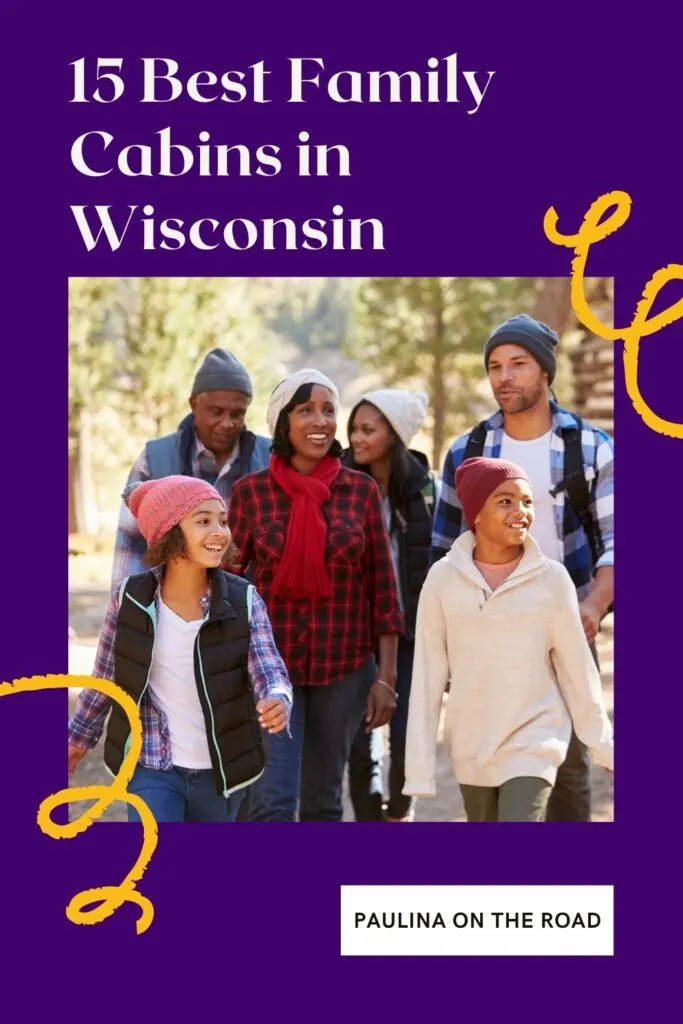 ---