A guide to great beach resorts in Wisconsin for that perfect vacation
Wisconsin's scenic beach resorts are the ideal getaway, whether you're trying to get away from the daily grind or are organizing a special trip with family and friends.
With stunning natural beauty and plenty of activities to keep everyone entertained, these 12 beach resorts in Wisconsin promise a relaxing getaway that'll leave you feeling rejuvenated.
From sprawling lakeside lodges to intimate cabin-style dwellings tucked away in the woods, each destination offers something unique for all types of travelers.
Pack your bags and travel Wisconsin for an unforgettable adventure at some of the most idyllic beach resorts!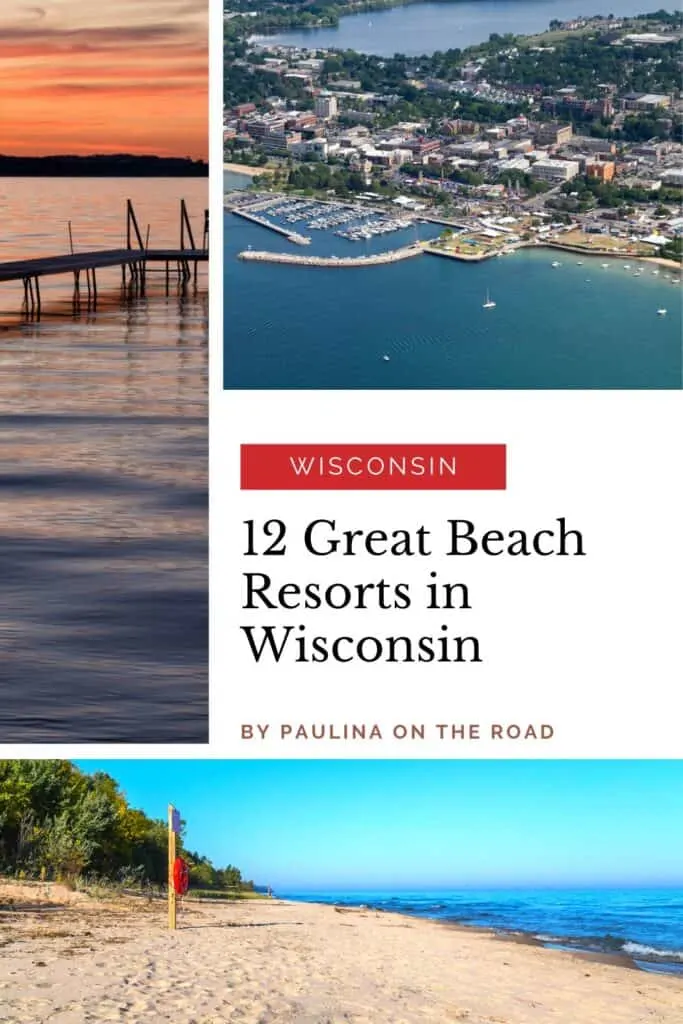 This blog is supported by you, dear reader. If you purchase through a link, I earn a small commission. As an Amazon Affiliate, I earn from qualifying purchases.
Pssst…!!?? You can't get enough of Wisconsin? Have a look at my other posts:
Top Beach Resorts in Wisconsin
I have been to many resorts in Wisconsin, but the Osthoff Resort in Elkhart Lake really stands out as one of the best resorts in Wisconsin.
This beautiful resort has so much to offer, including a seasonal outdoor pool and an indoor pool, plus amazing spa services like sauna, massage, and hot tub.
There's even a bar, gym, and business center as well as ice skating! And if you're looking for outdoor adventure, you'll love the proximity to Lake Michigan and Kettle Moraine State Forest.
If you travel with kids, the Lake Michigan resorts for families await you with their awesome offers, like the Osthoff Resort.
The Osthoff Resort is definitely worth a visit if you want to experience one of the best resorts on Lake Michigan in Wisconsin.
Let me tell you about one of the coolest beach resorts in Wisconsin Dells – Chula Vista.
Not only does this place have 18 holes of golf and a driving range, but they also offer golf lessons and a golf clubhouse for those who need to perfect their swing.
When you're not out on the green, you can cool off at the seasonal outdoor pool, or indoor pool, or take a relaxing trip around the lazy river.
With a waterslide, cabanas, and free water park access, how could you not have a good time? Chula Vista has plenty of amenities to keep everyone entertained, including ziplining, volleyball, and ecotours.
And let's not forget about the amazing food options with 5 restaurants and a poolside bar. End your day with a massage at the spa or a drink on the terrace.
With 620 rooms that have laptop-friendly workspaces and air conditioning, Chula Vista has one of the best waterparks in Wisconsin Dells.
When I think about lakefront resorts in Wisconsin, Lakewoods is the first place that comes to mind.
This beachfront resort in Wisconsin has everything you need for a fun and memorable time. With a marina and a terrace for taking in stunning views, you can enjoy rowing and fishing right from the resort.
But that's not all – at Lakewoods Resort there's also a 24-hour gym and a wide range of activities like golfing, basketball, snowmobiling, and sledding to keep you entertained.
And when you need a break from the action, you can cool off in the seasonal outdoor pool or indoor pool, play a game of tennis on the outdoor court, or take advantage of the roundtrip airport shuttle.
With 95 rooms that come with comfortable amenities, you'll never want to leave this paradise on the lake.
As someone who loves beachfront resorts in Wisconsin, I think the VUE Boutique Hotel & Boathouse near Noah's Ark Waterpark has it all.
From the terrace and garden to the laundry facilities, this resort truly has everything you need.
Whether you want to relax in the sauna or hot tub or have some fun on the white sand beach with provided sun loungers and water skiing, there's something for everyone.
The seasonal outdoor pool and indoor pool also offer free cabanas and sun loungers to soak up the sun.
And if you get hungry, the onsite fine-dining restaurant, VUE, has delicious options to keep you satisfied.
With hiking, biking, motorboating, and fishing all available onsite, you'll never run out of things to do.
And at the end of the day, you can retreat to one of the 56 cozy rooms which have premium bedding and air conditioning for your ultimate comfort.
Okay, I might be biased as a beach-loving person, but the Aloha Beach Resort in Wisconsin Dells sounds like an absolute dream.
I mean, where do I even start? First of all, there's a firepit. I can just picture myself sitting around it, roasting marshmallows and gazing out at the nearby playground and garden.
Plus, a barbecue and picnic area for all those summertime cookouts.
But wait, there's more – a seasonal outdoor pool, an indoor pool, a children's pool, and sun loungers to soak up that Vitamin D.
Need to cool off from the heat of the day? Head inside to the arcade/game room or take a quick trip to the nearby Kalahari Indoor Waterpark.
Suffice to say, I'm ready (and a little jealous) of anyone who gets to experience Aloha Beach Resort firsthand.
From my perspective, the Abbey Resort and Avani Spa is the ideal spot for a vacation in Wisconsin.
This beachfront resort boasts plenty of activities to keep guests entertained throughout their stay at one of the best fishing resorts in Wisconsin.
A marina allows for easy access to fishing and boating opportunities, while beach volleyball is available for those who prefer a more active experience.
Visitors can enjoy beachfront dining at the resort's two restaurants or sip a cocktail on the terrace.
Two restaurants by the pool are perfect for a quick bite in between dips in the indoor pool with a waterslide, free cabanas, and sun loungers.
The health club is the spot for aerobics, yoga, hiking, biking, beach yoga, and ice skating.
The resort's 334 rooms come equipped with premium bedding, laptop-compatible safes, air conditioning, and balconies or patios.
All these features and the shopping on-site make the Abbey Resort and Avani Spa one of the top Wisconsin waterfront resorts to visit if Lake Geneva resorts are on your bucket list.
I had the most amazing beach vacation in Wisconsin at Harbor Shores on Lake Geneva. The resort is situated right on the lake and offers breathtaking views.
Not only did I get to soak up some sun on the beach, but I also had access to an indoor and outdoor pool.
When I wasn't lounging poolside, I was indulging in delicious meals at the on-site restaurant or sipping a cocktail at the bar.
And the best part? The gym and business center were also available for use, making it easy to stay productive while on vacation.
The 108 rooms are cozy and inviting with fireplaces and premium bedding. The resort has free parking so I didn't have to worry about any extra expenses.
If I wanted to venture out, there were plenty of cultural things to do in Lake Geneva like the Geneva Lake Museum and the Dancing Horse Theatre.
As an avid traveler, I've visited some of the best beach resorts in Wisconsin, and Three Bears Resort definitely exceeded my expectations.
Tucked away in a rural location, the private beach offered a serene escape from the hustle and bustle of city life.
Guests had the choice between the seasonal outdoor pool or indoor pool, both complete with a lazy river, waterslide, and cabanas.
The poolside bar was the perfect spot to grab a drink and enjoy the sun. Kids were entertained for hours at the playground and arcade room, while adults relaxed in one of the two hot tubs.
And for those who wanted to explore beyond the resort, Butts Park and Wazee Lake Recreation Area were just a short drive away.
Three Bears Resort is a must-visit for anyone seeking indoor water parks in Wisconsin.
If you're looking for a beachfront resort that offers a wide variety of activities, look no further than Lake Lawn Resort.
From motor boating to water skiing to kayaking and fishing, the options for water-based fun are limitless.
But, if you're in need of some relaxation, make sure to visit Calladora Spa. Choose from hydrotherapy, a body scrub, or massages to truly unwind.
For those who prefer land-based activities, the resort also boasts 18 holes of golf, a marina, and a poolside bar.
And, when it's time to refuel, there are two restaurants on the property, both with poolside locations.
Speaking of pools, the seasonal outdoor and indoor options are perfect for a dip. Grab a sun lounger and a pool umbrella and spend the day soaking up the sun.
It's no wonder Lake Lawn Resort has been listed as one of the best spa resorts in Wisconsin.
The Cove of Lake Geneva, a family-friendly choice that checks all the appropriate boxes, is a favorite among Wisconsin lakeside resorts.
With its prime location near the beach and in a shopping district, you'll be spoiled at one of the best Lake Geneva resorts for families with lots of activities.
The seasonal outdoor pool and indoor pool are perfect for splashing around in, and the addition of cabanas, sun loungers, and pool umbrellas make for a truly luxurious experience.
The 222 rooms are decorated and furnished to offer the ultimate in comfort, with features such as fireplaces and premium bedding.
When you're hungry, head to the onsite restaurant to savor American cuisine or grab a drink at the poolside bar.
Whether you're a family with young children or a couple seeking a where to stay in Lake Geneva, the Cove of Lake Geneva is sure to please.
The Natura Treescape Resort is hands down one of the best beach resorts in Wisconsin. Located right on a private beach, this resort offers everything from a terrace and a firepit to a playground for your little ones.
And let's not forget about the pools! With two indoor pools and a seasonal outdoor pool, you'll have plenty of opportunities to bask in the sun on one of their comfy sun loungers.
Feeling hungry? Head over to Hot Rocks, the onsite family restaurant, for some delicious eats. Looking for some relaxation?
The resort's sauna and hot tubs will take care of that. And for those who crave adventure, Natura Treescape offers ecotours, hiking and biking trails, and even grilling stations.
The cherry on top? This resort is located just a hop, skip, and a jump away from both Timbavati Wildlife Park and Kalahari Indoor Waterpark.
With accommodation options like bungalows, tree houses, cabins, or standard hotel rooms, this might just be one of the best lake resorts in Wisconsin.
I had the most amazing time at Delton Grand Resort & Spa, one of the best lake resorts in Wisconsin and not to mention, it's a top choice when it comes to Wisconsin Dells resorts for adults.
The beachfront location near Noah's Ark Waterpark means that you're never far from the excitement, while the seasonal outdoor pool and indoor pool provide the perfect relaxation.
And with sun loungers to soak up the sun, you can truly take in the beautiful surroundings.
Plus, having free parking and a free casino shuttle allows for easy travel. The firepit and laundry facilities were also great additions.
The 55 rooms were spacious, and I loved having a separate sitting area to unwind in. The air conditioning was much appreciated, especially during the hotter days.
I made great use of the mini-fridges, dishwashers, and microwaves, too. This resort is also one of the best spa resorts in Wisconsin Dells.
Overall, I would highly recommend Delton Grand Resort & Spa to anyone looking for Wisconsin lake resorts for families for fun or relaxation.
My conclusion on the best beach resorts in Wisconsin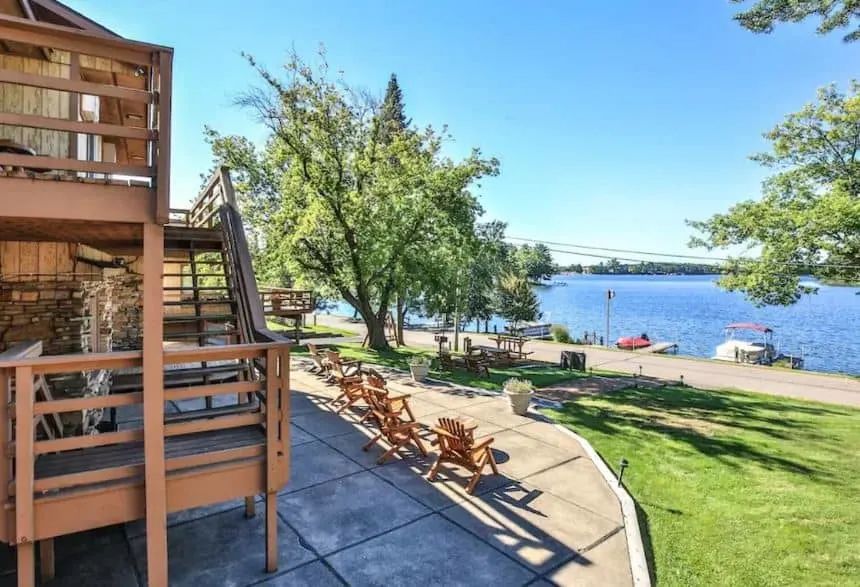 As you can see, Wisconsin has a range of beach options to offer any type of traveler.
Whether you're looking for an adrenaline-filled water adventure, the chill vibes of a laid-back getaway, or spending time in a cozy beach town with all the right amenities, Wisconsin has something to fit your needs.
Taking some time to appreciate nature and breathe in fresh air can be just what we all need to finish off our summer season!
With its scenic sunsets, crystal blue waters, and stunning shoreline views, spending some time around Lake Michigan or Lake Geneva will surely become one of your all-time favorite memories.
So what are you waiting for? It's time to book that dream beach vacation and treat yourself to a well-deserved break at Wisconsin's beautiful beaches!
FAQ about the best beach resorts in Wisconsin
What are the best lake resorts in Wisconsin?
Some of the best Beach resorts in Wisconsin are Grand Geneva Resort & Spa, Delton Grand Resort & Spa, or Landmark Resort.
What are the best Wisconsin beach house rentals?
Some of the best Wisconsin beach house rentals are Lakeside Cottage, Seagull Beach Guest House, or the Rustic Personal Retreat Cabin.
What are the best Wisconsin Lake resorts for families?
Some of the best Wisconsin Lake resorts for families are Eagle Harbor Inn, Cedar Lodge & Settlement, or Timber Ridge Lodge.
---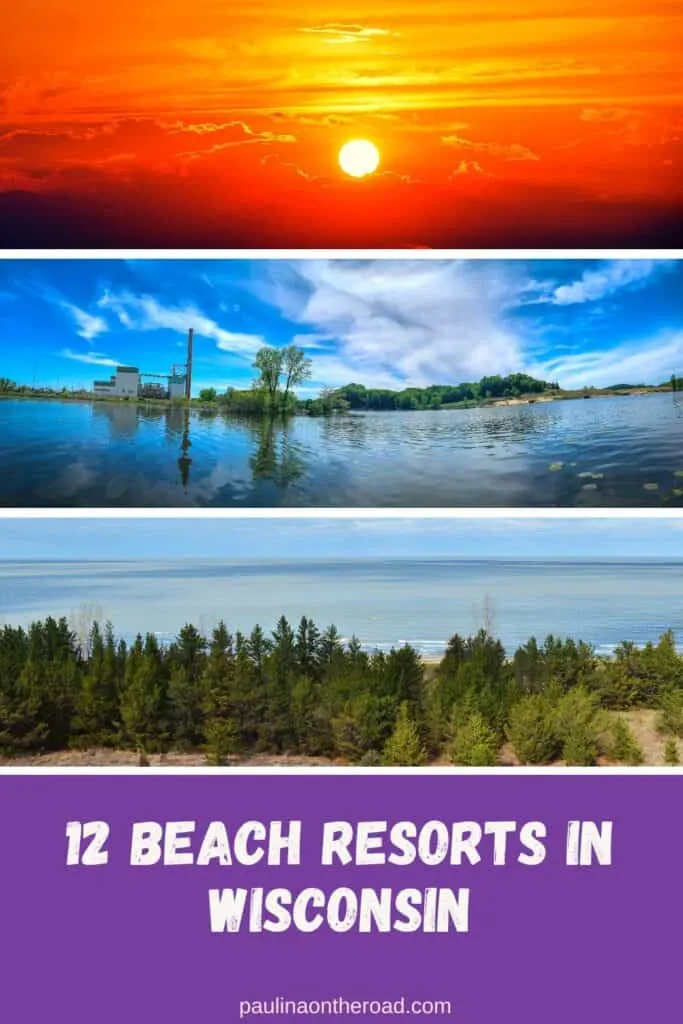 ---
Hola! I am Paulina, a fervent travelette who crossed the Atlantic Ocean by Boat HitchHiking. On my blog, you'll find all the tips to make the most of your holiday. Get ready to enjoy outdoor and sustainable travel like hiking, cycling or sailing. Let's hit the road together!