An easy-to-follow guide to the best Lake Geneva resorts in Wisconsin
Are you planning a relaxing getaway to Lake Geneva, Wisconsin? With its serene beauty and plethora of outdoor activities like kayaking, fishing, swimming, and more, it's the perfect spot to unwind.
To help you make your decision easier I've compiled my top picks for the best Lake Geneva resorts!
From classic style escapes providing unparalleled views on majestic Geneva Lake to intimate oases complete with fireplace suites – each promises guests an unforgettable experience.
Read on as I give a rundown of some incredible places where you'll have lasting memories long after your vacation is over! Travel Wisconsin and start your holiday.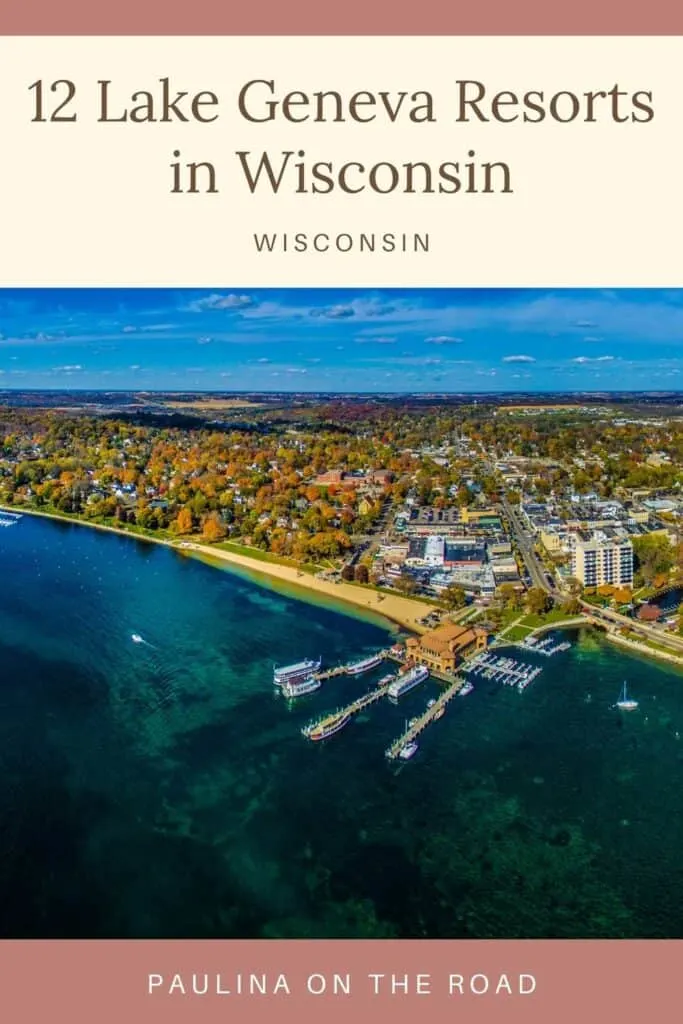 This blog is supported by you, dear reader. If you purchase through a link, I earn a small commission. As an Amazon Affiliate, I earn from qualifying purchases.
Pssst…!!?? You can't get enough of lake resorts in Wisconsin? Have a look at my other posts:
Top Lake Geneva Resorts
As I step into the Grand Geneva Resort & Spa, I am immediately taken in by the stunning surroundings of Lake Geneva.
The resort itself is a marvel, with breathtaking Georgian-style architecture nestled amidst the rolling hills of southeastern Wisconsin.
The Grand Geneva offers the best romantic getaways in Lake Geneva, from outdoor activities like hiking and skiing to luxurious indoor amenities like relaxing at the spa.
There is no shortage of dining options, with the resort boasting 15 different restaurants and bars to choose from.
The luxurious accommodations cater to any needs, offering everything from cozy guest rooms to spacious villas with full kitchens and living rooms.
With so much to see and do, I can't wait to plan my next visit to the Grand Geneva Resort & Spa.
As I sit on the shore of Lake Geneva, I am grateful for the peaceful escape that the Abbey Resort & Avani Spa provides.
Luxurious beach resorts in Wisconsin like the Abbey boasts stunning views of the lake, creating a serene and picturesque setting that immediately offers a sense of calm.
The Avani Spa adds to the resort's oasis-like quality, providing a range of rejuvenating treatments that promise to leave you feeling refreshed and invigorated.
For those in search of places to stay in Lake Geneva that offer both luxury and tranquility, look no further than the Abbey Resort & Avani Spa.
For anyone looking for a perfect getaway, I highly recommend Lake Lawn Resort. It's an expansive, lakeside retreat located in one of the most sought-after vacation destinations in the US, Lake Geneva.
This resort is an ideal location for families, couples, and groups. With its wide selection of leisure activities such as boating, fishing, and water sports, guests can enjoy an array of outdoor entertainment options.
In addition, the resort's family-friendly atmosphere makes it a great destination for parents traveling with children.
They offer various accommodations to suit guests' needs, from suites and guest rooms to Lakefront villas.
You'll never run out of things to do in Lake Geneva, and Lake Lawn Resort is the perfect place to stay while exploring the area.
If you're looking for where to stay in Lake Geneva, look no further than the Geneva Inn.
This boutique luxury resort truly feels like a home away from home, thanks to its intimate ambiance and personalized service.
From the moment you arrive, you'll be swept up in the stunning lakefront views and expertly crafted gourmet dining experiences.
As someone who has stayed at the Geneva Inn multiple times, I can attest to the exceptional quality of service that you'll receive during your stay. Trust me, you won't want to leave this gem of a resort.
I recently discovered the Ridge Hotel on my trip to Lake Geneva, and let me tell you, it's one of the best pet-friendly hotels in Lake Geneva I've ever stayed at!
The chic accommodations and contemporary design make for a truly luxurious experience. And with its proximity to popular attractions and outdoor adventures, there's never a dull moment.
But what really sets this hotel apart is its commitment to making sure your furry friends feel just as welcome as you do.
It's definitely one of the best resorts in Lake Geneva and I can't wait to go back!
Writing this, I can't help but feel nostalgic for my family's last stay at Timber Ridge Lodge & Waterpark.
This exciting Lake Geneva Beach Resort located in the heart of Wisconsin lake resorts for families has everything you need for an unforgettable family vacation.
What sets this resort apart is its expansive indoor waterpark, featuring over 50,000 square feet of interactive fun for all ages, from daring water slides to a lazy river.
But that's not all; the resort offers a variety of entertainment options for kids and families, including arcade games, mini-golf, and a craft room.
When it's time to rest, you can retreat to one of the cozy and spacious suites, perfect for extended stays. Trust me, you'll also rate it as one of the best Lake Geneva resorts for families as well.
Situated in the charming downtown area of Lake Geneva, the Maxwell Mansion is one of the best pet-friendly hotels in the area.
From the moment you step foot into this charming boutique hotel, you'll feel like you've been transported to another era.
The lavish rooms are each uniquely designed with their own character, from the grand fireplace in the Maxwell Suite to the cozy alcove in the Professor's Quarters.
As I wandered through the halls, I couldn't help but admire the intricate details and stylish decor that gave each room its own special touch.
And with its prime location just steps away from local attractions, I couldn't imagine a more perfect place to call home during my visit to Lake Geneva.
Maxwell Mansion is a hidden gem amongst the many places to stay in Lake Geneva, and if you're traveling there during winter, know that you can find plenty of things to do in Lake Geneva in winter.
Walking into the Baker House is like stepping back in time to a more indulgent era.
The opulent lakeside mansion, once a private residence, has been transformed into a luxurious boutique hotel that has become the shining jewel in the crown of Lake Geneva resorts for couples.
The Victorian-inspired decor in each suite reveals the attention to detail that has gone into creating a truly indulgent experience for guests. But it's not just the lavish surroundings that make The Baker House so special.
The resort's restaurant and bar, with its stunning lake views, is the perfect place to relax and unwind after a day of exploring the area.
Personally, I can't think of anything better than sipping a cocktail and watching the sunset over Lake Geneva from this incredible location.
If you're looking for an unforgettable escape to one of the most idyllic lakefront resorts in Wisconsin, the Baker House should be at the top of your list.
Whenever I'm looking for the best lake resorts in Wisconsin, I always turn to the charming Lake Geneva hotels and resorts.
I stumbled upon Harbor Shores during my last trip and was pleased to find a family-friendly resort right by the stunning lake.
One of the highlights of my stay was dining at Gino's East Restaurant, where I indulged in some mouthwatering Italian cuisine.
During my downtime, I made good use of the indoor and outdoor pools, which were both equally inviting.
And when the day was done, I retreated back to my cozy room complete with a fireplace and premium bedding. I can't wait to go back to Harbor Shores on Lake Geneva!
The Cove of Lake Geneva never ceases to wow me when I'm looking for Southern Wisconsin resorts.
The property offers so many great amenities for guests to enjoy, including both an outdoor and indoor pool complete with cabanas, sun loungers, and pool umbrellas.
Personally, I love grabbing a bite to eat at Sprecher's restaurant on-site.
With a menu full of delicious American cuisine, it's the perfect spot to fuel up a day of fun in the sun.
And if you're looking to cool off with a refreshing cocktail, the poolside bar and cafe has you covered. Trust me, a stay at this Lake Geneva beach resort is the ultimate way to unwind and recharge.
The Holiday Inn Club Vacations resort, located in the center of Lake Geneva, is an enchanting retreat for guests seeking a peaceful break.
With 136 rooms adorned with cozy comforts and modern amenities, this resort offers the perfect balance of relaxation and adventure.
As you walk through the doors, you're greeted by the warm ambiance and the smiles of the friendly staff, who seamlessly cater to your every need.
The 18-hole golf course beckons you to grab your clubs and tee off amidst the lush greens, while the four onsite restaurants, serving delectable Italian cuisine and offering al fresco dining, await your indulgence.
The seasonal outdoor pool and indoor pool are perfect for a refreshing dip, with sun loungers scattered around for ultimate relaxation. And when you're in the mood for some pampering, head to the spa and terrace to rejuvenate your mind, body, and soul.
Don't forget to check out the gym that offers yoga classes – an invigorating way to start your day.
The Holiday Inn Lake Geneva is an experience like no other and you can go ahead and experience one of the best spa resorts in Wisconsin at Lake Geneva Resort.
For Lake Geneva vacations, the Bella Vista Suites is a must-visit. This sprawling resort boasts a marina and full-service spa that offers indulgent treatments like a hot stone massage, facials, and aromatherapy.
The terrace and playground are perfect for lounging and spending quality time with family. Fitness enthusiasts will love the bar, gym, and indoor pool.
There's no shortage of fun activities to partake in, either.
Onsite, you can try your hand at fishing, motor boating, and even snorkeling. With so much to offer, the Bella Vista Suites promises to deliver a memorable vacation experience.
So why not book your stay today and experience all the luxury resorts in Wisconsin have to offer?
My final thoughts on the best Lake Geneva resorts in Wisconsin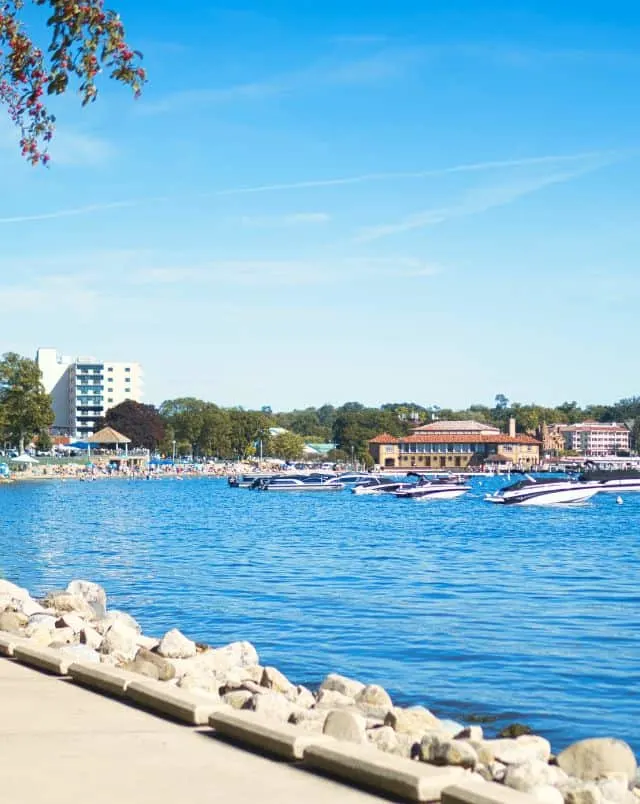 Taking a vacation away from the hustle and bustle of everyday life can be just what we need to keep reinvigorated and recharged.
So why not treat yourself to an opulent stay at one of the incredibly luxurious Lake Geneva resorts?
You'll be enchanted by the paradisiacal surroundings of turquoise waters, rolling hills of lush natural vegetation, and magnificent mountains.
Regardless of what interests you seek, whether it be a wellness escape, a romantic getaway, or just some time out to relax in grand comfort – your needs are sure to be catered for here in perfect style.
Indulge yourself in an unforgettable retreat when you visit one of the glamorous Lake Geneva accommodations; a dreamy escape awaits.
FAQ about the best Lake Geneva resorts in Wisconsin
What are the best Lake Geneva resorts for couples?
Some of the best Lake Geneva resorts for couples are Grand Geneva Resort & Spa, the Abbey Resort, or Bella Vista Suites.
What are the best Lake Geneva resorts for families?
Some of the best Lake Geneva resorts for families are the Cove of Lake Geneva, Timber Ridge Lodge and Waterpark, or Grand Geneva Resort & Spa.
What are the best Lake Geneva hotels?
Some of the best Lake Geneva hotels are Geneva Wells Motel, Harbor Shores on Lake Geneva, or the Ridge Hotel.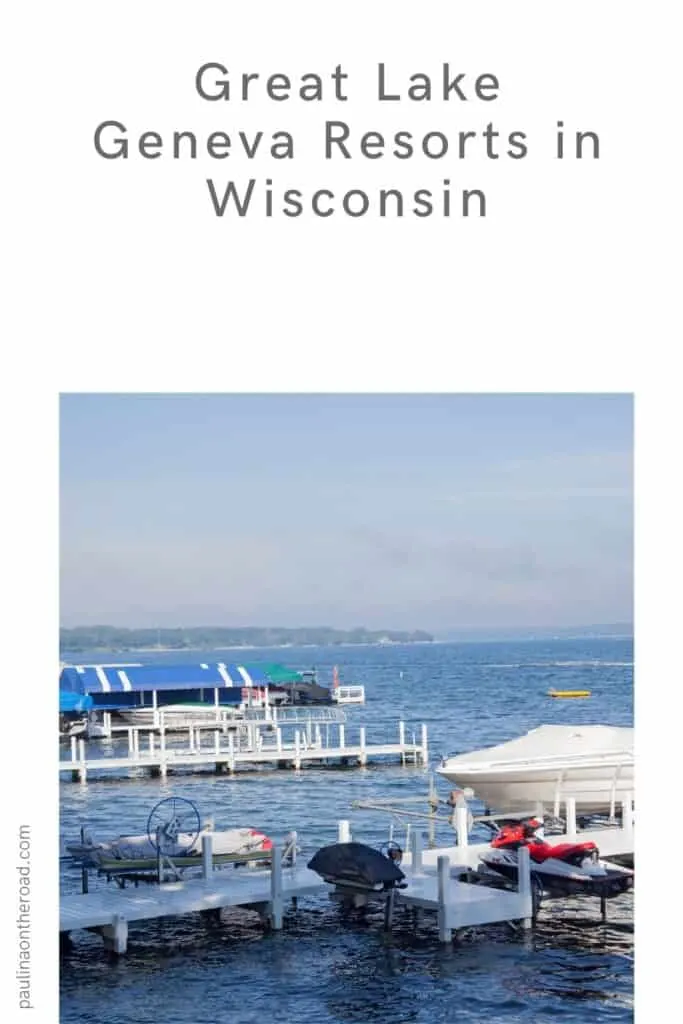 ---
Hola! I am Paulina, a fervent travelette who crossed the Atlantic Ocean by Boat HitchHiking. On my blog, you'll find all the tips to make the most of your holiday. Get ready to enjoy outdoor and sustainable travel like hiking, cycling or sailing. Let's hit the road together!