A guide to some of the best Lake Geneva resorts for couples for a unique experience in Wisconsin
Welcome to Lake Geneva – a dream destination for couples who would love to stay at the best Wisconsin resorts. Whether you're looking for romance with luxury accommodations or a laid-back getaway where nature reigns supreme, this picturesque lake offers plenty of options.
Here I'll look at some of the best Lake Geneva resorts for couples that ooze charm from every corner and provide an unforgettable romantic experience.
So grab your significant other, pack up your bags, and get ready to explore Lake Geneva – it just might become your favorite spot yet!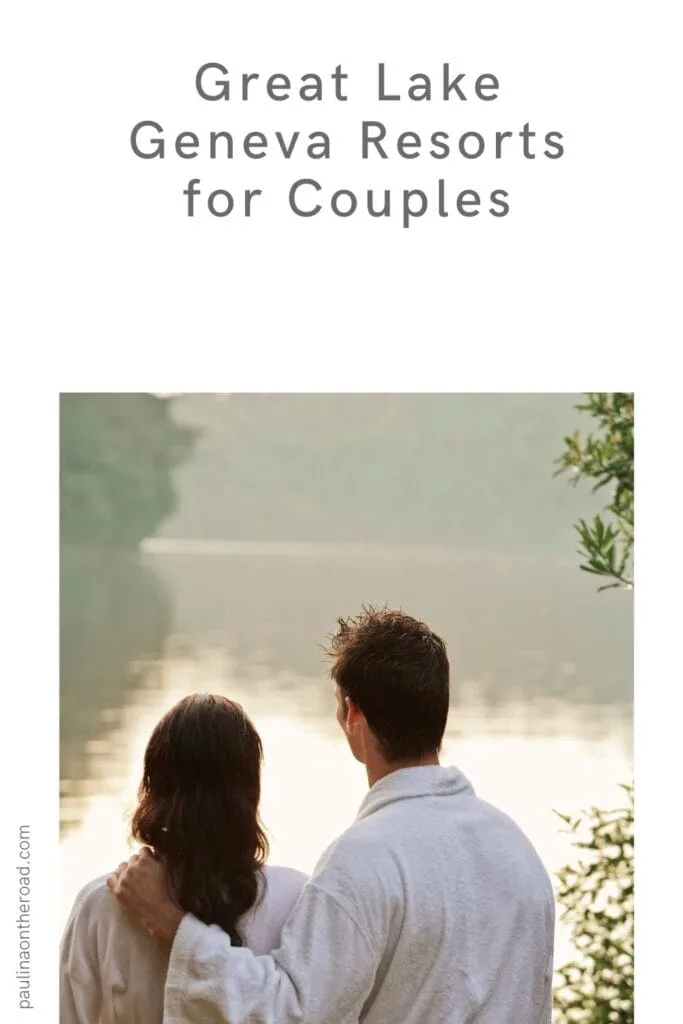 This blog is supported by you, dear reader. If you purchase through a link, I earn a small commission. As an Amazon Affiliate, I earn from qualifying purchases.
Psssst…!!?? You can't get enough of Wisconsin? Have a look at my other posts:
Top Lake Geneva Resorts for Couples
Nestled along the shores of Lake Geneva, Lake Lawn Resort has everything you need for a romantic getaway.
From cozy rooms with premium bedding and laptop-compatible safes to a full-service spa and golf course designed for couples, this beach resort is the perfect place to unwind with your significant other.
Whether you want to lounge by the poolside bar, kayak on the lake, or indulge in a day of fishing or water skiing, there is no shortage of activities to keep you busy.
With two restaurants on-site, you'll never go hungry.
And when the sun starts to set, take a stroll on your balcony to take in the stunning views. Stay at Lake Lawn Resort for romantic getaways in Lake Geneva that you won't easily forget.
From a romantic perspective, Bella Vista Suites is an idyllic escape for couples seeking lakefront resorts in Wisconsin that offer a serene sanctuary away from the stresses of everyday life.
Located in the heart of Lake Geneva, this lakefront hotel boasts a marina perfect for snorkeling, fishing, or motor boating.
After a day on the water, couples can retreat to the full-service spa that offers hot stone massages, body treatments, and aromatherapy.
Fitness enthusiasts can burn off the calories at the on-site gym, and then rejuvenate in the indoor pool.
Bella Vista Suites is a must-visit destination for anyone looking for romantic resorts in Lake Geneva.
The Abbey Resort and Avani Spa offers ultimate luxury for couples who are looking for spa resorts in Wisconsin.
From breathtaking lake views to lush gardens, this chic resort is perfect for a romantic escape. Inside your room, you'll be treated to deluxe amenities such as fireplaces, flat-screen TVs, and complimentary Wi-Fi.
When you're ready to explore, wander through the 70 acres of forest or take a dip in the pool. For couples who want to indulge, head to Avani Spa for a Swedish massage, a body wrap, and a reflexology treatment.
With American cuisine, al fresco dining, and a poolside location, you'll never go hungry.
I guarantee you have the best stay at Abbey Resort and Avani Spa, and with ice skating, fishing, and motor boating on site, you'll always be entertained.
Imagine waking up to the calming sound of Lake Geneva's waters, basking in the warmth of your cozy fireplace, and indulging in a delectable breakfast spread at the Baker House Hotel.
This lakefront hotel for couples boasts unparalleled views, premium guestrooms with air conditioning, refrigerators, and daily housekeeping to truly make guests feel like royalty.
And for those seeking some fun, Paradise Golf Park and Lake Geneva Cruise Line are just a stone's throw away.
But what makes this Lake Geneva gem truly stand out is its terrace and garden bar, perfect for sipping on a refreshing drink while taking in the beauty of the surrounding area.
Whether you're in the mood for a romantic getaway or just the best lake resorts in Wisconsin, the Baker House Hotel is the perfect oasis for a well-deserved break.
As someone who has had the pleasure of staying at the Harbor Shores on Lake Geneva, I can attest to its charming and idyllic atmosphere.
Situated right by the picturesque Lake Geneva, the hotel offers a range of amenities such as a sauna, indoor and outdoor pools, and 108 cozy rooms complete with premium bedding and fireplaces.
But what truly sets this hotel apart is the delicious Italian cuisine served up at Gino's East Restaurant.
Whether you're looking for romantic getaways in Wisconsin or simply a peaceful retreat, this gem of a hotel has everything you need.
Plus, the nearby Geneva Lake Museum and Dancing Horse Theatre ensure that you'll have plenty of entertainment options right at your fingertips.
So why wait? Book your stay at one of Lake Geneva's best romantic resorts today and experience the charm of the Harbor Shores on Lake Geneva for yourself.
Grand Geneva Resort & Spa is one of the best places to stay in Lake Geneva during winter.
This luxurious hotel is situated right by the lake and boasts great amenities like a full-service spa, a hot tub, and a golf course.
Ski enthusiasts will be delighted to know that the resort offers downhill skiing, cross-country skiing, and ski passes.
If you're more into nightlife, the resort also has a nightclub and a poolside bar. You can treat yourself to a hydrotherapy session or a hot stone massage at the spa after a day of fun activities.
With three onsite restaurants, you're sure to find a culinary treat to suit your taste.
To top it off, the resort has an indoor and outdoor pool, both complete with sun loungers and pool umbrellas.
This is truly the perfect place to spend a winter vacation with so many things to do in Lake Geneva in winter.
If luxurious vacation resorts in Wisconsin are what you're looking for, than Delavan Lake Resort is a great choice for you.
Located by a serene lake and surrounded by stunning sceneries, the resort boasts an impressive list of amenities that will cater to all types of travelers – from its wonderful sauna, seasonal outdoor pool, indoor pool, and hot tub, to its inviting fireplace in the lobby and fully-equipped gym.
Imagine waking up to the breathtaking view of the terrace, and having your breakfast in the cozy balcony or patio of your room that is complete with a convenient kitchenette, which is furnished with a full-sized refrigerator.
And when you're ready to explore the area, the resort is conveniently close to many attractions like the Animal Gardens and Yerkes Observatory.
For those who are wondering where to stay in Lake Geneva, the Delavan Lake Resort is definitely worth considering.
Looking for a magical escape in Lake Geneva? Look no further than Timber Ridge Lodge & Waterpark.
This beautiful hotel is situated by the lake, surrounded by lush greenery and stunning views. It not only boasts a sauna but a full-service spa and golf course as well.
What's more, every apartment is equipped with a cozy fireplace and a jetted tub, dining and sitting areas, and a fully equipped kitchen.
If you are looking for things to do in Lake Geneva, you can visit Moose Mountain Falls Waterpark and Dan Patch Stables, which are both located nearby.
With its romantic ambiance and great facilities, Timber Ridge Lodge & Waterpark is one of the most romantic places to stay in Lake Geneva.
Located near Williams Bay Beach, the Ridge Hotel impresses with its luxurious amenities and picturesque surroundings.
Imagine lounging by the seasonal outdoor pool, sipping on cocktails from the poolside bar, or taking in the stunning views of the golf course from the restaurant.
Need to unwind? Indulge in the sauna or steam room before cozying up in the lobby by the fireplace.
Looking for a bit of adventure? Take advantage of the driving range or explore nearby Williams Bay Beach and Riviera Beach.
Whether you're looking for a romantic escape or just a weekend getaway, the Ridge Hotel is one of the most charming and comfortable Southern Wisconsin resorts in Lake Geneva.
As one of the most venerated Lake Geneva resorts for couples, the Cove of Lake Geneva resort offers the ultimate blend of convenience, luxury, and scenic beauty that captures the imagination of guests with its unparalleled amenities.
With 222 rooms equipped with fireplaces, premium bedding, air conditioning, and separate sitting areas, The Cove promises a perfect blend of comfort and ambiance.
The pool comes complete with cabanas, sun loungers, and pool umbrellas to ensure moments of relaxation.
Additionally, there is an onsite restaurant, Sprecher's, which serves American cuisine and presents the perfect antidote for appetite.
Balconies or patios serve as ideal vantage points for enjoying views of the surrounding countryside, while shopping on site, close proximity to Lake Geneva Cruise Line, and Aerial Adventures presents an opportunity for adventure.
Whether you are looking for a romantic getaway or a serene respite, the Cove checks all the boxes and offers an enriching stay experience for all.
My final thoughts on the best Lake Geneva resorts for couples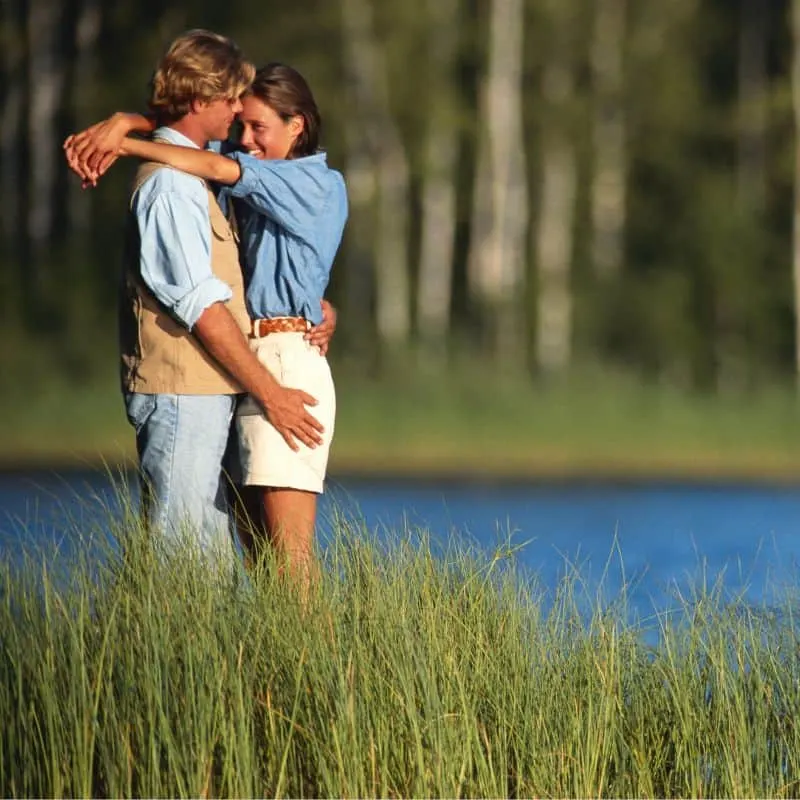 Couples, now is the perfect time to book a stay at one of these Lake Geneva resorts for couples.
With its stunning views, luxurious resorts, endless activities, and inspired dining options, Lake Geneva is the ideal place for romance.
Plus, all of these resorts are geared towards couples; they have special amenities and packages that can even reduce stress during your trip.
Whether you're looking for a romantic escape or an unforgettable honeymoon destination, exploring what Lake Geneva has to offer will be a journey you'll never forget.
I am certain that such an experience will remain in your hearts forever! So what are you waiting for?
Pack your bags and book your ticket now for an unforgettable journey with the person you love!
FAQ about Lake Geneva resorts for couples
What are the best Lake Geneva romantic cabins?
Some of the best Lake Geneva romantic cabins are Lake Geneva romantic cabins, Beautiful Lake Front Home, or Lake Geneva Home with Private Beach.
What are the best Lake Geneva hotels with jacuzzi in room?
Some of the best Lake Geneva hotels with jacuzzi in room are Grand Geneva Resort & Spa, Timber Ridge Lodge & Waterpark, or the Ridge Hotel.
What are the best Lake Geneva adults only resorts?
Some of the best Lake Geneva adults only resorts are Maxwell Mansion, Baker House Hotel, or Seven Oaks Bed & Breakfast.
---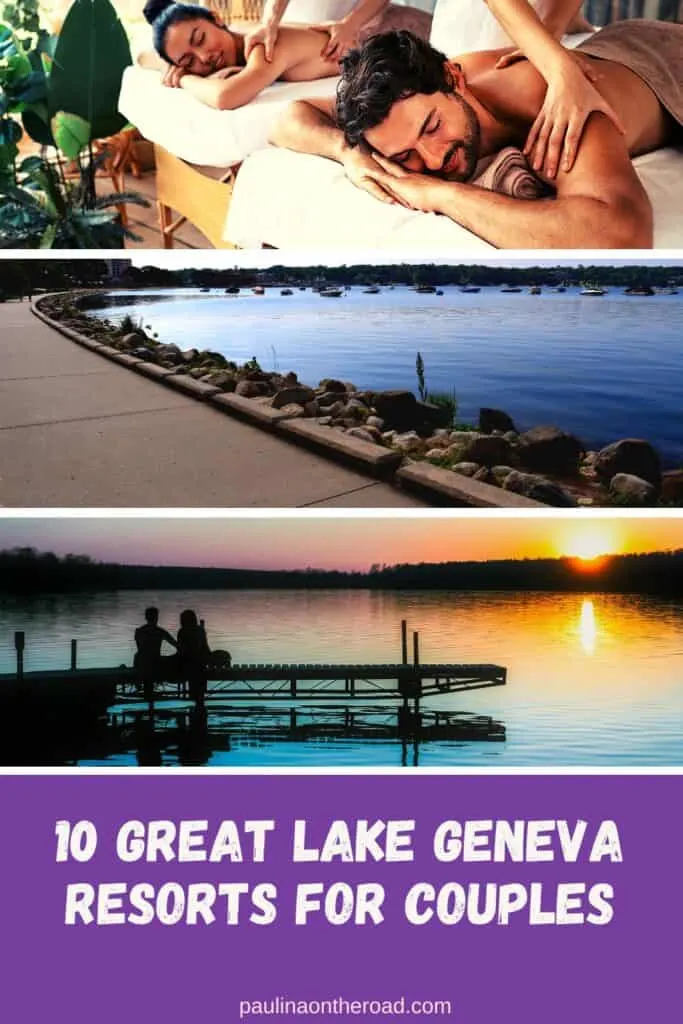 ---
Hola! I am Paulina, a fervent travelette who crossed the Atlantic Ocean by Boat HitchHiking. On my blog, you'll find all the tips to make the most of your holiday. Get ready to enjoy outdoor and sustainable travel like hiking, cycling or sailing. Let's hit the road together!