A guide to the best Snowmobile Resorts in Wisconsin for an unforgettable adventure.
Ready to hit the trails for a magical winter wonderland? Make sure to check out some of the best snowmobile Wisconsin resorts!
From heart-pounding terrain parks for thrill seekers to picturesque back country routes for more casual riders, you can find the absolute best snowmobile resorts in Wisconsin.
It's also a great way to experience unique sites while getting into nature – you'll get amazing views of frozen lakes, pristine forests, and rolling hills.
Not only will you have an unforgettable time on your snowmobile adventure, but it can be a nice break from everyday life too – so why not give it a try?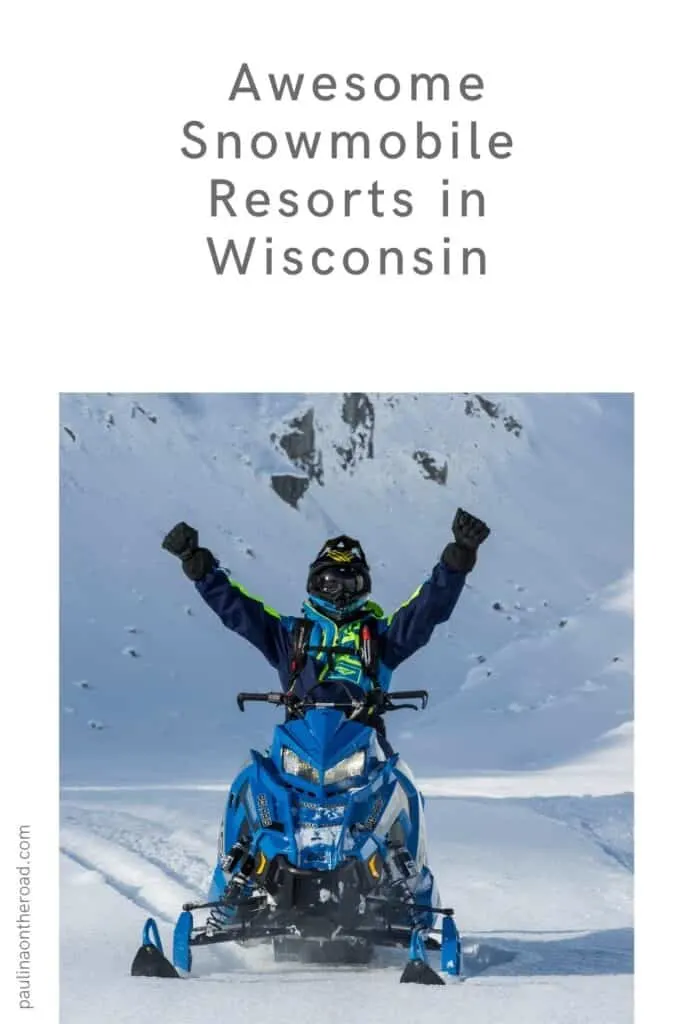 This blog is supported by you, dear reader. If you purchase through a link, I earn a small commission. As an Amazon Affiliate, I earn from qualifying purchases.
Psssst…!!?? You can't get enough of Wisconsin? Have a look at my other posts:
Snowmobile Resorts in Wisconsin
For an outdoorsy escape that's perfect for the wintertime, Heartwood Resort is just the place to be.
This 3-star hotel is situated right by the lake, providing a picturesque view that can truly take your breath away.
For any skiing enthusiasts out there, this resort has got you covered with ski-in/ski-out access, cross-country skiing, and ski equipment rentals.
And if you're looking to explore the surrounding nature, there's plenty to do – from mountain biking to rowing, canoeing, and volleyball.
With 69 rooms available, each equipped with air conditioning, balconies, and flat-screen TVs, you can experience comfort and style while basking in the splendors of the great outdoors.
For those seeking adventure, this resort is not too far away from many snowmobile resorts in Wisconsin as well!
Heartwood Resort is one of the best lake resorts in Wisconsin if you're after outdoor vacations of your dreams.
From my perspective, Holiday Acres Resort on Lake Thompson is one of the best waterfront resorts in Wisconsin.
This 3-star family-friendly resort offers a terrace and a cozy coffee shop where you can take in the mesmerizing views of the lake.
It is also a pet-friendly resort, so you can bring your furry friends along for the fun. Additionally, the resort has an on-site restaurant where you can enjoy delicious meals with your loved ones.
If you're looking for some fun in the water, you'll be thrilled to know that the resort has an indoor pool with sun loungers and a sauna, as well as a beachfront location for motor boating and fishing.
And if you're a snowmobiling enthusiast looking for the best snowmobile trails in Wisconsin, you can explore over 120 miles of scenic landscapes at the Hodag Sno-Trails.
Overall, Holiday Acres Resort is the perfect destination for memorable vacation resorts in Wisconsin.
If you're looking for a family-friendly resort in Wisconsin, Deer Valley Lodge & Golf should definitely be on your radar.
This resort offers a wide range of amenities that will keep everyone entertained, including a free continental breakfast, 27 holes of golf, and a water park.
The indoor pool along with the hot tub, provide a perfect way to unwind after a day spent on the golf course or at the water park.
The resort also offers children's pool and when it comes to kid-friendly resorts in Wisconsin, this resort knows how to make the kids happy.
There's even conference space, making this resort perfect for business travelers as well. Plus, if you're into skiing or snowmobiling, the Tyrol Basin Ski & Snowboard Area is just a short drive away.
All in all, Deer Valley Lodge & Golf is one of the best resorts in Wisconsin, and it's definitely worth considering for your next family vacation or business trip.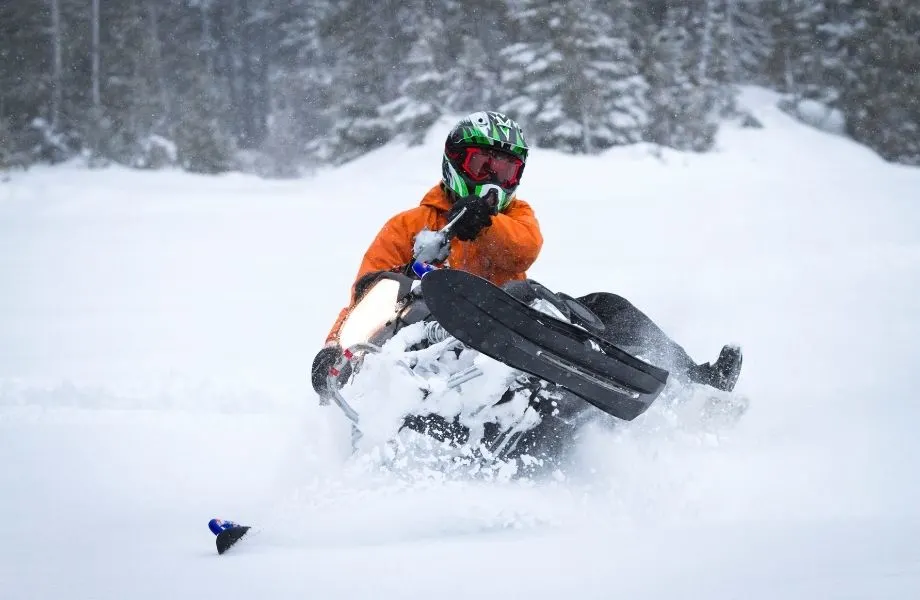 As someone who understands the value of a great family vacation, let me tell you about Lakewoods Resort & Golf – one of the best family-friendly Northwest Wisconsin resorts.
Located on the beachfront, this resort has everything you could want: 18 holes of golf, a marina to dock your boat, and a terrace for taking in beautiful surroundings.
But it doesn't stop there: with motor boating, snowmobiling, snowshoeing, and even beach volleyball, there's truly something for everyone.
The picnic area with barbecue grills is perfect for lunchtime. Guests also have access to a seasonal outdoor pool and an indoor pool for year-round fun!
The 95 rooms boast air conditioning, free WiFi, and balconies or patios for spectacular views of the Wisconsin wilderness.
When it comes to snowmobile resorts in Wisconsin, you won't find a more appealing destination!
Mont du Lac Resort is the perfect haven for those looking for an exhilarating ski resort experience in Wisconsin.
Imagine staying in a cozy ski-in/ski-out cabin right next to the pearly white slopes, with a ski shuttle at your doorstep for ultimate convenience.
This resort isn't just for skiers, though – there are endless recreational activities to engage in, like mountain biking, snowmobiling, and even ski lessons for those who are new to the sport.
If you're more in the mood for a self-guided adventure, there's always the option to go snowmobiling or snowshoeing near the resort.
At Mont du Lac, you can expect fully equipped winter cabins in Wisconsin with modern amenities, so you can unwind in style after a long day on the slopes.
Don't just take our word for it – experience it yourself!
The Four Seasons Island Resort is the perfect tranquil getaway for those seeking serenity and adventure at the best resorts in Northern Wisconsin.
Sitting at the riverfront, this aparthotel boasts an array of amenities including two restaurants, a full-service spa, a golf course, indoor and outdoor pools, a sauna, and a 24-hour fitness center.
Excitingly, the resort is also in proximity to the Pine Mountain Ski Resort where you can practice snowboarding and other wintry sports like snowmobiling.
Whether you're looking for a peaceful vacation or some exciting snowmobile getaways in Wisconsin, the Four Seasons Island Resort has everything you need to make your visit unforgettable.
The Pointe Hotel & Suites is a hidden gem nestled on the shores of Castle Rock Lake, offering a picturesque escape to all who seek it.
The hotel comes with all the amenities that one could hope for, including a free continental breakfast to fuel up for a day of adventure and a coffee shop for those needing a caffeine fix.
For those looking to unwind, the Pointe Hotel & Suites comes equipped with a sauna and hot tub in addition to an indoor pool.
With plenty of things to do in Minocqua to keep you occupied, guests can enjoy boating, fishing, bicycling, hiking, and even snowmobiling during the winter months at this wonderful resort. .
The 69 modern rooms with fireplaces, laptop-friendly workspaces, and furnished balconies or patio add the perfect touch of luxury to your stay.
Overall, the Pointe Hotel & Suites is a must-visit if you're looking for a peaceful retreat away from the hustle and bustle of modern life.
Gateway Lodge in Wisconsin is a wonderful place for those who are seeking a comfortable and affordable place to stay.
This rustic lodge, built in 1938, has been newly renovated to offer guests an unforgettable experience.
With its indoor pool, steaming hot tub, and redwood sauna, you'll get the ultimate relaxation you deserve.
Not to mention, the lodge offers numerous on-site activities such as trap shooting, golfing, waterfall chasing, skiing, and snowmobiling.
With all these amenities and activities, Gateway Lodge is one of the best cheap resorts in Wisconsin.
So why wait? Book your stay now and experience all the fantastic things to do in winter in Wisconsin that Gateway Lodge has to offer!
Hiller's Pine Haven, located in picturesque St. Germain, Wisconsin, is the perfect resort for those looking for cozy winter getaways in Wisconsin.
With 11 beautifully designed snowmobile cabins to choose from, this resort offers fully equipped accommodations complete with fireplaces and knotty pine interiors for a truly homey feel.
But the scenery doesn't stop there – enjoy stunning lake views from your very own cabin. Feeling adventurous?
The resort has you covered with a variety of activities on-site such as fishing, snowmobiling, biking, and cross-country skiing.
Want to take your explorations out on the water? Hiller's Pine Haven also has bass boat, kayak, paddle board and brand new pontoon boat rentals for your convenience.
Don't miss out on this unforgettable winter wonderland experience.
Wisconsin is home to some of the most picturesque lakefront resorts in the country, and the POV Lake Resort & Glamping Campground in the Eagle River/Vilas County area is no exception.
This gem of a resort is situated directly on the snow trails, offering guests the perfect blend of adventure and relaxation during the winter months.
But it's not just snowmobiling that draws visitors here – the private beach, complete with sun loungers and kayaking opportunities, is a perfect spot to soak in the summer sunshine.
And if you're looking for a little extra pampering, the massage and spa services are sure to do the trick.
If you're looking for lakefront resorts in Wisconsin that have it all, there's no better choice than the POV Lake Resort & Glamping Campground.
My final conclusion on the best snowmobile resorts in Wisconsin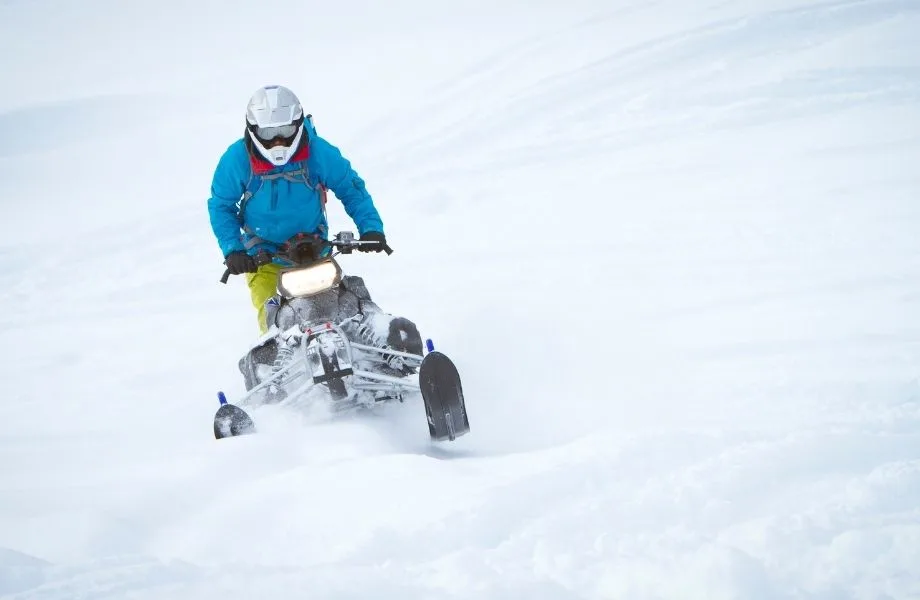 I've painted a beautiful picture of the incredible snowmobiling opportunities available at Wisconsin's many resorts.
Whether you're a novice or an experienced rider, you can find the perfect place to plan your winter snowmobiling adventure.
From beginner to advanced trails that are sure to get your heart racing and the scenery that will take your breath away – there's something for everyone.
With so much to offer and fantastic resort accommodations, you're guaranteed to have a memorable trip no matter what time of year it is.
So pack up your bags, and get ready for some amazing snowmobile resorts in Wisconsin for fun with endless possibilities!
Don't let this opportunity pass you by – start planning your Wisconsin winter escape today.
FAQ about the best snowmobile resorts in Wisconsin
What are the best snowmobiling resorts in Wisconsin with cabins?
Some of the best snowmobiling resorts in Wisconsin with cabins are Mont du Lac Resort, Hiller's Pine Haven in St. Germain, or the Gateway Lodge.
What are the best snowmobiling resorts in Wisconsin for families?
Some of the best snowmobiling resorts in Wisconsin for families are Holiday Acres Resort on Lake Thompson in Rhinelander, Deer Valley Lodge & Golf in Barneveld, or the Lakewoods Resort & Golf in Cable.
What are the best luxury resorts in Wisconsin?
Some of the best luxury resorts in Wisconsin are the Shallows Resort, Grand Geneva Resort and Spa, or the Waters of Minocqua.
---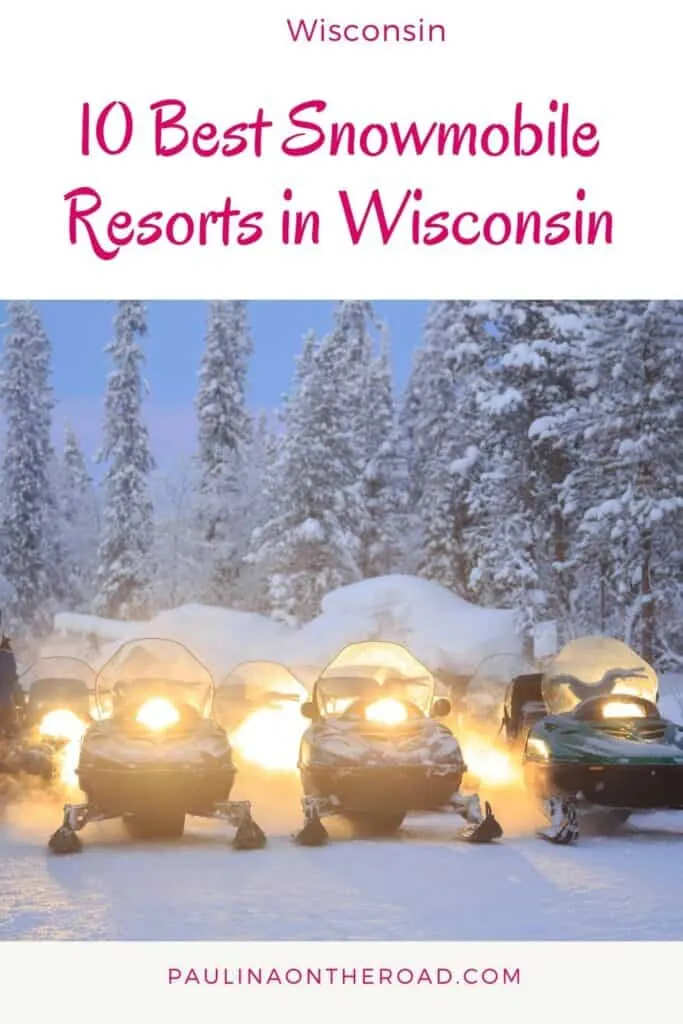 ---
Hola! I am Paulina, a fervent travelette who crossed the Atlantic Ocean by Boat HitchHiking. On my blog, you'll find all the tips to make the most of your holiday. Get ready to enjoy outdoor and sustainable travel like hiking, cycling or sailing. Let's hit the road together!