A Guide on Wisconsin Winter Getaways and fun things to do in winter Wisconsin style
Winter in Wisconsin can be extremely cold. But that doesn't mean that you have to hide inside all day long! In fact, there are a ton of amazing things to do in Wisconsin in winter.
First, there are the street decorations, holiday lights, and classic holiday shows which are creating a magical atmosphere.
There are also plenty of options for romantic Wisconsin winter weekend getaways whether you enjoy cities or want to check out the winter Wisconsin landscape.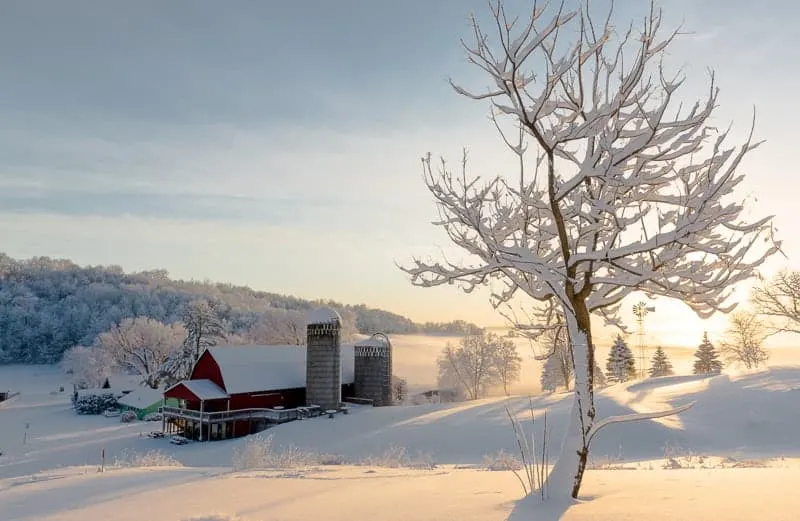 And then, on top, there are plenty of more things to do in Wisconsin in winter: enjoying the snow, outdoor activities and attending winter light festivals.
Basically, if you're looking for somewhere with lots of great things to do in winter, Wisconsin is the ideal destination.
This guide will give you all the tips to make your winter in Wisconsin simply unforgettable. I've including everything from where to go in Wisconsin in winter, fun things to do in the winter and how best to enjoy the winter Wisconsin landscape.
This blog is supported by you, dear reader. If you purchase through a link, I earn a small commission. As an Amazon Affiliate, I earn from qualifying purchases.
Top resources to travel Wisconsin
✎ Plan the ultimate Wisconsin road trip (no backtracking!) with the Perfect Wisconsin Road Trip itinerary – Buy now for less than 12$

✈ Find the best hotel deals in Wisconsin with Trivago

➳ Book vacation rentals in Wisconsin with VRBO

✔ Book tours in Wisconsin with Viator

☘ Get the best discounted outdoor gear (outlet) at REI.com

$ Get Wisconsin hiking guides and maps at REI.com

✎ Never leave without travel insurance. I get mine at SafetyWing. It is easy to set up, cheap, and reliable.
1. Cozy Winter Afternoons in Milwaukee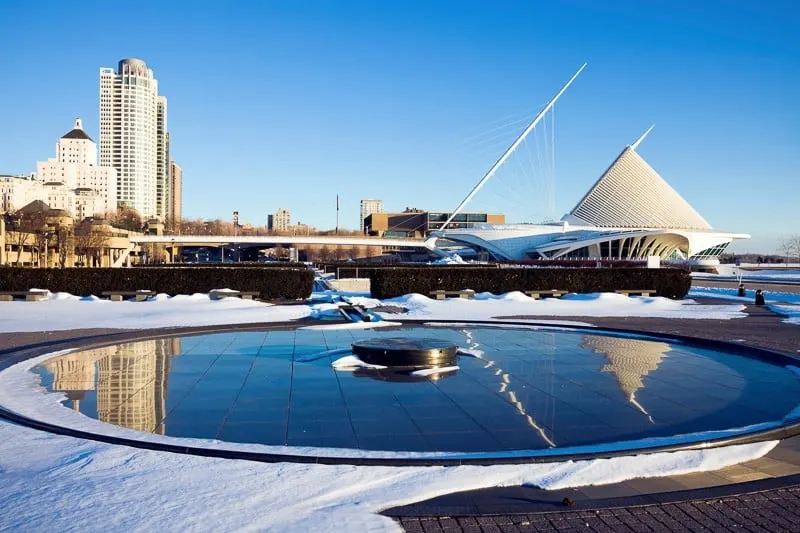 Milwaukee in winter is just downright magical, and as the largest city in the state of Wisconsin, Milwaukee has some pretty amazing things to offer! Whether you're a winter type of person or not, Milwaukee can make you fall in love with this time of the year and have you dreaming of another winter in Wisconsin.
The chilly winter around here gets much cozier in some local cafe, restaurant or pub. Milwaukee is also known for good coffee.
So if you're a coffee-lover, the best places to go in Wisconsin in the winter are Valentine Coffee Co (as soon as you land at the airport) and Hawthorne Coffee Roasters.
Another old-fashioned way to warm you up is tasty food! Luckily, Milwaukee's got you covered here, as well with a wide spectrum of cuisines from Germany, Italy, Russia, Japan, Mexico, and India. The choice is yours.
It is well known that Milwaukee is famous for its cheese and dairy products in general. So, don't forget to try out some specialties such as their Cheese curds (a small, fresh, springy piece of cheese, mild and slightly salty).
Do you wonder where you can find this delicious dish? Here are few ideas: Clock Shadow Creamery, Wisconsin Cheese Mart and Jackson's Blue Ribbon Pub & Grill. You'll thank me later.
And what is winter without snow joys? To complete your Wisconsin winter vacation, Milwaukee has lots of fun on the snow to offer.
Ice skating, cross-country skiing, and something completely different; Polar bear plunge! No, there aren't any polar bears waiting for you. This has been an annual traditional race for decades.
So, if you are in Milwaukee on January 1st, don't miss the locals racing into freezing Lake Michigan, wearing nothing but their bathing suits: the legendary Polar bear plunge!
These are definitely some of the best activities to do in winter in Wisconsin when visiting Milwaukee.
2. Christmas Atmosphere in Madison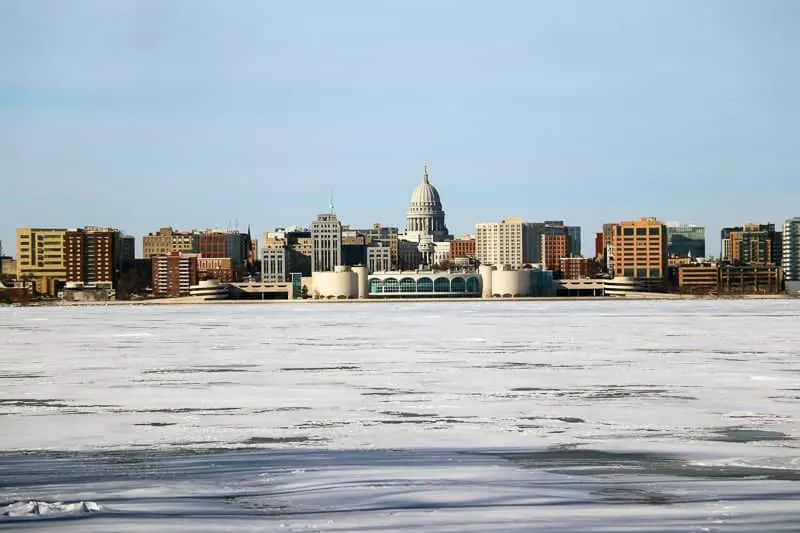 In the capital of Wisconsin, you'll never be bored. A lot of people overlook Madison, but that is a mistake, and since it's one of the best day trips from Milwaukee, there's no reason not to visit!
Winters have a special charm but depending on your mood, you can pick out an indoor or outdoor activity. Here are some things to do in Madison, WI in winter. Either way, there are no mistakes.
The Chazen Museum of Art is my first choice. Why? Above all, Chazen has an amazing art collection that will take your breath away!
And besides that, it has a gorgeous view of University Avenue, as well a glass pedestrian walkway which is very photogenic. Did I mention that this museum is free?!
Book here the best winter tours in Madison
What is better to make you feel the real holiday spirit than a Christmas tree?
The Capitol Christmas Tree in Madison is just that "little" detail.
It is beautifully lightened and it stands in the middle of the marble rotunda. This tree is decorated with ornaments made by students all over the state.
It has a special charm and it's one of the top winter attractions in the city.
Alternatively, you can also choose and cut your own tree at one of the nearby farms, which are some of the best Christmas tree farms in Wisconsin.
The Madison Farmers' Market is my next place to go. Here's why. It gathers the best chefs every week all around the Madison who prepare some delicious breakfast, called "Taste of the market breakfast".
And that's something available from January until April, on Saturdays at the Madison Senior Center.
One of the best activities to do in winter in Madison, WI, is sledding in Elder Park. There is a very steep hill, but maybe for older kids with parents. That is not all.
You can even try snow carving or ice hockey!
With these fabulous things to do in Madison, WI in winter, you won't get bored during the cold season this year!
Get the best hotel deals in Madison, WI
3. Winter Entertainment in Wisconsin Dells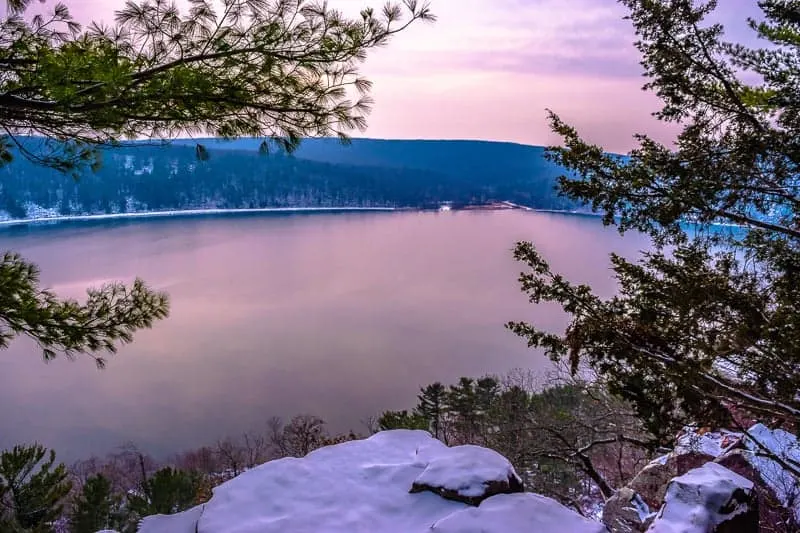 Christmas trees, beautiful ornaments, bows, stockings, and lights, Wisconsin Dells in winter is magical! Everything is a holiday-themed show!
There are so many options for Wisconsin Dells attractions in the winter! This is one of the perfect winter getaways in Wisconsin.
You can choose whether you want to watch live theater performances, sing along to Christmas songs at the Crystal Grand Music Theatre or maybe catch a holiday-themed musical in the Palace Theater in the Dells. They are some of the best things to do in Wisconsin Dells.
Book here the best winter activities in Wisconsin Dells
Wisconsin Dells indoor attractions such as water parks are just perfect for everyone who wants to take a break from chilly outdoors.
Wisconsin Dells winter attractions made the town "Water capital park of the world." Some of the greatest water parks like Mt. Olympus, Great Wolf Lodge, and Chula Vista resort may have just what you need.
Then, there are great amusement park attractions as well. Wooden constructions of go car racing tracks. Elevated towers that you drive along are a must-do when visiting and your kids will be delighted!
It's perfect for older kids and teenagers. But that's not all! There is an amusement for grownups as well.
Another Wisconsin Dells Attractions in winter that you cannot miss is a tour on a horseback and a ride with the Big Foot Zipline Tours.
There are also plenty of ski resorts near Wisconsin Dells, have a look at my guide on where to go skiing in Wisconsin Dells.
Steaming hot tubs for perfect relaxation. Wisconsin Dells is so well created that you can have a full day of winter activities without leaving the resort.
One more suggestion for adults. A nice romantic dinner of wood-fired steaks and fresh seafood as well at the Lodge Wood Fired Grill with a massage afterwards at the Element Spa Salon. Can you think of something better? – Read more here about Christmas in Wisconsin
Book here Wisconsin Dells Winter Cabins
4. Enjoy a Spa Getaway in Lake Geneva
Ice fishing on a frozen lake, snow sculpting, skiing down a mountain or getting cozy to an outdoor fireplace are just some of the things that Lake Geneva provides in winter.
It's no wonder it's one of the most popular winter getaways in Wisconsin!
Lake Geneva in winter is truly magical, so prepare yourself for a new favorite Wisconsin winter weekend getaway!
The Lake Lawn Resort, The Ridge Hotel, The Abbey Resort & Avani Spa, and the Grand Geneva Resort & Spa are the ones I picked out for you.
I recommend checking them out in order to spend an unforgettable, cozy winter in Lake Geneva since they figure among the best places to stay in Lake Geneva, WI.
There are also quite a few wonderful winter resorts in Wisconsin that offer spa packages, making winter romantic getaways in Lake Geneva extra special.
Book here your Lake Geneva Resort
5. Ice Skating in Lake Geneva
Numerous resorts of Lake Geneva have ice skating rinks where you can rent ice skates during winter in Wisconsin.
After snow activities, these resorts offer hot cocoa by the fire for skaters at the Abbey. The skating rinks are open during the day and evening. It's definitely a must when looking for things to do in Lake Geneva during winter.
And after ice-skating, make yourself a hot chocolate and watch some of the best movies set in Wisconsin to round up a cozy day.
6. Attend Winterfest, Lake Geneva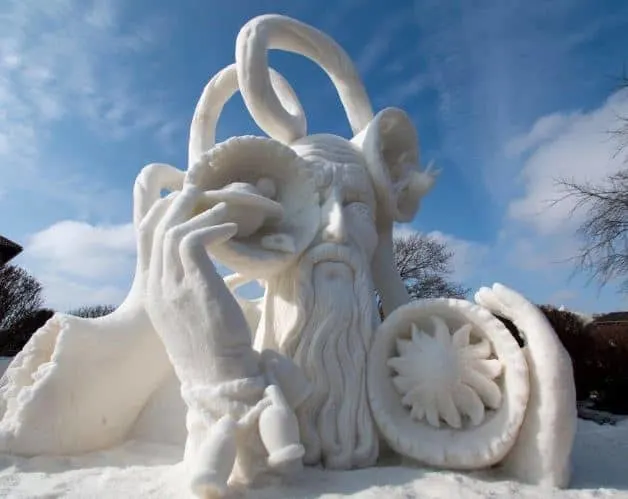 Winterfest is the most popular cold-weather event in the Lake Geneva area, and definitely one of my favorite things to do in Wisconsin in winter.
You can have fun with various contests such as the Human Dog Sled Races or maybe the US National Snow Sculpting Competition. All these amazing winter festivities last for two weeks!
There are an ice bar, cocoa crawl, chili cook-off, helicopter rides and so much more on multiple locations in this area. Really, winter in Wisconsin isn't complete without a visit to Lake Geneva!
In downtown Lake Geneva, there are so many places for dining and shopping, as well. You'll never run out of options, when looking for things to do near Lake Geneva, WI.
Don't miss one of the best winter events in Wisconsin!
Book here a winter cabin in Lake Geneva
7. Skiing near Lake Geneva, Wisconsin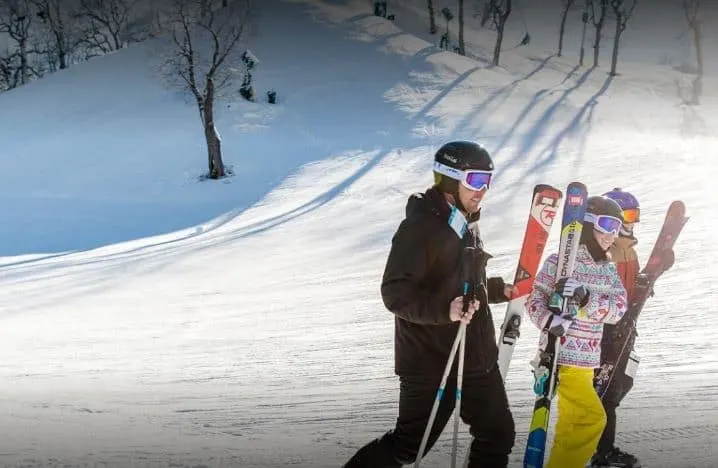 Skiing, sledding, and snowboarding are our next suggestions. Where? Heading to the mountain top at Grand Geneva and Wilmot Mountain is one of the best places to visit in Wisconsin during winter for outdoor sports.
Why? This location is simply perfect for skiing and snowboarding and you can take lessons in these sports.
8. Get a Wellness Treatment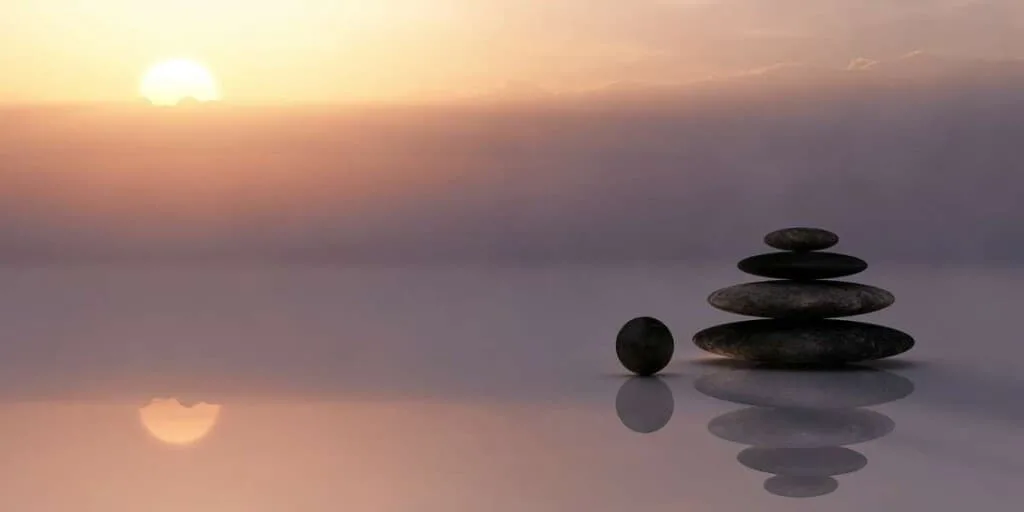 After all these outside winter activities, it is time to warm up and relax. The perfect place to be in the spa. My recommendation is the Area Resorts and downtown Lake Geneva.
What is better than a hot tub, massage, and a spa treatment of body wraps? If you are wondering where to stay in Lake Geneva, WI for wellness, you'll be spoilt for choice.
A little bit of pampering is just what you need to have the perfect witner in Wisconsin.
Book here your Lake Geneva Spa Resort
9. Get Active in Green Bay in Winter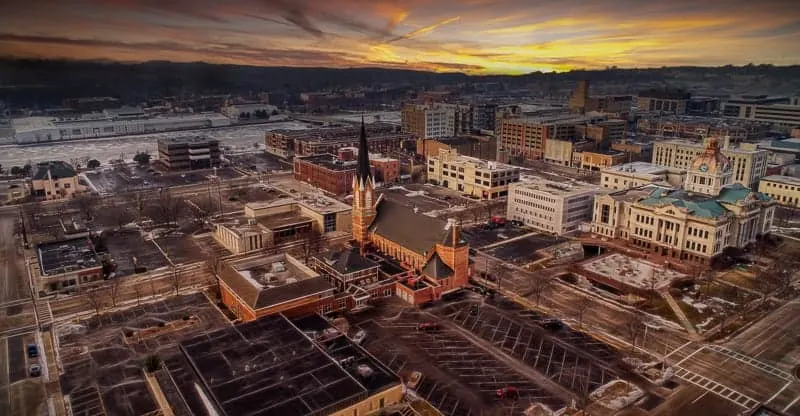 Wisconsin is known for its low temperatures in the winter. Green Bay as well but the good news is that Green Bay has great places to visit and fun things to do. Green Bay is one of the coolest weekend trips in Wisconsin.
Here are some interesting ideas of things to do in Green Bay in winter. The list of things to do in Wisconsin is getting bigger and bigger as there are plenty of things to do in Green Bay, WI in winter.
10. Have fun in the Green Bay Curling Club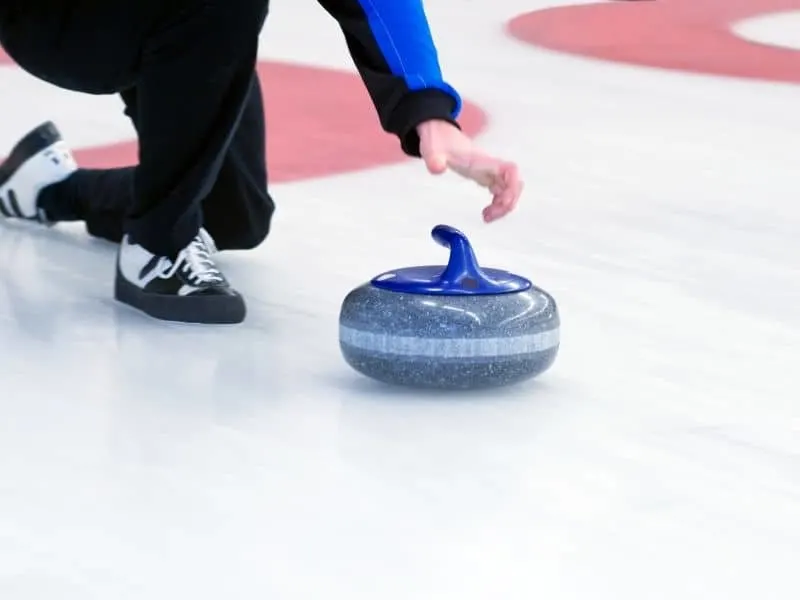 One of the winter's most unique sports and one of the things you shouldn't miss is waiting for you on Mike McCarthy Way. Learning how to curl is one of the best things to do in Wisconsin in winter, it will even help you make some friends!
Then there's sledding, tubing, and skating.
The perfect spot for these activities is the sledding hill and sledding pond part of the Titletown field. It is 46 feet tall and 300 feet long from start to finish and it's across from Lambeau Field.
Then, there is skating pond just a slightly smaller than an Olympic-size hockey rink.
11. Go Cross-country skiing in Wisconsin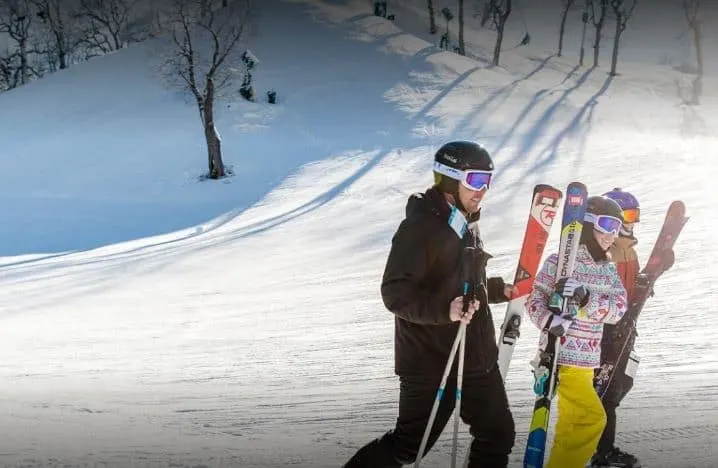 The Brown Country Reforestation Camp is one of the most perfect ski resorts in Wisconsin for winter sports. There are groomed cross-country ski trails long for miles and very steep so it's recommendable for those in good shape.
There are great ski trails at the Barkhausen Waterfowl Preserve as well.
12. Visit Green Bay YMCA
If you are looking for a place to celebrate New Year's Eve, Green Bay YMCA is the spot. West-side, east-side, and downtown are throwing parties for the annual celebration.
This time of the year in Green Bay is reserved for face-painting, balloon drops, bingo and many more.
The Neville Public Museum and The Ferguson Family YMCA prepare horse-drawn wagon rides and for the end of the magnificent evening, when you think it couldn't get better than that, the fireworks starts in downtown Green Bay!
13. Artsy Appleton in Winter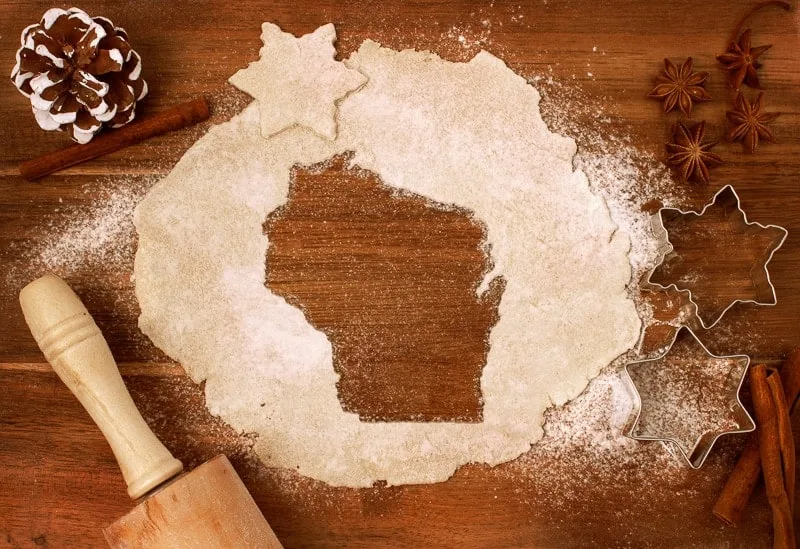 Appleton is the treasure of the Fox River Valley. Coming here is one of my favorite things to do in Wisconsin in winter.
Appleton is the perfect place if you are looking for a quiet vacation, want to try out some different sports or maybe explore the Appleton Memorial Park in search of adventure.
Appleton is perfect for children of all ages because of its rich content and things to do with kids such as the Paper Discovery Center where you can see the process of papermaking.
Then, there's the Building for Kids with exhibits designed by kids for kids and many interactive exhibits for children to explore their imagination.
Peabody Park is perfect for sledding. Grownups won't be disappointed, either. That's for sure!
Here are a couple more ideas of what to do in Appleton, Wisconsin. Locals here embrace the winter and it is part of the local culture. Something is always happening, whether it's a concert, visual arts, music or performing arts.
Cool places to visit in Appleton, Wisconsin are waiting for you at the Trout Museum of Art that has been in the work since the 1960s, and where you can listen to some jazz concerts.
Appleton is also home to one of the best escape rooms in Wisconsin, which is a great place to go with the family to escape the cold!
Of course, there are exhibitions as well and you can visit special workshops where you can take part in.
Then, there's the indoor Farmer market which is well equipped with handcrafted goods and of course delicious food. From specialty foods, organic fruits, and vegetables, to cured meats and certainly the delicious cheeses, for which Wisconsin is famous for.
And for the end, there's the Appleton Family Ice Center to burn some calories after delicious food!
It's easy to see why Appleton is one of my favorite winter getaways in Wisconsin.
14. Winter Nature in Door County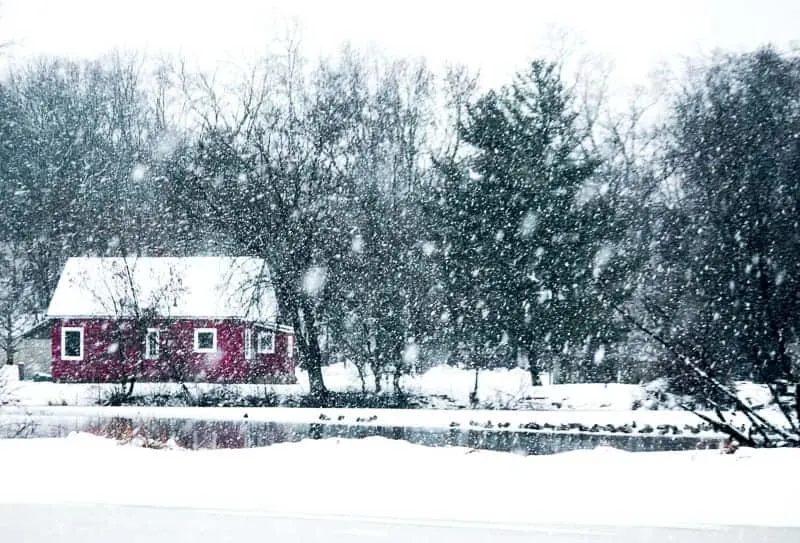 Winter in Wisconsin gets even cozier when you are in the winter wonderland of Door County.
There are so many fun things to do in Door County in winter you'll want to come back year after year.
Dining, recreations, and festivals are just a few things to do on my list. It is thus a great Wisconsin Vacation idea, particularly in winter.
Climb on-board the Door County Trolley for a Winter Wonderland Tour. The trolley will take you to a wine tasting to the award-winning Wineries, followed by a cushy sleigh ride through "The Doors" most snowy landscapes.
As a cherry on top, there's a romantic fireside in The English Inn.
Book here the best Door County activities
Things to do in Wisconsin with kids like Mayberry's Carriages are the perfect choice for a fun day trip in a private sleigh or carriage ride. Tours for carriage rides are available for 10, 20 and 30 minutes.
Sleigh rides are at the Lautenbach's Orchard Country to bundle up the kids and get ready for snow adventure!
There are fun indoor activities in Door County, Wisconsin, like the Hands On Art Studio.
There is a friendly and cozy atmosphere and maybe, you'll discover an artistic side of your personality in activities like wheel throwing, art barn ceramics, art barn mosaics, fused glass or canvas painting. – Book here fun winter activities in Door County
Or you may fancy discovering peaceful Wisconsin winter getaways and landscapes by snowmobile. There are plenty of amazing snowmobile trails in Wisconsin to choose from!
Another great idea would be visiting the annual Door County Pond Hockey Tournament in Baileys Harbor.
After all these snow joys, it's time to take a break in a nationally-acclaimed restaurant, inviting bistro or cozy café and enjoy in local specialties like the Carrington Pub & Grill, Casey's BBQ & Smokehouse, Door County Candy or Door County Coffee and Tea Co.
And naturally, wrap it all up with relaxation by the fireplace with a cup of coffee or maybe in the bubble bath in one of the best luxury resorts in Wisconsin.
The area is also home to some of the most romantic cabins in Wisconsin, thus you might consider Door County for a couples' getaway.
Of course, if you prefer, you can engage in some winter camping in Wisconsin and enjoy the magical snowy outdoors!
Book here the best cabins in Door County
15. Enjoy Fun Things To Do in Winter in Northern Wisconsin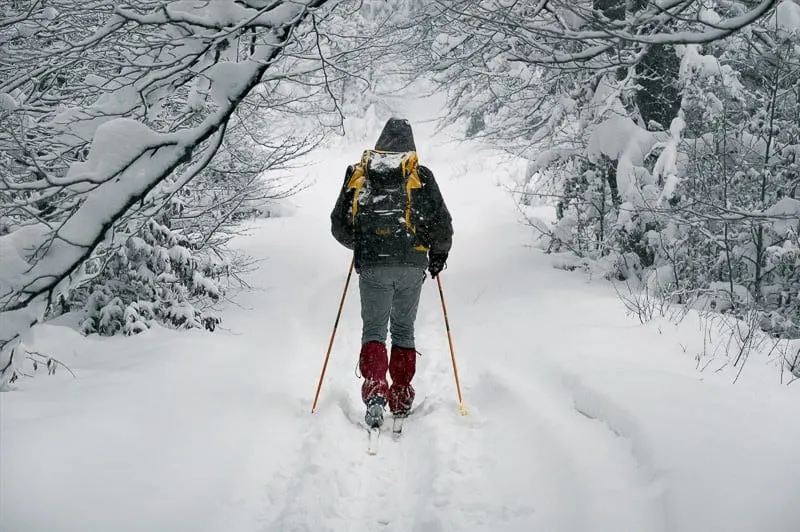 If you are fond of snow and cold winter weather, a Northern Wisconsin winter will be the ideal choice for you. There are so many amazing outdoor things to do in Northern Wisconsin in winter.
Prepare to be blown away by the beauty of nature!
Whether you are looking for a romantic cabin getaway or endless hikes, there are plenty of options when looking for things to do in Northern Wisconsin.
And if a romantic cabin is quite your thing, perhaps a spa day at one of the amazing resorts in Northern Wisconsin.
16. Explore Ice caves in Northern Wisconsin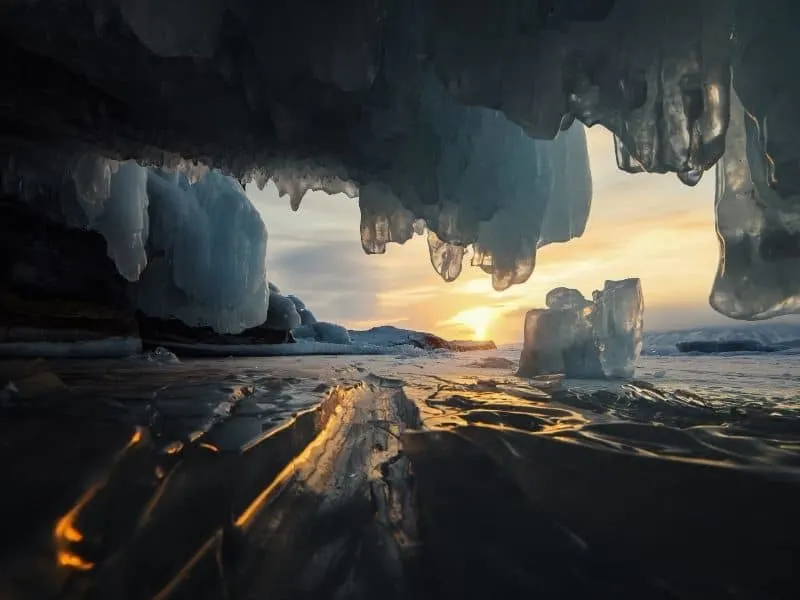 This amazing wonder of nature will take your breath away – and the Apostle Islands in winter are truly magical.
It's completely clear why more than 135,000 people visit the Apostle Island National Lakeshore each year since that only of the wonderful things to do in Apostle Islands.
One of the best ways to explore the environment and feel the atmosphere is by snow train.
The Wisconsin Great Northern Railroad in Trego will drive you through the magical nature and serve you dinner as well.
The Merrill Sled Dog Race is an annual event everybody looks forward to.
The Winterfest Sled Dog Race is a cool place to visit in Northern Wisconsin and a fun activity for the whole family.
Also, there are skijoring, kiddie and celebrity races. There are over 100 mushers with their dogs rushing by!
17. Go Snowshoe in the Nine Mile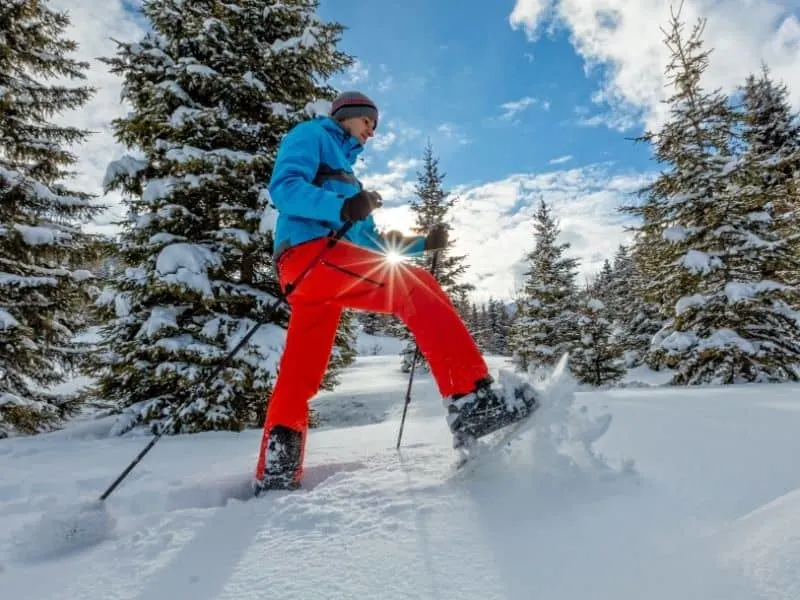 The Nine Mile Forest in Wausau is the place to be for those with an adventurous spirit. Just put on your snowshoes and hit the road!
18. Enjoy Snow tubing at Cascade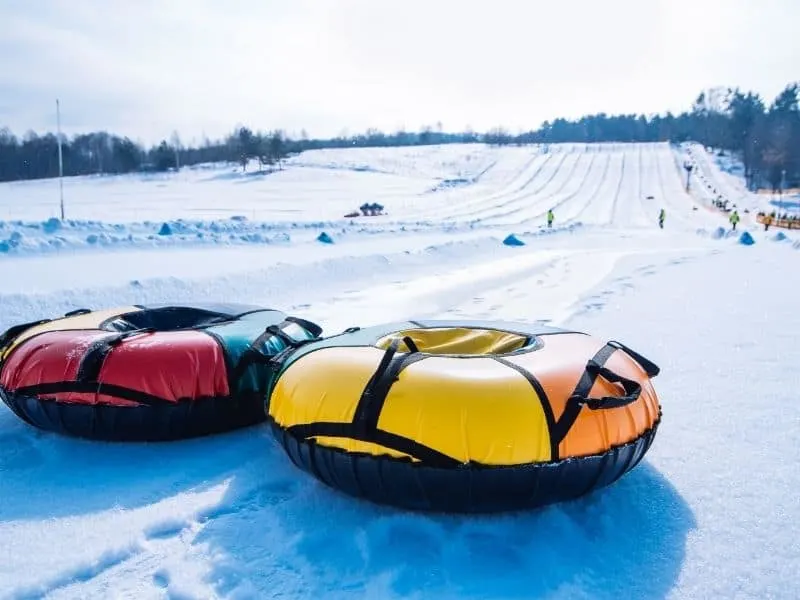 A fun activity for the whole family! Cascade Mountain in Portage has 900 slopes to glide down in a tube.
There is a magic carpet ride back to the top, with a tube in a tow!
12. Take photos at the Copper Falls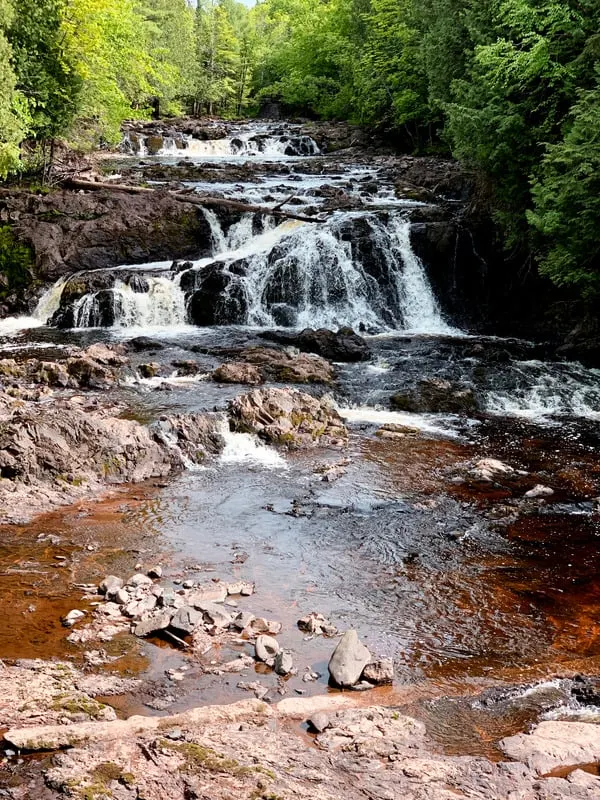 A waterfall is already spectacular itself, but a frozen waterfall is simply impressive! And stopping by for a visit is one of the best things to do in Wisconsin in winter.
One of the most amazing frozen waterfalls is at Copper Falls, located in Mellen.
It is considered one of the best state parks in Wisconsin since it's home to some of the prettiest waterfalls in Northern Wisconsin.
19. Enjoy Things to do in Winter in Southwest Wisconsin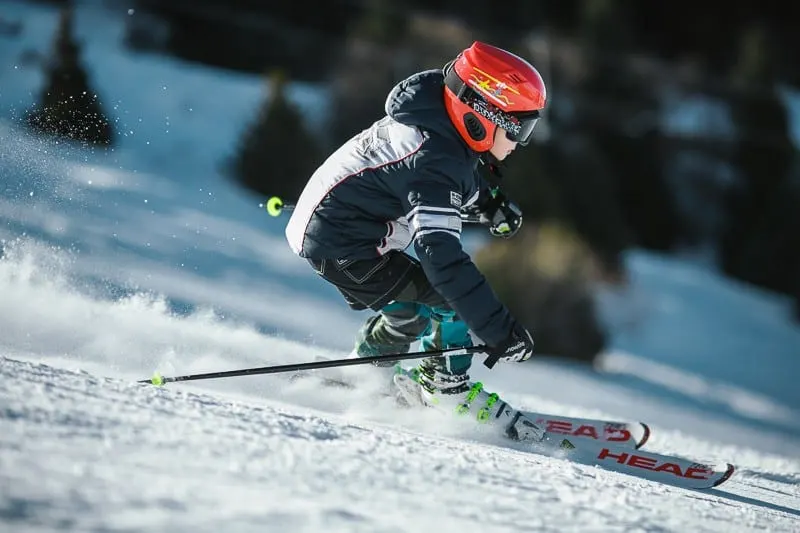 The southern region of Wisconsin is filled with beautiful winter attractions!
The Tyrol Basin Ski & Snowboard Area, the favorite place of snowboarders and skiers, is located in a picturesque valley 4 miles north of Mount Horeb.
It's filled with fun things for all ages such as 16 tree-lined trails that extend over 40 acres on the 300-foot vertical hill.
20. Visit Havens Petting Farm
Here's another family activity. This farm is filled with diverse animals you can cuddle with. From kittens, rabbits and bunnies, ponies, and miniature donkeys, to sheep, lambs, alpaca, and goats.
It's situated about 1 mile from the Cave of the Mounds which is another fabulous attraction in Southwest Wisconsin.
21. Chasing Trolls in Mount Horeb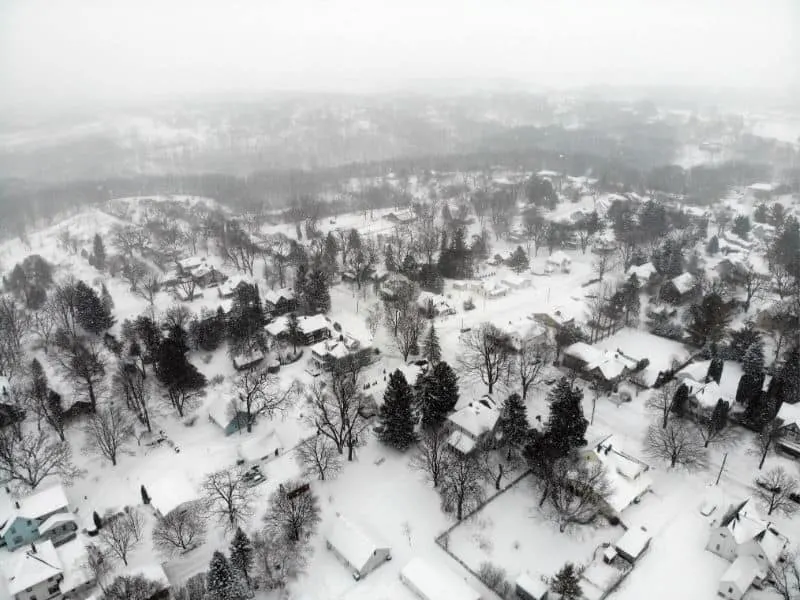 Here's one of the top Wisconsin winter attractions. Mount Horeb is a place known for the numerous life-size trolls engraved into tree trunks, along with its main street now named "The Trollway".
This region has a rich and divergent history that you can discover at the Driftless Historium.
22. Visit the most quirky place in Wisconsin
The House on the Rock is one of the extremely fun and quirky places in Wisconsin. The House on the Rock is visited by a half-million guests a year.
It must thus be really exciting, don't you agree? It's located in the heart of Southwest Wisconsin, just 30 minutes from the Cave of the Mounds.
Exactly like their catchphrase says "Entertain, astound and amaze!" There is an Infinity room waiting for you for a sense of illusion. Then, there's the world largest indoor carousel with 269 animals, 20.000 lights and 183 chandeliers.
And finally, the House on the Rock hosts the Heritage of the Sea, an amazing collection with over 200 model ship displays, a Titanic display and a sea creature that is as long as the Statue of Liberty is tall!
23. Enjoy Winter in Central Wisconsin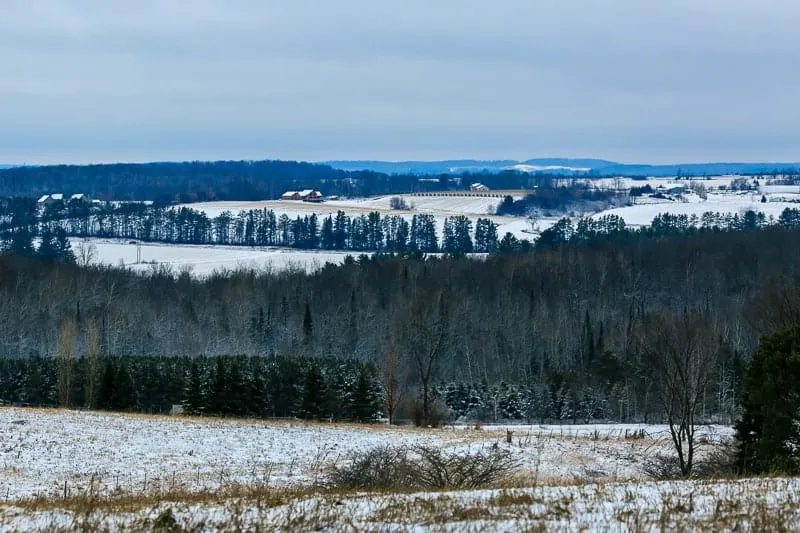 When you spend winter in Wisconsin, there's always something fun to do. Whether you look for interesting places in Wisconsin to see or specific things to do in Wisconsin in winter.
Whether you're an outdoor buff and want to go snow shooing or prefer to spend the day in an indoor waterpark in Rothschild – you name it!
Although it's cold weather, it's filled with fun Wisconsin winter attractions, including both indoor and outdoor activities to do in winter. Hence, it is a great place to vacation in Wisconsin, particularly in winter.
24. Trophy Ice Fish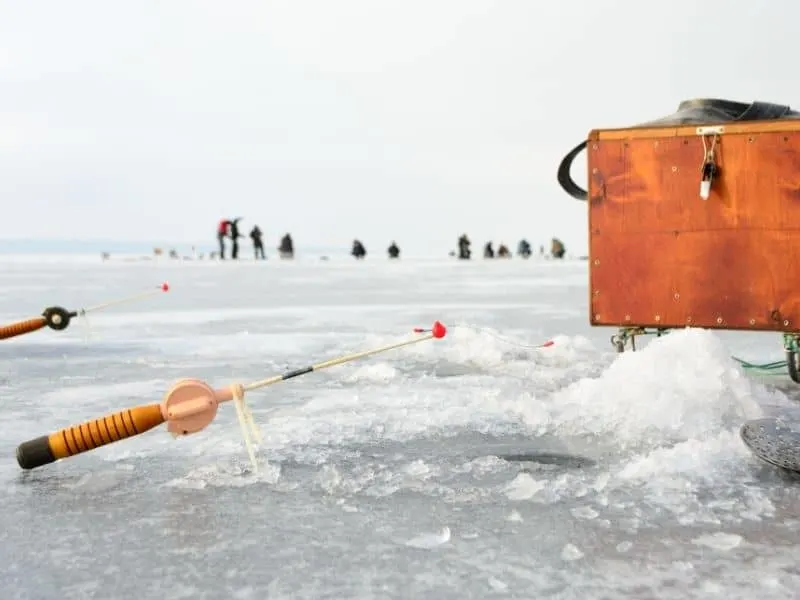 No matter if you're a fisherman or you've never held the fishing rod, ice fishing is something different from everything you've tried so far.
Put on your warm clothes and be ready to enjoy the beautiful nature in a very different way.
This interesting sport can be done in the beautiful landscape at Sturgeon Bay, in northern Wisconsin.
Ice fishing is one of the best things to do in Sturgeon Bay in winter.
If you want to get active, you might want to consider the Alpine Valley Resort. It is the perfect place for skiing. It has a wide range of ski runs and the atmosphere is very pleasant.
25. Visit Ojibwa in Winter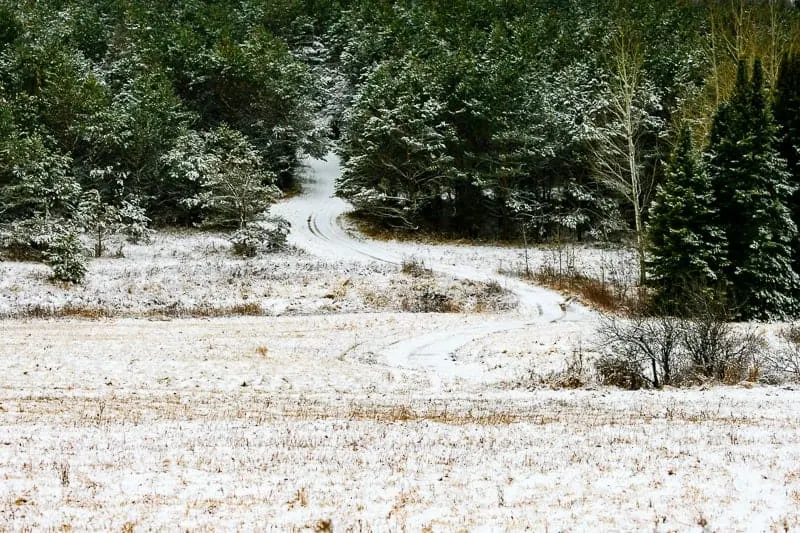 If you're looking for unique places to visit in Wisconsin in winter, consider a visit to the Ojibwe. There you can learn more about how they survive the harsh northern Wisconsin winters.
Wisconsin is proud of its Native American history and tries to celebrate this culture. Which makes sense since they have more tribes than any other state east of the Mississippi River. Organize a tour with Native American Tourism of Wisconsin.
The Ojibwe is one of the largest tribes in Wisconsin, and you can also learn about their history at the Milwaukee Public Museum.
26. Attend Wisconsin's best Winter Festivals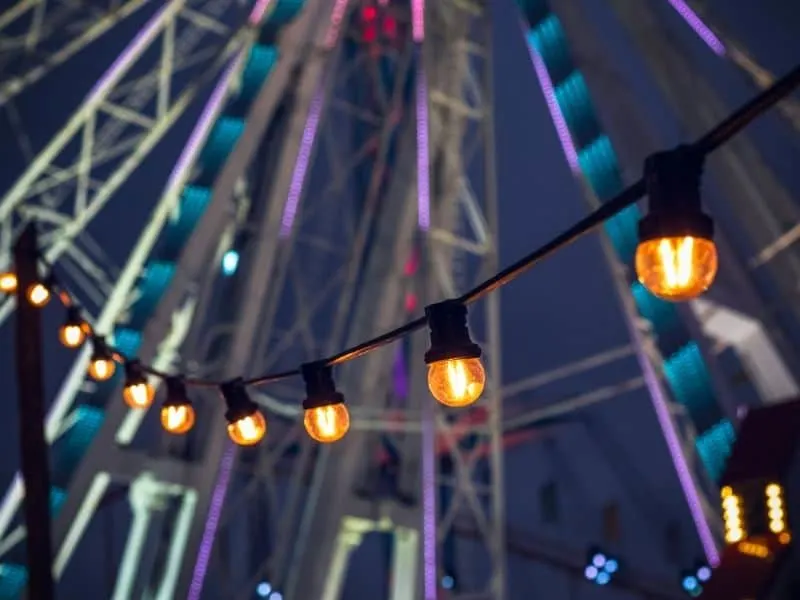 One of the fun things to do in Wisconsin in winter is go to some of the winter festivals around the state. Attending a festival can be the perfect excuse for a winter getaway in Wisconsin.
These festivals have a bit of everything from fireworks, ice skating, snow races, cook offs, dog sledding, diving into frozen lakes and much more!
A few of my most recommended winter festivals are Janboree in Waukesha and WinterFEST in Bayfield.
My personal favorite is Winterfest in Lake Geneva, which is just generally one of the best places to visit in Wisconsin during winter. As I said above, heading to Geneva is one of the best things to do in Wisconsin in winter.
27. Enjoy a ride on a Wisconsin Snow Train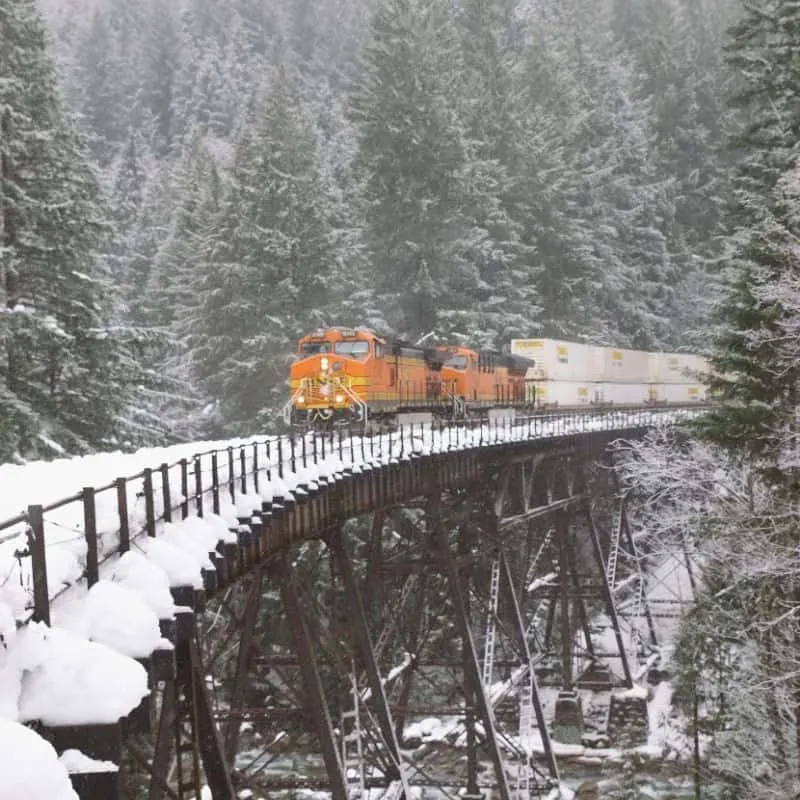 Probably one of the coolest things to do in Wisconsin in the winter is go riding on one of the Wisconsin Snow Trains.
They are perfect for families and couples hoping for unique romantic Wisconsin winter weekend getaways. They're also ideal for experiencing the beautiful winter Wisconsin landscape.
The most famous is the Great Northern Railroad, which is now over 100 years old! You can ride in a vintage train car and even opt for the 'elegant dinner car' option or the 'bed and breakfast car' option if you want something more intimate.
There is also the Mid-Continent Railway Museum in North Freedom. The Mid-Continent Railway Museum is fascinating on its own, but also runs its own snow train for special events.
Or, one of the best things to do in Wisconsin in December is ride the East Troy Electric Railroad. This one only runs in December and often does Christmas themed runs, which are great for families.
Related: How to plan the ultimate Wisconsin Roadtrip
28. Go dog sledding in Wisconsin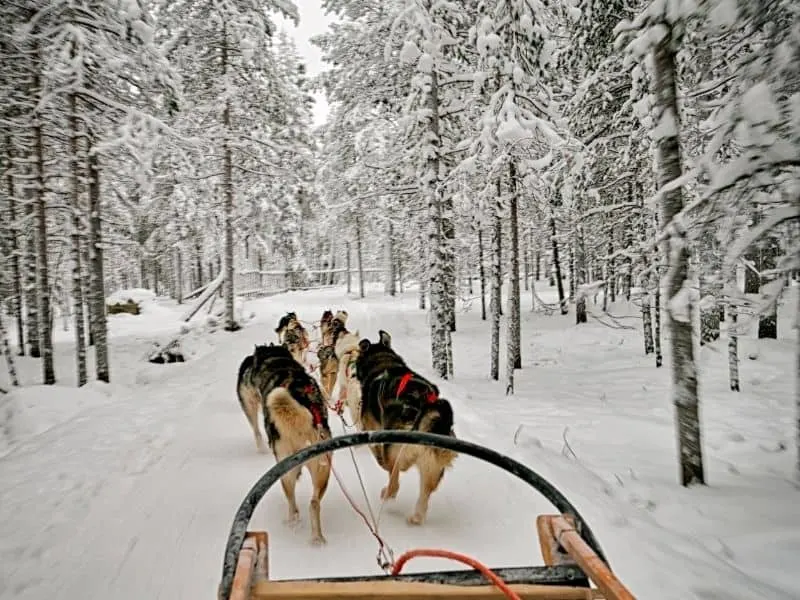 In my opinion, you can't have winter in Wisconsin without dog sledding, it's one of my favorite Wisconsin winter activities.
And there are plenty of opportunities to see them in action, you can even learn how to lead your own dog sled team as you watch the snowy winter Wisconsin landscape zoom past.
Dog sledding is a lot of fun, and an important part of winter Wisconsin tourism. Some of my favorite places to go are The Siberian Outpost in Malone and Wolfsong Adventures in Mushing in Bayfield.
Another place I love is Door County Sled Dogs, where you can meet retired sled dogs and learn more about the sport. I found it by chance, but it's one of the best things to do in Door County any time of year.
---
As you can see the list goes on. There are plenty of options for winter getaways and things to do in Wisconsin in winter for every type of person, every age and every occasion.
So, gear up with a smile, warm clothes, and holiday spirit because Wisconsin's got everything else!
Watch my Wisconsin in Winter Story here.
---
Before You Go: Top Tips for your Trip
---
Short FAQ about Winter in Wisconsin
1. What are romantic things to do in Wisconsin in Winter?
The best things to do for couples during winter in Wisconsin is to rent a cabin for a romantic getaway, or take a snow train through the countryside.
2. What are things to do in Wisconsin indoors in winter?
For those who want to avoid the cold Wisconsin winters and stay indoors, there are plenty of options. Some of the best are the indoor water parks in Wisconsin Dells, the indoor Farmers Market in Appleton, Cave of the Mounds, and House on the Rock.
3. What are things to do in Southern Wisconsin in winter?
The best winter activities in Southern Wisconsin are attractions like House on the Rock, Cave of the Mounds, the life-sized trolls in Mount Horeb, and the Havens Petting Farm.
---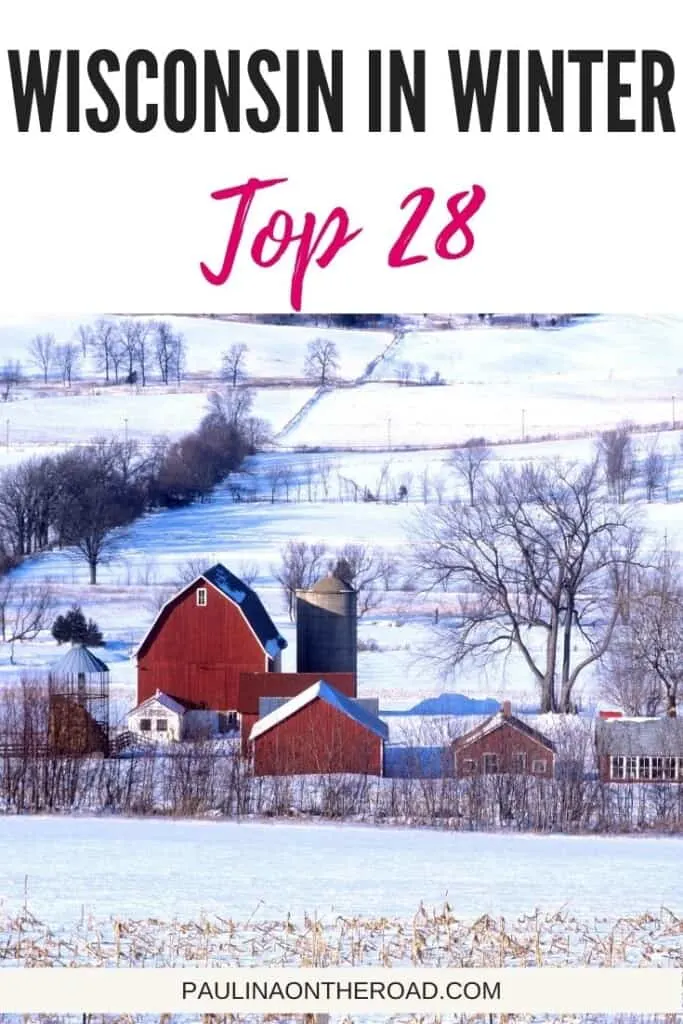 ---
Hola! I am Paulina, a fervent travelette who crossed the Atlantic Ocean by Boat HitchHiking. On my blog, you'll find all the tips to make the most of your holiday. Get ready to enjoy outdoor and sustainable travel like hiking, cycling or sailing. Let's hit the road together!