The ultimate guide to skiing in Wisconsin Dells with the best ski resorts in Wisconsin Dells and the best winter hotels near the Dells
Wisconsin's long, snowy winters make it a perfectly viable destination for winter sports enthusiasts.
The glacial landscape observable in most of the state is rich in unusual features, which makes for spectacular skiing experiences with scenic views.
In the southern part of the state, Wisconsin Dells is one of the top choices for skiers, particularly those looking for a comfortable experience on well-groomed slopes.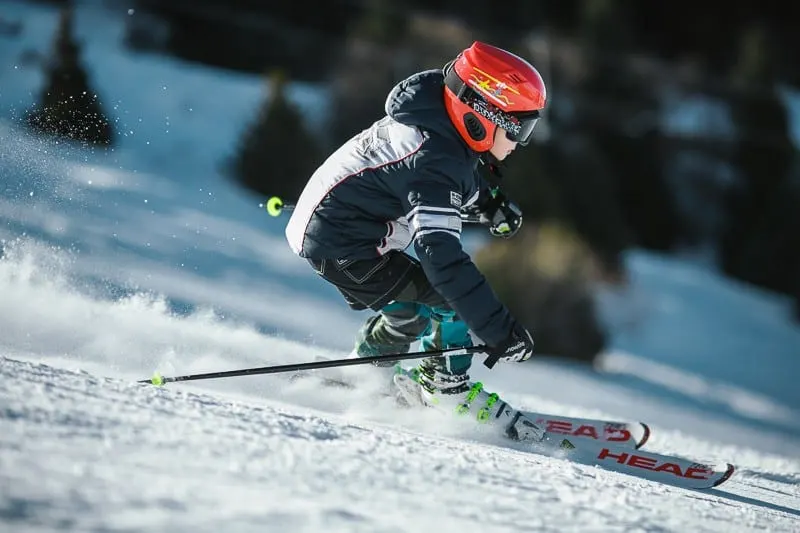 The majority of skiing areas in the Wisconsin Dells area are situated in purpose-built resorts, taking advantage of the topography of the gorgeous Baraboo Bluffs.
Though most of the runs in the Dells area tend to be on the easier side, some resorts do provide more technical and challenging trails for experienced skiers and snowboarders, even including a double black diamond trail.
This blog is supported by you, dear reader. If you purchase through a link, I earn a small commission. As an Amazon Affiliate, I earn from qualifying purchases.
Top resources to travel Wisconsin
✎ Plan the ultimate Wisconsin road trip (no backtracking!) with the Perfect Wisconsin Road Trip itinerary – Buy now for less than 12$

✈ Find the best hotel deals in Wisconsin with Trivago

➳ Book vacation rentals in Wisconsin with VRBO

✔ Book tours in Wisconsin with Viator

☘ Get the best discounted outdoor gear (outlet) at REI.com

$ Get Wisconsin hiking guides and maps at REI.com

✎ Never leave without travel insurance. I get mine at SafetyWing. It is easy to set up, cheap, and reliable.
Why visit Wisconsin Dells in Winter?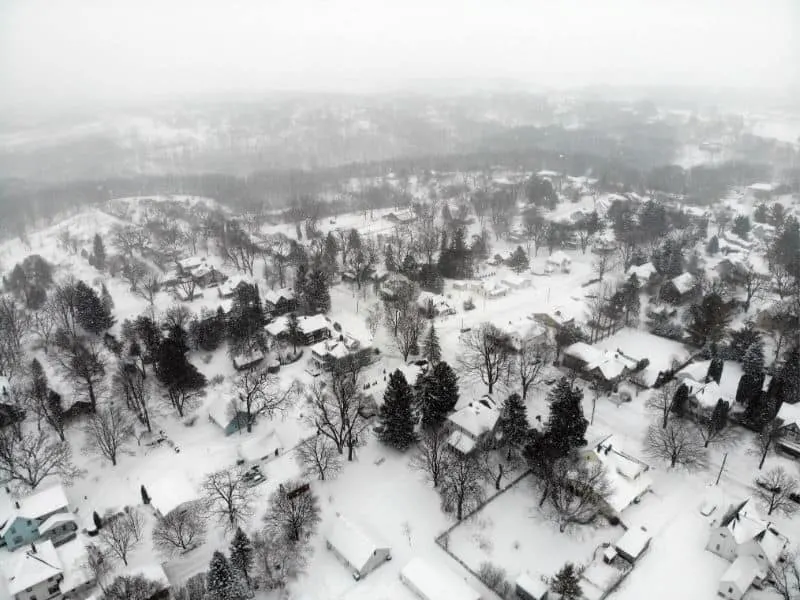 Wisconsin Dells is famous primarily for its incredible number of waterparks.
In fact, it's often referred to as the "Waterpark Capital of the World". Not without reason, since it's home to the largest concentration of waterparks on Earth!
But waterparks are by no means the only entry on the list of fun things to do in Wisconsin Dells: the city is one of the Midwest's go-to destinations for skiing and snowboarding. Read here more about the best Midwest weekend trips.
The Wisconsin Dells area is well-prepared for winter sports, with great infrastructure, plenty of resorts, and unforgettable trails to keep you coming back every winter. The Dells also offer some of the top resorts in Wisconsin.
If you want to enjoy your stay and you are coming with your family or as a couple and wondering where to stay you can find one of the best romantic cabins and some amazing luxury cabins in Wisconsin here.
If you are an Airbnb fan, make sure to have a look at our guide to the best Airbnbs in Wisconsin Dells.
5 Best Ski Resorts in Wisconsin Dells
1. Cascade Mountain: Ski, Snowboard & Snow Tube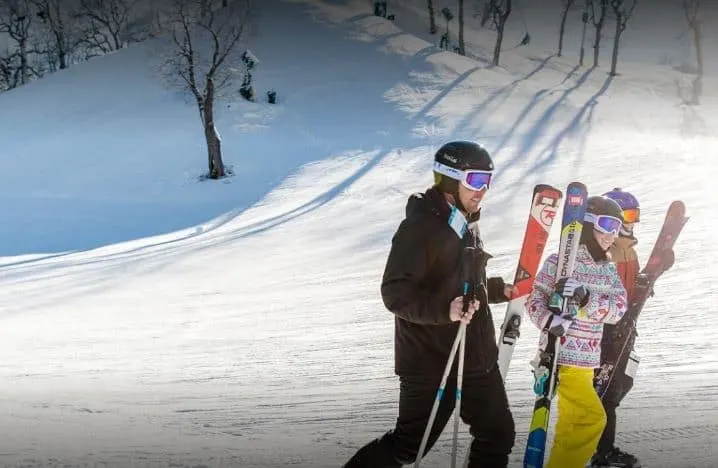 Location: W10441 Cascade Mountain Rd, Portage, WI 53901
Top Rated for: Families, night skiing
Distance from Wisconsin Dells: 22 mi
Ski Slopes: 8.7 mi
Accommodation Options: You can either stay in the Dells, but in order to be close to the resort, check out the Comfort Suites Wisconsin Dells Area *** which has excellent reviews. If you prefer renting a cabin, have a look at this rustic cabin with gorgeous views or this cute Airbnb in Poynette.
Cascade Mountain is the second-largest of all skiing resorts in Wisconsin and considered to be one of the best resorts in Wisconsin Dells.
Overlooking the I 90/94, the resort is only a twenty-minute drive away from downtown Wisconsin Dells, which makes it a highly convenient destination for a day out on the slopes.
The trails
The resort features an impressive total of 47 trails, with the longest one stretching over 1.1 miles!
Because of the variety of runs and activities available, Cascade Mountain is the perfect ski resort for families and groups. There's something here for everyone.
Beginner and intermediate visitors can enjoy over three miles' worth of runs each, while around 2.5 miles are reserved for experienced snow enthusiasts.
The 175 acres of ski-friendly terrain lies along a ridge, between the elevations of 250 and 378 metres. Helpfully, there are a total of eleven ski lifts available, including two high-speed chair lifts.
The runs are open until late evening (10 pm on Fridays and Saturdays, 9 pm the rest of the week), so you can make your experience extra-special and enjoy the slopes in the nighttime!
It's thus the perfect winter getaway in Wisconsin.
Snow tubing
The fun doesn't end here, either. As well as first-rate skiing experiences, Cascade Mountain also offers snow tubing.
The amusingly named Tube Town features fifteen chutes, each 800 ft (243 meters) in length, and it's definitely one of the best things to do in Wisconsin in winter.
Ticket prices at Cascade Mountain vary between seasons. An 8-hour adult ticket will cost you between $66 and $73, depending on when you visit.
Day passes are available, too, as are 2- and 3-day tickets. The latter costs $152 regardless of season, so it's well worth getting if you'll be skiing in the Wisconsin Dells area for longer.
Kids under 12 go in free when accompanied by a paying adult, year-round.
Night skiing in Cascade Mountain
It's worth knowing that Cascade Mountain also offers night tickets, passes valid during the last five hours of the day. These cost only $33 per person, so they're definitely a more budget-friendly option.
As far as tubing tickets go, adults can enjoy a day of unlimited tubing for $32 – $35 (depending on the season), or five hours of evening fun for $20.
How to get to Cascade Mountain?
To reach Cascade Mountain, take the I 90/94 to exit 106, then follow Highway 33 for a quarter-mile and turn left on Cascade Mountain Road.
The site offers free parking, though bear in mind that you can't leave your vehicle there overnight (including RVs and campers)!
Related: 20 Best Ski Resorts in Wisconsin
2. Christmas Mountain Village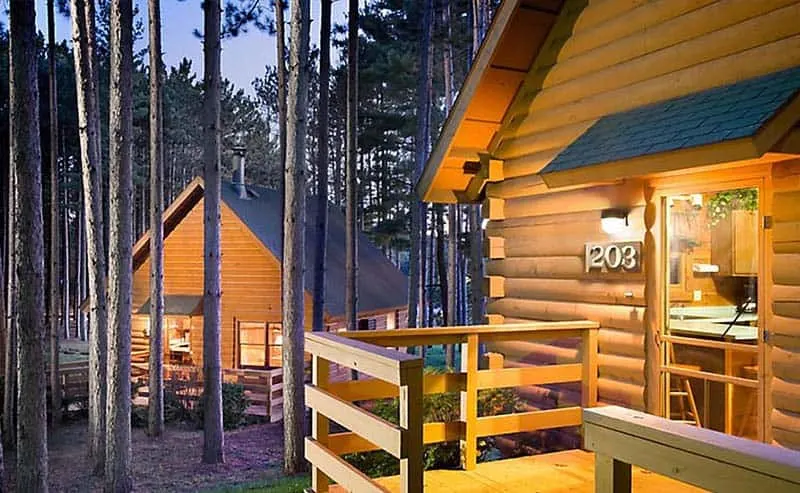 Despite its name, Christmas Mountain has little to do with Christmas. The resort is open all year round, offering golf in the warm seasons and plenty of skiing and snowboarding opportunities in the colder months.
The 40-acre winter recreation area features sixteen runs of varying difficulty levels (beginner to advanced) and four lifts.
There is also a 900 ft (274 meters) snow tubing chute available, and night skiing with music and gorgeous hill illumination to make your visit to Christmas Mountain all the more memorable!
When thinking what things to do in Wisconsin, and if you need Wisconsin vacation ideas for families, Christmas Mountain village is where you must go.
The Slopes
Though skiers of every ability level will find a suitable run here, Christmas Mountain is an especially good choice for beginners and those looking to improve their technique.
All of the runs are short (the longest measures 0.4 mi), which makes them perfect for honing in your skills without taking on too big a challenge.
Helpfully, the resort offers skiing and snowboarding lessons with professional instructors, aimed at both beginner and intermediate skiers.
Paid equipment rental ($29 – $39) is also available on-site for adults and kids alike. So even if you're a total skiing newbie, you'll be zooming down the slopes in no time!
Don't miss out Winter Carnival
If you time your visit right, you could take part in Christmas Mountain's annual Winter Carnival, taking place in February every year.
The Carnival is a fun-filled, all-day series of events including contests, such as cardboard box derby, ax throwing, and barrel toss, as well as fireworks and live entertainment.
Full-day lift tickets for adults at Christmas Mountain cost $39 from Monday to Thursday, and $49 on weekends and holidays.
Two- and three-day passes are also available, priced between $70 and $139. Meanwhile, two hours of tubing is priced at $15 Mon-Thurs and $25 on weekends.
How to get to Christmas Mountain Village
Christmas Mountain is located only a ten-minute drive away from downtown Wisconsin Dells, and the resort offers free parking. Heading west on State Hwy 13, turn right onto County Road H.
After about four miles, turn left onto Christmas Mountain Rd and follow the road around to the parking lot.
Because the resort is so close to the city, you'll never be more than a few minutes away from hotels, restaurants, and bars in Wisconsin Dells.
Christmas Mountain Village also offers great accommodation and it's one of the top-rated places to vacation in Wisconsin. So, rather than looking for a hotel in Wisconsin Dells, you can find lodging on-site.
3. Devil's Head – Merrimac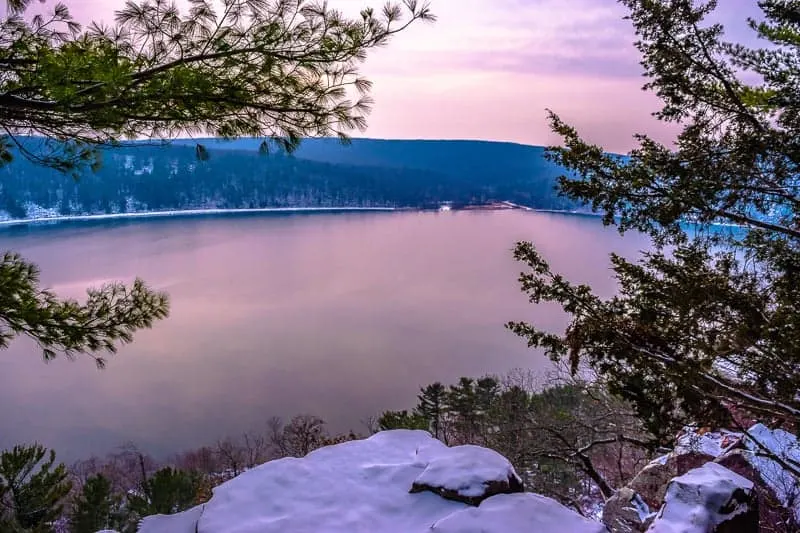 Characterized by its scenic location beside the Devil's Lake State Park and the Parfrey's Glen State Natural Area, Devil's Head offers unforgettable skiing opportunities on maintained slopes overlooking the Wisconsin River. This lake is also one of the Best Lakes In Wisconsin.
This is one of the best reasons to visit Wisconsin.
With a skiable area of almost 270 acres and a total of 30 trails, Devil's Head is the third-largest ski resort in Wisconsin, after Granite Peak and Cascade Mountain.
The runs range from very easy to challenging, with a separate beginner area perfect for skiing and snowboarding newbies.
Related: 30 Top Winter Cabins in Wisconsin
The Slopes
Speaking of beginners and practice, Devil's Head offers a broad range of group and individual skiing and snowboarding lessons, for visitors of different ability levels. The prices for these start at $35 for a 1.5-hour session.
The resort has something extra special in store for seasoned pros: two impressive terrain parks.
The larger of these, named Sidewinder, contains five hundred features, including vertical jumps and jibs. The smaller park is more suited for beginner practice, with less challenging obstacles.
As well as its size, Devil's Head stands out thanks to the natural beauty of its surroundings.
It is located within a 1200-acre private Nature Preserve on the Baraboo Bluffs, with highly varied terrain and gorgeous views. It's definitely one of the top activities to enjoy in Wisconsin Dells in winter.
What else to do in winter in Merrimac?
You can complement your skiing trip to Devil's Head with other winter outdoor activities in Wisconsin Dells, such as taking advantage of one of the many walking, hiking, and biking trails in the Nature Preserve.
For more opportunities for hiking in Wisconsin Dells, visitors can head to the nearby Parfrey's Glen State Natural Area, a scenic nature area with a 0.8-mile hiking trail and a stream flowing down the bottom of a 100 ft-deep glen.
Devil's Lake State Park, located only a few minutes from the resort along the legendary Ice Age Trail, offers cross country skiing trails. There is also a 3.5-mile cross country skiing loop on the resort's premises. It's one of the top state parks in Wisconsin.
Once you've had your fill of winter sports and fun in the snow, you can relax in one of the resort's hot tubs or have a swim in the indoor pool.
Nine lifts are available at the resort, with prices ranging from $56 on weekdays to $66 on weekends for an adult day pass.
Night passes are also available. Priced at $40, these will grant you entry from 4pm until closing time. Frequent visitors will be glad to hear that the resort also sells season passes with great savings!
Devil's Head offers on-site accommodation. In addition, there are plenty of great hotels in Wisconsin Dells to choose from, if you don't mind a short drive.
How to get there?
To get to Devil's Head from Wisconsin Dells, take County Road A. In Baraboo, turn left onto WI-113 S, then after about 6 miles, take a left onto County Rd DL.
4. Tyrol Basin – Mount Horeb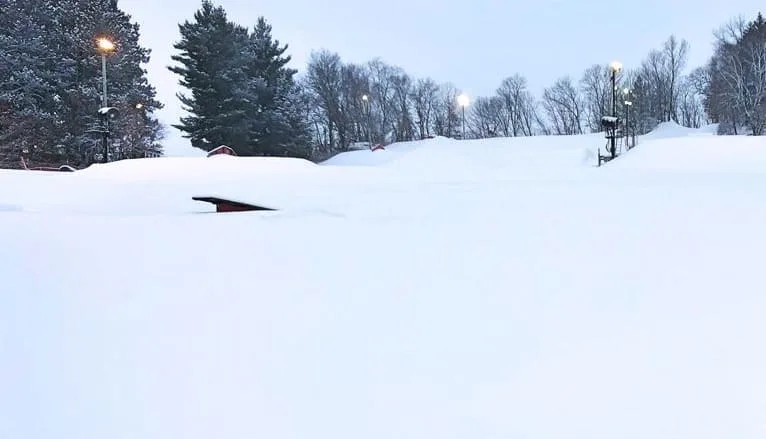 Location: 3487 Bohn Rd, Mt Horeb, WI 53572
Top Rated for: Terrain, advanced runs
Distance from Wisconsin Dells: 53 mi
Ski Slopes: 2.6 mi
Accommodation Options: The Grandstay Hotel and Suites *** comes with BBQ facilities, a spa, and a wellness center. For Airbnb fans, this Rustic Modern Retreat comes with a cozy fire pit and large yard, I also love the dreamy scenery of this hillside private retreat.
No list of ski resorts near Wisconsin Dells would be complete without Tyrol Basin near Mount Horeb. Despite its relatively small size, the Tyrol Basin ski resort is among the top choices for visitors from Wisconsin Dells and Madison alike.
Though Tyrol Basin is a bit further out from Wisconsin Dells than some of the other resorts on this list, it's definitely worth the trip, particularly if you like a challenge.
The Slopes
On the 32 acres of skiable area, Tyrol Basin offers a total of 16 trails, including a double black diamond expert run and several advanced-level trails, which makes it a top destination for experienced skiers looking to test their skills.
Skiing in Wisconsin Dells doesn't get tougher than this!
In addition, Tyrol Basin's terrain park, featuring two half-pipes for snowboarders, is said to be one of the best in the Midwest.
Beginners shouldn't fret, though. There are several easy runs, as well as lessons with seasoned pros available on-site.
Speaking of pros, Tyrol Basin hosts the United States Ski and Snowboard Association. So, it's not uncommon to come upon skiing and snowboarding competitions here on weekends.
Snow Tubing in Mount Horeb
Since last year, Tyrol Basin offers snow tubing for even more winter fun. With prices at $15 to $20 for four hours (depending on the season), tubing is the perfect way to complete your winter sports excursion.
The resort also features a popular BBQ with fish fry Fridays, a strong contender for the title of the best food in Wisconsin Dells.
The resort's five lifts make sure you never have to wait too long to take on the next run.
Compared with other ski resorts in the area, lift ticket prices at Tyrol Basin are highly attractive, particularly on weekdays when a day pass will cost an adult-only $17! Weekend and holiday prices stand at $48 for an adult day pass and $30 for a night pass (4 pm until 9 pm).
Winter sports lessons near Wisconsin Dells
For those staying in the Wisconsin Dells and Madison areas for longer, there's one more skiing spot worth mentioning: the Blackhawk Ski Club.
The club offers lessons in alpine and nordic skiing, as well as ski jumping.
Their youth programs are aimed at skiers and snowboarders of various levels, from complete beginners to those with some experience looking to improve their skills.
Where to stay in Wisconsin Dells For Skiing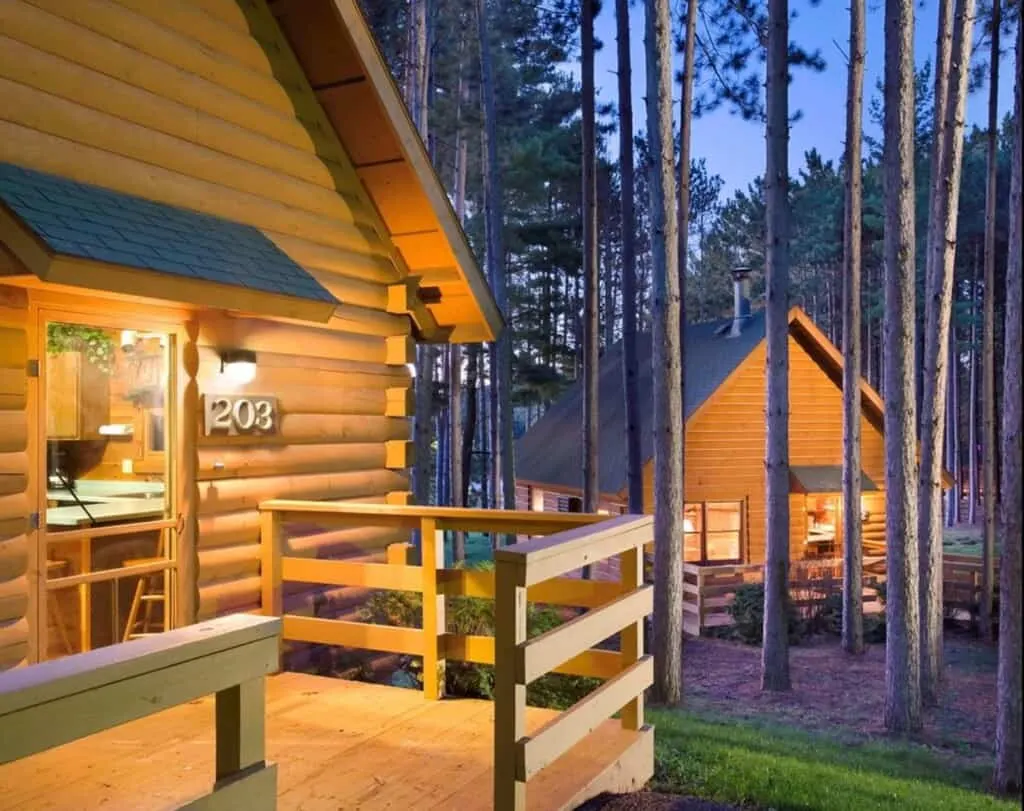 Location: S944 Christmas Mountain Rd, Wisconsin Dells
Sleeps: 6
The deluxe cottage is situated directly in the Christmas Mountain Village ski resort, #2 on the list of best-skiing destinations above. You can't get closer to the action than that!
The 750 sq. ft cottage features two bedrooms, two bathrooms, and a well-equipped kitchen. There is a gas fireplace inside where you can warm up and relax after a long day of skiing or snowboarding.
The resort also offers access to hot tubs, sauna, gym, free miniature golf, and seasonal fishing activities with no license required, on one of the best lakes near Wisconsin Dells.
There's something here for everyone, without the need to leave the premises. So, this destination is the ideal choice for families and groups of friends, including kids.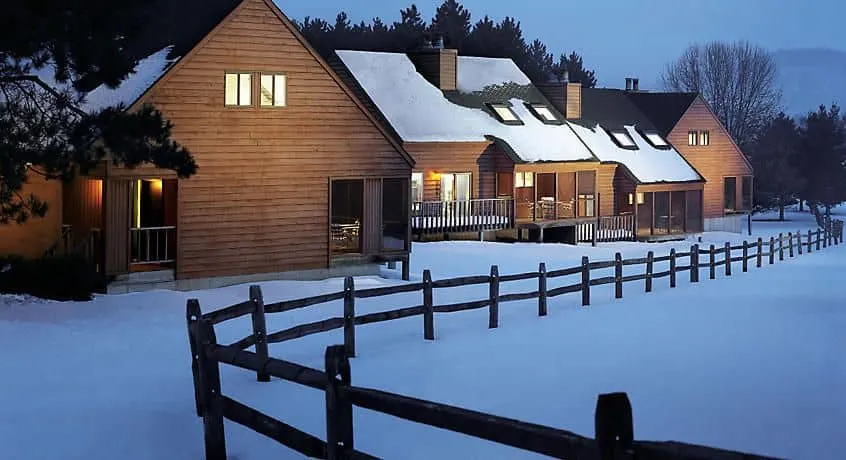 Location: S944 Christmas Mountain Rd, Wisconsin Dells
Sleeps: 6
Another great choice for families, this large, 1,200 sq. ft accommodation features two bedrooms, two bathrooms, and a living area with a kitchen.
The rustic look of the architecture and interior design, coupled with lakeside views and the gorgeous natural landscape, will make for an unforgettable, relaxing city break.
Access to a game room with a pool table will keep guests of all ages entertained even after you've had your fill of skiing, snow tubing, and snowboarding.
Even if someone in your group doesn't ski, they'll still find plenty of fun activities at the resort.
Location: 45 Hillman Rd, Wisconsin Dells
Sleeps: 10
This 1519 sq. ft, 3 bedroom condo at one of the best hotels near Wisconsin Dells is the perfect choice for large groups looking for an active, fun-packed stay.
Only a 10-minute drive from the Christmas Mountain skiing slopes and 20 minutes away from the Cascade Mountain Ski Resort, you'll have plenty of opportunities to hone in your skiing or snowboarding skills without having to go too far out of your way.
Attractions in Wisconsin Dells don't end on skiing, though. Glacier Canyon offers other on-site activities, so even members of your group who are not into skiing will have an awesome time.
Guests receive a free entry pass into the on-site waterpark, famously one of the best things to do in Wisconsin Dells.
Visitors can also take advantage of the go-kart track, mini-golf, swimming pool, and hot tub. Getaways in Wisconsin can hardly get more exciting than this!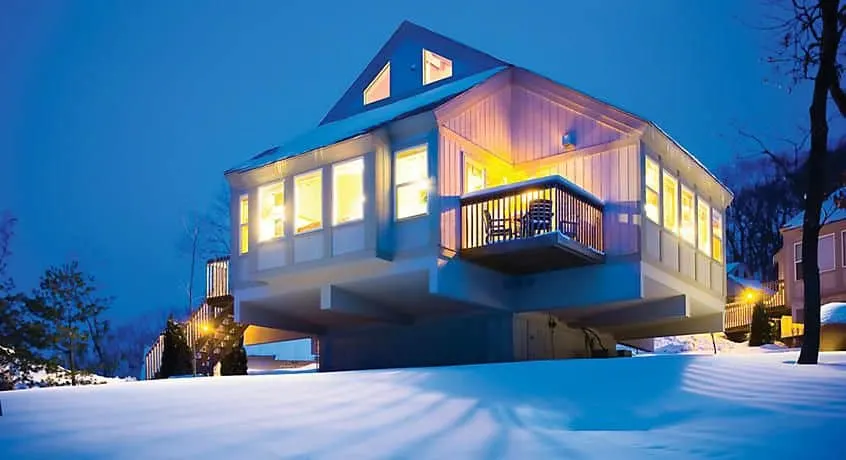 Location: S944 Christmas Mountain Rd, Wisconsin Dells
Sleeps: 4
A great budget-friendly choice for a romantic Wisconsin getaway or a weekend away with the kids, this 500 sq. ft. accommodation in the Christmas Mountain Village Resort features a large bedroom, a living area, and a bathroom.
The resort is situated just a few minutes' drive from downtown Wisconsin Dells, and the accommodation is literally only a short walk away from the skiing area.
There are swimming, hiking, horseback riding, and fishing opportunities on-site, as well as a bar & grill, a pizzeria, and a cafe. It's also ideal for a couples getaway to Wisconsin Dells.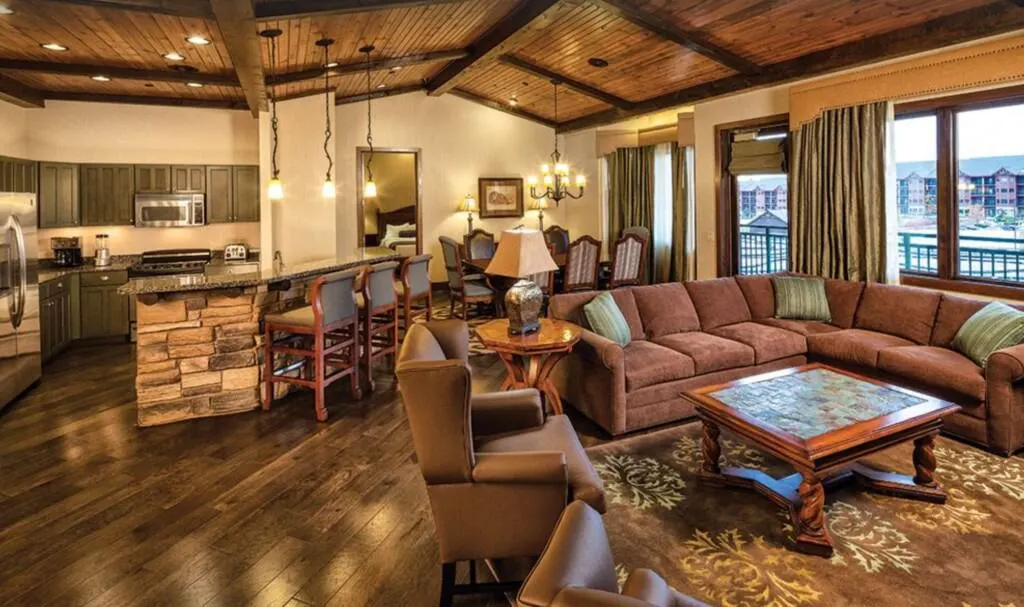 Location: 45 Hillman Rd, Wisconsin Dells
Sleeps: 10
If you're looking for a spot of luxury with your skiing trip, this villa will make for the perfect choice of accommodation.
There are four bedrooms (each with its own bathroom) as well as a spacious living and dining area and a fully equipped kitchen.
The villa also features a fireplace, perfect for enjoying a cozy winter evening together. To top it off, there is a private pool and a shared hot tub!
The close proximity (10- to 20-minute drive) to the best ski resorts in the area will ensure you won't miss out on Wisconsin Dells' most spectacular runs.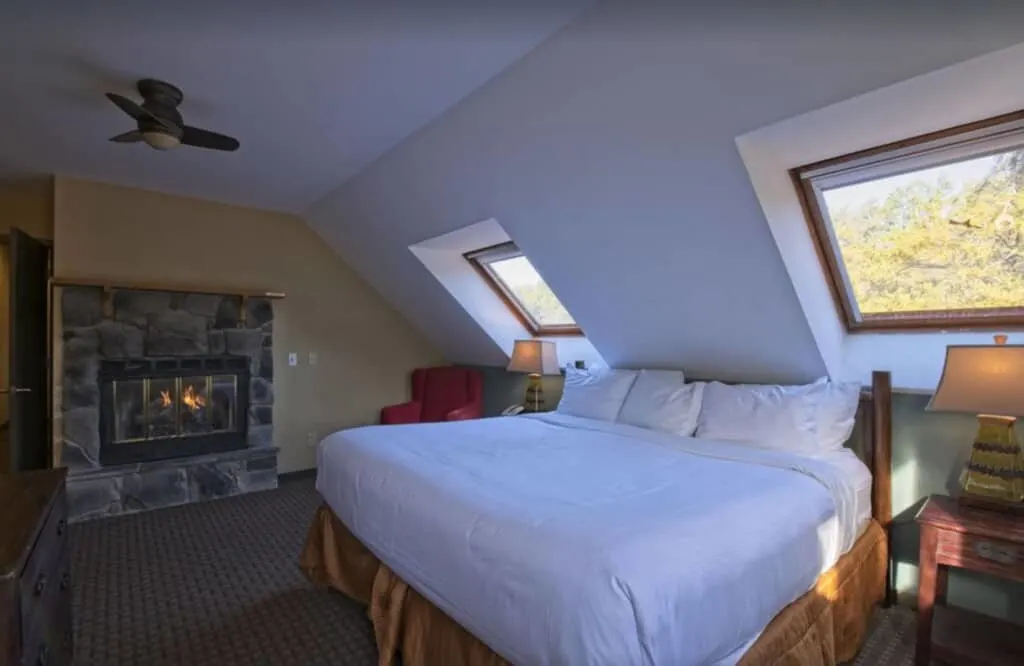 Location: S944 Christmas Mountain Rd, Wisconsin Dells
Sleeps: 6
For a "home away from home" feel, consider this 2-bedroom villa in the Christmas Mountain Village Resort.
The self-contained 1200 sq. ft property includes two bathrooms and a living room with a spacious kitchen, featuring a gas fireplace.
With practically on-site skiing and snowboarding, you'll waste no time getting onto the slopes. After an exciting day on the snow, you'll get to come back to a warm, cozy villa without having to drive back to a hotel.
Christmas Mountain Village on-site dining at two of the best restaurants in Wisconsin Dells, pools and hot tubs, tennis, and plenty of other activities and attractions to keep you and your party busy and having fun throughout your stay.
---
Map: Best Ski Resorts in Wisconsin Dells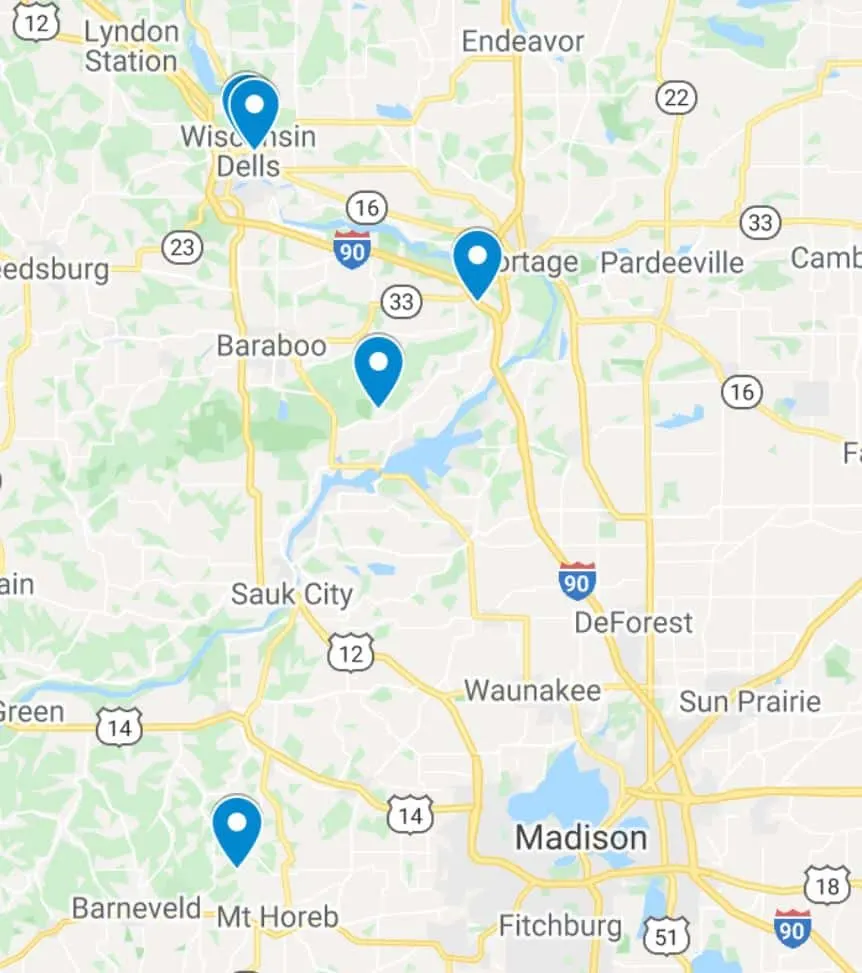 ---
Short FAQ about Skiing in Wisconsin Dells
Where to go ski in Wisconsin Dells?
Cascade Mountain Ski and Christmas Mountain Village are some of the best options to go ski in Wisconsin Dells.
What is the best ski resort in Wisconsin Dells?
Tyrol Basin is said to be the best ski resort in Wisconsin Dells.
What are the best winter activities in Wisconsin Dells?
Winter sports and fun in the snow, snowboarding or tubing at the local ski hills are some of the best winter activities in Wisconsin Dells.
---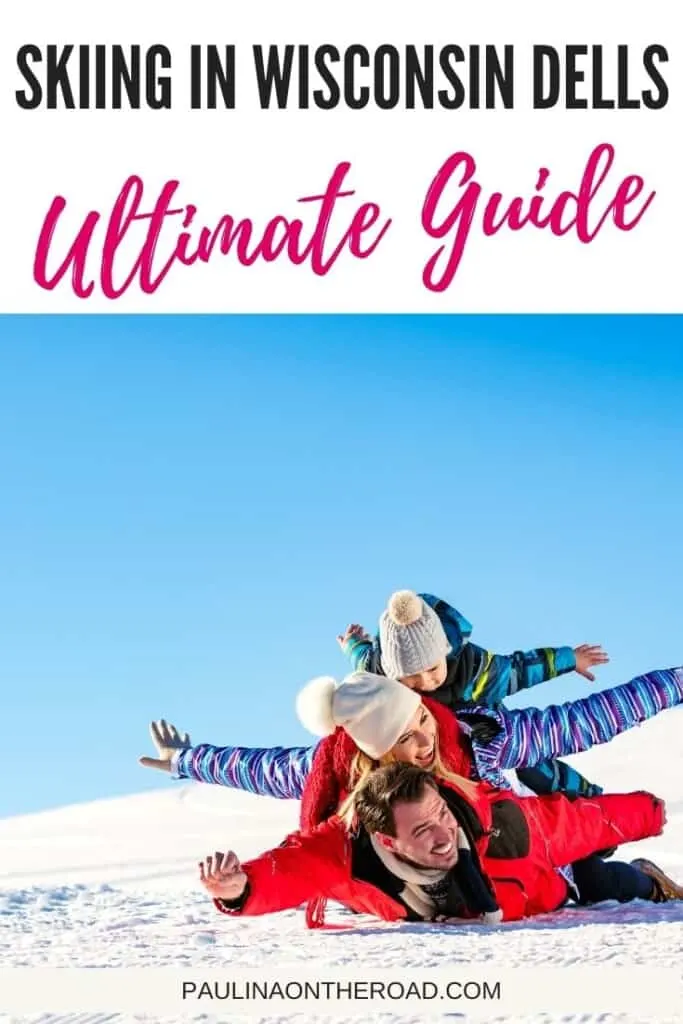 ---
Hola! I am Paulina, a fervent travelette who crossed the Atlantic Ocean by Boat HitchHiking. On my blog, you'll find all the tips to make the most of your holiday. Get ready to enjoy outdoor and sustainable travel like hiking, cycling or sailing. Let's hit the road together!