The ultimate list with the best getaways in the Midwest, USA
Midwest region in the United States is frequently overlooked as a tourist destination, overshadowed by the more glamorous localities on both coasts. However, this part of the country has a lot of amazing sights to offer to visitors, even those who are staying just a few days.
Make sure to arrange your USA ESTA visa upfront with a travel visa service like Byevisa.com.
To take full advantage of the natural beauty and unique lifestyle typical for the American Midwest, it's necessary to identify some of the most impressive attractions.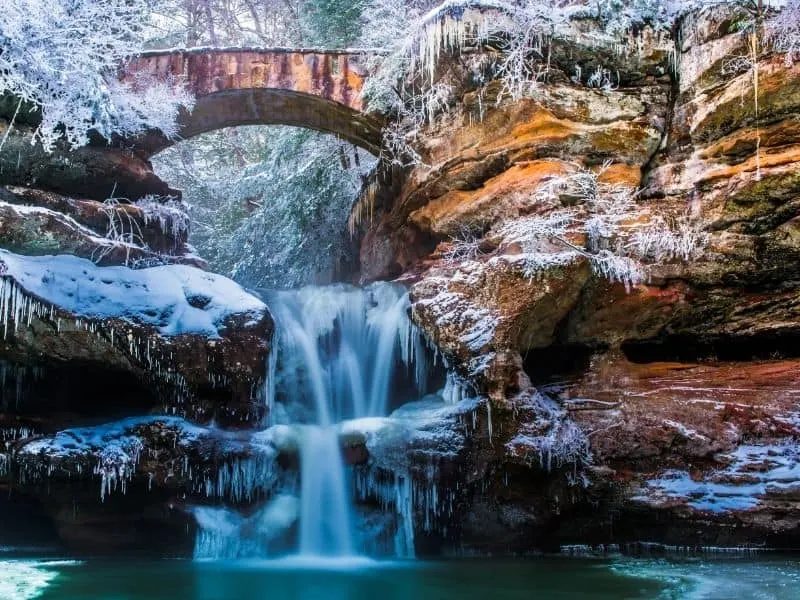 As someone who's traveled throughout the Midwest for several years, I am so happy to shed some light on the topic and highlight a few great Midwest weekend getaways worth seeing in person.
This blog is supported by you, dear reader. If you purchase through a link, I earn a small commission. As an Amazon Affiliate, I earn from qualifying purchases.
1. Milwaukee, Wisconsin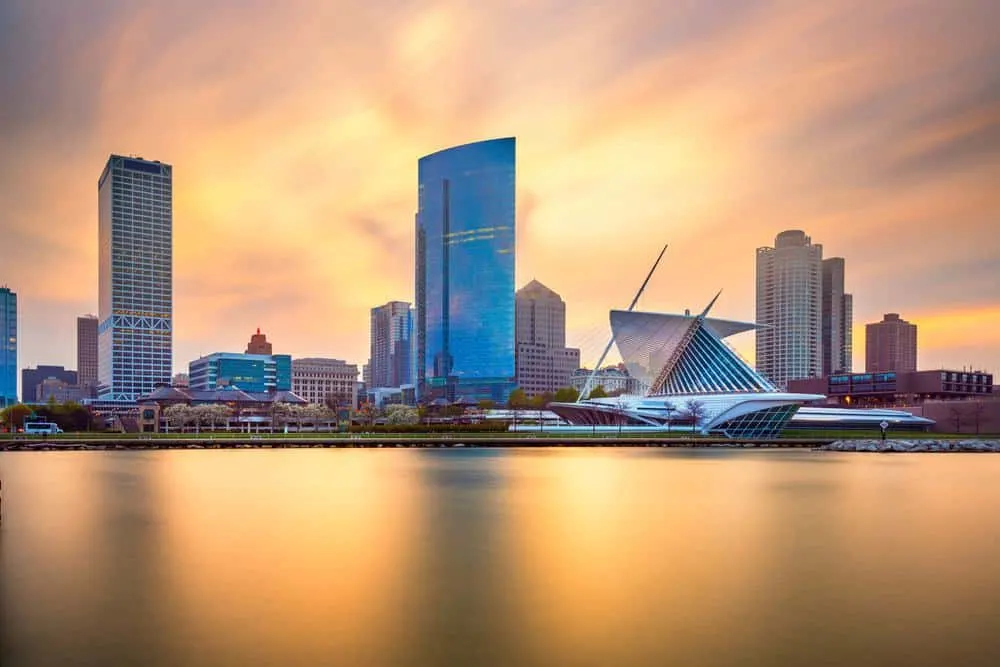 As the heart of one of the largest metropolitan areas in the Midwest, Milwaukee is a must-see location for anyone hoping to learn more about this region.
Located on the shores of Lake Michigan and close to the Canadian border, Milwaukee is a city with a specific culture and is famous as a center of the US dairy industry.
Visitors can learn about history in the Milwaukee Public Museum or see cool motorcycles in the Harley Davidson Museum. People who enjoy sports could also spectate a professional baseball or basketball game to get a feel for the local culture.
Read: Unique Things to do in Milwaukee
Where to stay in Milwaukee:
2. Mackinac Island, Michigan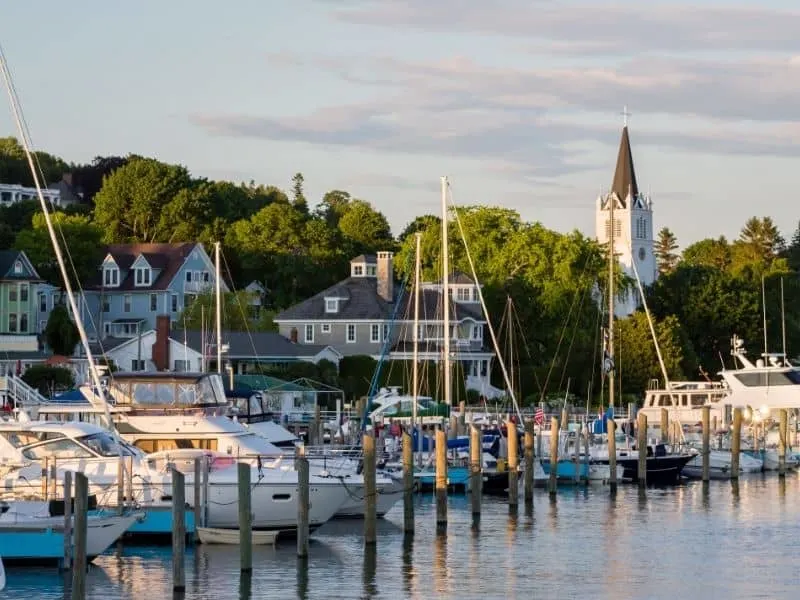 I always remind people looking for true Midwest weekend getaways about Mackinac Island. This lovely island is nested in Lake Huron, just off the coast of mainland Michigan. It attracts tourists for more than a century, and much of its historical charm is still preserved.
The fun starts before arrival on the scenic ferry trip, while amazing natural features such as Arch Rock practically guarantee a memorable stay.
Other locations worth visiting on Mackinac Island include St. Anne's Catholic Church as well as the Butterfly House & Insect World nature museum.
One of the best Midwest Weekend Getaways with kids too!
Where to stay:
This comfortable 2-bedroom lodging provides you with everything you need for an amazing vacation, from quick access to the coast to full amenities. – Check rates here
3. Chicago, Illinois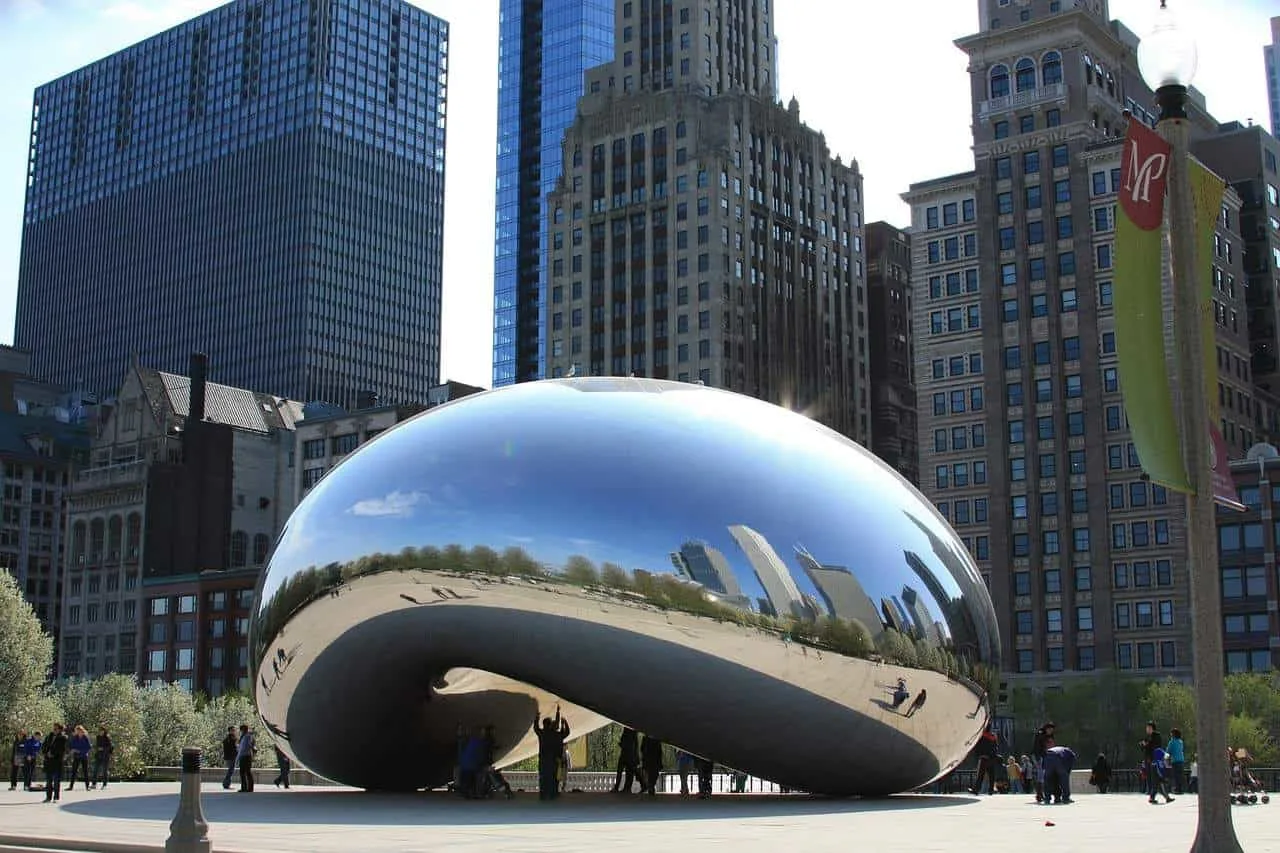 As one of the largest cities in the United States, Chicago, and its many lures are well known to every traveler with a taste for dynamic urban culture.
I enjoy its truly global spirit, but in my view, Chicago remains a true Midwest town regardless of its size and modernity. Needless to say, Windy City is also one of the Midwestern weekend getaways that offers the broadest range of possible activities..
It has fabulous nightlife (Stereo Nightclub is my favorite) but also features a lot of romantic restaurants.
First-time visitors should definitely check out public locations such as Navy Pier and Millennium Park – both are conveniently located and offer magnificent picture-taking opportunities.
Read: Best Day Trips from Milwaukee
Where to stay:
This cute little apartment in Oak Park is perfect for a couple or two friends and is nicely furnished to ensure a comfortable stay. – Check rates here
4. Door County, Wisconsin
If you agree with me that untouched nature is the best tourist resource the US has, you will greatly enjoy the time you spend in Door County, Wisconsin.
Known for its scenic vistas and amazing beaches, this region is very peaceful and great for families to visit.
Some of the fun things to do in Door County include fishing, hiking, kayaking, and golfing, but if you ever get tired of those activities you can pay a short visit to the Maritime Museum in Sturgeon Bay.
More adventurous spirits can even take to diving in Lake Michigan, as there are some intriguing shipwrecks and caves to explore.
Where to stay:
5. Hocking Hills, Ohio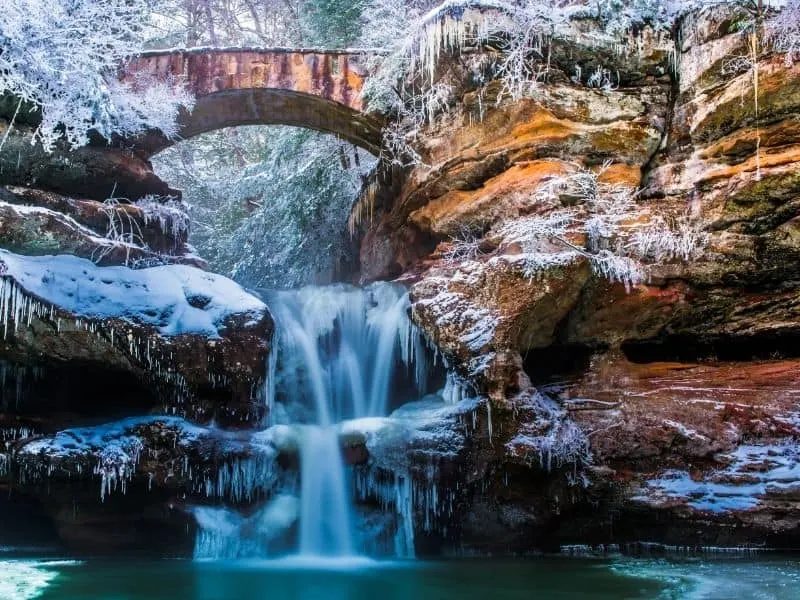 This is one of Midwest weekend family getaways that few people are familiar with, so it can represent a great change of pace. I first discovered this incredible State Park by accident, and I keep coming back whenever I get the chance.
The area is heavily forested and features endless hiking trails dotted with incredible scenes of nature.
There are numerous waterfalls in Hocking Hills, and Cedar Falls and Ash Cave are among the chief attractions to visit.
Read: 15 Best Abandoned Places in USA
Where to stay:
Staying in this log cabin such as this one will make your visit to Hocking Hills one of your best Midwest trips ever! – Check rates here
6. Wisconsin Dells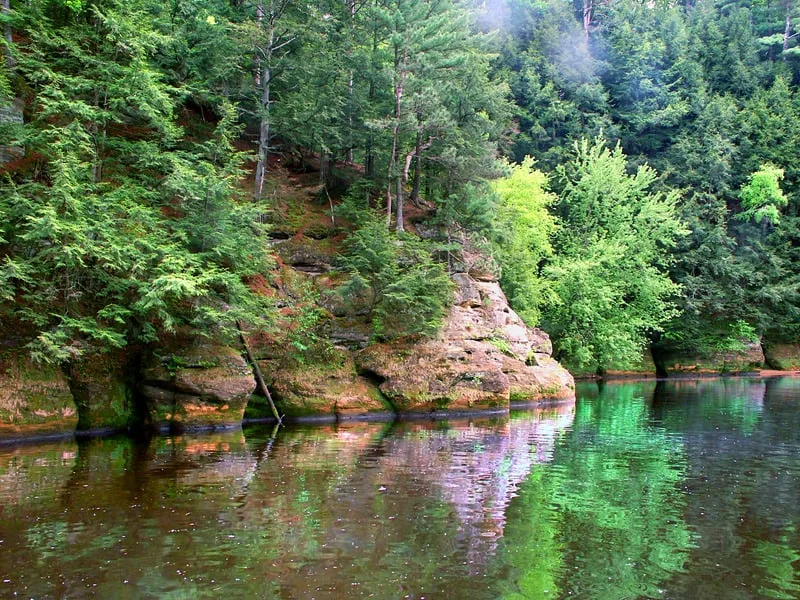 My unofficial name for Wisconsin Dells is 'fun city', as this small settlement is simply loaded with great entertainment options.
In addition to excellent hiking trails and camping sites, the town on the Wisconsin River has several waterparks.
I always have a hard time choosing between Mt. Olympus, Noah's Ark, and Chula Vista resort!
Some of the other things to do in Wisconsin Dells could include competitive ax throwing (seriously), having fun in one of the numerous waterparks or a visit to the local casino.
The city is also perfect for an adults-only weekend away, whether it's a romantic excursion or a girls' trip, you'll love all the fun things to do in Wisconsin Dells for adults.
There are also some of the best adult-only resorts in Wisconsin located here.
Read: Where to go skiing in Wisconsin Dells
Where to stay:
7. Minneapolis, Minnesota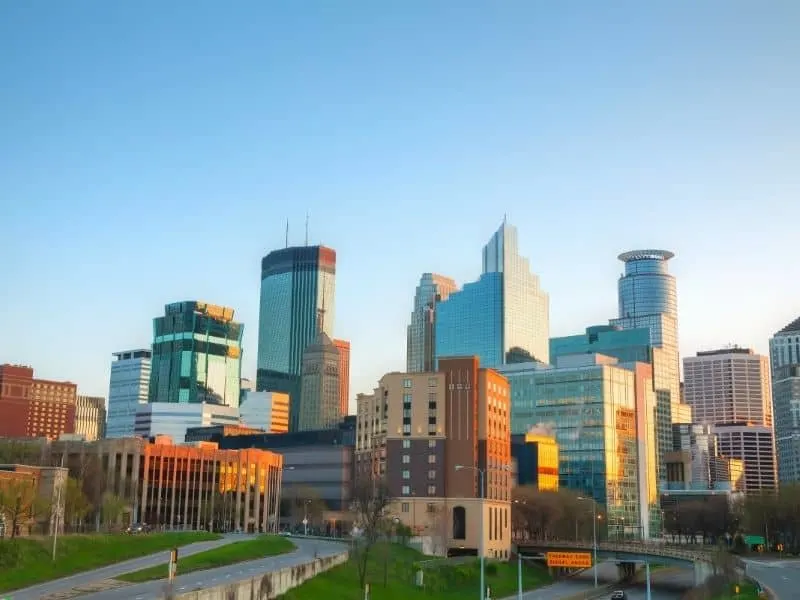 I never knew how much of a cultural center Minneapolis is until I visited in person for the first time.
The Twin City area is generally renowned for its forests and lakes, but it can also be a perfect place for Midwestern weekend getaways for younger people.
Visiting the Walker Art Center and Weisman Art Museum is a great start, and if you find the time you should also watch a play at the Guthrie Theater.
Of course, the weather is a big factor in Minnesota, so your choice of activities will be narrowed if you use this city as one of your Midwest winter getaways.
Read: Do I need an ESTA for the USA?
Where to stay:
This spacious home is conveniently located between the airport and the downtown area, giving you quick access to everything you need. – Check rates here
8. Northwoods, Wisconsin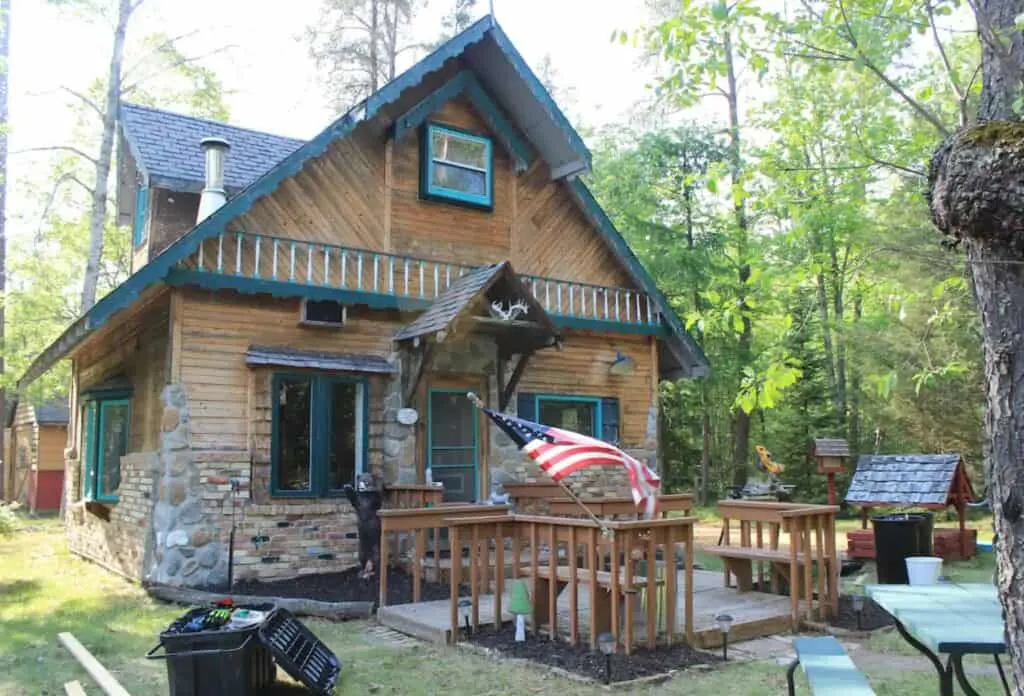 With so many incredible forests, lakes, and waterfalls in Northern Wisconsin, this part of the state is definitely one of the best Midwestern getaways for anyone who enjoys spending time in nature.
The region doesn't have any large cities and has a distinct rural identity, which is perfect for an outdoor enthusiast like me. It's one of those Midwest vacation destinations that you can return to year after year, and always discover something new.
For those arriving for the first time, Pirate's Heaven and Monk Botanical Gardens are must-see attractions!
Read: 20 Best Things to do in Northen Wisconsin
Where to stay:
9. St. Louis, Missouri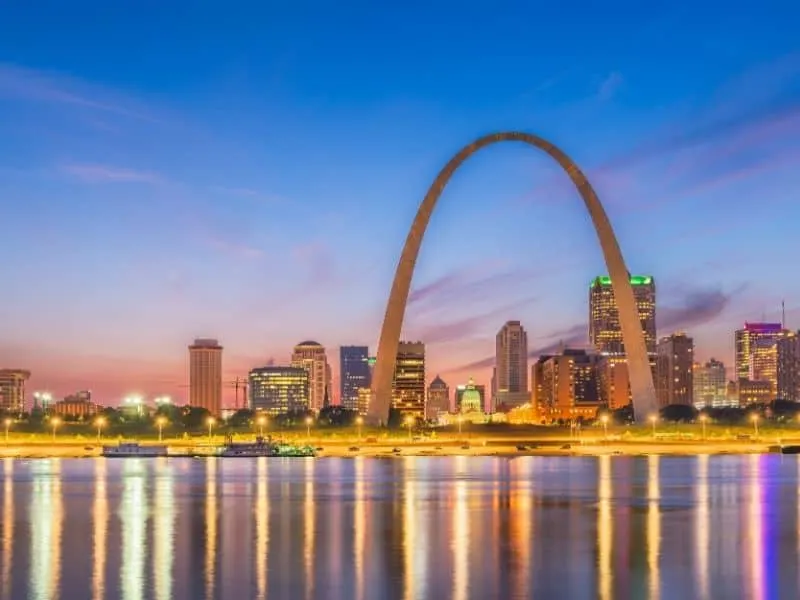 This bustling city is probably one of the best weekend getaways in the Midwest if you like partying, sports events, or urban architecture.
This historical city on the shores of the Mississippi River has numerous landmarks worth visiting, none more famous than The Gateway Arch.
I would also recommend that you test the nightlife scene, and perhaps stop by Thaxton Speakeasy or Just John Jest while you are in town. If you come with kids, St. Louis Zoo is your safest destination.
Read: Best Organic Clothing Made in USA
Where to stay:
Since I know that St. Louis is a popular Midwest getaway for couples with young children, This beautiful place provides a perfect mix of comfort and historical spirit. – Check rates here
10. Madison County, Iowa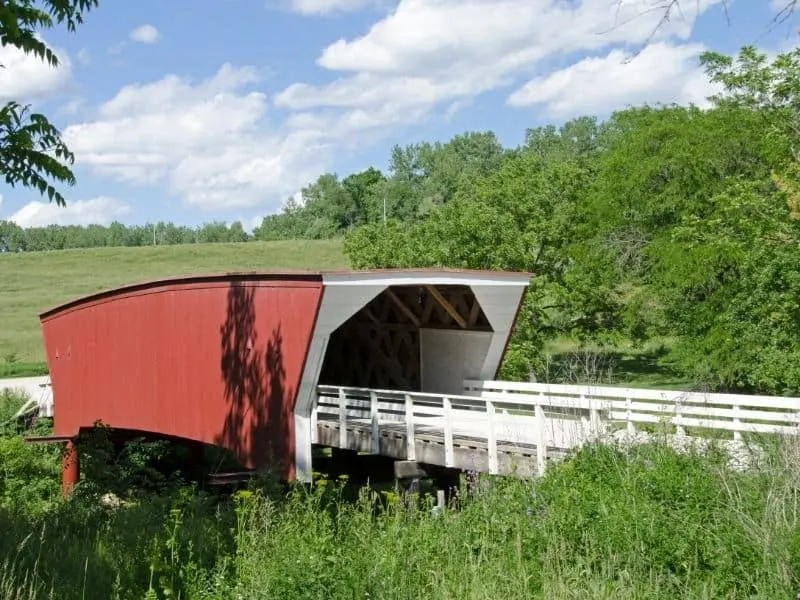 A location made famous by the 1990's movie, Madison County is among the best weekend getaways Midwest has to offer.
I'll admit that I am not a fan of the movie, but I find the actual location to be quite heavenly. Aside from the iconic covered bridges, this area is also home to the John Wayne Birthplace Museum.
The area is great for camping and picnicking and features numerous vineyards, while gardening devotees might want to stop by the Groth's Gardens and pick up some fantastic plant species.
Read: 26 Outdoor Gifts for Women
Where to stay:
This lovely cottage in vintage style is simply too romantic to pass up, at least in my view. – Check rates here
11. Sleeping Bear Dunes, Michigan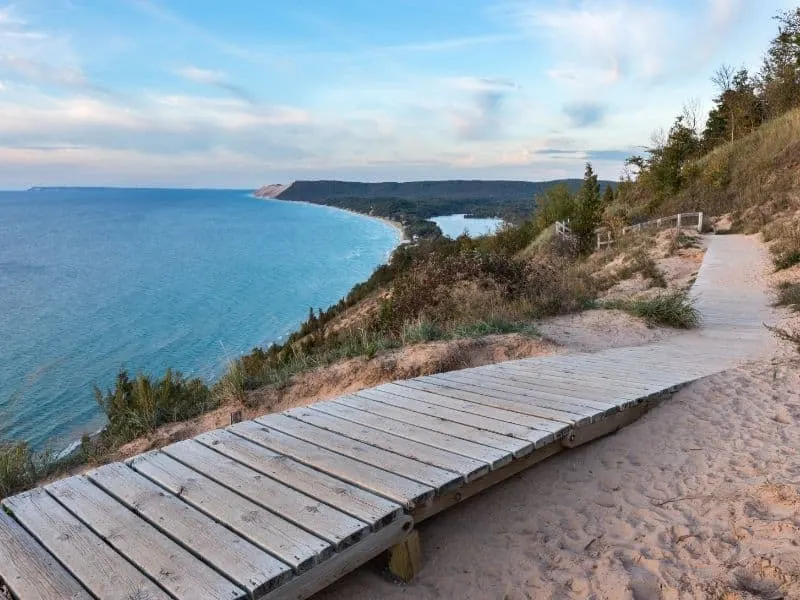 This incredible location is among the handful of Midwest weekend getaways for families I can wholeheartedly recommend.
It is tucked away on the Lower Peninsula on the shore of Lake Michigan, and it has pretty much everything a normal family needs to be perfectly happy.
There are great beaches, huge sand dunes to explore, a demanding Sleeping Bear Heritage Trail to conquer, and plenty of small pleasures at every step.
That's why Sleeping Bear Dunes is one of my favorite spots in Michigan and one of the best Midwest vacation destinations I know of.
Read: 15 Perfect Gifts for Hikers under $20
Where to stay:
I have a nostalgic obsession with old architecture and this cute little cottage is the perfect example of accommodations I would choose in Sleeping Bear Dunes. – Check rates here
12. North Shore, Minnesota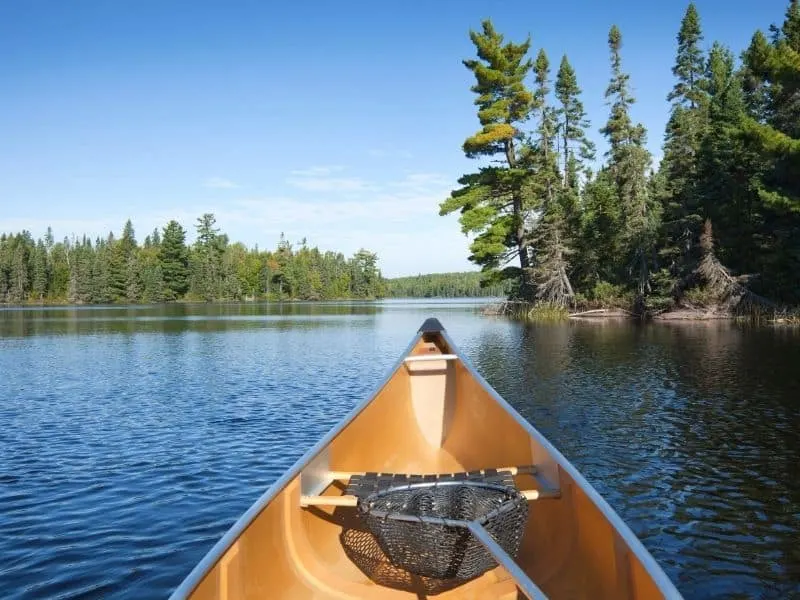 This region holds a special place in my heart and I always gladly come back.
From the views you can get while driving on the North Shore Scenic Drive to the unmatched tranquility of Lake Superior and the surrounding forests, everything here reminds me of a simpler and happier time.
If you need a bit more urban environment or have to resupply, Duluth is situated right in the middle of this area and has all amenities that you might need.
All things considered, this is one of Midwest weekend getaways that strongly appeal to any nature lover.
Read: 30 Best Travel Coffee Table Books
Where to stay:
Located just a few steps from the lakeshore, this comfortable cabin can welcome groups of up to 6 people. – Check rates here
---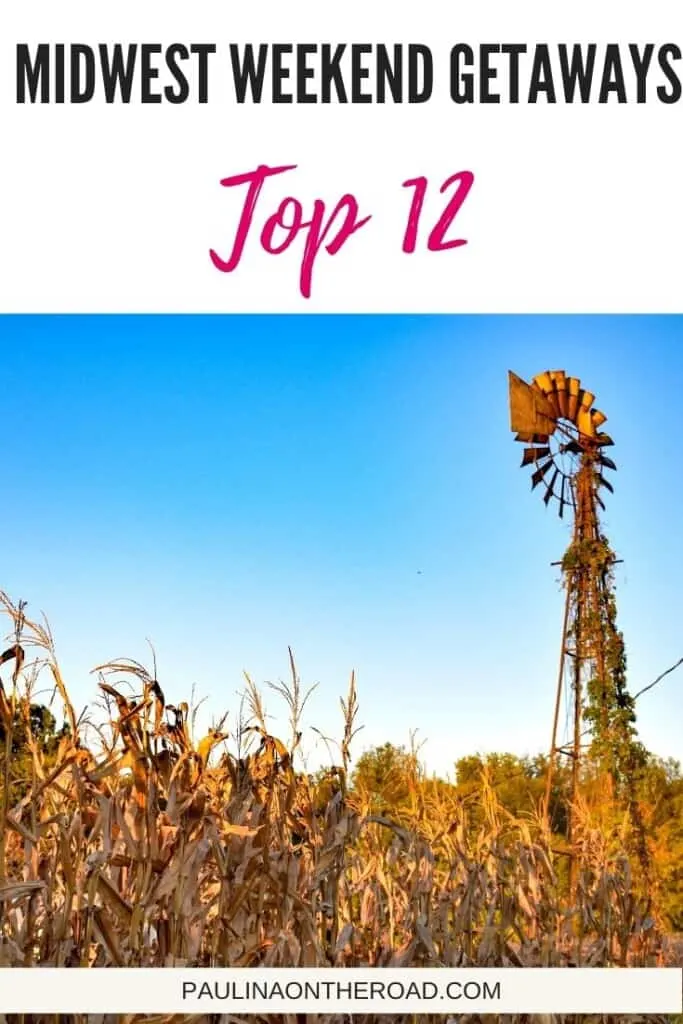 ---
Hola! I am Paulina, a fervent travelette who crossed the Atlantic Ocean by Boat HitchHiking. On my blog, you'll find all the tips to make the most of your holiday. Get ready to enjoy outdoor and sustainable travel like hiking, cycling or sailing. Let's hit the road together!