A guide to the amazing winter vacation rentals in Wisconsin for a unique cabin getaway in Wisconsin (South, Central & North!)
A winter wonderland is waiting for you in the state of Wisconsin, with soft snow and many different activities to try.
From skiing to watching sled dog races, there are many new experiences to try, so why not rent a cozy little cabin to tie up the perfect winter getaway in Wisconsin?
If you are an outdoor lover like me, you hardly can't imagine anything cozier than a cabin getaway. But it's so hard to choose one or to find the best cabin for your needs.
That's why I decided to put together a list compiling some of the best winter cabins to rent in Wisconsin that are worth every penny! What's your favorite winter cabin in Wisconsin?
"Paulina on the Road" is supported by you, dear reader. As you buy through my links, I earn a small commission. As an Amazon Affiliate, I earn from qualifying purchases. Thank you for your support
Top resources to travel Wisconsin
✎ Plan the ultimate Wisconsin road trip (no backtracking!) with the Perfect Wisconsin Road Trip itinerary – Buy now for less than 12$

✈ Find the best hotel deals in Wisconsin with Trivago

➳ Book vacation rentals in Wisconsin with VRBO

✔ Book tours in Wisconsin with Viator

☘ Get the best discounted outdoor gear (outlet) at REI.com

$ Get Wisconsin hiking guides and maps at REI.com

✎ Never leave without travel insurance. I get mine at SafetyWing. It is easy to set up, cheap, and reliable.
Overview: Best Winter Cabins in Wisconsin
---
Best Winter Cabins in Northern Wisconsin
Although the winter may be a bit tougher here than in the southern parts, the north is filled with many resorts and cabins to accommodate the large crowds that are attracted to the plentiful amount of fun adventures and activities to try!
You can find the best resorts in Northern Wisconsin along with the best winter cabins in Wisconsin for couples as well as family vacations.
The region also has some of the best winter resorts in Wisconsin.
Sledding, skiing, and snowboarding down mountains are some of the most popular ways to enjoy the beautiful snow. These are some of the main reasons to visit Wisconsin in winter.
When in northern Wisconsin, you may want to consider a day the Apostle Islands. Especially in winter, there are plenty of things to do in the Apostle Islands like enjoying the gorgeous ice caves.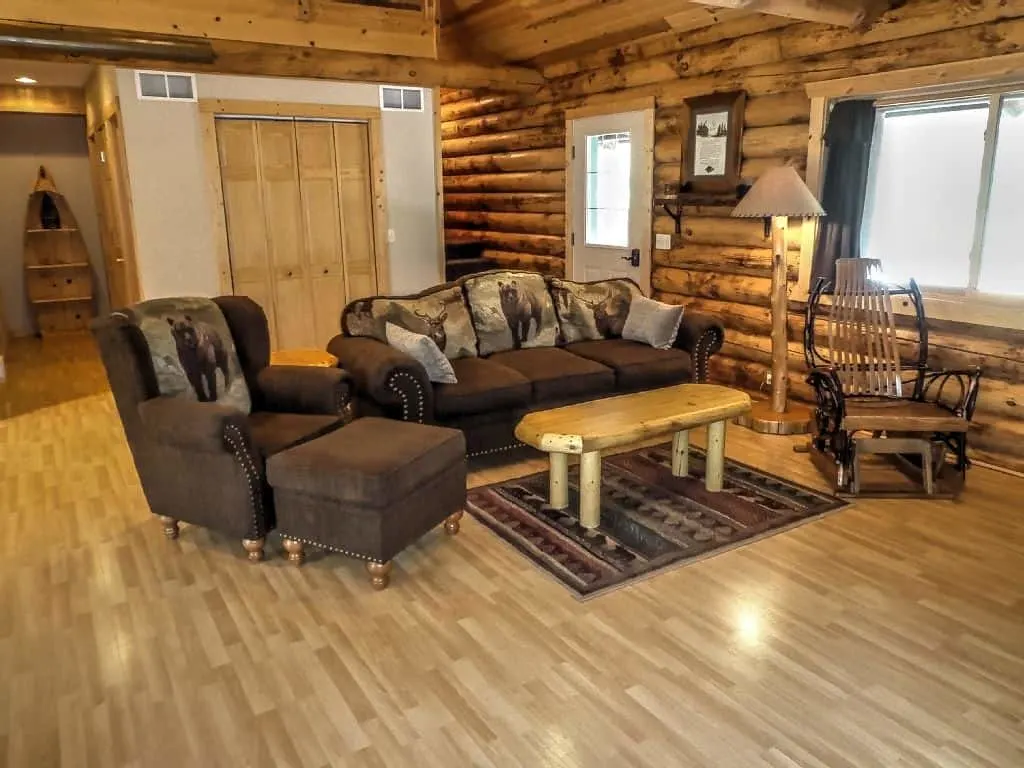 Sleeps: 10
Nr of Bedrooms: 04
Facing the calm and quiet Little Sissabagama Lake, this cozy cabin provides wonderful fishing opportunities with its high populations of marine creatures swimming about.
It is fully decked out with outdoor and indoor activities and offers equipment for various winter sports.
Not only is this beautiful retreat very warm and welcoming in the winter, but they are also pet friendly, so don't forget to bring along your lovable furry companion!
It's one of the best cabins for rent in Northern Wisconsin. You can even find the best waterfalls of Northern Wisconsin here.
Sleeps: 4
Nr of Bedrooms: 2
This secluded haven becomes the perfect winter wonderland in the cold months with pretty snowflakes to catch on your tongue and a pretty fireplace to warm up in while drinking some hot chocolate.
It's one of the best cabins in Northern Wisconsin.
The snowmobiling and skiing trails scattered near the area are super fun to try. There's no better way to spend the day before retiring into the warmth of the beautiful cabin.
At night, however, the shimmering stars are in clear view and take center stage of the dark sky.
From here it is only a short drive to the scenic lakeshore of Lake Superior.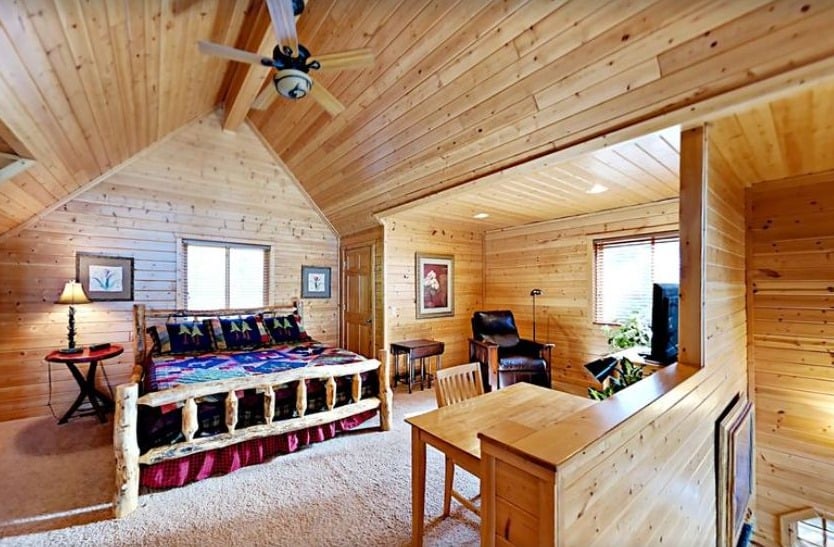 Sleeps: 12
Nr of Bedrooms: 4
This tall 3 story cabin has big floor to ceiling windows and glass sliding doors that lead to the balcony so you are able to enjoy the view of the snowy landscape while staying warm by the heater in your soft blankets.
Spend your winter vacations in Wisconsin at this beautiful cabin!
Many trails for ATVs and snowmobiles closely surround the cabin rental, which is situated right in front of a clear lake called Lac Courte Oreilles, where you can go for boating, fishing or water skiing.
You can also find several cool things to do in Northern Wisconsin here to enjoy your stay.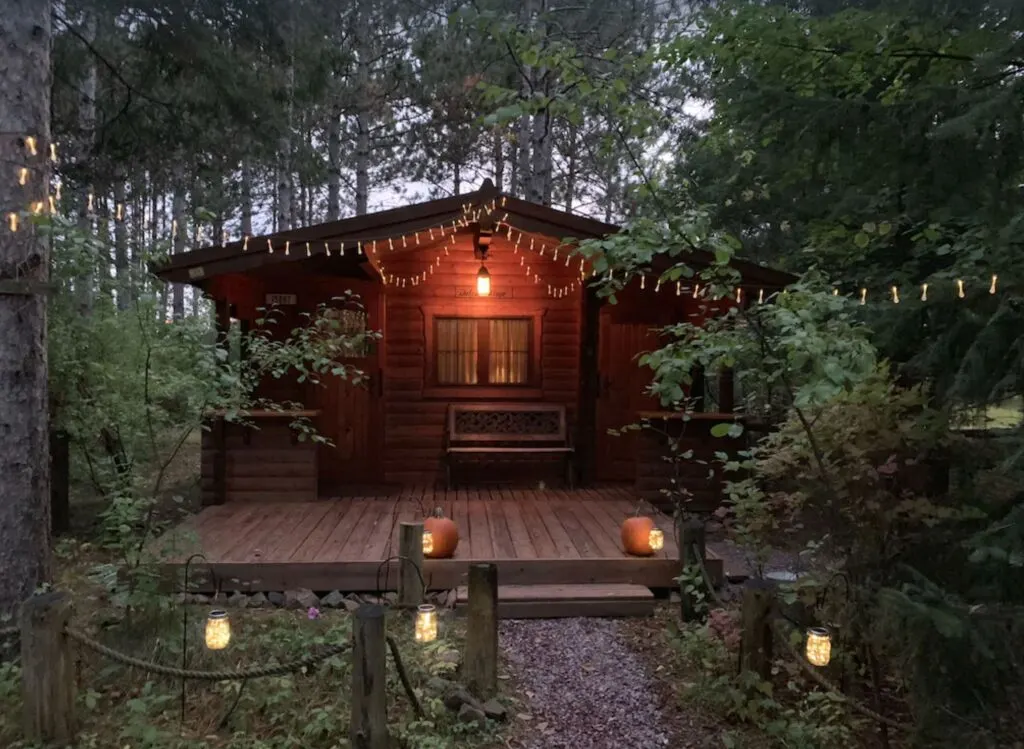 Sleeps: 2
Nr of Bedrooms: 1
This light wood cabin is the perfect nest for a cozy winter getaway in Northern Wisconsin. It has huge floor-to-ceiling windows that let in the cloud-filtered sunlight and the white snowy landscape. On top, it's incredibly affordable!
This, on top of the calm and peaceful atmosphere, creates the perfect setting for a lovely getaway with close friends or a loved one.
After long winter walks in an idyllic setting, a hot bath is awaiting you. Visitors loved the proximity to the lake and the closeness to trails. Truly a home away from home.
It's a great cabin for a romantic getaway in Wisconsin…all year round!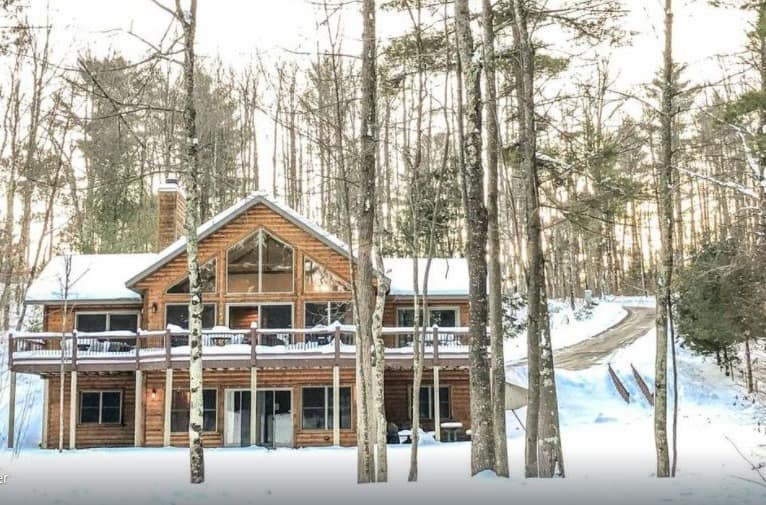 Sleeps: 12
Nr of Bedrooms: 4
With a ping pong table indoors and a golf club not too far away, this luxurious lake cabin in Wisconsin faces the Chippewa Flowage lake, the perfect spot for some afternoon canoeing with the complimentary canoe or fishing.
You can cuddle up with friends, family, and your adorable animal companion in front of the warm bright fireplace or go outside in the large area around the cabin and play in the snow.
This makes it one of the best cabins for rent in Northern Wisconsin!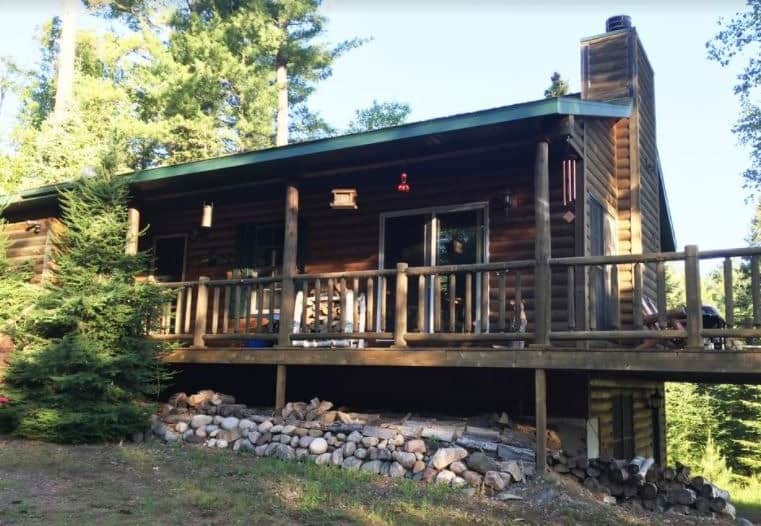 Sleeps: 6
Nr of Bedrooms: 3
This secluded winter cabin in Wisconsin is the perfect spot for a lovely and calm getaway from the stress of daily life.
You get a magical view of the snow blanketing the surrounding forest, which is filled with ATV trails quite close to this beautiful cabin to drive down. It's an ideal cabin for romantic getaways in Wisconsin.
In addition, there's also a nice fireplace to warm up by. Create your own meal in the fully stocked kitchen or go fishing in the Spider lake, overlooked by this rental. Grill it with the complementary charcoal grill.
From here it is only a 30 min drive to the scenic Boulder Junction area.
Best Winter Cabins in Central Wisconsin
Enjoy a fun and adventurous retreat with your family at Central Wisconsin!
What a wonderful idea to spend your winter vacations in Wisconsin: cozy up around the fireplace and have fun snowmobiling, skiing, and skating around the area in winters.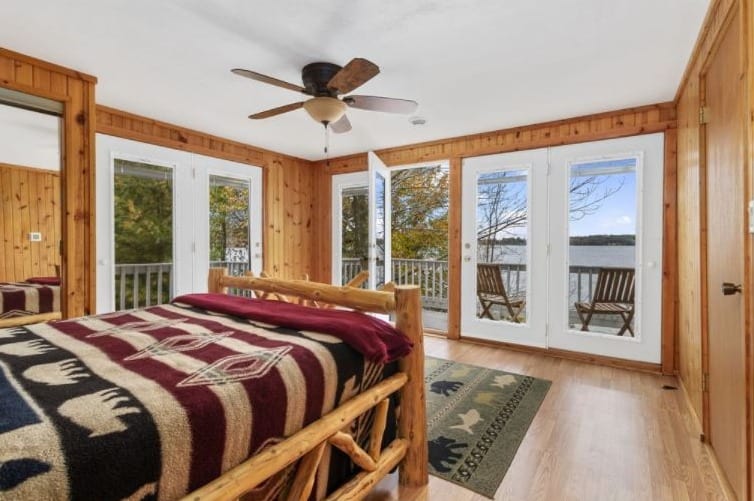 Sleeps: 23
Nr of Bedrooms: 5
This spacious lakefront cabin sets itself apart with how many people it can easily accommodate with its big rooms and a plethora of fun games and activities for everyone to try.
It even has a game room with a foosball table, dual electric score basketball game, consoles for video games, and much more to pass time in the chilly night.
In the day when the winter sun is providing a soft glow to the snow-covered landscape, have fun with family and friends by going on long winter walks at the lake or building snowmen and walking through the white forest.
You may even stumble upon the wildlife.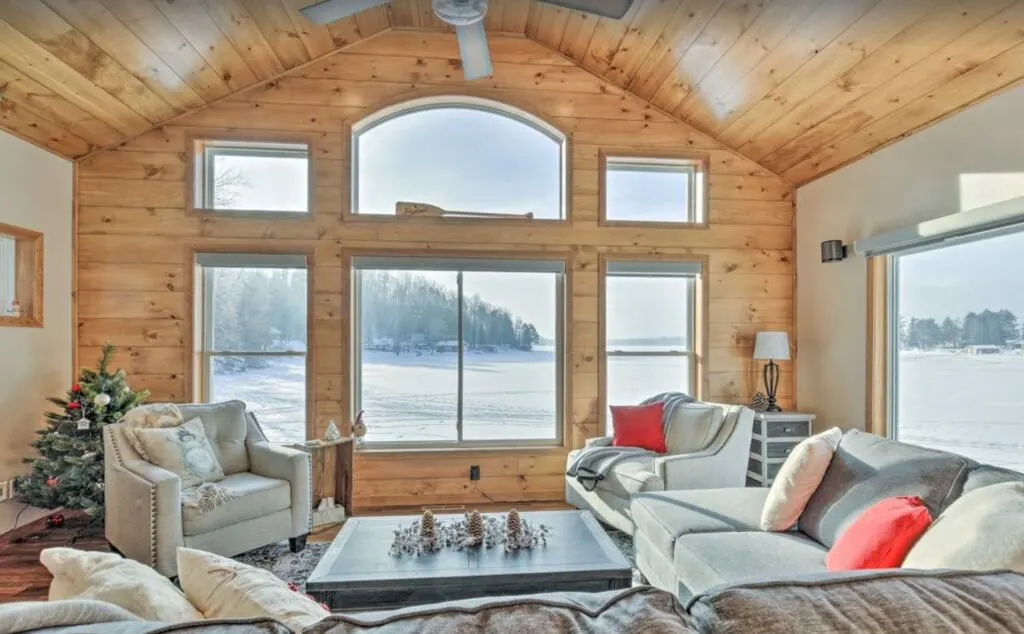 Sleeps: 12
Nr of Bedrooms: 4
This pleasant retreat contains not only wonderful rustic wooden aesthetic-themed furniture but also an indoor jacuzzi! It's one of the best cabins in Wisconsin Dells!
Built on some elevated rocks, this 3-story cottage, including a fun loft, overlooks a trail leading to Timme's dam, the perfect spot for fishing (if you have a fishing license) and kayaking down the stream while admiring the surrounding greenery.
Enjoy the chill of the winter winds in the large decks and balcony!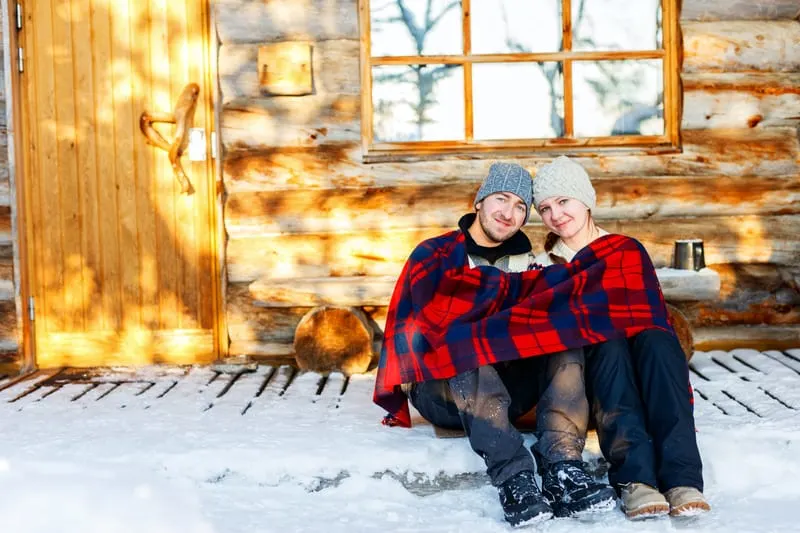 Sleeps: 4
Nr of Bedrooms: 2
An optimal choice for a group of four friends or a small family to spend their winters in leisure by boating in the beautifully quiet and serene lake.
With a seamless central heating system and rooms equipped with large comfortable beds, this winter cabin in Wisconsin tends to be one of the best places to stay in Central Wisconsin.
Surrounded by lush greenery, the area hosts the opportunity of skiing and snowshoeing through the woods. Go fishing and take advantage of the fully equipped kitchen, while cooking up a deliciously fresh fish meal!
You could also relax and cozy up in the lounge area and binge on your favorite show on the flat-screen while sipping on a cup of hot chocolate or coffee. And why not, go ice fishing in the close surroundings.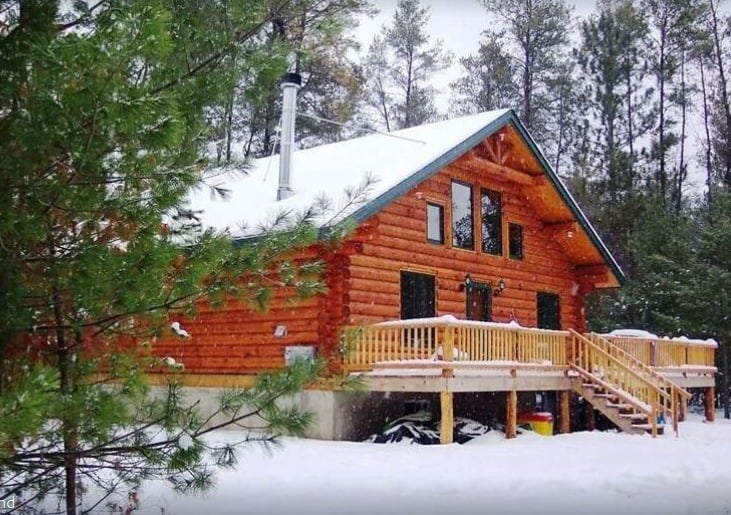 Sleeps: 11
Nr of Bedrooms: 3
Enclosed by tall pine trees, overlooking the gorgeous Buckhorn lake, this rental cabin in Wisconsin is a treat for large groups to stay over.
It contains fully furnished ensuites for you to relax in, a stone fireplace to warm you up, and a well-equipped kitchen for you to wake up the chef in you.
This cabin offers a deal you simply cannot turn down. Detach from the world and enjoy the chilly evenings around the fire pit roasting some marshmallows or having a BBQ with your family or friends.
It's one of the prettiest log cabins in Wisconsin.
Being just a mile away from Lake Arbutus, you can easily avail of the water activities and other recreational activities offered there.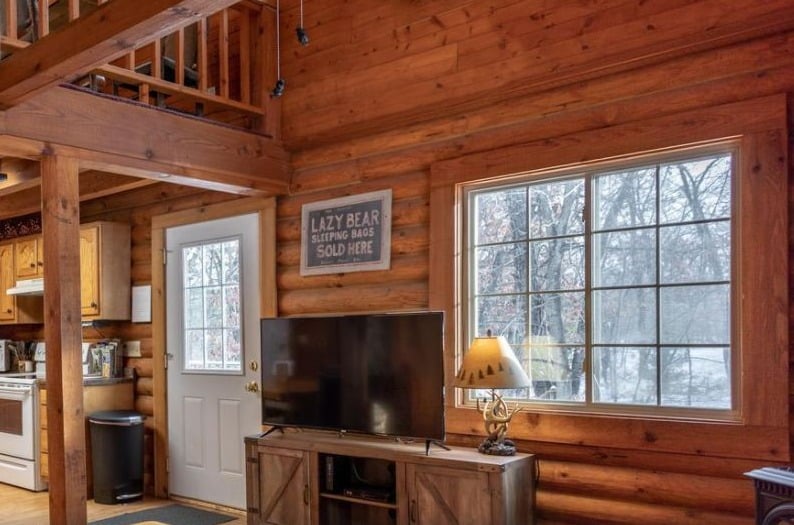 Sleeps: 10
Nr of Bedrooms: 3
Looking for remote cabins to rent in Wisconsin with less human interaction and amenities that won't let you step out? Well, the Lazy Bear cabin would be your perfect match.
The entire cabin is built with logwood, giving a heartfelt aesthetic vibe, perfect for travel pictures for your gram!
Soak up the warm sun in the attractively large backyard or enjoy your breakfast overseeing the dense forest; and if lucky, you might spot some wild turkey, deer, or raccoons.
If you're looking for some adventure, you can drive up to the Christmas mountain or Cascade mountain for some hiking and bike trail activities; all within a 5-mile radius.
This cabin is one of the best cabins near Wisconsin Dells and considered as a top Airbnb in Wisconsin Dells!
Best Winter Cabins in Southern Wisconsin
Head over to Southern Wisconsin and spend your winter nights chilling by the fireplace!
Southern Wisconsin is home to many beautiful winter cottages, giving you a warm and adventurous winter getaway in Wisconsin.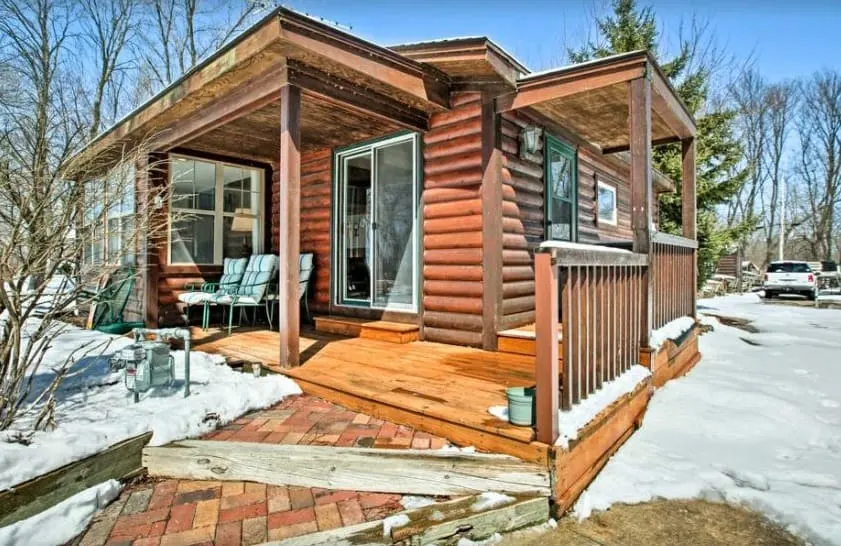 Sleeps: 5
Nr of Bedrooms: 1
This Fort Atkinson Cottage is considered to be one of the most romantic cabins in Wisconsin!
This place turns into a winter wonderland during the winters, with activities like snowmobiling and snowshoeing!
Snug into the warm, soft blankets and enjoy the starry evening or vibrant orange sunsets at the deck.
Walk your way through the town's eateries, offering some fine quality seafood, fresh out of the lake! With full-fledged amenities and functional appliances, the cabin makes it difficult for you to step out!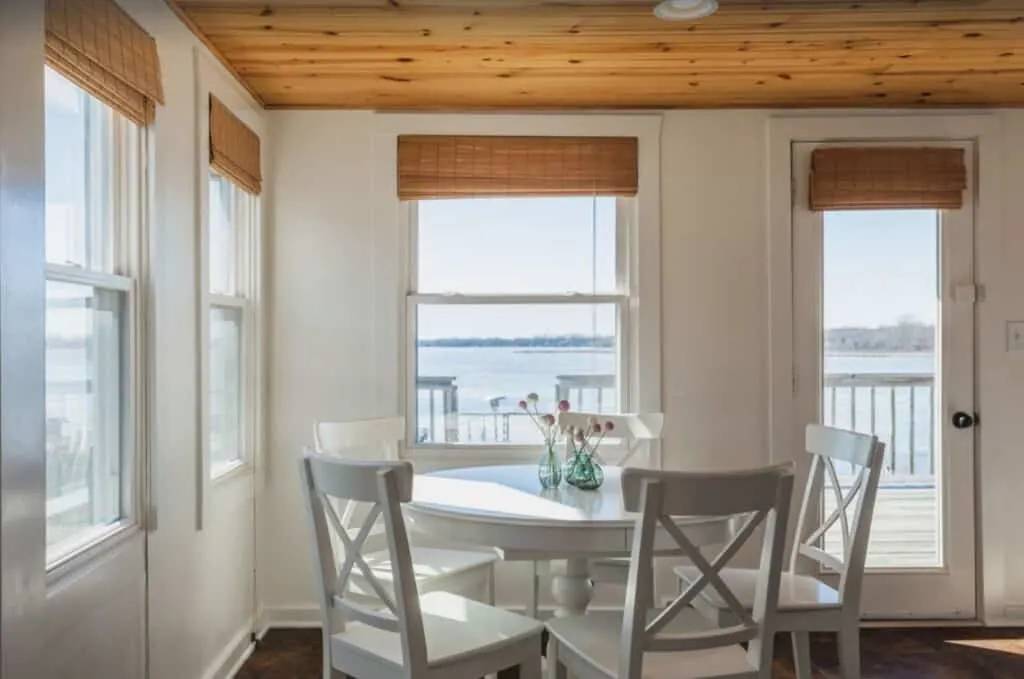 Sleeps: 6
Nr of Bedrooms: 3
Witness the spectacular radiant sunsets and beautiful sunrises from the huge windows installed in the rooms of this cozy cabin near Madison, Wisconsin.
Spend your winters in this warm and comfortable cabin surrounded by ambrosial greenery and relax in the tranquility by the colossal lake.
This place is apt for adventure-seeking souls as the bike and hiking trails are right outside the backdoor. Easily one of the best vacation ideas in Wisconsin is to hike the trail with beautiful nature scenery experience side by side.
Drive up to downtown Madison and shop for some fresh produce to cook up a scrumptious meal that you can relish while lounging in the spacious living area or set up a proper 3-course dinner in the dining room.
While you're here, don't forget to enjoy all of the amazing activities available during winter in Madison, WI.
Sleeps: 6
Nr of Bedrooms: 3
This cabin will vibe perfectly with the ones who enjoy staying between nature and animals.
Accompanied by 2 horses and a pond full of bash and other fish, you can bring your fishing rods along to spend quality time fishing in the pond while the horses graze on the lush grass around you.
This luxury cabin in Wisconsin offers a comfortable stay for a group of 6 people with 3 spacious bedrooms and 2 bathrooms.
You can either just relax in the cabin, equipped with all amenities, or roam around the town for some window shopping or having a quick bite at the local eateries.
For the fun-loving people, the area is packed with great winter activities at the Mountain Top Ski or the Adventure Center at Grand Geneva. This cabin is perfect when looking for a place to stay in Lake Geneva.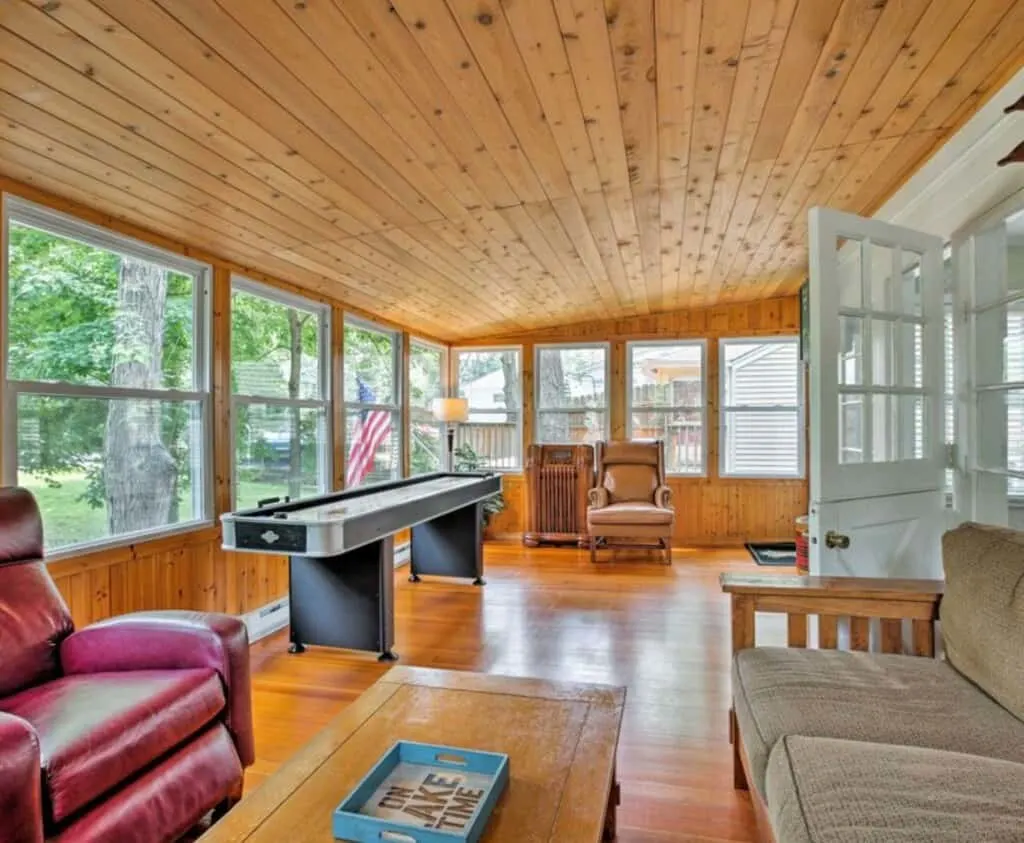 Sleeps: 8
Nr of Bedrooms: 3
This luxury cabin in Wisconsin is a 'getaway' in the truest form. Feel nature and its purity in this severed area from the city. Rejuvenate yourselves in the daylight hours.
If visiting Lake Geneva in winter, make sure to see the nearby Lake Geneva Ice Castles and have a look at the hand-placed icicles by professional artists.
Explore nature at the Kishwauketoe Nature Conservancy with activities like hiking and birdwatching. This is also a great place to start your perfect Wisconsin road trip.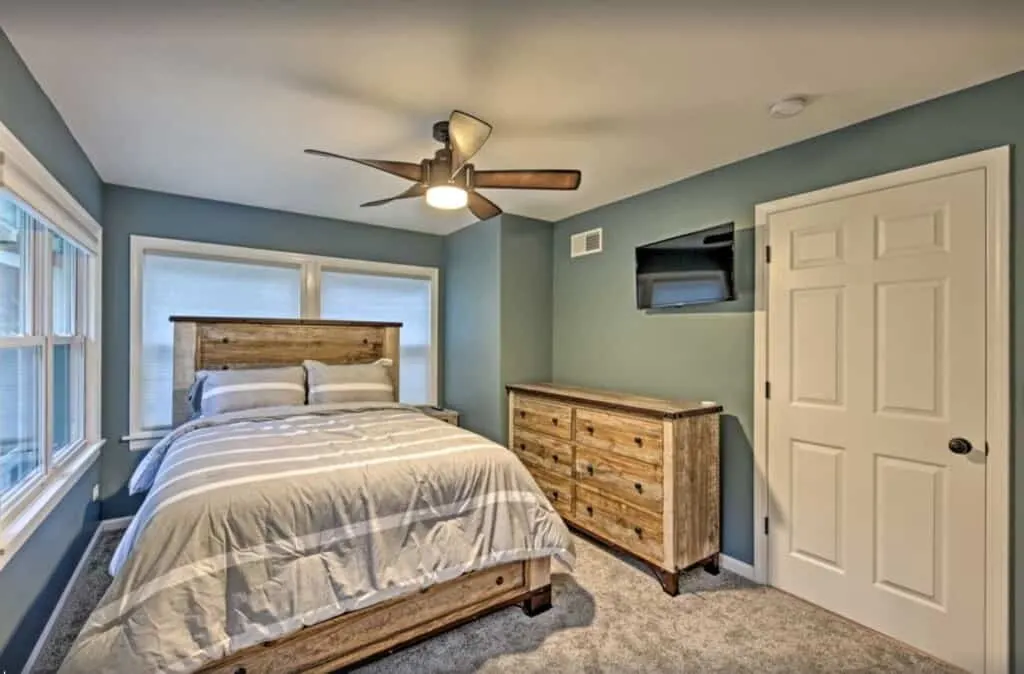 Sleeps: 7
Nr of Bedrooms: 3
Equipped with modern and top-notch amenities, these lake cabins in Wisconsin offer a group of friends or family a care-free and enjoyable stay.
With activities like boating, fishing, or skiing at Wilmot Mountain Ski Resort, you will never have a dull moment at this cabin.
Experience luxury like never before in the modern rooms, bathrooms, and well-furnished kitchens.
Best Winter Cabins in Door County
Door County in winter is one of the most magical times to visit for a cabin getaway.
Spend quality time with your friends and family in Door County and enjoy amazing winter activities like skiing and snow sledding! A cabin getaway to Door County is always a great idea!
If you are resistant to the cold, Kayaking, cliff-diving, hiking, etc. are some of the best things to do in Door County you can enjoy.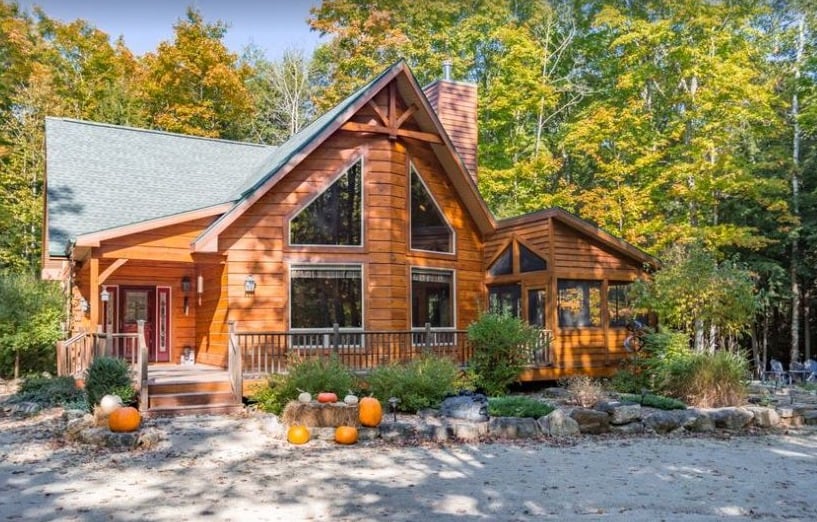 Sleeps: 8
Nr of Bedrooms: 3
With an open floor plan with high ceilings and a chic interior, this cabin will make your stay Instagram-worthy!
With high-standard cleanliness and a well-structured house, this luxury cabin in Wisconsin offers great entertainment facilities, excellent kitchenware, and comfortable ensuites!
Furthermore, it is extremely close to Lake Michigan where you can spend an entire day indulging in various activities and food options.
If you're looking for cozy and comfortable log cabins in Wisconsin, this is the best place for you! It's often considered one of the top luxury cabins in Wisconsin.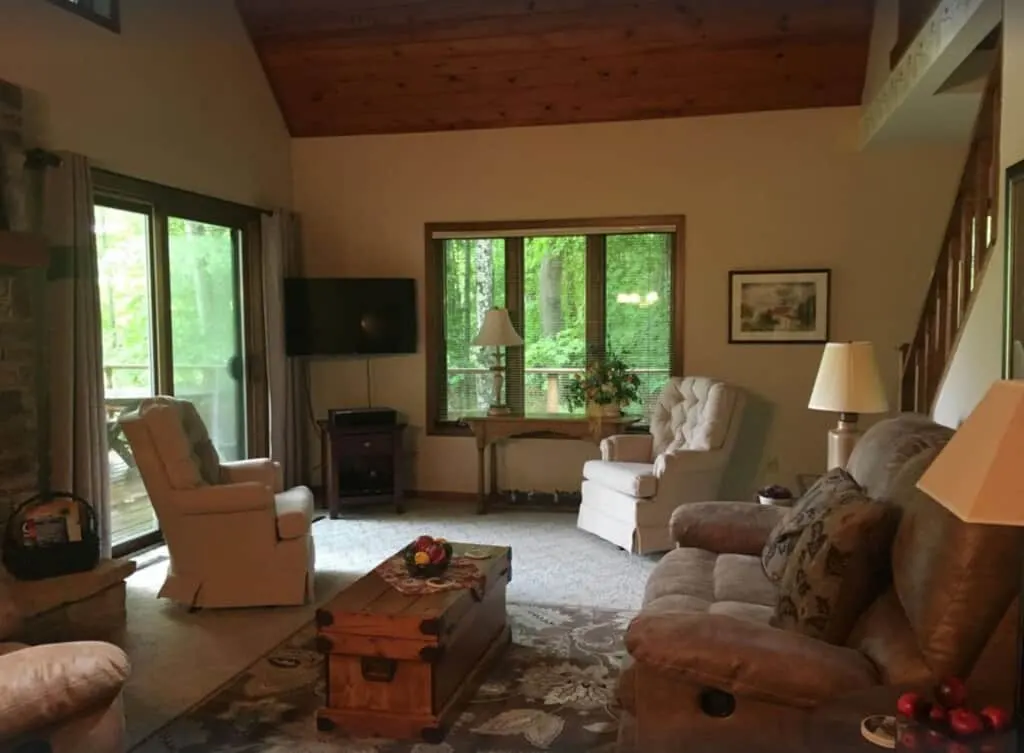 Sleeps: 7
Nr of Bedrooms: 2
Away from the frenzied city life, this winter cabin in Wisconsin is your escape to nature's paradise!
Submerged in lush greenery, this cabin offers a fully functional central heating system to keep you warm in the wintery nights and is also equipped with amenities that make living here a breeze.
The natural environment is home to various wildlife and if it's a good day, you might spot a deer, monkey, or even a raccoon!
Sleeps: 4
Nr of Bedrooms: 2
The secluded A-Frame Cottage is a handmade wonder! This cozy cabin in Wisconsin is the cutest vacation home. A perfect match for people looking to relax in grandeur!
This cottage is located on a 1.6-acre private wooded lot surrounded by beechwood trees No matter which corner you visit, you always get to step out and breathe in some fresh air!
It's one of the prettiest Door County Airbnbs.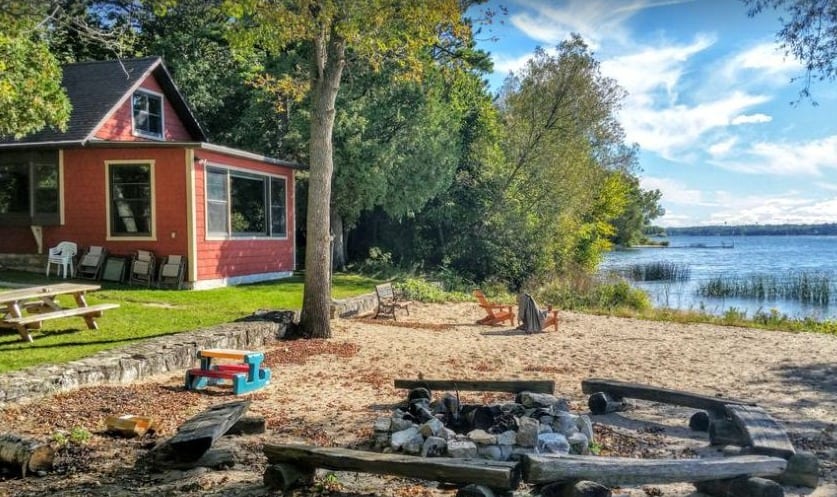 Sleeps: 12
Nr of Bedrooms: 4
This all-year-round available cabin has perks you wouldn't want to lose!
This romantic winter getaway in Wisconsin is situated over a hundred feet of private sand beach, where you can forget about all your worldly tensions and relax under the warm sun overlooking the enormous water!
The bay turns into a huge plus during the winters as it completely freezes – ideal for activities like broomball, skating, snowshoeing, or hiking
21. Peace of Beach – Sturgeon Bay, Door County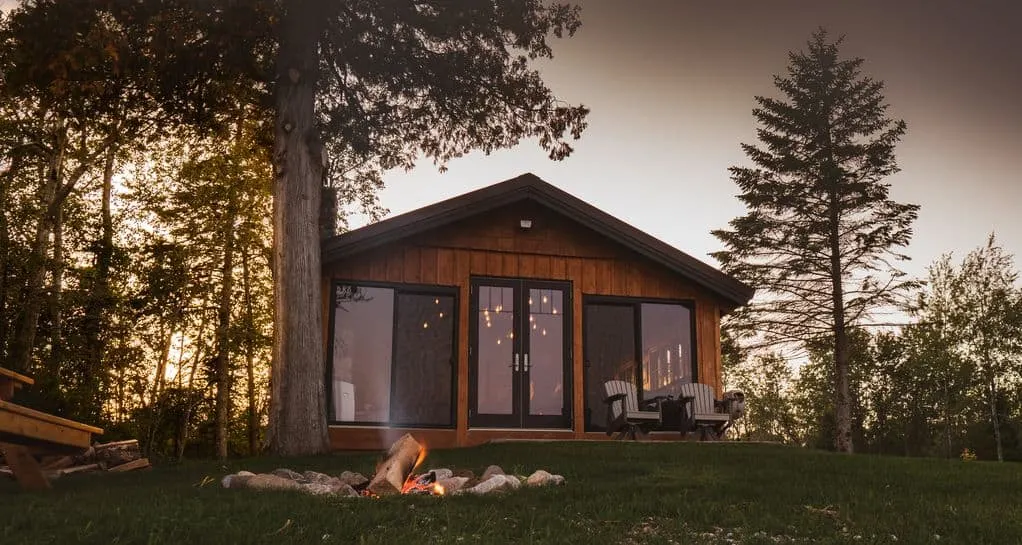 Sleeps: 6
Nr of Bedrooms: 2
Situated along the shores of Lake Michigan in Sturgeon Bay, the Peace of Beach cottage offers a huge array of facilities that ensure a comfortable and hassle-free stay.
If you're looking for the best lake cabins in Wisconsin, this is the place to go! Not only does it offer free WiFi and a fully equipped kitchen, but this cabin is also one of the best pet-friendly cabins in Wisconsin!
What more could you ask for? Don't let the winter take a toll on you and explore tons of entertainment options here from state parks and beaches to wineries and cheese factories. This place has something for everyone!
Best Winter Cabins in Wisconsin for Couples
Spend winter with the warmth and comfort of your significant other in these beautiful cabin getaways! Nothing is more romantic than a cozy winter night where you're cuddled up in bed together.
Other winter activities like skiing and snowboarding are also available for the adrenaline junkies!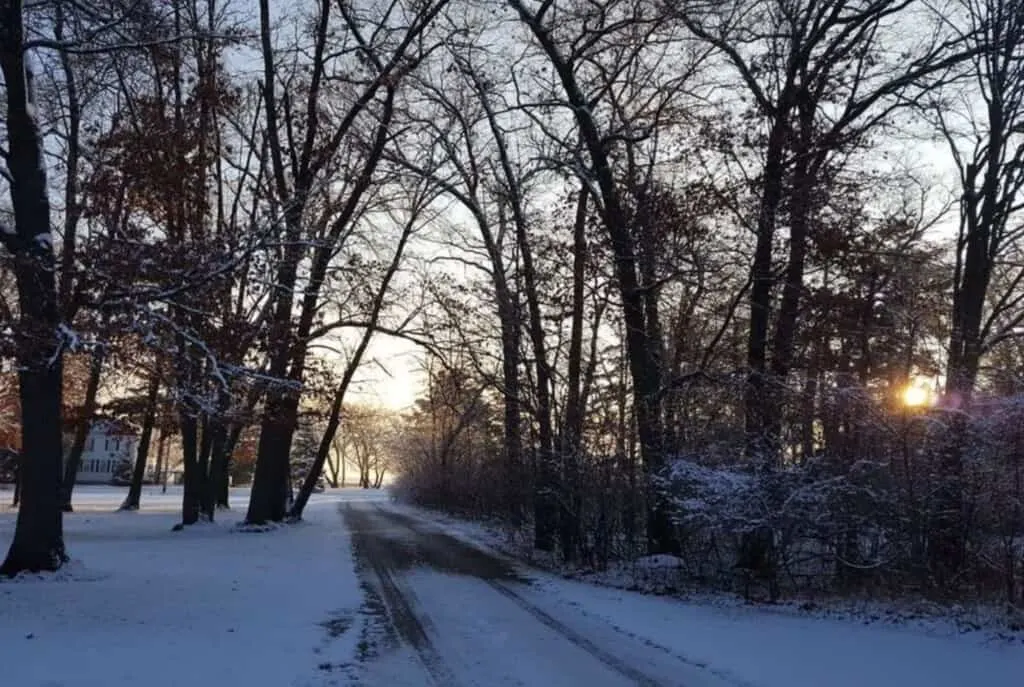 Sleeps: 7
Nr of Bedrooms: 2
Do you want to "Netflix and chill" in a bright airy house with tall glass windows? I've got you covered! the Bay Breeze Cottage is known for being one of the most romantic winter getaways in Wisconsin!
The exciting winter activities such as the ATV, ice-fishing, downhill skiing, sledding etc won't allow you to have a boring day. Plan your fun day trips in Oconto and Green Bay, both offering heaps of activities to keep you entertained.
Unwind at night in the cozy, centrally heated, and spacious bedrooms of the cabin! It's one of the most beautiful cabins for romantic getaways in Wisconsin.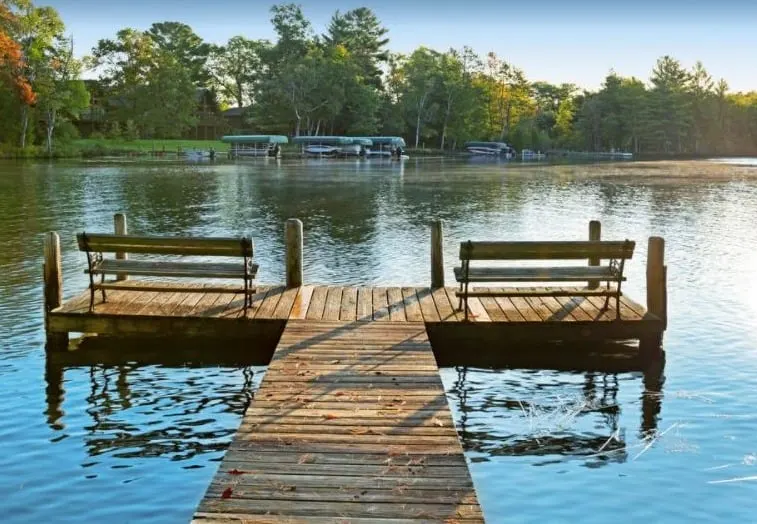 Sleeps: 6
Nr of Bedrooms: 2
Book the best winter cabins in Wisconsin and have the time of your lives! Not only is the area entertainment-rich, but also comes with top-notch housing facilities that'll give you an unforgettable experience.
Situated at the shore of the 3 largest interconnecting freshwater lakes, this romantic cabin provides a spectacular view of sunset one cannot miss.
The weather does not affect the fun activities here! Even when it is snowing, you can ski, snowshoe, and go snowmobiling around the area!
Eagle River and nearby are home to some of the best snowmobile trails in Wisconsin.
It's one of the cutest lake cabins in Wisconsin!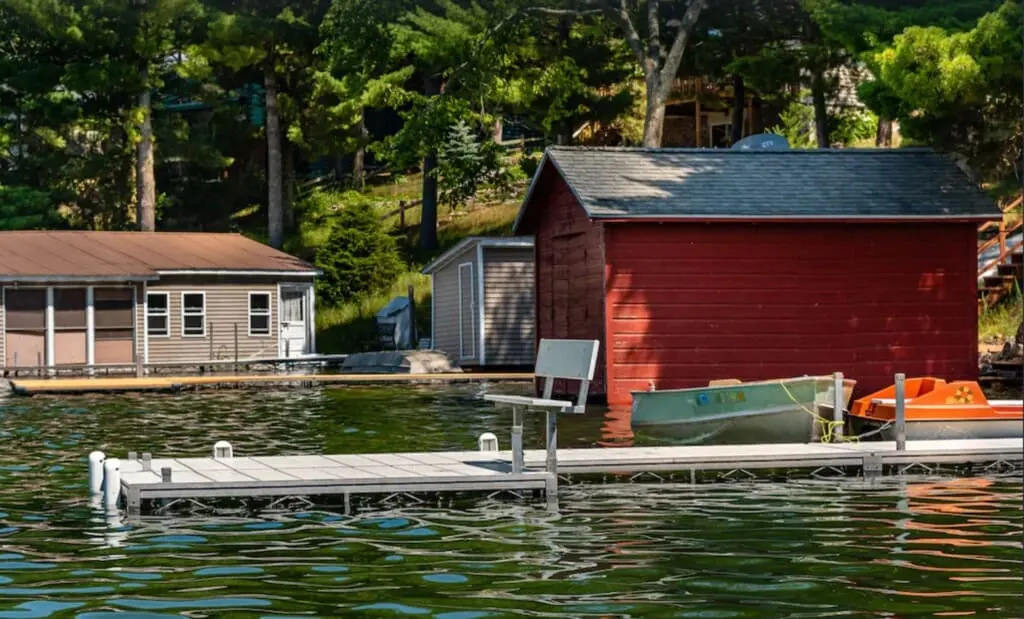 Sleeps: 11
Nr of Bedrooms: 2
Situated around the charming Little Hills Lake, the Cabin-Cottage on Lake is one of several pet-friendly cabins in Wisconsin.
The beach house offers a clean-lined and spacious living room, an airy dining area, and a large deck overlooking the Little Hills Lake.
This cabin is a treat to live in and is perfect for winter weekend getaways in Wisconsin.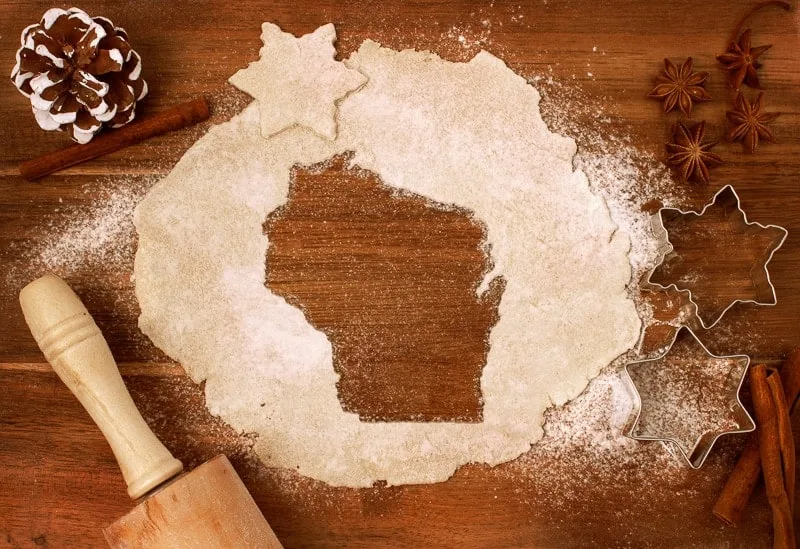 Sleeps: 7
Nr of Bedrooms: 2
The Geneva Lake Cabin offers you a peaceful atmosphere and a naturally lit house, a classic combination for little winter getaways in Wisconsin.
Equipped with amenities that provide nothing but luxury and basic safety features, this cabin becomes a deal you simply cannot put down!
Breathe in the fresh air walking on the trails or opt for a boat ride – this area has all the relaxing activities you could possibly think of.
Best Winter Cabins in Wisconsin for Families
Nothing beats quality time in winter with your families and loved ones!
Share funny stories as you spend some family time around the fireplace, or go on romantic midnight walks as the cold breeze freezes you, while you're kept warm with the company of your significant other.
There are plenty of winter cabins in Wisconsin to make your family getaway just perfect!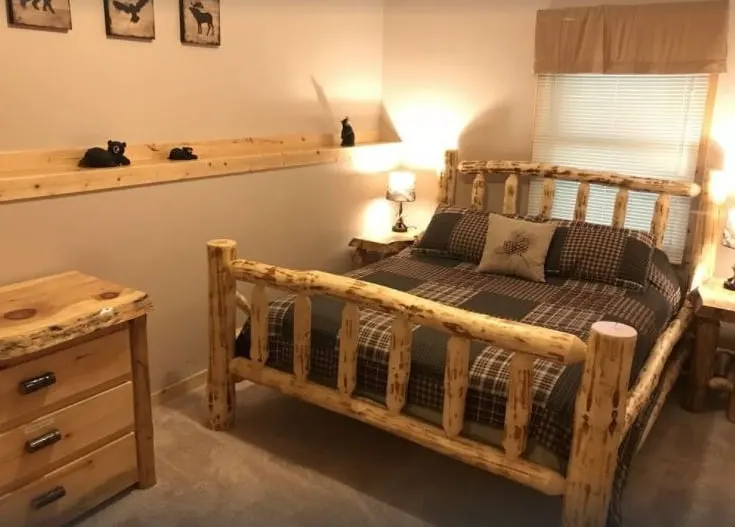 Sleeps: 12
Nr of Bedrooms: 4
Are you looking for the best cabins in Wisconsin for your large family or group of friends? Then this place will be your optimal choice!
With Devil's Lake State Park being a few minutes' drive away, your stay here in Winters can never get boring.
You can enjoy skiing with your friends at the park, have the best quality food or shop for some groceries to cook up a hearty meal in the cabin's fully-functional kitchen!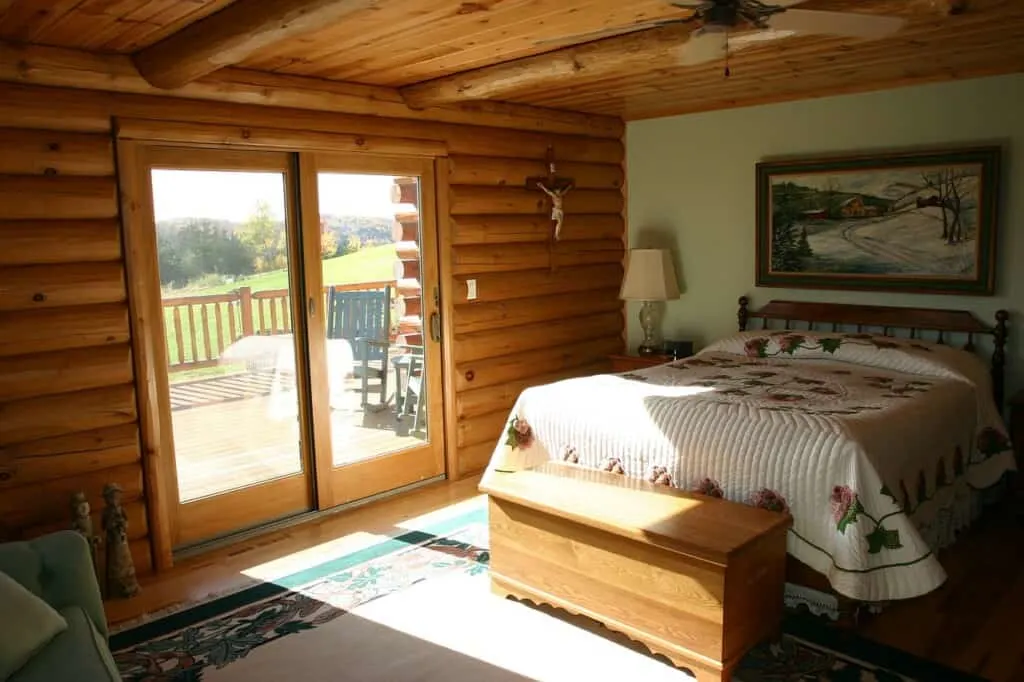 Sleeps: 4
Nr of Bedrooms: 2
Lakefront Westfield is one of the best pet-friendly cabins in Wisconsin. If you're looking for the most romantic cabins in Wisconsin that are cozy and comfortable, this is the place for you!
This place is a treat for those who love indulging in outdoor activities. Labeled as the best winter getaways in Wisconsin, this place is ideal for wildlife enthusiasts as deer and other wildlife surround the property.
The area also hosts winter activities like skiing and snowshoeing through the woods! It's thus perfect when looking for winter cabins in Wisconsin.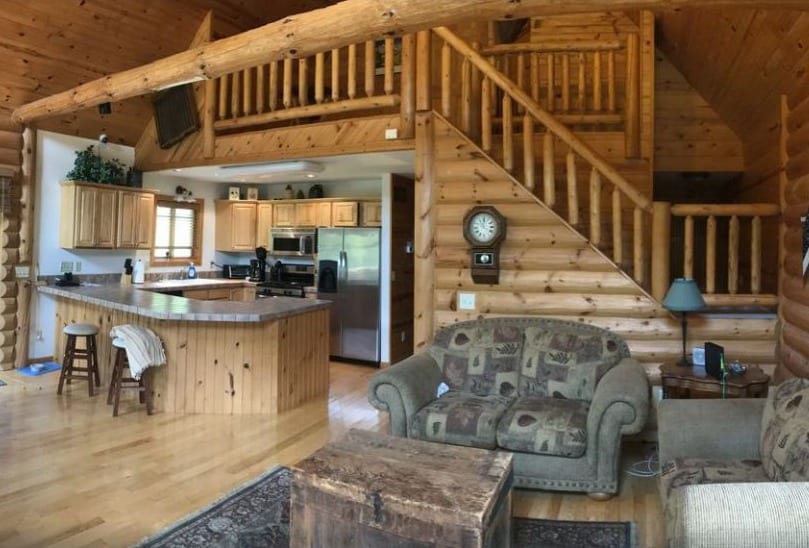 Sleeps: 8
Nr of Bedrooms: 3
A paradise for all the fun-loving souls, the Driftless Escape is considered as the most secluded cabins in Wisconsin, yet having a ton of activities just a few miles away.
It is ideal for people looking for a short break to relax in nature's realm and also fits right for those who love adventure.
The area offers activities like canoeing, skiing, snowmobiling, and sledding!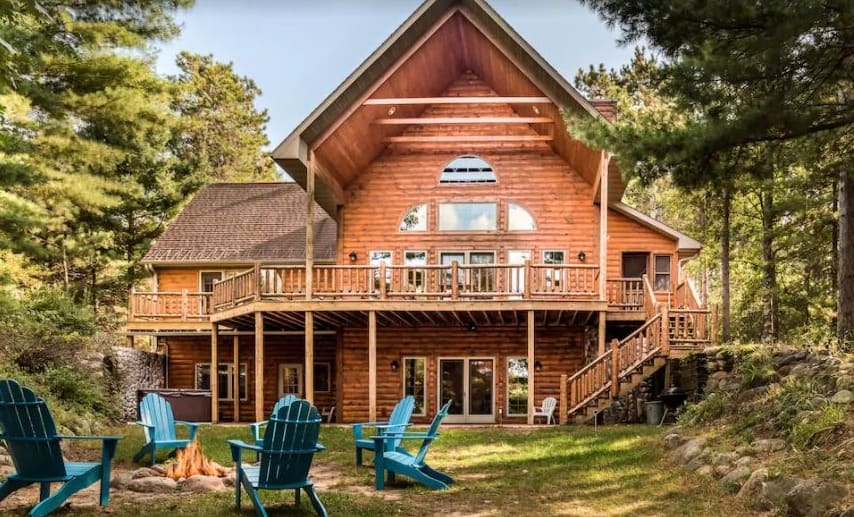 Sleeps: 22
Nr of Bedrooms: 6
Get your hands on one of the best winter cabins in Wisconsin. This extremely large living space can host up to 22 people!
It's perfect for people traveling with large families. Or a gettogether with loads of friends!
Adjacent to the Kuzel Lake, the property offers a stunning view from its patio and balcony. One can kayak, canoe, and perform other watersports activities!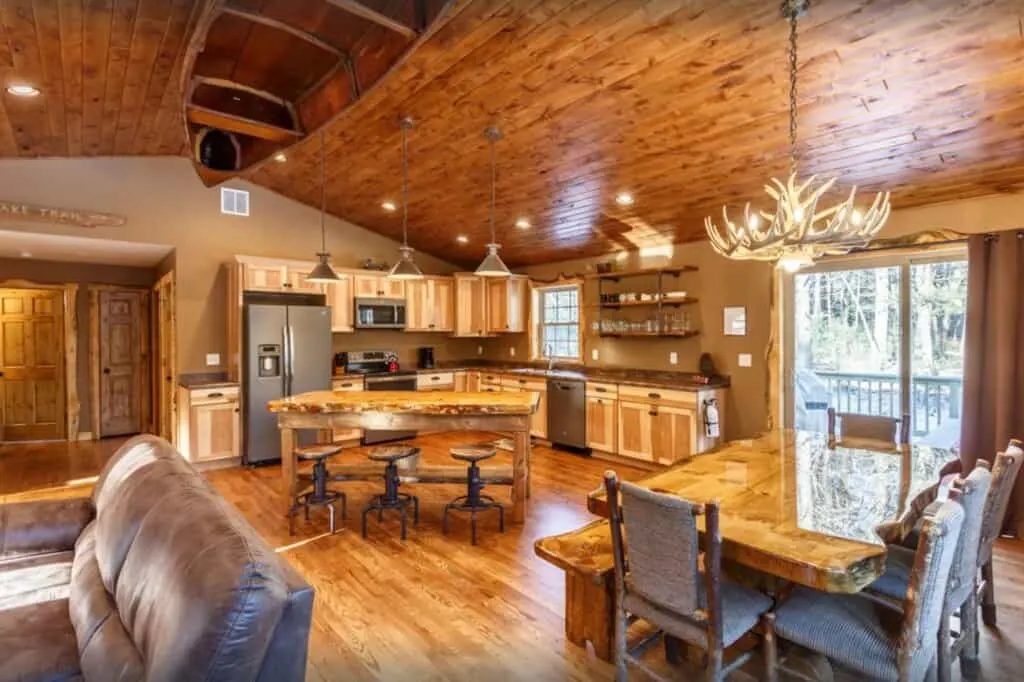 Sleeps: 12
Nr of Bedrooms: 5
Do you crave privacy but don't want to cut off from the world either? Then consider the Whitetail Ridge cabin to rent in Wisconsin Dells in winter.
Filled with intricate hand-crafted décor items, the cabin is nothing but exclusive and beautiful!
Go for a morning walk or spend the night star gazing around the fire pit in the deck area. Spend your vacations in comfort and grandeur in this palatial cabin!
It's definitely one pf the prettiest winter cabins in Wisconsin.
---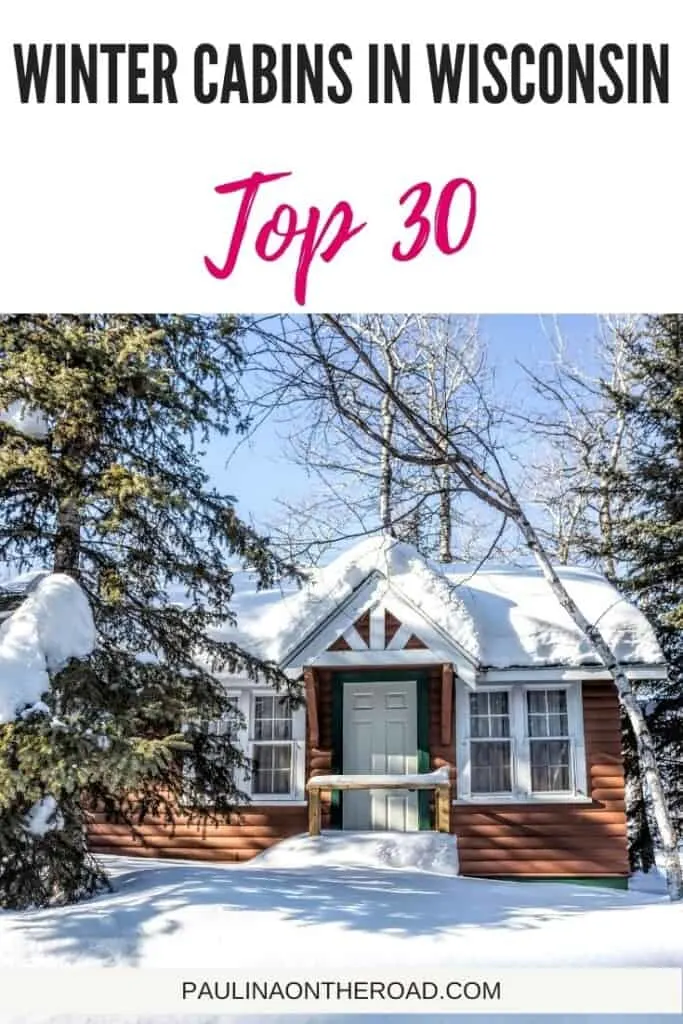 You can't get enough of winter cabins in Wisconsin? Have a look at my Google Story here.
---
Hola! I am Paulina, a fervent travelette who crossed the Atlantic Ocean by Boat HitchHiking. On my blog, you'll find all the tips to make the most of your holiday. Get ready to enjoy outdoor and sustainable travel like hiking, cycling or sailing. Let's hit the road together!