Are you looking for a peaceful getaway among the beautiful Wisconsin wilderness? Are you looking to experience nature in all its glory and revel in some much needed rest and relaxation?
Look no further than cabins in Wisconsin! Whether you travel Wisconsin in the North Woods of Lac Du Flambeau, the Driftless Region near Spring Green, or even one of Milwaukee's own harborfront cabins, these retreats promise a memorable stay that will have you wanting to come back again.
From cozy nooks nestled away amongst breathtaking views to cozy amenities like fireplaces and hot tubs, Wisconsin cabin rentals offer something for everyone looking for an unforgettable escape into nature.
Read on if you're interested in learning more about why these delightful abodes are perfect for your exciting travels!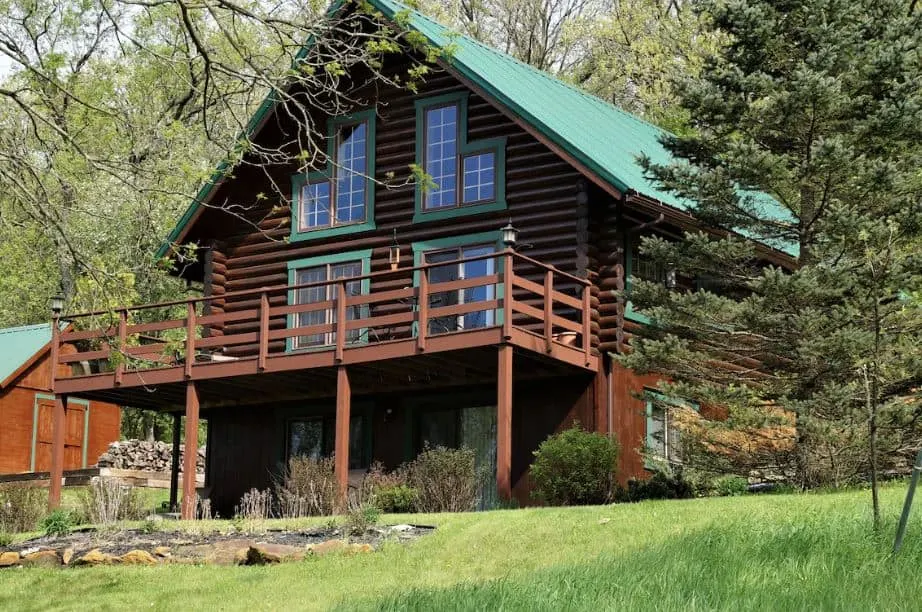 With so many cabin options available at various price points up and down the state, it's easy to see why so many people are drawn to the mesmerizing beauty of vacationing in Wisconsin's great outdoors.
This blog is supported by you, dear reader. If you purchase through a link, I earn a small commission. As an Amazon Affiliate, I earn from qualifying purchases.
Why stay in Wisconsin cabins?
Wisconsin cabins are the perfect escape for those seeking tranquility and adventure. Whether you're looking for a romantic getaway or a family vacation, these cabins have something for everyone.
The serene setting of Wisconsin's woodlands and pristine lakes provides a sense of peace and calm that is hard to come by elsewhere.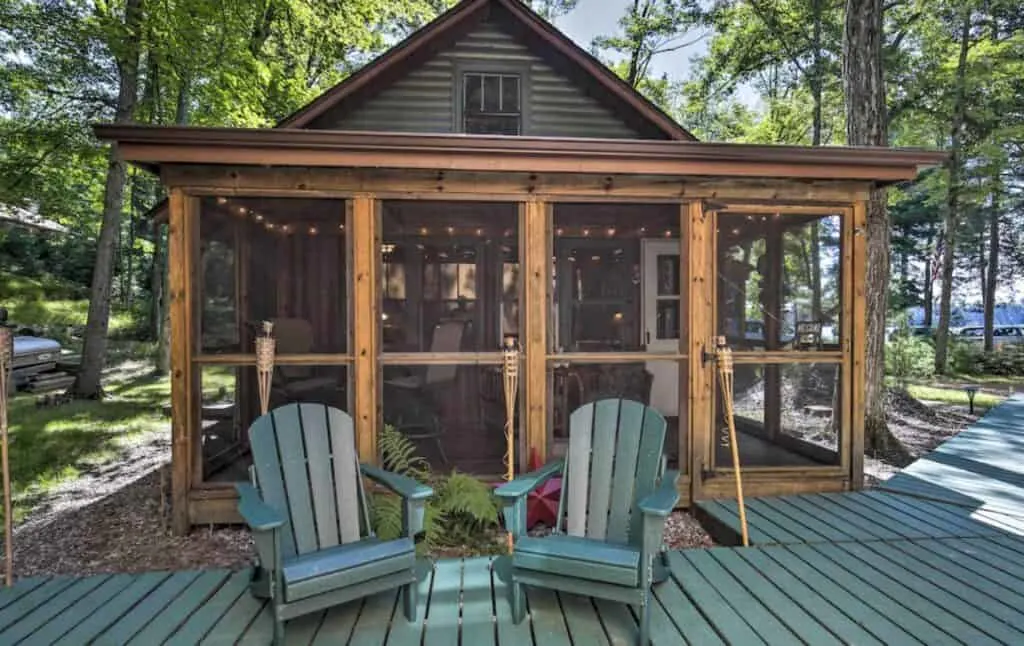 From ice fishing in the winter to water sports in the summer, there is an abundance of outdoor activities to enjoy. But perhaps one of the biggest draws of staying in these cabins is the unique experience they offer.
You'll get to immerse yourself in nature and experience the true charm of the Midwest.
Trust me, once you experience the comfort, relaxation, and adventure that Wisconsin cabins have to offer, you won't want to vacation anywhere else.
Door County cabins
Nestled in Wisconsin's picturesque Door County are some of the coziest cabins you'll ever have the pleasure of staying in.
Whether you're seeking peace and solitude or a fun-filled family getaway, the Door County cabins have got you covered.
Each one of these charming abodes offers a unique experience, from rustic wood interiors to contemporary comforts.
You'll find everything you need to feel right at home, including fully equipped kitchens, comfortable beds, and breathtaking views that will take your breath away.
Luxury cabins in Wisconsin
Wisconsin may not be the first place that comes to mind when you think of luxury accommodations, but the state boasts an impressive selection of high-end cabins that will take your breath away.
These cabins offer all the comforts of home plus amenities that most of us can only dream of. Picture yourself nestled in a private hot tub under the stars, surrounded by towering trees and the soothing sounds of a nearby stream.
Or maybe you prefer to spend your days indulging in spa treatments or exploring the miles of trails and stunning natural beauty that Wisconsin is known for.
Whatever your ideal vacation looks like, luxury cabins in Wisconsin have something to offer.
Wisconsin Dells cabins
If you're planning a getaway to Wisconsin Dells, there's no better place to stay than one of the area's many cabins.
Nestled in the midst of the state's beautiful natural scenery, Wisconsin Dells cabins offer a peaceful and inviting retreat that's perfect for solo travelers, couples, families, and groups of friends.
From rustic and secluded to luxurious and modern, there's a cabin to fit every style and budget.
Whether you're looking for a cozy fireplace, a spacious deck with a hot tub, or an outdoor grill for cooking up your catch from the lake, you'll find it all in the Wisconsin Dells cabins.
Pet-friendly cabins in Wisconsin
Wisconsin is the perfect spot for nature lovers and their furry friends.
The majestic forests and stunning lakes provide ample opportunity for exploration and relaxation.
And what better way to experience all Wisconsin has to offer than by staying in a pet-friendly cabin?
From cozy retreats near hiking trails to lakeside getaways perfect for fishing, there are plenty of options to choose from.
Gather around the campfire with your dog by your side, or take a stroll through the woods with your loyal companion.
No matter what adventure awaits, make sure to choose one of the many pet-friendly cabins in Wisconsin for an unforgettable experience.
Romantic cabins in Wisconsin
Looking for a romantic getaway in Wisconsin? Look no further than the cozy and intimate cabins that dot the state's lush and scenic countryside.
Whether you're looking for a rustic, woodsy retreat or a luxurious escape complete with hot tubs and fireplaces, Wisconsin has endless options for couples seeking a little quality time together.
From the rolling hills of Door County to the pristine shores of Lake Geneva, there's a romantic cabin waiting to welcome you and your special someone with open arms.
So why wait? Book your escape to one of Wisconsin's many romantic cabins today and let the magic of the great outdoors work its wonders on your relationship.
What are some great cabins in Wisconsin?
Wisconsin is a hidden gem for cabin enthusiasts.
From cozy and rustic to modern and luxurious, there is a cabin to fit every taste and budget.
One of my personal favorites is the Evergreen Lodge in the heart of the Northwoods.
It offers a truly unique experience with its handcrafted log cabins and proximity to the stunning Nicolet National Forest.
For those seeking a bit more luxury, the Cedar Lodge boasts breathtaking views and an abundance of on-site activities, including fishing and golfing.
No matter which cabin you choose, Wisconsin's natural beauty and welcoming atmosphere are sure to leave you feeling refreshed and rejuvenated. So, what are some great cabins in Wisconsin?
The options are endless, and the adventure awaits.
Do any state parks in Wisconsin have cabins?
Wisconsin is home to some of the most beautiful state parks in the country, providing countless opportunities to commune with nature and create everlasting memories.
If you're considering a stay in one of these remarkable parks, you might be wondering if there are any cabins available.
The answer is yes! Several of Wisconsin's state parks boast cozy, comfortable cabins for you to enjoy all year round. Imagine waking up and starting your day with a view of pristine lakes, soaring trees, and vibrant wildlife.
Whether you're looking for a relaxing vacation or a thrilling adventure, Wisconsin's state park cabins are the perfect way to immerse yourself in the natural splendor of this great state and create unforgettable experiences.
Top resources to travel Wisconsin
✎ Plan the ultimate Wisconsin road trip (no backtracking!) with the Perfect Wisconsin Road Trip itinerary – Buy now for less than 12$

✈ Find the best hotel deals in Wisconsin with Trivago

➳ Book vacation rentals in Wisconsin with VRBO

✔ Book tours in Wisconsin with Viator

☘ Get the best discounted outdoor gear (outlet) at REI.com

$ Get Wisconsin hiking guides and maps at REI.com

✎ Never leave without travel insurance. I get mine at SafetyWing. It is easy to set up, cheap, and reliable.