An easy-to-follow guide to help you choose the best Airbnbs in Apostle Islands for you
Welcome to Apostle Islands, Wisconsin! This little piece of paradise in the middle of Lake Superior is full of incredible natural wonders and stunning views.
Travel Wisconsin and immerse yourself in adventurous hikes through pristine trails or unwind with a leisurely day on the picturesque beaches
Plus, plenty of unique accommodation options allow visitors to truly enjoy their stay.
From rustic cabins right on Lake Superior to cozy getaways – my search for the best Airbnbs in Apostle Islands has proved to be fruitful and now I share it with you.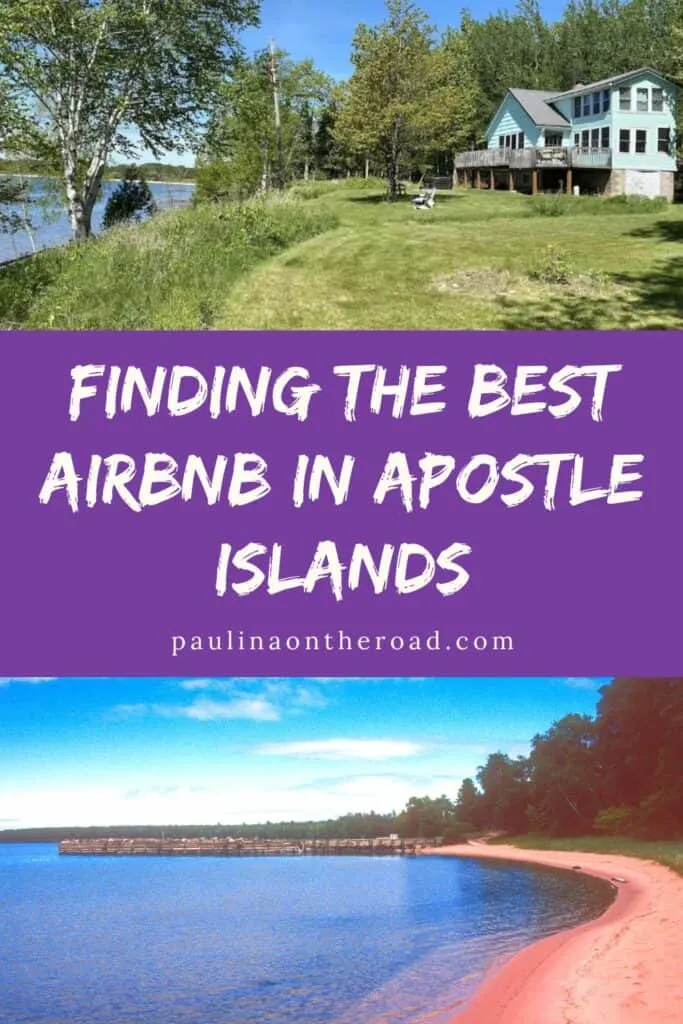 This blog is supported by you, dear reader. If you purchase through a link, I earn a small commission. As an Amazon Affiliate, I earn from qualifying purchases.
Psssst…!!?? You can't get enough of Wisconsin? Have a look at my other posts:
Top Airbnbs in Apostle Islands
I recently stumbled upon one of the best Airbnbs in Apostle Islands, La Pointe: a beautiful downtown island condo.
Nestled in the heart of the town, it boasts a prime location with access to countless shops, restaurants, and attractions.
The condo is just a stone's throw away from natural areas like Big Bay State Park and the stunning Lake Superior.
With such a central location, you can immerse yourself in the local culture while still enjoying the peace of the island.
Book your stay through Apostle Islands rentals and experience all that the Downtown Island Condo has to offer.
Ready to spend your next vacation in a cozy, private cottage that's just steps away from the clear blue waters of Lake Superior?
This Madeline Island cottage boasts a private location that is just steps away from the crystal-clear waters of Lake Superior.
Enjoy access to the lake, take in the scenic views, or gather around the fire pit for a night under the stars.
Not to mention, the grill is perfect for cookouts with friends and family, and plenty of outdoor things to do in Apostle Islands, such as hiking, biking, and kayaking at Big Bay State Park.
If you're seeking lodging in the Apostle Islands, Wi, I think this cottage is an excellent choice for those who want to disconnect from the hustle and bustle of everyday life.
Located in the heart of downtown Madeline Island, Bell Street Oasis is the perfect place to call home during your island getaway.
This downtown oasis boasts a private deck, bbq, and beer garden, perfect for unwinding after a day spent exploring the Apostle Islands.
And the best part? Bell Street's convenient location means you're just a short stroll away from some of the best restaurants, bars, and beaches on the island.
But perhaps the biggest draw for music lovers is the nearby Tom's Burned Down Cafe.
This island music oasis is just a stone's throw away from Bell Street, making it the perfect place to grab a drink and listen to some live tunes after a day spent exploring.
Overall, Bell Street-Downtown Oasis exceeded all my expectations and I would highly recommend it to anyone looking for a relaxing stay in the Apostle Islands cabins.
I recently came across T West Lodging while searching for a cozy place to stay near Apostle Islands.
Located in a serene area, this lodging offers a unique experience with its charming and comfortable rooms.
You can enjoy the view of the lush green courtyard area from your room and relish the subtle details that add to the overall ambiance.
One of my favorite things about this place is the provision of two grills.
A barbeque night with family and friends is definitely a fantastic way to spend some quality time together.
The icing on the cake is that this place is only a short walk away from the Beach Club, where you can catch the beautiful sunset view and grab refreshing drinks.
The T West Lodging makes for a perfect escape where you can bask in the beauty of the Apostle Islands.
When it comes to waterfront escapes, this accommodation takes the cake.
With over 300′ of private beach, I couldn't help but feel like I was living the beach bum dream.
From lounging on the sand with a good book to taking a dip in the refreshing lake water, there's no shortage of activities to help you kick back and relax.
And let's not forget the incredible views – the Apostle Islands cabin is the perfect backdrop for capturing stunning sunsets.
Plus, with easy access to Big Bay town park, restaurants, shops, and even a golf course and marina, there's no shortage of adventure to be had.
If you're looking for a peaceful retreat that's surrounded by trees and nature, then I encourage you to check out the Wooded Escape at Northshore.
This dog-friendly accommodation is perfect for families, offering spacious and family-friendly rooms for a comfortable stay.
With an emphasis on privacy, this lodge also features several bedrooms and bathrooms that can accommodate all your needs.
What's more, the location is unbeatable, this Apostle Islands pet-friendly lodging is perfect for pet owners who are looking for outdoor things to do in Northern Wisconsin with their furry friends.
If you're looking for a getaway that combines luxury with nature, Northshore is the ideal choice.
Motisi's Sandy Beach is the quintessential vacation spot. I couldn't get enough of the ivory sands that were only a hop and a skip from my doorstep.
The beachfront property sits along the Apostle Island Lakeshore, which means you can expect nothing less than tranquil, shimmering waters as far as the eye can see.
Whether you're looking to soak up some sun or hit the water for a refreshing swim, this spot has got you covered.
And let's not forget about the endless possibilities for outdoor recreation.
From kayaking to fishing, and hiking to biking, there's never a dull moment when you're staying at Motisi's Sandy Beach.
Guys, I can't wait to tell you about the magical handcrafted cabin that I stumbled upon while planning a trip to Apostle Islands.
With its cozy atmosphere and charming craftsmanship, this cabin is an absolute gem.
And the best part? It's pet-friendly! Not only that but it's also equipped with a hot tub and a barbecue grill, making it the perfect spot for fun and relaxation.
But that's not all; it's also an excellent location for romantic weddings – whether you're thinking of an intimate affair or a large gathering.
Trust me, you won't regret a stay at this one-of-a-kind cabin.
As I was searching for the perfect family vacation spot in the stunning Apostle Islands, I stumbled upon the charming Eagle Moon home.
Nestled in six acres of woods just off South Shore Road, this unique 8-sided house immediately caught my eye.
If you're visiting Apostle Islands in winter the in-floor heat and a cozy fireplace are the perfect home away from home during colder months.
Not to mention, the home is pet-friendly, so your furry family members will be able to join in on all the fun.
The peaceful retreat offered by the property, surrounded by lush woods, is just what your family needs to relax and recharge.
I couldn't believe my luck when I found the perfect spot for my Apostle Islands trip – the beautiful golf course getaway.
The accommodation is perfectly located near the course, and as a golf enthusiast, I was thrilled.
The single-story home is impressive with a wrap-around, 2500 square foot deck, which allows for stunning views of the surroundings.
The proximity to the Pub Restaurant and Wine Bar makes it convenient for a quick bite and refreshing drinks.
This is indeed the perfect location for a fun-filled golf retreat and you should give it a try as well.
I couldn't help but book a stay in the charming cabin in the woods on Madeline Island since I'm an outdoor enthusiast.
Tucked away in the peaceful enclave of Sunset Bay on Lake Superior, this private cottage is just what you need to unwind and recharge.
Stepping inside, you'll be immediately struck by the cabin's rustic charm, from the exposed wooden beams to the stone fireplace.
You can spend your days exploring the nearby forests and visiting the Apostle Islands, and return to the cabin's porch and its stunning views of Bayfield and Basswood Island.
If you're looking for a relaxing getaway surrounded by nature, this cozy cabin is the perfect choice.
Looking for the perfect summer retreat? Look no further than this beautiful home on Madeline Island.
From the moment you step inside, you'll be captivated by the spaciousness and luxurious amenities that make it the ultimate escape.
Whether you're looking to relax with a book in the backyard or explore the Big Bay Town and State Parks just a short distance away, this home has something for everyone.
And with great options for Apostle Islands trip planning, you can enjoy everything this beautiful area has to offer.
Trust me, you won't want to leave this dreamy getaway anytime soon.
Escape to your very own private oasis with a custom-built home nestled in the woods.
The home's unique design stands out with its striking architecture and modern features, making it an ideal space for unwinding and escaping the hustle and bustle of everyday life.
The large private yard is perfect for family games, while the deck and three-season porch offer serene places to relax, surrounded by the picturesque beauty of the Apostle Islands vacation.
With the perfect mix of privacy and natural surroundings, this home is truly a hidden gem that I was lucky to stay at.
Welcome to Mary Ann's, the perfect Lakefront cottage for your next getaway to Apostle Island Airbnb.
With stunning views of Chebomnicon, "Russell" Bay, and Michigan's Porcupine Mountains, you'll feel as though you're in your own private paradise.
Not only does Mary Ann's offer comfortable A/C and pet-friendly rooms, but you'll also have access to a barbecue grill for those summer cookouts.
Don't forget to take a stroll across Middle Road to access Lake Superior, where you can spend your days soaking up the sun and enjoying the beautiful scenery.
As someone who has stayed at Mary Ann's, I can highly recommend it for a top-notch vacation experience.
My final thoughts on the best Airbnbs in Apostle Islands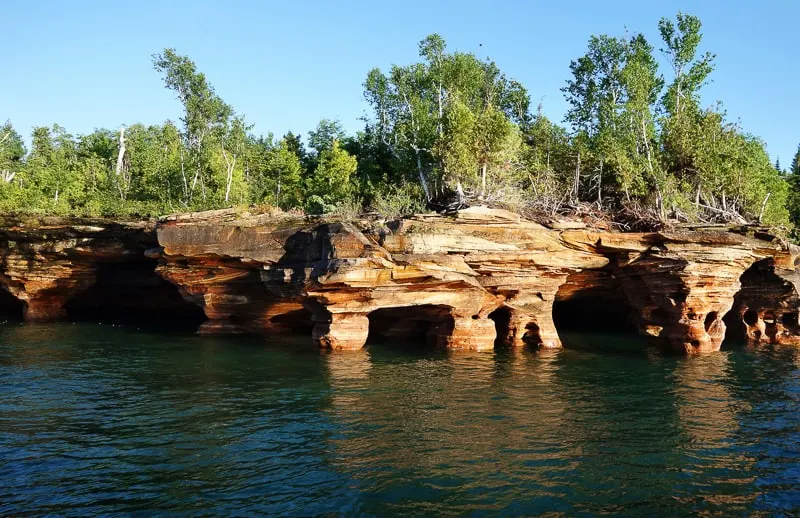 With so many unique options to choose from, vacationers considering Apostle Islands as their next travel destination will not be disappointed by what is available here.
From cozy cabins to romantic sea houses overlooking the lake, each stay comes with its own charm and amenities.
Whether you're looking for a relaxing getaway or an exciting adventure, it's easy to find the perfect spot among these 14 unique Airbnbs in Apostle Islands.
Picturesque views, modern design, or great location will guarantee you'll have an unforgettable experience in this beautiful island community.
I am sure you will discover an unforgettable experience filled with natural wonders, good food, and lots of beautiful memories.
Did you find my Airbnb guide? Check other accommodations in Wisconsin like the best Airbnb in Racine, WI or the best Airbnbs in Lake Geneva.
FAQ about Airbnbs in Apostle Islands
What are the best Apostle Islands lodging cabins?
Some of the best Apostle Islands lodging cabins are Apostle View Cottages, Hauser's Bayfield Cabin or Wild Rice Retreat.
What are the best Apostle islands lodging cabins for rent?
Some of the best Apostle islands lodging cabins for rent are Madeline Island Cabin on the Shore of Lake Superior, Bell Street-Downtown Oasis or the Beautiful golf course getaway.
What are the best hotels Apostle Islands?
Some of the best hotels Apostle Islands are Super 8 by Wyndham Ashland, Best Western The Hotel Chequamegon or Harbor's Edge Motel.
---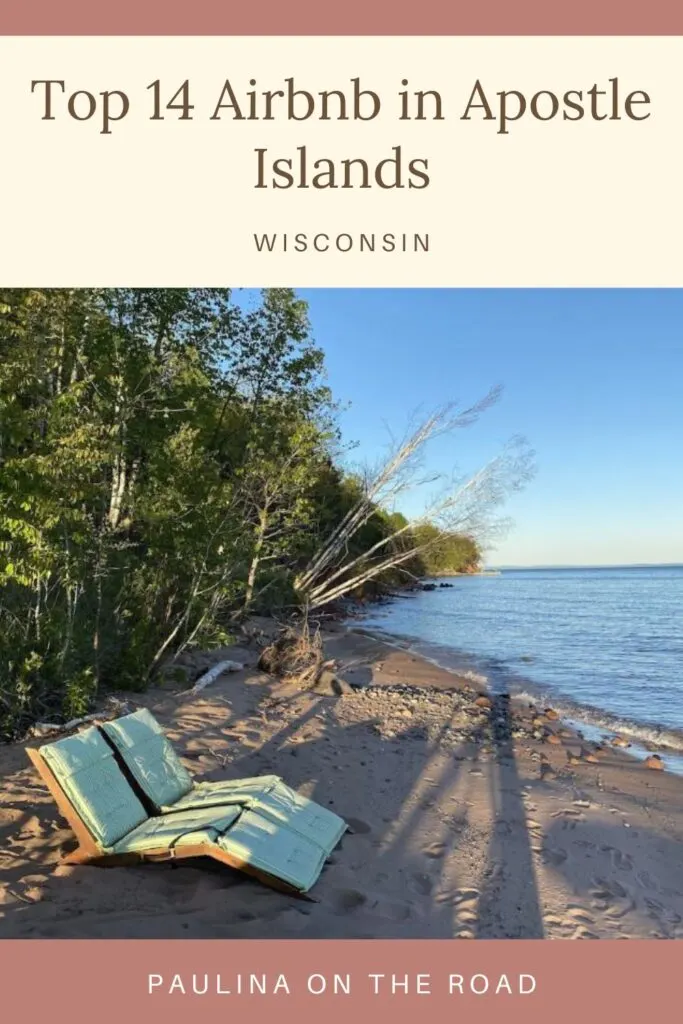 ---
Hola! I am Paulina, a fervent travelette who crossed the Atlantic Ocean by Boat HitchHiking. On my blog, you'll find all the tips to make the most of your holiday. Get ready to enjoy outdoor and sustainable travel like hiking, cycling or sailing. Let's hit the road together!