Guide to the Apostle Islands in the winter, including when to visit and what to do to make the most of an Apostle Islands' winter
Does winter conjure up images to you of ice, snow, and log fires – and if so, would you like to go somewhere that winter really means winter?
Then you're in luck, because the Apostle Islands in winter are a veritable wonderland for lovers of all things cold.
And the winter months provide so many great things to do in Apostle Islands that your days (and nights) will be eventful and fun.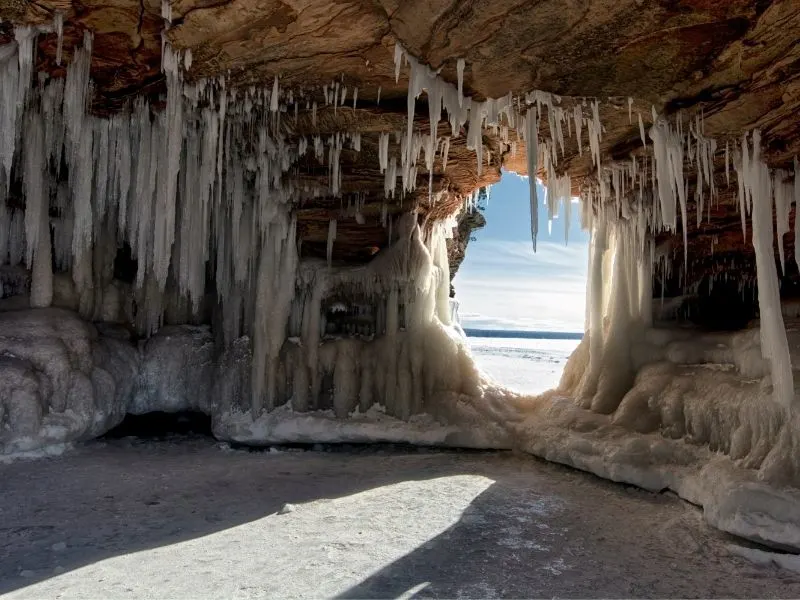 There are 21 islands and 12 miles of the mainland coast, known as the Apostle Islands National Lakeshore that currently make up the Wisconsin national park.
It's safe to say, that you'll find lots and lots to explore if you visit the Apostle Islands in winter!
There are ice caves, lighthouses, and charming sleepy towns to visit.
In winter, Apostle Islands' offer great activities to indulge in such as snowmobiling, hiking, and snowshoeing.
Whether you want an active, action-packed break, or simply to eat some good food and curl up in front of a pretty cabin's roaring log fire, the Apostle Islands in winter offers all of this and more.
This magical set of islands and sensational stretch of mainland coastline becomes an almost mystical place during the winter months.
So, if you're seeking a unique winter experience then look no further, the Apostle Islands is for you.
"Paulina on the Road" is supported by you, dear reader. As you buy through my links, I earn a small commission. As an Amazon Affiliate, I earn from qualifying purchases. Thank you for your support
Top resources to travel Wisconsin
✎ Plan the ultimate Wisconsin road trip (no backtracking!) with the Perfect Wisconsin Road Trip itinerary – Buy now for less than 12$

✈ Find the best hotel deals in Wisconsin with Trivago

➳ Book vacation rentals in Wisconsin with VRBO

✔ Book tours in Wisconsin with Viator

☘ Get the best discounted outdoor gear (outlet) at REI.com

$ Get Wisconsin hiking guides and maps at REI.com

✎ Never leave without travel insurance. I get mine at SafetyWing. It is easy to set up, cheap, and reliable.
Where to Stay in the Apostle Islands in Winter
There are a range of great accommodations and hotels near Apostle Islands!
Whether you want luxury hotels, romantic cabins in the woods or a budget option that feels like home, there are so many to choose from!
One of my favorites is Lucy's Place which is located in Bayfield, and is one of the best winter resorts in Wisconsin.
For those brave enough, you can also try out some of the best winter camping in Wisconsin on Madeline Island.
Another great accommodation is the Gooseberry cottage with a lake view, a beautiful Airbnb in Apostle Islands that is just on the shores of Lake Superior.
Here are a few of my other top choices:
Top Things to do in the Apostle Islands in Winter
1. Visit the Ice Caves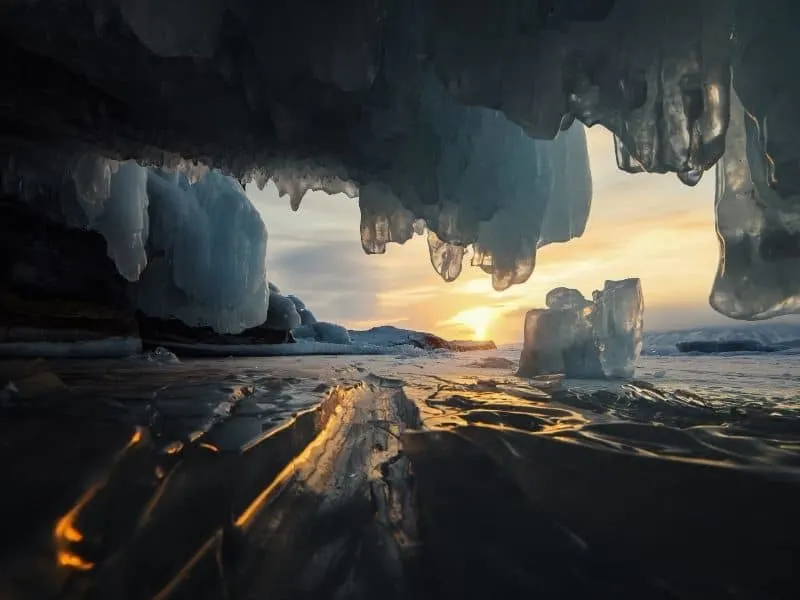 When it comes to ice caves, Apostle Islands feature possibly the most sensation there are!
The spectacular Apostle Islands ice caves are without doubt the biggest draw to the region.
The caves are actually located on the mainland's lakeshore, 18 miles west of Bayfield and 3 miles east of Cornucopia.
A unique feature of the amazing Apostle Islands ice caves is that the features are never the same from day to day.
The ice formations are so mutable that if you visit on two consecutive days, you'll see different shapes and patterns within the ice.
As these Lake Superior ice caves are only accessible by crossing the mighty lake, you will have to walk for around a mile over the frozen waters.
You might even feel the ice moving upon the water below!
Park officials monitor the condition of the ice on a constant basis during the winter months and will only allow access to the caves when conditions are absolutely safe to do so.
For up-to-date information on the weather conditions, check the official website.
Once you access the caves, if you look closely, the ice underfoot is like a sheet of clear glass through which you can see right to the bottom of the waters of Lake Superior.
2. Go Snowmobiling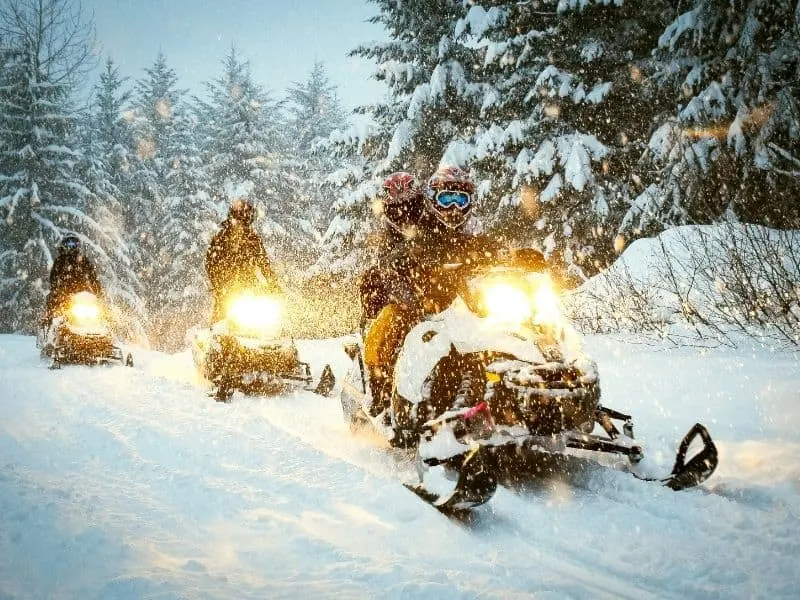 The Apostle Islands National Lakeshore has some of the best snowmobile trails in Wisconsin, so if you're looking for action and adventure, then you'll be particularly well-served here.
Bayfield makes a great base for those wishing to indulge in this thrill-packed activity!
In fact, Bayfield County has over 600 miles of snowmobile trails and some of the best winter scenery in the whole of Wisconsin.
There are trails to suit all ability levels so even if you're an absolute beginner, don't worry as there are suitable options for all.
Going snowmobiling on some of these amazing trails is an unforgettable experience.
You'll see spectacular, panoramic lake views as you speed through the snow on these well-maintained trails.
You can rent well-maintained, newer models of snowmobiles from Adventure North Rentals in Bayfield.
They offer a range of Arctic Cat Lynx, Arctic Cat SnoPro, and SkiDoo models, and prices start from $100 a day, depending on which model you select.
You can either take your snowmobile from town or, if you choose, the rental agency will tow it to the snowmobile trail or location you wish to depart from.
3. Spend some time in Bayfield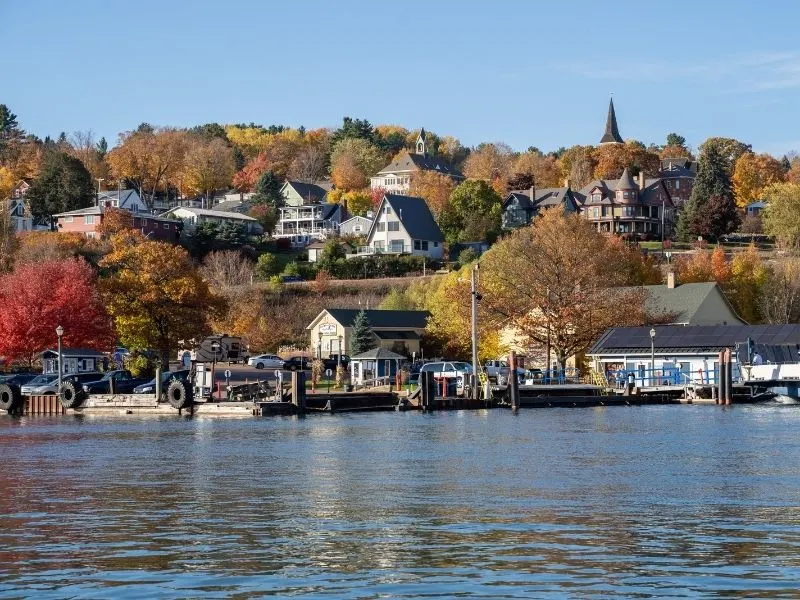 Although not strictly on the Apostle Islands, being just over the water on the coast of the mainland, Bayfield, WI in winter is a magical place in which to base yourself to explore the region.
Officially the smallest city in Wisconsin, the self-styled 'Berry Capital of the State' provides an ideal gateway to the Apostle Islands.
Bayfield was even voted one of USA Today's Best Coastal Small Towns. High praise indeed.
As we've already discussed, Bayfield in winter provides access to both the incredible ice caves and all of those fantastic snowmobiling trails.
Beyond that, it's a great place to stay, with lots of cute cabins in which to curl up in front of a log fire on these cold winter nights.
This charming town has great dining options and a laid-back, relaxing vibe, perfect for unwinding on those winter vacations.
The ferry across to Madeline Island also departs from here, making it a great stop-off point on your way out to the islands.
4. Hike the Lakeside Trail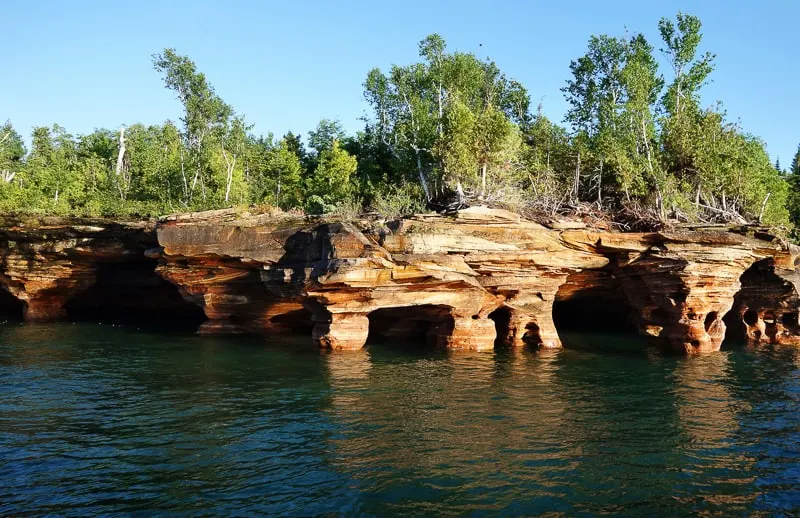 Staying on the mainland, one of the top outdoor activities in Wisconsin is hiking the magnificent Lakeside Trail.
The trail will take you through some of the most incredible winter landscapes you're ever likely to encounter.
At 10.6 miles, it's worth noting that this trail is not for everyone and inexperienced hikers should not attempt it.
There are hazardous parts to the trail, including steep inclines, declines, and extremely icy stretches – make sure to stay well away from the cliff edges.
The trail begins at Meyers Beach, one of the most spectacular beaches in Wisconsin.
From there, the trail hugs the dramatic Lake Superior shoreline and takes you through spectacular landscapes including sandy beaches, ravines, and woodlands filled with pines.
The trail also takes in the spectacular ice caves, though as I covered in the ice caves section above, this part is dependent on ice conditions upon Lake Superior.
You can check locally for up-to-date access information.
For those wishing to stay active while they visit the Apostle Islands in winter, the Lakeside Trail is a fantastic option.
5. Visit a Lighthouse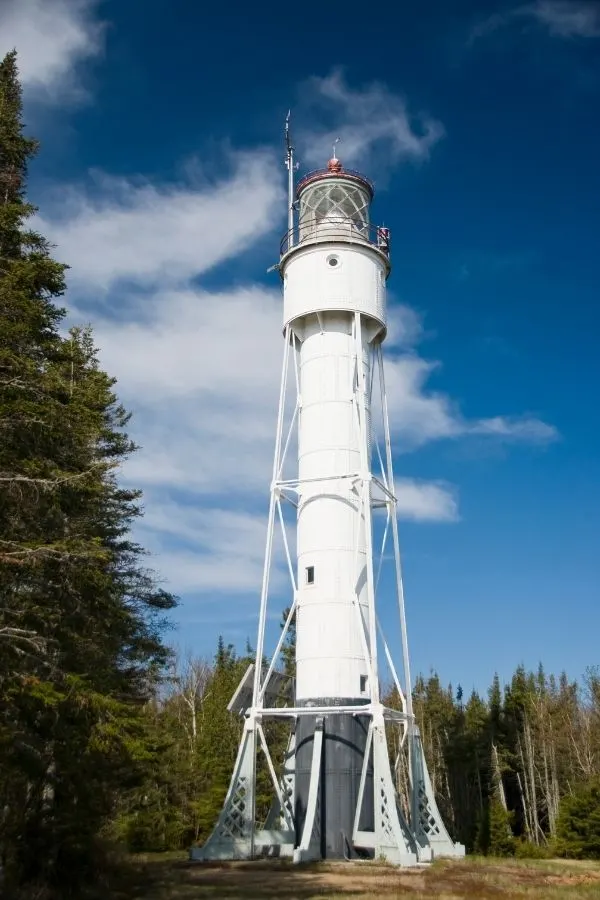 The Apostle Islands National Lakeshore features more lighthouses than any other national park in the country.
There are several magnificent, historic towers spread across the islands and mainland coast.
The lighthouses are particularly beautiful in the winter's snowy weather, when the snow settles upon the structures and shows them in an entirely new way.
In 1977, six of the lighthouses of Wisconsin from this region were included on the National Register of Historic Places:
Michigan Island's 2 Lighthouses (1857)
Raspberry Island Lighthouse (1862)
Outer Island Lighthouse (1874)
Sand Island Light (1881)
Devil's Island Lighthouse (1891)
Other lighthouses in the area but not on the National Register of Historic Places include La Pointe Lighthouse, Chequamegon Point Lighthouse, Ashland Harbor Breakwater Lighthouse, and Gull Island Lighthouse.
To maintain these magnificent structures of great historical value, major restoration projects began at some of the lighthouses in 2013.
It's worth noting that visiting some of the lighthouses during the winter months may not be possible so check in advance to avoid disappointment.
6. Stay in a Cabin on Madeline Island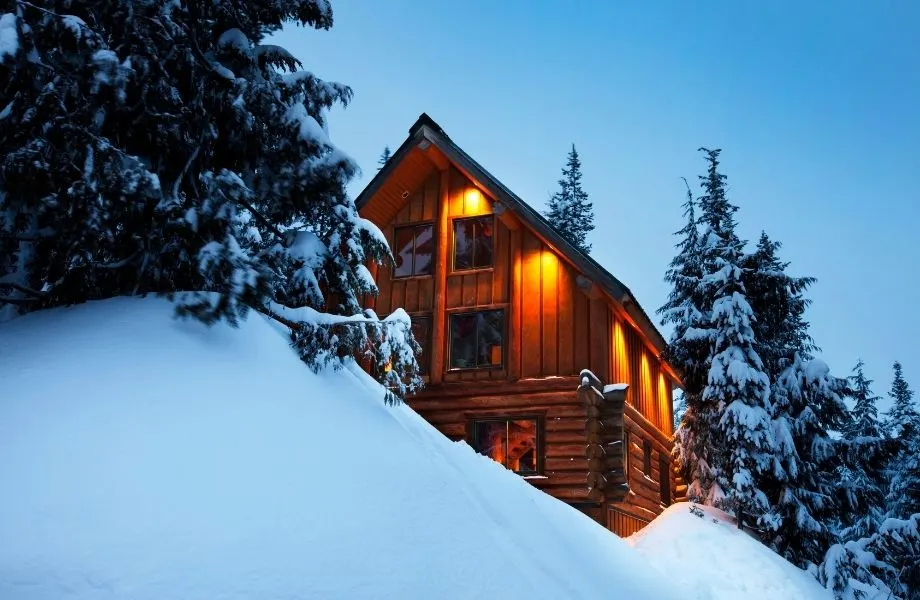 For that perfect Apostle Islands Wisconsin winter, why not stay in a Cabin on Madeline Island?
This is a great option for couples as Madeline Island in winter is a magnificent place to stay, taking on an otherworldly quality as the snow settles and the lights twinkle in the winter air.
Due to the notorious Apostle Islands weather, Madeline Island is often the only accessible island during the winter months, so if you're looking for a slice of island life, this is the one for you.
Winter is not considered peak season on Madeline Island, so wherever you go there won't be large crowds to contend with.
Instead, you'll find a great, laidback, and very welcoming vibe. Perfect preparation for a night in front of your cabin's roaring log fire.
VRBO is your friend for this one; if you book long enough in advance, you'll find a very reasonably priced option that will fit you just right. – Check prices here
Another bonus is that lodging here is typically cheaper in the winter months.
So, get booking that Wisconsin winter vacation now!
7. Take the Ice Road to Madeline Island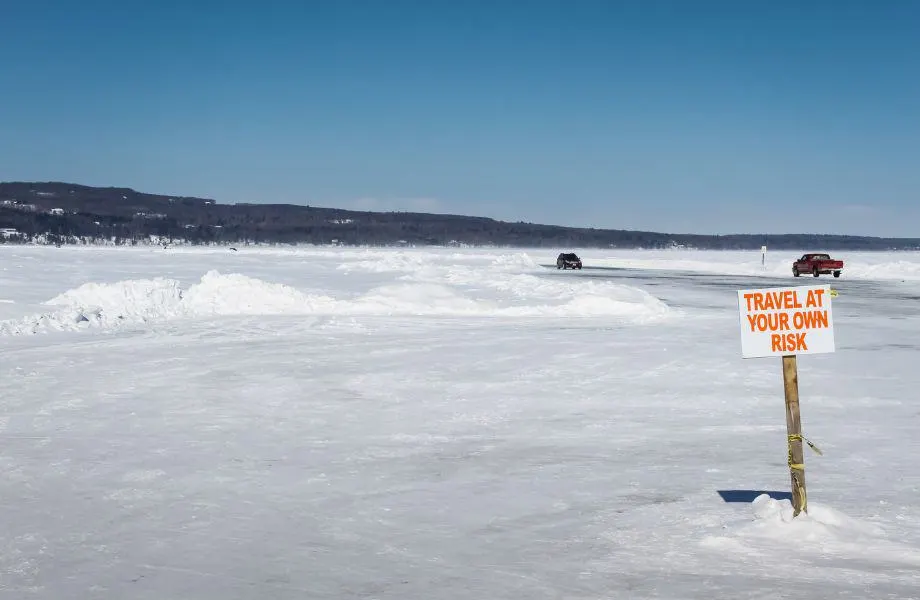 And to get to magnificent Madeline Island, why not take the ice road over from the mainland?
Madeline Island's Winter Ice Road is a seasonable road made entirely from ice that rests upon frozen Lake Superior and connects Madeline Island with mainland Wisconsin.
Due to the region's extreme weather conditions, Lake Superior in winter freezes over.
When this happens, the ferry that operates between the mainland town of Bayfield and Madeline Island can no longer operate.
This is when the ice road comes into play!
For several weeks a year, you can experience one of the most amazing things to do in Wisconsin in winter by taking the ice road over to the island.
This is a matchless Apostle Island winter activity that must not be missed.
The ice road runs for slightly under two miles, but is an once in a lifetime experience.
It may take a while to cross though due to the incredibly strict speed limits which need to be applied to this highly dangerous stretch of road.
You cannot exceed 15 mph along this hazardous stretch of road.
8. Go Winter Surfing on Lake Superior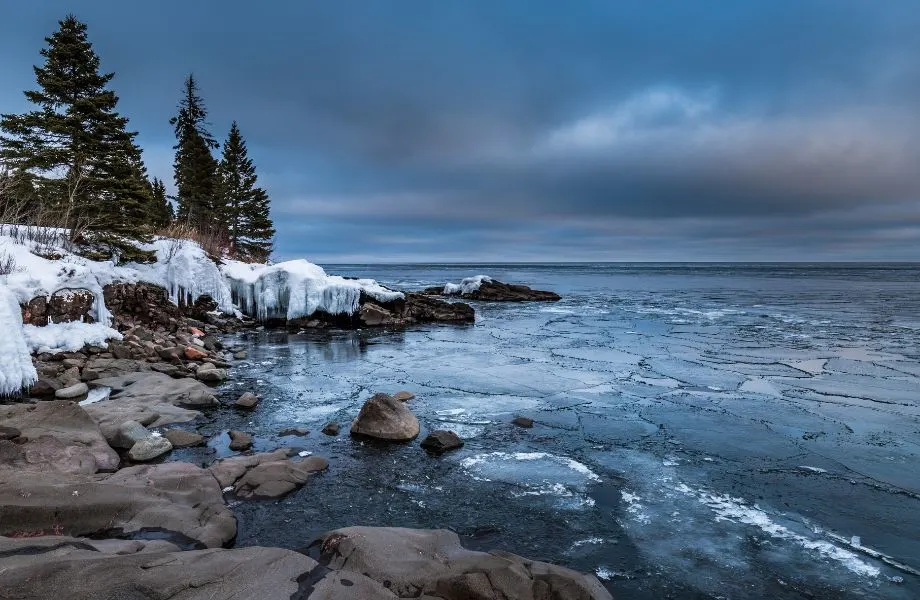 This one is certainly not for the fainthearted and should only be attempted by those brave, hardy souls to whom subzero temperatures are just 'a bit cold'.
Honestly, this is one for the truly adventurous: Surfing on Lake Superior, in winter!
As we've just discovered, it gets so cold here in the winter that the largest freshwater lake on the planet freezes over.
Do you really want to go surfing on that?
I believe Lake Superior winter surfing are words that shouldn't belong in the same sentence but each to their own!
If surfing in minus-30 windchill and temperatures below zero sounds like heaven to you then you're far braver than I am!
So, if you're in the Apostle Islands in the winter and fancy an 'ice 'beard' then go right ahead.
Watch Surfer Dan on YouTube for an idea of just what you'll be getting yourself into!
Apostle Islands winter activities don't come any more extreme than this, so do proceed with caution!
Please note: Lake Superior often freezes over completely in the coldest months, so this is only something you can do early or late in the season.
9. Take a Snowshoe Tour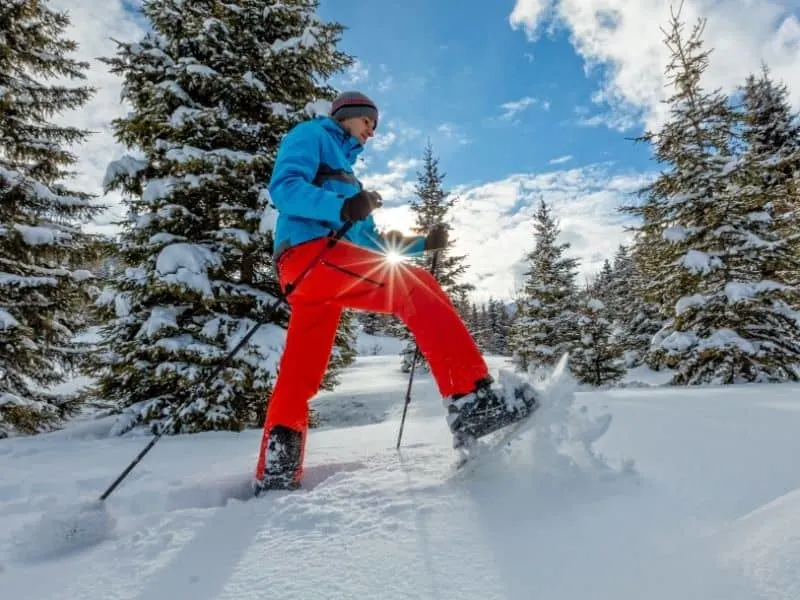 If you're an active type and looking for fantastic things to do in Northern Wisconsin then one of the finest Apostle Islands winter tours you can take is a snowshoe tour.
These tours will take you along the magnificent National Lakeshore on the Bayfield peninsula.
Wolftrack Guides lead these great tours that not only take you through some areas of outstanding natural beauty but are also great fun to take part in.
There is a range of tours to choose from that run from two to four hours and can be tailored to ability levels.
The snowshoes for this unique Apostle Islands winter experience will help you stay (mostly!) on top of the waist-deep snow.
Tour options include the Apostle Islands National Lakeshore, Frog Bay Tribal National Park, and the Red Cliff Point ice caves (when conditions allow).
You can find out more (and book) at the Wolftrack Guides website.
All tours are on the mainland, along the lakeshore, and tour costs include snowshoes to borrow.
10. Spend some time in La Pointe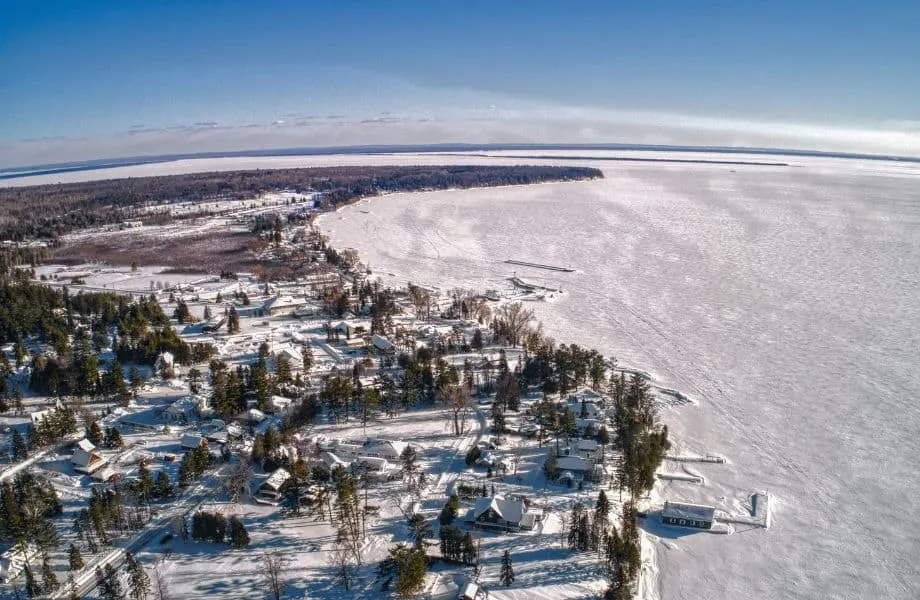 If you're looking for somewhere to base yourself for those winter getaways in Wisconsin then Madeline Island in the winter is a magical place.
And La Pointe is a magnificent option for those who want the winter harshness softened with all the home comforts!
La Pointe is a small, sleepy town where relaxation is taken seriously.
However, it's a great base from which to explore everything Madeline Island has to offer.
And for ease of access, downtown La Pointe is adjacent to the Madeline Island Ferry dock.
The 3-mile ferry trip over splendid Lake Superior from Bayfield on the mainland is a fantastic experience in itself.
Once on terra firma, you can rent a scooter (weather permitting) in La Pointe to get around the island.
In La Pointe, make sure to visit the fascinating Madeline Island Museum to learn about the local area's fascinating history.
The La Pointe Center Art Gallery is also worth a visit to check out some local art.
There are several great dining options here, making it one of the best places to vacation in Wisconsin.
Overall, it's a great place for those wishing to relax in winter.
---
The Apostle Islands in winter are a magical, mystical place to visit.
The snow and ice bend the landscape into otherworldly shapes and lend the environment an almost surreal aura.
As we've discovered, the islands throw up a multitude of options to meet your exact requirement for that winter break.
Whether you're active or passive, there's a multitude of reasons to visit this magnificent part of the world.
As you may have derived, cold is not the word for it! Pack and dress accordingly or you'll suffer!
If you forget your coat, don't worry, there are numerous shops in the area selling coats, boots, and everything else you need to survive the harsh winter weather.
If your idea of heaven is a tropical beach, best avoid this one! For others, this may very well be paradise.
---
Why You Should Visit the Apostle Islands in Winter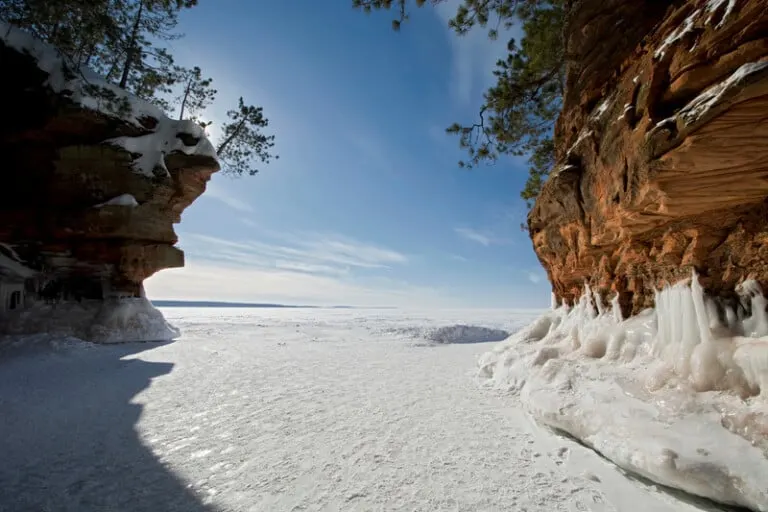 The Apostle Islands in winter provide a truly unique vacation destination.
The sandstone cliffs that line the shore around the islands provide a unique environment for stunning ice formations to gather during the freezing winter months of northern Wisconsin.
The icy breezes gusting off Lake Superior blows the sea spray into the cliff faces and results in otherworldly landscapes unlikely to be seen anywhere else.
As a result, the Apostle Islands in winter are a magnet for visitors from all over the country, flocking to see the islands' distinct attractions.
Combined with the plethora of marvelous winter activities in which to partake, then you'd be hard-pressed to find a better winter getaway.
If you are planning on making the Apostle Islands your winter vacation destination, then ensure you prepare well and pack appropriately for the cold.
The temperatures here can come as quite a shock to those not from the region who are unaccustomed to them.
Whatever else you do, try and make time for a visit to the spectacular ice caves.
These are by far the biggest attraction of the region and a visit there will confirm to you exactly why that is the case. Truly magnificent.
When is the Best time to Visit the Apostle Islands in Winter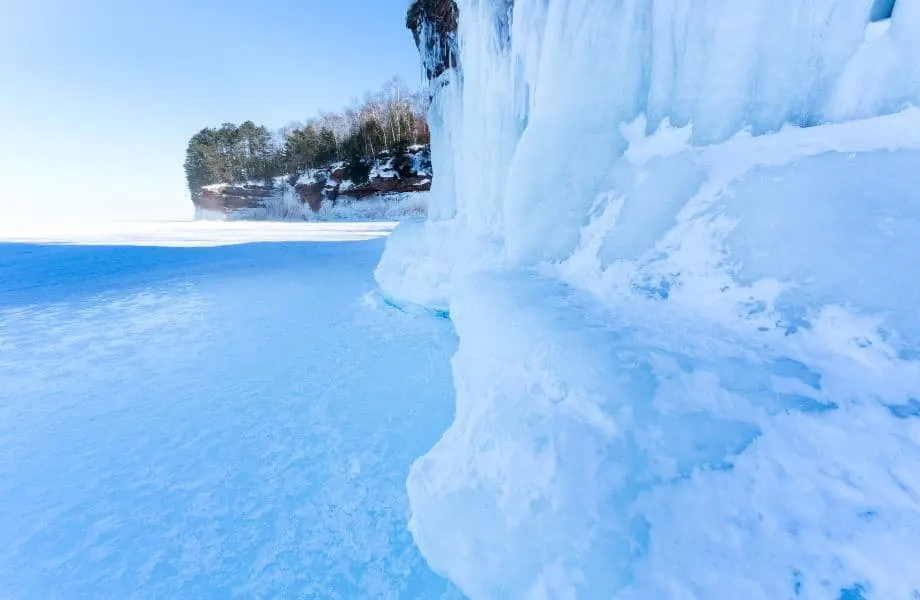 The winter months in the Apostle Islands consist of December, January, and February. During these months expect lots of snow and extremely cold temperatures.
Expect short days, long nights, and shivery wind chills when visiting the Apostle Islands in winter
The spectacular ice caves are the biggest draw to the area.
Be aware though that access to the caves is entirely dependent on the depth of ice on Lake Superior, as crossing this is the only way in which the caves can be accessed.
February is the month when the ice is at its most consistently thick, therefore this is when you'll have the greatest chance of accessing the caves.
Another thing to be aware of in the Apostle Islands in winter is that during the peak winter months, Madeline Island is the only one of the islands that remains accessible.
It can be accessed via the ferry from Bayfield – until the ice becomes too thick for the ferry to cut through.
Once this happens, visitors have the option of taking the wind sled (which is passengers only), or driving their own vehicles across the ice road (more of this option below).
Never mind though, there's still all that amazing surrounding mainland lakeshore to explore.
Many tourist attractions close during the winter months so make sure to check in advance if there's something specific you are wishing to visit.
Short FAQ About the Apostle Islands in Winter
Is Madeline Island open in the winter?
Yes, the ferry runs regularly from Bayfield until it is no longer able to break through the ice. It then stops while the ice thaws.
How do people get to Madeline Island in the winter?
The ferry is the best way while it is still running. When the ice becomes too thick to break through, visitors can still access the island via the wind sled and the ice road. The wind sled is passenger only (no vehicles), while the ice road is not, but is more risky.
Can you visit the Apostle Islands in the winter?
Yes, absolutely. In fact, the Apostle Islands in winter is one of the best times to visit! However, I would advise beginning or end of winter so you can still use the ferry.
---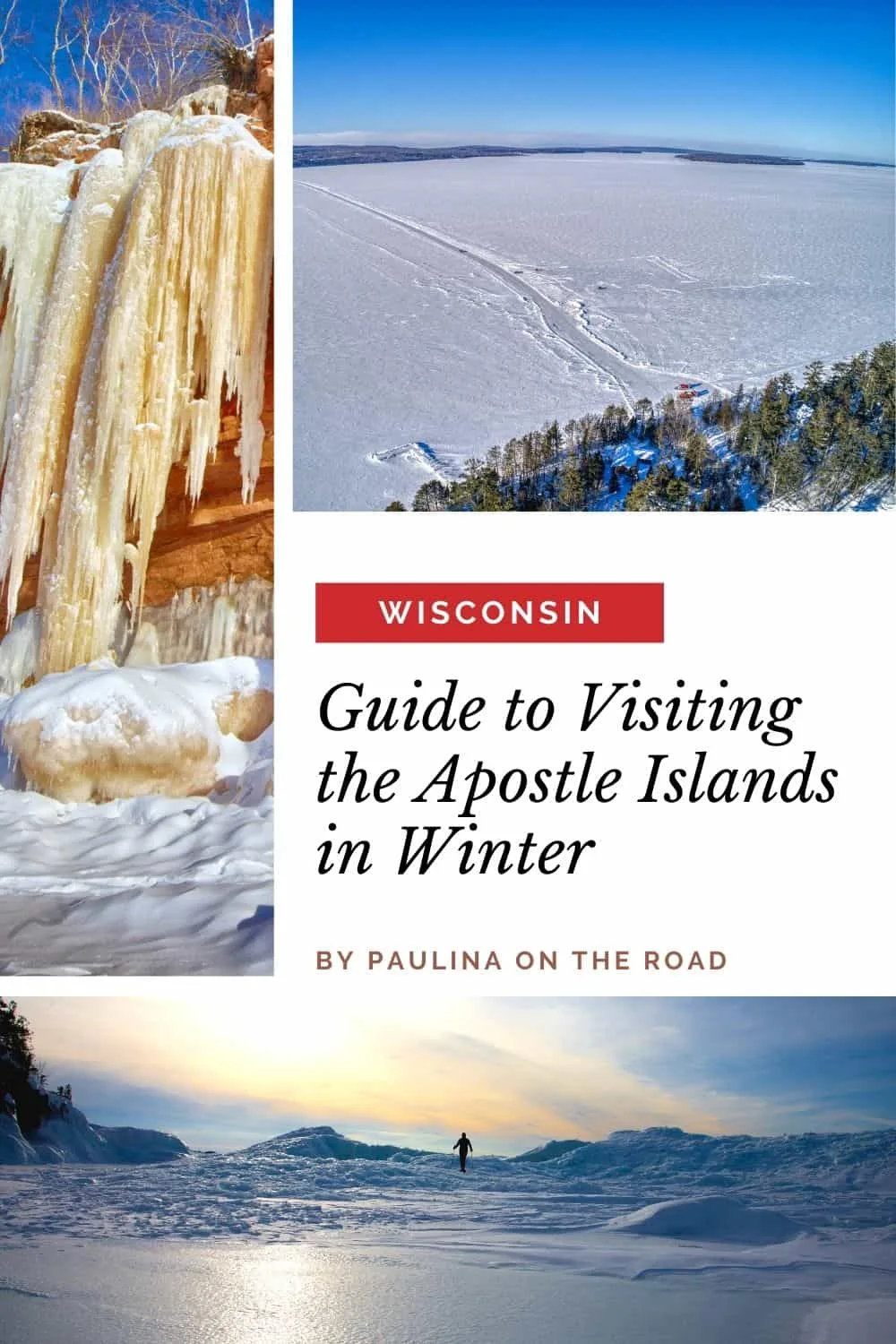 ---
Hola! I am Paulina, a fervent travelette who crossed the Atlantic Ocean by Boat HitchHiking. On my blog, you'll find all the tips to make the most of your holiday. Get ready to enjoy outdoor and sustainable travel like hiking, cycling or sailing. Let's hit the road together!