When hiking in Pyrenees, you'll come across many fun destinations, including Val d'Aran, Spain. This valley has so much to offer you might wonder how you'll be able to include everything on your trip.
If you only have a short time to visit this area, you might wonder about some of the must-do activities here. You might not have enough time to do everything, but this post will cover the top 10 unmissable experiences and places in Val d'Aran.
After learning about each of these stops along the valley, you will know which destinations to include in your hiking itinerary.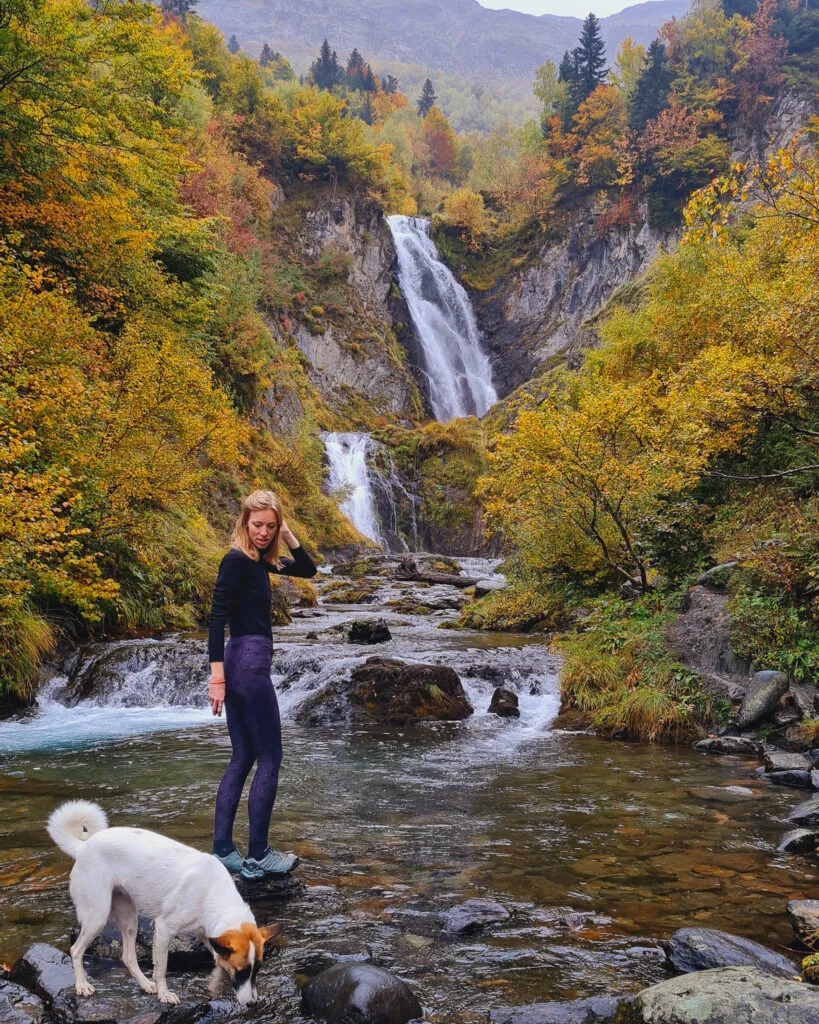 I'll cover some of the best vantage points and landmarks and explore the local culture, including cuisine and traditions.
Keep reading to learn everything you need to know about visiting these most beautiful places in Spain along the Aran Valley.
This blog is supported by you, dear reader. If you purchase through a link, I earn a small commission. As an Amazon Affiliate, I earn from qualifying purchases.
Top resources to travel Spain
⚘ Avoid tourist traps and get the customizable "Spain Like a Local" itinerary for less than 10€. – Get it here

✈ Book cheap flights to Spain with Skyscanner

✔ Book tours in Spain with Viator

➳ Find the best hotels in Spain with Trivago

❖ Rent a car with the best discounts with DiscoverCars

☘ Get the best discounted outdoor gear (outlet) with REI.com

✎ Never leave without travel insurance. I get mine at SafetyWing. It is easy to set up, cheap and reliable.

$ Withdraw money without hidden fees and avoid exchange rates with Wise (you'll get a free card on top!)
Why is Val d'Aran unique?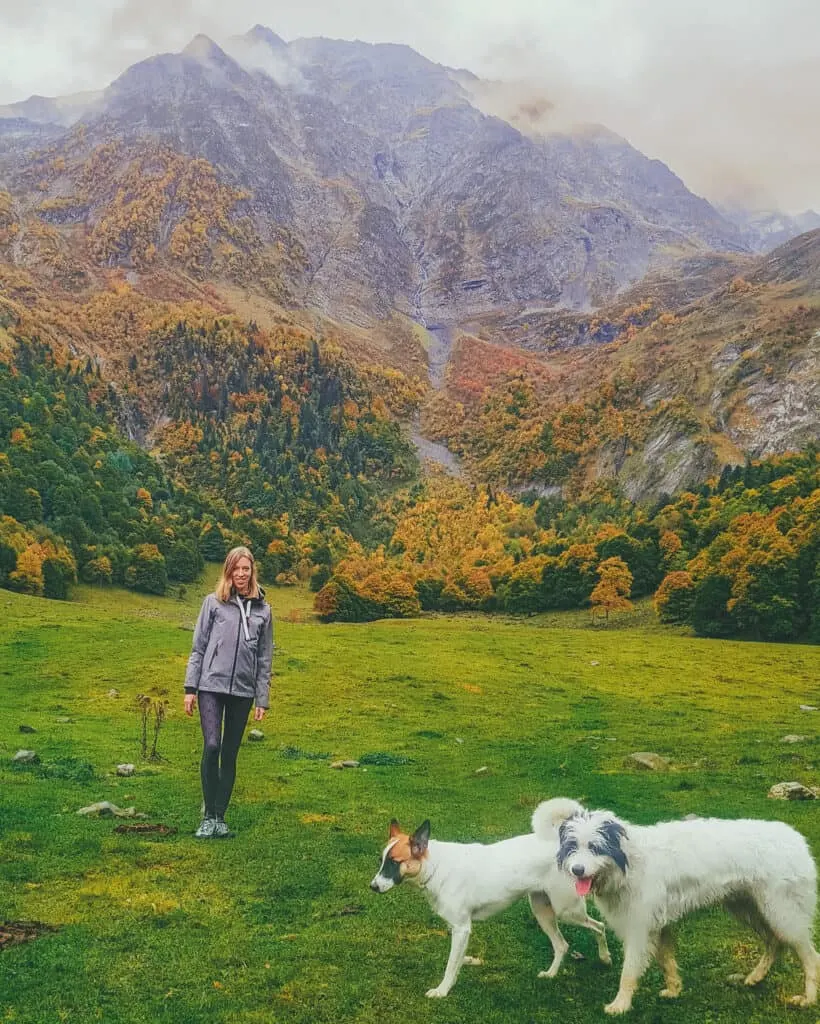 Val d'Aran is a community in the Pyrenees mountain range that consists of the Aran Valley. This valley stretches over nearly 240 square miles (620 square kilometers).
Anyone hiking the Pyrenees in Spain will probably find themselves hiking along this valley, too.
This area of the Pyrenees mountains is unique for a variety of reasons:
If you look at a map of Pyrenees, you'll see that this region includes miles of uninterrupted scenery.
You will truly feel as though you live in a world without civilization.
When you do come across small communities, you will fall in love with the culture. Val d'Aran has a unique food scene as well as many rich artistic and cultural roots.
The locals even speak the lesser-known language, Aranese.
Many people who spend their winter holidays in Spain like to stay at the winter resorts and practice winter sports. However, the Atlantic climate makes it enjoyable for summertime, as well. And you'll surely love to witness the changing of seasons in the fall as you explore the best hiking in Pyrenees.
Where to stay in Val d'Aran
Top Pick: Hotel Penha****
Budget
Hotel Saueth *
Hotelet de Betlan
Mid-range
Hotel Vielha Baqueira ****
Parador de Artíes ****
Hotel Vilagaros ****
Luxury
Hotel AC Baqueira Ski Resort, Autograph Collection *****
Hotel Val de Neu G.L *****
Hotel Chalet Bassibe by Silken ****
1. Hiking Bosc Conangles Forest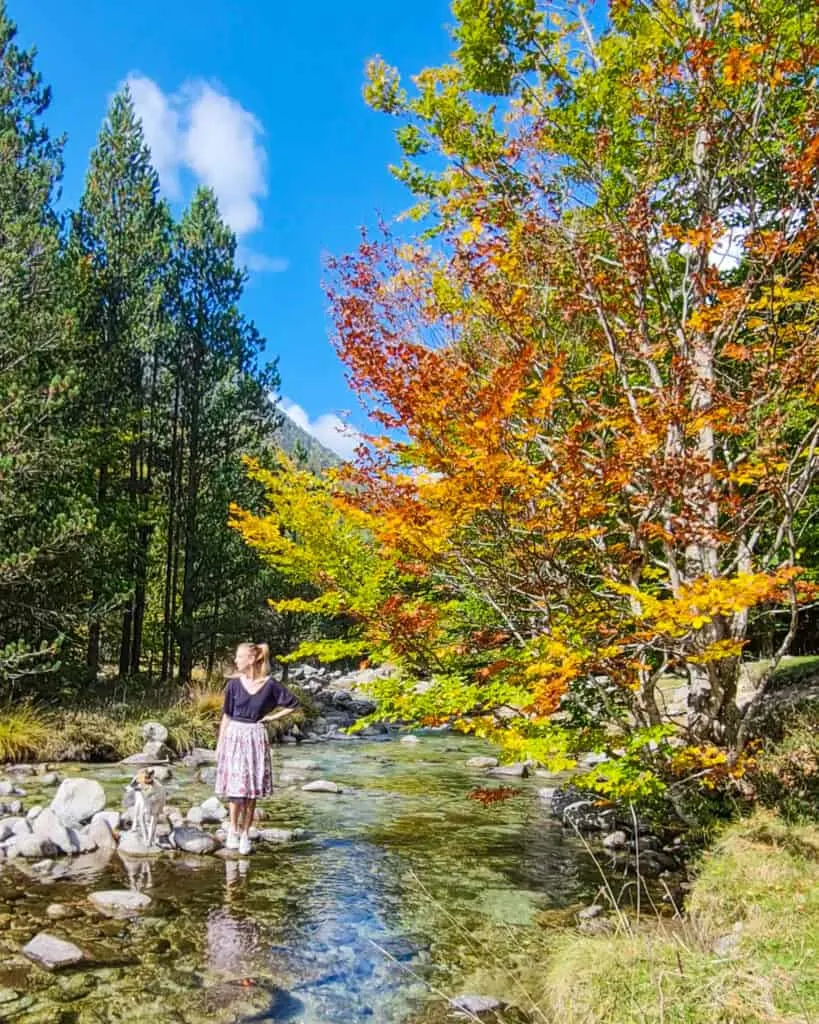 The Bosc Conangles Forest is one of the biggest beech and fir forests on the Iberian Peninsula. The varying shades of green on these trees make for stunning views in the summertime. The way the sunlight dances on the trees is magical.
If you think these trees are beautiful in the summer, just wait until the fall. When these leaves change colors in the fall, you'll want to take pictures that will last forever. You'll also be able to catch a glimpse of the Noguera Ribagorzana river.
This place is a must-do because it is where the best hikes in the Pyrenees start.
The Pòrt de Vielha, or high mountain walk, follows a natural route historically used to transport goods from Aran to La Ribagorza. This 10-mile hike will pass through some of the ecosystems that best define the Catalan Pyrenees.
The Cascada de Molières is a family-friendly hike that will take you to a beautiful waterfall in about 30 minutes. You can also walk towards the high lakes of Besiberri or walk along the Port de Rius, or port of rivers.
This area also neighbors the Aigüestortes and Sant Maurici Lake National Park which has a lot to offer in the way of scenic beauty. This is a good place to find some of the best hiking in the Pyrenees.
2. Camino Santiago Road: Les – Vielha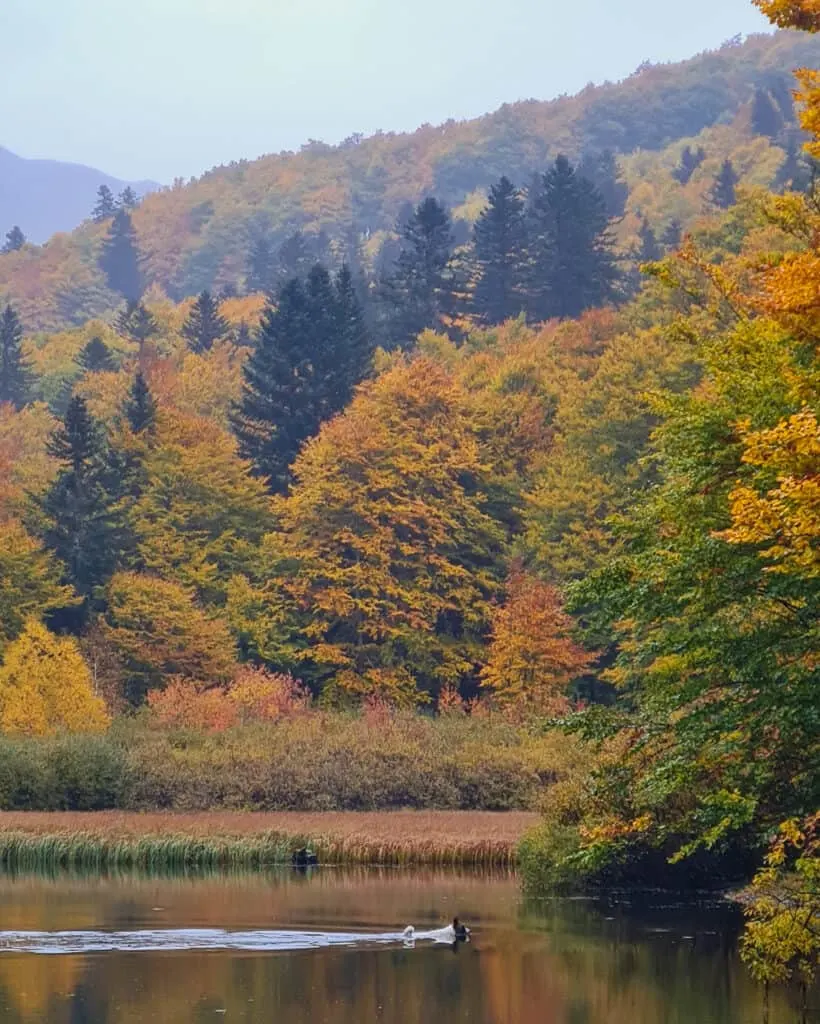 The Camino de Santiago is the legendary route of the pilgrimage of St. James. While the modern-day Camino Santiago Road now has many routes you can access from a variety of places, it is fun to remember its historic origins.
I recommend traveling along this road to go from the village of Les to Vielha. Les is a spectacular village in the region and Vielha is the capital city of Val d'Aran.
The Vielha portion of the road has a lot to offer if you want to make a few pit stops. If you chose to spend a few days in this town, you would not run out of things to do.
Some of the must-see destinations along the Camino de Santiago are the wool factory, the Plaça d'Aran, and the Çò de Rodes Manor House.
You should definitely visit the Church of Sant Miqueu, which was built in a Romanesque style with some early Gothic inspiration.
Another must-see monument is the Val d'Aran Museum, where you'll learn all about the history of Val d'Aran. This will give you a better appreciation for everything you see while visiting the area.
3. Saut deth Pish hike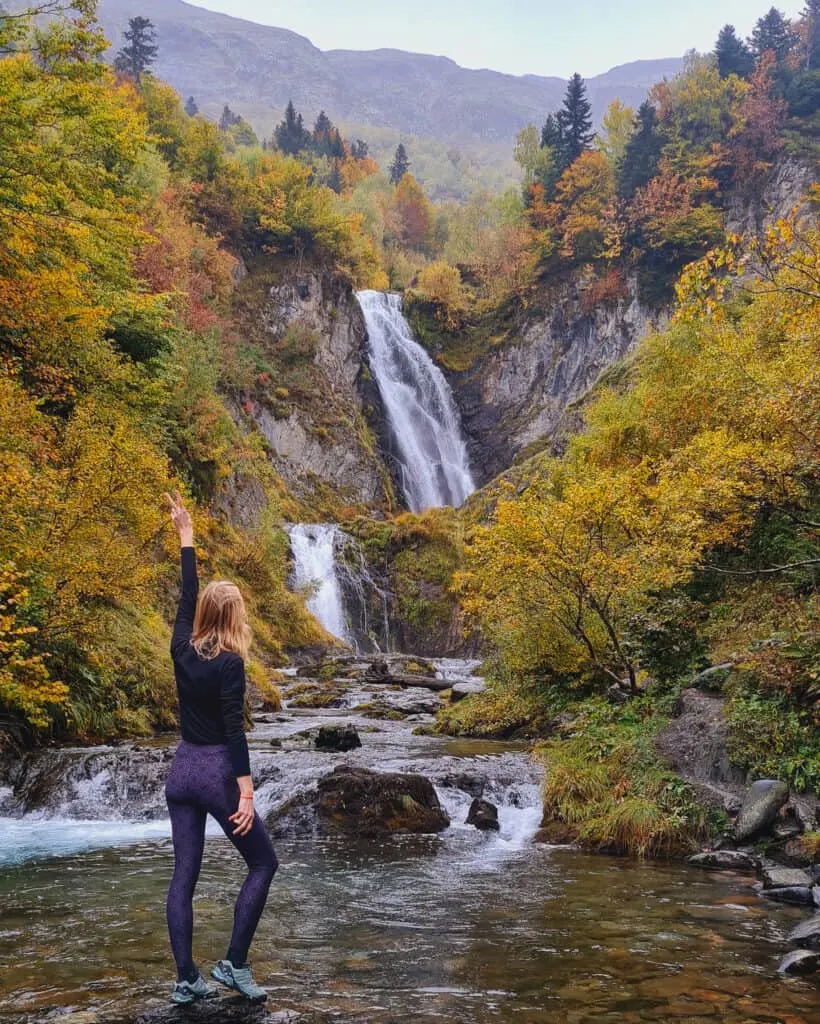 The Saut deth Pish hike is a half-mile (.8 km) hike to an amazing waterfall.
This hike is perfect if you want to see astonishing views without overexerting yourself. If your legs are exhausted from all the hiking in Pyrenees you've already been doing, they won't even notice this extra hike.
The trail is about a half-mile long (0.8 km) and will lead to the Saut deth Pish. It may be a bit longer depending on where you start the hike. But if you hike from the main parking lot, it will be quick and easy.
The Saut deth Pish is a waterfall that is about 5,000 feet (1.5km) above sea level. It is easy to see why this is one of the best hikes in Pyrenees.
Without any doubt, this is one of the most beautiful places in Spain.
4. Artiga de Lin – Uelhs deth Joeu Hike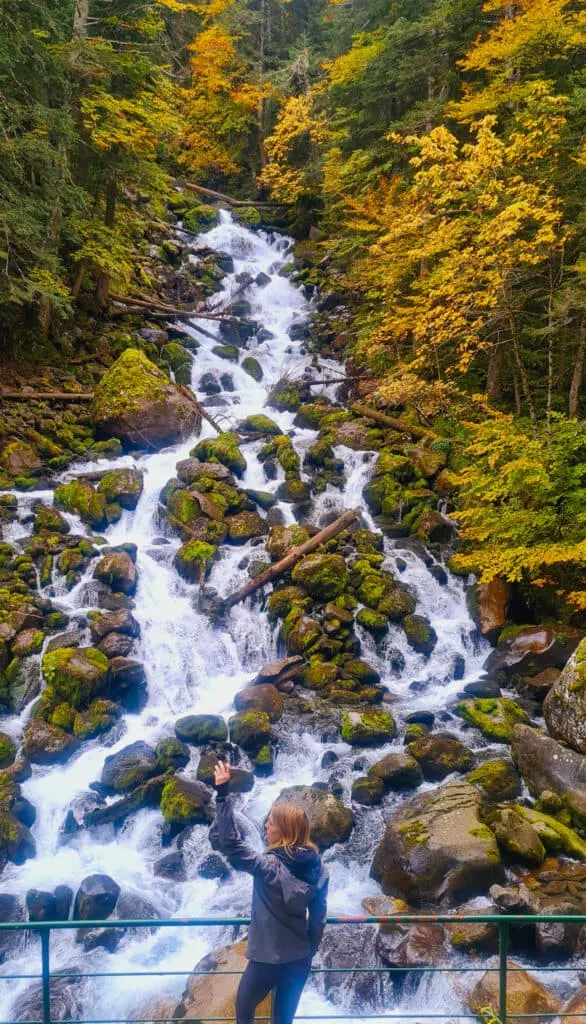 The Artiga de Lin is home to beautiful views for those hiking in the Pyrenees, Spain. There is also a place of refuge for tired travelers.
The Uelhs deth Joeu is probably one of the most spectacular waterfalls in northern Spain. This hike takes you to a waterfall that has come from the Aneto Mountain glacier.
There are a few ways to get to the waterfall. One of the hikes will cross a bridge and go up the side of the waterfall. It is a rather steep climb, but a short distance.
Then you will come to the Artiga de Lin where you can stop for a rest.
5. Visit the best viewpoints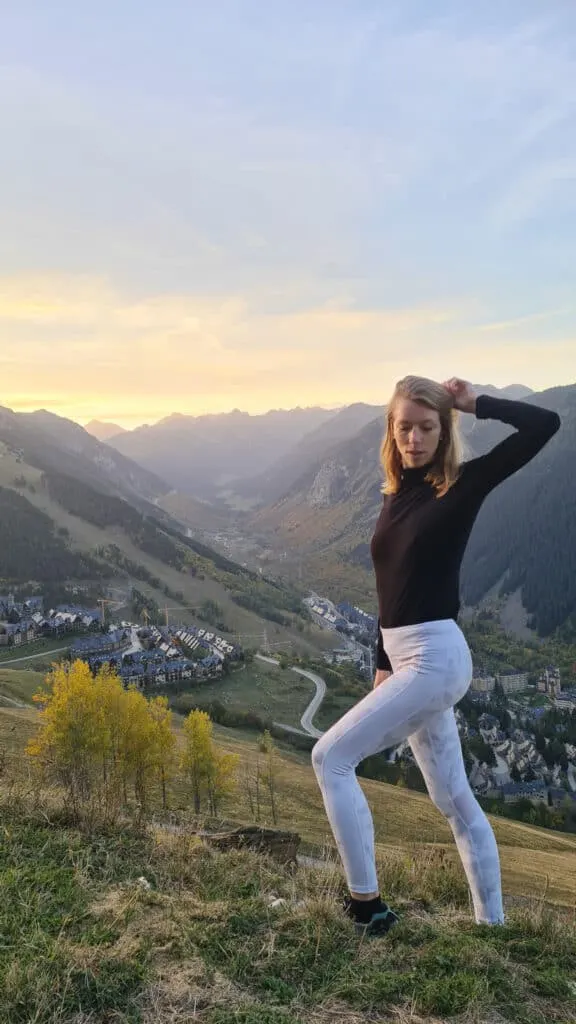 When spending a vacation hiking in Pyrenees, you want to go home with some of the best pictures ever.
That's why it is so important to do your research and find the best places to take photos!
If you've watched any movies set in Spain, you know this country has a lot of great views. So if you're like me and want to show off the gorgeous places you visited, stop by some of these viewpoints:
Pla de Beret to Montgarri
This nearly abandoned area is located on a plane high above sea level. You can see the source of the Noguera Pallaresa and Garona Rivers as well as the mountains in the distance.
Banhs de Tredos to Circ de Colomers
This is a glacial head with over 50 lakes. Some of the peaks are over 1.5 miles (2.4 km) high.
Bassa d'Oles to Moncorbison
This is the place to get full panoramic views of the Pyrenees. Continue hiking to the Tuc de Letassi for full 360° views of these beautiful mountains.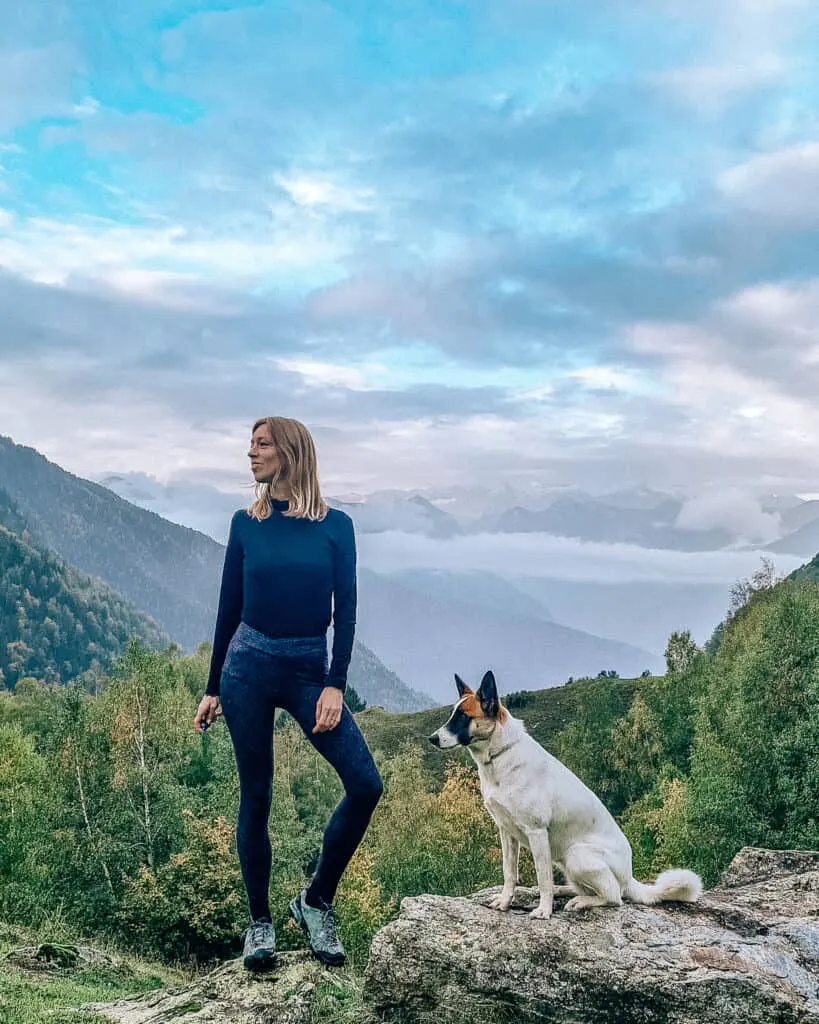 6. Hike to the best waterfalls in Val d'Aran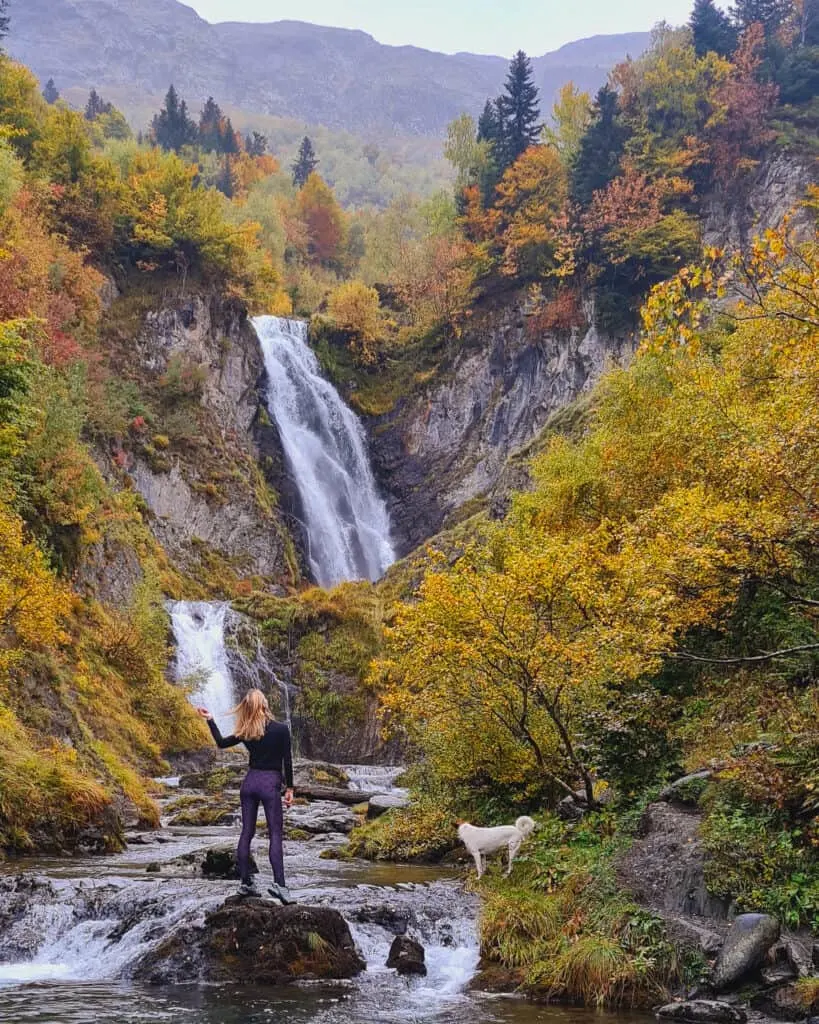 When hiking in the Spanish Pyrenees, you don't want to miss out on the waterfalls.
Many of these waterfalls have formed as a result of the glacial waters of this region.
There are many small waterfalls in Val d'Aran, but there are a few major waterfalls that you must see:
This waterfall is the second-highest waterfall in Val d'Aran. You can start walking towards it on the trail located at the south entrance of the Vielha Tunnel.
This waterfall is nearly 20m high and is easily accessible from Pont d'Arròs.
This multi-level waterfall is a great example of the beauty of glacial waters. It also has a picnic area and restaurant as it is very popular among tourists. There is a paved road from Es Bordes that will take you here.
If you travel from the Canejan turn-off to San Juan de Torán, you will see this waterfall at the halfway point.
Another noteworthy waterfall is the Cascada de Sant Esperit.
7. Hike to the best villages in Val d'Aran
When hiking in the Pyrenees, it is essential to stop by some of the villages you pass.
These villages will be full of culture and tradition. After spending time in these communities, you will have greater respect and appreciation for Val d'Aran.
This village is home to many colorful houses. You can also find examples of architecture from several different time periods between the 11th and 16th centuries.
Arties has some springs and baths with sulfur-rich water. It is also home to two bears that are protected by the village.
Les is a small Catalonian village that has a lot to offer for adventure enthusiasts. If you enjoy relaxing at the spa or visiting shops, you will like spending a day in Les.
Bausen is a traditional stone village. While there are not many extravagant things to do in this village, you will be able to enjoy an afternoon of exploring. Visit some of the shops. Eat some of the local cuisines. Have a relaxing visit to this small village.
Bagergue is the only Catalan village that made the list of Spain's most beautiful villages. It's a quiet little community with a pretty church and a few places to grab food or a drink. It also has many great views to offer.
8. Visit Vielha, Spanish Pyrenees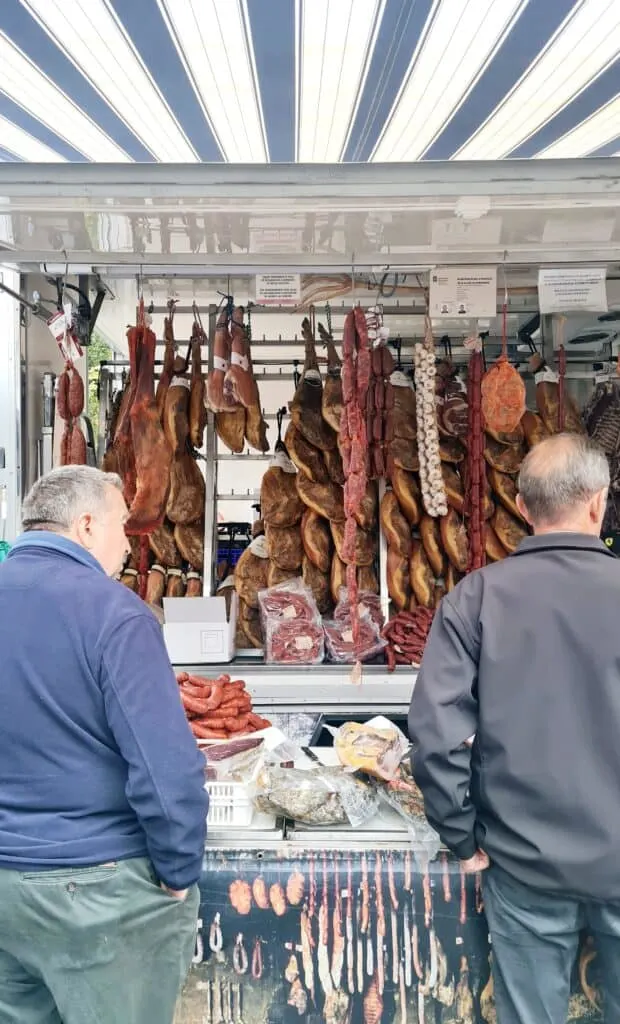 Vielha is the capital city of Val d'Aran. Therefore, it has a lot to offer. Anybody who is hiking Spanish Pyrenees will love visiting this city!
Vielha has a lot to offer outdoorsy folks. Whether you're walking in the Pyrenees, cycling in the Pyrenees, or camping in the Pyrenees, you'll enjoy an excursion in Vielha.
The Bassa d'Oles and Estany de Vielha are beautiful lakes surrounded by Spanish beauty.
You can explore the architecture of many historic buildings throughout the city. As you walk around the city, you'll find a lot of shops. Cyclists will love Era Roda while wine lovers should visit Cava Beso.
If you'd rather keep it low-key, you may want to visit some of the local bars and restaurants. You can even go to the Nuku Spa for ultimate relaxation.
In June, you may learn about the Hèsta d'Aran celebration.
In June, locals will honor the restoration of the Aranese government. Vielha has many traditional festivities to commemorate this part of Aranese history. Some of these traditions include mass, traditional dancing, and flag-raising.
Since Vielha is the main city of Val d'Aran, you may want to consider staying in one of their local paradores in Spain (historic hotels). You'll have a convenient home base while you explore the city.
If you're looking to enjoy local, homemade food, I recommend the restaurant La Abuela.
9. Indulge in typical food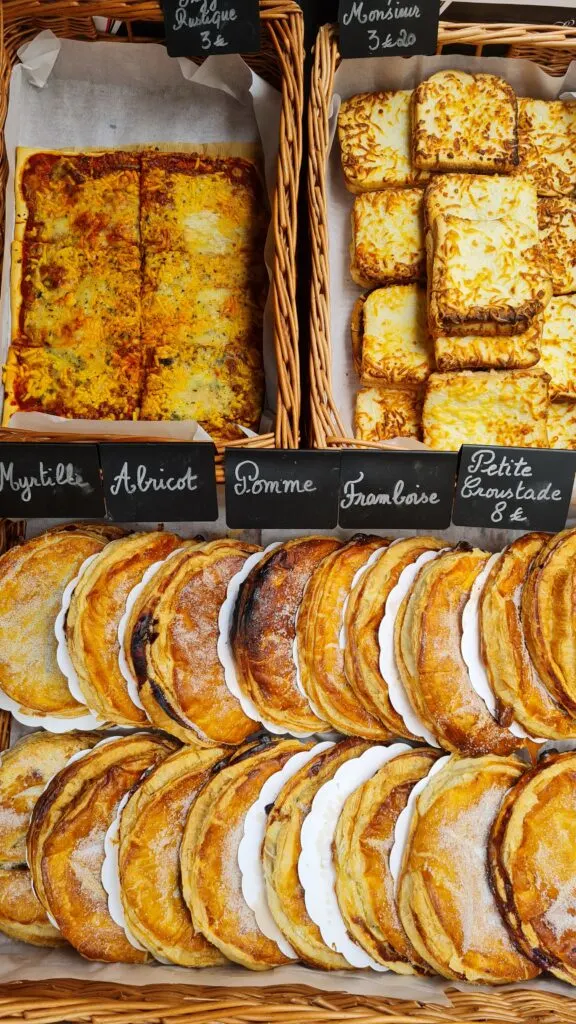 In Val d'Aran, you will find that the cuisine is very fresh. People historically relied on gardening, hunting, and fishing to ensure food to eat every day. When deciding what to eat in Spain, you'll notice that some of these traditions are still around.
Instead of meats common in America (pork, beef, chicken), you'll find a wider variety of meats in restaurants while hiking in Spanish Pyrenees.
Some popular meats in Val d'Aran are duck, rabbit, and chamois.
The Òlha aranesa, or "traditional soup," is one of the most representative dishes of the region. You will find many soups and stews when visiting Val d'Aran.
While meat and potatoes are very common in Aranese cuisine, you may also find sweet foods like crepes or tronquets.
As far as drinks, you will find a wide variety of options. However, I'd recommend trying Cassis liquor, which is popular in the area. It is a liquor made from blackcurrants.
There are many restaurants and bars throughout the valley.
You can always ask your server for their recommendations to make sure you are eating the best food. They may even recommend snacks from Spain you can bring home.
10. Enjoy local traditions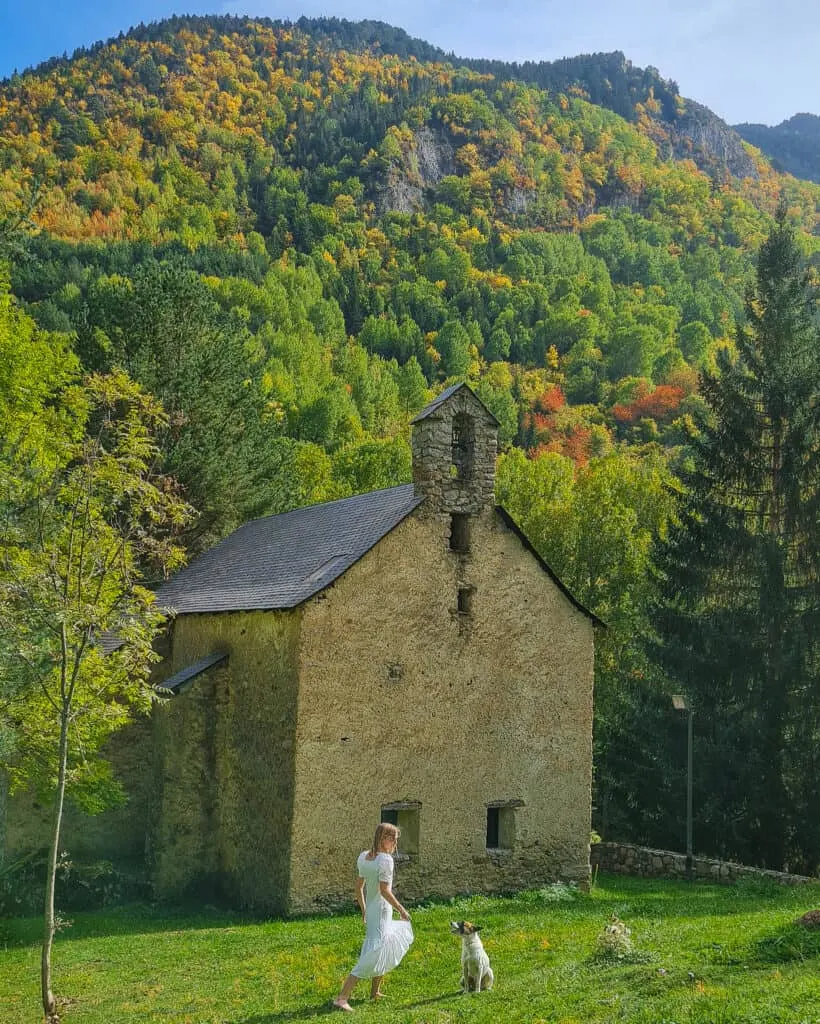 The Val d'Aran is a wide open space of gorgeous scenery, speckled with small villages. While these villages are small, their culture is rich.
Although Val d'Aran is located within Catalunya, it isn't like the rest of Catalunya. It is its own comarca within the larger region. And the Aranese people are proud of their heritage.
Since their history is broad, they have taken things from many cultures. For instance, don't memorize any travel quotes in Spanish. They speak Aranese, a language with some words from a variety of other languages.
They also celebrate a multitude of festivals throughout the year.
Some of their festivals are quite unique to the region. For instance, you can find more than one celebration that revolves around burning a trunk or a log. This ritual is important to pay homage to the land that feeds them.
They use music and dancing to express their religious and spiritual beliefs. No matter what you believe, you will be moved by their beliefs.
For instance, consider the folklore they pass down through the generations. The curse of Maladeta, Mandronius the Giant, the lovers of Bausen, and the rock of the nine holes are all legends that Aranese people tell over and over again.
---
If you wonder what is Spain known for, you might not get those answers in Val d'Aran. However, you will definitely learn so much more than you imagined.
Traveling through Val d'Aran will open your eyes to a portion of Spain that most people don't even realize exists.
If you enjoy the outdoors, learning about rich cultural traditions, and basking in history, you'll love doing everything on this list.
Val d'Aran is home to many beautiful hikes, waterfalls, and bodies of water. It is full of small communities that honor rich traditions. It even has historic monuments and buildings throughout the area.
If you find yourself hiking in Pyrenees, you should definitely plan to spend a few days in Val d'Aran.
---
FAQ: Best things to do in Pyrenees mountains
Where are the Pyrenees mountains located?
The Pyrenees mountains are located along the border of Spain and France.
What is the highest peak in the Pyrenees?
Macizo de la Maladeta, located in Huesca, Spain, is the highest peak in the Pyrenees. This is the highest height of Pyrenees to visit when hiking in Pyrenees.
Disclaimer: I have been a guest of Val d'Aran Tourism Office, all opinions are as usuall, my own.
---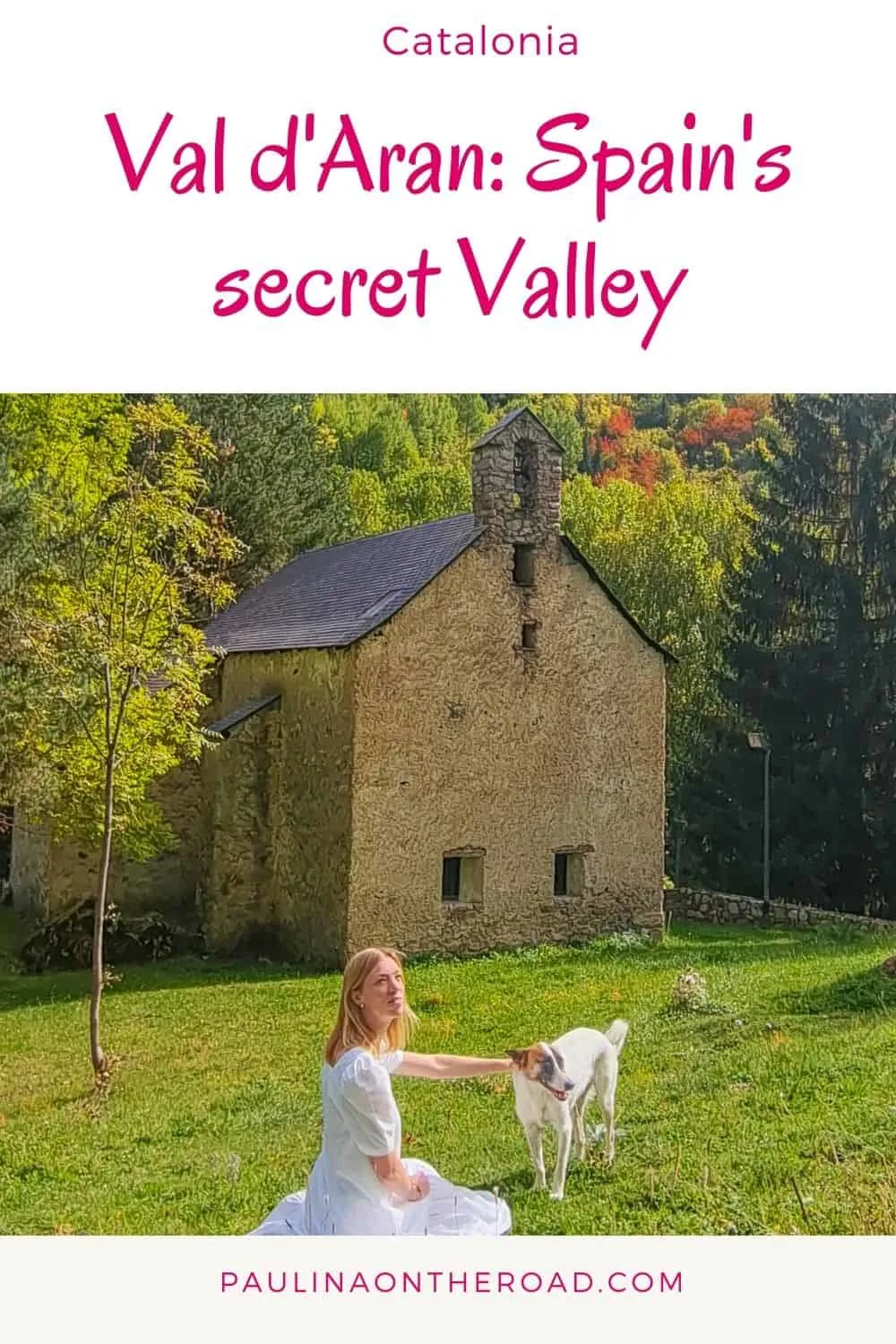 Hola! I am Paulina, a fervent travelette who crossed the Atlantic Ocean by Boat HitchHiking. On my blog, you'll find all the tips to make the most of your holiday. Get ready to enjoy outdoor and sustainable travel like hiking, cycling or sailing. Let's hit the road together!