20 Amazing Outdoor Activities in Wisconsin
A guide for nature lovers to the best things to do outside in Wisconsin year round
It's impossible to visit this beautiful state without wanting to enjoy as many outdoor activities in Wisconsin as possible.
That's because Wisconsin is home to amazing outdoor and indoor recreational activities no matter your skill level, age, or budget.
What makes Wisconsin even more special is that the area experiences all 4 seasons.
This means you can enjoy the outdoor activities that are specific to each season.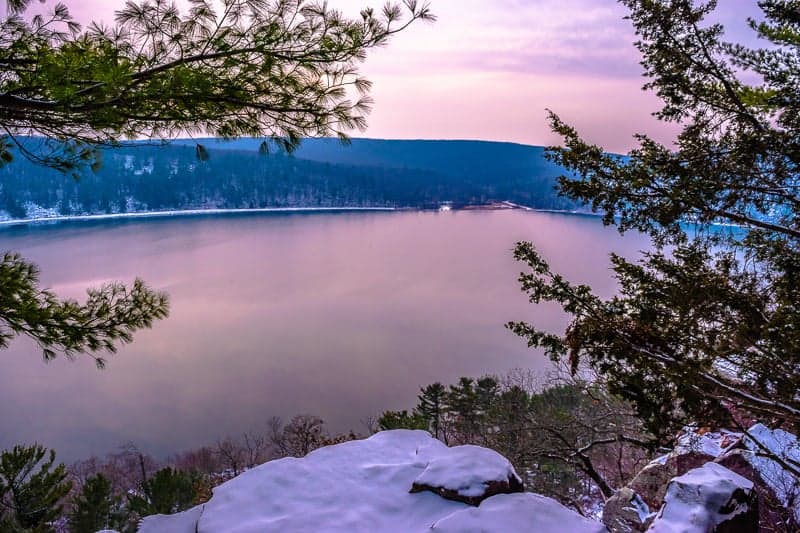 From snowmobiling and skiing to swimming and other watersports activities, Wisconsin has it all!
There's never a dull moment here with the numerous activities available.
I'm here to share the best outdoor activities you can enjoy in Wisconsin with your friends and family!
If you're looking for winter activities like snowmobiling and skiing, visit Wisconsin from December to February.
Alternatively, if you want outdoor Wisconsin summer/spring activities like swimming and other water sports, then it's best to visit from April-September.
Of course, there are many fun outdoor activities in Wisconsin available for you to enjoy year-round as well.
Thanks to affiliate links, I pay my bills. If you make a purchase through them, I may receive a small commission (for which I'm deeply grateful) at no cost to you. All opinions are always mine. Merci!
Useful Travel Information for Wisconsin
✎ Plan the ultimate Wisconsin road trip (no backtracking!) with the Perfect Wisconsin Road Trip itinerary – Get it here

✈ Book cheap flights to Wisconsin with Skyscanner

✔ Book tours in Wisconsin with Viator

➳ Book holiday and vacation rentals in Wisconsin with VRBO

❖ Rent a car at the best rates with DiscoverCars

☘ Get the best discounted outdoor gear (outlet) at REI.com

$ Get Wisconsin hiking guides and maps at REI.com

✎ Never leave without travel insurance. I get mine at SafetyWing. It is easy to set up, cheap, and reliable.
Where to Stay in Wisconsin
Wisconsin is full of amazing hotels, resorts, and cabins. No matter your budget or type of vacation, you can find the perfect place in one of my accommodation guides:
Hotels & Resorts
Cabins
Why Enjoy Outdoor Activities in Wisconsin?
In this digital age where kids and adults spend a major portion of their time behind screens, it's important to consciously take out some time to enjoy outdoor activities and disconnect from the digital world every now and then.
Not only is it great for your mental health, but it also helps improve your physical health. Outdoor activities stimulate brain function, improve heart health and also give you your daily dose of vitamin D!
Here are 20 amazing outdoor activities in Wisconsin that cover every budget, type of traveler and time of year.
1. Explore the Ice Age Trail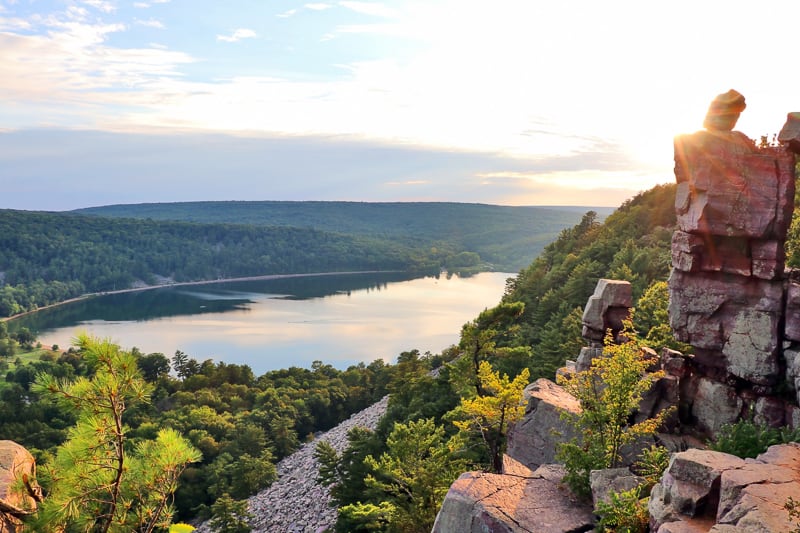 The Ice Age Trail is one of the 11 National Trails, and one of the best hiking trails in Wisconsin!
It's a thousand-mile-long scenic trail that makes a great place to escape your mundane daily life and explore nature. You can go hiking, backpacking, and snowshoeing on the trail.
The trail is famous for the numerous glacial features that you can observe here. You can also spot numerous wildlife species along the trail including red fox, grey wolves, black bears, deers, and porcupines.
During the winter season, you can go skiing at the Kettlebowl Ski Area which lies along the trail.
And in the autumn this is one of the best places for fall foliage in Wisconsin.
Book here the best accommodation in Wisconsin
2. Check out the Sea Caves surrounding the Apostle Islands
Whether you're looking for outdoor activities for the family or romantic getaways in Wisconsin, the Apostle Islands will suit your needs.
Take a kayaking trip around the Apostle Islands to explore the sea caves beautifully crafted by nature. These caves were formed by the water's strong currents that carved away the stones lining the Island.
You can also embark on a grand tour of the Islands, which are home to stunning sceneries, pristine beaches, and eight lighthouses! Exploring the Islands is indeed one of the best outdoor activities in Wisconsin.
Alternatively, you can also check out explore some of the amazing things to do in Apostle Islands, such as the numerous shipwrecks around the archipelago.
Book here the best accommodation on Apostle Islands
3. Enjoy zip lining at Bigfoot Zipline Tours
If you're looking for an adrenaline rush, head over to Bigfoot Zipline Tours in Central Wisconsin and enjoy racing through the heights as you get a bird's eye view of the entire area.
It's home to 7 separate ziplines, through which you can explore the treetop canopy. You can tackle your fear of heights here! Don't worry if it's your first time ziplining because the guides are very skilled and help you each step of the way.
You can also go on a jet boat tour here if you're not up for ziplining. You'll get soaked, though, so make sure you bring an extra pair of clothes.
After you're done ziplining, enjoy some of the other amazing things to do in Central Wisconsin.
Buy here the best Wisconsin guidebooks from REI
4. Visit the Big and Little Manitou Falls at Pattison State Park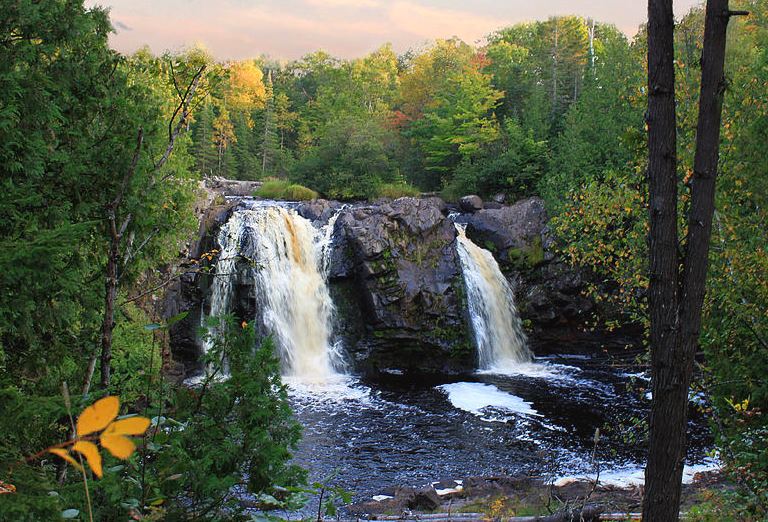 One of the best outdoor places to visit in Wisconsin is Pattison State Park. The park is home to two of the most beautiful waterfalls in Northern Wisconson, the Big and Little Manitou Falls.
Observe these beautiful waterfalls via the scenic trails of the Park. The Big Manitou Falls has a height of about 165 feet while the Little Manitou Falls has a height of 31 feet.
Other activities you can enjoy at Pattison State Park include camping, hiking, and walking along the shore of one of the best beaches in Wisconsin. It's a beautiful park worth exploring with numerous outdoor activities in Wisconsin.
Book here the best cabins in Northern Wisconsin
5. Have fun with the wildlife at Bay Beach Wildlife Sanctuary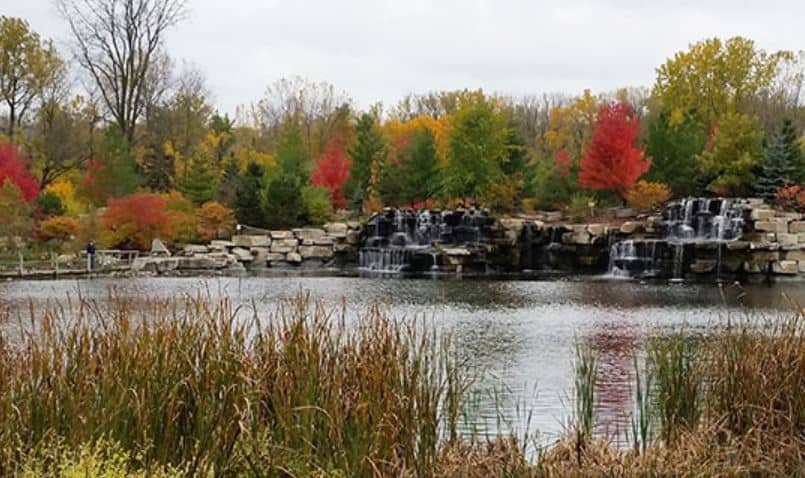 This Wildlife Sanctuary is a wonderland for animal lovers. They take in injured and sick animals and help rehabilitate them.
The entry is free but donations are encouraged so please donate generously toward the noble cause.
You can spot owls, turtles, eagles, hawks, foxes, wolves, rabbits, ducks, and turkeys. Food bags are also available so that you can feed the animals yourselves.
It's a great activity for kids and it teaches them how to be compassionate and kind towards animals.
The sanctuary also has hiking trails that you can explore while observing the animals nearby. It's one of the many Wisconsin outdoor attractions that your kids will enjoy as much as you do!
While you're here, check out all the other fun things to do in Green Bay.
If you're staying overnight, I have a whole guide on the best hotels and resorts in Green Bay!
While wandering around, you might even recognize some filming locations for The Godfather of Green Bay, one of the best movies set in Wisconsin.
Book here the best tours in Green Bay
6. Check out Victorian estates on the Lake Geneva Shoreline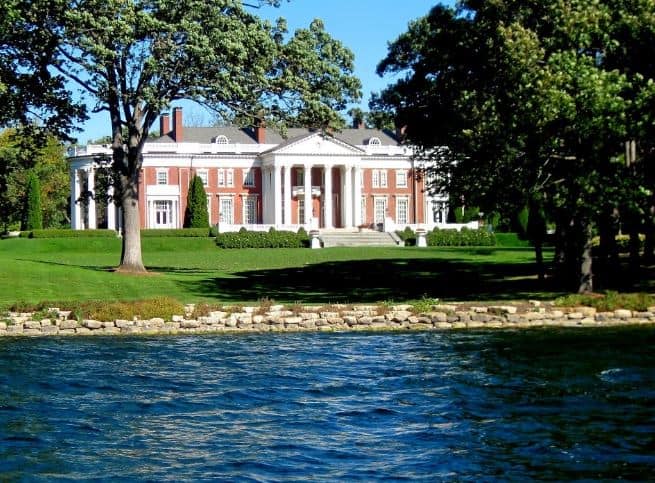 One of my favorite things to do in Lake Geneva is to explore the magnificent Victorian estates that line the city's shoreline.
Take a walk along the Lake Geneva Shore Path, one of the best places to hike in Southern Wisconsin, to try and spot as many as possible.
Alternatively, you can get close-up views of the beautiful historic buildings on a Lake Geneva cruise.
Cocktail tours of the Lake are also available – you get to enjoy drinks while taking in the stunning views!
Cruising Lake Geneva is one of the best outdoor adventures Wisconsin has to offer. Don't forget to check out the Black Point Estate, a tremendous mansion that was built in the late 1800s.
During winter in Lake Geneva, the homes look even more magical, so this really is a unique year-round activity.
Planning on staying overnight? Check out my guide on where to stay in Lake Geneva and make the most of your trip! If you're in Lake Geneva for a couples getaway, the city has some of the most romantic hotels in Wisconsin.
Book here the best tours in Lake Geneva
7. Get enchanted at the Olbrich Botanical Gardens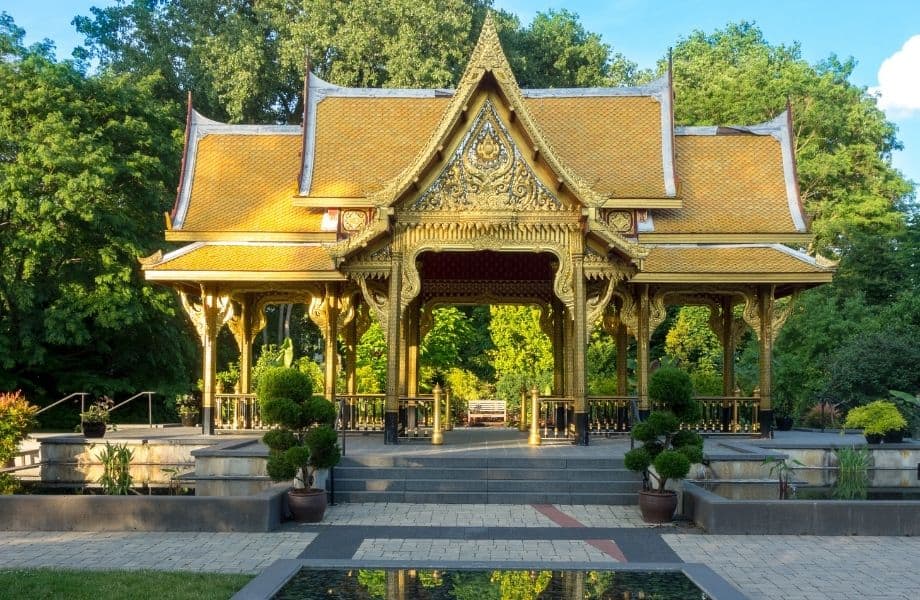 Laid out over 16 acres of land, the Olbrich Botanical Gardens is home to beautiful flora and fauna.
Walk through the beautiful paved paths surrounded by blooming flowers that give off incredible scents and observe butterflies and bees as they drink from the sweet flowers.
The Olbrich Botanical Gardens consist of a rose garden, perennial garden, herb garden, wildflower garden, rock garden, and a stunning Thai temple that was gifted by the Thai government. There are many benches scattered around for you to sit and take it all on.
The entrance to the outdoor gardens and Thai temple is free but the indoor conservatory has an entrance fee of $6.
Don't forget to visit the gift shop where you can purchase plants and other garden souvenirs.
Buy here the best itinerary for Wisconsin
8. Visit Cave of the Mounds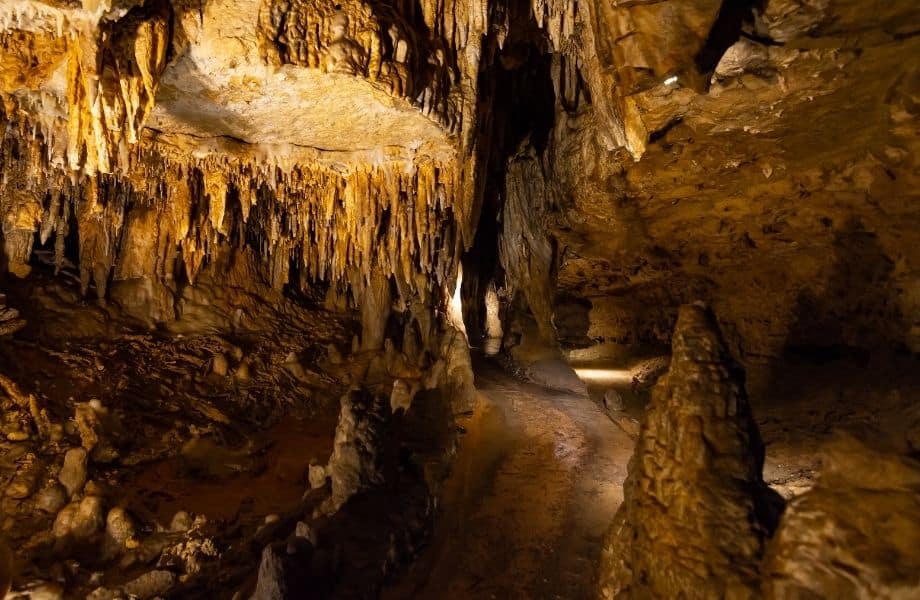 The Cave of the Mounds is home to stunning rock formations and rivers that will take your breath away. Navigate through the Cave and observe its raw beauty for yourself. However, if you're claustrophobic, don't even think about going inside the cave!
The cave is still reforming and changing, evolving over centuries, so it's interesting to visit the cave with the realization that centuries later, the cave might have a different shape.
The gift shop contains beautiful treasures for you to buy as souvenirs. There's also a well-maintained picnic area on the surrounding grounds.
This is one of the top outdoor places to visit in Wisconsin year-round. However, I personally think it's one of the best things to do in Wisconsin in the winter.
Book here the best tours in Madison, WI
9. Enjoy at America's largest water park, Noah's Ark Waterpark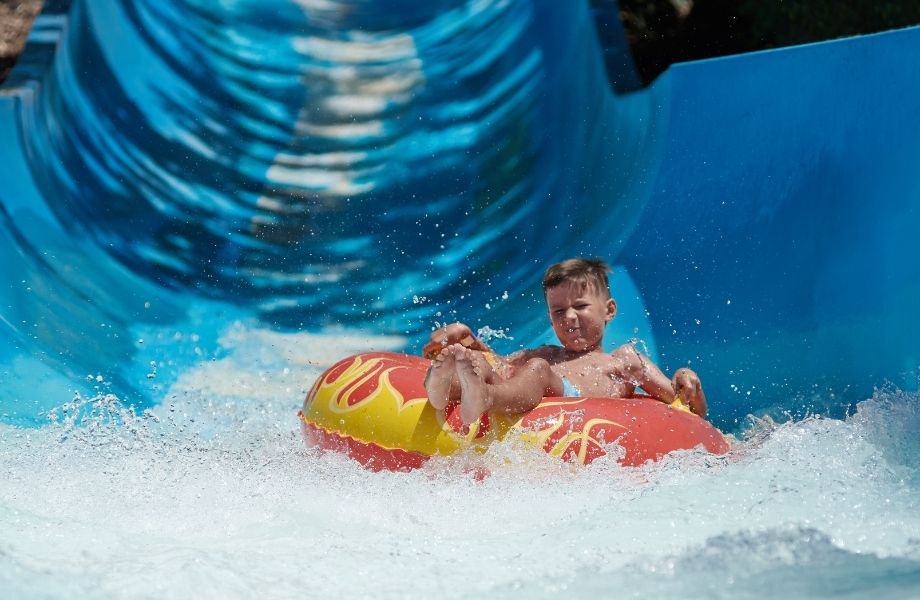 Noah's Ark Waterpark is located in Wisconsin Dells and spans over an area of 70 acres!
This outdoor waterpark gave Wisconsin Dells the name of the "Waterpark Capital of the World." It's one of the best outdoor attractions in Wisconsin.
The Waterpark has water slides and water activities for all ages, ranging from nearly-vertical slides for teenagers to the kiddy pools and slides.
The thrill level ranges from 1-5, with 5 being given to the most thrilling rides.
This is one of the best outdoor activities in Wisconsin, so head over to Wisconsin Dells and have a great day here with your family!
Don't worry if you're not into water activities, you can still enjoy the 18-hole safari mini-golf available here.
Although there are several Wisconsin Dells outdoor waterparks, as Noah's Ark is the biggest water park in the USA, it's definitely worth a visit!
It is even open year-round and is one of the best places to visit in Wisconsin Dells in winter with the family.
If you're looking for more outdoor activities in Wisconsin Dells, check out my post on the best things to do in Wisconsin Dells.
Book here a cabin in Wisconsin Dells
10. Have fun at Cave Point, Door County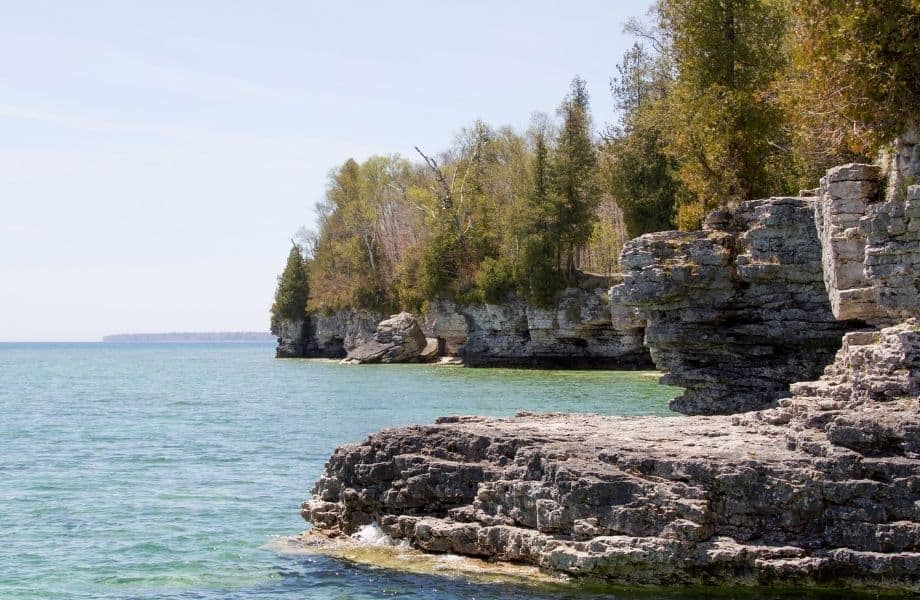 If you're looking for things to do outside in Wisconsin, you should head over to Cave Point, where you can enjoy a variety of fun outdoor activities.
Cave Point is a beautiful area in Door County that contains stunning rock formations and caves that are carved by Lake Michigan's strong waves. Standing there amongst the caves makes you wonder how beautiful nature's artwork is.
During the winter season, you can even observe gorgeous ice formations hanging on the trees. Door County has a lot to offer – here are some of the best activities:
Go kayaking beneath the cliffs and observe them from up close
Enjoy cliff-diving
Try rock-climbing
Go hiking – Cave Point offers the best hiking in Door County!
If you're not up for adventure, you can just have a picnic at one of the many picnic points here.
Book here the best tours in Door County
This is one of the best outdoor activities in Door County, but if you have time to explore more, make sure to make time to see more of the top things to do in Door County.
For those staying longer, treat yourself to a stay at one of these cozy cabins in Door County. They are particularly amazing during winter in Door County.
Book here a cabin in Door County
11. Hike the Seven Bridges Trail, Grant Park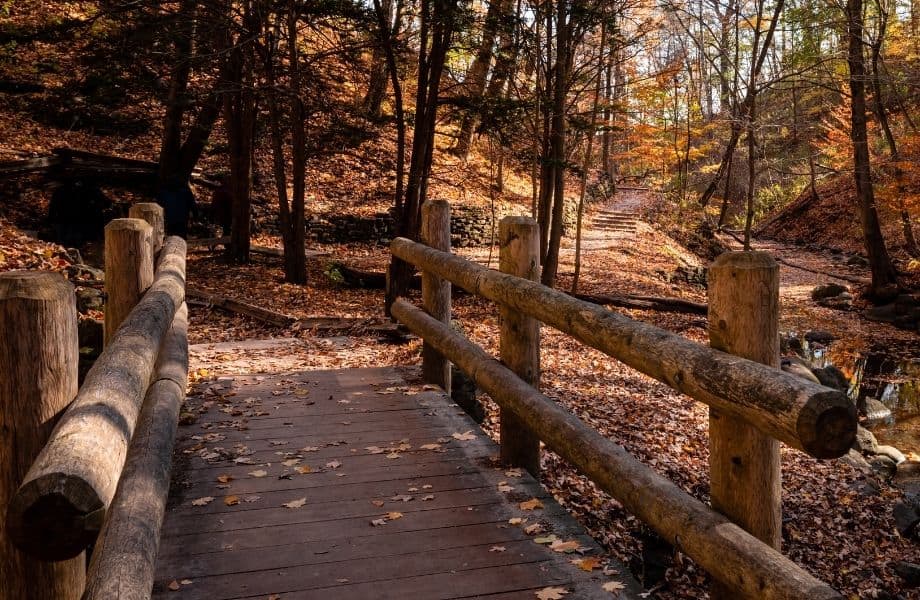 Those looking for outdoor activities in Milwaukee, need look no further than Seven Bridges and Grant Park.
The Seven Bridges Trail contains antique bridges that will give you nice vintage vibes. It's a beautiful trail that leads to Lake Michigan, where you can dip your feet in the water and just relax.
The trail becomes even more beautiful in the winter with large snowflakes and cute snow sculptures made by those who hike the trail.
Grant Park is a dog-friendly park so your furry companions can accompany you here. If you're visiting with pets, be sure to check out the great pet-friendly hotels in Milwaukee.
Entry to the park is free, making it one of the most affordable outdoor activities in Wisconsin.
Milwaukee is one of the best cities in Wisconsin. There are so many cool things to do in Milwaukee no matter when you visit. Although winter in Milwaukee is my favorite!
Those who have some extra time in the city, should check out my guide on where to stay in Milwaukee.
If you're here on a romantic getaway, book a stay at one of the most romantic hotels in Milwaukee.
Book here the best Milwaukee tours
12. Check out the sunflowers at the Pope Farm Conservancy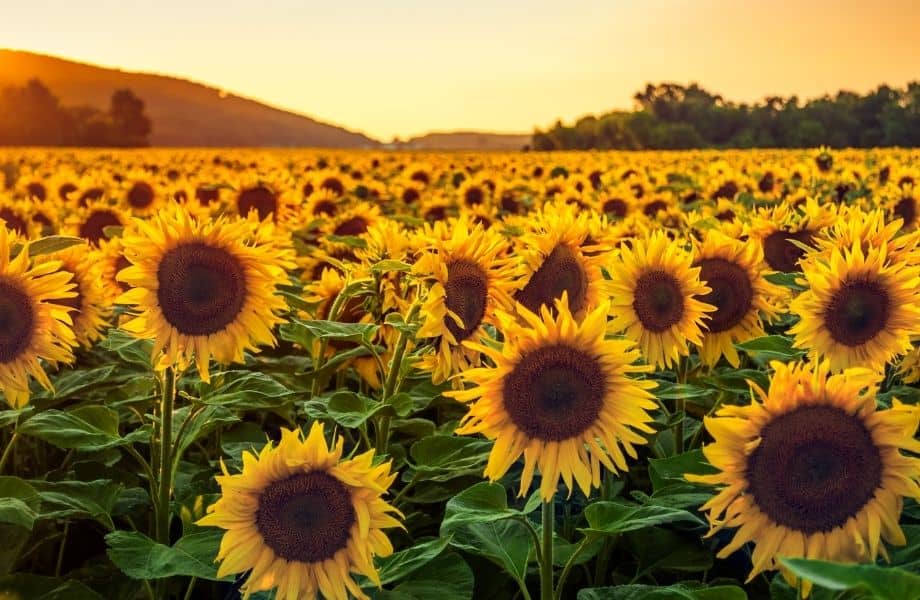 The Pope Farm Conservancy is open to the public and contains millions of sunflowers scattered over its 105-acre property. There's no entrance fee to the Conservancy.
The sunflowers usually bloom around August, so it's best to visit the Conservancy during that time of the year. There are many well-maintained trails that will let you explore the Conservancy.
There are also designated picnic areas where you can relax and unwind with your family. Taking a stroll among these sunflowers is one of the most refreshing outdoor activities in Wisconsin.
Buy here the perfect Wisconsin itinerary
13. Go bicycling on the Elroy-Sparta Trail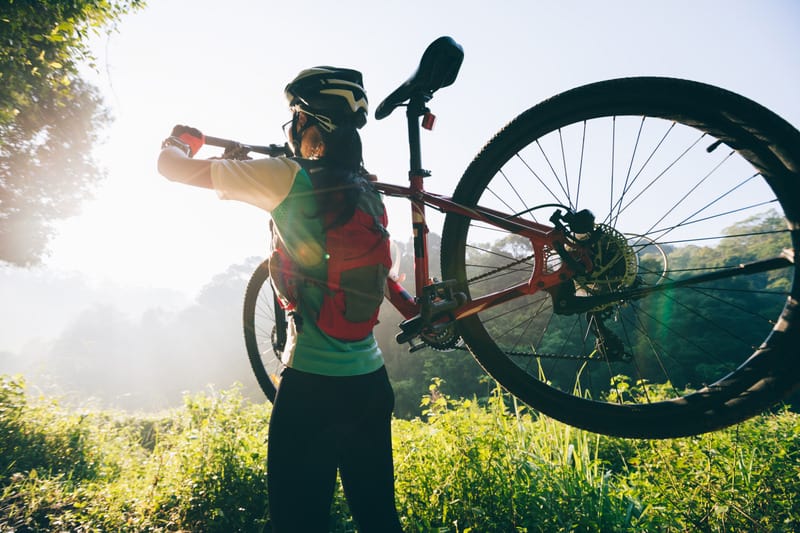 The Elroy-Sparta Trail is a former railway track that was converted into a trail. It's the first of its kind rail-to-trail and it spans over a length of 32 miles. The trail has three rock tunnels on its way along with five small settlements.
The rock tunnels help bicyclists relax between the hot patches of the trail. The longest tunnel is over 3800 feet in length, so it's recommended that you take fully-charged flashlights with you.
If you want to lengthen your route, you're in for luck because this trail also connects to other trails including the Omaha Trail, Hillsboro State Trail and Great River State Trail.
If you want more biking-related outdoor adventures in Wisconsin, don't miss some of the best mountain bike trails in Wisconsin.
Buy here Wisconsin bike trail guides from REI
14. Go white water rafting at Menominee River

If you're an adrenaline junkie, this one's for you! Head over to the Menominee River and go whitewater rafting. The water level is high so make sure you're comfortable swimming in the water, just in case!
There are many raft trip outfitters by the River that will guide you and give you all of the rental equipment. The guides are very helpful and you're bound to have a great time!
Make sure you're wearing an appropriate swimsuit to avoid any inconveniences.
You can also bring your own inflatable kayak and go kayaking down the river.
Book here cabins tours in Wisconsin
15. Have fun snowmobiling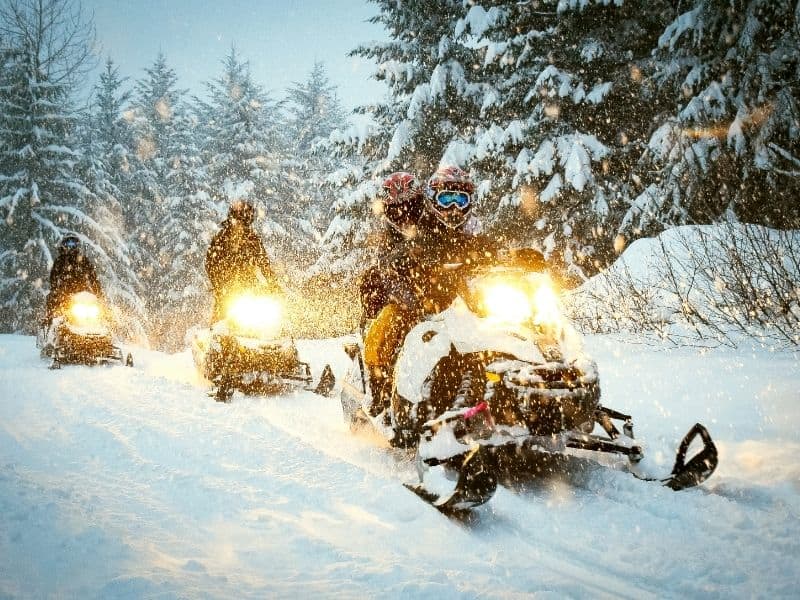 One of the best snowmobiling trails in the world, the Eagle River Snowmobile Trails, stretches 600 miles long and passes through many lakes and rivers. You can also rent snowmobiles from them if you don't have one.
You can even book one of the best winter cabins in Wisconsin to get the most of the area.
In order to use the trail, you need to purchase a trail pass. For Eagle River members, it's $10 per pass. For Wisconsin residents, it's $30 per trail pass and for those who reside out of the state, it's $50 per pass.
The amount is definitely worth the scenic views you get to observe. One of the trails passes close to the annual Ice Castle Creation, so you can watch the beautiful ice creations on your way.
Furthermore, Eagle Rivers Snowmobile Trail is also called the "Snowmobile Capital of the World"! Snowmobiling is one of the most adventurous outdoor activities to enjoy in Wisconsin during the winter season.
Snowmobiling is a highlight to any winter getaways in Wisconsin, and you will want to return again and again!
Luckily, there are tons of amazing snowmobile trails in Wisconsin to choose from if you want to head somewhere new.
Book here cozy winter cabins in Northern Wisconsin
16. Enjoy Go-Karting and a lot more at Kartway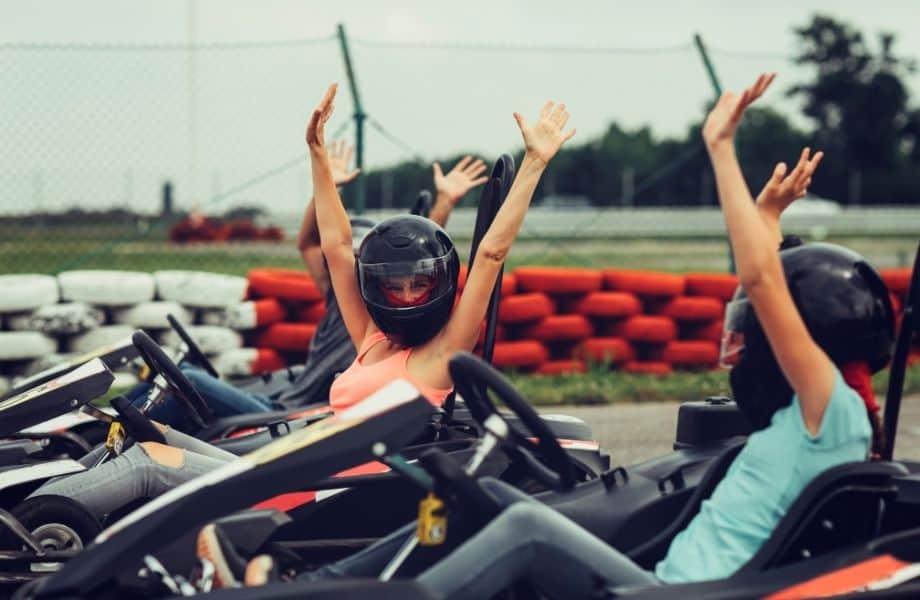 Go karting is a fun and adventurous sport that can keep anyone entertained. Kartway has many go karting tracks available for the speed lovers and the drift lovers as well!
The adult section also has bumper boats, minigolf, ziplining and water wars.
They have a kids section as well with mini-bumpers, mini-jeeps, a sandbox and a bouncy house. These activities are bound to keep the kids entertained safely while the adults are participating in different sports.
Visiting Kartway is one of the best outdoor activities in Wisconsin! It's also a great way to spend some time with your family.
Book here the best accommodation in Northern Wisconsin
17. Check out Wisconsin Concrete Park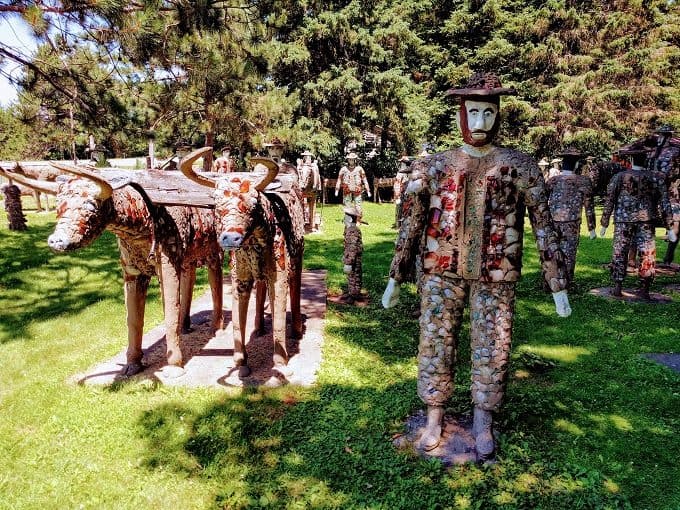 The Wisconsin Concrete Park is essentially an outdoor museum that consists of concrete sculptures built by Fred Smith, a self-taught artist who passed away in 1976. Despite suffering from arthritis, he managed to create these sculptures in just a span of 15 years. The sculptures depict various events from local history along with animals.
There are a total of 237 sculptures, all of which are exceptionally stunning with their own stories and significance. Some of the sculptures are also infused with broken glass to add some color and life to the pieces. You're not allowed to touch the sculptures so make sure you don't bring kids along.
The entrance to the Park is free but donations are encouraged. It's an interesting place to visit, especially if you're an art enthusiast.
Book here a RV to travel Wisconsin
18. Go backpacking at Kettle Moraine State Forest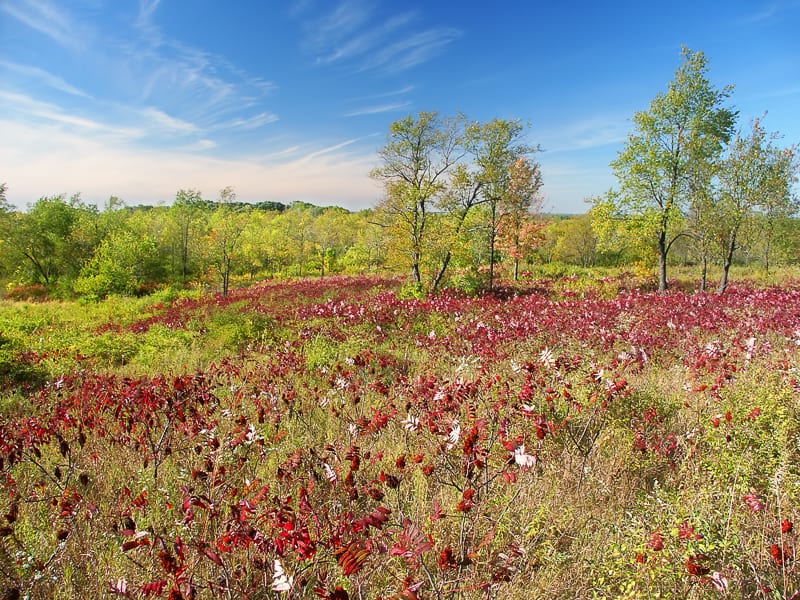 Kettle Moraine State Forest is a huge forest that's split into 6 parts, each of which is given a different "unit" name.
s one of the best state parks in Wisconsin, it contains hiking trails, skiing trails, equestrian trails, snowmobile trails, and bicycle trails, which means there's a lot to do here!
The Forest is also home to about 750 campsites, which are well-maintained with clean bathrooms and private shower rooms.
It's still an undiscovered hidden gem which means you're likely to have the area by yourself. It's a great place for a little nature retreat.
You can get a great aerial view of the Park from the Parnell Tower, which is located on the Parnell Tower Trail. Animals including deers, turtles and turkeys might cross your path as well.
Make sure you bring some bug spray with you – it's a forest, after all.
Buy here Wisconsin hiking guides from REI
19. Go horseback riding at Bighorn Ranch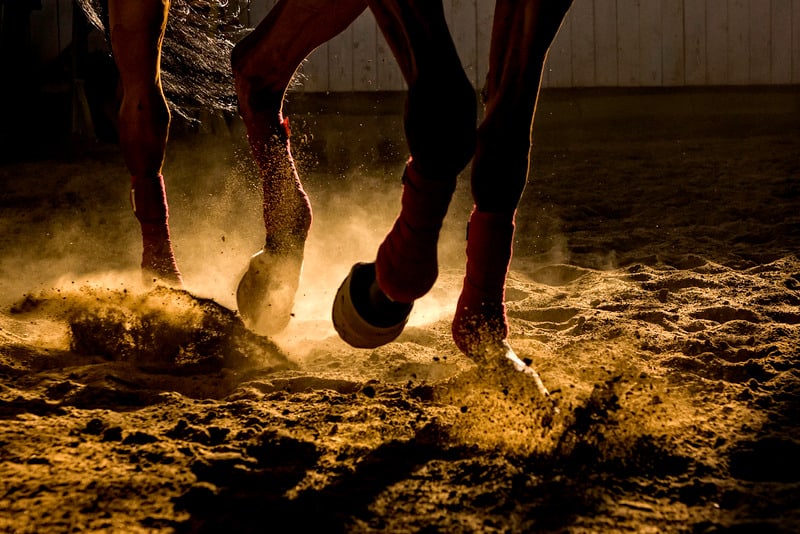 If you've ever wanted to experience horseback riding, Bighorn Ranch is the best place to start.
They have many scenic trails that cater to all levels of expertise. You'll get a short introduction to horseback riding and a quick summary of "dos and don'ts."
Bighorn Ranch also provides private lessons along with day camps that enhance your horseback riding skills. It's a fun activity to enjoy with your kids if they're horse enthusiasts.
Buy here your Like a Local guide to Wisconsin
20. Granite Peak Ski Area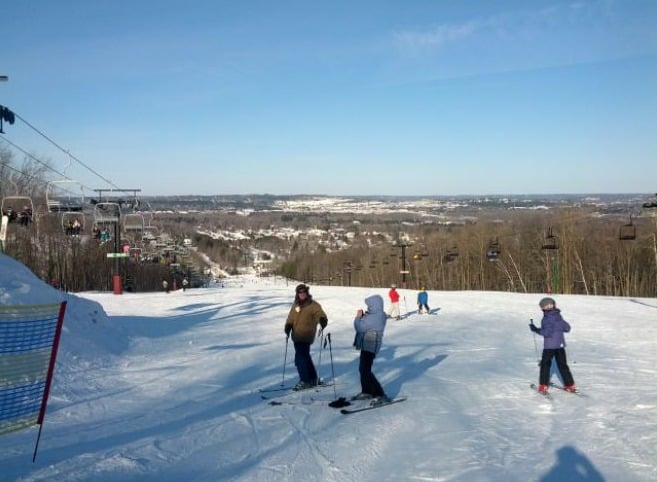 The Granite Peak Ski Area is known for its high-speed lifts, which quickly take you to the top so that you can ski your way back down. It's one of the best ski resorts in Wisconsin and works hard to maintain that reputation.
However, skiing here isn't a task for beginners or those with a bad knee because the hills are pretty steep and it can get very crowded as well. They do have two magic carpets, though
Another plus point is that you can get a college student discount here!
The ski school here is also pretty amazing with great instructors and a reasonable fee. It's one of the best outdoor things to do in Wisconsin.
Book here the best winter cabins in Wisconsin
---
So, what are you waiting for? Enjoy these fun outdoor activities in Wisconsin and make the most of your time there! After all, life is too short not to go on adventures and have thrilling experiences.
Before You Go: Top Tips for your Trip
---
A Short FAQ about the best outdoor activities in Wisconsin
What types of outdoor activities are popular in Wisconsin?
Wisconsin is a nature lover's paradise. There are tons of amazing outdoor places to go in Wisconsin to find hiking trails, beaches, and waterfalls to explore. People from all over the USA come here for outdoorsy vacations.
What are the best things to do outside in Wisconsin during winter?
Two of the best winter outdoor activities Wisconsin has to offer are snowmobiling and skiing. Winter is also a great time to visit the Apostle Islands to see ice formations in the caves, and hiking during winter can be challenging but fun!
What are the best outdoor activities in Wisconsin Dells
Visiting one of the area's many theme parks, such as Noah's Ark is easily one of the top outdoor activities in Wisconsin Dells.