The ultimate list of Wisconsin cabins to bring your furry friends
Traveling with a pet is not an easy task but staying in a fully furnished cabin in Wisconsin is! Not all resorts, cabins, cottages allow pets, which is why I've shortlisted the best pet-friendly cabins in Wisconsin!
Staying in the same house every day can become boring for your pets and they deserve a vacation too!
So, this time bring pets along and stay at the most exquisite destinations in Wisconsin, where you can unwind, and indulge in tons of outdoor activities while creating fun memories with your furry companion.
What if cabins are not available on your date? I created for you a selection of pet-friendly cabins in Wisconsin on VRBO and AirBnB.
Here is the ultimate list of some of the best and top-rated pet-friendly cabins in Wisconsin:
Thanks to affiliate links, I pay my bills. If you make a purchase through them, I may receive a small commission at no cost to you. As an Amazon Associate I earn from qualifying purchases. All opinions are always mine. Merci!
Useful Travel Information for Wisconsin
✎ Plan the ultimate Wisconsin road trip (no backtracking!) with the Perfect Wisconsin Road Trip itinerary – Buy now for less than 12$

✈ Find the best hotel deals in Wisconsin with Trivago

➳ Book vacation rentals in Wisconsin with VRBO

✔ Book tours in Wisconsin with Viator

☘ Get the best discounted outdoor gear (outlet) at REI.com

$ Get Wisconsin hiking guides and maps at REI.com

✎ Never leave without travel insurance. I get mine at SafetyWing. It is easy to set up, cheap, and reliable.
Overview: Best Pet-Friendly Cabins in Wisconsin
---
Best Pet-Friendly Cabins in Northern Wisconsin
Home to some of the best lakes in Wisconsin, Northern Wisconsin is the perfect place to connect with nature, relieve stress, and have some fun.
Some of the best things to do in Northern Wisconsin are some great outdoor activities like hiking, ATV trails, fishing, canoeing, kayaking, swimming in the clear waters.
The cabins and resorts here are an ideal location for you and your pets to spend some quality time together.
The long-stretched grasslands are perfect to play fetch! Here is a list of some of the best pet-friendly cabins in Wisconsin North:
Known for its sanitation, squeaky-clean beds, and furniture, the Firepit Lake Home is a delight for those willing to take a break amidst nature. This pet-friendly cabin in Wisconsin boasts of the serene nature that surrounds the cabin.
This gorgeous lake home is great for families with kids and pets as the Presque Isle Lake is the main attraction here that offers plenty of fun activities to do, such as fishing, biking, and hiking, etc.
It's also close to some of the best waterfalls in Northern Wisconsin.
Do you own a pet who's fond of water? Well, book yourself the Stunning Log Home is one of the coolest lake cottages for rent in Wisconsin.
Located near Clear Lake Medford, this cottage has a beautiful waterfront patio with a dock, kayaks, and lifejackets!
It's the perfect place to spend quality time with your human and furry friends. You could simply relax, taking in the natural beauty of the surroundings and cozying up in the A-frame built fireplace!
Experience luxury in its truest form here! Equipped with modern amenities, this pet-friendly cabin in Wisconsin is a treat to live in.
The lake is right outside your doorstep so you can sunbathe and fish during the day and go on a boat ride when the sun sets while gazing at the orange skies.
Absorb the quietness of the nature around you in this outstanding cabin.
Cook in the fully functional kitchen or roast some marshmallows in the fire pit – relax and enjoy your time to the fullest!
This cabin is located only 40min from Eagle River, hence it's great for a day trip too!
Book yourself one of the best lakeside cabins in Wisconsin and embark on an experience loaded with adventure! From hiking and biking to kayaking and canoeing, this cottage has it all.
The fun will be just a few miles away as the major attractions here are the waterfalls and various water and land activities.
You can also chill by the High Falls Reservoir or cozy up by the campfire. Yuo'll also be spoiled with a private deck and private access to the lake.
Ideal for a large group of friends or a family, this spacious cabin resort in Wisconsin has to be one of the best out there!
You can snug into the big yet comfortable beds, relax in the lounge in front of the fire pit or go kayaking or canoeing.
You can also spend time having fun in their game room, where you can play air hockey, foosball, and ping pong.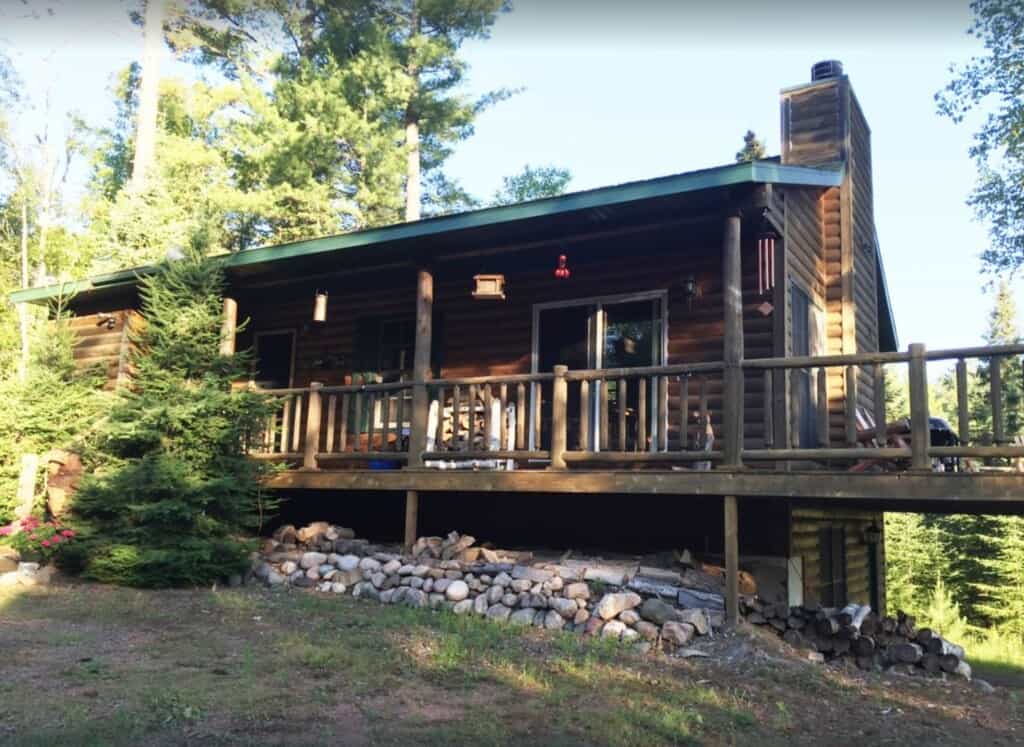 Considered as one of the most romantic cabins in Wisconsin, the Private & Quiet Cabin is the perfect embodiment of relaxing in the realms of nature!
Located far from the high-life of the city, this area allows you to spend some quality time with your spouse kayaking in the beautiful lake waters or just chilling around the house.
You can also go snowmobiling in the winter!
Best Pet-Friendly Cabins in Central Wisconsin
Book yourself some of the best and spacious cabin resorts in Central Wisconsin amidst nature and witness the beauty of wildlife and submerge yourself in the lush greenery of nature.
If you're traveling with family and don't want to leave your pets behind, then this list of pet-friendly cabins in Central Wisconsin would work great for you!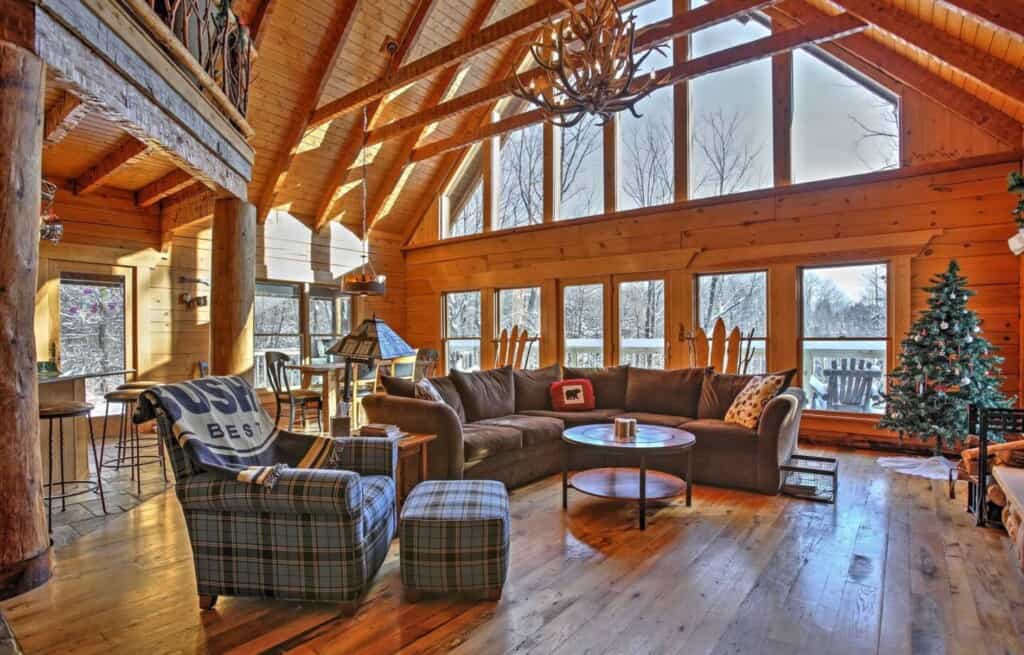 This naturally lit and spacious wooden house has been rated 5 stars over and over again by guests! Loaded with modern facilities, it's among the best pet-friendly cabins in Wisconsin.
This oustanding cabin comes with vaulted ceilings, a stone fireplace, and an antler chandelier.
You can easily go snowmobiling, mountain biking, horseback riding, cross country, and skiing.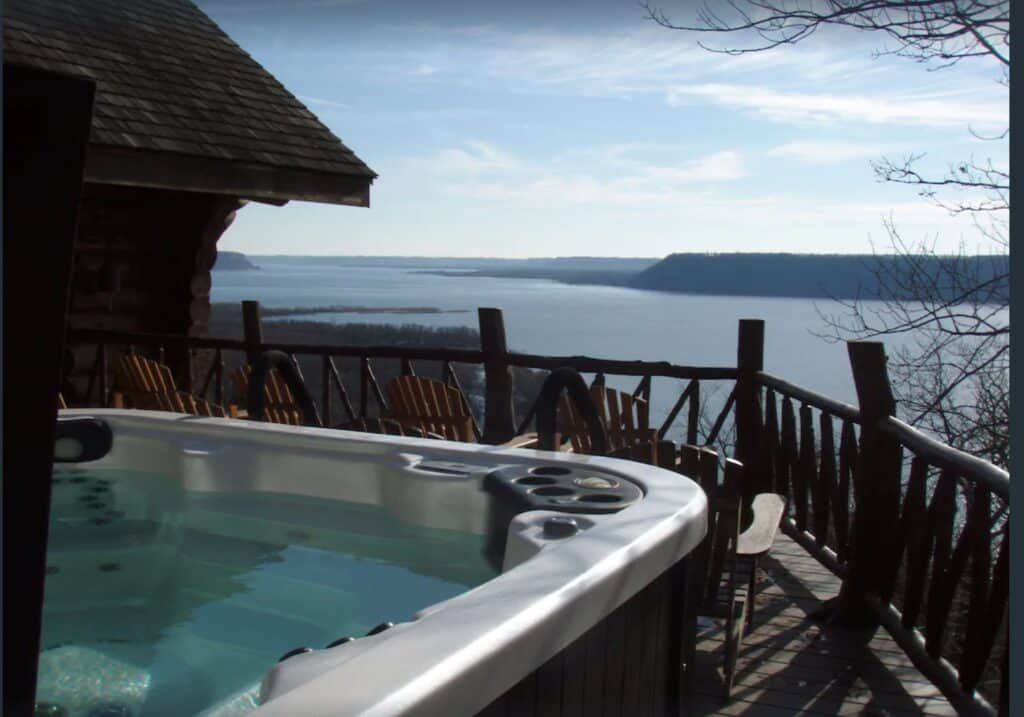 Experience the calm and peaceful lake life with your furry companions here. You can also go fishing, kayaking, and snowmobiling in the trails surrounding this vacation rental.
You can grill dinner for you and your furry companion at the private patio. Relax by the firepit in winters and spend some quality time with your pet and family!
This outstanding cabin with lake views on lake Pepin even comes with a hot tub for 6-8 people. Due to this view, no wonder that this cabin is often considered as one of the best Wisconsin rentals with a hot tub.
It's one of the best vacation rentals with great pet policies.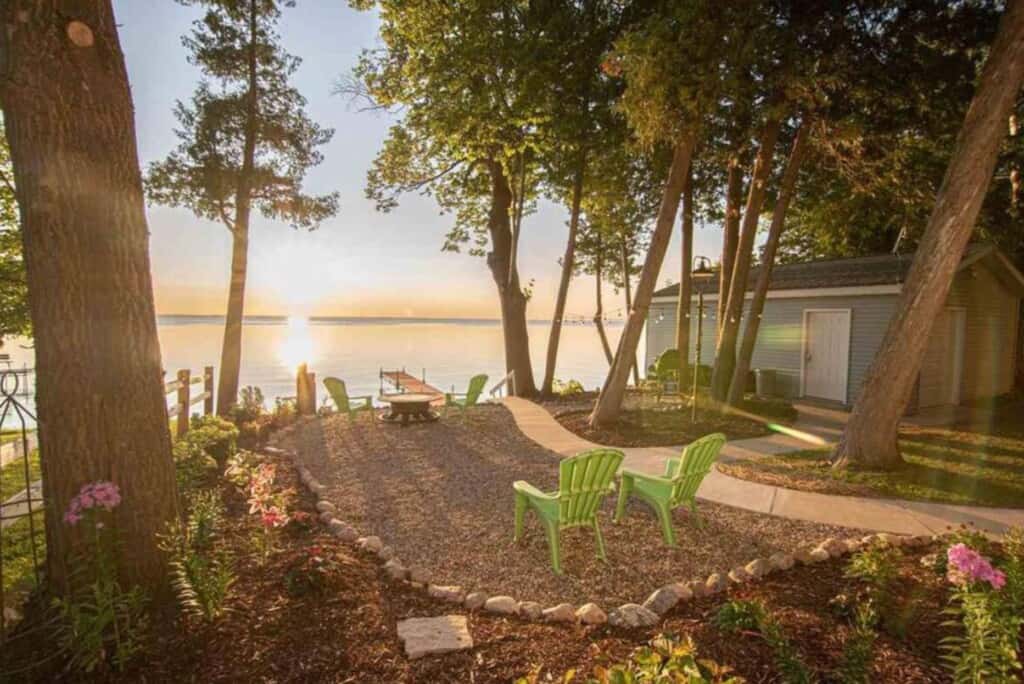 As the name suggests, the location is literally 'picturesque'! Bask yourself in nature's beauty and take a break from the hectic city life.
Unwind and relax with your friends and family in this lakefront cabin in Wisconsin. This cabin boasts one of the most beautiful and expansive water views in Door County, WI.
Bring in your pet and have a great time swimming, fishing, running, or just staring at the gorgeous sunsets in silence.
Book this space now for an unforgettable experience and create memories that'll last for a lifetime!
Wooden interiors, cozy bedrooms, up-to-date facilities, fairy lights-lit decks that overlook the beautiful Wisconsin lake. What more could you ask for?
This pet-friendly cabin in Wisconsin is strategically located and boasts gorgeous views.
You'll be minutes away from fun-filled attractions like water parks, casinos, and state parks. If you prefer staying in then you could relax by the fire pit or grill some dinner.
Located only 10 minutes away from Wisconsin Dells, this cabin is made for an adventurous stay!
Go on guided climbing and kayaking tours in the nearby lakes. Its proximity to Mirror's Lake and Devil's Lake makes it easy for you to enjoy watersports activities.
It also makes a great winter cabin in Wisconsin thanks to its cozy interiors and one of the best Airbnbs in Wisconsin Dells.
Best Pet-Friendly Cabins in Southern Wisconsin
Plan an urban getaway in Southern Wisconsin. Come for the world's largest music festival and stay for the food and culture. Escape the city and unwind near the beautiful Lake Geneva!
The cabins listed below are some of the best cabins in Wisconsin. Along with full-fledged amenities, these Wisconsin cabins are also pet friendly!
Take some time off from the daily rat race that life is and book one of the best cabins in Wisconsin for a short yet relaxing getaway! It's the Driftless Escape.
Its proximity to major attractions is the reason behind its popularity. On top, the privileged location on 57 private acres makes this cabin of the best pet-friendly rentals in Wisconsin.
Skiing, sledding, snowmobiling, wine tasting tours, hiking, fishing, and various other activities that you can enjoy with your friends, family, and even pets!
One of the most romantic cabins in Wisconsin, Lakeside Cottage is known for its view of the pristine Wind Lake and the spectacular sunsets it hosts!
Spend quality time with your loved ones and go fishing, boating, and swimming. I particularly love the gorgeous interior design.
With cafes and eateries just down the lane, it's apt for those who love exploring and socializing.
The cherry on the top is that this cabin is also dog-friendly! It's also close to Milwaukee in case you fancy some city life in between.
If you'd rather be closer to the city, there are lots of amazing pet-friendly hotels in Milwaukee and a few pet-friendly Airbnbs in Milwaukee, as well.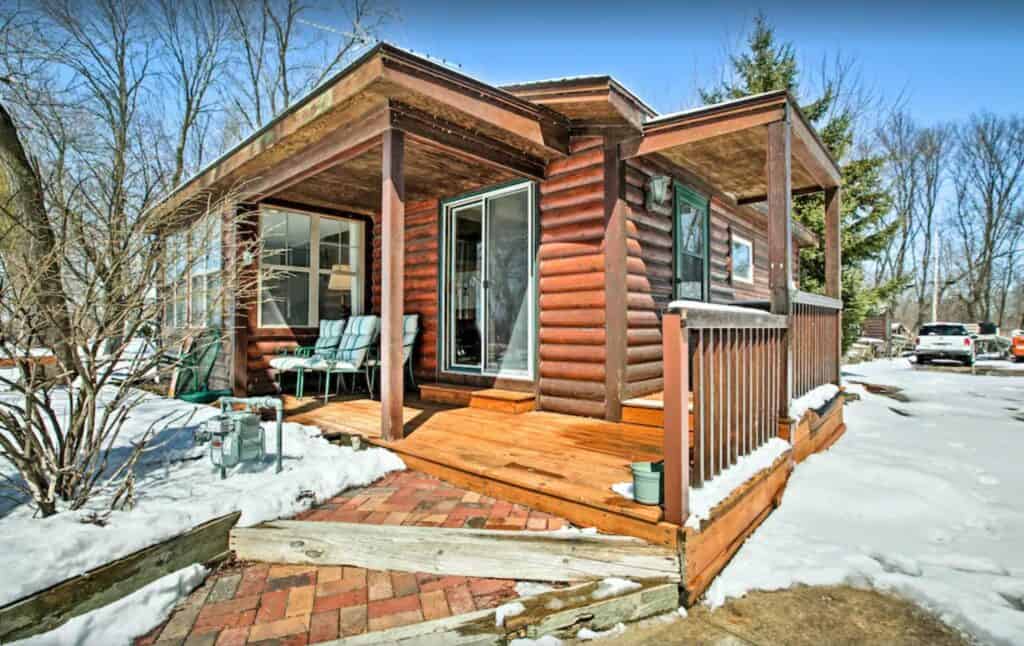 Searching for a place that accommodates large family vacations and a furry member? The Cozy Lakeside Cabin is your optimal choice for lakeside cabins in Wisconsin.
With an extensive yard, clear lake for swimming and boating, modern yet comfortable furniture for relaxing, this place becomes a combination one cannot resist.
There is also a possibility to go ice-fishing which makes this place a great option when looking for winter cabins in Wisconsin.
The Ultimate Privacy Cabin is a campers' retreat! With maple kitchen cabinets, cast iron wood stove, classic firewood operated fireplace, this cottage in Wisconsin is an adventurer's paradise.
Equipped with modern furniture, and fully functional kitchen appliances, this pet-friendly cabin in Wisconsin has a reputation of being a top-notch relaxation point for friends and family.
It's perfect for those who prefer a remote setting but with gorgeous views.
This place is popular for giving off a proper countryside vibe to its visitors.
This private Amish-built log cabin on 10 secluded acres is located high up on a ridge and close to Gays Mills, the apple capital of Wisconsin.
The lush greenery that surrounds the property, freshness in the air, and the flowers blooming all around allow you to reconnect with nature. Bring in your dog or cat and relax using the amenities of the house amidst nature.
Gather around the fire pit and stay warm in the winter! You can also go canoeing in the Wisconsin River, which is just 10 minutes away.
Best Pet-Friendly Cabins in Door County
Known for its long shorelines and water parks, Door County is your ideal location to take a break from life and reconnect with nature.
Explore everything this area has to offer – from activities and attractions to relaxing times in the cabin, there's something for everybody here! By everybody, we mean pets too!
Be sure to take your furry friends for a walk along the coast and enjoy some of the most unique lighthouses of Wisconsin.
Indeed there are many great Airbnbs in Door County that welcome your pets with open arms.
Here is a list of the top-rated pet-friendly cabins in Door County, Wisconsin:
This beautiful white property with stunning architecture welcomes all those looking for a peaceful getaway!
Ideal for sheer relaxation, this pet-friendly cabin in Door County, Wisconsin allows you to sink into nature's realm while having all the modern facilities that make your stay here a breeze.
Explore the State Park with your furry friend, boat in the waters of Green Bay, and have fun barbecuing marshmallows on the grill!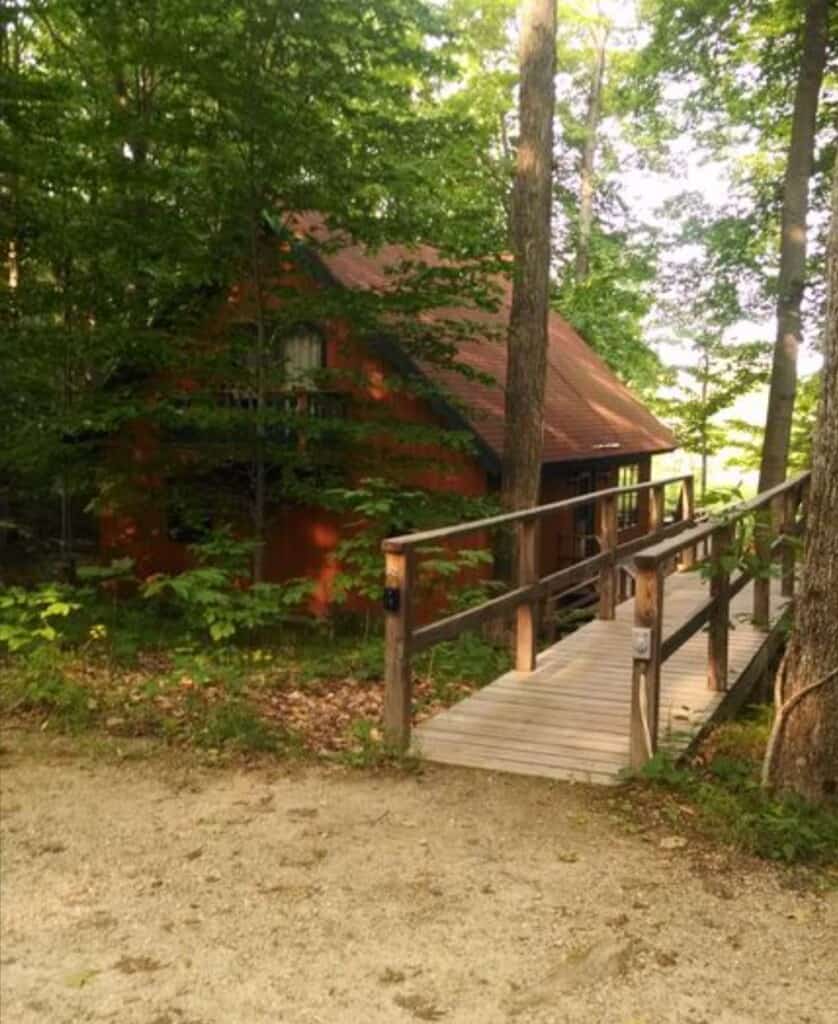 Featuring a fully-functional kitchen, furnished bedrooms, and modernly equipped living/dining area, this pet-friendly cabin in Wisconsin easily becomes a choice you cannot toss away.
Its strategic location makes traveling to the town area hassle-free. Disconnect from the world and reconnect with nature here!
This gorgeous cabin is also close to some of the best lakes in Door County, WI, and only a short drive from Peninsula State Park.
Located seven miles away from the city of Sturgeon Bay, this lakeside cabin in Door County, Wisconsin boasts picturesque sunsets and sunrise on the Sand Bay.
Enjoy your days off with your friends, family, and pets at this private property amidst nature.
The area is perfect for biking, walking, and rollerblading and is just a few minutes away from two sand beaches…some say that they are among the best beaches in Wisconsin.
Boredom isn't an option here!
This secluded cabin in Wisconsin is your optimal choice for being detached from the world.
With 5 Wisconsin State Parks being around the corner, these pet-friendly cabins in Wisconsin offer hiking, biking, walking, and plain simple relaxation in the lush green woods.
You can take your pets on a walk in the various parks surrounding this outstanding cabin and spend some quality time with them.
Get your hands on this romantic cabin in Wisconsin and unwind with your beloved in this adorable and aesthetically pleasing vintage cottage. The chic décor adds to the aura of this place.
It's equipped with modern facilities and high-speed WiFi so that you stay connected with the world. The beach is a short drive away so don't forget to get your (eco-friendly) bathing suits!
It's ideal for dog owners with dogs that love spending some time on the beach.
Best Pet-Friendly Cabins in Wisconsin Dells
With the largest concentration of water parks in the world, scenic train rides, picturesque landscapes, and tons of other fun activities to do, these pet-friendly cabins in Wisconsin Dells will not disappoint your family and friends.
From boating and fishing, to bike riding and hiking these cabins offer many activities that enable you to spend some quality time with your sweet-loving pets and family.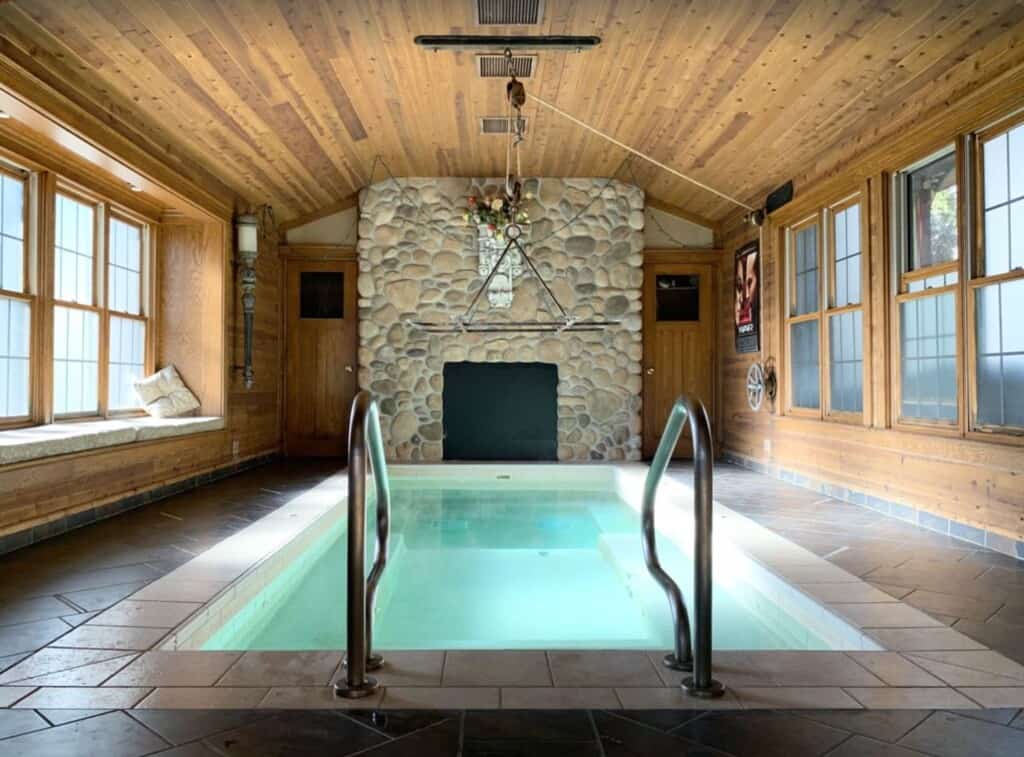 Enjoy a luxurious stay at this amazing cabin! You can chill in the hot tub or play pool and pinball.
It's a fun and amazing place equipped with a fully furnished kitchen, piano, and even a jute box. It's ideal for a couples getaway to Wisconsin Dells!
In the winter, gather around the fireplace and spend quality time with your family (including your pets!). If you enjoy winter, make sure to have a look at some of the best ski resorts in Wisconsin Dells.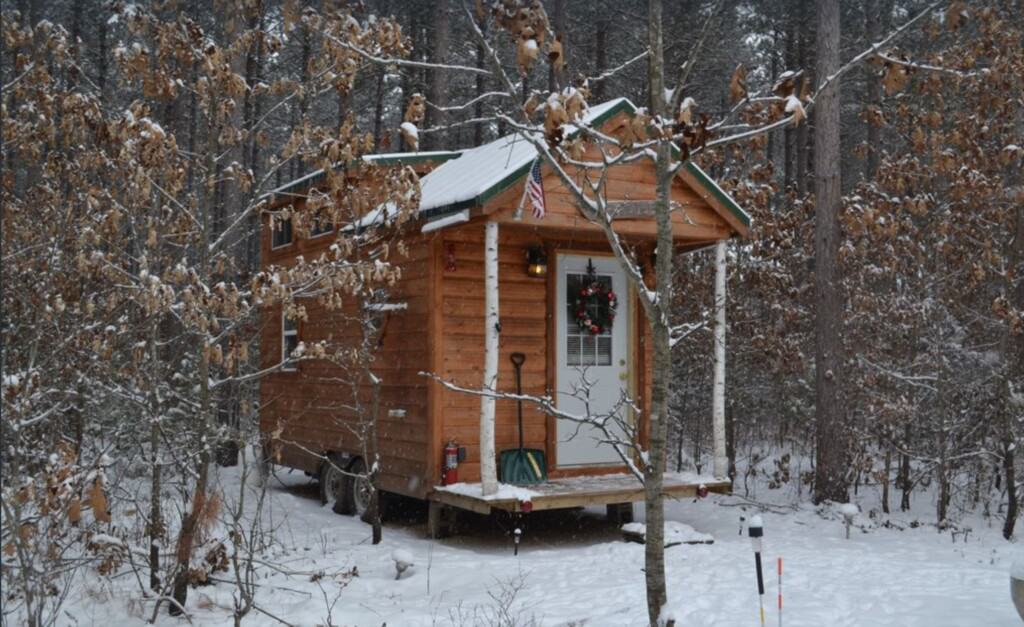 Exactly as the name suggests, this tiny yet cozy log cabin is perfect for a pair with a pet, looking for a private space to take a break from their daily life schedule.
This romantic secluded cabin in Wisconsin is tucked away in the pine trees and has a fully equipped kitchenette along with a large comfortable bed.
Activities like rock climbing, ax throwing, and kayaking will ensure that you have a good experience here! You couldn't be closer to some of the most fun things to do in Wisconsin Dells.
Love spending time outdoors? This lakeside cabin in Wisconsin Dells is made just for you! Come in with your small family or a group of friends along with a pet and make the most of nature here!
Spend lazy afternoons with your dog on the dock or go out for a fun experience of fishing, kayaking, or canoeing. This area also offers hunting for enthusiasts!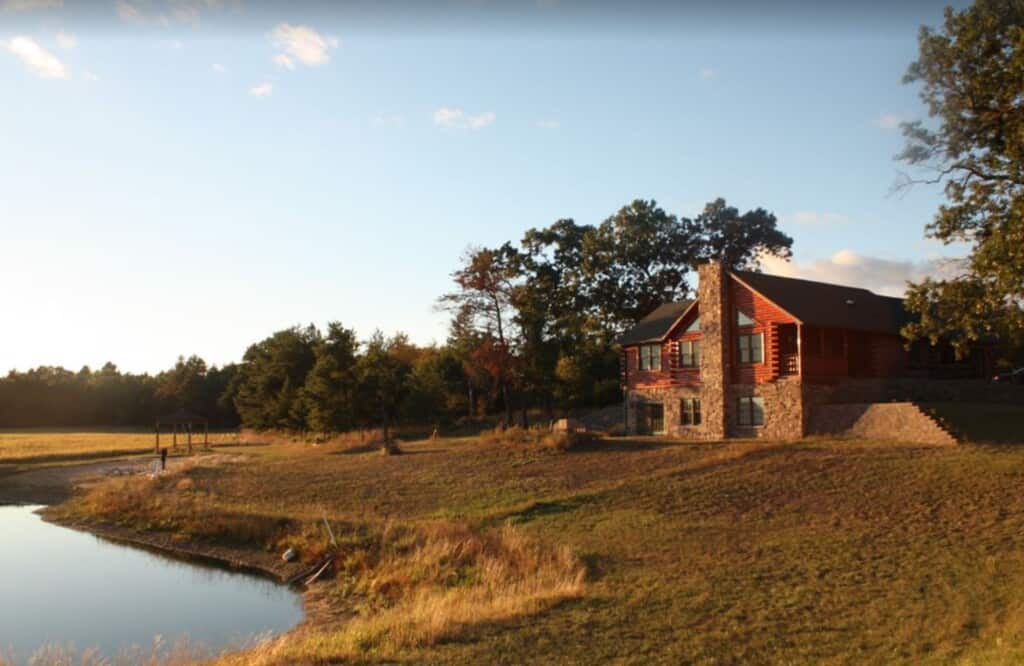 Situated on the top of a hill, this lakeside, pet-friendly cabin in Wisconsin Dells can easily host a crowd of up to 18 people.
There's a large grilling area for those who love barbecuing, 4 reclining chairs, and a collection of 250 movies to watch for those looking to unwind.
It's the perfect location for your pet to play and run around. The sunsets here showcase the skies in vibrant colors and provide a calming experience for all.
The scenic location makes this cabin a great destination for a fall getaway in Wisconsin and one of the best pet-friendly cabins in Wisconsin for a cozy getaway.
---
Short FAQ about Pet-Friendly Rentals in Wisconsin
What are the best pet-friendly cabins in Wisconsin Dells?
There are plenty of options for pet-friendly cabins in Wisconsin Dells. There is the Tiny House-Cozy Log Cabin in Reedsburg or the Cabin In The Middle Of 72 Acres in Wisconsin Dells. Get more information in this post.
What are the best cheap pet-friendly rentals in Wisconsin?
The Cozy A-frame on Clear Lake is quite affordable and The Sugar Shack is a cozy and check pet-friendly rental in Wisconsin (Brodhead).
Where to find pet-friendly vacation homes in Wisconsin?
The good news is that there is a large choice in pet-friendly vacation homes in Wisconsin. You'll find some in the north, south and also central Wisconsin. There is also a large selection of pet-friendly vacation rentals near larger cities such as Milwaukee or Madison.
---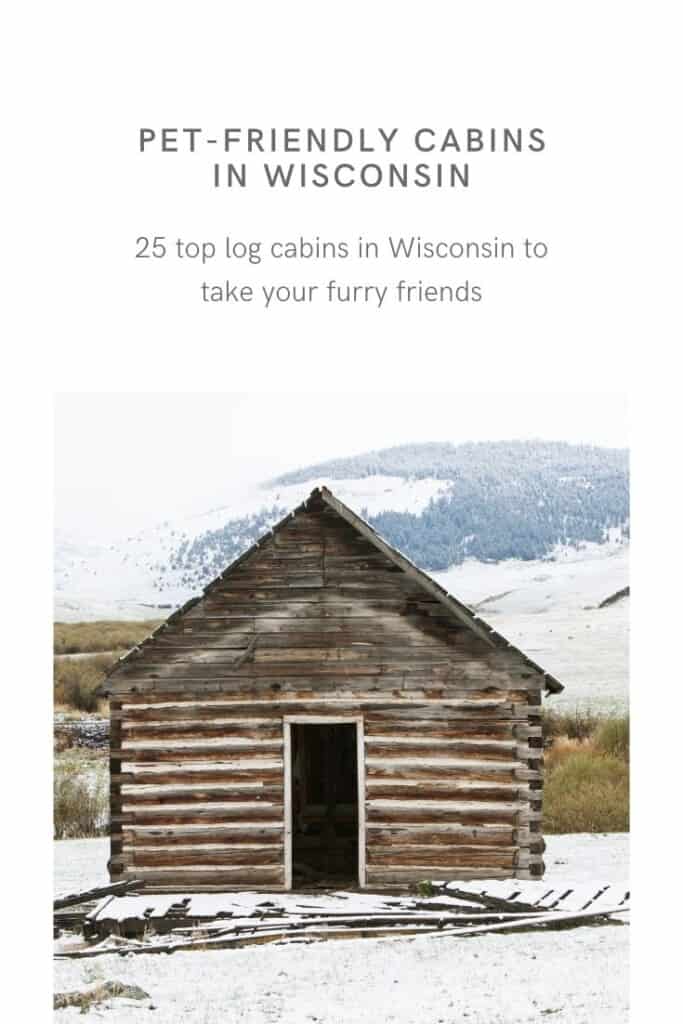 ---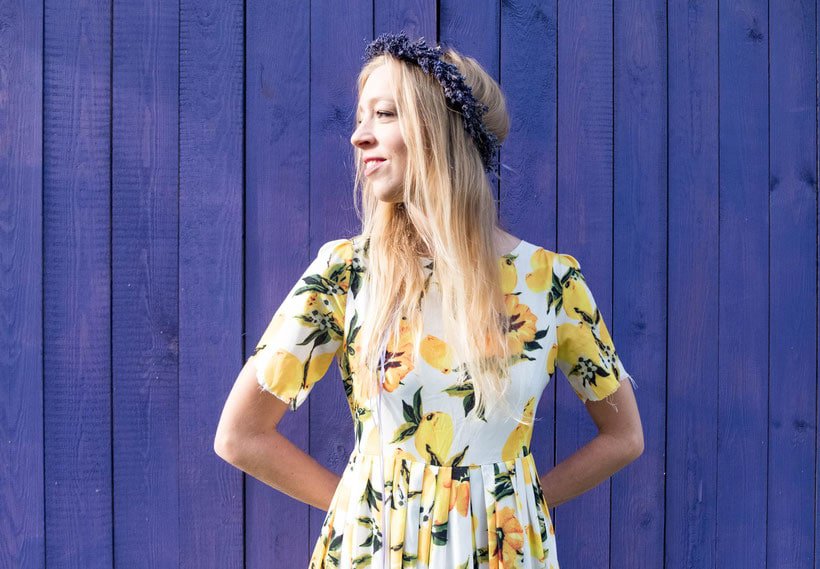 Hola! I am Paulina, a fervent travelette who crossed the Atlantic Ocean by Boat HitchHiking. On my blog, you'll find all the tips to make the most of your holiday. Get ready to enjoy outdoor and sustainable travel like hiking, cycling or sailing. Let's hit the road together!