Ultimate guide to the best Airbnbs in Milwaukee, WI with lake views, cheap Airbnbs, and unique stays in Milwaukee
Wisconsin's largest city Milwaukee offers fantastic living spaces to its guests. Staying in Airbnb's in Milwaukee is a great way to experience the essence of the city.
From spell-binding locations, state-of-the-art amenities, to comfortable furnishings Airbnb's have made vacations in Milwaukee a lot more fun.
Indeed there is a large variation and broad choice when it comes to Airbnbs in Milwaukee.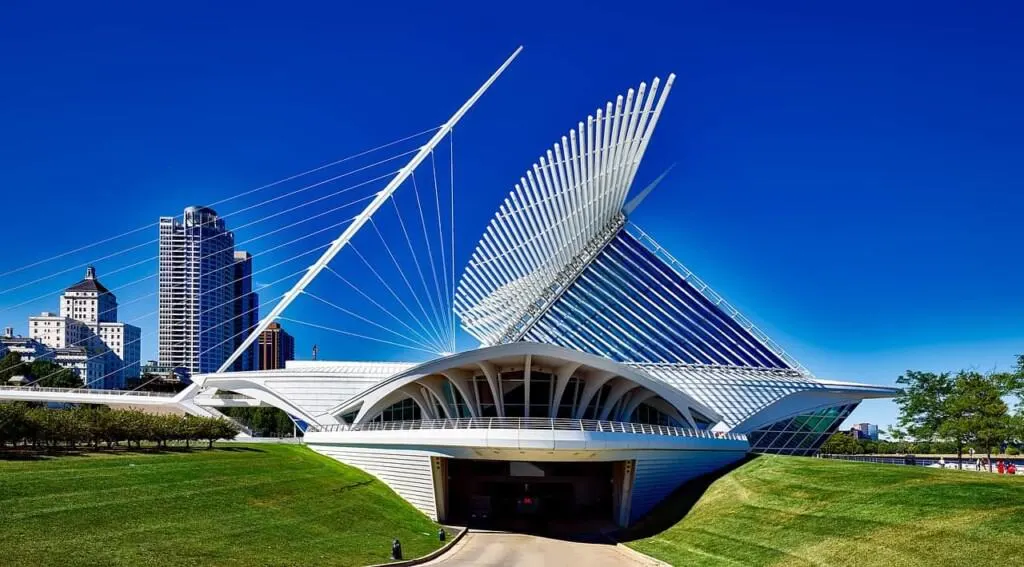 Hence, I decided to curate a list with the most unique Airbnbs in Milwaukee to make your stay in the Brew City.
"Paulina on the Road" is supported by you, dear reader. As you buy through my links, I earn a small commission. As an Amazon Affiliate, I earn from qualifying purchases. Thank you for your support
Top resources to travel Wisconsin
✎ Plan the ultimate Wisconsin road trip (no backtracking!) with the Perfect Wisconsin Road Trip itinerary – Buy now for less than 12$

✈ Find the best hotel deals in Wisconsin with Trivago

➳ Book vacation rentals in Wisconsin with VRBO

✔ Book tours in Wisconsin with Viator

☘ Get the best discounted outdoor gear (outlet) at REI.com

$ Get Wisconsin hiking guides and maps at REI.com

✎ Never leave without travel insurance. I get mine at SafetyWing. It is easy to set up, cheap, and reliable.
Overview: Top 5 Airbnbs in Milwaukee
---
$
4 Guests
Mesmerising lake views
Dedicated parking space
If your idea of a perfect vacation is staying in a mansion while enjoying mesmerizing views, this Airbnb is a perfect choice.
Only a short walk from Milwaukee downtown, this two-bedroom unit promises a memorable stay. It is extremely close to many of the city's fun places like Brady St, the Art Museum, and the Third Ward.
This stunning room for rent in Milwaukee features a tiny open concept kitchen with all cooking essentials.
Guests have access to the shared back patio which is a perfect place to hang out. Further, the dedicated parking space comes as a blessing here and makes sure that the stay is hassle-free.
$$
4 Guests
Excellent Location
Brilliant amenities
This Penthouse Apartment checks all the boxes for an unforgettable stay with its cleanliness, comfort, and style. Located in the heart of downtown, it is near to so many trendy restaurants, cafés, and shopping places.
You can also enjoy some great shows at the Riverside Theatre or spend your day shopping at the historic Third Ward. They make Wisconsin one of the best places to vacation in Wisconsin.
This beautiful 1-bedroom flat hosted by Frontdesk can accommodate up to 4 guests. The number of guests must be informed at the time of reservation as they do not encourage parties or gatherings.
If you are planning for a long stay, you could also get some great discounts here.
Penthouse Apt boasts modern amenities like a smart tv and coffee makes besides a fully stocked kitchen. To make your stay even more comfortable there is a parking garage just a block away.
3. Best Luxury Airbnb in Milwaukee – The Bluff House
$$$
14 Guests
Spectacular lake views
Like a different world
From the moment you step into the Bluff House, you'll leave this ordinary world. Priviledged with a unique location on a Lake Michigan bluff, you'll enjoy some of the most serene views in town.
It's located just a few minutes drive from Milwaukee downtown. But who'll ever want to leave this fairytale home?
Every room in the house provides grand views on Lake Michigan. No detail was spared with gorgeous moldings, hardwood floors and remarkable character throughout.
The phenomenal home comes with a gorgeous garden and a private fire pit at the lake shore.
There is also a stereo system throughout entire home. Further, do not miss to head to the rooftop balcony to spend a cherished evening with your loved ones.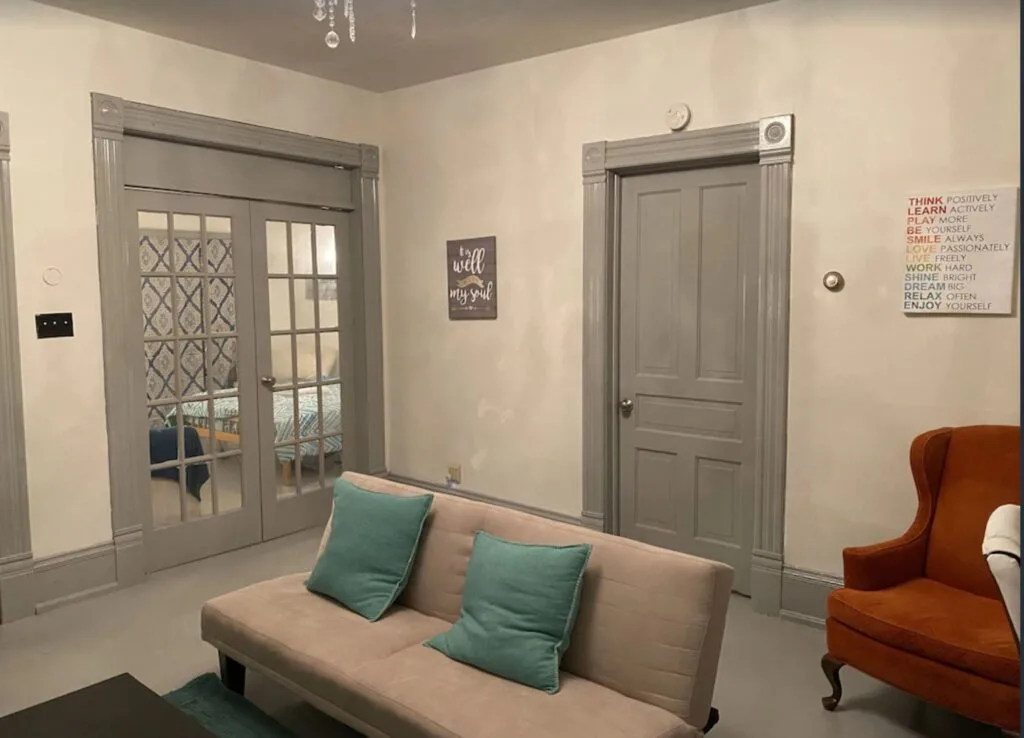 $
4 Guests
Budget-friendly with excellent reviews
Parking access
Wondering where to stay in Milwaukee at an affordable price? Look no further as Cozy Place near Downtown is the place to be for budget travelers. This one-bedroom guest suite is located in the Marquette neighborhood near downtown.
Popular attractions like Harley Davidson museum, Milwaukee Public Museum, Riverside Theatre are easily accessible from this Airbnb.
This entire place near Downtown has a cozy vibe and has everything to ensure a comfortable stay.
In addition to the kitchen, dining, and living room, guests have access to a washer, dryer, and free parking. Since work from anywhere is the trend now, they even have a laptop-friendly workspace so you can work with ease
You can also spend some quality time at the backyard/patio as you enjoy a cup of coffee or take a walk.
$$$
20 Guests
Best place to stay in a historic setting
Superior privacy and comfort
Historic Victorian House brings your dream of living life king-size to life. This charming loft apartment that promises a tranquil stay is set in a historic home that traces its history to the 1890s.
Located in the Merrill Park neighborhood, it takes just 10 minutes to reach the vibrant downtown from this Airbnb.
The loft has enough space for up to 20 guests and ensures utmost privacy and superior comfort.
It is admired by the guests for its impressive décor, vaulted ceilings, and spectacular woodwork. Other impressive features are the rooftop balcony and the clawfoot tub which is ideal for relaxing after a hectic day.
The spacious mansion also features an open concept kitchen. It makes sure that you don't miss out on any fun happening in the living area as you cook your favorite meal
6. Best Airbnb in Milwaukee for a Group of Friends – Charming Apt in Westown
$$
6 Guests
Ideal destination for friends get together
Fun interiors
This charming Apt in Westown welcomes you to an unforgettable stay in the heart of Westtown.
This home from the 1900s has been skillfully restored and now features a blend of contemporary and traditional décor. It's the perfect place to gather your friends and make some special memories.
The house has 2 bedrooms and happily accommodates 6 guests. To add to the fun of the stay, the Airbnb has got quirky elements like a beer holder in the shower.
The kitchen features all modern equipment for you to show your brilliant cooking skills.
If you are visiting during summers, spend some time in the backyard around the grill. You can find an array of amazing restaurants, breweries, and cafes near the area to enjoy a delightful dining experience.
$$$
10 Guests
Trendy location
Ideal family holiday destination
Make family vacations in Milwaukee extra special by booking your stay at Historic Loft at Walker's Point. This brilliant living space is located just a few blocks from the best of what Milwaukee has to offer.
From amazing restaurants, breweries, shopping centers, to the iconic downtown, you can find everything at a very short distance.
The loft has 3 bedrooms in total and is perfect for a stay of up to 10 guests. Each unit features a kitchen, full bathrooms with tub, bedrooms, and in-unit laundry.
You'll find plenty of fun things to do in Milwaukee with kids nearby to this Airbnb.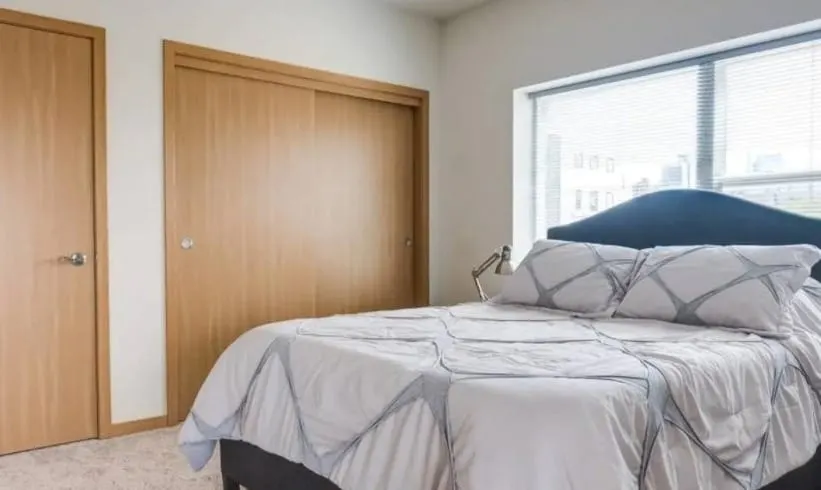 $$
4 Guests
Stunning views from the balcony
Great location
Here is another reason for you to say yes to solo traveling to Milwaukee. This modern downtown apartment with a spacious balcony is an ideal destination to relax and enjoy your own company.
It is located within walking distance from Milwaukee's major tourist destinations like the lakefront and Third Ward District.
This cozy one-bedroom flat offers a treat to the eyes with fantastic views of the city. From the wood-grain floors, spacious bathroom, to the well-stocked kitchen, everything is on point to ensure a pleasant stay.
The flat is also suitable for a small family as it can accommodate up to 4 guests.
9. Best Milwaukee Short Term Rental for Couples – Kasa Milwaukee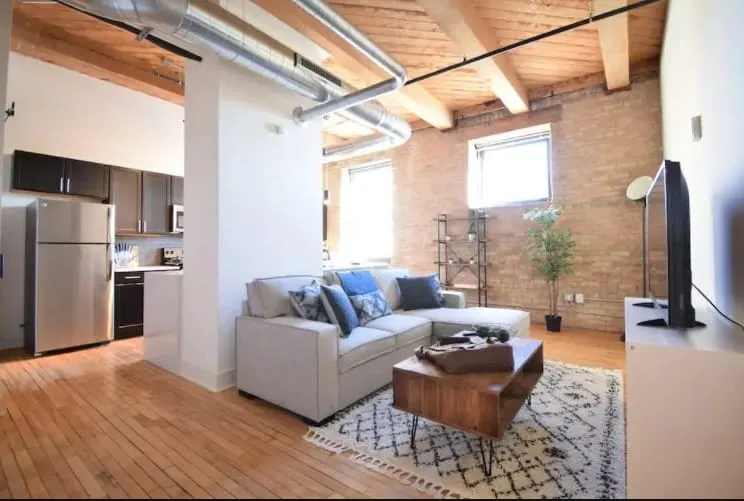 $$
4 Guests
Gorgeous Hoan Bridge views
Charming decor
For a perfect romantic getaway in Milwaukee, do not think twice before heading to Kasa Milwaukee. You will be greeted by the views of the beautiful city.
It's located next to the city's best bars and restaurants and is perfect for enjoying some of the best date ideas in Milwaukee.
Located near the iconic 3rd Ward District and Walker's Point, this Airbnb lets you easily explore the best of Milwaukee. While staying here you'll feel like one of these movies set in Wisconsin.
This amazing two-bedroom flat in a stunning building from 1900 features wooden floors, and large windows that lets in natural light.
Elements like shower curtains designed by talented local artists and quartz countertops add to the charm of this Airbnb.
On your stay at this rental, take a short walk to the river and enjoy mesmerizing views with your loved one.
Kasa Milwaukee is also perfect if you're looking for pet-friendly hotels in Milwaukee.
10. Best Milwaukee Airbnb with River Views – Riverfront Retreat
$$
6 Guests
Breath-taking views of Milwaukee river
2 bikes available for guests
As the name suggests, Riverfront Retreat is a beautiful lower duplex that impresses guests with breath-taking views of Milwaukee river.
The backyard overlooking the lake is the perfect place to enjoy sunrises and also to spend your evenings around the firepit.
Located in 4 miles form downtown, you'll enjoy this rental if you love a quiet setting amidst nature. On top, it comes with a furnished front porch, a picnic table and a private yard.
The best part about cooking in the fully equipped kitchen here is that you can still enjoy the gorgeous river views.
Also, there are amazing restaurants, a south shore yacht club, and a farmers' market a short distance from this Airbnb.
11. Best Milwaukee Airbnb Near Miller Park – Victorian Loft
$$
12 Guests
Fabulous interiors
Superb location
In the list of best places to stay in Milwaukee, the Victorian Loft deserves an undisputed mention. It's the epitome of coolness. It is near downtown and it's easy to reach popular places like Potowatomi casino and Miller Park Stadium from here. which are must-visit Wisconsin places.
You can find everything you need like restaurants, museums, shopping centres to theatres at walking distance from this gorgeous Airbnb.
The calming interiors, comfortable furnishing, modern kitchen, parking facilities ensures that you have a delightful stay here.
This living space that stays true to its name is a fabulous Airbnb in Milwaukee downtown to take pride in.
12. Best Airbnb in Milwaukee East Side – Easy Side Apartment
$
2 Guests
Extremely affordable
Complimentary garage
A gem at Milwaukee's Eastside, the Easy Side Apartment is a charming one-bedroom apartment. The beautiful interiors give it a welcoming vibe and it's a perfect escape for couples looking to spend some quality time.
While at this cozy apartment, cook some delicious meals in the newly-renovated kitchen and relax on the beautiful balcony. It's perfect when looking for unique Wisconsin vacation ideas.
This rental is within close proximity to the lake front of Lake Michigan with Bradford Beach and Henry Maier Festival grounds.
It is also near many of Milwaukee's attractions like Arboretum, Brady St, and the Riverwest neighborhood. This place is also close to some of the best beaches in Wisconsin as well
13. Best Airbnb in Milwaukee with Pool – The

Modern Room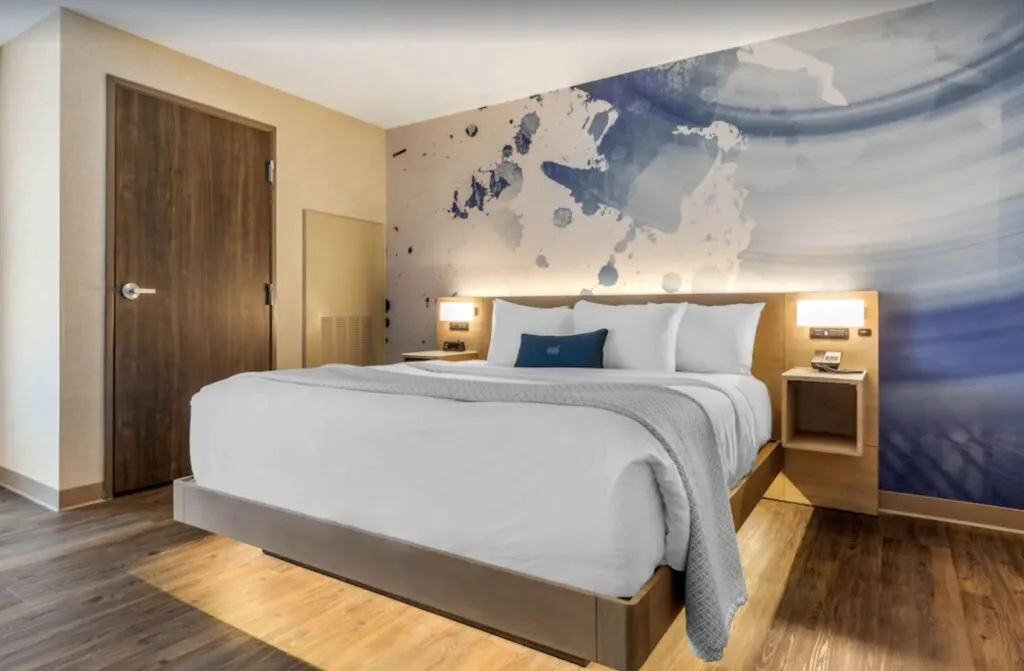 $
4 Guests
Extremely clean
In the heart of downtown
This cozy and relaxing space is located within one of the most sophisticated hotels in Milwaukee downtown. You may think that it's easily out of your budget. You couldn't me more wrong, this room is often under 100$!
This room has all the conveniences and amenities to be your home away from home. On top, you'll have access to the gorgeous, heated indoor pool.
The sundry shop, business kiosk, and valet cleaning service make it easy to unwind.
Guests adore the modern room for its inviting vibe and excellent cleanliness. Its prime location near fun places like Brady street makes it a must-visit stay in Milwaukee.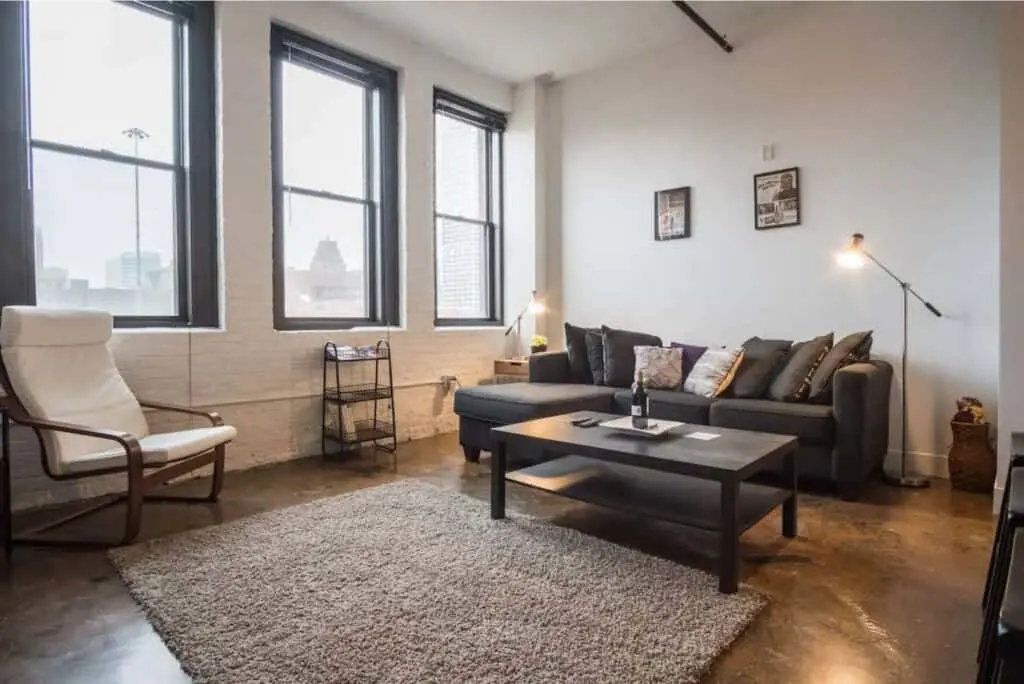 $
4 Guests
Excellent location
Amazing restaurants nearby
For an unrivaled vacation experience, head to the one-bedroom loft apartment in the trendy Third Ward neighborhood. The apartment welcomes up to 4 guests and offers premium comfort with its best-in-class amenities.
It boasts a modern kitchen, bathroom with glass shower, free WIFI, tv, washer, and dryer.
The highlight of this Airbnb is its brilliant location. It is just a few blocks from the Summerfest grounds and lakefront.
You can spend your day exploring markets, shopping in the amazing boutiques, and enjoying scrumptious cuisines in the nearby restaurants.
From here you can plan day trips from Milwaukee to nearby places if you have enough time to explore.
15. Best Airbnb in Milwaukee in a Farmhouse – The Howell House
$$$
16 Guests
Unique stay in a vintage farmhouse
Hot tub!
One of the most unique places to stay in Milwaukee is this large, rustic farmhouse in Bay View, Milwaukee. Located 4 miles from Miller Park, this landlocked rental is just perfect for a large get-together.
Indeed this unique Airbnb is already a destination on its own. Chill out on the deck, relax in the private backyard or just take a dip in the hot tub.
This charming farmhouse can accommodate up to 16 guests and is perfect for a family get-together. The home comes with a corn hole set in the backyard.
This impressive living space also has a large porch, a fully accessorized kitchen, and all essential modern amenities.
---
Why Stay in an Airbnb?
Local Experience
To make the most of your trip, booking Milwaukee vacation rentals are a great option. It's the easiest way to live like a local and experience how they spend a day.
Airbnb's are mostly in the residential areas that let you surround yourself with locals. Moreover, you can take recommendations from the hosts to explore the city better.
Safety
If safety is your prime agenda while searching rentals in Milwaukee, you must opt for Airbnb's without a second thought.
From an enhanced cleaning process to following the social distancing norms, Airbnbs in Milwaukee makes sure that you have a safe stay.
Affordability
The most amazing benefit of booking a house for rent in Milwaukee is its affordability.
Whether you visit with family or a large group of friends, you can always find an Airbnb that fits in your budget. Simply search for affordable Airbnbs in Milwaukee, Wisconsin and you will be surprised with the splendid options.
It's also a great idea to stay when visiting Milwaukee's winter festivals, which are one of the best things to do in winter in Milwaukee as well.
If you love staying in Airbnbs, have a look at my guide on the best pet-friendly cabins in Wisconsin, the most romantic cabins in Wisconsin, or these luxury cabins in Wisconsin.
---
Best Airbnbs in Milwaukee: Suburbs Map
---
---
Hola! I am Paulina, a fervent travelette who crossed the Atlantic Ocean by Boat HitchHiking. On my blog, you'll find all the tips to make the most of your holiday. Get ready to enjoy outdoor and sustainable travel like hiking, cycling or sailing. Let's hit the road together!