20 Fun & Unique Wisconsin Vacation Ideas
A Guide on the best Wisconsin Vacation spots and trip ideas throughout the year
There are plenty of things to explore in beautiful Wisconsin! Are you overwhelmed by the choice of all the amazing Wisconsin vacation ideas?
Well, this post will provide you a selection of the best Wisconsin Vacation spots. Some of the best Wisconsin trip ideas include outdoor activities, romantic getaways, vacation towns in the "Dairy State" and family vacation ideas.
Buckle up, here's all my best Wisconsin travel ideas for where to vacation in Wisconsin. I hope you're ready to hit the road!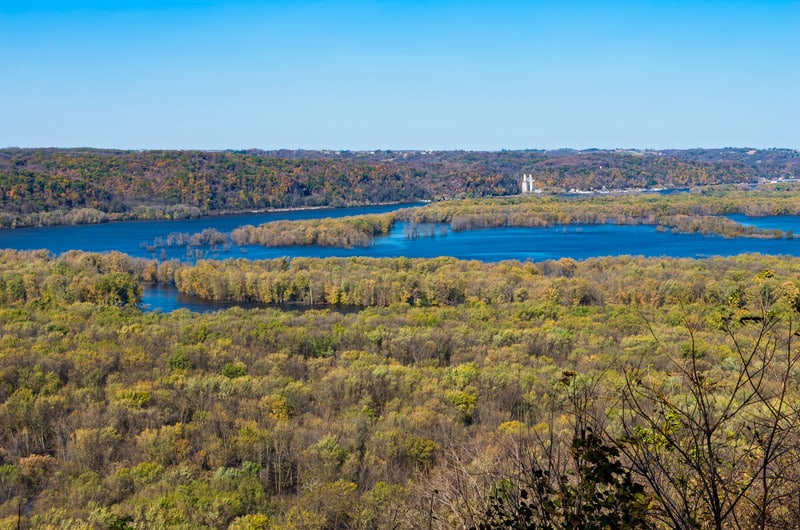 Thanks to affiliate links, I pay my bills. If you make a purchase through them, I may receive a small commission (for which I'm deeply grateful) at no cost to you. All opinions are always mine. Merci!
Useful Travel Information for Wisconsin
✎ Plan the ultimate Wisconsin road trip (no backtracking!) with the Perfect Wisconsin Road Trip itinerary – Get it here

✈ Book cheap flights to Wisconsin with Skyscanner

✔ Book tours in Wisconsin with Viator

➳ Book holiday and vacation rentals in Wisconsin with VRBO

❖ Rent a car at the best rates with DiscoverCars

☘ Get the best discounted outdoor gear (outlet) at REI.com

$ Get Wisconsin hiking guides and maps at REI.com

✎ Never leave without travel insurance. I get mine at SafetyWing. It is easy to set up, cheap, and reliable.
1. Have fun in Wisconsin Dells
Wisconsin Dells is one of the most popular, touristic cities in the United States and one of the best places in Wisconsin to vacation. Located in the south of Wisconsin, the "Dells" in the name is derived from the famed Wisconsin River.
When looking for fun things to do in Wisconsin Dells this weekend or for things to do for adults, you can enjoy two main sources of fun including water parks and other outdoor activities.
Book here your Wisconsin Dells vacation cabin rental
That's right, Wisconsin Dells is perfect for enjoying outdoor activities. The hiking in Wisconsin Dells is some of the best in the state and full of breathtaking scenery!
If you are a fan of water, Noah's Ark is an excellent choice for enjoying a wet and wild experience! The park is packed with loads of slides, restaurants, and other water sports such as beautiful swimming pools.
For kids and even couples, this is some of the most fun you will ever have in the water. But also during the cold months, Wisconsin Dells is an excellent Wisconsin winter getaway.
Otherwise, take some time to go rock-climbing or fishing alongside the Wisconsin River for something to do near to Wisconsin Dells.
The famous River offers excellent spots for catching fish such as cod and trout, so it's great to spend some time there for a day trip in Wisconsin. Other Wisconsin vacation ideas include going rock-climbing near the Wisconsin River!
Book here your Wisconsin Dells vacation package
It is worth looking down at the beautiful scenic nature, enjoying the birds up in the sky and the soft water down below. At the very least, breathe in the fresh air while you work your leg and back muscles!
Truly one of the best things to do in Wisconsin Dells, and one of the top things to do in Wisconsin! You can even try combining activities for one of your very own Wisconsin Dells vacation packages.
Wisconsin Dells is the perfect getaway for the whole family, which is why it has some of the best family resorts in Wisconsin.
2. Foodie Trip to Milwaukee
Milwaukee, home to the Bucks, is one of the nicest places to visit in Wisconsin and a top Wisconsin weekend trip. That's because there are tons of unique things to do in Milwaukee. You can find a massive zoo and some wonderful shops offering a unique collection of items.
Yet, many flock to Milwaukee to enjoy some fine (and some very fine!) dining. Luckily, Milwaukee offers food for both vegans and ravenous carnivores!
Buy here the perfect Wisconsin itinerary
For everyone in between, you can check out: you can always check out the Arby's or Wendy's for an assortment of sandwiches, snacks, and salads. Not to sound too generic, but these are the easiest and tastiest joints you can stop at while in Milwaukee.
For specifically vegans, check out The National Café on 839 National Avenue or Beans & Barley on 1901 North Avenue. Here, you can enjoy fresh salads, vegetables, and organically squeezed juices. They also have nice breakfast items to fill any rumbling stomachs early in the morning.
For meat-lovers, check out Rare Steakhouse for delicious beef and ice-cold beverages. Easily one of the best steakhouses in the state, it is home to some of the best customer service you can ever anticipate.
The staff is very helpful and well-trained about their cuts of meat, so make sure you are hungry before you go! This place is perfect for a delicious dinner after a day out in Milwaukee for a family or for a couple.
Milwaukee is also one of the the best vacation spots Wisconsin has to offer during the colder months. Visiting Milwaukee in winter is the perfect excuse to take advantage of the food scence since staying indoors will keep you warm!
3. Go on an Island getaway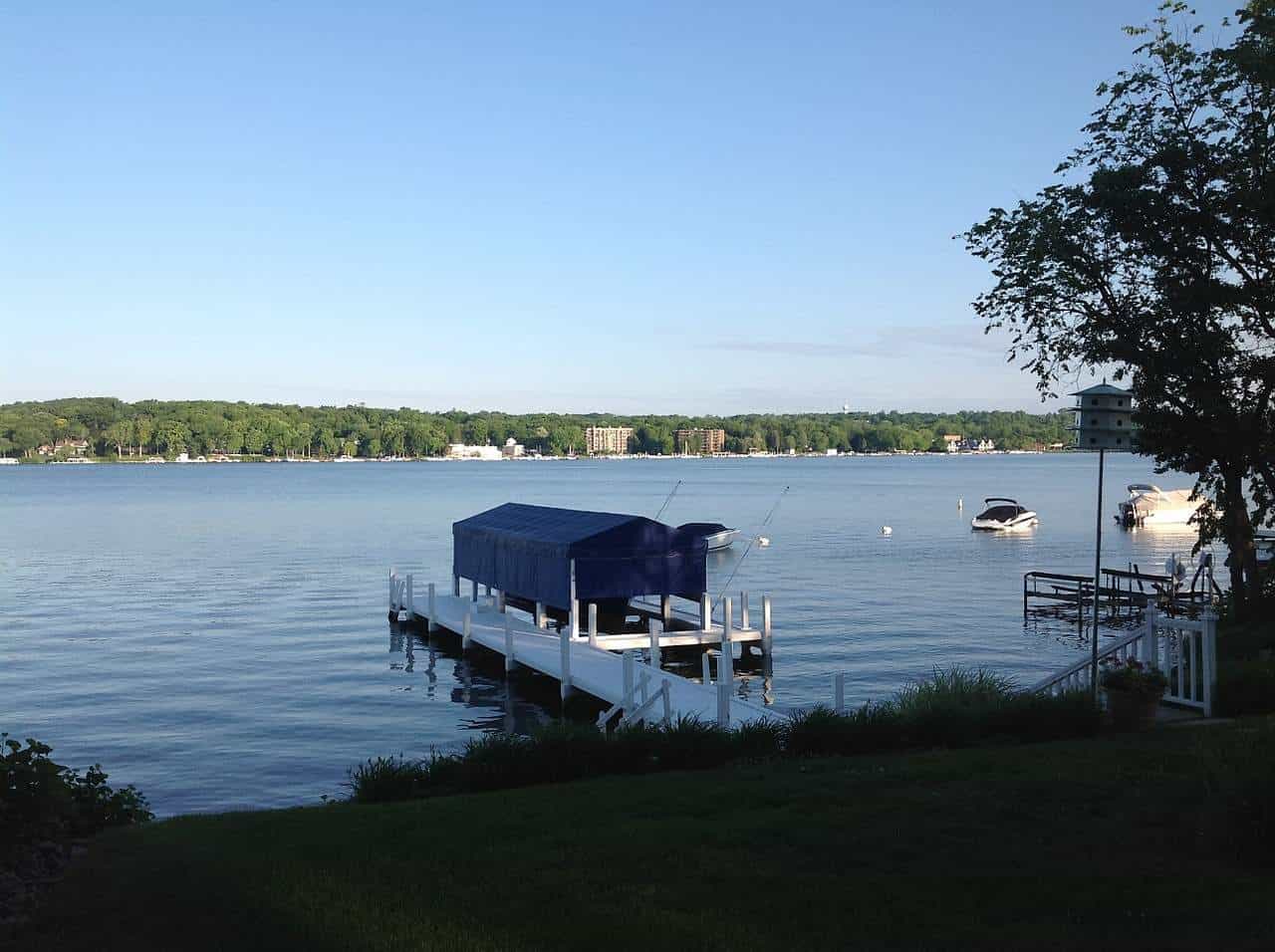 For an Island Getaway for the ages, head directly to Chippewa Valley. Take your loved ones (of all ages, even the seniors will love it!) and enjoy the Chippewa River, one of the top vacation spots in Wisconsin!
You can bask near the beautiful water or even take a paddle boat to see all the surrounding islands as if it is something out of a movie! In fact, it probably somewhere you find in one of the many great movies set in Wisconsin.
This trip is perfect for a deeper look into original Indian settlement, and you can be a part of history as well.
Buy here the perfect Wisconsin itinerary
There are plenty of amenities and sheds offering snacks while you are there, and it is always logical to bring a couple of sandwiches with you so you don't have to worry about getting too peckish.
Next, visit the Apostle Islands. With a wide selection of over 20 islands to choose from, you can decide to either spend the day or spend a couple of nights inside some night cabins.
Whatever floats your boat (literally), so feel free to plan ahead on what you want to do there. From swimming to restaurants, to sailing….Apostle Islands has got it all! Read here more about things to do in Apostle Islands, WI.
To get there, head towards the North of the "Dairy State" just off the Bayfield Peninsula (around 300 miles from Milwaukee). No wonder that it is considered one of the best places to vacation in Wisconsin and the area is also home to some of the best resorts in Northern Wisconsin.
Book here your log cabin in Wisconsin
4. Hiking in Door County
For some Wisconsin vacation ideas for outdoor fun and hiking enthusiasts, look no further than Door County.
Door County is the perfect place for hiking and enjoying fine American outdoors (camping and hunting), so bring along your buddy or your loved one and get going!
Since there is plenty of acres of land and lots of walking, it is best to bring young adults or adults for some outdoor fun! You can even bring the kids since there are plenty of beaches with pebbles and sand for them to enjoy.
The greatest experience in Door County is truly hiking up and down the gracious lands located in Southern Wisconsin. Don't forget to bring your Wisconsin hiking guidebook in order to explore the best trails in the area. – Check rates here
It is a hotbed for tourists and locals who want to experience real American outdoor life without worrying too much about formalities. The land is vast and the mood is relaxed, so have a blast in the great outdoors!
Make sure to try some of Door County's best restaurants. They are famous for their traditional fish fry, one of the best things to do in Door County, Wisconsin.
Door County is one of the top places to go on vacation in Wisconsin. It's particularly gorgeous in fall and thus one of the most beautiful fall activities in Wisconsin.
If you plan on staying at least one night, make sure to check out my guide on the best places to stay in Door County.
Book here your wood log cabin in Door County
5. City Trip to Madison
Madison is another very popular touristic city that is home to beautiful sceneries and fun activities. Madison is 80 miles from Milwaukee, and is perfect for a family or for a couple looking for some fun. It's also one of my favorite day trips from Milwaukee.
For both parties, consider taking the fun outdoors. You can go cycling, or enjoy sports in one of the many outdoor parks found in the city!
Book here the best Madison tours
Madison has plenty of basketball courts, soccer fields, and wild patches of grass where you can throw the football around! Going outside to a park is easily one of the best things you can do.
Otherwise, rent some bikes and go cycling! The trails in Madison are well-built and smooth, and the riders are very civil so do not worry about any danger! Just enjoy the ride, and look at the beautiful scenery that surrounds you everywhere you look.
Madison is a very popular city for tourists and can be reached via the I-94 (less than 80 miles from Milwaukee).
A city trip to Madison is thus one of the top places to vacation in Wisconsin.
Book here the best tours of Madison
6. A Cabin Getaway in Wisconsin
For a wonderful cabin getaway, there are plenty of Wisconsin vacation ideas available to you. The cabins are beautiful, well-equipped, and perfect for a couple looking for a romantic stay (and a unique one!).
The loveliest cabins can be found in Lake Geneva, where you will be able to camp out near a huge lake, next to the sound of the calm water and wonderful nature. If you are wondering where to stay in Lake Geneva, Wisconsin, there is accommodation for all kind of travellers.
Buy here the perfect Wisconsin itinerary
The cabins can vary in price and extravagance, as it solely depends on your preference on what you are looking for.
If you want a very basic, camping adventure- the most basic cabins offer typical amenities but require that you bring your own bedspreads and pillows. Make sure to check also the most romantic cabins of Wisconsin.
For a more extravagant experience, some cabins (such as the one found at the Ridge Hotel) offer the full spa package. Here, you can expect to find massages, room service, and finer dining.
Either way, a cabin getaway is perfect for a couple looking for a new, exciting experience.
For the best romantic resorts in Wisconsin consider Black's Cliff Resort to enjoy a relaxing experience under pine trees and towering canopies. For a more outdoor natural experience, consider Namekagon Waters Retreat, where you can possibly come across some fine outdoor life including eagles and deer.
Either way, planning a cabin getaway in Wisconsin is a perfect experience for any couple or even family to enjoy!
And do not worry too much about pricing, because you will be able to find an affordable romantic getaway in Wisconsin designed for a weekend getaway for couples! You can plan ahead, and take your time finding vacation homes for rent if you decide to go.
What is more exciting than a romantic getaway in Wisconsin cabins?
Book here your log cabin in Wisconsin
7. Enjoy Outdoors in a Wisconsin State Park
Wisconsin is home to some of the grandest state parks in the United States. There are so many great state parks in Wisconsin choose from because the land is so great and vast with beautiful greenery spanning everywhere you look.
There is no shortage of vacation ideas in Wisconsin for those who love the outdoors.
For natural beauty and outdoor fun, consider High Cliff or Devil's Lake State Park. The former is perfect for its scenic beauty and picnics, and the latter is the best place to vacation in Wisconsin for camping and beach hopping.
Devil's Lake is also home to some of the best beaches in Wisconsin.
Devil's Lake has a wide assortment of bars and restaurants nearby, so you will not feel hungry or thirsty by any means! Some great options include North Shore Bar (drinks and a nice lunch meal) or Gem City Saloon (Pizza and delicious chicken wings!).
No matter where you look in these state parks, you will be close to tasty food and even lovelier sceneries.
Otherwise, check out Governors Dodge State Park for some fun off-roading action with some of your friends. Especially for the younger ones, this is a great place to get your bike dirty and maybe throw a football when you're resting!
For swimming and canoeing, check out Willow River State Park for wide acres of land and cool, gushing water fun!
Enjoying the great natural surroundings is thus one of the best weekend getaways in Wisconsin.
Buy here the perfect Wisconsin itinerary
8. Go Waterfall chasing
In the mood for waterfall chasing? How about heading to Big Manitou Falls and seeing a massive waterfall just in front of your very eyes?
Then I've gone one of the best Wisconsin vacation ideas for you!
The most famous waterfall in Wisconsin stands at over 150 feet tall, dropping pounds of pure water onto a lovely river in one of the best vacation spots Wisconsin has to offer. What makes this waterfall unique is the color and unique scenery surround it.
Where else in the world will you find a waterfall that drops brownish water at a rapid pace? Besides the color of the waterfall, you can enjoy the walking paths alongside the river and falls.
No wonder that it is often considered one of the best waterfalls in North Wisconsin.
You can stop, take photos, and rest and relax whenever you please. The entire park of Big Manitou Falls is very relaxed in terms of security and traffic, so you can enjoy your time and do as you please.
All you need is a high-quality camera and some snacks, and you are good to go! The best idea would be to take your family with you, to let them see the outdoors and get some cardiovascular exercise!
At the very least, you can come across some beautiful animals and trees. Big Manitou Falls can be reached via the I-94 W from Milwaukee, and should take around 5 hours by car.
Buy here the perfect Wisconsin itinerary
9. A weekend in Elkhart Lake
Have an empty weekend with the family or your loved one? How about a special weekend in one of the most famous lakes in the state? Elkhart Lake is one of the top attractions in Wisconsin, with wonderful resorts where you can spend two days of your weekend!
When wondering what things to do in Wisconsin today, or if you simply need Wisconsin vacation ideas for families; Elkhart Lake is where you must go. It is one of the top things to do with kids in Wisconsin and even one of the fun things to do in Wisconsin; just take the time to get there.
Elkhart Lake is located 60 miles (via WI-57 and I-43) from Milwaukee, so it is not that far, and is a great day trip from Milwaukee.
What makes Elkhart Lake so special (besides its name!) is the variety of activities that you can enjoy while there. The lake is home to adventurous water fun including fishing and swimming alongside the great lake.
There are also an assortment of beaches where you can play in the sand with the little ones or have a dip in the cool water.
On the flip side, Elkhart Lake offers what you need in a relaxing experience via lovely resorts that offer delicious fine dining and fun shows!
The Victorian Village Resort is an excellent option for the latter, and you can create a weekend to remember in Elkhart Lake.
Book here your stay in Victorian Village Resort
For a fun experience, try to go in winter for unique sightseeing in Wisconsin in one of the most beautiful places in Wisconsin. When drawing up things to do in winter, Elkhart Lake should be on the list.
The reason? You see the lake without the sun shining on it, reflecting its beauty. Rather, you get to walk on snowy trails and appreciate the natural tall trees that cover the surrounding area.
You might even consider this as a romantic winter getaway in Wisconsin, or romantic weekend getaway in Wisconsin depending on when you go.
10. Vacation at Lake Geneva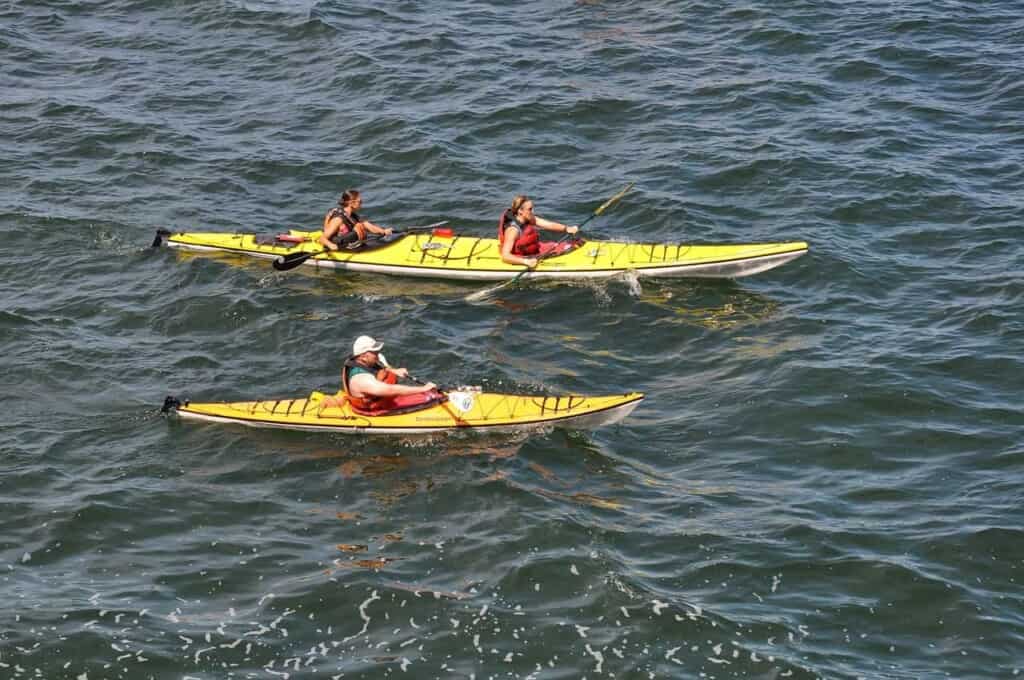 Lake Geneva is a romantic spot for newly love birds, or a couple looking for Wisconsin vacation ideas that will light a spark back in their relationship. The beautiful lake is a perfect spot to relax and chat, and it is very close to nearby beaches where you can also have a nice swim!
Located less than 50 miles from Milwaukee, Lake Geneva is particularly special. It neighbors the Lake Geneva State Park; a home to the wonders of nature that just begs for a picnic.
Grab some tasty food, whip out a carpet, and enjoy the Wisconsin sun in the lovely Park.
Due to its short distance, Lake Geneva is considered a great day trip from Milwaukee. But if you decide to stay longer, there are plenty of great options for where to stay in Lake Geneva.
At the very least, try to get some excitement going by trying some of the most popular outdoor activities including fishing for trout or zip-lining between the trees!
There are so many amazing things to do in Lake Geneva, you won't be sorry you added it to you list of Wisconsin travel ideas! In fact, you might be sad you didn't visit sooner!
Book here your lake cabin in Lake Geneva
11. Go on a Golf Getaway
Everybody loves to golf, even if they do not know it yet. Luckily, Wisconsin has excellent golf course ranges for everyone on all experience levels. Professional fields, mini golf, hotel golf courses….Wisconsin has got it all!
Check here the best golf courses in Wisconsin
As a matter of fact, Milwaukee is home to excellent golf courses where you can hone your skills and enjoy the state's natural beauty! Dretzka Park Golf Course is an excellent option, where you can share a massive green field with the public!
The field is actually one of the very best in Milwaukee, so make sure you are able to get your game started before people start flocking in!
Otherwise, for kids, try mini golf!
An excellent venue to go to is Nine Below. Nine Below offers a playful bar and unique mini golf courses that will surely strike up the love of golf for the minors! Adults can play too!
Just book your course and have a ton of fun. It is really recommended for casual golfers who just want to have a good time with each other.
Lake Geneva is also one of the most coveted Wisconsin resort areas.
Buy here the perfect Wisconsin itinerary
12. Explore the Frank Lloyd Wright trail
Regarded as one of America's greatest architects, Frank Lloyd Wright echoes in American history. Now you have a chance to walk his footsteps, where you can walk in across beautiful trails and green pastures to see some of his most impressive architectural structures.
You can decide to start off at Madison and end off towards the west of Wisconsin.
Wisconsin is the best place to see most of Wright's famed structures since many of them are very close to each other. Therefore, all you need is a little bit of research of where you want to start off (Madison is recommended) and you are on your way!
Book here the best Madison tours
Some of these famous structures include custom mansions, famous headquarters, and unique workplaces that Wright himself used. It certainly is a sight to see, so make an initiative to be a part of American history and you won't regret it!
Don't forget to bring you Wisconsin hiking guidebook in order to explore the best trails in the area.
13. A road trip in Northern Wisconsin
So we know the South of Wisconsin is home to some of the most famous spots in the area, but the North of Wisconsin offers just as many awesome Wisconsin vacation ideas, if not more!
For some fun things to do in northern Wisconsin, consider taking a long road trip in Wisconsin to Bayfield for some good quality time with a loved one and outdoor fun.
It is highly recommended to spend at least a night in Bayfield, by checking out one of the more renowned hotels such as the Bayfield Inn. Here, you are close to the local action including shows, markets, and more!
Once you have seen the local culture, consider going on a long cruise or enjoying the fine waters of Wisconsin if you have the chance!
Book here the best hotels in Bayfield
Bayfield is a very popular spot for the locals, so you can benefit from seeing a different side of Wisconsin.
The cruise trip, in particular, is well worth asking the price and you will get to see Wisconsin in another light as well. In Bayfield (less than 400 miles from Milwaukee), expect to come across some fun-loving people and some splendid greenery.
Still, riding through Bayfield is an opportunity that you cannot miss! Make sure you soak up every minute, so put on some fun-loving tunes and enjoy the ride.
14. Brewery Hopping in South Wisconsin
In South Wisconsin, brewery hopping is a popular activity that often flies under the radar. Wisconsin is known for its supreme beauty, and people love the outdoors!
But relaxing with your friends and family is always in the books, and the state offers some of the best breweries in the country!
When deciding which breweries to go to, it is best to focus on two major factors: a collection of beverages and ambiance.
In South Wisconsin, these two factors are covered. For arguably the best beer in the state, head to Port Huron Brewing Co. for some ice cold beers and fun American music.
What makes this place stand out is the relaxed atmosphere, where you feel at ease sharing drinks with everyone around you!
Buy here the perfect Wisconsin itinerary
15. Go on a Spa Getaway in Wisconsin
For an ultimate spa getaway in Wisconsin, look no further than Wisconsin Dells. While Wisconsin Dells is known for its outdoor beauty and scenic avenues, it is home to the very best spas in Wisconsin.
What people want from a spa varies on preference, but everyone has one thing in common. They want excellent customer service and memorable, relaxing experience.
Luckily, Wisconsin Dells is home to spas that capture both aspects to give you what you are looking for.
Book here your Wisconsin Dells vacation package
That includes massages, facials, and everything more you can think of! For a particularly body-focused experience, head to Rhapsody Spa for a complete body makeover.
From pedicures to manicures, you will feel like a new person!
For anyone looking for a memorable vacation experience and a cool day trip from Milwaukee, it is highly recommended to visit this renowned spa in the heart of Wisconsin Dells (approximately 120 miles from Milwaukee, close to Reedsburg).
In regards to the demographic, a spa getaway is perfect for a couple or a gift for your lady friend (or wife!).
This is definitely one of the most memorable vacation places in Wisconsin.
Book here your Wisconsin Dells cabin getaway
16. Do a sporty trip to Green Bay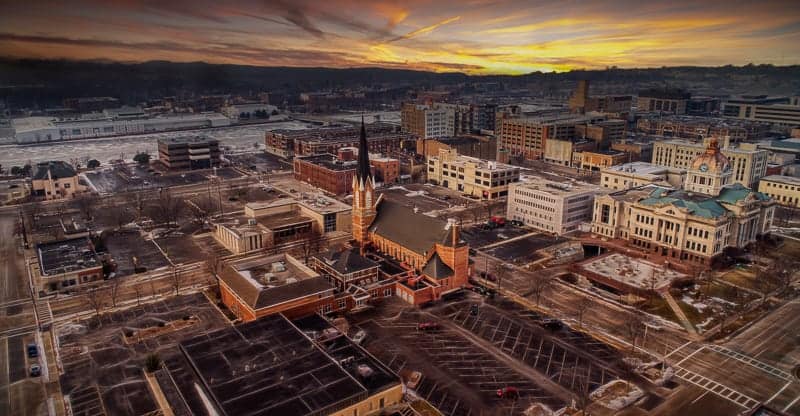 For sports enthusiasts, one of the best Wisconsin vacation spots is to head to Green Bay, the home of the Packers. Not surprisingly, one of the best things to do in Green Bay is to attend a football game.
The Packers are beloved throughout the state, and really not trip to Wisconsin is complete without seeing the play. Especially since the Packers are known for being heavily involved with their community and fans.
If you don't want to watch a whole game, you can also pop in – for free – to see them practice at the Don Hutson Center.
Check rates for Packers' games here
17. Rent a Cabin near Lake Michigan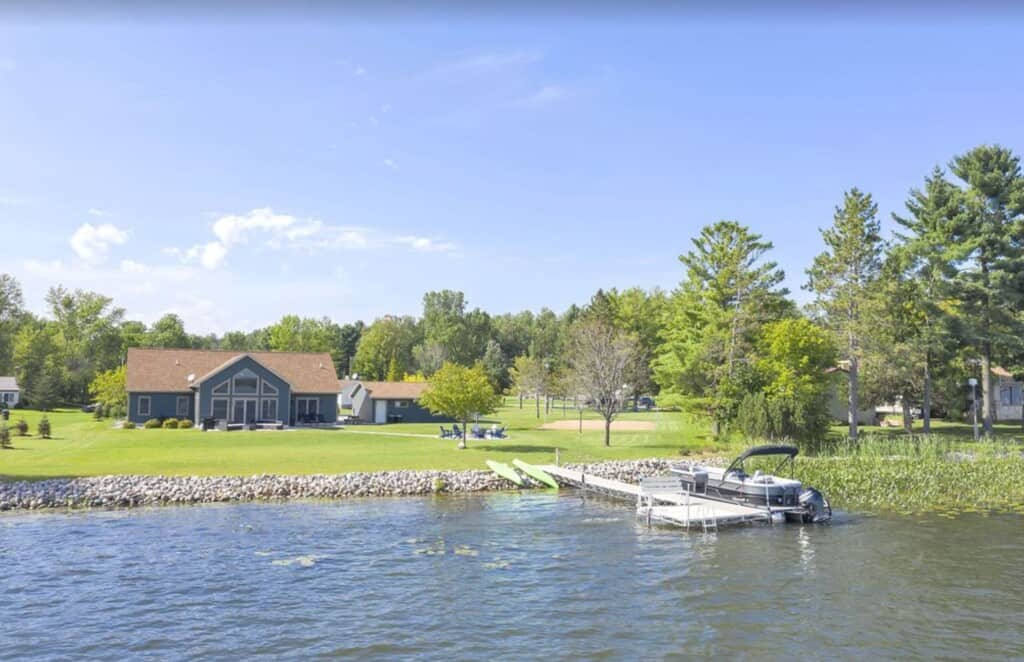 For couples looking for romantic Wisconsin vacation ideas, you don't get much more romantic than a cabin in the woods. Luckily, there are quite a few romantic cabins in Wisconsin to choose from.
I personally love going to Lake Michigan. Staying at various harbor towns along the lake have been some of my best vacations in Wisconsin.
There are also lots of great vacation destinations in Wisconsin along Lake Michigan, including popular cities like Green Bay and Milwaukee.
Some of my favorite cabins stays along Lake Michigan have been the Lake Shore House in Sheboygan, Peace of Beach in Door County and Stony Shore Cabin in Sturgeon Bay.
Book here your log cabin in Wisconsin
18. Do a foodie day trip to Kenosha
Kenosha is one of those underground foodie destinations that no one knows about. That's why it's easily the best vacation spot in Wisconsin for foodies!
Since Wisconsin is famous for its cheeses, your first stop needs to be the Mars Cheese Castle. They serve cheese in literally every form, and anything that goes with cheese, including popcorn, meat, bread and more!
Another favorite of mine is Elsie Mae's Canning And Pies. I love the strawberry rhubarb (one of their most popular) and their Christmas time mincemeat one. They also sell jams – all your standard flavors and also some really unique ones like dandelion, cranberry peppermint and carrot cake.
If you want somewhere a little more chic check out The Apis. This is a self-proclaimed avant garde dining experience with dishes from Land, Sea and Earth categories.
I also live for the barbacoa enchiladas and margaritas at La Fogata Mexican Grill.
Ron's place 5×5 burger is to die for. And The Garage also have some of the best burgers in Kenosha.
For dessert you need to try Sandy's Popper. They do ice cream for the sweet folks and popcorn for those who prefer something savory.
And of course, you can't plan a Kenosha, Wisconsin trip without checking out all the other amazing things to do in Kenosha like the Dinosaur Discovery Museum, or relaxing at Simmons Island Beach.
Kenosha is one of the easiest day trips from Milwaukee, so there's no excuse not to add it to your top Wisconsin vacation ideas!
Check cabins near Kenosha here
19. Splurge on a Luxury Resort

Sometimes the best vacations in Wisconsin are as simple as booking a room at a luxury resort.
There are plenty of vacation spots Wisconsin has to offer and a luxury resort for any kind of traveler, or travel couple.
For example, St. Croix Inn in Solon Springs has lakefront rooms with stunning views of Lake St. Croix. But the Lake Lawn Resort is ideal for golf enthusiasts.
If you're wondering where to vacation in Wisconsin, and love a bit of indulgence, considering booking a room at one of the best luxury resorts in Wisconsin.
Buy here the perfect Wisconsin itinerary
20. Rent an RV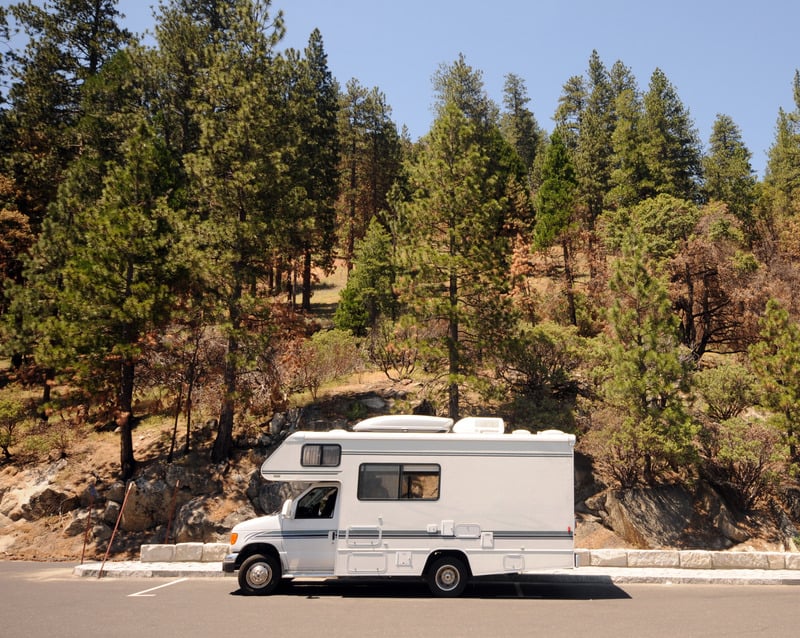 Renting an RV allows you to visit many Wisconsin vacation destinations independently. You can visit the best waterfalls in Northern Wisconsin, or the best state parks in Wisconsin.
Taking an RV means you can visit vacation places in Wisconsin in any season. You can explore the best fall festivals in Wisconsin, or in the summer visit the best beaches in Wisconsin.
If you can't decide between which Wisconsin trip ideas you like best, rent an RV and see them all!
Now that you have plenty of inspiration for Wisconsin vacation ideas, let's hit the road! Let me know where you went in the comment form!
If you want to have a quick overview of the best Wisconsin vacation ideas, have a quick look at my Wisconsin Vacation WebStory.
---
Before You Go: Top Tips for your Trip
---
Short FAQ about Wisconsin Vacations
1. What are the best vacation spots in Wisconsin for couples?
Consider a romantic cabin getaway at a like. The best ones are Lake Michigan, Lake Geneva, and Elkhart Lake. Apostle Island is also a great Wisconsin vacation destination couples.
2. What are secluded places in Wisconsin to vacation?
Like the romantic getaways, your best option for a quiet, secluded vacation is to a remote cabin. Hiking in Door County and waterfall chasing are also great options for a secluded Wisconsin trip. A spa getaway or golfing weekend will also provide a bit of peace and quiet.
3. What are best vacation spots in Wisconsin for families?
The best places to to go on vacation in Wisconsin for families are probably Milwaukee or Madison since there are so many activities and sites to choose from. But for families who love the outdoors, Lake Geneva or hiking near waterfalls like Big Manitou Falls are also perfect weekend trips.
---
---