Guide to the best Green Bay accommodatin options for any budget or vacation style
In a destination like Green Bay, Wisconsin that is admired by travelers of diverse interests, every vacation is different.
From sports addicts, nature lovers, shopaholics to adventure seekers, it has something for everyone.
It is thus important to find a hotel or resort that suits your vacation desires and to rest when you're not out exploring all the cool things to do in Green Bay.
Luckily, there is a wide selection of amazing hotels and resorts in Green Bay to choose from during your next visit.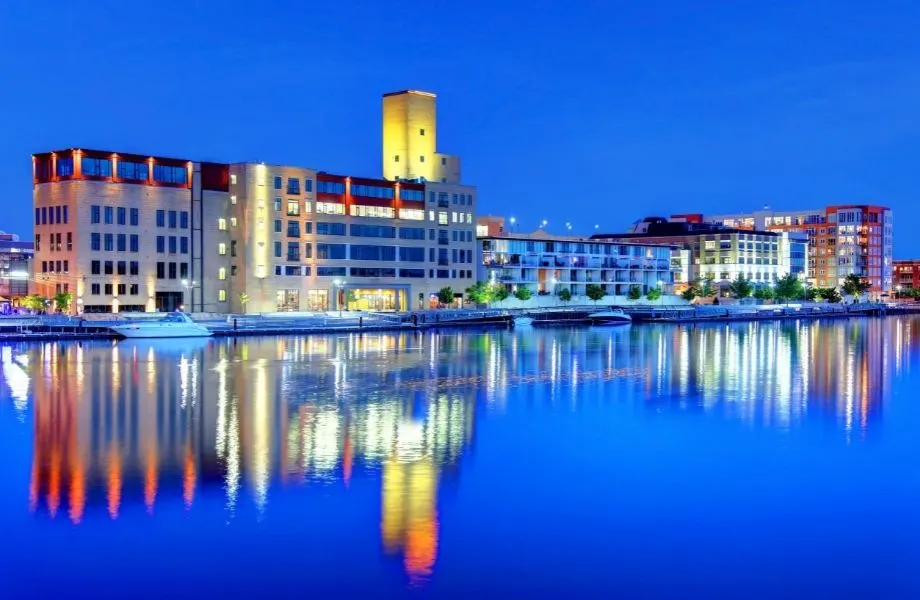 Whether you are on a family holiday or romantic vacation, Green Bay has plenty of accommodation options.
Choosing the perfect one that matches your needs and budget may seem like a challenging task.
I have curated a list of the best accommodations in Green Bay that allow you to easily book your stay.
Let's look at the best resorts in Green Bay according to different vacation needs.
This blog is supported by you, dear reader. If you purchase through a link, I earn a small commission. As an Amazon Affiliate, I earn from qualifying purchases.
Top resources to travel Wisconsin
✎ Plan the ultimate Wisconsin road trip (no backtracking!) with the Perfect Wisconsin Road Trip itinerary – Buy now for less than 12$

✈ Find the best hotel deals in Wisconsin with Trivago

➳ Book vacation rentals in Wisconsin with VRBO

✔ Book tours in Wisconsin with Viator

☘ Get the best discounted outdoor gear (outlet) at REI.com

$ Get Wisconsin hiking guides and maps at REI.com

✎ Never leave without travel insurance. I get mine at SafetyWing. It is easy to set up, cheap, and reliable.
Overview: The Best Resorts in Green Bay, WI
Best Luxury Resorts in Green Bay, Wisconsin
Green Bay is one of the best day trips from Milwaukee, but if you want a longer break, staying in a luxurious resort is the best way to give yourself that much-needed treat.
Green Bay has an array of brilliant accommodations that pamper guests with deluxe amenities and services.
Most of the luxurious resorts in Green Bay have marvelous dining options and comfortable furnishings.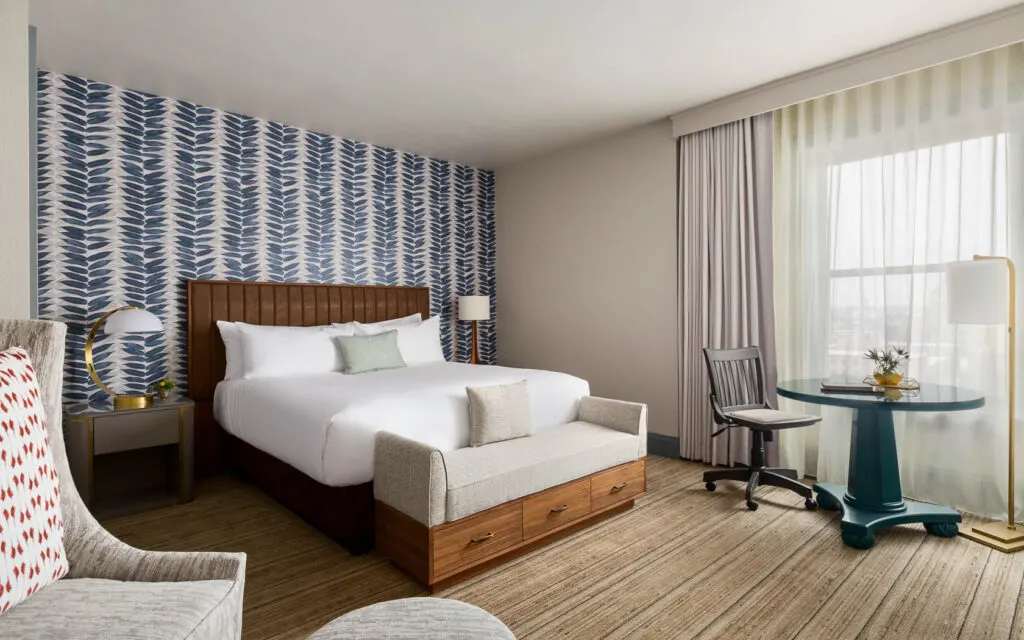 Highlights: On-site restaurant in a historic setting that serves 1920s-inspired cocktails
Hotel Northland brings together an old-world charm and contemporary luxury to the heart of downtown. It's one of the oldest luxury hotels in Green Bay that has been welcoming guests since 1924.
The rooms at the hotel reflect elegance and include modern essentials to make your stay extraordinary.
The signature amenities like the Cuisinart coffee maker, complimentary breakfast, and wireless internet delights the guests. You can also relish appetizing cuisines in the two on-site restaurants here.
Additionally, you can bring along your furry friends as the hotel is pet-friendly, and is perfect for business travelers, families, couples, and a group of friends.
Hotel Northland is also a great option for anyone looking for a romantic getaway as they have specially curated packages for couples.

The best attractions of the city like Lambeau Field and Resch center are just a short drive from the hotel.
Guests can also take an exciting trip to the Bay Beach Wildlife Sanctuary.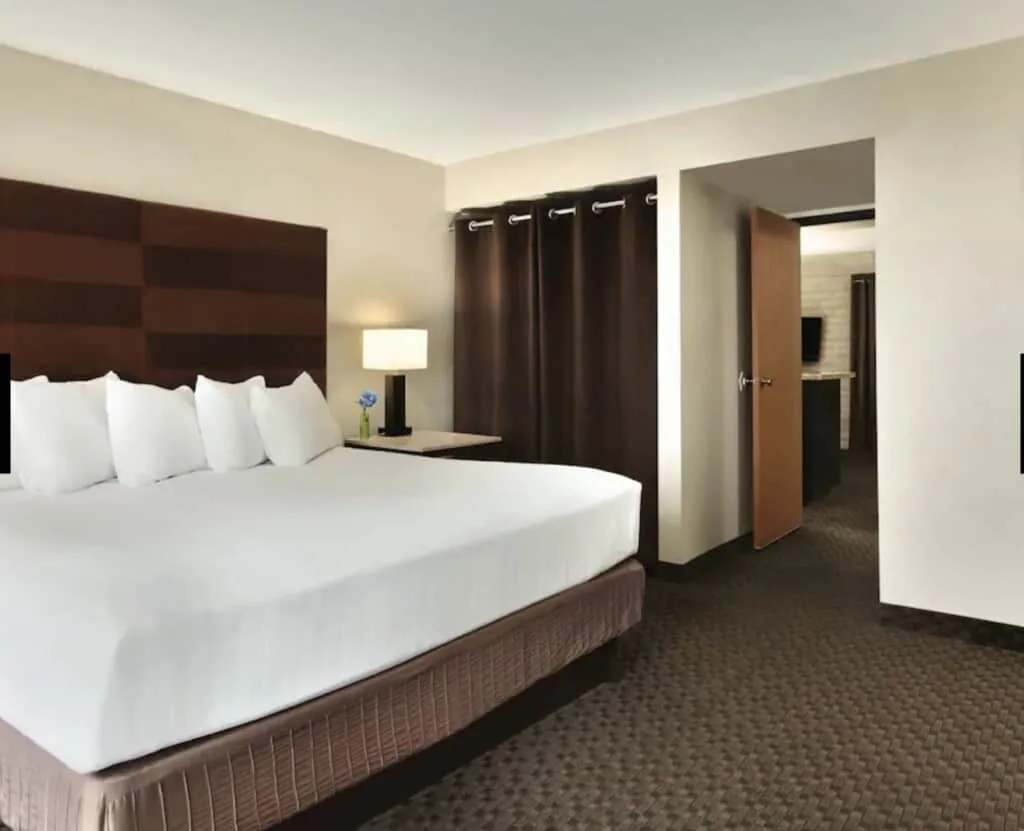 Highlights: Fitness center with cardio equipment and treadmills
Your search for the most amazing luxury resorts in Wisconsin ends at the Hyatt Regency Green Bay.
Located next to the KL convention center, this hotel has thoughtfully designed rooms and spacious suites.
From luxurious beds, mini-fridge, microwave to a coffee maker, the amenities here ensure supreme convenience.
It's a pet-friendly hotel with facilities like a pool, hot tub, fitness center, and a fantastic pub.
You can enjoy breakfast at the Atrium or head to The Market for on-the-go dining options and Starbucks beverages.
For hosting business meetings, this is one of the best hotels Green Bay, WI has to offer.
With services like event production, planning, and catering, the Hyatt Regency Gren Bay will ensure that every member is amazed. Even for special events like weddings, this hotel is an incredible choice.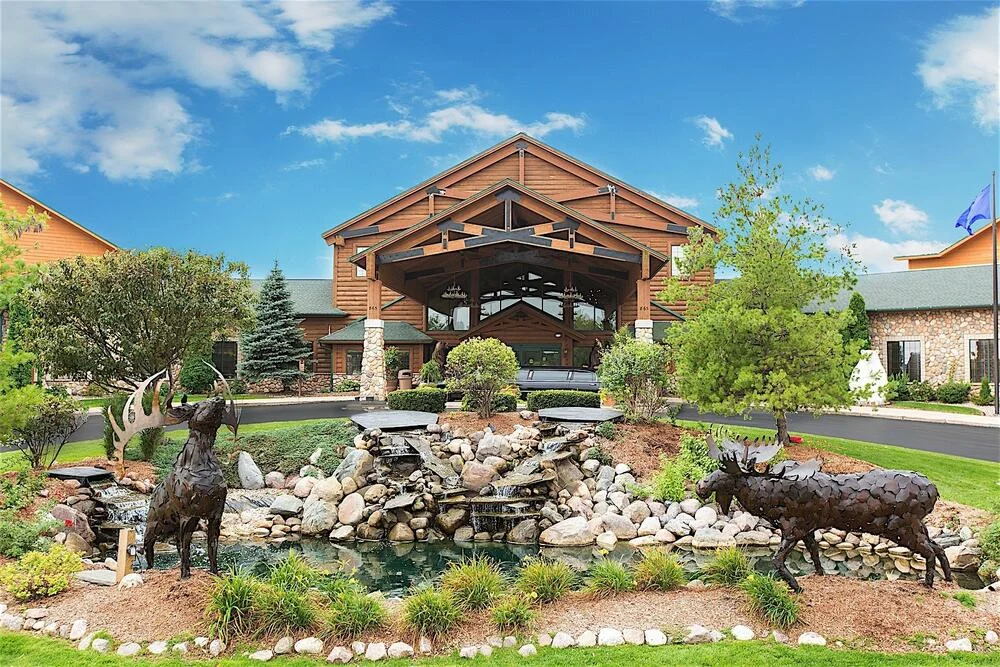 Highlights: Indoor waterpark with lazy river
When it comes to luxury green bay hotels with water parks, Tundra Lodge is an unrivaled choice.
The suites are oozing with a rustic charm features mountain-inspired décor and rich wood furnishing.
From suites with stadium district views to the ones with whirlpool tubs, the options here are magnificent.
It is one of the best resorts in Green Bay, Wi for group trips with something to please visitors of all ages.
You can spend your day enjoying exhilarating rides in the waterpark and play games at the gold rush arcade.
With a restaurant, bar, and grill, it stands out among other resorts in Green Bay in terms of dining options. After a busy day, you can head to the poolside and enjoy a drink from the pub.
Complimentary services at Tundra Lodge include buffet breakfast, airport shuttle, parking, and Wi-Fi.
The resort is located just a few blocks away from the iconic Lambeau fields and has many entertainment options nearby.
There is also a candy store and gift shop on the premises for you to collect fun souvenirs.
Best Family Resorts in Green Bay, Wisconsin
For families seeking fun and relaxation, Green Bay is one of the best places to vacation in Wisconsin.
From amusement parks, museums, to hiking trails, Green Bay has something for everyone.
You can find some of the best family resorts in Wisconsin here with amenities like a full kitchen and sofa.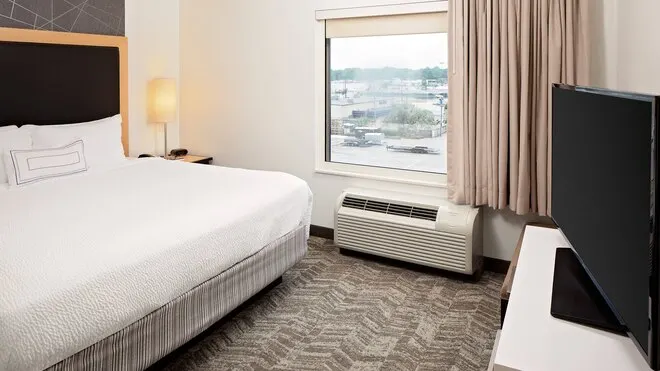 Highlights: Excellent location near Lambeau Fields
SpringHill Suites features spacious accommodations that display a perfect blend of style and comfort.
It is one of the best hotels in Green Bay to relax with your family including your pets. The suites boast amenities like luxury bedding, pull-out sofa, refrigerator, and microwave.
The complementary facilities at the hotel include a delicious buffet breakfast and high-speed internet.
You can find an indoor pool, whirlpool, and a fitness center in this impressive property by the Marriott Group.
SpringHill Suites is located within walking distance from the best of Green Bay like the Lambeau Fields, Resch Centre, and Shopko Hall.
The brilliant restaurants and breweries nearby will ensure that you have an unforgettable dining experience.
The Bay beach Amusement Park is just a short drive from the hotel where families can have an exciting time.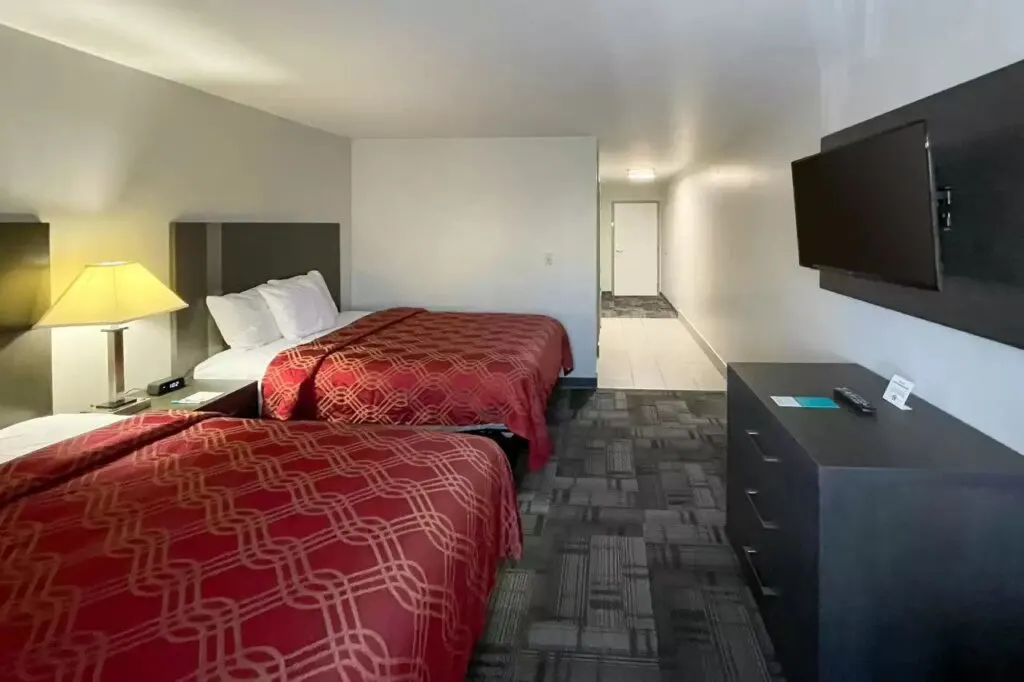 Highlights: 24/7 marketplace with snacks and drinks
Clarion Pointe is located conveniently close to the best local attractions of Green Bay. The Lambeau fields, Resch Center, Green Bay Packer Hall of fame are just a few minutes away.
It is one of the best family hotels in Green Bay with spacious suites that can accommodate up to 5 guests.
Some of the amenities here are flat-screen TV, hairdryer, comfortable beds, and mini-fridge. Mobility-accessible rooms are also a part of this hotel that amazes guests with its warm hospitality.
Clarion Pointe serves delectable breakfast every morning and free coffee is available throughout the day.
Additionally, the hotel has a heated indoor pool to keep you refreshed, and you can even make use of the pool table to play with your family.
If you are looking for cool weekend trips in Wisconsin and plan on heading to Green Bay, Clarion Pointe is a great place to stay.
The hotel is less than an hour from the heart of Door County which has some of the best hiking trails in Wisconsin.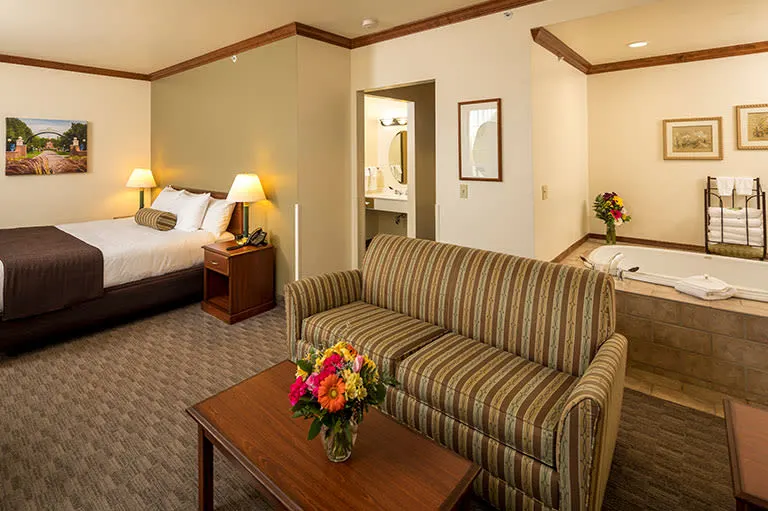 Highlights: Pet-friendly boutique hotel
Kress Inn is a stunning boutique hotel located along the Fox River in the St. Norbert College campus, and one of the best resorts in Door County.
In terms of location, it is one of the best places to stay in Green Bay with your family, as it's close to the vibrant Green Bay downtown that is filled with wonderful bars, restaurants, and specialty shops
The resort features suites with modern amenities like a microwave, TV, refrigerator, and coffee maker for a comfortable stay.
Guests can also choose to stay in suites with a whirlpool, fireplace, or spacious presidential suite. Kress Inn offers a fully-equipped fitness center that will keep you active all day.
The resort welcomes its guests with wine, cheese, and freshly baked cookies. Guests are also treated with free continental hot breakfast every day.
The 24-hour airport shuttle service allows visitors to travel to and from the airport for free.
Being in southern Green Bay, this is also the perfect jumping-off point for day trips to nearby attractions like High Cliff State Park, one of the best state parks in Wisconsin.
Best Riverside Resorts in Green Bay, Wisconsin
If you are looking for a relaxing vacation in Green Bay, staying at a riverside resort is the perfect accommodation option.
From waking up to mesmerizing views enjoying a walk amidst nature, these resorts offer great relaxation.
Facilities like an outdoor seating area and indoor pool are common in the riverside resorts in Green Bay.
You can also take a walk along the riverside and admire the Grassy Island Range Lights, some of the most unique lighthouses in Wisconsin.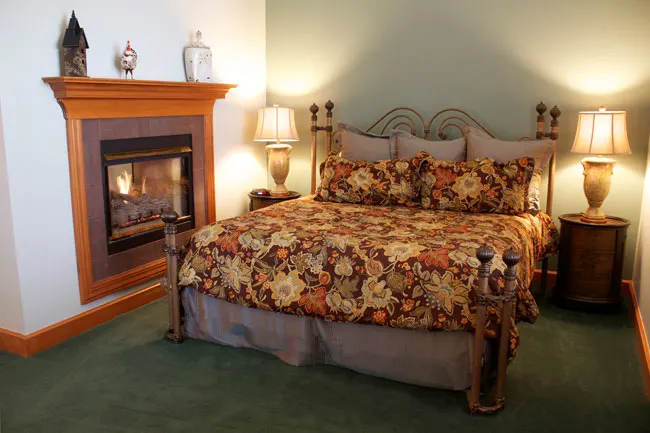 Highlights: In-house Irish pub serving lip-smacking cocktails
Situated in downtown De Pere, The Ennis Inn overlooks the scenic Fox River.
From décor to elegant furnishings this hotel radiates the charm of Ireland. It even has an in-house pub and restaurant that will make you fall in love with Irish flavors.
Every suite here has a cozy vibe and has a spacious seating area for you to relax and enjoy the calm.
A quiet workstation is also a part of every suite, so you can work without any distractions if you are on a business trip.
Other amazing facilities at The Ennis Inn include complimentary breakfast, TV, whirlpool tub, or shower.
The hotel is a few steps away from the Fox River Trail where you can enjoy bicycling and skating. The Voyageur Park is also nearby which is one of the best places for fall colors in Wisconsin.
It is also worthwhile to take a day trip and experience some of the best things to do in Door County – among them some amazing outdoor activities in Wisconsin.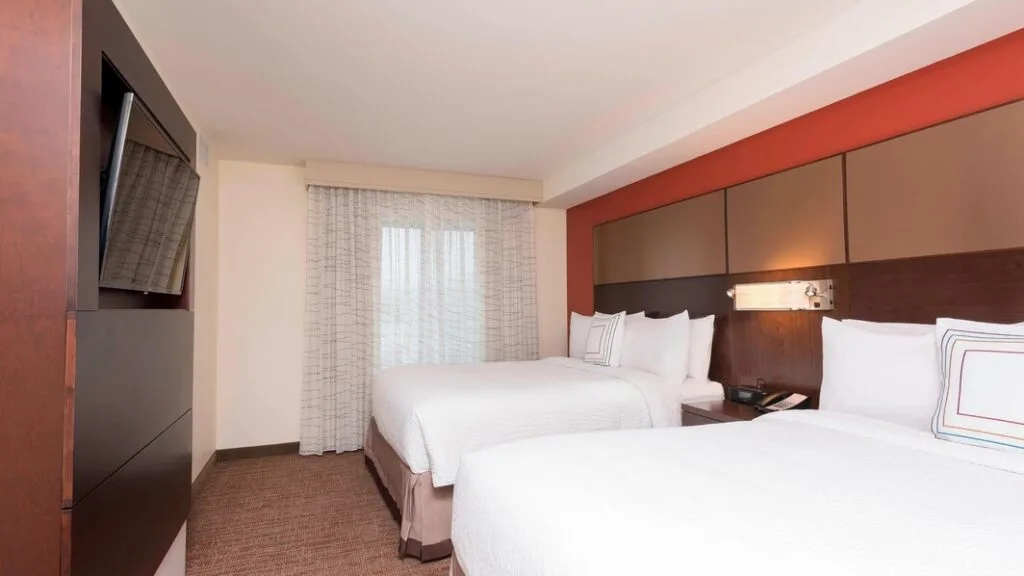 Highlights: Amazing barbeque facilities and sun terrace
Located in Marina Lane, Residence Inn by Marriott is a beautiful all-suite hotel. It is one of the best hotels in Green Bay for a relaxing holiday, business travels, and extended stays.
Every suite at the resort is designed to offer superior comfort and has amenities like an HD TV and wireless internet.
Full kitchen, spacious work, and living areas are also a part of every suite.
The resort has a bar, indoor pool, sports court, and fitness center to make your stay enjoyable.
The courtyard with a fire pit is the perfect place to relax and indulge in some conversations with your loved ones.
A Grab N Go breakfast is served every day to make your mornings brighter. Additionally, there is an in-house market that is stocked with delicious savory snacks and refreshments.
Heritage hill which is one of the best parks in Green Bay is located close to the hotel.
Other must-visit attractions nearby to Residence Inn include the National Railroad Museum and Terror on the Fox Haunted House.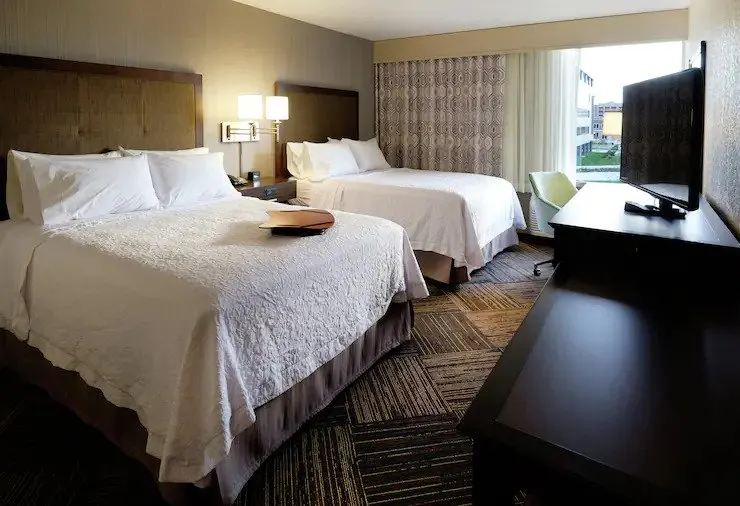 Highlights: Complimentary parking
Hampton Inn is known for its excellent location by the Fox River in the heart of downtown.
It is adjacent to the KL convention center and has many restaurants and entertainment venues in proximity.
The elegant rooms and suites at the resort have amenities like a mini-refrigerator, coffee maker, and HD TV.
Hampton Inn is ranked among the best resorts in Green Bay for disabled guests as they provide mobility and hearing-accessible rooms with features like a roll-in shower.
Guests can enjoy a workout session in the fitness center or head to the indoor pool for relaxing.
A complimentary hot breakfast is served at the hotel every morning. If you are craving snacks, there is a also convenience shop that's open round the clock.
Best Budget-Friendly Resorts in Green Bay, Wisconsin
For travelers looking for high-quality yet cheap hotels, Green Bay is a paradise.
Green Bay has plenty of affordable accommodation that does not comprise style or amenities.
You can even find many inexpensive resorts in Green Bay offering free breakfast, and the city is perfect for extended stays.
Whether you choose to stay in budget-friendly green bay motels or suites, you are sure to have a comfortable stay.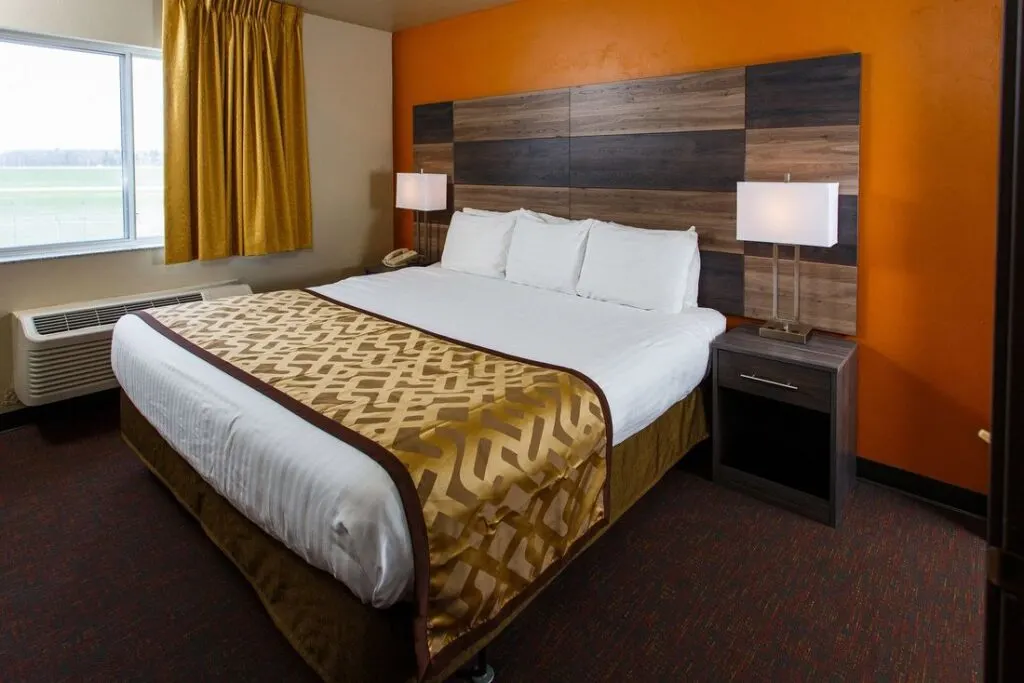 Highlights: Complimentary airport shuttle for easy arrivals and departures
Hotel J Green Bay features a manor-style exterior and offers an array of budget-friendly accommodation choices.
Whether you are traveling for business, leisure, or your honeymoon, you are sure to have an amazing time here. The Hotel boasts standard guest rooms, family suites, and unique themed suites like Caesar's palace.
It is one of the best hotels in green bay for an extended stay with amenities like a full kitchenette and microwave.
Additionally, the hotel offers complimentary services such as buffet breakfast and guest passes to Berlin Fitness Centre. It also has a heated indoor pool that lets you enjoy a relaxing dip.
Hotel J is conveniently located near the Green Bay international airport and there are a lot of splendid dining options nearby.
Attractions nearby include Oneida Casino and botanical gardens.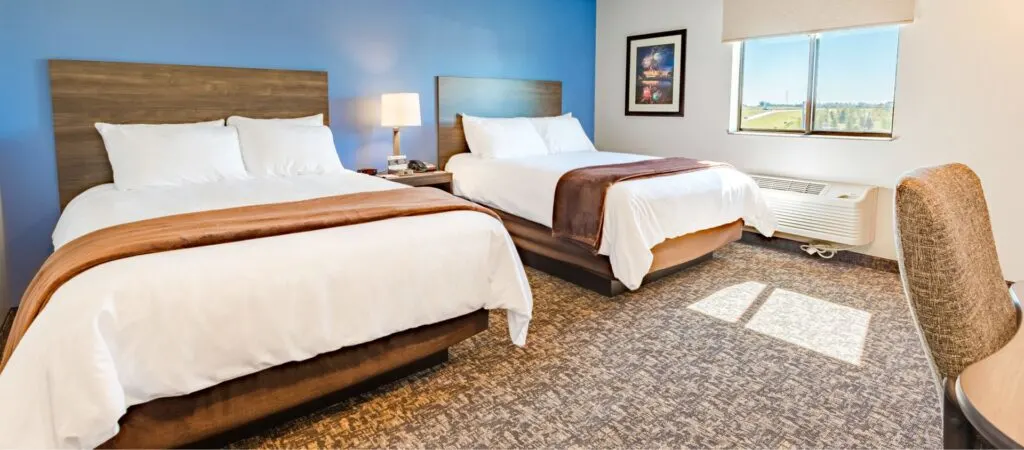 Highlights: Express check-in and check-out
If you are on the lookout for affordable hotels in Green Bay, Wisconsin, My Place Hotel is an excellent option.
The hotel is ideal for business travelers and families alike with reasonable nightly, weekly, and monthly rates.
Additionally, it caters to the needs of mobility and hearing impaired guests with accessible rooms.
Guests will find rooms with amenities like a kitchen, refrigerator, and plush beds to offer you the comforts of home.
A flat-screen TV, free Wi-Fi, and 24-hour complimentary coffee are some other brilliant facilities.
The breakfast-in-bed feature at My Place Hotel is greatly enjoyed and appreciated by the guests.
This option allows you to custom select your favorite delicacies that will be delivered straight into your fridge the previous day.
The hotel also has a store for you to grab delicious snacks and beverages.
You can also take your furry friends along as it is counted among the best pet-friendly hotels in Green Bay.
Many impressive restaurants, the National Rail Museum, and Resch Centre are just a few minutes away from this budget-friendly accommodation.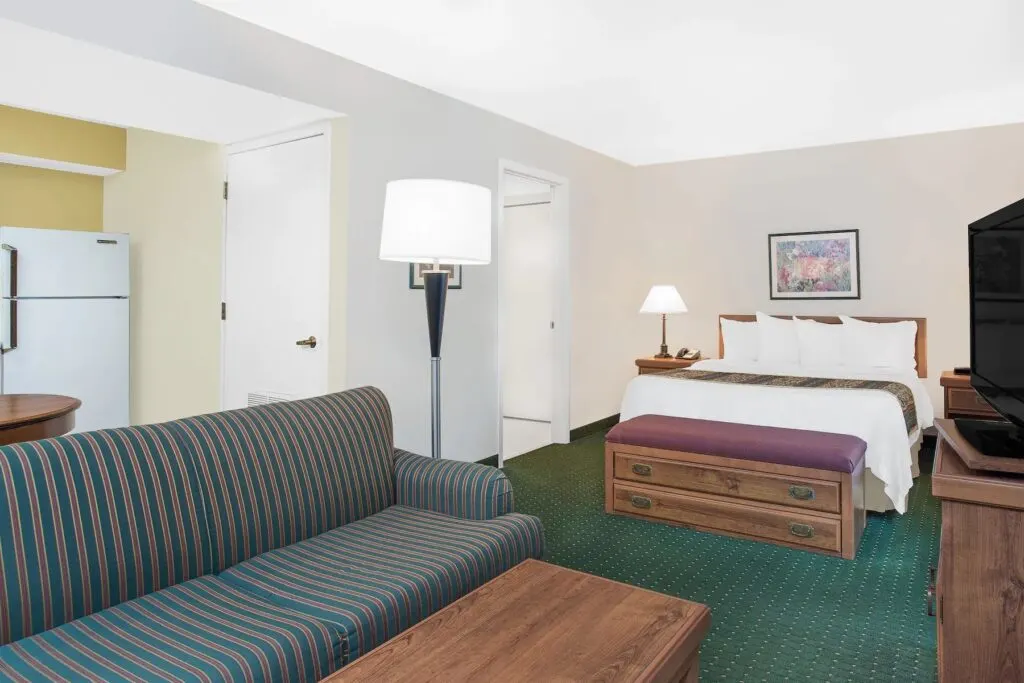 Highlights: Complimentary hot buffet breakfast
Head straight to the Hawthorn Suites if you are searching for comfortable and reasonable green bay accommodation.
The hotel features studio and penthouse suites with amenities that redefine convenience.
From a fully-equipped kitchen, work desk, dining area to a coffee maker, the suites have everything for a pleasant stay.
The complimentary services like hot buffet breakfast and airport shuttle service delight the guests. You can also rent a bike for free to explore the beautiful Green Bay neighborhoods.
Attractions like Lambeau Field, Oneida Casino, and Bay Beach Amusement Park are just a short drive from Hawthorn Suites.
If you're up for something more unique, just a 5-minute drive away is The Encrypted Escape, one of the best escape rooms in Wisconsin.
This is great for anyone looking for fun things to do in Door County in October to avoid the cold!
Additionally, the hotel is pet-friendly, so you don't have to worry about missing your furry friend during your extended stay.
There is a fitness center and seasonal outdoor pool at Hawthorn Suites, and guests can also make use of the barbeque facilities to enjoy memorable times with your family and friends.
Best Romantic Resorts in Green Bay, Wisconsin
Green Bay is perfect for those looking for romantic getaways in Wisconsin.
From watching a game, biking to relaxing in cozy rooms, plenty of blissful experiences awaits couples at Green Bay.
It is also easy to take a day trip to see some of the best wineries in Door County, which is popular among couples and honeymooners.
Green Bay has many state parks and some of the best beaches in Wisconsin to explore.
Most romantic resorts in Green Bay have facilities like comfortable furnishing, in-room dining, spa, and pool.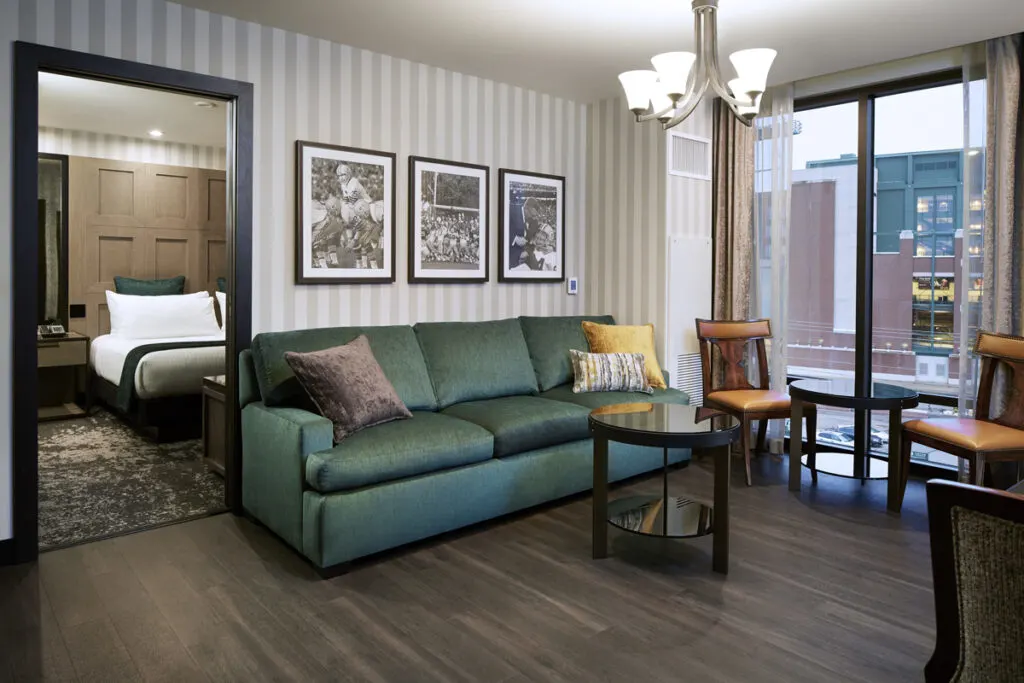 Highlights: Full-service concierge
Imagine catching the excitement of Lambeau Fields right from the comfort of your room!
This is just one of the many fun experiences that Lodge Kohler hotel Green Bay offers to its guests.
Lodge Kohler is one of the best resorts in Green Bay for couples searching for fun and unique Wisconsin vacation ideas.
Located at the center of the lively Titletown, this hotel has spacious rooms and suites with state-of-the-art amenities.
The custom-designed spa-like bathroom enhances the guest experience at Lodge Kohler, and makes it one of the top spa resorts in Wisconsin.
The rooftop bar and restaurant serve scrumptious dishes and have a splendid collection of wines.
The café with an outdoor terrace is perfect for enjoying a breakfast date with your loved one. An in-room dining option is also available for couples seeking privacy.
The hotel has a Spa for experiencing therapeutic massages, and there is also a co-ed sauna and steam room where couples can together enjoy moments of relaxation.
Guests can even rent complimentary e-bikes to pedal around the town with their partners.
In Titletown you can catch a Green Bay Packers game, and seeing a game is one of my favorite things to do in Wisconsin in October. – Book your tickets here
If football isn't your thing, the area is also perfect for winter getaways in Wisconsin as you can go skating here during the winter months.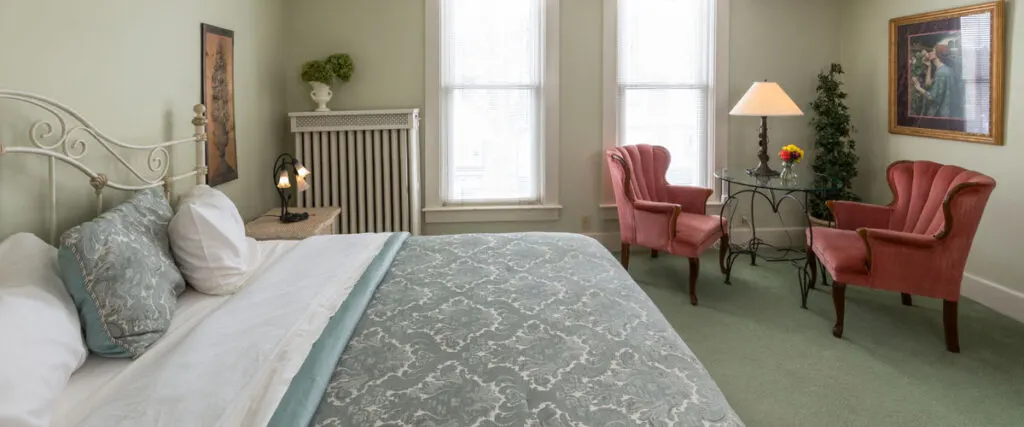 Highlights: Double whirlpool tub in rooms
Wondering where to stay in Green Bay for your wedding night or honeymoon? Look no further than Astor House, one of the most romantic hotels in Wisconsin.
It is the best bed and breakfast Green Bay, WI has to offer to its visitors, and also promises an exceptional and romantic stay.
The gracefully decorated rooms exude a warm and inviting charm, and little details in the room like fresh flowers and wine glasses perfectly set the tone for romance.
Most of the rooms at Astor House have a fireplace and have a double whirlpool tub and for cozying up with your partner.
The hotel offers a delightful breakfast along with freshly brewed coffee served at the parlor. However, honeymooners can get it delivered to the room at their preferred time.
Fox River trail, one of the best mountain bike trails in Wisconsin is near the Astor House.
Couples also enjoy taking a walk in the neighborhood that has historic homes dating back to 1800.
Due in part to its age, the Astor House is considered one of the most haunted hotels in Wisconsin and is said to be haunted by the former owner Doctor Julius Bellin.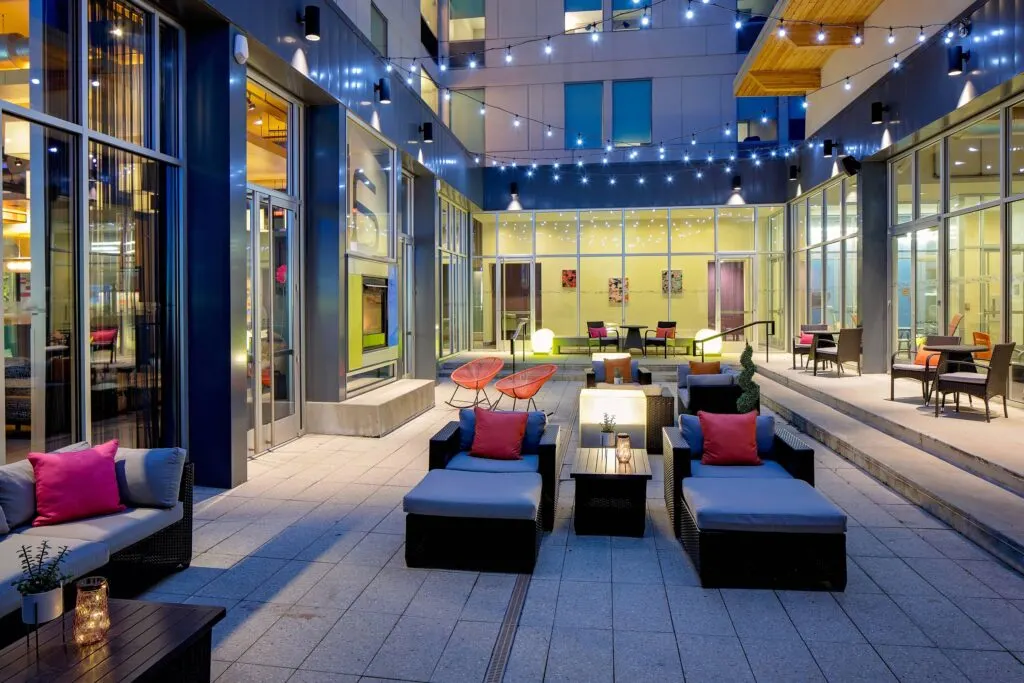 Highlights: On-site bar serving delicious cocktails
As the name suggests, aloft Green Bay is an adorable boutique hotel featuring a loft-inspired design.
Located 2 miles from the Lambeau fields, aloft stands ahead of other Green Bay resorts in terms of comfort.
The resort has rooms with platform beds, LCD TV, walk-in showers, and custom amenities by bliss spa.
This is one of the best hotels in Green Bay, WI for a relaxing stay with your partner. The barbeque facilities and picnic area are great for creating fun memories with your loved one.
aloft also has an indoor pool, whirlpool, and fitness center to keep you engaged.
The on-site bar is popular among guests for its signature cocktails and wines, while the live music and delicious dishes make it perfect for a date night.
---
Short FAQ About the Best Hotels & Resorts in Green Bay, WI
1. What are the best spa resorts in Green Bay?
2. What are the best Green Bay hotels with water parks?
The only hotel in Green Bay with its very own private waterpark is Tundra Lodge.
3. What are the best resorts in downtown Green Bay, Wisconsin?
---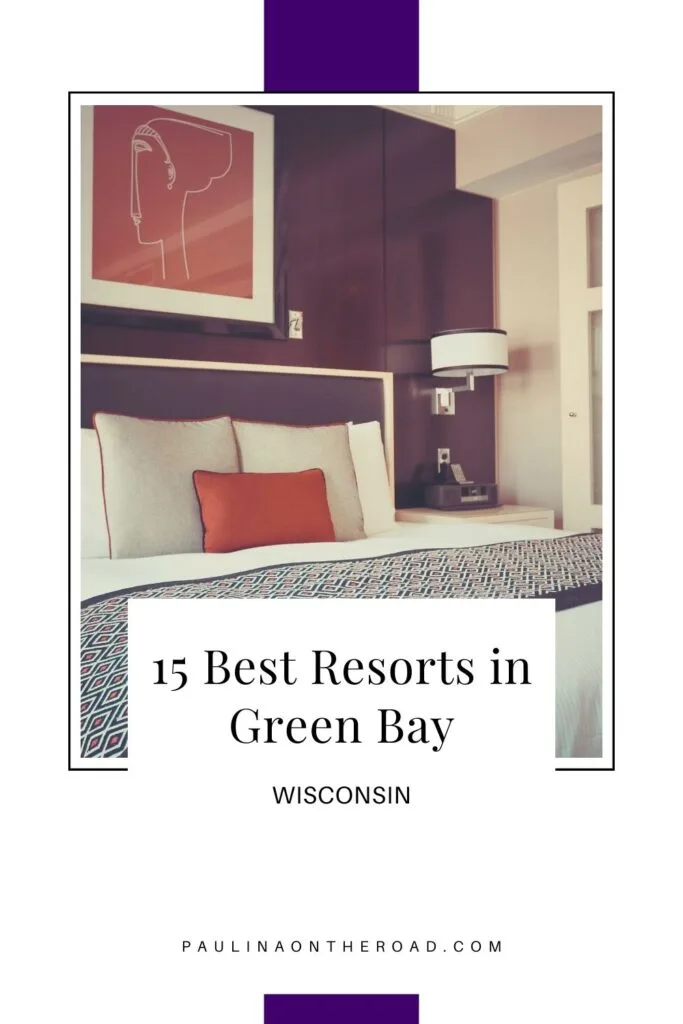 ---
Hola! I am Paulina, a fervent travelette who crossed the Atlantic Ocean by Boat HitchHiking. On my blog, you'll find all the tips to make the most of your holiday. Get ready to enjoy outdoor and sustainable travel like hiking, cycling or sailing. Let's hit the road together!