20 Wonderful Winter Getaways in Wisconsin
The ultimate list with the wonderful weekend getaways in Wisconsin in winter and things to do in Wisconsin during the holidays
Why limit holidays only to summertime? In Wisconsin, there's plenty to see and do all year round, and winter is no exception.
In fact, there is a wide selection of fun activities exclusive to this coldest of seasons, like snow sports, ice fishing, and dog sledding!
Many of Wisconsin's most iconic landscapes look entirely different in the winter, too, with roaring waterfalls frozen still and Apostle Islands' sea caves turning into an icicle-filled scene taken straight from a movie.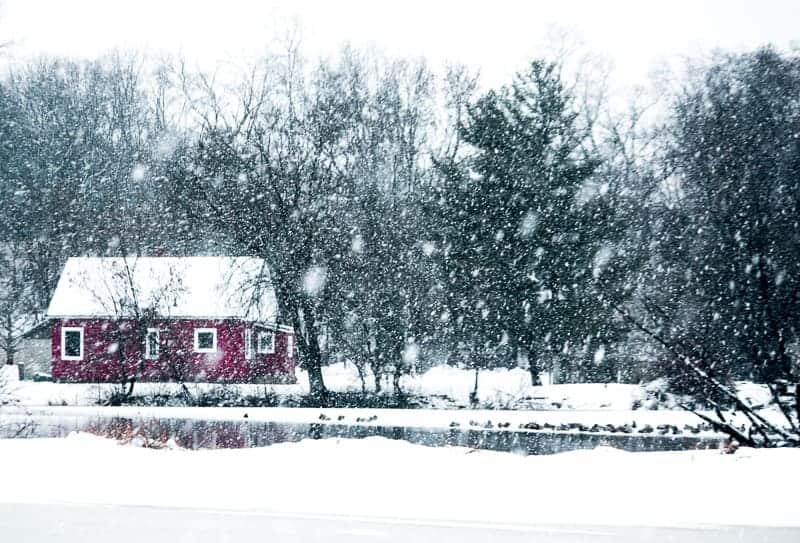 Whether you're looking for a romantic getaway, an off-season family holiday, or you can't wait to hit the slopes and snowy Wisconsin hiking trails: winter in Wisconsin has tons of options on offer.
Thanks to affiliate links, I pay my bills. If you make a purchase through them, I may receive a small commission (for which I'm deeply grateful) at no cost to you. All opinions are always mine. Merci!
Useful Travel Information for Wisconsin
✎ Plan the ultimate Wisconsin road trip (no backtracking!) with the Perfect Wisconsin Road Trip itinerary – Get it here

✈ Book cheap flights to Wisconsin with Skyscanner

✔ Book tours in Wisconsin with Viator

➳ Book holiday and vacation rentals in Wisconsin with VRBO

❖ Rent a car at the best rates with DiscoverCars

☘ Get the best discounted outdoor gear (outlet) at REI.com

$ Get Wisconsin hiking guides and maps at REI.com

✎ Never leave without travel insurance. I get mine at SafetyWing. It is easy to set up, cheap, and reliable.
Romantic Winter Getaways in Wisconsin
1. Stay in a romantic resort in Northern Wisconsin
Winter is a wonderful time to take a moment away from the hustle and bustle of daily life and make time just for yourself and your significant other.
Forget about worries and stress for a couple of days and enjoy a romantic getaway just for the two of you in beautiful northern Wisconsin!
Winter cabins in Wisconsin aren't the only way to spend a quiet holiday. This part of the state offers plenty of quiet resorts where you can hide away together, surrounded by gorgeous lakes and woodland.
Popular hiking destinations in the summer, these resorts are usually much quieter in winter, affording you some much-needed privacy.
Where to stay:
The Country House Resort – Located in the famously beautiful Door County, the resort is hidden away in the village of Sister Bay, surrounded by 27 acres of woodland.
There are plenty of opportunities for taking walks together and enjoying the beautiful views of Sister Bay and the private shoreline. The grounds around the resort are filled with secluded, romantic spots, featuring flower arrangements and fountains.
This is one the best resorts in Door County for a romantic getaway, and one of the most romantic hotels in Wisconsin.
The resort only accommodates adults and teens over the age of 13, in an effort to ensure a quiet and peaceful atmosphere for couples looking to take a break together. – Check rates here
2. Book a spa getaway in Wisconsin
If you feel like truly pampering yourself and your significant other, pick a Wisconsin resort that features a spa for your getaway!
Spas are a great winter-time alternative to traditional holidays, since the weather outside has no effect on your plans and your enjoyment of the stay.
Whether it's -20°C and snowy outside or not, spa treatments are always available – and they're sure to help you relax and bond with your partner during your romantic winter getaways in Wisconsin.
Where to stay:
Delton Grand Resort and Spa – Spa getaways in Wisconsin don't get much better than this. Delton Grand is a condominium resort – meaning you'll have a whole condo to yourselves during your stay, ensuring complete privacy and comfort.
The on-site Rhapsody Spa offers a broad range of treatments for both of you, with package options available.
In addition to the dedicated spa building, the resort also has heated indoor pools and a hot tub you can use. – Check prices here
3. Visit Elkhart Lake
Elkhart Lake is a charming village in Sheboygan County, eastern Wisconsin, surrounded by scenic parks and wildlife areas.
Situated just a two-hour drive from Madison, it's the perfect spot for couples looking to relax in a cozy atmosphere and a popular choice for weekend getaways in Wisconsin.
Whether you're looking for outdoor activities for couples or you simply want to get away from busy city life, Elkhart Lake won't let you down!
Explore the village together to find quaint cafes and unique shopping opportunities – including authentic vintage food and wine shops.
For a more active take on your romantic getaways in Wisconsin, enjoy snow-shoeing, wagon rides, and long walks along the shore of the lake.
If you visit around Christmas time, don't miss the Christmas in the Square event – which transforms the village into a picturesque winter wonderland.
Where to stay:
The Esker Ridge Chalet – There are plenty of romantic cabins in Wisconsin to choose from, and this small chalet is sure to meet your expectations.
It'is far away enough from the town to provide a secluded couples' retreat and create a feeling of complete privacy, but also close enough to ensure the village is well within walking distance.
The chalet is surrounded by scenic woodland, ideal for romantic evening walks together in the snow. It accommodates two guests only, so there won't be any other visitors nearby to disturb your romantic getaway.
4. Do a weekend getaway to Lake Geneva
Lake Geneva is one of Wisconsin's most enticing resort towns, with plenty of winter activities for both couples and families.
As a fun-filled town with an easy-going vibe, Lake Geneva is the site of some of the best weekend getaways in Wisconsin.
Your romantic getaway to Lake Geneva could include visiting one of the many spas in the area, enjoying winter sports together, taking long walks along the shore, and warming up next to a crackling fireplace.
There are even more things to do in Lake Geneva in December, as the town treats visitors to Christmas-themed attractions – including illuminated cruises of the lake, unique shopping experiences, Christmas dinners, and other fun holiday events.
Where to stay:
Cozy Cottages in Lake Geneva – Choosing where to stay in Lake Geneva can get complicated. As a resort town, it's filled with great accommodation options to suit everyone's taste.
For romantic weekend getaways in Wisconsin, consider a cozy cottage for just the two of you.
The bungalow is part of a bed & breakfast, combining the privacy of having the place to yourselves with the comfort of complimentary breakfasts and a wine and cheese welcome.
Each bungalow features a huge bed and a spa tub, so you might end up just not wanting to leave the cottage at all!
5. Stay in a romantic cabin in Bayfield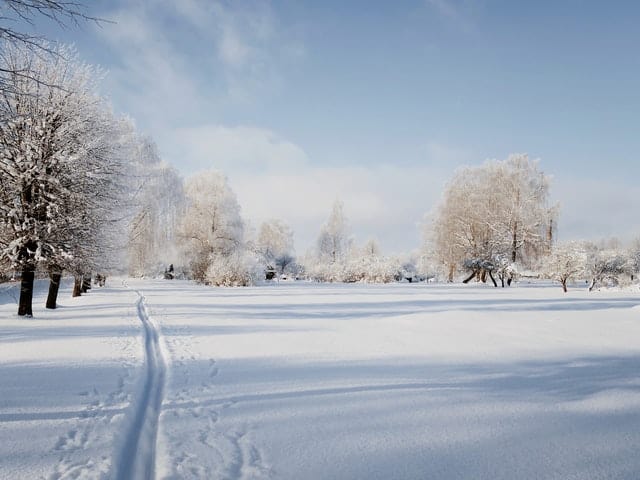 The small town of Bayfield is the access point for the Apostle Islands National Lakeshore, and one of the best spots for winter cabin rentals in Wisconsin.
Bayfield's location and surrounding landscapes make it one of the most scenic romantic cabin getaways in Wisconsin.
Rent a cozy cabin just for the two of you, spend the evenings wrapped up together in a warm blanket, and the days exploring everything the Apostle Islands have to offer.
You can take the ice road to Madeline Island, see the incredible ice caves, and take in the amazing views of the frozen Lake Superior.
For more active couples' fun, go dog sledding at Wolfsong Adventures, enjoy country skiing at Mt. Ashwabay, or take on one of the many snowshoeing and hiking trails in the area.
Where to stay:
Boulderridge Treehouse – Make your cabin getaways in Wisconsin extra special by staying in a cabin that's also a treehouse!
Situated on secure stilts 12 feet above the ground, the cabin features a queen bed in a quaint loft area, a large deck, and a gas fireplace for cozy evenings together.
The interior of the house is just as unique as its construction, with natural elements woven into the design such as genuine driftwood railings and a wall featuring stones collected from Lake Superior.
The ideal place to make some romantic memories together!
Winter getaways in Wisconsin for families
6. Stay on Lower Kaubashine Lake in Hazelhurst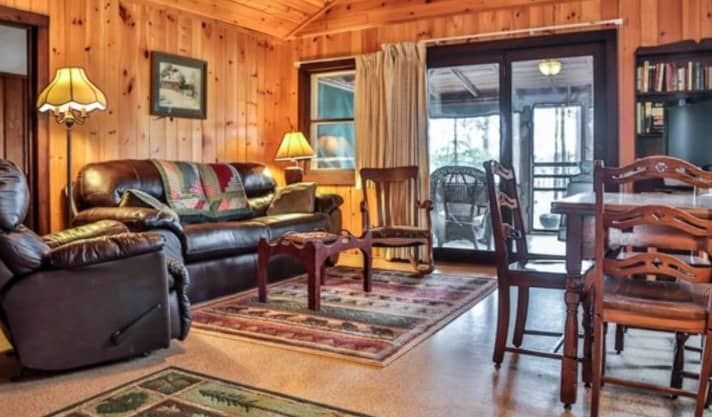 Lower Kaubashine Lake is a hidden gem of a winter destination for families, with tons of outdoor activities to enjoy and scenic landscapes to take in.
There is a range of hiking, snow-shoeing, and skiing opportunities in the area, so this winter getaway is best-suited for active families that enjoy outdoor fun in the snow.
The nearby Northern Highland-American Legion State Forest features several groomed skiing trails, perfect for exploring the local snow-covered woodland.
For more winter fun, head to the Minocqua Winter Park, just 10 miles away, for snow tubing, ice skating, and over 50 miles of cross-country skiing trails.
Kids will also love a visit to the Northwoods Zipline Adventure Tours, only 4.5 miles from Lower Kaubashine Lake.
Where to stay:
Birchwood Cabin at Black's Cliff Resort – This two-bedroom cabin is part of a large lakeside resort, offering winter cabin rentals in Wisconsin with views of the lake and the chance to warm up by an antique wood fireplace.
The quaint, charming cabin features two bedrooms and one bath, accommodating four guests.
When the weather is right, the resort clears a section of the Lower Kaubashine Lake, creating an awesome natural ice rink for skating and ice hockey – so there's no risk of the kids getting bored in the evenings!
7. Go Snow tubing in Sunburst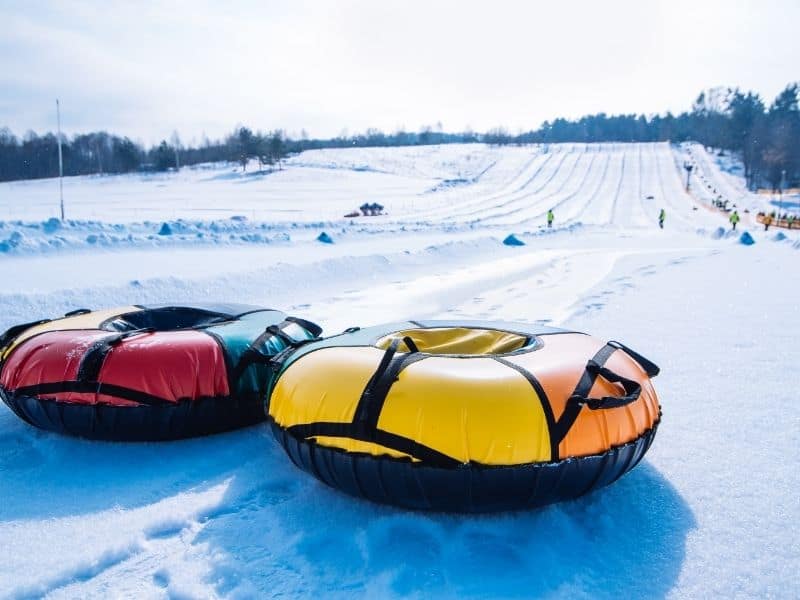 If you're looking for new things to do in Milwaukee in winter, The Sunburst Winter Sports Park in Kewaskum will be a great choice.
It's located only a 45-minute drive from the city – making it the ideal place for a quick family winter getaway.
Sunburst is home to one of the largest snow tubing parks not just in Wisconsin, but in all of the U.S.! This means tons of unmissable fun for the whole family, suitable even for the youngest winter adventurers.
Tubing at Sunburst costs $20 for two hours during weekends or for four hours on weekdays.
It's not the only attraction at the sports park, either. Sunburst also offers 11 skiing and snowboarding runs and two terrain parks, so every member of your family will have access to something they enjoy!
Where to stay:
Waterfront Cottage on Big Cedar Lake – This spacious cottage is located in West Bend, about 10 miles from Sunburst.
With three large bedrooms and two bathrooms, it accommodates six guests.
Your family will feel right at home here, thanks to the welcoming, cozy interior and all necessary amenities, including an indoor fireplace and a dryer.
8. Visit an indoor waterpark in Wisconsin Dells
If your family enjoys waterparks, there's no better place to visit than Wisconsin Dells – the world's Waterpark Capital.
The city features over twenty different parks, including Wisconsin's largest indoor waterpark; the Kalahari Resorts, boasting an impressive 125,000 square feet!
Even in the midst of the coldest Wisconsin winter, the waterparks are an excellent option for having indoor fun together with the family, regardless of the weather outside.
As an added bonus, winter is usually a quieter season in Wisconsin Dells, so the waterparks are not so crowded. Also a great idea when planning a romantic getaway to Wisconsin Dells!
Where to stay:
Glacier Canyon Condo – This two-bedroom, two-bathroom luxury condo sleeps eight.
With this booking, your family gets complimentary access to three indoor waterparks, making it one of the best Airbnbs in Wisconsin Dells for waterpark enthusiasts.
You can reach the waterparks through indoor walkways, without having to step outside, which is especially convenient in the winter. No need to worry about the kids catching a cold!
9. Go snowmobiling in Eagle River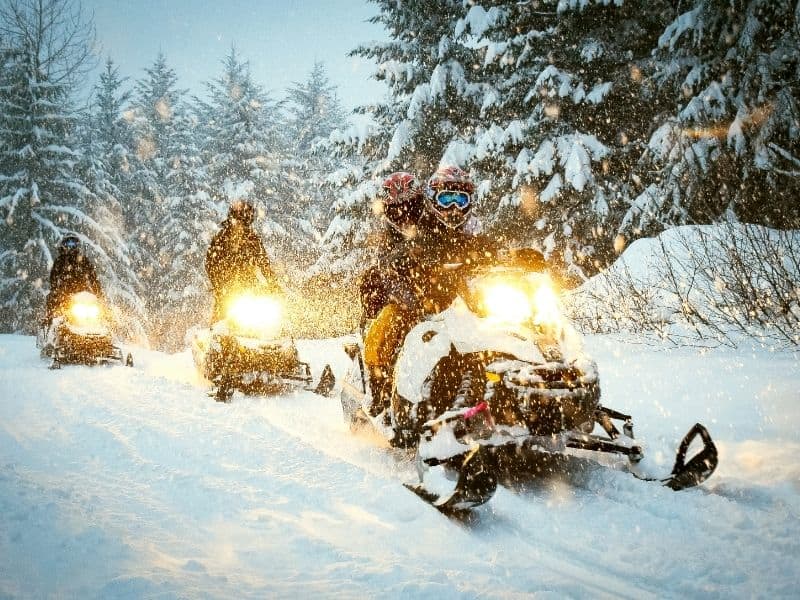 If you haven't tried snowmobiling yet, here's your chance! The whole family will love this activity, and Wisconsin's snowy winters and varied terrain provide the perfect conditions for motor sled fun.
Eagle River in Wisconsin has been officially named the Snowmobile Capital of the World, so there's literally no better place to get your family started on a snowmobiling adventure.
The area features a massive 500 miles of groomed trails, surrounded by a scenic wooded landscape.
If you want to take a break from riding a snowmobile, visit Eagle River's World Snowmobile Headquarters, where the whole family can find out more about the history of the sport.
Where to stay:
Eagle River Paradise on the Water – This cottage is just as beautiful on the outside as it is on inside, combining a cozy feel with a spacious interior that includes an indoor fireplace.
Sleeping eight, it features four bedrooms and a spacious, bright living area, providing views of the river from every room.
The cottage is located in a wooded area just a few minutes' walk from downtown Eagle River and snowmobile rentals, so you won't have to go far to get your family started on the trails!
10. Go skating in Titletown District, Green Bay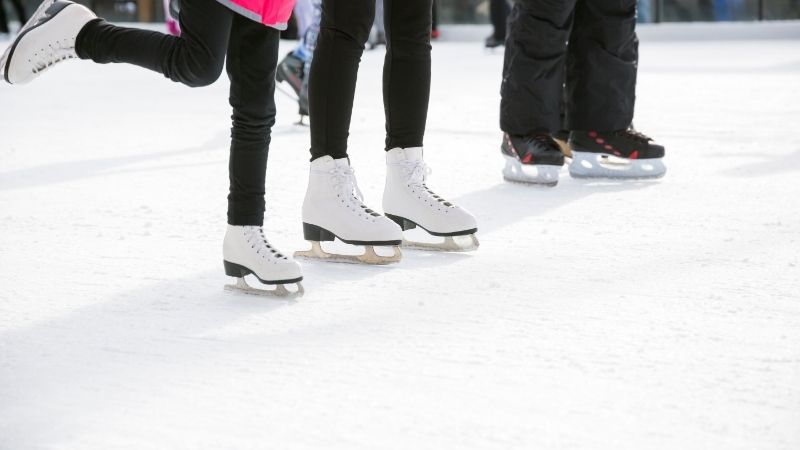 Titletown is a new community development in Green Bay, Wisconsin. In the winter, local businesses and resorts provide plenty of outdoor attractions for families, including a large ice skating rink.
Whether your family is new to skating or you've enjoyed it together before, Titletown's rink is sure to meet your expectations. Skating makes for active and affordable family fun, with rentals at Titletown costing only $5.
As an added attraction, Titletown offers ice bike rentals, combining cycling with ice skating. For the non-skaters in your family, there are also snow tubing opportunities in Titletown.
Where to stay:
Quaint Cottage in Titletown – Situated in a quiet area of Titletown that's nonetheless close to the ice rink and other attractions, the cottage sleeps five guests.
It's fully equipped with everything you could need during your stay, including a fully stocked kitchen.
Alongside the cozy, eclectic main building, there's also a separate game room featuring a large TV, a foosball table, and a bar area.
11. Go dog sledding in Bayfield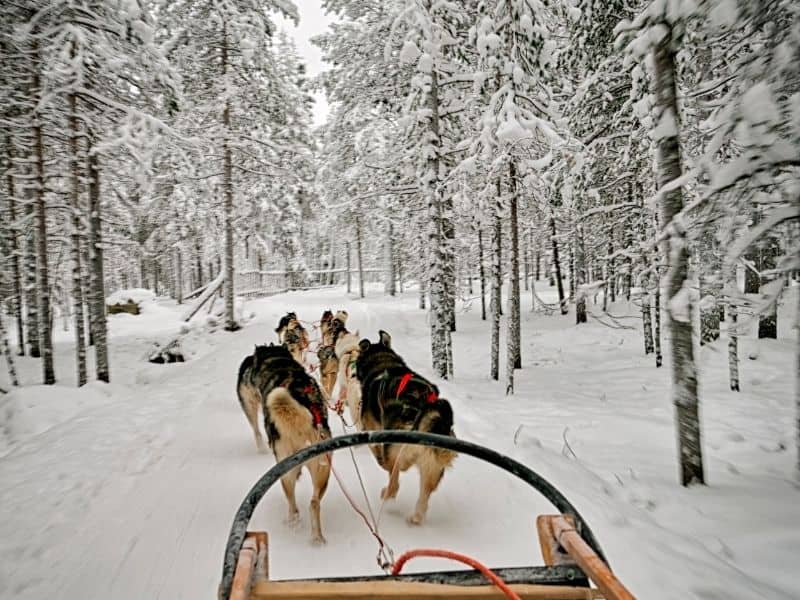 Now for one of the most exciting things to do in Wisconsin in winter. For a truly unforgettable winter experience, head to Wolfsong Adventures in Mushing, near the town of Bayfield in northern Wisconsin.
There, the whole family can take part in a dog sledding adventure!
In one of the best winter weekend getaways in Wisconsin, you can either learn to drive your own team of trained Siberian Huskies, or simply go along for a ride with an experienced guide.
A Morning Dog Sledding Adventure lasts four hours, including time to get to know the dogs and a complimentary hot lunch. Alternatively, you can go for a shorter 2.5-hour afternoon trip.
Either way, you're in for one of the most amazing winter activities in Wisconsin!
Where to stay:
Residence in Bayfield – With this rental, you and your family will have an entire apartment to yourselves. Sleeping four, this spacious accommodation measures 1500 sq ft, with two bedrooms and one bathroom.
There is also a sauna and a private deck with incredible views of Lake Superior!
The apartment is located in Bayfield, a short walk away from shops and restaurants. Wolfsong Adventures is just over 13 miles away.
12. Attend Merrill Winterfest to see sled dog races
Keeping with the canine theme of the previous entry, Wisconsin is also home to sled dog races, with the most popular event taking place in Merrill, Lincoln County.
Attending the annual Merrill Winterfest Sled Dog Race will be fun for the whole family, as the weekend-long event features hundreds of contestants to cheer on!
Interestingly, Merrill Ice Drags are held around the same time (in January). The car races on ice make for an awesome spectator sport.
Where to stay:
Cozy Wood Cabin – The unassuming exterior of this two-bedroom house hides a spacious, cozy interior with a homely feeling. The house sleeps 12, and is located on Lake Alexander near Merrill.
As well as the Winterfest, there are many other winter attractions in the area – such as snowmobile trails and skiing/snowboarding opportunities.
Winter Getaways for Outdoor Lovers
13. Visit the Ice Caves of Apostle Islands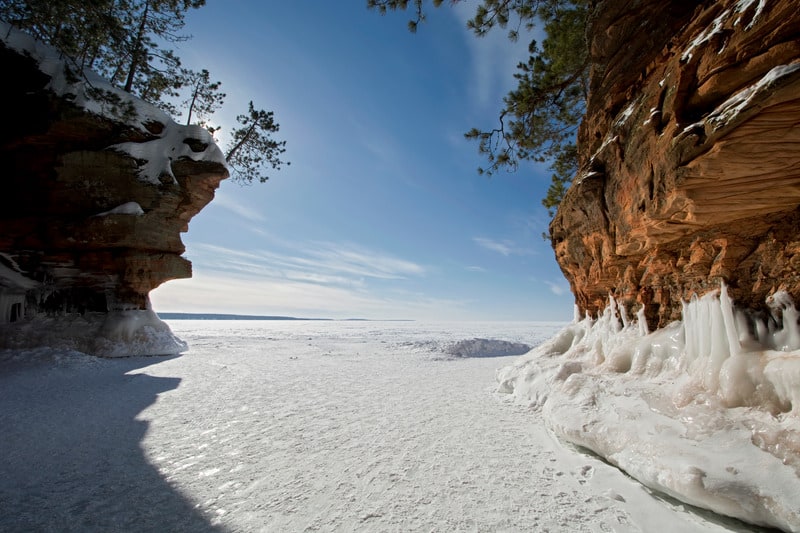 The red sandstone sea caves of Apostle Islands in northern Wisconsin are a popular kayaking destination and a gorgeous sight in the summer. But did you know that in the winter, they turn into an even more spectacular sight?
Given the right conditions (particularly temperature and wind direction), the inner walls and ceilings of the caves become covered in ice formations during the winter.
Visiting the ice caves is a genuinely unforgettable, surreal experience. Don't forget to look down; you should be able to see the bottom of the lake through the frozen water beneath your feet!
Getting to the ice caves is an adventure in itself, as it requires a hike over the top of the frozen Lake Superior.
The trail is not long (measuring about a mile) but it's certainly a unique experience to walk over the largest freshwater lake in the world.
The trail for the ice caves starts at Meyers Beach, 4 miles from the town of Cornucopia and 18 miles from Bayfield.
Before heading out to Apostle Islands in the winter, check the current weather conditions.
These have to be closely monitored for obvious reasons, and park rangers only allow visitors to hike to the caves when it is safe to do so.
As you've probably guessed, the colder the weather, the better the chances that the trail will be open.
Even if you arrive in Apostle Islands to find that the ice caves are closed, there are still plenty of scenic, challenging hiking and snowshoe trails on the islands.
While you're in the area, be sure to check out the Devil's Island Lighthouse, one of the best Wisconsin lighthouses!
Where to stay:
The Wooden Chalet – This lakefront cabin is near the small town of Cornucopia. So, as close to the caves as you can get!
The Airbnb listing is 1.29 acres, 150 feet of Wisconsin River frontage, and a well-equipped, large abode to spread out in.
Several hiking trails start nearby. So, if you're planning a longer, active winter holiday in Apostle Islands, this chaletl will be a great accommodation choice for trips around the area.
14. Winter Camping in Wisconsin
For camping enthusiasts ready for the ultimate challenge, winter camping in Wisconsin is sure to provide plenty of excitement!
With largely unpredictable weather, plenty of snow, and nighttime temperatures often dropping below -20°C (-4°F) in January, Wisconsin winters will really test your skills.
The Peninsula State Park in Door County is a popular winter camping spot, with several campsites available year-round. Some of these include facilities such as fire pits and electricity access, and there are suitable spots for both tents and RVs.
Where to stay:
Creekside Cottage – Before or after heading out into the State Park for some winter camping, you might need a rest at a nearby Airbnb.
This cottage is conveniently located right on the border of Peninsula State Park, close to the trails and campgrounds.
The cottage sleeps six, featuring two bedrooms and 2.5 bathrooms, So, it's a great choice both for couples and larger groups.
It's close to the town of Fish Creek, where you can stock up on essentials before embarking on your winter camping adventure in Wisconsin.
15. Go skiing at Granite Peak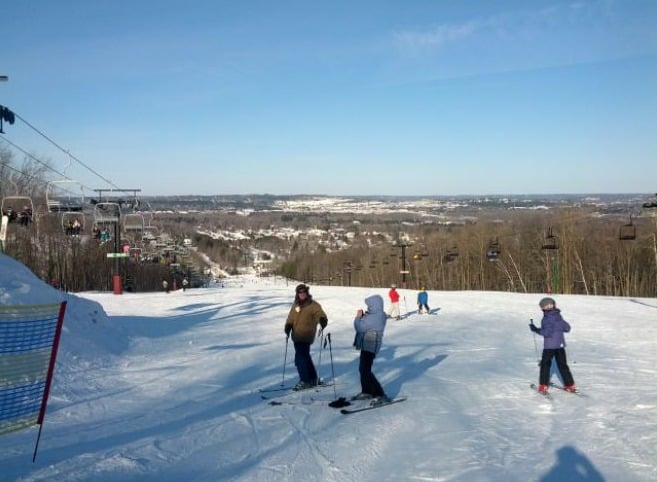 Granite Peak is one of the most popular ski resorts in Wisconsin, in addition to being the largest. So, there's no better place to hit the slopes! To reach Granite Peak, head to the city of Wausau in Marathon County.
Winter sports enthusiasts have 55 trails to enjoy on 200 acres, with an impressive 700 ft vertical drop.
There are also four terrain parks, as well as night skiing, and the option to rent equipment and book lessons for any level of ability.
Where to stay:
The Ski Chalet – This gorgeous, unusual chalet combines a historic exterior with tasteful, modern decor on the inside.
Outfitted with everything you'll need during your skiing holiday in Wisconsin, it's also close to the city of Wausau with its excellent restaurants and plentiful shops.
The house can accommodate eight guests in its four bedrooms, So, bring the whole family along! – Check rates here
16. Do a cross-country ski trail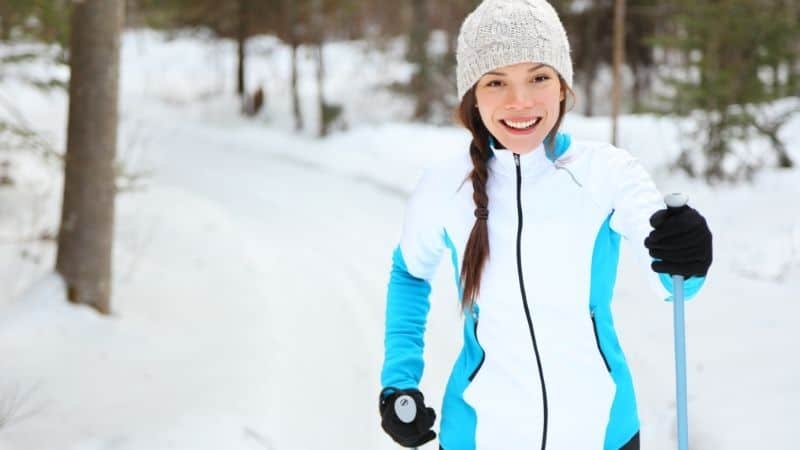 Wisconsin's snowy winters and varied, post-glacial terrain make it an excellent destination for cross-country skiing.
Black River State Forest is one of the most popular choices, boasting almost 24 miles of trails groomed for both classic and skate cross-country skiing. The trails vary in difficulty and include some beginner runs.
There are seven loop trails at Black River, with well-designed connector paths. The area is outfitted with two large parking areas and several shelters along the way.
Where to stay:
Home Away From Home – This spacious, homely Airbnb is located in the village of Warrens – only around 10 miles from the main cross-country ski trailhead at Smerkar Lot.
The house features three bedrooms and can comfortably accommodate up to ten guests, so it's a great choice especially if you're hitting the trails as a larger group.
Alongside the 1400 sq ft house, you'll also get exclusive use of a large backyard with a fire pit, complete with complimentary firewood. – Check rates here
17. Visit frozen waterfalls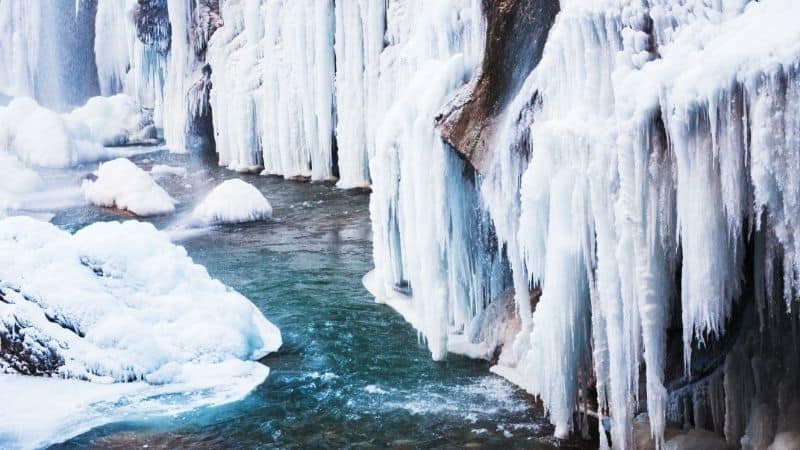 Thanks to its unusual terrain formations left behind by the retreating glacier, Wisconsin is home to a surprising number of waterfalls and rapids.
Though they're a sight to behold any time of year, they can be particularly spectacular in winter. Given that temperatures have been consistently low enough, there's a high likelihood that smaller waterfalls will freeze completely!
Seeing the resulting ice formations makes for a truly unique experience, and hiking to some of the falls can be a fun challenge in the winter and a new twist on winter vacations in Wisconsin.
Copper Falls State Park in northern Wisconsin is a great starting point for this activity, owing to the high concentration of waterfalls and other ice formations in the area.
The park features 17 miles of hiking trails leading to three large waterfalls (Copper Falls, Brownstone, and Red Granite) as well as a series of smaller water features.
Nearby, you'll also find Morgan Falls and Potato Falls, both well worth a visit!
Where to stay:
Lakefront Log Home – This beautiful log cabin is in a remote wooded area ideal for nature- and outdoor lovers, close from Copper Falls State Park.
For shopping and restaurants, you can head to the nearby town of Mellen, just a few minutes' drives away.
The cabin features three bedrooms for eight guests, with a huge bath, a spacious deck, and a large backyard.
The cozy living area features an indoor fireplace, perfect for warming up after a day of hiking. – Check prices here
18. Snowboarding in Cascade Mountain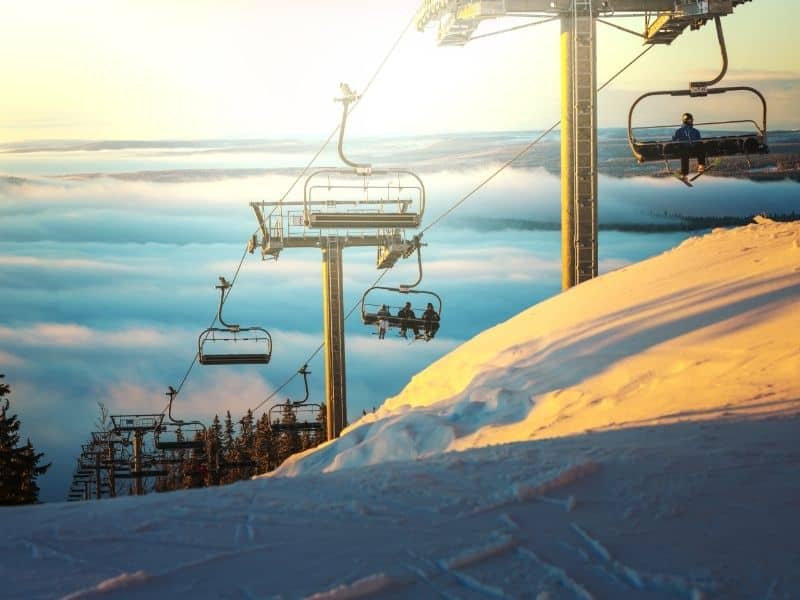 If you're a fan of snowboarding, head to Wisconsin to hit the slopes this winter!
Cascade Mountain near Portage is one of the best winter resorts in Wisconsin, featuring a 460 ft vertical drop and 8.7 miles of slopes serviced by ten lifts.
It's a great option for snowboarders of any level, featuring a total of 47 runs suitable for beginners, intermediates, and experts. It's also one of the most popular spots for skiing in Wisconsin Dells.
As with most other Wisconsin winter resorts, night snowboarding and snow tubing are also available, and the prices are highly affordable, with an 8-hour flex ticket costing around $70.
Where to stay:
Portage 2Bed APT – This apartment is situated in the town of Portage, a few minutes' drive away from Cascade Mountain and a short walk from restaurants and shops.
It features two bedrooms for four guests, with very modern decor and a spacious interior.
With exclusive access to the entire apartment and free parking on the premises, you'll have plenty of freedom and flexibility. – Check rates here
19. Snowshoeing in Peninsula State Park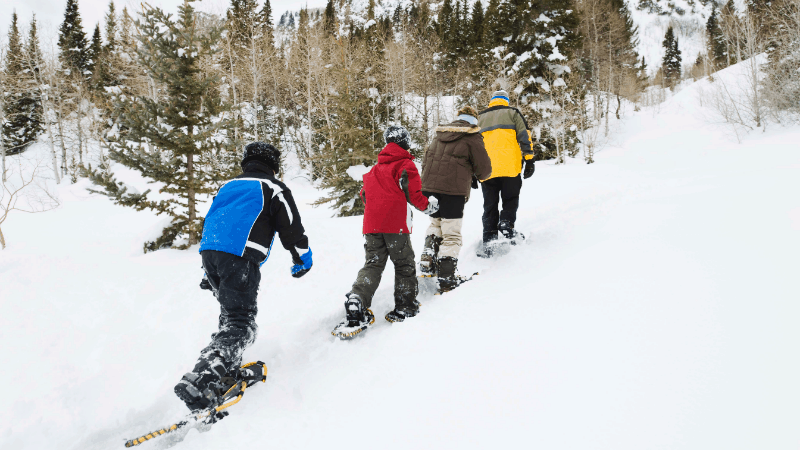 Wisconsin's Door County is famously scenic, drawing in tourists and adventures year-round.
In the winter, it's a particularly enticing destination for snowshoeing, with Peninsula State Park offering several miles of trails winding through the gorgeous, snow-covered forest.
Depending on the conditions, the trails are mostly easy, leading through relatively flat terrain but offering unparalleled views of the bay. Trips to Peninsula State Park make for excellent winter weekend getaways for couples, too!
Where to stay:
Cabin in Ephraim – This small, charming cabin is located in the town of Ephraim, on the outskirts of Peninsula State Park.
It strikes a great balance between putting you in close proximity to shops and restaurants and being close to the park and its snowshoeing trails.
The cozy cabin sleeps four and has a warm, homely decor, a compact kitchen area, and all of the necessary amenities for a relaxing stay. One of the best Door County Airbnbs.
20. Ice Fishing in Hayward
Fishing enthusiasts have likely already heard of Lake Hayward in Sawyer County, Wisconsin. The lake has something of a reputation for being a fishing-favorite, with plenty of Pike, Bluegills, and Crappies.
In the winter, outdoor adventurers can enjoy ice fishing on the lake, preferably with an experienced guide, who can show you the best fishing spots and ensure everybody's safety on ice.
There are plenty of ice fishing guide services in the area, with experts who'll make sure you won't be leaving empty-handed.
There are other lakes in the vicinity, so you can try your luck in several locations during a single trip. While in Hayward, don't forget to visit the Fresh Water Fishing Hall of Fame!
Where to stay:
Log Cabin in Hayward – Complete your ice fishing trip with a stay in a rustic log cabin in the woods.
This particular Airbnb sleeps four and features a kitchenette (where you can prepare your freshly-caught dinner!) and, like all of the best cabins in Wisconsin, a fire pit.
The lake, hiking trailheads, and the town are all a short walk away, so you can relax and explore the area during your stay. – Check prices here
---
Short FAQ about Winter Getaways in Wisconsin
What are the best winter getaways in Wisconsin for families?
Staying on Lower Kaubashine Lake in Hazelhurst, going snow tubing in Sunburst sports park are some of the best winter getaways in Wisconsin for families.
What are cool winter getaways in Wisconsin for couples?
Staying in a romantic cabin, getting a spa treatment, visiting Elkhart Lake are some cool winter getaways in Wisconsin for couples.
Where to go on winter getaways in Midwest?
You can visit Milwaukee, Mackinac Island, Door County etc. which are some of the best winter getaways in Midwest
---
---