A guide on the best romantic getaways in Wisconsin Dells with romantic cabins, water parks, and romantic restaurants
When thinking about romantic getaways for couples, Wisconsin Dells may not be the first place to come to mind.
However, this often-overlooked city is a hidden gem that offers plenty of attractions and activities perfect for holidaying couples, all against the breathtaking backdrop of Wisconsin's rugged natural beauty.
It's also home to some of the most romantic hotels in Wisconsin! So let's dive into the most romantic getaways in Wisconsin Dells!
After all, there's a reason why there's no shortage of romantic movies set in Wisconsin Dells (Love Actually, anyone?).
In this article, I'll introduce you to 15 amazing ideas for couples' getaways in this beautiful area, as well as listing some of the best places to stay in Wisconsin Dells.
Whatever you and your other half are into, there's something here for you!
Thanks to affiliate links, I pay my bills. If you make a purchase through them, I may receive a small commission at no cost to you. As an Amazon Associate I earn from qualifying purchases. All opinions are always mine. Merci!
Useful Travel Information for Wisconsin
✎ Plan the ultimate Wisconsin road trip (no backtracking!) with the Perfect Wisconsin Road Trip itinerary – Buy now for less than 12$

✈ Find the best hotel deals in Wisconsin with Trivago

➳ Book vacation rentals in Wisconsin with VRBO

✔ Book tours in Wisconsin with Viator

☘ Get the best discounted outdoor gear (outlet) at REI.com

$ Get Wisconsin hiking guides and maps at REI.com

✎ Never leave without travel insurance. I get mine at SafetyWing. It is easy to set up, cheap, and reliable.
1. Book a romantic cabin in Wisconsin Dells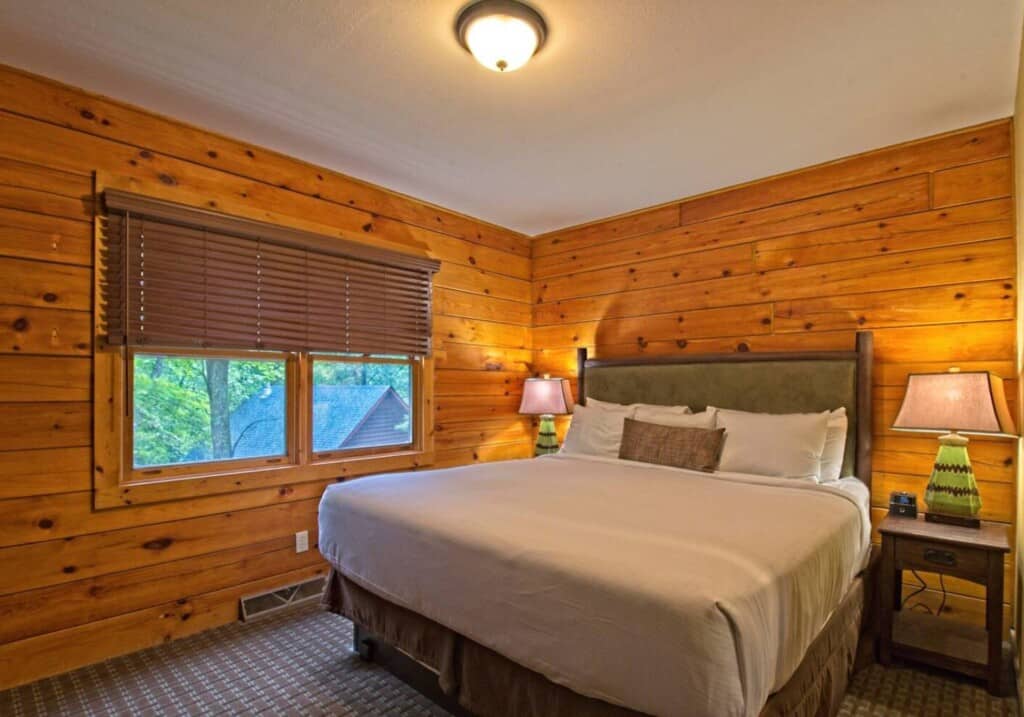 If what matters most is spending time together in a beautiful, quiet location far from everyday troubles, romantic cabin getaways in Wisconsin could be just your thing.
In a cabin, you can simply relax and enjoy each other's company, with no obligations or distractions.
The Wisconsin Dells area offers plenty of hiking opportunities, as well as skiing in the winter. So, if you like getting active together, you won't be disappointed.
In fact, Wisconsin Dells in winter is perfect for other outdoor activities like snowshoeing and snowmobiling.
Head into the city for fine dining, waterparks, and other attractions during the day and relax by the fire together in the evening.
If you're looking for more high-end accommodation, don't worry; there are several luxury cabins in Wisconsin worth recommending or cabin getaways with hot tubs in Wisconsin.
Where to stay
The Christmas Mountain Village resort offers cabins in Wisconsin Dells, but presumably, as a couple looking for some privacy, you might prefer somewhere more remote and secluded.
This cabin on the Baraboo Bluffs, around 30 minutes' driving from downtown Wisconsin Dells, offers just the right balance between privacy and convenience.
You'll have the entire cabin to yourselves, and be able to pick where you want to sleep, either in the lofted bedroom or a queen bed on the ground floor.
Next to the cabin, there is a barn where the owners of the Airbnb keep peacocks, horses, and other animals, which you can visit and feed. The surrounding terrain features private woodland and wildflower prairies ideal for long walks together!
2. Enjoy Indoor Water Parks in Wisconsin Dells
Wisconsin Dells is famous for being the Waterpark Capital of the World, with over 20 parks crammed into one city.
No list of Wisconsin Dells getaways for couples would be complete without mention of waterparks!
Some of the best water parks in Wisconsin Dells offer indoor attractions, which makes them a perfect activity for any time of year and any weather.
Whether it's hot, raining, or snowing outside, you'll have just as much fun!
Visiting a waterpark during your romantic getaway will be an amazing way to unwind, have fun together, and make some wonderful memories as you enjoy the thrill of endless rides and slides.
If you're not up for a longer stay, a waterpark tour in Wisconsin Dells also makes for one of the best day trips from Milwaukee.
There are five large indoor water parks in the city – including the famous Wilderness Resort, America's largest waterpark resort. Try them all and decide for yourselves what's the best waterpark in Wisconsin Dells!
Where to stay
Keeping with the theme of having fun in the water together, why not rent a waterfront condo?
This one is just steps away from the beach on Lake Delton, perfect for splashing about in the water or long romantic walks in the evening!
The building features indoor and outdoor pools and a hot tub, available to guests year-round. The two-bedroom condo has a bright, modern interior where you can rest up together after a long day of waterpark fun.
Several of the best indoor water parks in Wisconsin Dells are located in this area, just a few minutes' drive from the complex.
Alternatively, many of the best Wisconsin Dells resorts have their own waterpark!
Great Wolf Lodge is perfect for couples as it also has an adults-only hot spring.
3. Go Camping in Wisconsin Dells
Most people are surprised to find that there are literally dozens of campsites in Wisconsin Dells, and what a wonderful romantic getaway spot these can be. Swap the 'been there done that' hotel stay for an exciting outdoor adventure together!
Virtually all of the campgrounds in Wisconsin Dells are well-maintained areas with a robust infrastructure. Think of them more as tent- or RV-based resorts rather than the rough, wild campsites you'd find in natural areas.
For example, the Dell Pines Campground just off the US 12 features a heated pool, volleyball courts, free showers, and electric and water sites, all while being surrounded by quiet, scenic woodland.
These campgrounds offer the best of both worlds: you can enjoy the amenities and the surrounding nature together during your romantic getaways in Wisconsin Dells, and retire to your tent at night for complete privacy.
Where to stay
When it comes to campgrounds, Wisconsin Dells has a large selection on offer, but it's a good idea to stop in the city first to resupply and do a bit of sight-seeing (or waterpark hopping!) before heading out to pitch your tent.
For both short and longer stays, consider a beachfront condo on Lake Delton.
This one features a spacious, luxurious interior with a stone fireplace and quartz countertops, and it's located pretty much directly on the beach!
4. Rent an RV near Wisconsin Dells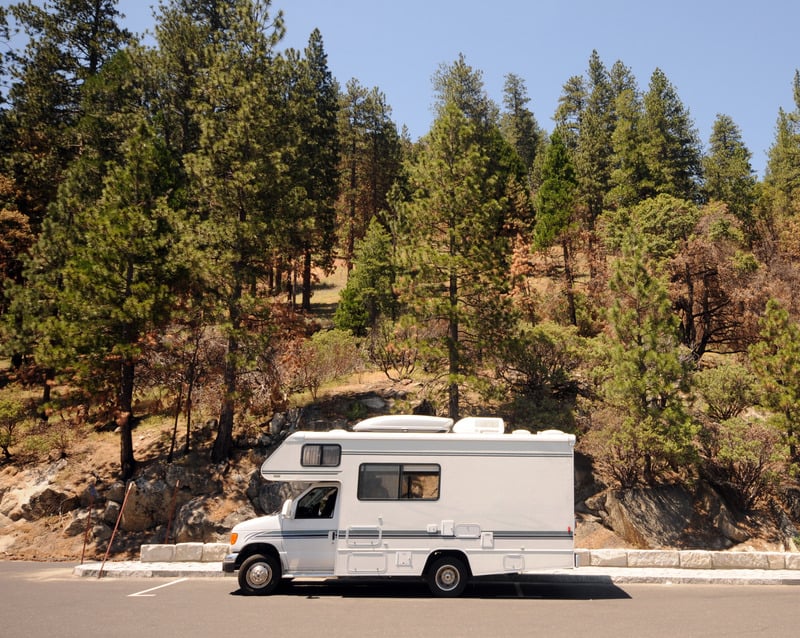 If sleeping in a tent is not your thing, how about renting an RV?
This way, you can make your romantic getaways in Wisconsin Dells more of a road trip. You could even stop at different campsites each night, to see as much of the city's beautiful surroundings as possible.
To rent an RV, head to Outdoorsy.com and look for private rentals in the area. Prices start from as little as around $80 per night for a small, two-person RV. – Check RVs here
If you and your partner are both adventurous types, an RV trip, coupled with some hiking or kayaking, perhaps, could beat even the most romantic hotels in Wisconsin.
Where to stay
If you're looking for a place to stay the night (or several!) during your romantic getaways in Wisconsin Dells, consider the Pine View Cottage.
The cottage is one of the best Airbnbs in Wisconsin Dells, featuring a rustic exterior, a romantic setting, and luxurious interior.
The accommodation is just across the street from the beautiful Lake Delton and features beach access. You can't miss out on a romantic moonlit walk with your significant other while you're here!
5. Enjoy a Casino Night in Wisconsin Dells
Do both of you enjoy the thrill of playing slots, blackjack, or bingo? Are you in it to win it or just looking to have fun?
Either way, a stop at one of the casinos is one of the best things to do in Wisconsin Dells for adults only and if you win, it might just allow you to upgrade your whole romantic getaway!
The most popular gaming destination in Wisconsin Dells is Ho-Chunk Gaming, a Native American casino with over 1,300 slots, live poker, 20 table games, and frequent live music and other entertainment.
The Casino also features a hotel and a restaurant, the famous Copper Oak steakhouse.
Celebrate your winnings with flame-grilled steaks and craft beer, before retiring to your accommodation to celebrate some more!
Where to stay
This beautiful condo, located in a large resort-style complex, is only about a ten-minute drive away from Ho-Chunk Gaming.
The complex features a pool, hot tub, and gym, and the condo itself is bright and spacious with a lovely king bed.
The area is rich in some of the best luxury resorts in Wisconsin, as well as being close to waterparks and other attractions. There's no time for boredom during romantic getaways in Wisconsin Dells!
6. Have a Romantic Dinner in Wisconsin Dells
A romantic dinner is the perfect way to celebrate anniversaries, Valentines, birthdays, or simply the joy of being together.
Whether you're heading into Wisconsin Dells specifically for a foodie trip, or just have the opportunity to enjoy local restaurants while here during your romantic getaways in Wisconsin, you won't be disappointed.
Wisconsin Dells is home to over 100 restaurants, many of them offering local comfort food. It is Wisconsin, after all, so get ready for plenty of cheese! And of course the legendary Wisconsin beer cheese soup!
For fine-dining options, consider Kaminski's Chop House or Double Cut. MACS (a unique mac & cheese restaurant) is a great choice for more relaxed meals together, as is the High Rock Cafe with its quintessentially American cuisine.
Where to stay
Among the many romantic hotels in Wisconsin Dells, Glacier Canyon is definitely one of the best. A beautifully designed resort with luxurious interiors, it has a breathtaking grandeur reminiscent of a Hallmark movie!
In addition to the entire condo you'll have to yourselves, the complex features a gym, pool, and hot tub.
7. Visit Breweries in Wisconsin Dells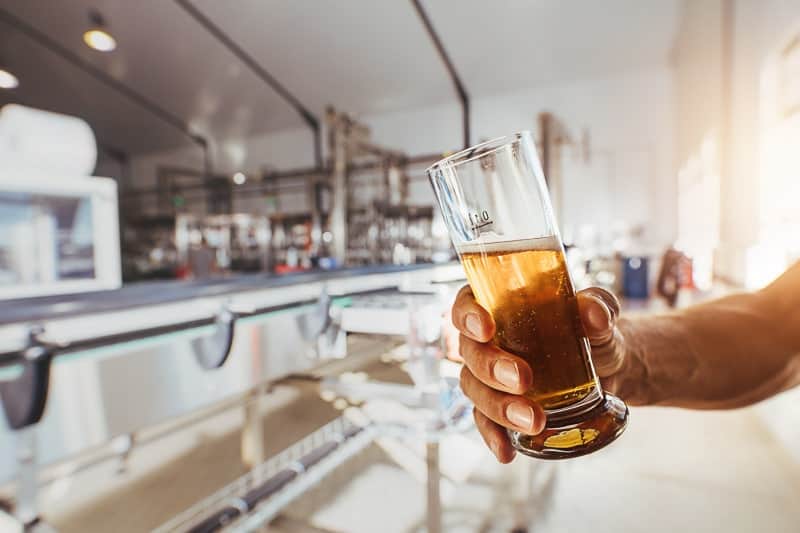 For enthusiasts of great craft beer, a visit to local breweries can make for an excellent addition to romantic getaways in Wisconsin Dells.
There are several breweries near Wisconsin Dells. Two are located right in the city; Port Huron Brewing Company and Moosejaw Pizza & Dells Brewing.
Two additional breweries, Tumbled Rock and Al Ringling Brewing Co., can be found just down the road in Baraboo. Each offers a selection of house crafts and delicious comfort food, ideal for relaxed, romantic weekend trips in Wisconsin.
Where to stay
This lakefront condo at Lighthouse Cove is directly on the shore of Lake Delton, with beach access and an indoor fireplace.
You'll be close to all of the local breweries while having the privacy of renting an entire apartment.
While you're here, you can complement your romantic getaway with a walk along the beach or a fun kayaking trip, especially since the hosts offer free use of their kayaking equipment!
If you prefer a resort, I recommend Delton Oaks Resort, which is one of the best lake resorts in Wisconsin.
8. Rent a boat with your sweetheart
Renting a boat for a few hours to explore Lake Delton is one of the most fun things to do in Wisconsin Dells. Introduce a sense of adventure into your romantic getaway and hit the waves!
There are three boat rental services on Lake Delton; Dells Watersports, Rivers Edge, and Schleef's.
They offer pontoon and fishing boats, as well as kayaks and canoes. If you both enjoy fishing, this would be a perfect opportunity to catch a bass or a northern pike!
Where to stay
This waterfront condo is perfect especially for longer stays when you can truly take advantage of everything it has to offer. The condo is very spacious and bright with a bathroom that features a jetted tub.
The complex includes indoor and outdoor pools, hot tubs, a private beach, and a tennis court, with standards matching the best resorts in Wisconsin Dells.
There's also a large second floor patio with a beautiful view of Lake Delton, the perfect place to have a romantic drink together in the evening and take in the scenery.
9. Go Hiking in Wisconsin Dells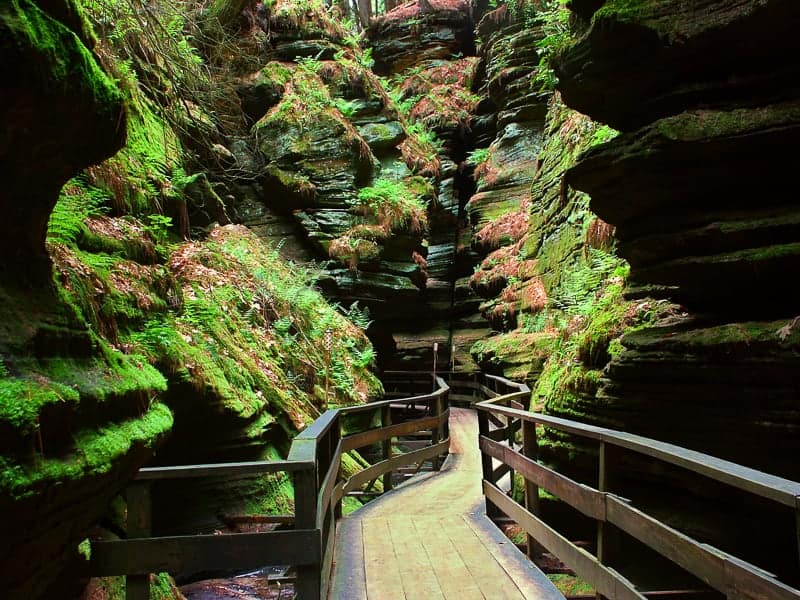 Wisconsin Dells is surrounded by some of the most scenic state parks in Wisconsin, including Mirror Lake, Devil's Lake, and Rocky Arbor State Parks.
Devil's Lake in particular offers some of the best hiking in Wisconsin. Hit the trails together, enjoy the incredible views of the famous Wisconsin bluffs and the calm lake, and make some lovely memories as a couple as you wander the Wisconsin woodland.
Hikes at Devil's Lake vary in difficulty level, ranging from complete beginner to fairly advanced routes.
With a total of 29 miles of trails, including steep inclines, amazing views, portions of the Ice Age National Scenic Trail, and unusual rock formations, you're bound to enjoy yourselves!
Where to stay
With all those miles of trails to conquer ahead of you, you'll need a great place to rest and relax together. Consider renting a waterfront cottage in nearby Baraboo, such as this cozy rental.
An excellent choice for a quaint, accessible, quiet accommodation for all of your romantic getaways in Wisconsin Dells, this country-style cottage is surrounded by private grounds and gardens.
Animal lovers will be glad to hear there will be a chance to meet the neighbors; two Belgian workhorses.
10. Visit a Haunted House in Wisconsin Dells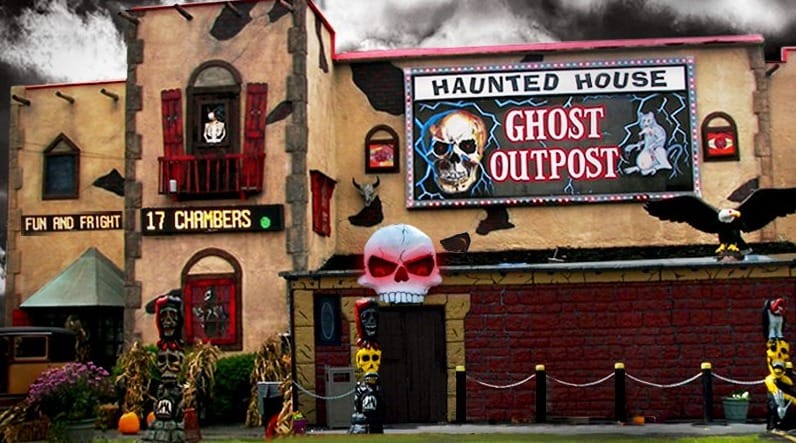 For a bit of fun, and some very real thrills, include a visit to a haunted house in the itinerary of your couples' getaway. There are two haunted houses in Wisconsin Dells; the Haunted Mansion and the Ghost Outpost.
Both of these are meant to be fun experiences. So, don't worry, even if either of you is very easily spooked, you won't end up traumatized! – Check ghost tours here
For a more intense haunted experience, consider taking the Dells Ghost Boat together, departing from Main Landing downtown.
One of the best activities in Wisconsin Dells, it involves a night-time cruise to a haunted canyon.
Upon reaching this destination, you'll need to complete a short hike through a creepy stretch of woods. All while accompanied by guides and actors who make the experience even more intense with ghost stories and interactive performances. – Check tours here
Love spooky haunted houses? Wisconsin Dells is home to some of the best escape rooms in Wisconsin, and some of these scenarios are absolutely horrifying!
Where to stay
How about a room in a historic bed & breakfast to complete your ghost-themed romantic getaway in Wisconsin Dells?
This Airbnb is located in a Colonial Revival-style building dating back to 1901. The room's sumptuous decor is both a reminder of the home's history and a wonderful setting for a quiet romantic evening together.
The bed & breakfast is situated in Baraboo, just a 20-minute drive from Wisconsin Dells.
11. Go Kayaking in Wisconsin Dells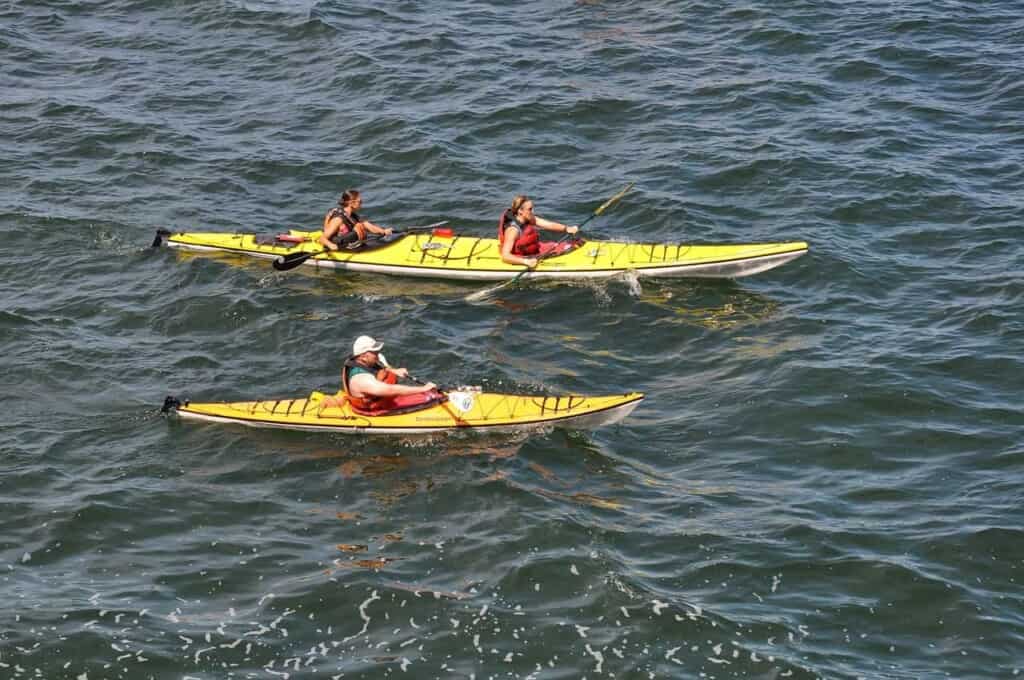 Though Lake Delton and Devil's Lake are far from the biggest lakes in Wisconsin, they offer plenty of attractions for couples on romantic getaways.
Kayaking is one of the most popular activities, and there are plenty of kayak rental services on Lake Delton. It's a great way to explore the area, spend time in an active way, and embark on a wonderful adventure together.
Whether you opt for two single kayaks or one double, you're sure to have a wonderful time kayaking in Wisconsin Dells.
Where to stay
This Airbnb is perhaps the best place to stay in Wisconsin Dells for kayaking enthusiasts, thanks to the proximity of the lake and, most importantly, free use of the hosts' kayaks.
The two-bedroom cabin comes with private beach and lake access. Perfect to just start the day with a kayak excursion. You'll have the whole place to yourselves, complete with romantic views of the lake!
As if this wasn't enough, the Airbnb also comes with an indoor pool, a whirlpool, a sauna and an outdoor pool with waterslide.
12. Go Bowling in Wisconsin Dells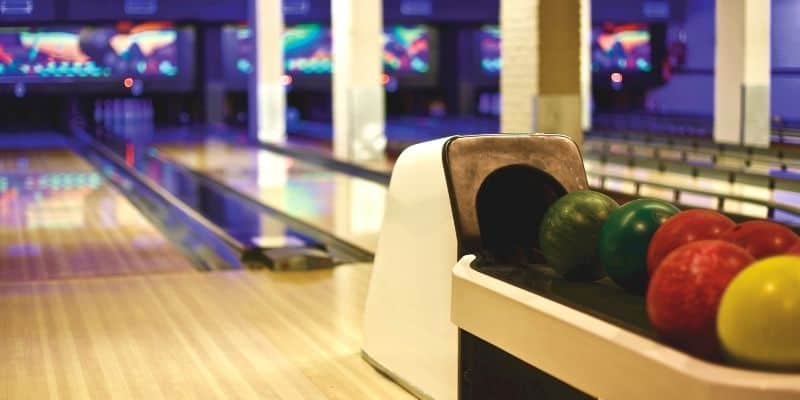 How about an old-fashioned bowling date during your romantic stay in Wisconsin Dells? Bring your special one to Chalet Lanes & Lounge for a fun night of bowling and live music!
Walk-ins are welcome at Chalet Lanes, but it's usually best to make a reservation ahead of time.
Once you've had your fill of fun at the lanes, stop for a drink and a snack at the bar or head out to one of the nearby restaurants for a celebratory meal.
Where to stay
Located in Portage, 20 minutes' driving from Wisconsin Dells, this Lakeside Condo features modern, bright decor and a cozy porch, perfect for having a cup of coffee or a glass of wine together.
Thanks to a separate entrance and complimentary off-road parking, you'll have a full sense of privacy during your romantic getaway.
13. Get a Couples Massage in Wisconsin Dells
If you're both in need of a bit of TLC and relaxation during your couples getaway, Wisconsin Dells can be the perfect place to pamper yourselves and get a romantic couples massage.
For example, the Sundara Inn and Spa offers a broad range of massages with over 15 different options to choose from.
You can make a day of it and compliment your couples massage with other treatments, such as facials or baths. Sundara also offers three packages designed specifically with couples in mind.
These include a bath, a massage, and a facial or body treatment.
Where to stay
For lovebirds looking for a romantic couples massage, Wisconsin Dells has plenty of accommodation options on offer.
If you like the sound of Sundara Inn and Spa, rent an Airbnb condo at Glacier Canyon, a complex that's part of the Wilderness Resort, considered to be the best resort in Wisconsin Dells.
The stylish condo benefits from the traditional decor that brings to mind the style of rustic lodges, but with all the modern fittings you'd expect from a top-rated resort.
Alternatively, you can stat at Sundara Inn & Spa, and have all the amenities right at your fingertips!
Sundara is not only one of the best spa resorts in Wisconsin, but it's also one of the top adult-only resorts in Wisconsin.
Everyone who works there is dedicated to ensuring all guests have a relaxing and rejuvenating stay, making it ideal for a romantic getaway.
14. Go Horseback Riding in Wisconsin Dells
Experiencing something new together can be a wonderful way to deepen your bond and make your romantic getaways in Wisconsin Dells even more memorable. Consider making your trip extra special by enjoying some horseback riding together!
For the best horseback riding in Wisconsin Dells, head to Canyon Creek Riding Stables, just south of Lake Delton, off Wisconsin Dells Parkway.
Even if you've never been on horseback and there's a little bit of fear to overcome, the team at Canyon Creek will have you in the saddle in no time.
Riding at Canyon Creek in Wisconsin Dells is affordable, at $29 per hour, per adult. Think of all the amazing memories you'll make together!
Where to stay
Though there are many great hotels in Wisconsin Dells, why not rent a whole apartment and give yourself the ultimate level of privacy? You're on a romantic couples' trip, after all!
This condo is located on Lake Delton, just a few minutes' drive from Canyon Creek Riding Stables. Situated on the edge of the lake, it features gorgeous views of the water, as well as easy beach access.
Between the beautiful surroundings, the modern open-concept interior, and the stylish spiral staircase, there's a lot to love.
15. Explore Devil's Lake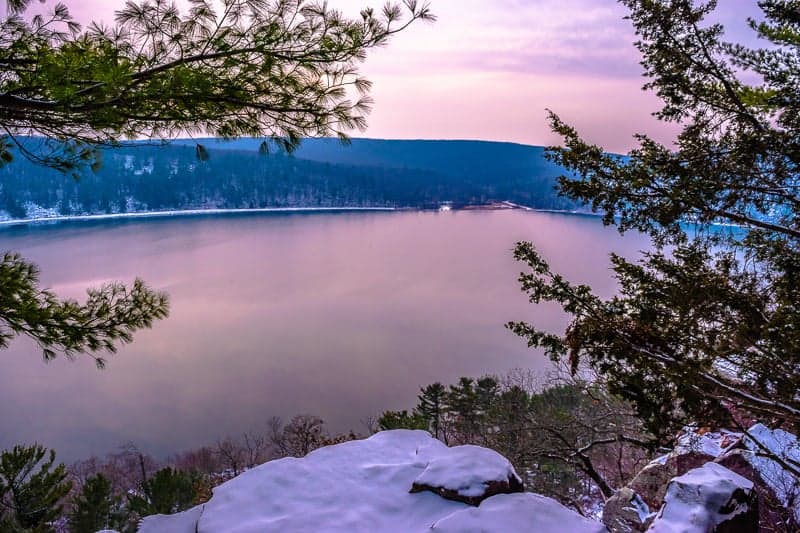 Devil's Lake is one of the most popular places to vacation in Wisconsin, and the most-visited state park in the area. Surprise your special one with a trip to Devil's Lake and see for yourselves what all the fuss is about!
With two large sandy beaches, 29 miles of hiking and biking trails, kayaking, fishing, hunting, and more, there's always something to do at Devil's Lake.
For more unique experiences, consider going scuba diving or rock climbing. or, if you're more of a leisurely type, relax on the beach and enjoy a swim in the lake together.
Devil's Lake State Park is worth visiting in the winter as well, when you can go skiing or snowshoeing together.
And let's not forget the gorgeous scenery. The dazzlingly blue lake is surrounded by varied, post-glacial, wooded terrain that's sure to take your breath away. You could hardly wish for a more scenic, romantic backdrop to your couples' getaway!
There is no bad time to visit, either! Every time of year offers something unique. In spring you get beautiful flowers in bloom, summer is great for hiking due to longer days, autumn brings out some of the best fall colors in Wisconsin, and winter offers stunning views of the frozen lake!
Where to stay
Since it's definitely worth booking a longer stay to make sure you explore everything Devil's Lake has to offer, consider renting a small house.
West Bluff View in Baraboo is a great recommendation, with a 'home away from home' feel and a relaxing atmosphere. Since you'll have the whole house to yourselves, there's plenty of privacy and comfort to look forward to.
The house is located only a mile north of Devil's Lake, close to all of the best activities in the area. There's also a fire pit in the yard, where you can spend long romantic nights after each day of fun at the lake.
---
Short FAQ about a couples getaway in Wisconsin Dells
What are romantic cabins in Wisconsin Dells?
The Christmas Mountain Village resort, Champagne Chalet at Spring Brook Resort, Ultimate Rustic Retreat at Spring Brook Resort are some of best romantic cabins in Wisconsin Dells.
What are the most romantic hotels in Wisconsin Dells?
Log Gables, Glacier Canyon Resort and Black Hawk Motel and Suites are some of the most romantic hotels in Wisconsin Dells.
Where to get couples massage in Wisconsin Dells?
Massage R Us and The Dells Spa are great spas for taking couples massage in Wisconsin Dells.
---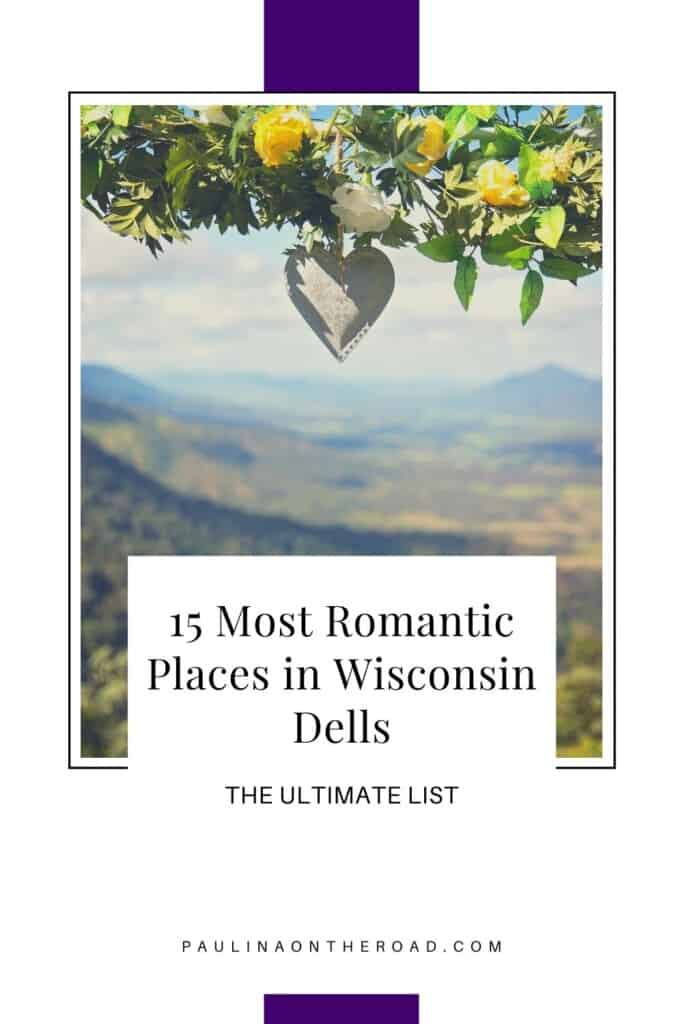 ---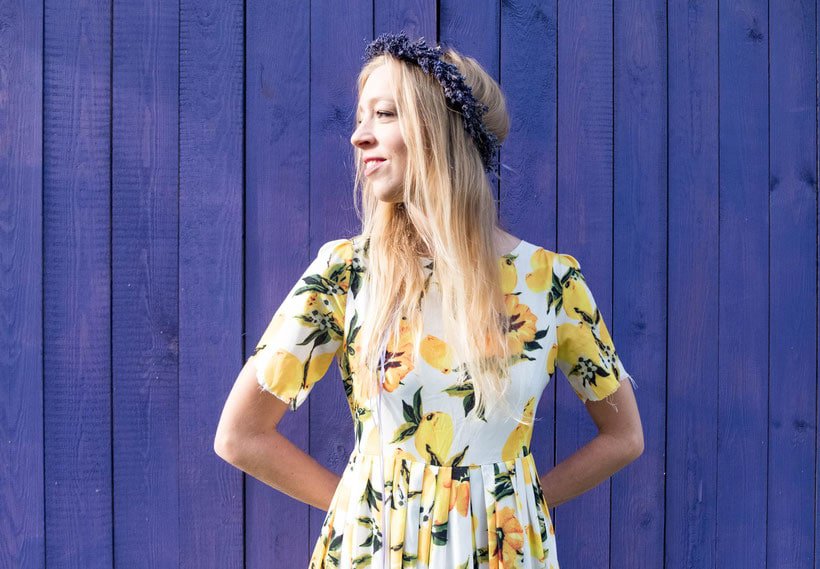 Hola! I am Paulina, a fervent travelette who crossed the Atlantic Ocean by Boat HitchHiking. On my blog, you'll find all the tips to make the most of your holiday. Get ready to enjoy outdoor and sustainable travel like hiking, cycling or sailing. Let's hit the road together!