Guide to the most romantic Wisconsin Dells resorts for couples looking to enjoy a romantic getaway in Wisconsin Dells
Wisconsin Dells is a popular destination in Wisconsin for families due to its reputation as the Waterpark Capital of the World.
But it's also a great place for couples, and there are many fun romantic activities to enjoy and romantic hotels in Wisconsin Dells to make the experience extra special.
Plus, who says that waterparks aren't for adults?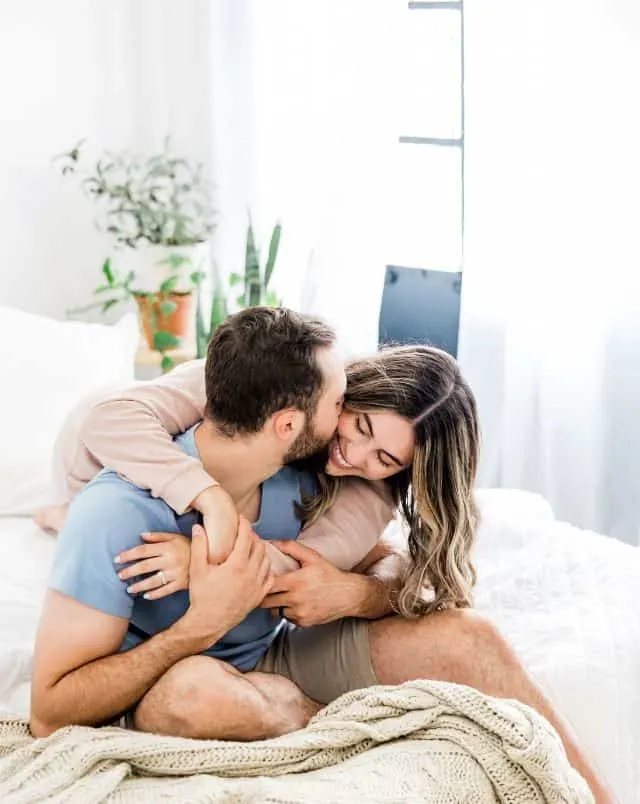 I've put together a list of the most romantic Wisconsin Dells resorts to help you choose the best option for you and your partner during your stay.
This guide will help you find the ideal Wisconsin Dells hotel for couples for you, whether you want one full of amenities, something close to nature, or, of course, a waterpark!
This blog is supported by you, dear reader. If you purchase through a link, I earn a small commission. As an Amazon Affiliate, I earn from qualifying purchases.
Top resources to travel Wisconsin
✎ Plan the ultimate Wisconsin road trip (no backtracking!) with the Perfect Wisconsin Road Trip itinerary – Buy now for less than 12$

✈ Find the best hotel deals in Wisconsin with Trivago

➳ Book vacation rentals in Wisconsin with VRBO

✔ Book tours in Wisconsin with Viator

☘ Get the best discounted outdoor gear (outlet) at REI.com

$ Get Wisconsin hiking guides and maps at REI.com

✎ Never leave without travel insurance. I get mine at SafetyWing. It is easy to set up, cheap, and reliable.
Overview: Top 5 Romantic Hotels in Wisconsin Dells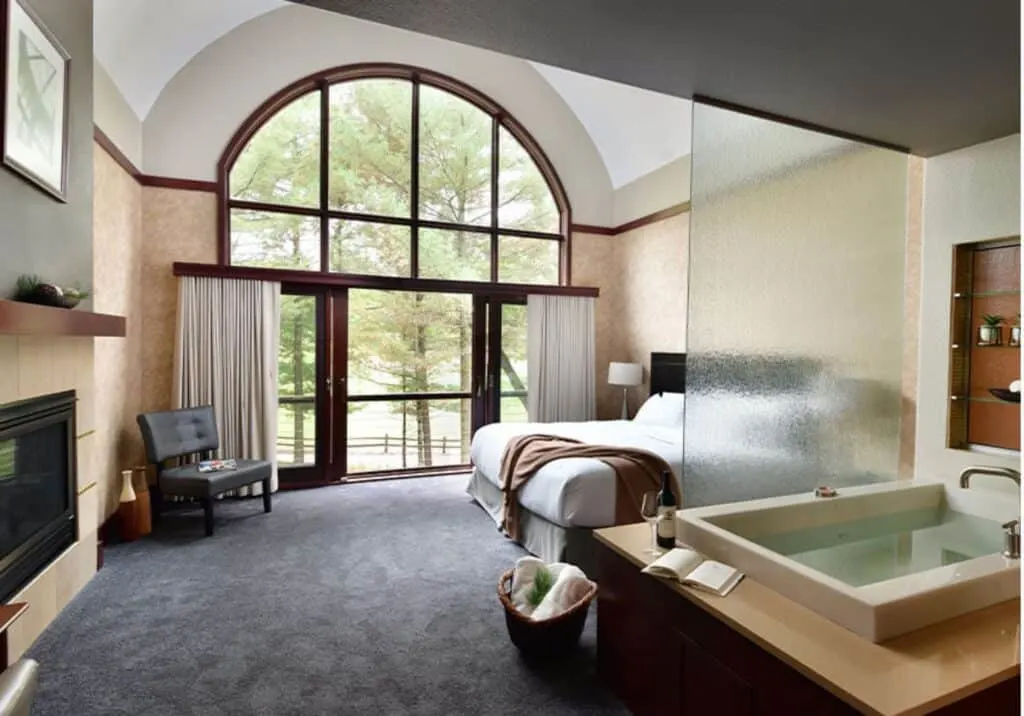 Highlights:
Located in central Wisconsin Dells
Adjacent to the Wild Rock Golf Club
Great fitness facilities
As the name might suggest, the Sundara Inn & Spa is one of the top spa resorts in Wisconsin, making it ideal for a relaxing and romantic getaway.
In a busy world, it is also great to have the opportunity to find your inner child alongside your partner.
And with its central location, you can easily access the Kalahari Indoor Waterpark and Noah's Ark Waterpark. Get your adrenaline pumping together on the most extreme slides in the Dells.
Alternatively, this Wisconsin Dells couples hotel is also a great chance to try something new.
It is a short walk from the Wild Rock Golf Club, a calm and relaxing place to teach your partner how to play golf.
However you spend your daytime, Sundara Inn & Spa has all the great touches you would expect from great romantic hotels in Wisconsin Dells.
What could be more romantic than relaxing with your partner in the orange glow from the wood-burning fireplace that each room has?
This Wisconsin Dells couples hotel is perfect for you to feel healthy and rejuvenated again to revamp your relationship.
All public spaces at Sundara Inn & Spa are quiet spaces to ensure guests are as relaxed as possible and on top of that, Sundara is one of the most serene day spas in Wisconsin.
Sundara is one of the top adults-only hotels in Wisconsin, and all guests of the hotel and spa MUST be 18 or older.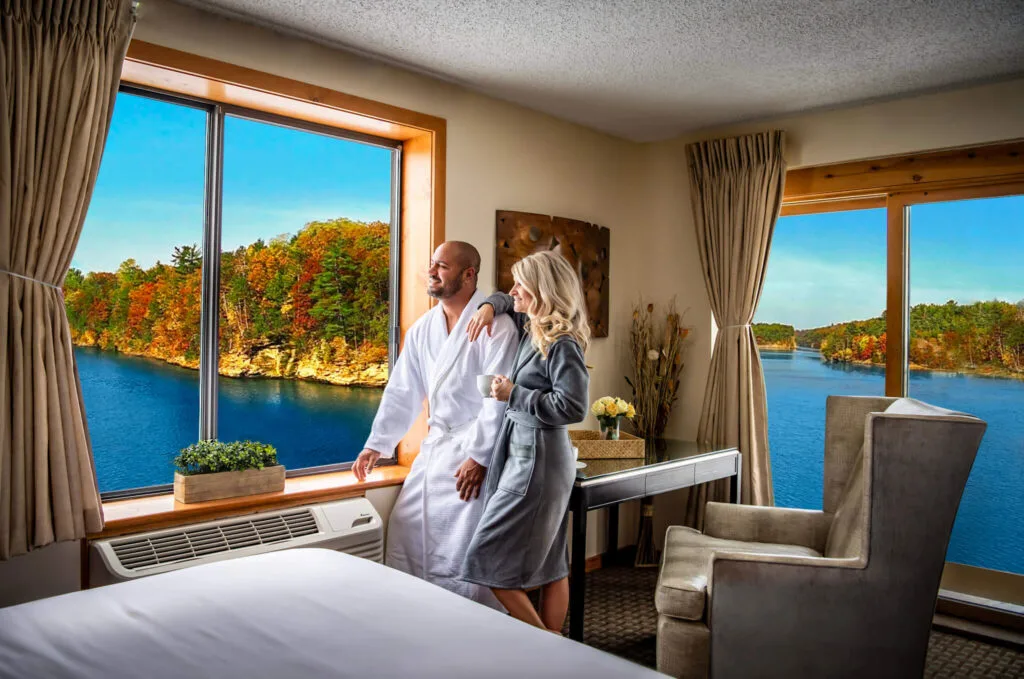 Highlights:
Charming views of the Wisconsin River
Outdoor pool with cabanas and sun loungers available for free
On-site river activities are available
I think the VUE Boutique Hotel has the most romantic room option of all the romantic hotels in Wisconsin Dells I have included on this list.
Their suite is a large stylish room with a king-sized bed, balcony, and a picture-perfect view over the Wisconsin River.
Vue Boutique Hotel also has a unique option among the other Wisconsin Dells romantic hotels.
You can even organize a Wisconsin Dells couples retreat with your friends by renting their condo for a week. This is a large self-contained house that can sleep up to 17 people.
This boathouse would not be complete without the available river activities to maximize the enjoyment you and your partner can get from the amazing location.
You can share a rowing boat or canoe with your partner to explore the river or borrow fishing equipment.
This is considered one of the most romantic hotels in Wisconsin and for good reason! VUE Boutique Hotel is perfect for your next romantic getaway!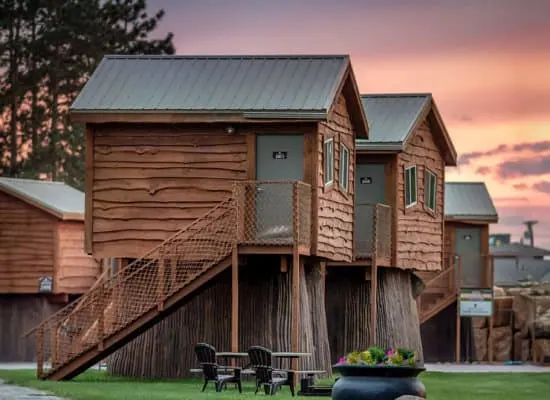 Highlights:
Rural location with a private beach
Winter activities are available nearby
A great opportunity to experience Wisconsin's natural beauty
If you are a couple that loves to be active together, then Natura Treescape Resort may be at the top of your list of Wisconsin Dells resorts for couples.
The expert reception staff can help you with hiking and biking in the area and can help you to arrange an eco-tour.
If you are lucky enough to visit in winter, downhill and cross-country skiing are available nearby.
This hotel also has some great spa facilities where you can share quality time relaxing with your partner.
They have two hot tubs and a sauna which are free to use whenever you want and some would say this is one of the best Wisconsin Dells cabins with hot tubs.
Outdoor relaxation is also available because this Wisconsin Dells for couples resort has a firepit for all guests to keep warm next to.
The things to do in Wisconsin Dells only make for half of your romantic getaway. You also need somewhere comfortable to relax in.
All guests at Natura Treescape Resort stay in a self-contained hut or lodge, so other guests won't disturb you.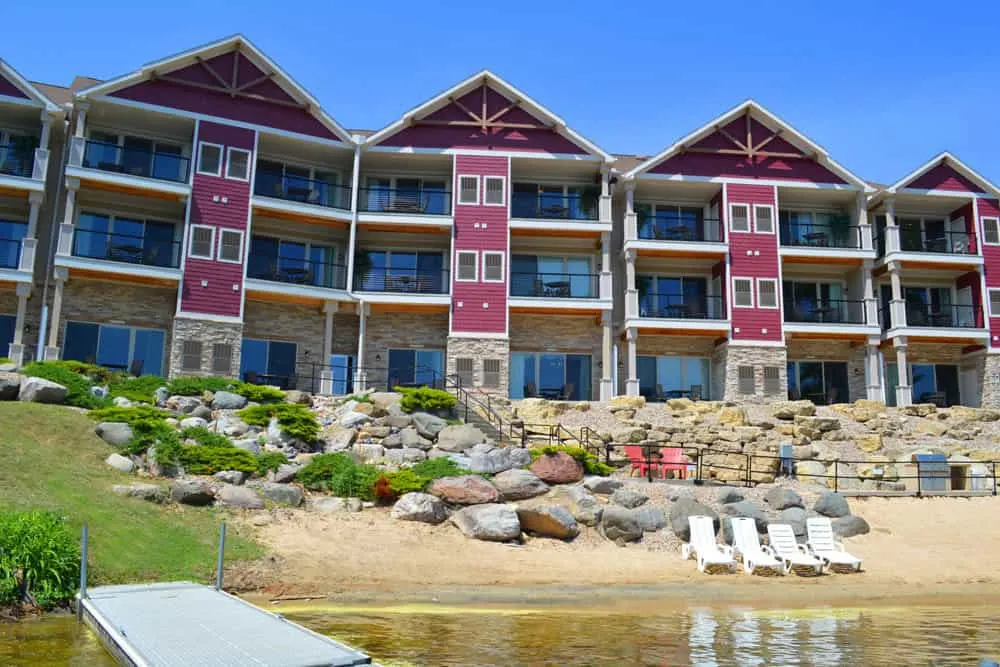 Highlights:
The three-and-a-half-star resort combines luxury and value
Located on the west bank of Lake Delton
Laundry facilities are included
Delton Grand Resort & Spa has a stunning and serene location, fitting perfectly in a list of romantic hotels in Wisconsin Dells.
I love the quiet beachfront location on the banks of Lake Delton. Guests can swim with their partners in the clear waters before drying out on the soft sand and basking in the sun.
This romantic Wisconsin Dells place to stay does justice to its wonderful location. With just 55 rooms, you will be in a small community dedicated to relaxation.
When you want time alone with your partner, you can enjoy the views from your room's balcony and private dining area.
Your stay in romantic places in Wisconsin Dells also needs some excitement. A free casino shuttle runs throughout the day, so you and your partner can try your luck at the tables or slot machines.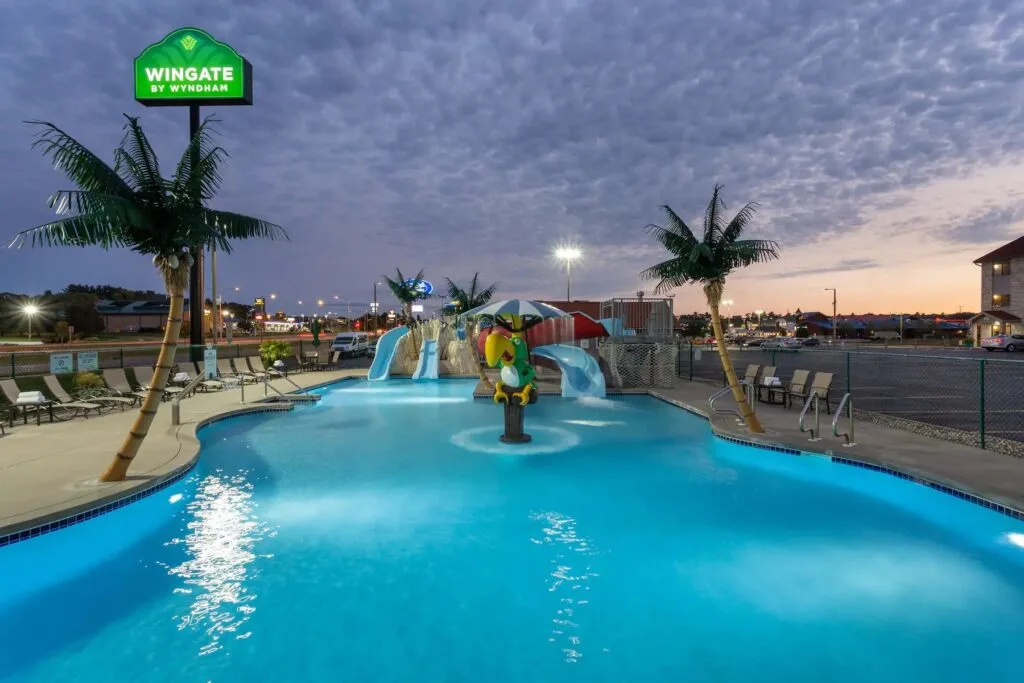 Highlights:
Located in the Wisconsin Dells Shopping District
Recently refurbished
In the heart of Wisconsin Dells Shopping District, the Wingate is one of the many superb romantic resorts in Wisconsin Dells.
Many couples will love the nearby Outlets at The Dells, where you can spend a day choosing new outfits and enjoying all your favorite brands with your partner.
The rooms were refurbished in 2019, making them ideal for romantic getaways in Wisconsin Dells.
Many couples choose the suite, which comes with a king-sized bed, fireplace, and a large bath that you could definitely share with your partner.
Couples especially enjoy that all walls are sound insulated, and therefore you won't have to worry about getting disturbed.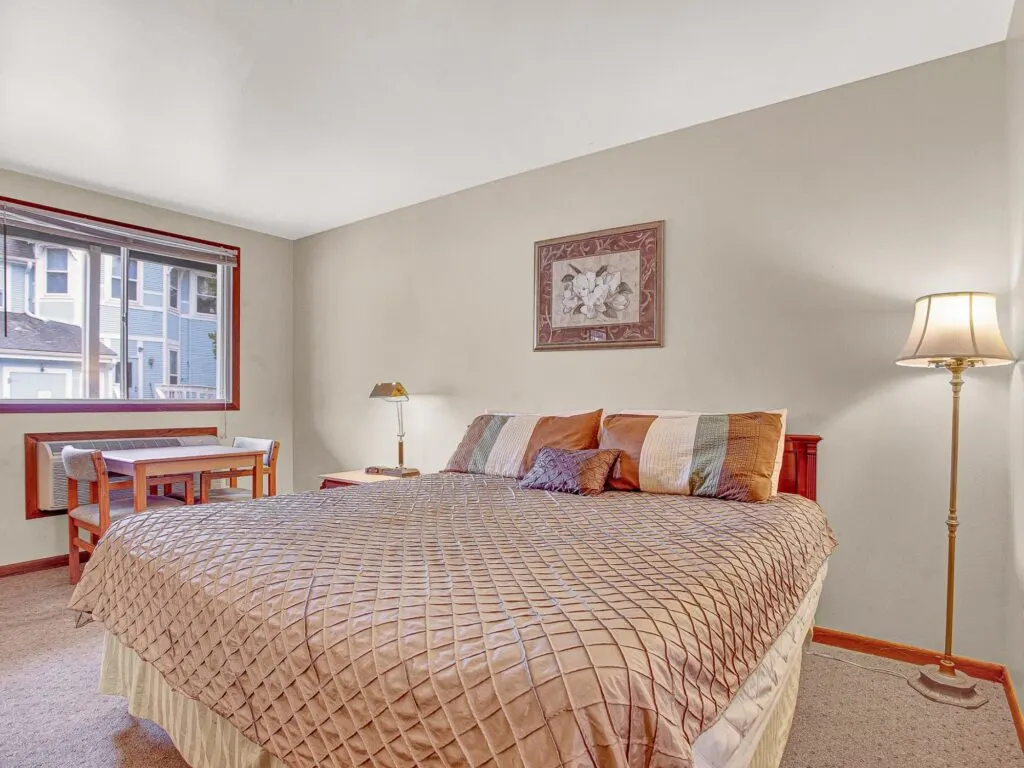 Highlights:
The option for couples with a smaller budget
Free buffet breakfast available
All rooms have 40-inch TVs with streaming services available
The White Rose Inns & Motel is one of the most popular best Wisconsin Dells resorts for weddings and honeymoons.
This Wisconsin Dells accommodation offers value options combined with fantastic convenience. They are located near a train station, and the front-desk staff can assist with booking tours and event tickets.
Like most romantic hotels in Wisconsin Dells, breakfast is included. However, you may need to look outside the hotel for a romantic meal or date night.
Luckily, the White Rose is a short walk from the main Wisconsin Dells strip, where you can try out beers from some of the top breweries in Wisconsin and try the local cuisine.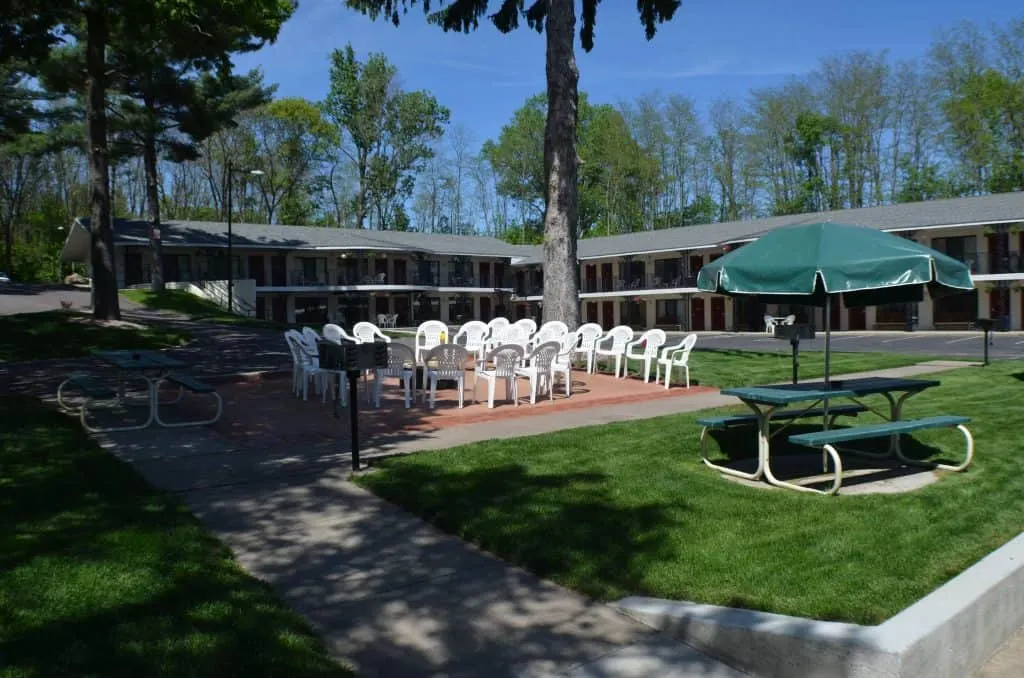 Highlights:
A high-quality option that is ideal for smaller budgets
Located on the main Wisconsin Dells strip
Great amenities, including a pool and laundry
Ambers Inn & Suites is a chance to reconnect with Wisconsin Dells as it was when you visited as a child.
It is modeled around the old-style romantic hotels in Wisconsin Dells, from a time when people would drive up to the city's motels and relax in the midwestern comfort.
As you would expect from its appearance, the staff are friendly and helpful and will show you the best places to enjoy a romantic meal or walk in nature.
Appropriately, the Ambers Inn & Suites is located ideally to enjoy some of the traditional highlights of Wisconsin Dells. It is located near Wisconsin hiking trails, just a 2-minute drive from Deer Park.
It is also close to the German Glockenspiel, a charming Bavarian clock. This is the perfect location to ask a local to photograph you and your partner or organize a photoshoot.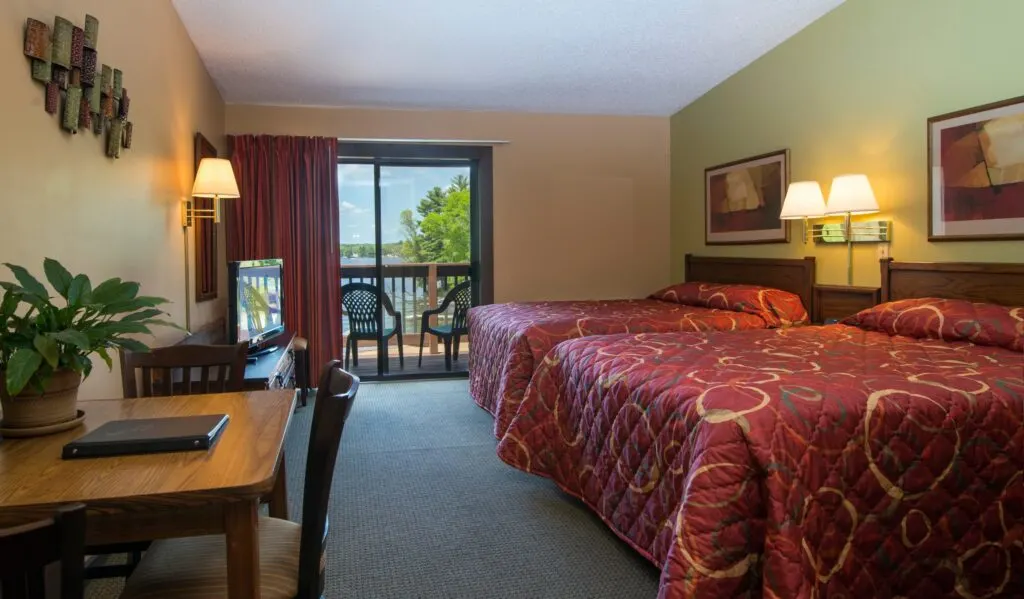 Highlights:
Stunning location on Lake Delton with a private beach
Pet-friendly
Hot tub available
Baker's Sunset Bay Resort is one of the budget romantic hotels in Wisconsin Dells located within the city's entertainment district. There is so much to do here during your romantic getaway.
If you want to enjoy the slides together, you can head to Noah's Ark Waterpark and Kalahari Indoor Waterpark. Become a kid again and challenge your partner to ride the tallest slide.
A more sophisticated evening is available because of the close location to the Palace Theatre and the Crystal Grand Music Theatre.
Here, you can catch the shows you and your partner have dreamt of watching together.
When the temperature drops, Baker's Sunset Bay Resort becomes the perfect accommodation for winter getaways in Wisconsin.
You can easily access the Christmas Mountain ski resort, where you can form a great connection by learning how to ski or snowboard together. This is one of the top ski resorts in Wisconsin.
If you are feeling competitive, you can race each other down the mountain snow tubing. All in all, one of the best western Wisconsin resorts.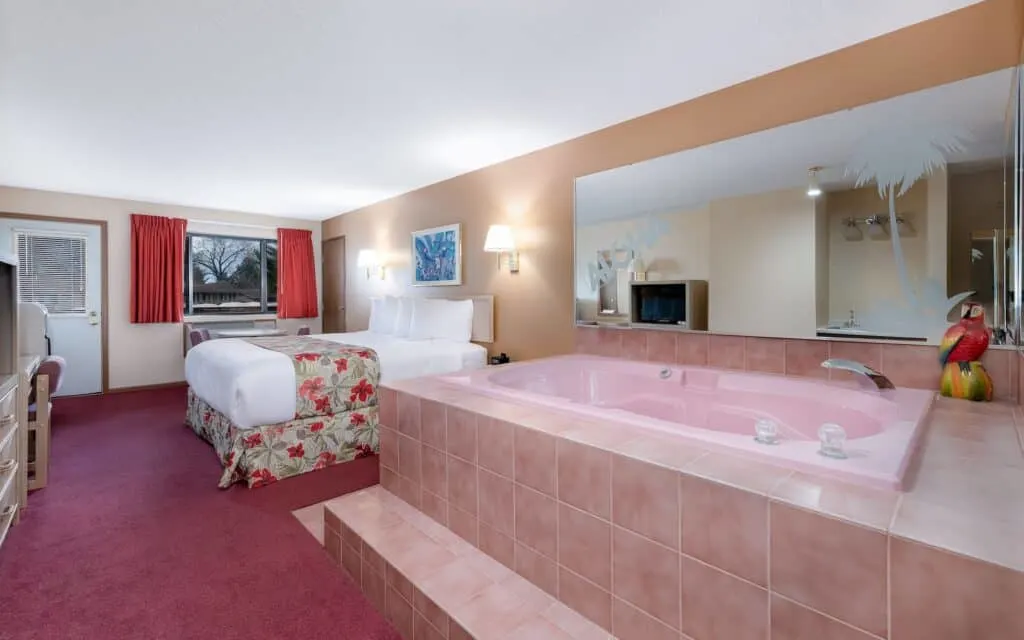 Highlights:
Premium rooms are perfect for a romantic trip
Sauna access included
Feel pampered with concierge services
Aloha Beach Resort & Suites is another of the couples' resorts in Wisconsin Dells, with a fantastic premium room available for couples.
They have king rooms with a jacuzzi inside the room and a balcony that looks out over the lake. This is the perfect setting to commit to an evening of pure relaxation with your partner.
Few of my chosen romantic hotels in Wisconsin Dells will give you such a good chance to socialize with the other couples.
Aloha Beach Resort & Suites has a garden by the beach with a firepit. Guests love to congregate here to drink, chat, and play music.

Highlights:
A resort of 136 self-contained homes
Only available to over-21s
When looking for the best romantic hotels Wisconsin Dells has to offer, some will prefer a more self-contained experience so that they can focus on each other.
Tamarack Wisconsin Dells offer this experience to couples, and you can choose from one-bedroom studio suites and apartments.
All of these come with fully furnished kitchens and private dining areas.
You can enjoy many romantic activities with your partner at this resort, such as the indoor tennis courts if you like to get competitive with each other.
Alternatively, this is one of few places to stay in Wisconsin Dells for couples giving you free bicycle access. Use these to explore the city or ride out to the top hiking trails in Wisconsin.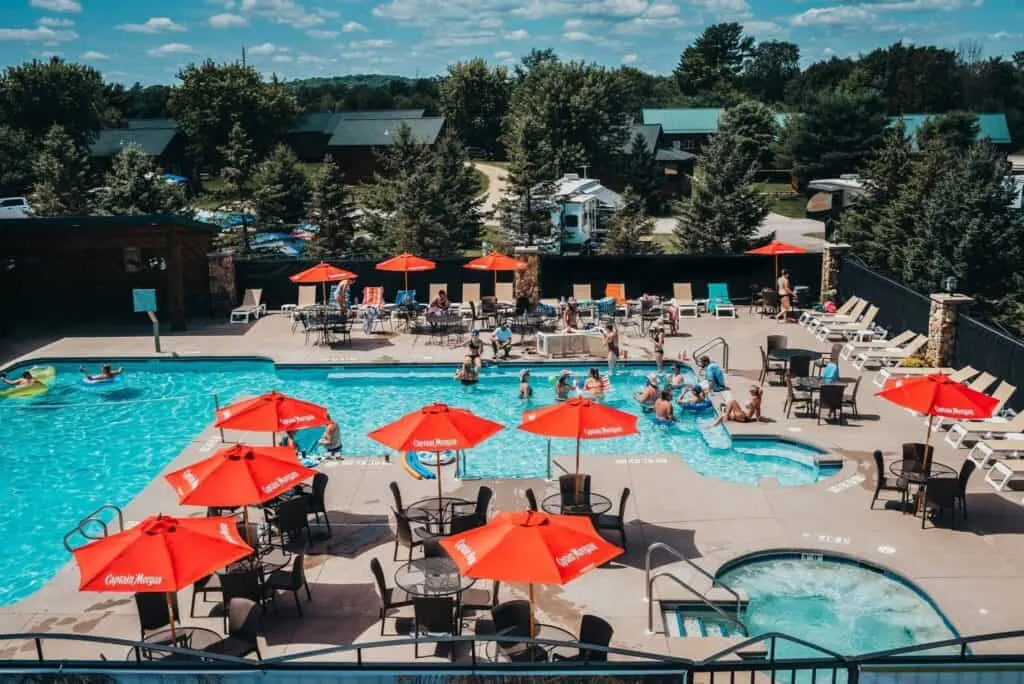 Highlights:
Located in the charming countryside to the North of Wisconsin Dells
Adults-only resort
Area shuttle running every day
If you look a little outside the city, you can find romantic cabins in Wisconsin Dells, giving you unique access to the beautiful Midwestern wilderness as it has existed for thousands of years.
Guests of Edge-O-Dells Resort are only allowed at the resort if they are over-21, making this perfect for anyone interested in romantic getaways in Wisconsin.
The hotel has its own on-site bar lounge and restaurant, as well as a spa, pool, BBQ area, and much more, ensuring you never need to leave the resort if you don't want to.
Of course, if you do want to leave, you can quickly drive from the resort to Rocky Arbor State Park, one of the top state parks in Wisconsin.
Edge-O-Dells also make it easy to visit such bucket list destinations as they run an area shuttle so you can easily visit the surrounding attractions.
This also makes it easy to go out and enjoy all the fun things to do in Wisconsin Dells for adults.
If you would rather stay in a room than a private cabin, you can book a room instead and stay at the excellent neighboring motel, also owned by Edge-O-Dells.
In addition to being a resort, this is also one of the best campsites in Wisconsin (also adults-only).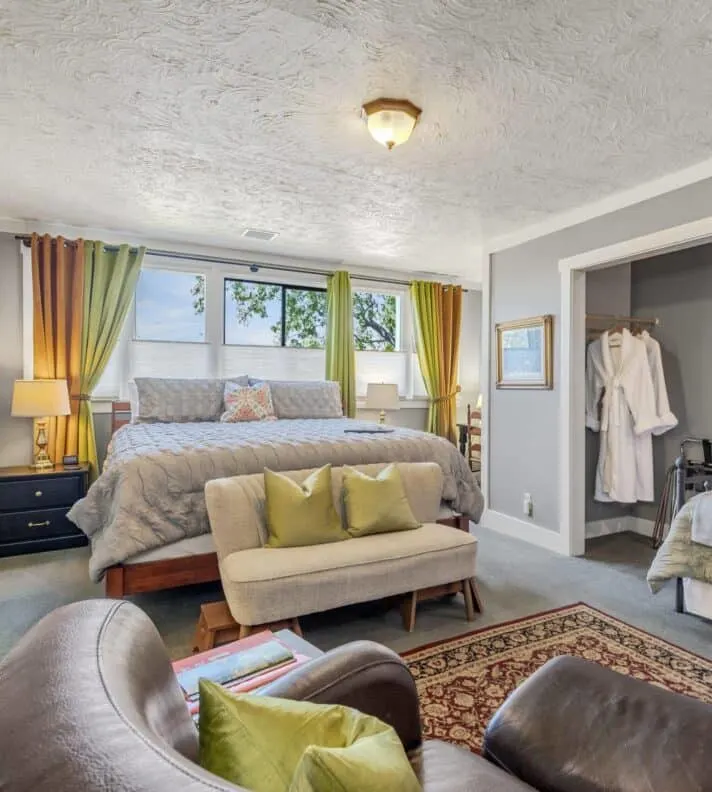 Highlights:
A B&B that retains its traditional roots
A tranquil setting in the Wisconsin countryside
Guests recommend this B&B for an anniversary trip
Oak Hill Bed & Breakfast has a traditional charm that you won't find in the biggest Wisconsin Dells romantic resorts. It is one of few B&Bs in Wisconsin Dells that are preserved from another time.
The rooms and cottages retain traditional decor, which will take older couples right back to the holidays they enjoyed in the Dells as a child.
Unsurprisingly, many people choose this nostalgic venue for their wedding.
Oak Hill is the ideal venue if you visit later in the year. Its rural location gives you access to the best things to do in Wisconsin Dells in winter.
You can hire a snowmobile from the B&B and speed through a picturesque winter scene with your partner.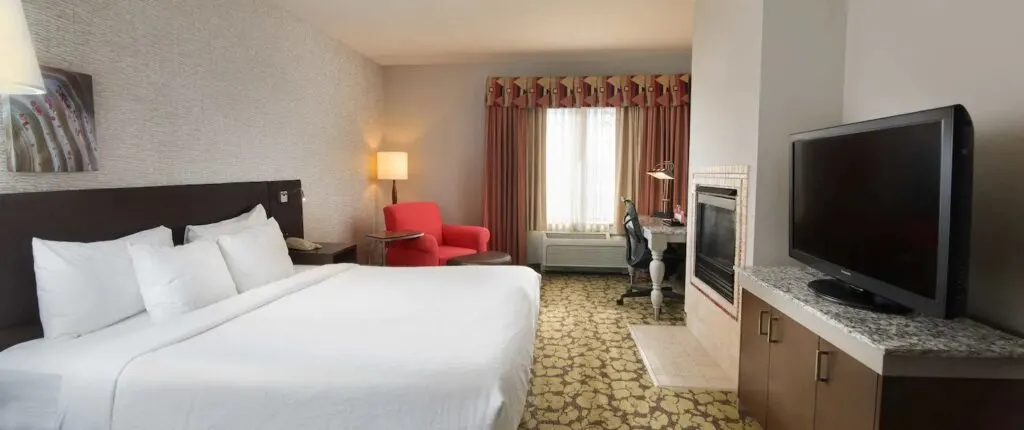 Highlights:
Stay with a trusted hotel chain
Located in the entertainment district
Premium suites with a jetted tub available
Nearly everyone has stayed with Hilton before; the hotel chain is known for its quality of service and clean rooms.
Although they won't be one of the best hotels in Wisconsin Dells for couples, you can enjoy consistency that guarantees your romantic trip can go without a hitch.
Hilton Garden Inn is also perfectly located to ensure an unforgettable stay.
In the heart of the entertainment district, you won't need to stress about getting all the experiences you want with your partner.
It is within walking distance from Noah's Ark Waterpark and Timbavati Wildlife Park, and the Hilton Garden Inn has partnered with local casinos to operate a free shuttle.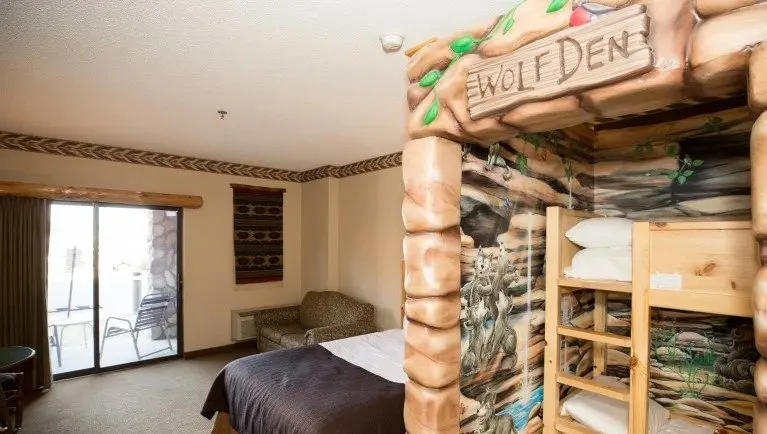 Highlights:
Excellent quality luxury rooms
On-site spa with treatments available
Three on-site restaurants to choose from
Staying at Great Wolf Lodge will position you in one of the best romantic hotels in Wisconsin Dells if you want to get the full Dells experience.
The neighboring Kalahari Resorts and Conventions has some of the best waterparks in Wisconsin Dells to fill any vacation. Access to the waterpark is included in your room.
All these activities are backed by regal levels of luxury offered by Great Wolf Lodge. Most romantic Wisconsin Dells hotels offer luxury rooms, but few are as special as the Whirlpool Fireplace Suite.
I can think of little better to do with your partner than relaxing in the whirlpool with a bottle of champagne and basking in the warmth of the fireplace.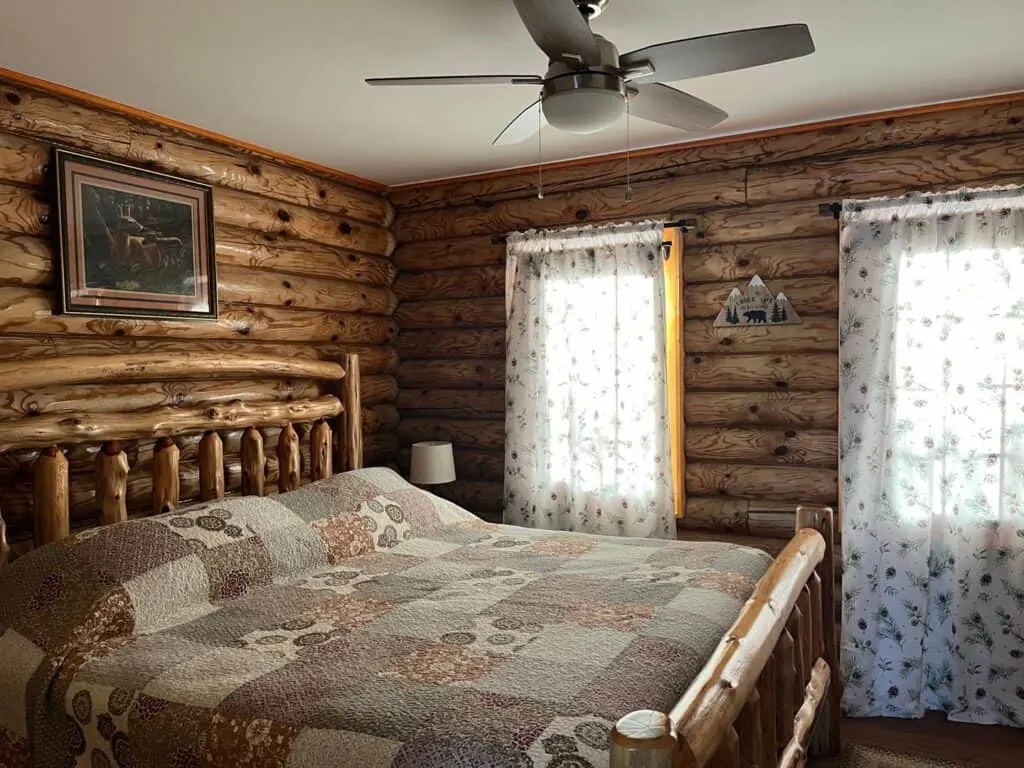 Highlights:
Charming wood cabins with a beautiful riverside view
Kitchenettes available for a self-contained stay
Private beach with fishing equipment available
Cedar Lodge & Settlement is another of the small romantic places to stay in Wisconsin Dells, with just 30 rooms available.
This lodge offers some of the most romantic suites in Wisconsin Dells thanks to their rustic, homey atmosphere that really bring out the romance.
All of the rooms available to couples are very large, offering you a huge amount of space to relax.
The rooms come with a variety of amenities to make you feel right at home, including a DVD player and TV, fridge, and coffee-making facilities, as well as heating and A/C.
Guests can even BBQ outside or use the picnic area for a romantic meal in nature. This hotel is the perfect starting point for hiking in Wisconsin Dells.
The Cedar Lodge is one of the best Wisconsin Dells hotels for couples that offers privacy and independence.
---
Short FAQs About Romantic Hotels in Wisconsin Dells
Is it worth it to go to Wisconsin Dells for a romantic getaway?
Although it is often thought of a destination for families, Wisconsin Dells is a great place to go for a romantic getaway, too!
Are there any adults-only hotels in Wisconsin Dells?
What are the best spa hotels in Wisconsin Dells?
---
Before You Go: Top Tips for your Trip
---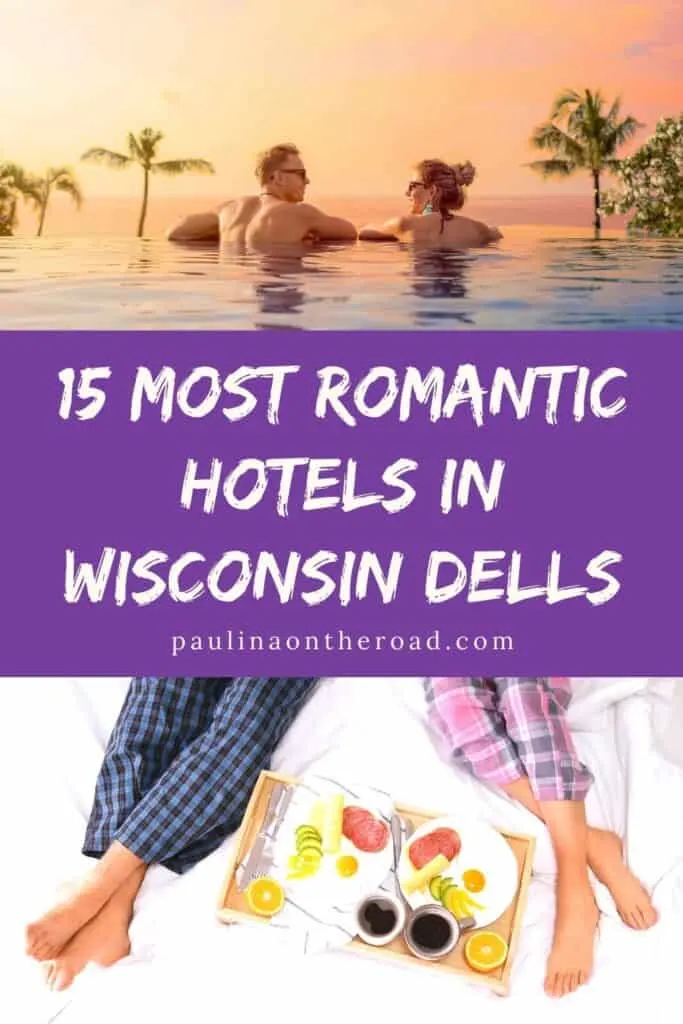 ---
Hola! I am Paulina, a fervent travelette who crossed the Atlantic Ocean by Boat HitchHiking. On my blog, you'll find all the tips to make the most of your holiday. Get ready to enjoy outdoor and sustainable travel like hiking, cycling or sailing. Let's hit the road together!