Are you looking for an unforgettable romantic getaway with your partner?
If a cozy cabin nestled in the Wisconsin countryside sounds like the perfect start to your weekend, then look no further!
I've compiled this list of great cabin rentals complete with hot tubs so that you and your beloved one can spend quality time together.
Whether you're searching for remote tranquility or easy access to restaurants and nightlife, these cabin getaways with hot tubs in Wisconsin have something for everyone. Let's dive in!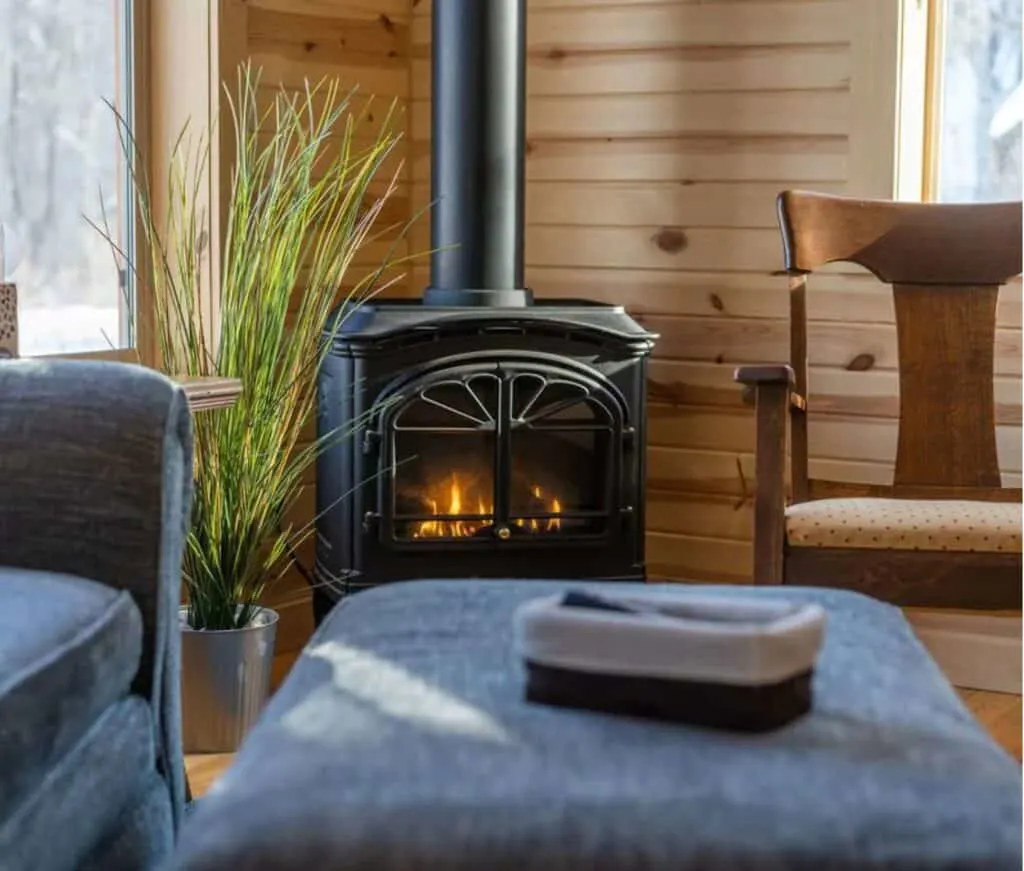 Pssst…! Are you looking for more inspiration about romantic things to do in Wisconsin? Have a look at my other posts:
This blog is supported by you, dear reader. If you purchase through a link, I earn a small commission. As an Amazon Affiliate, I earn from qualifying purchases.
Top Cabin Getaways with Hot Tubs in Wisconsin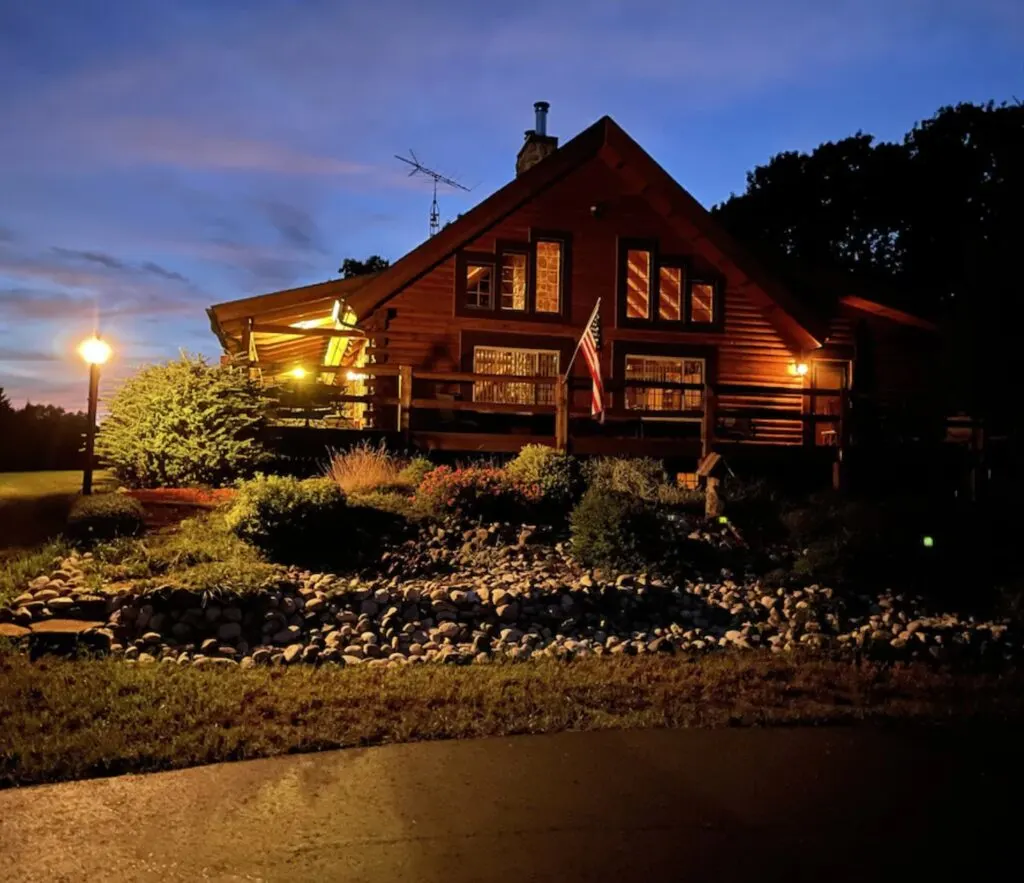 It's hard to capture the beauty of a stay at this cabin in Wisconsin with words.
From the moment you arrive, you can feel the peace and tranquility that comes from being surrounded by nature.
The cabin sits on top of a bluff, providing stunning views of the surrounding area. You can watch deer pass by, or marvel at the lush forests and glistening lakes as far as your eyes can see.
At this cabin, you will have access to all of the modern amenities you need while still enjoying that charming rustic lodge feel.
If you're feeling adventurous, there are plenty of activities nearby such as hiking trails, fishing spots and restaurants.
The cabin is conveniently located only minutes away from Wisconsin Dells and Castle Rock Lake; making it an ideal location for a short getaway or mini holiday.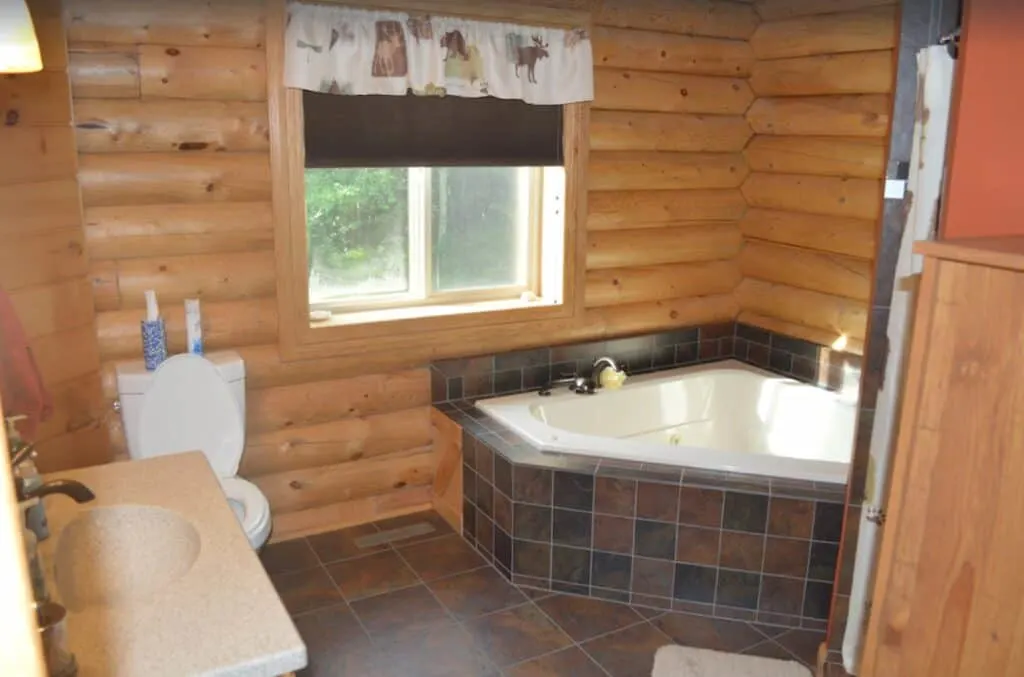 I recently had the pleasure of staying at this beautiful Ponderosa Pine Log Cabin in Wisconsin.
Sitting on ten acres of private wooded land with easy access to over 2000 acres of public land, ATV and snowmobile trails, and just ½ mile away from the Lake Flambeau boat landing, it is a perfect place to relax and enjoy nature.
The two bedrooms provide comfortable sleeping arrangements for up to nine people.
If you're looking for something to do during your visit then you don't have far to go!
Just five miles north of Ladysmith are plenty of activities such as golfing, shopping, antiquing and wonderful restaurants plus the Christie Mountain ski resort, one of the most popular ski resorts in Wisconsin, is nearby for some winter fun!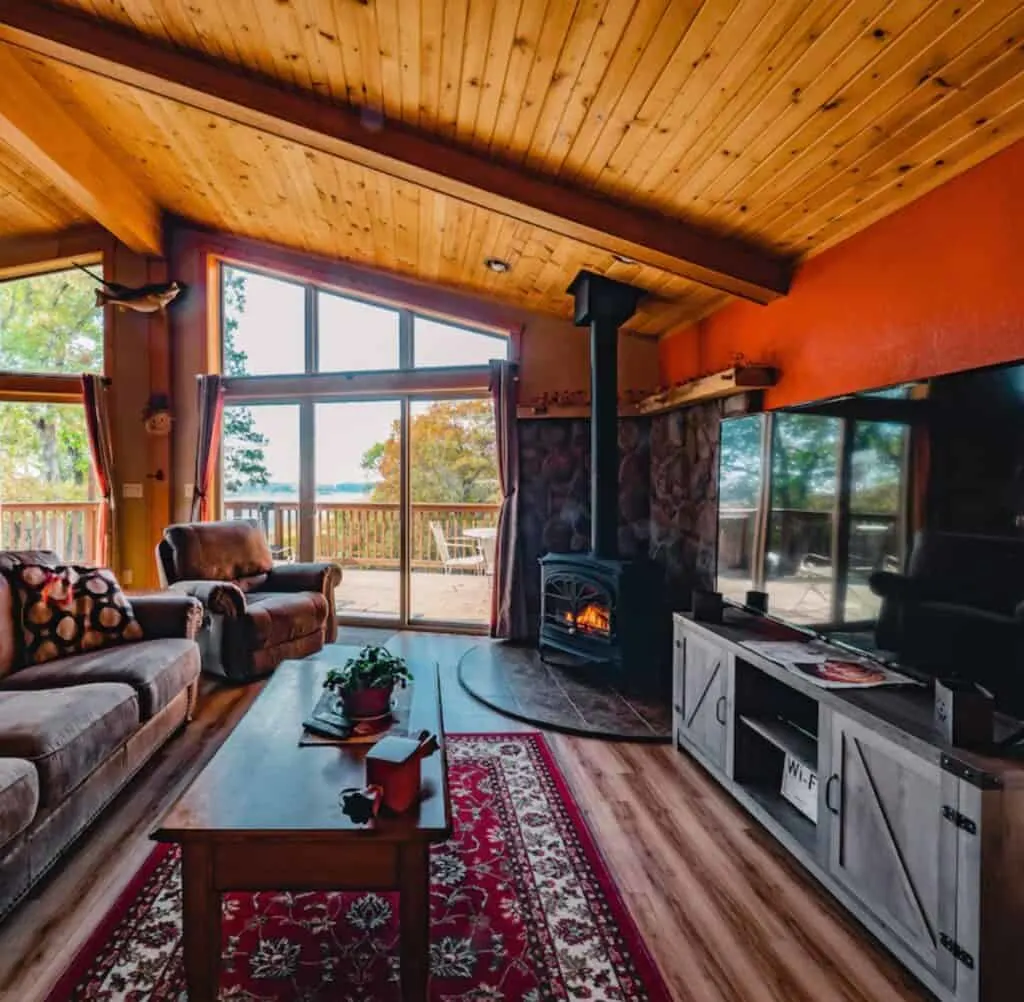 A stay at one of the Sun Set Haven Cabin in Ferryville is truly an experience like no other. From the moment you step inside, you'll feel like you're at home away from home.
Not only does the cabin have beautiful views of the surrounding landscape, it also boasts amenities such as hot tubs and gas fireplaces so you can truly relax and unwind after a long day of exploring.
The hot tub is especially a favorite – equipped with jets that allow you to adjust the temperature to your exact preference.
After spending time in the great outdoors taking advantage of activities such as boating, fishing, and hiking, there's nothing better than coming back to the cabin for a cozy evening by the fire or an indulgent soak in the hot tub!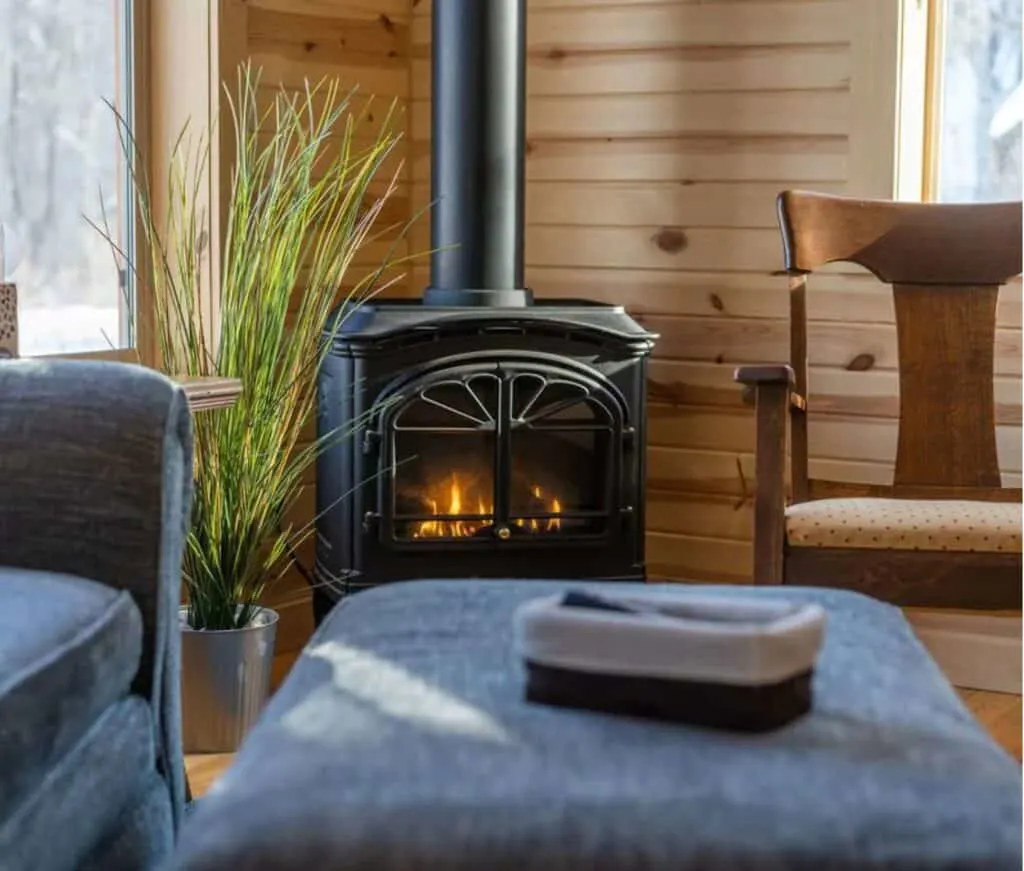 I had the pleasure of visiting the Cabin on Hidden Creek in Ferryville, Wisconsin. This cozy cabin is perfect for a romantic getaway with its hot tub, 8 acres of lush landscape, and private stream.
The covered front porch is the ideal place to relax and listen to the calming sound of the nearby stream. Inside, I found updated furnishings and comfortable spaces for gathering or curling up with a book.
Ferryville is located close to many attractions like the Mississippi River where you can enjoy fishing and water sports.
Rush Creek State Nature preserve offers scenic views, while nearby towns like Prairie du Chien are great places to explore.
La Crosse is also just a short drive away, making this cabin an ideal spot for anyone looking for romantic getaways in Wisconsin with hot tubs.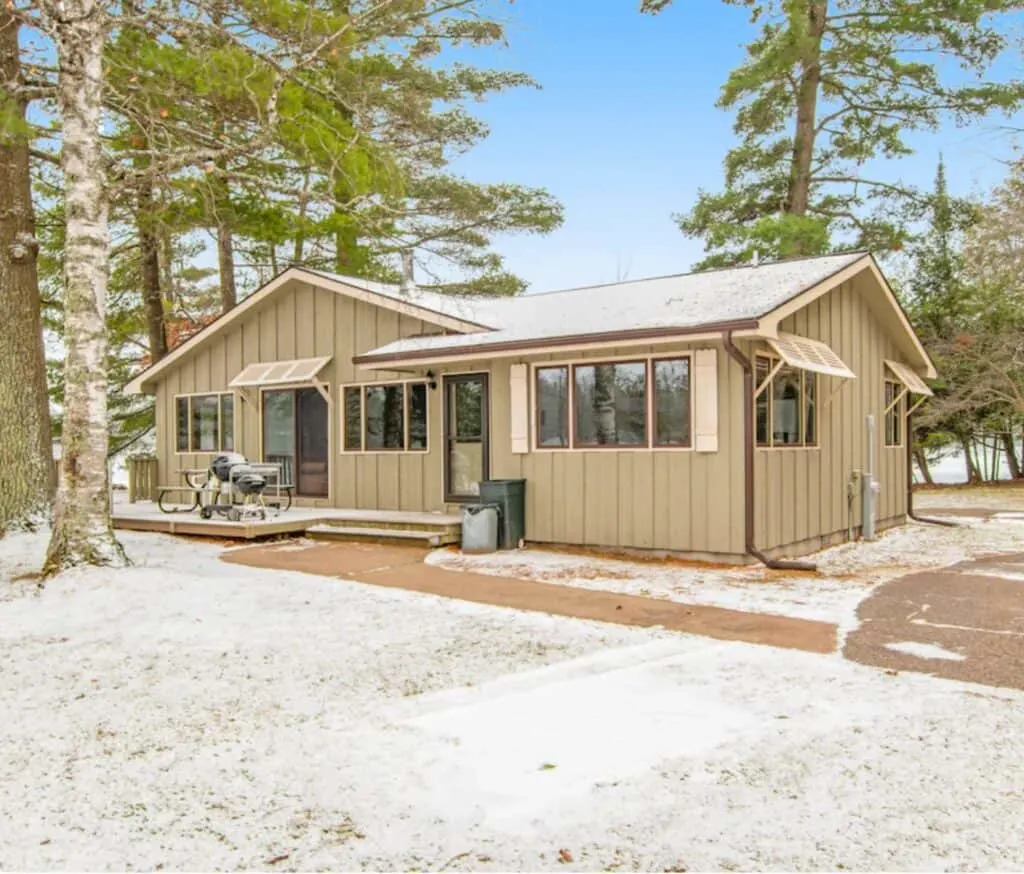 I loved staying in this beautiful lakefront cabin located right on the shores of Deer Lake. From the moment I arrived, I was struck by its serene and peaceful atmosphere – it was the perfect setting for a romantic getaway!
The cabin itself has plenty of windows that allow you to admire fantastic views of the lake from the inside. The living area is beautifully furnished with a cozy sofa and rustic wood furnishings, creating a delightful and inviting atmosphere.
There's also an outdoor deck where you can relax and take in the beautiful sunsets over Deer Lake.
The amenities were incredible as well! My favorite was of course the hot tub!
And best of all, this cabin is within walking distance from Big Stone Golf Course, as well as just four miles away from Three Lakes Winery and downtown Three Lakes.
Overall I had an amazing experience at this romantic cabin in Wisconsin.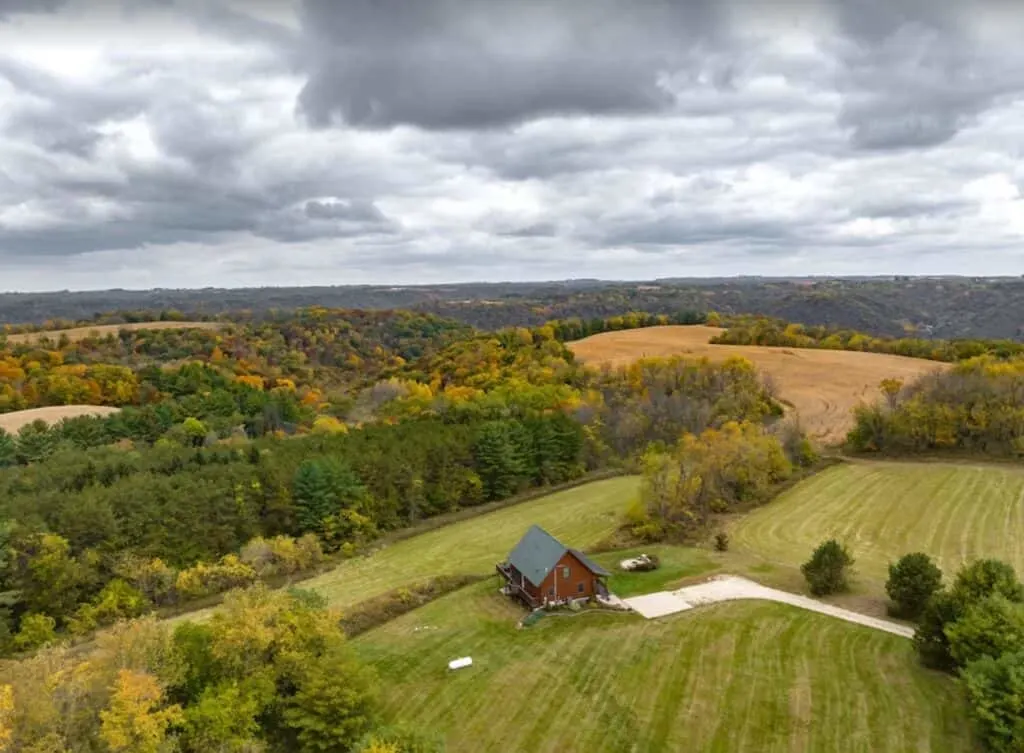 If you are looking for a romantic getaway, then look no further than this beautiful cabin nestled in the forests of Wisconsin.
From the moment you arrive, you will be mesmerized by the stunning panoramic views from the wrap-around deck and covered porch overlooking a gorgeous wooded valley.
This honeymoon cabin is very secluded, perfect for an intimate escape and probably one of the most romantic cabins in Wisconsin.
The cabin offers three bedrooms and two bathrooms, making it ideal for couples or small families alike.
With plenty of space to relax and enjoy each other's company, this rustic home is great for those seeking privacy during their stay.
You'll never have a dull moment while staying at this cabin in Wisconsin thanks to all of the exciting outdoor activities available nearby.
From fishing and hiking to skiing, there's something for everyone to enjoy!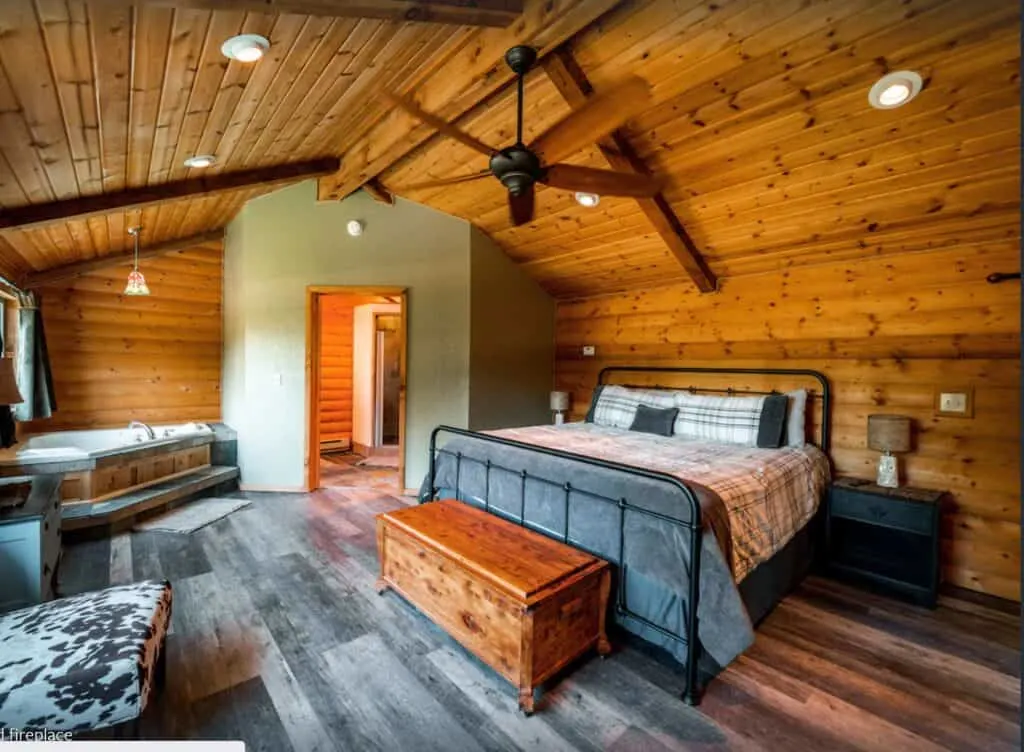 The Hidden Gem cabin in Wisconsin is the perfect place for a romantic getaway during the winter months.
Nestled away high in the bluffs of the Mississippi River Valley Driftless area, this luxurious cabin in Wisconsin offers a secluded escape from the hustle and bustle of daily life.
Walk through the front door and you'll be greeted by a cozy room with a gas fireplace that sets the mood for relaxation.
Upstairs in Private Loft, you'll find a King-size bed and master bathroom, as well as a brilliant fireplace and Smart TV for entertainment when you need it.
Don't forget about one of the best features – low on the deck is an inviting five-person hot tub waiting to welcome you after your long day of exploring or simply soaking up some much-needed rest and relaxation!
Welcome to The Hidden Gem – locally known for its breathtaking views and tranquil atmosphere, making it one of Wisconsin's most sought-after romantic getaways during wintertime.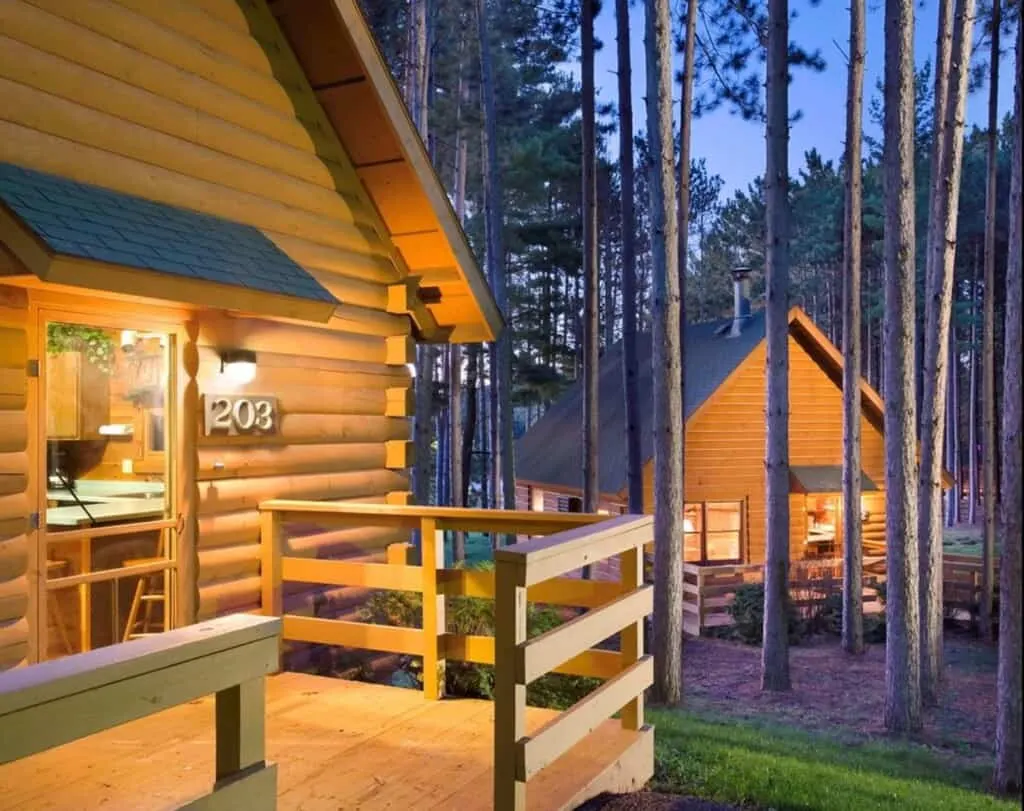 I recently visited this cabin near Wisconsin Dells at Christmas Mountain Village. It was truly a great experience and one of the best Wisconsin Dells cabins with hot tubs.
The sunsets were breathtaking, and the resort had plenty of activities to keep me busy.
The cabin included two bedrooms and two bathrooms, making it perfect for a romantic getaway.
We each had our own space to sleep, relax, and get ready for the day's activities.
Overall I was impressed with my stay at Christmas Mountain Village and would highly recommend it to anyone looking for cabins in Wisconsin with hot tubs or other activities!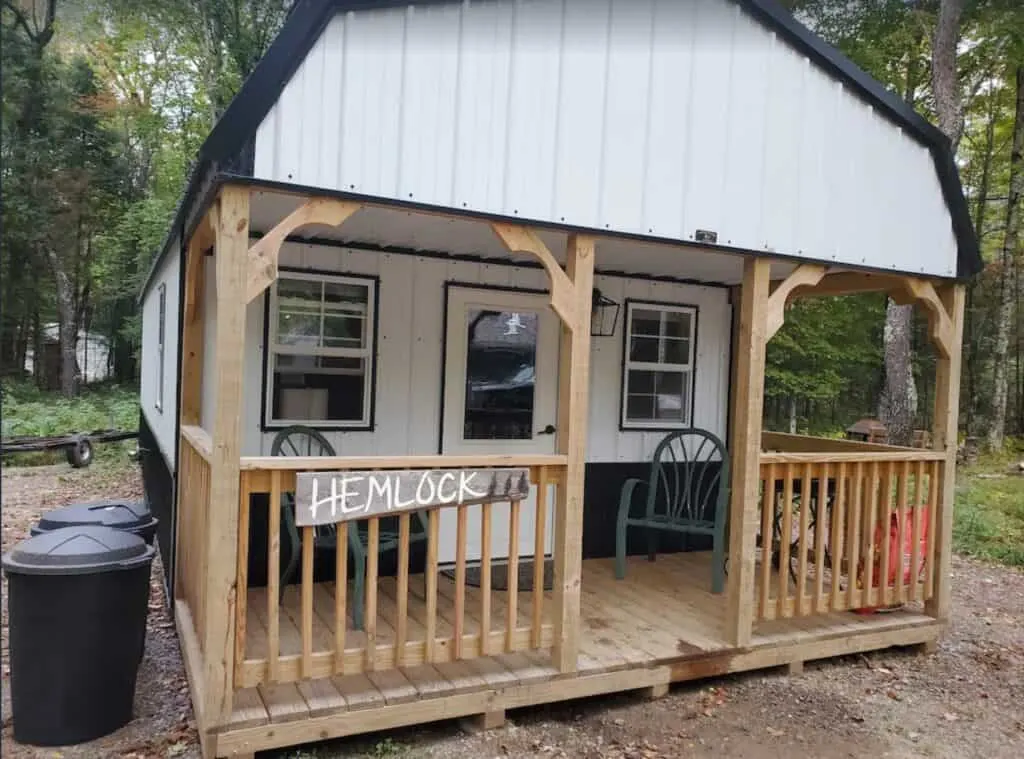 I have been lucky enough to experience one of the most beautiful cabin rentals in Wisconsin with hot tub.
Nestled away in the Nicolet Nation Forest, this tiny cabin is the perfect spot for a getaway with friends or family.
With ATV and snowmobile trails nearby, plenty of lakes for some great fishing and hundreds of acres of public hunting land, it's a paradise for all nature lovers.
But that's not all – this cabin also comes with its own hot tub! After a long day exploring the local area and waterfall routes, you can relax in your own private hot tub surrounded by woodlands.
Overall, I was blown away by this cabin rental's beauty and serenity.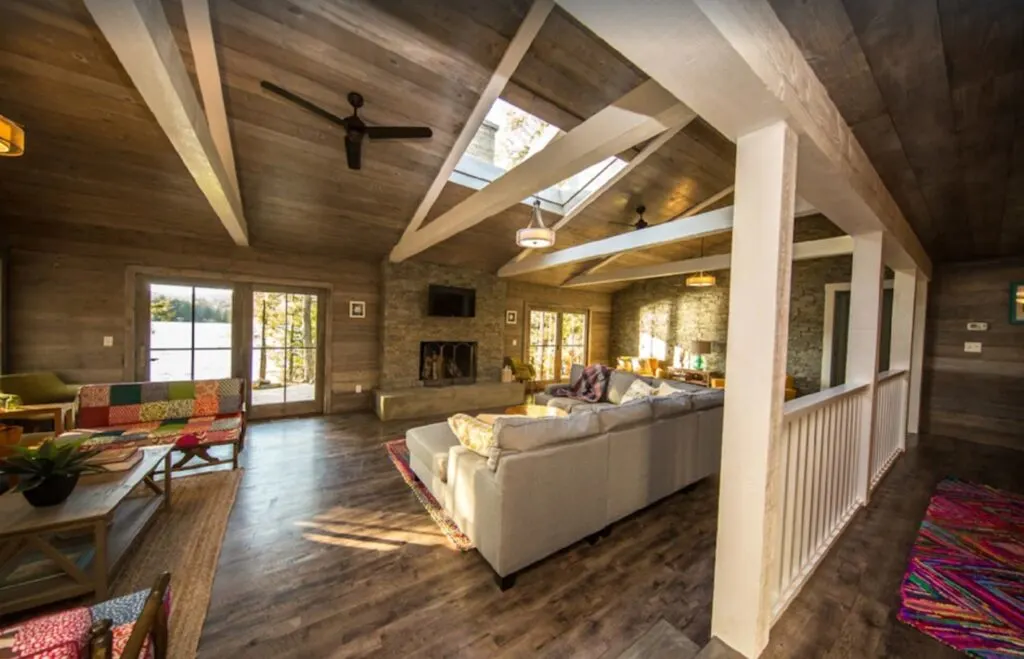 This is probably one of my favorite spots for a romantic getaway in Wisconsin.
This cabin on Crystal Clear Lake Lucerne in Wisconsin is newly built, with a spacious open floor plan featuring four bedrooms and two full bathrooms. The living room was quite large, with three distinct seating areas.
The kitchen was modern and equipped with granite counters, a five-burner gas range, as well as all new appliances and kitchenware.
I also spotted a full bathroom with a tub and overhead shower just off the entryway.
But best of all, right outside our bedroom door was an amazing hot tub!
After soaking our muscles in its soothing waters, we were able to catch glimpses of shooting stars across the night sky. It truly was one of the most romantic spa getaways in Wisconsin I have ever experienced!
---
Tips for planning a romantic cabin getaway
Best times of year to visit Wisconsin
Nothing beats the charm of Wisconsin in the summer and fall! The beautiful fall foliage paired with close proximity to glacial lakes makes for incredible days spent outdoors.
However, if you're more excited about summer festivals, Wisconsin is known for its local fairs every July and August that offers everything from live music, food trucks, and carnival rides to craft markets, beer gardens, and fireworks!
No matter when you visit, you'll be sure to find something exciting happening in Wisconsin.
What to pack for a romantic cabin getaway
Going on a romantic cabin getaway is the perfect way to reconnect with your loved one and make some amazing memories. You might even consider booking a romantic getaway in Wisconsin with pool in room.
To make sure your time together is as special as it can be, you will want to make sure you are prepared for anything.
Essentials like cozy sweaters, comfortable shoes, lots of toiletries, snacks, and flashlights are all essential items that no romantic cabin getaway should be without.
But don't forget something extra special like a bouquet of flowers or a vintage board game – these little touches will help create an unforgettable evening.
Finish off the packing list with any additional items unique to each of you two, so that the cabin can feel just right when you get there.
Ideas for romantic activities to do in Wisconsin
Wisconsin is full of romantic activities for couples looking to reconnect or just spend some quality time together.
From date night in a hay loft at Blue Berry Hill Farmstead to going for a hike around Cave Point County Park and enjoying nature's beauty together, there's something for every couple and one of the most romantic getaways in Wisconsin.
If you're in the mood for more of a seasonal experience, sledding down one of Wisconsin's snowy hills followed by hot cocoa offers an unforgettable winter adventure.
Of course, nothing says romance like a sunset picnic at Harrington Beach State Park with magnificent views of Lake Michigan – perfect for making special memories that will last a lifetime!
My thoughts on the best romantic cabin getaways with hot tubs in Wisconsin
As you can see, Wisconsin offers a plethora of options for the perfect romantic cabin getaway.
Whether you are a newlywed couple looking for privacy and serenity or an established couple seeking adventure and exploration, these hot tub cabins provide the perfect setting for the ultimate romantic retreat.
So, if you are looking for an opportunity to reconnect with your special someone in picturesque surroundings, consider booking a dreamy Wisconsin hot tub cabin and explore all that this beautiful state has to offer!
FAQ about romantic cabin getaways with hot tubs in Wisconsin
What are some romantic cabin getaways with hot tubs in Wisconsin?
Some great locations for romantic cabin getaways in Wisconsin are Bayfield, Wisconsin Dells, Cable, Door County, La Crosse or Baraboo.
How do I find the best deals on romantic cabin getaways with hot tubs in Wisconsin?
Great places to find deals for romantic cabin getaways with hot tubs in Wisconsin are Airbnb, VRBO or Booking.com
How do I make sure I'm getting a good deal on a romantic cabin getaway with a hot tub in Wisconsin?
1. Do your research by comparing prices and amenities across different cabins. Look at multiple websites and read reviews from previous guests to get a sense of the quality of the accommodations.
2. Consider booking during the offseason when prices may be lower, and keep an eye out for special deals or packages that may be available.
3. When reviewing potential cabins, make sure to ask about any additional fees, such as cleaning fees or taxes, to avoid any surprises when it comes time to pay.
4. Finally, think about the location of the cabin, as cabins in less popular or remote areas may be more affordable than those in more popular tourist destinations.
Hola! I am Paulina, a fervent travelette who crossed the Atlantic Ocean by Boat HitchHiking. On my blog, you'll find all the tips to make the most of your holiday. Get ready to enjoy outdoor and sustainable travel like hiking, cycling or sailing. Let's hit the road together!