Guide to all the best Sheboygan, WI hotels for all budgets, including hotels near Sheboygan, WI
Do you prefer relaxing amidst nature during your vacation? Or do you like modern accommodations in a vibrant city?
If you want to enjoy both together, Sheboygan is the best destination to visit.
Fortunately, there are a lot of great hotels in Sheboygan and the surrounding area no matter your travel style or budget.
The beauty of Lake Michigan and the exciting outdoor activities makes it one of the places to vacation in Wisconsin.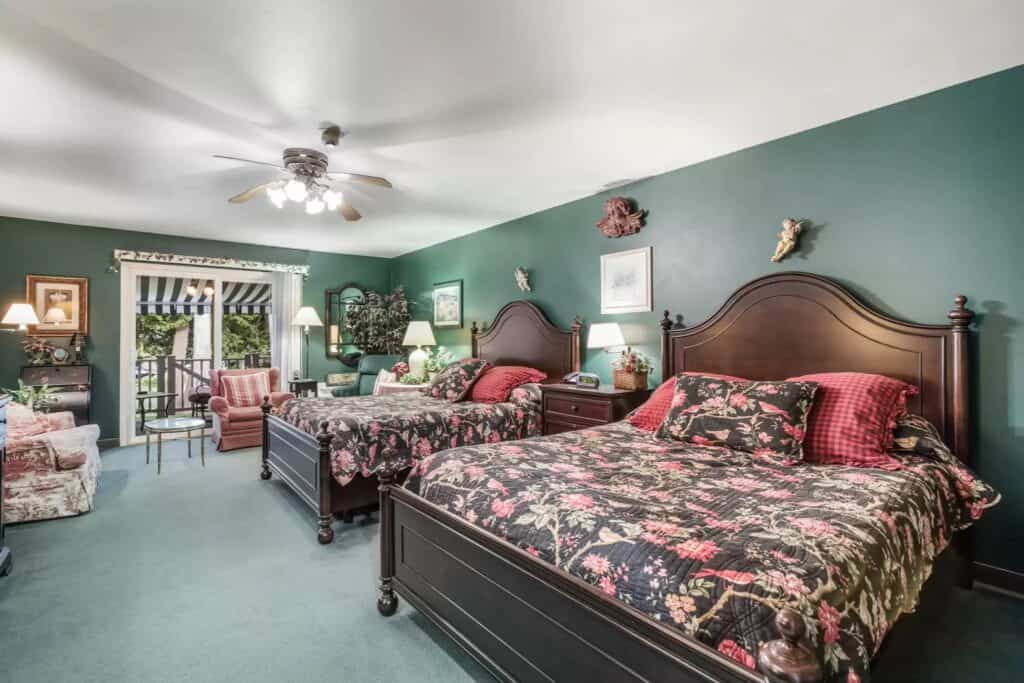 The city also has bustling shopping centers, cafes, and interesting museums for its visitors, which is why it's one of the most popular day trips from Milwaukee.
However, when it comes to the hotels in Sheboygan, you will be impressed by the choices, and happy you opted to stay at least one extra day.
Here you can find everything from family resorts, business hotels to some of the most romantic hotels in Wisconsin.
Let's take a look at some of the best hotels in Sheboygan, including a few from the surrounding area if you don't want to stay in the middle of Sheboygan, WI.
Thanks to affiliate links, I pay my bills. If you make a purchase through them, I may receive a small commission at no cost to you. As an Amazon Associate I earn from qualifying purchases. All opinions are always mine. Merci!
Useful Travel Information for Wisconsin
✎ Plan the ultimate Wisconsin road trip (no backtracking!) with the Perfect Wisconsin Road Trip itinerary – Buy now for less than 12$

✈ Find the best hotel deals in Wisconsin with Trivago

➳ Book vacation rentals in Wisconsin with VRBO

✔ Book tours in Wisconsin with Viator

☘ Get the best discounted outdoor gear (outlet) at REI.com

$ Get Wisconsin hiking guides and maps at REI.com

✎ Never leave without travel insurance. I get mine at SafetyWing. It is easy to set up, cheap, and reliable.
Overview: 5 Best Hotels in Sheboygan, WI
The Best Hotels in Sheboygan, WI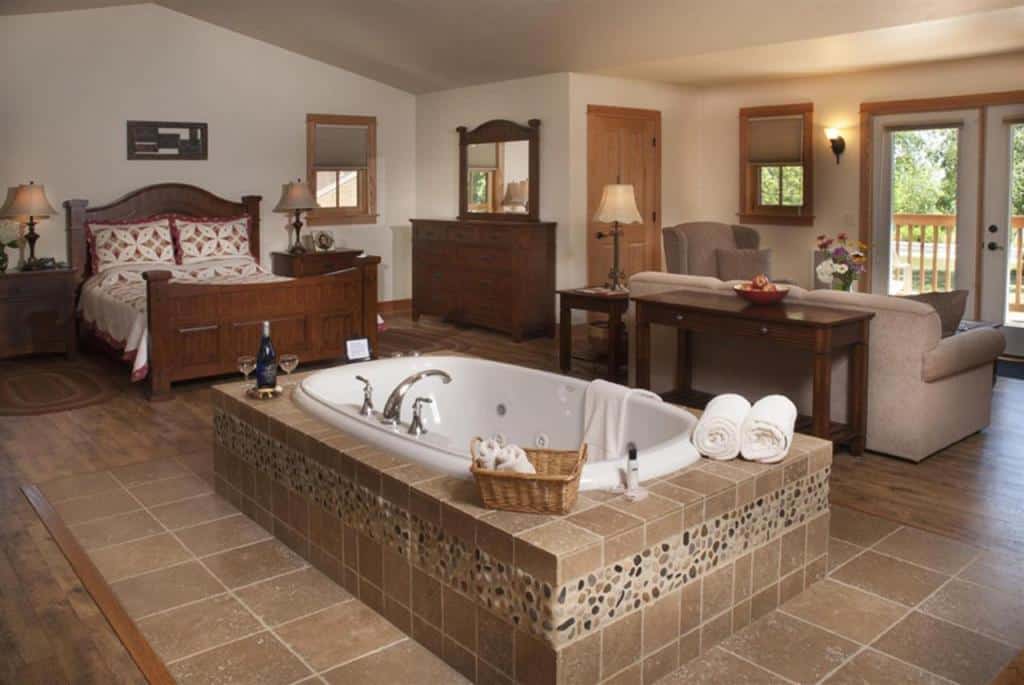 Highlights: Complimentary bikes and snowshoes
Lake Orchard Farm Retreat on the shores of Lake Michigan is a great destination for romance and relaxation.
This is one of the best lake resorts in Wisconsin with excellent views, rolling fields, natural woods, and fruit orchards.
The cozy B&B here with balconies and double whirlpool tubs are ideal for couples, and also offers a delicious farm-fresh breakfast in the room every day.
Tor a get-together with your family, Lake Orchard Farm is one of the best winter resorts in Wisconsin.
The cottage here accommodates up to 16 guests and has a kitchen, large yard, and patio.
Additionally, there are picnic areas, a fire pit, and barbeque grills to make the most of your family vacation.
The resort is close to some of the best snowmobile trails in Wisconsin, and guests can also enjoy activities like golf, hiking, and biking nearby.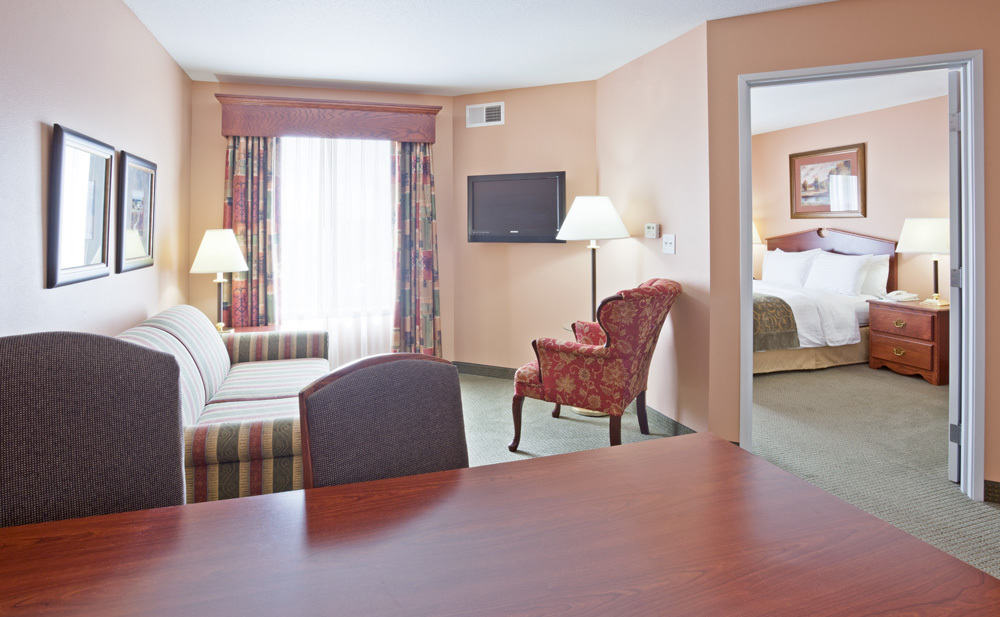 Highlights: Amazing indoor pool and whirlpool
GrandStay Sheboygan offers spacious suites with upscale amenities to make every vacation special and is one of the best hotels downtown Sheboygan has to offer.
All the suites feature a fully-equipped kitchen with a refrigerator and microwave to cook your meals, and guests at this resort can also enjoy a complimentary delicious breakfast every morning.
This is the perfect place to stay for those looking for Sheboygan hotels with pool options.
For the guest's enjoyment, the hotel makes sure to keep you occupied with facilities like a whirlpool and indoor pool, outdoor sports court, and grill area.
Additionally, younger guests can enjoy arcade games while parents are at the fitness center.
This is also one of the best pet-friendly hotels Sheboygan, WI has to offer.
GrandStay is located in downtown Sheboygan with plenty of opportunities for shopping and dining nearby.
Boating, fishing trips, and visiting museums are some of the most popular activities you can enjoy here.
The Kohler Dunes Cordwalk is also a quick drive away and is one of the best Southern Wisconsin hiking trails.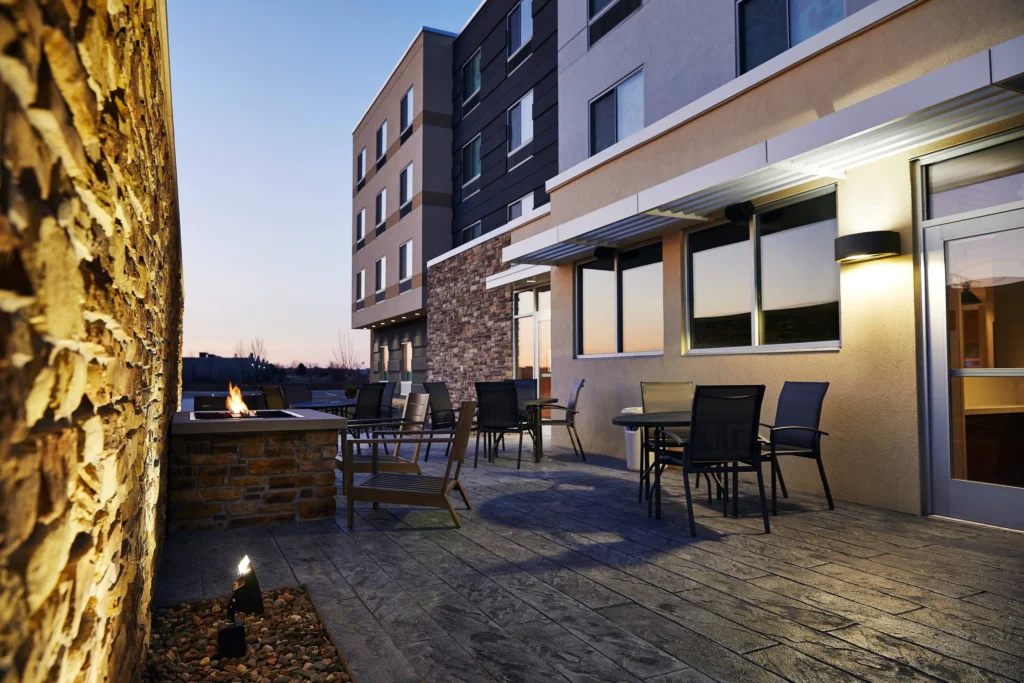 Highlights: Complimentary buffet breakfast
Searching for the best business hotels in Sheboygan? Look no further than the Fairfield Inn & Suites.
The hotel is located near many reputed businesses like Acuity, Kohler, and Nemak. It is the only Marriott property within 25 miles and is known for its exceptional service.
The guest rooms and suites feature amenities like a coffee maker, refrigerator, and microwave for a comfortable stay.
Additionally, Fairfield Inn has a bar, fitness center, and pool for you to relax after a busy day of enjoying all the wonderful things to do in Sheboygan.
The popular golf course Blackwolf Run is just a short drive from the hotel.
Active guests can also drive to the Kohler-Andrae State Park, one of the best state parks in Wisconsin, for outdoor adventures.
Highlights: Free parking
If you are planning a budget-friendly vacation, staying in Sheboygan motels is a great idea.
Fortunately, Fountain Park Motel is not only one of the most affordable motels in Sheboygan, WI, but one of the best.
Cable TV, mini-fridge, complimentary internet access, and comfortable beds are a part of every room to make your stay comfy and enjoyable.
The motel has an on-site restaurant that serves delicious dishes and alcoholic beverages. Free parking is available for the convenience of guests.
As the name suggests, the motel is located adjacent to the popular Fountain Park that hosts a farmer's market two days a week.
Other popular attractions nearby include John Michael Kohler Arts Centre and the children's museum.
There are also brilliant options for charter fishing, shopping, and dining nearby.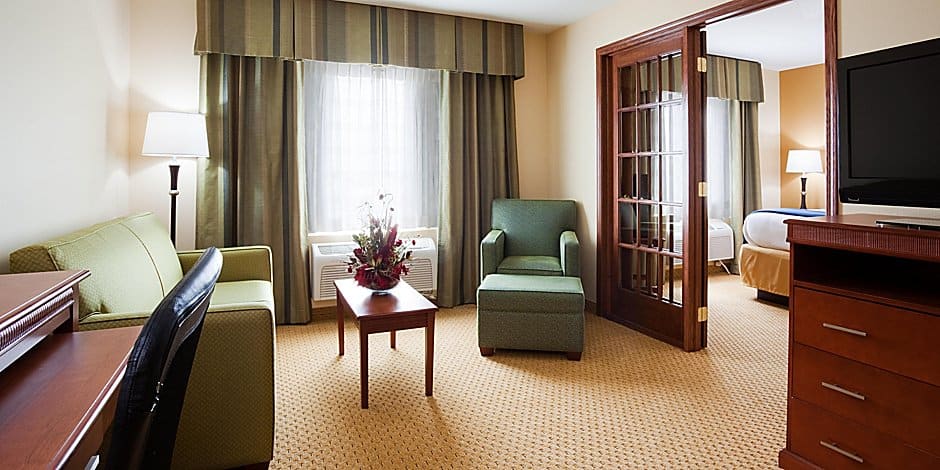 Highlights: Large indoor pool
Holiday Inn Express is one of the best hotels in Sheboygan, Wisconsin for business travelers and families alike.
Features such as a work desk, microwave, flat-screen TV, and bathtub in the room all ensure your stay is comfortable, and you feel right at home here.
Guests at the hotel are delighted with complimentary breakfast, and guests can also enjoy free coffee, tea, and hot chocolate 24/7.
The hotel has a large indoor pool for enjoying moments of relaxation, or guests are also welcome to burn some calories in the fitness room.
It is located near I-43 and is just a few miles away from the best attractions of Sheboygan.
The Sheboygan Breakwater Lighthouse which is one of the best lighthouses of Wisconsin is just a short drive away.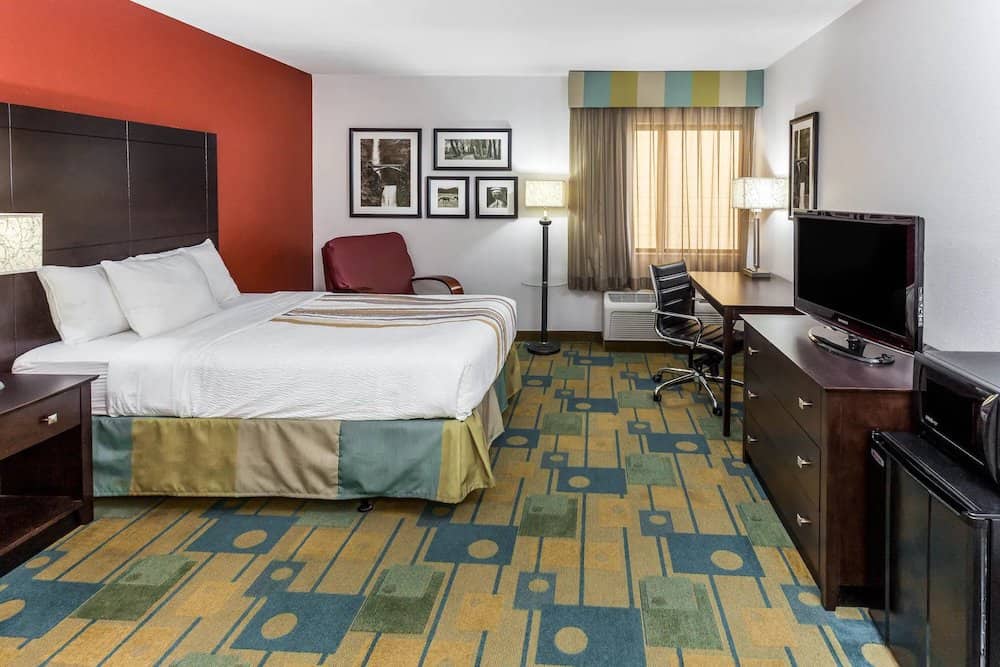 Highlights: Pet-friendly hotel
Your search for comfy, but cheap hotels in Sheboygan ends at the La Quinta Inn.
This hotel by the Wyndham group is located just off I-43 and is one of the best hotels in Sheboygan for those who are traveling for business.
All the rooms have comfortable beds, desks, flat-screen TVs, and coffee makers. Free Wi-Fi, same-day laundry service, and free parking are some other great facilities.
Guests of this Sheboygan, WI lodging can enjoy complimentary breakfast every morning.
If you are traveling for leisure, you can take your furry friends along as it's a pet-friendly hotel.
The popular places of interest nearby are the Children's Museum and Blackwolf Run Golf Course.
Highlights: Free appetizers and beer at the reception during weekdays
Located on I-23 at a short distance from the scenic shores of Lake Michigan, AmericInn is your Sheboygan home away from home.
This beautiful hotel has spacious rooms that will offer you all the comforts of home to make your stay here extra special.
Some of the common amenities in all rooms include HDTV, mini-fridge, microwave, tea, and coffee maker.
Guests can even enjoy a delicious homestyle breakfast which is included with the stay.
For relaxation, the hotel has an indoor pool and hot tub, and guests can also enjoy a hot beverage or play board games at the cozy fireside lounge.
AmericInn is one of the best places to stay in Sheboygan, WI if you are traveling with a group as they offer amazing deals.
It's also one of the best hotels in Sheboygan WI on the lake, for those who want to fish or relax overlooking Lake Michigan, one of the best lakes in Wisconsin.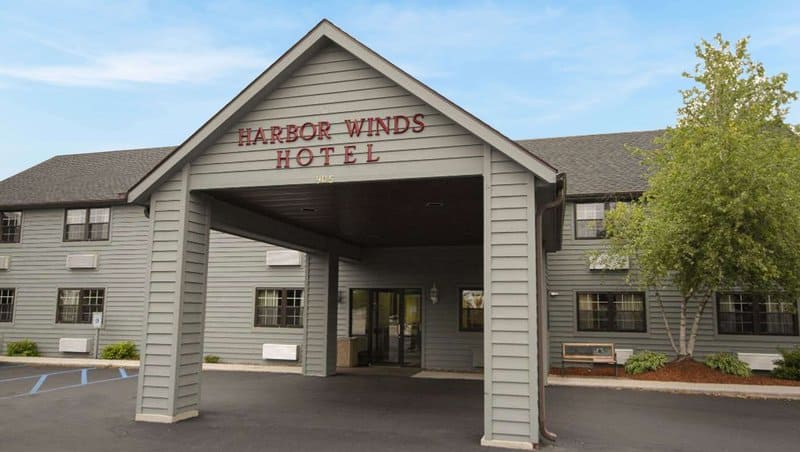 Highlights: Amazing barbeque facilities
The hotels in Sheboygan on the riverfront redefine the meaning of relaxation and Harbour Winds Hotel with ultra-comfortable rooms is one such example.
Guests of this hotel can enjoy scenic views, complimentary breakfast, and fantastic amenities in the rooms.
The hotel has an indoor and outdoor pool for taking a relaxing dip, and it is also one of the best Sheboygan, WI hotels for enjoying a barbeque night.
While you are here, do not miss taking a stroll along the river, and enjoying the scenic view.
There are also plenty of restaurants and shops to be explored in the neighborhood, and the most unique attraction near this hotel is the Jung Shoe Manufacturing Company Factory.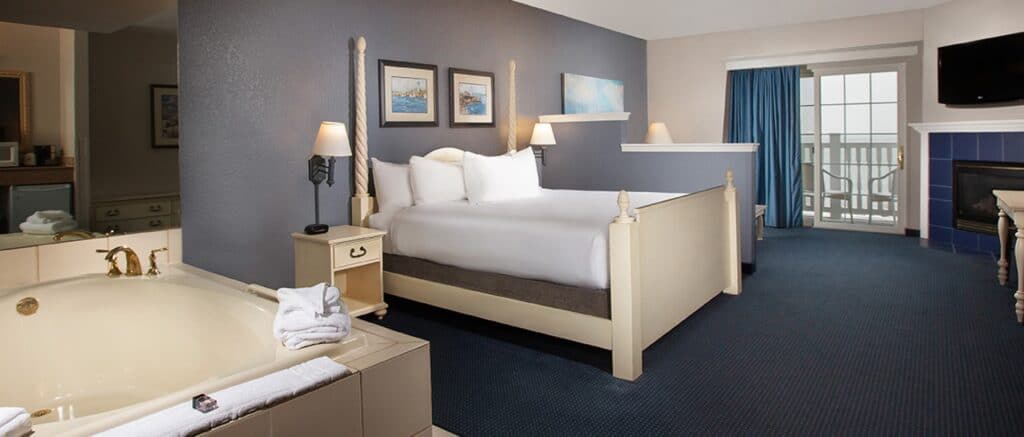 Highlights: 54,000 square foot indoor waterpark
If you are searching for Sheboygan, WI resorts for an unforgettable family getaway, Blue Harbor is an excellent option.
As one of the best resorts in Sheboygan, WI, Blue Harbor boasts large suites and villas that are designed to offer superior comfort.
For large parties, there is even a 4-bedroom villa with a fireplace and kitchen that can accommodate 14 guests.
Located on the shores of Lake Michigan, the resort has something to please visitors of all age groups.
This Sheboygan water park hotel has everything from exciting water slides, a lazy river to hot tubs, as well as mini-golf courses and an arcade for fun games and interactive activities.
This charming Sheboygan resort also has a spa for enjoying therapeutic massages.
Best Hotels Near Sheboygan, WI
To make your trip to Wisconsin more adventurous, you can book your stay at hotels near Sheboygan.
Sheboygan and the surrounding areas allow for plenty of opportunities for outdoor activities, including many of the best hiking and mountain bike trails in Wisconsin.
You can easily drive from downtown to locations like Kohler, Plymouth, Elkhart Lake, and Sheboygan Falls.
All of these areas are perfect for Wisconsin fall getaways, especially if you are looking for romantic options.
Here are some of the best hotels near Sheboygan that let you take a step closer to nature to relax and unwind.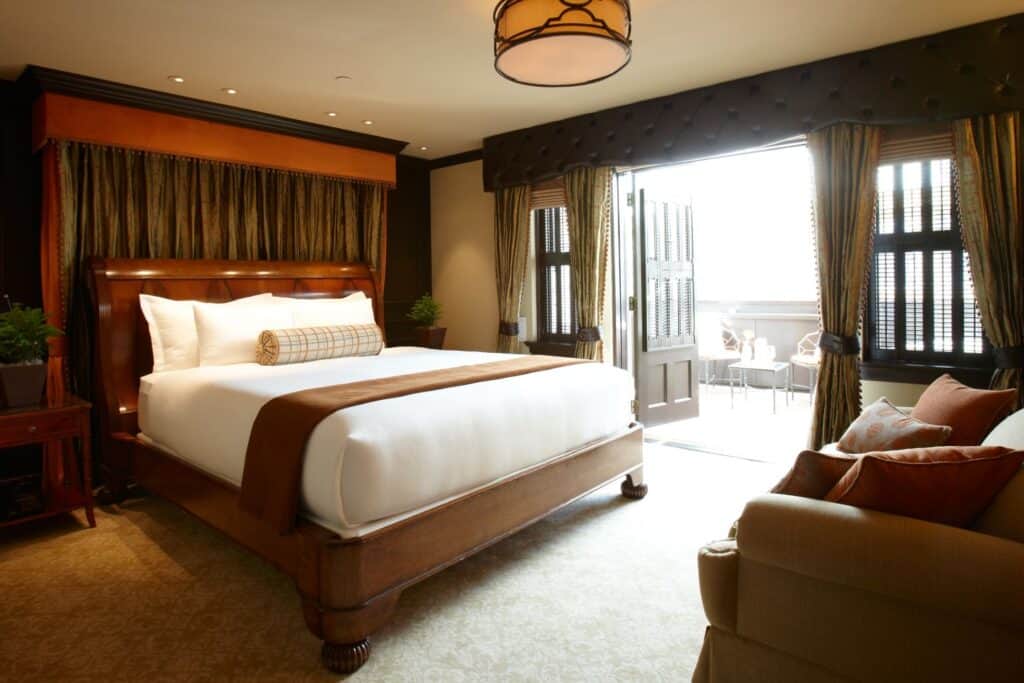 Where: Kohler, WI
Highlights: Shuttle service throughout Destination Kohler
When it comes to resort hotels near Sheboygan, WI, The American Club has made an irreplaceable name for itself.
The hotel has been delighting guests with its incredible facilities, décor, and service for more than a century.
Each room of the hotel is designed for you to immerse into a world of relaxation.
The carriage house with rooftop fireplace and hot tub makes it perfect for romantic winter getaways in Wisconsin.
It is also renowned as one of the best spa resorts in Wisconsin that offer innovative hydrotherapy service.
Do not miss to visit the River Wildlife nearby which is one of the best places to see fall colors in Wisconsin.
In winters, head to the winter wonderland for activities like ice skating, skiing, and fat-tire biking.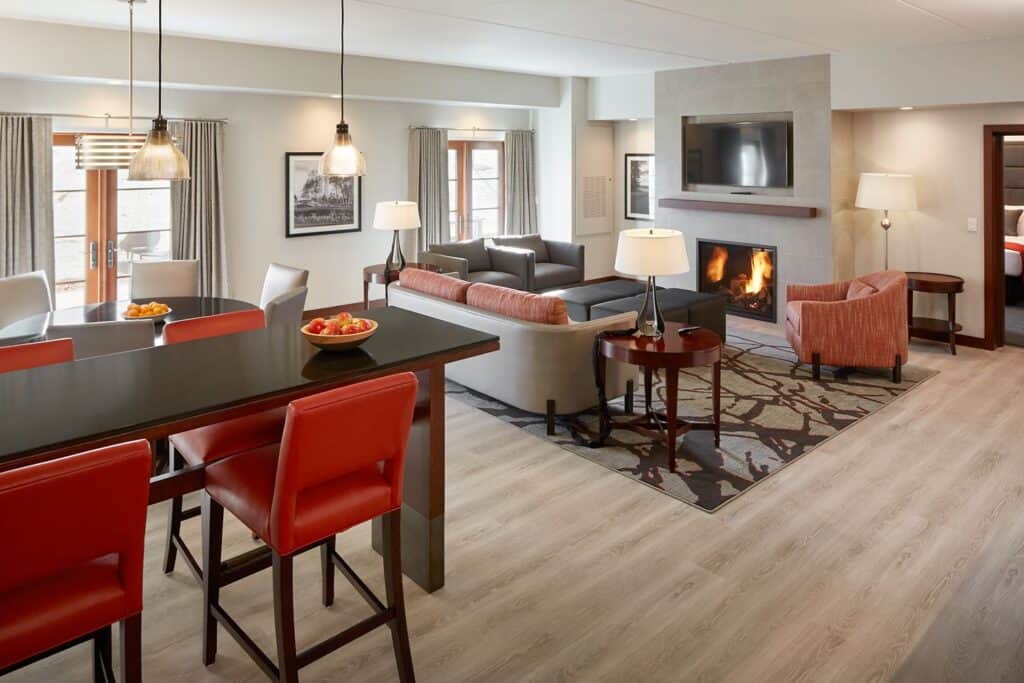 Where: Kohler, WI
Highlights: Private beach and putting green
If your idea of a perfect vacation is living on the lakeside, then head straight to the Inn on Woodlake, one of the best hotels in Kohler, WI.
This resort allows access to an 11-acre pristine lake with a private beach, and guests can also use the walking paths around Woodlake.
The rooms feature modern décor and let you enjoy the signature Kohler shower experience.
For larger groups, the resort has spacious suites that can comfortably accommodate up to 8 guests.
If you are looking for cool weekend trips in Wisconsin with your family that can incorporate both relaxation and adventure, this is a great choice.
The guests of the hotel can visit Kohler spa for rejuvenating treatments.
Other refreshing experiences to be enjoyed here are yoga on the lake and indoor cycling.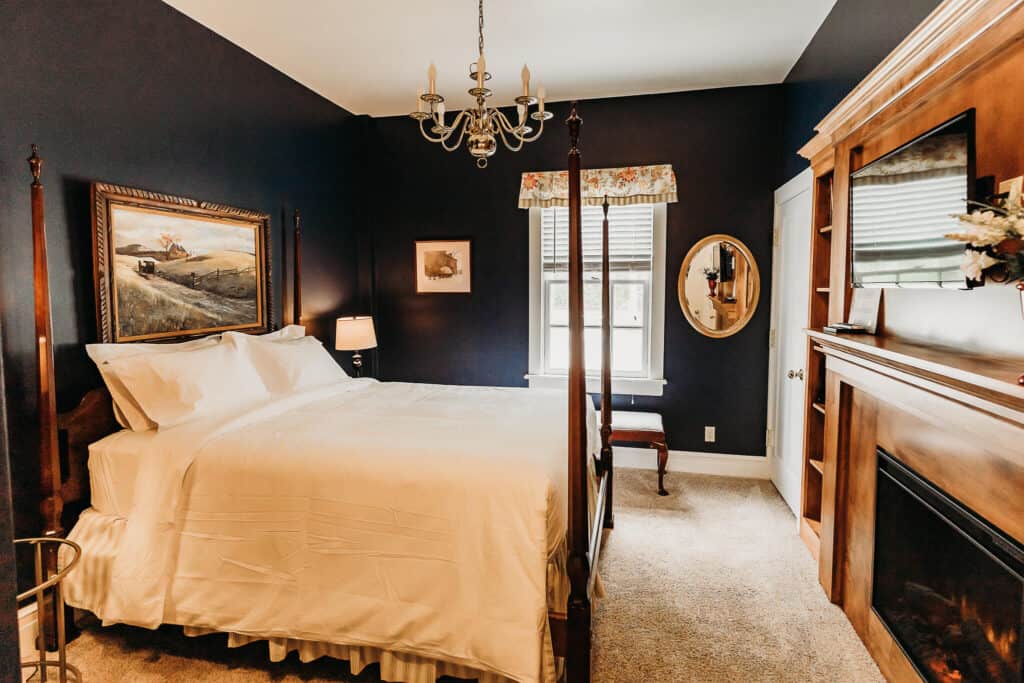 Where: Sheboygan Falls, WI
Highlights: In-room breakfast service
The Rochester Inn is one of the most stylish historic Sheboygan Falls hotels that was built in 1848.
The guest rooms and suites have comfortable amenities like whirlpool baths and Keurig coffee makers.
Mornings are made extra special here with complimentary full breakfast delivered to the room.
This is an ideal choice if you are looking for romantic hotels in Sheboygan Falls, WI for a romantic escape.
Guests can add extras like seasonal flowers, chocolate-dipped strawberries, and cakes to enhance your experience.
For a truly romantic getaway, you can also book a horse-drawn carriage ride to explore the beautiful Kohler village.
The fine dining options near the hotel are exceptional, and guests can even book the special package that offers a gift card to selected restaurants.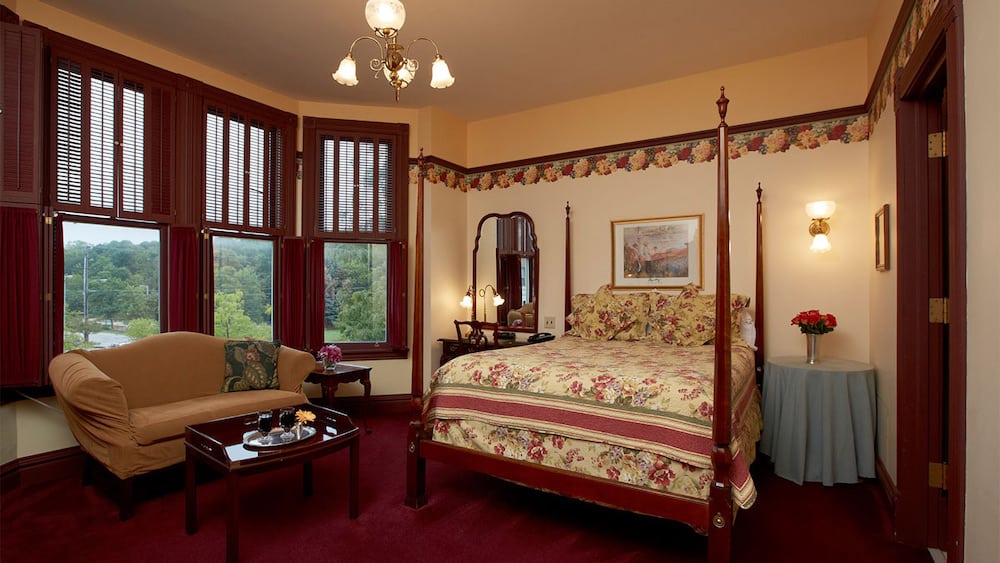 Where: Plymouth, WI
Highlights: Live music performance
The Fig and Pheasant Hotel in Plymouth impresses guests with historic charm and contemporary amenities.
It features rooms with free wifi, LED TVs, jetted bathtubs, and premium bedding, and is popular for its stunning décor, Irish music, and excellent hospitality.
Guests can relish a delicious complimentary breakfast before they head out for a day full of adventures.
Nearby, you can find some of the best hiking trails in Wisconsin near the hotel.
Other popular outdoor activities include biking, fishing, and kayaking, which are fun for family outings or romantic getaways.
The hotel is also within walking distance from Sheboygan County Fairgrounds which has plenty of recreational options.
For food, the hotel has an on-site restaurant and pub that offers a gastronomic delight.
Where: Elkhart Lake, WI
Highlights: Access to 600 feet of private beachfront
If you are looking for Elkhart Lake hotels with a private beach, The Shore Club is a great choice.
This luxury boutique hotel boasts rooms with comfortable furnishing and modern amenities.
Most of the rooms also have a private terrace for enjoying serene lake views.
The hotel ensures that you never have a dull moment with its facilities like games rooms, tiki bar, and picnic areas.
Guests will also find an indoor and outdoor pool for taking a refreshing dip, as well as a private beach with lounge chairs for sitting back and relaxing.
The Shore Club is one of the best hotels in Sheboygan for enjoying exciting water adventures.
Paddleboards, boats, kayaks, and other water sports equipment are available for rent here.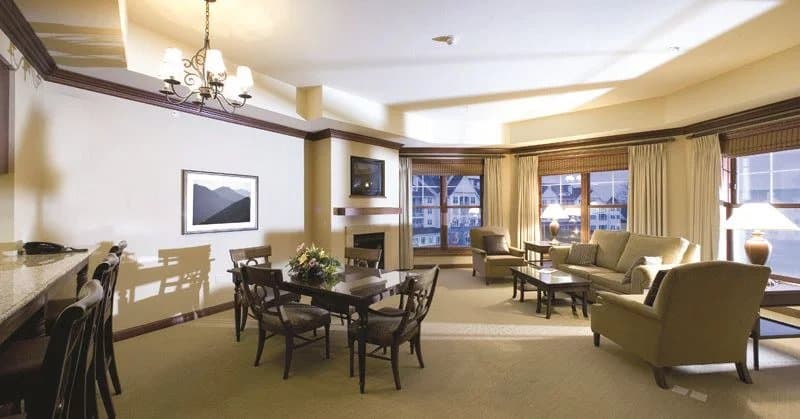 Where: Elkhart Lake, WI
Highlights: Excellent lakeside dining options
The Osthoff Resort is ranked among the best hotels in Elkhart Lake for relaxing with your friends and family.
The accommodation type ranges from luxurious guest rooms to suites with full kitchens and private balconies.
You can choose to stay in rooms that offer serene woodland views or picturesque lake views.
In terms of facilities offered, it stands out among other hotels in Sheboygan, WI.
The resort has outdoor swimming pools, an indoor pool, a whirlpool, an arcade room, and gift shops.
There is also has a spa that offers relaxing massages, body treatments, and facials for guests.
This luxury hotel in Sheboygan lets you enjoy some of the most amazing outdoor activities in Wisconsin in its neighborhood.
Guests can spend their day enjoying fishing, biking, hiking, and horseback riding.
During winters, sledding and snowshoeing are the most popular things to do in Sheboygan near this hotel.
---
Short FAQ About the Best Hotels in Sheboygan, WI
1. What are the best pet-friendly hotels in Sheboygan?
Two of the best options for pet-friendly Sheboygan, WI lodging are La Quinta Inn or the GrandStay in downtown Sheboygan.
2. Which hotels in Sheboygan are good for families?
3. Can I book refundable hotels in Sheboygan?
Yes, most of the hotels in Sheboygan offer refundable options, though this might be for an extra fee. Make sure to check if this option is available when making a booking.
---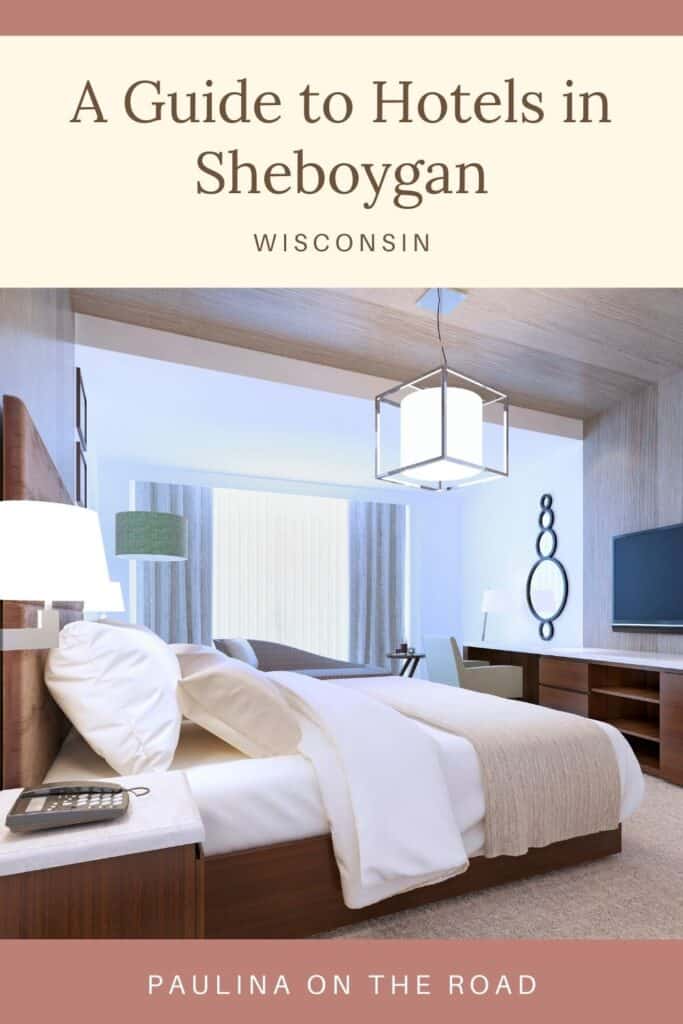 ---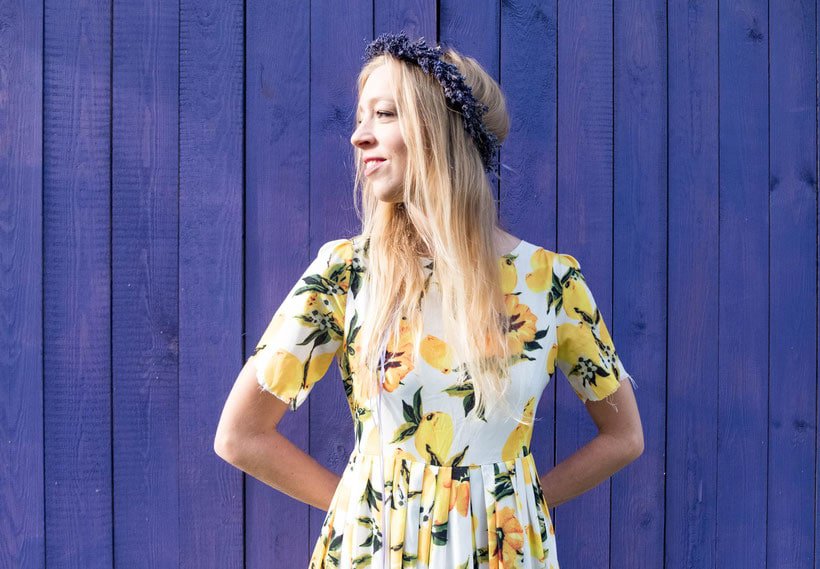 Hola! I am Paulina, a fervent travelette who crossed the Atlantic Ocean by Boat HitchHiking. On my blog, you'll find all the tips to make the most of your holiday. Get ready to enjoy outdoor and sustainable travel like hiking, cycling or sailing. Let's hit the road together!