An extensive guide to help you choose the best Airbnbs in Racine, Wisconsin
Do you love exploring new cities and experiencing unique neighborhoods up close? Then Racine, WI is the perfect destination for your next getaway.
Whether you're looking to explore nature or participate in local culture, plenty of accommodation options can help you make the most of your travels.
From vintage farmhouses to modern city lofts, choose the best Airbnbs in Racine – with their own trends and personalities to discover as you explore this vibrant Wisconsin town!
If you're looking for a unique travel experience this summer, why not experience Racine and explore everything Wisconsin has to offer? Travel Wisconsin and make some unforgettable memories!
This blog is supported by you, dear reader. If you purchase through a link, I earn a small commission. As an Amazon Affiliate, I earn from qualifying purchases.
Psssst…!!?? You can't get enough of Airbnb accommodations in Wisconsin? Have a look at my other posts:
Top Airbnbs in Racine, WI
Looking for the best Airbnbs in Racine? The Hive Downtown Racine is located in the heart of downtown, a unique property offering a unique setting for your next getaway.
From the moment I stepped inside, I was struck by the stunning interior design, featuring chic furnishings and a cozy, inviting ambiance guaranteed that made me feel right at home.
The Hive also offers a range of amenities and extras, including a beautiful patio with outdoor furniture perfect for relaxing with a good book or catching up with friends over a glass of wine.
And with plenty of nearby recreational activities and attractions, there are always outdoor things to do in Wisconsin, cultural enrichment, or just some good old-fashioned fun.
So why wait? Book your stay at the Hive Downtown Racine today and see for yourself why it's genuinely the best Airbnb in town.
As I searched for homes for rent in Racine, I stumbled upon a two-bedroom house whose charm and uniqueness immediately caught my eye.
Situated in a serene location, this private quarter comes with its own bathroom and a sunroom with a swinging sofa.
The property's interior design is simply stunning – from the linens to the furnishings, the ambiance is warm and inviting.
One of the things you'll love most about this place is its proximity to recreational activities like Racine Zoo Beach and Quarry Lake Park.
If you're looking for a unique and charming place to stay in Racine, look no further than these extraordinary private quarters.
Welcome to a truly extraordinary apartment located on the scenic Lake Michigan coastline, just half a mile from North Beach.
As someone who is always on the lookout for unique and charming places to stay in Racine, WI, the Graduate apartment immediately caught my attention.
The attention to detail in the interior design, furnishings, and overall ambiance creates a warm and inviting atmosphere that will make you feel right at home.
And if you're traveling with furry friends, you'll be delighted to know that this apartment is pet-friendly.
When you're ready to venture out, the nearby Reef Point Marina and Racine Art Museum offer plenty of recreational activities and attractions to explore.
If you're in the market for the best family cabins in Wisconsin, this peaceful lakeside getaway is perfect for you.
As I walked into the house on the lake, I was immediately struck by its cozy and welcoming interior design, complete with elegant furnishings that exuded a sense of warmth and tranquility.
With the added bonus of a grill and fire pit, you can spend most of your evenings admiring the beauty of the lake while roasting marshmallows.
Moreover, there were nearby attractions like North Beach and Reefpoint Marina that will keep you entertained throughout your stay.
I would highly recommend this house to anyone looking for homes for rent in Racine, Wisconsin.
Looking for the perfect place to stay in Racine, WI? Look no further than Waves downtown apartment!
This cozy rental boasts a private deck, two bedrooms, and an office, making it the perfect place for a family or group of friends to call home during their stay.
The interior design and furnishings are tasteful and modern, creating an inviting ambiance that's perfect for relaxation.
With an open living room and harbor views, you'll love spending time in this space, and the fact that pets are welcome makes it an even more appealing option for travelers.
When you're ready to venture out, be sure to check out nearby attractions like Racine Zoological Gardens and Racine Masonic Center.
Book your stay at Waves downtown apartment on Airbnb in Racine WI today!
The Greyhound Downtown Apartment is definitely worth checking out, especially if you're looking for a place to stay in Racine, WI.
Located along the tranquil shores of Lake Michigan, this property is conveniently located near North Beach, which is only half a mile away.
What sets this apartment apart is its chic and modern interior. Everything from wall art to furnishings has been professionally designed with great attention to detail.
But the best part about staying here is that you don't have to leave your furry friend behind since pets are welcome!
Are you on the hunt for a new home to rent in Racine, Wisconsin?
Homes By Christopher has a newly refurbished 4 bedroom, 2 bathroom property just waiting for you to call it yours!
Inside, you'll find a newly built and professionally designed interior that will make you feel right at home.
Plus, there's so much to do nearby – from exploring the Great Lakes Naval Center to lounging at Pennoyer Beach Park – you'll never be bored.
In my opinion, this is a fantastic opportunity to stay at a dream home in a great location.
I recently stumbled upon a hidden gem in Racine, Wisconsin – a treehouse getaway that is the perfect escape from city life.
This cozy cabin in the woods has a deck and gazebo that overlook a tranquil creek, providing the ideal spot for a morning coffee or evening wine.
But the magic doesn't end there – step inside and you'll be blown away by the newly built and professionally designed interior.
Comfortable outdoor sofas and a fire pit add to the charm, creating the perfect spot for roasting marshmallows under the stars.
If you're looking for something else to do, Quarry Lake Park and River Bend Nature Center are just a short drive away.
This is one of the most unique and inviting houses for rent in Racine and if secluded cabins in Wisconsin is what you're after, this is the choice for you.
Imagine waking up to a stunning view of Lake Michigan every morning. Well, that's exactly what you'll get with this remodeled 1920s house located right across the street from North Beach in Racine, Wisconsin.
The house has been completely modernized, offering all of the comforts of home with a stylish twist.
A mix of eclectic furnishings and decor provide a unique, yet comfortable atmosphere that is perfect for vacationers looking for something different.
Step out onto the patio and you'll find outdoor sofas and a fire pit, perfect for relaxed evenings spent overlooking the lake.
Plus, with Racine Zoo just a short drive away, there's no shortage of activities to keep you entertained during your stay.
This house is the perfect choice for those who love Racine and are looking for the best lake cabins in Wisconsin.
The Beach Cottage at Michigan Blvd is an ideal destination for anyone looking for an unforgettable beach vacation.
As someone who loves the beach, I was delighted to find out that this house overlooks a 1st Blue Wave Certified beach in Wisconsin.
The 3-bedroom Beach Cottage is fully furnished with outdoor furniture and has pet-friendly options, perfect for a family getaway.
What's more, the location of this cottage is ideal, as it is in close proximity to North Beach, the Racine Zoo, Downtown Racine, and the Kid's Cove.
If you're seeking adventure or just looking to relax, Homes for rent in Racine WI just got better with this irresistible Beach Cottage.
Welcome to a historic treasure on the shores of beautiful Lake Michigan – a charming house that exudes character and warmth.
This three-bedroom beach cottage is the perfect family-friendly space, complete with pet-friendly options and comfortable outdoor furniture to enjoy the stunning views.
Originally the Bucket of Blood Tavern on Main Street, this building was moved to Michigan Blvd in the late 1800s and lovingly transformed into a residence by a British Naval Captain.
Now, it continues to capture the hearts of travelers seeking a unique vacation home filled with history and charm.
Take a step onto the front porch or the upper deck off the master bedroom and gaze upon the breathtaking lake views.
If you're looking for homes for rent in Racine, WI, you won't want to miss this gem.
Experience the perfect combination of comfort and sophistication in this spectacular 2 bedroom bungalow located in the desirable West Racine neighborhood.
This charming apartment has undergone a complete renovation and boasts elegant finishes throughout, including a cozy fireplace that sets the mood for a relaxing evening.
Conveniently located near a vibrant shopping district, this lovely bungalow offers easy access to anything you might need.
But that's not all, Lake Michigan is just a short drive away where you can take a dip, cast a line, or enjoy a variety of exciting watersports.
Additionally, there are plenty of Golf Municipal and Private Courses in the area, which makes this offering ideal for golf enthusiasts.
So, if you are looking for delightful houses for rent in Racine County, this is it!
If you're looking for houses for rent in Racine, look no further than this beautiful downtown condo.
Located just two blocks away from the heart of the city, this rental offers convenience and style. It also comes with a game room complete with a Foosball table, smart TV, and board games.
Plus, you'll be just a short drive away from the Racine North Beach and Lake Michigan Pathway.
As someone who's stayed here before, I can tell you that this condo is the perfect place to call home during your stay in Racine.
Picture yourself waking up to a stunning view of turquoise water every morning at this gorgeous Lake Michigan cottage.
With 4 bedrooms and 3 bathrooms, this house offers the perfect sanctuary for a big family or group of friends looking to escape the hustle and bustle of city life.
When you're not lounging inside, take advantage of all the outdoor activities right at your fingertips, including swimming and kayaking right on the property.
This stunning cottage is located in Racine, WI, making it a prime choice for anyone searching for houses for rent in this area.
Trust me, this is one experience you won't want to pass up.
Hidden along the scenic waterfront of Lake Michigan, this retreat is a luxurious and spacious house that boasts stunning views of the lake and can accommodate up to 12 people.
As someone who loves a good view, this property is a must-visit!
It features an outdoor hot tub that's perfect for stargazing or watching the sunset, an enclosed patio for relaxation, and even a gym for workouts.
The house it's a pet-friendly accommodation so you can bring your fur babies along for the adventure.
If you're looking for something outside of the house, Sanders Park is just nearby, offering various activities to do.
This is definitely one of the best houses for rent in Racine, WI!
My final conclusion on the best Airbnbs in Racine, WI
Racine is an amazing getaway destination with plenty of hidden gems to explore and activities to take part in.
From beach-front properties to historic homes, the 15 best Airbnbs in Racine offer incredible value for money, so if you're looking to make your getaway as special and comfortable as possible – give 'em a look!
Whether it's a beachside getaway or a nature-filled retreat, traveling to Wisconsin can be an unforgettable adventure.
From the Airbnb listed here, you will find the perfect spot for your vacation. Now all that's left is choosing between these incredible accommodations – happy travels.
FAQ about the best Airbnbs in Racine, WI
---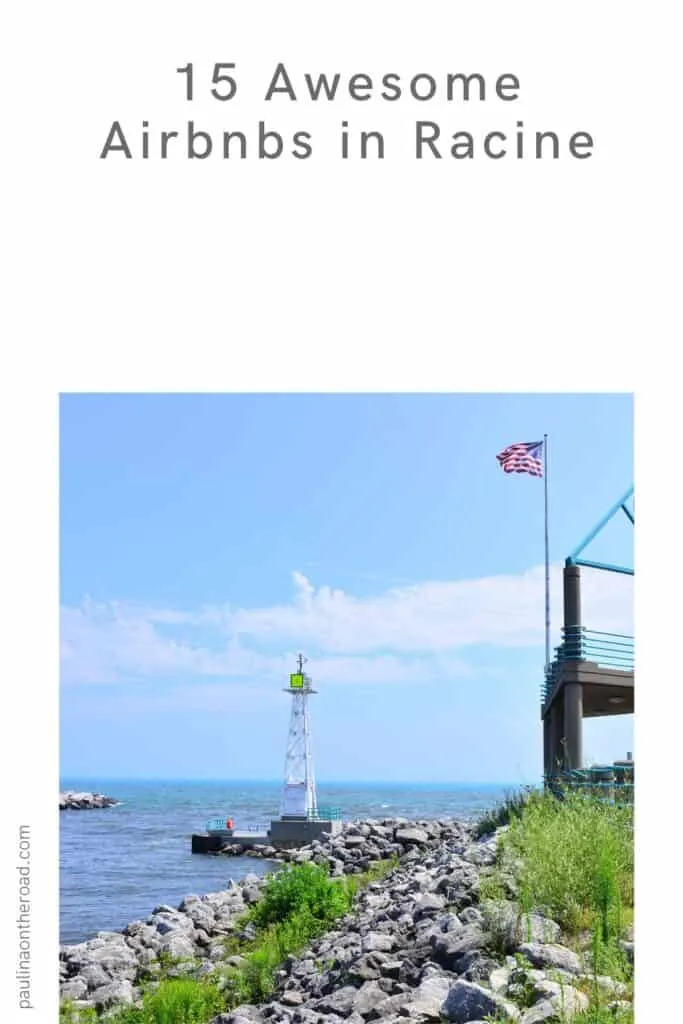 ---