Guide to the best winter activities Lake Geneva has to offer for romantic getaways and family fun
Lake Geneva in winter is as close to a fairy tale as it gets in Wisconsin.
Although its name is associated mostly with summer vacations, many cool things to do in Wisconsin in Winter can be found right here.
If you're worried that you'll get bored in Lake Geneva in winter if you like active vacations, you couldn't be more wrong.
In fact, there are lots of wonderful winter activities in Lake Geneva, including snowmobiling, sleigh rides, and so much more.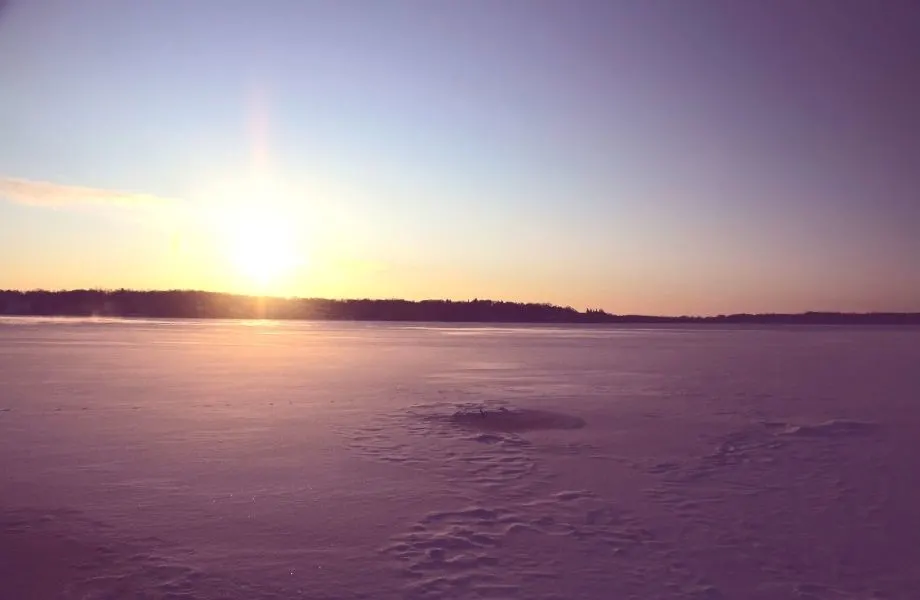 There are also lots of cozy accommodation options, too.
Lake Geneva has some of the most romantic hotels in Wisconsin, as well as some of the coziest winter cabins in Wisconsin.
There is a quantity of indoor and outdoor things to do in Lake Geneva in winter.
So keep reading, you are in for quite a few surprises!
"Paulina on the Road" is supported by you, dear reader. As you buy through my links, I earn a small commission. As an Amazon Affiliate, I earn from qualifying purchases. Thank you for your support
Top resources to travel Wisconsin
✎ Plan the ultimate Wisconsin road trip (no backtracking!) with the Perfect Wisconsin Road Trip itinerary – Buy now for less than 12$

✈ Find the best hotel deals in Wisconsin with Trivago

➳ Book vacation rentals in Wisconsin with VRBO

✔ Book tours in Wisconsin with Viator

☘ Get the best discounted outdoor gear (outlet) at REI.com

$ Get Wisconsin hiking guides and maps at REI.com

✎ Never leave without travel insurance. I get mine at SafetyWing. It is easy to set up, cheap, and reliable.
Where to Stay in Lake Geneva in Winter
Budget
Geneva Wells Motel **
Fontana Village Inn **
Mid-Range
The Geneva Inn ***
Bella Vista Suites Lake Geneva ***
Luxury
The Abbey Resort ****
The Cove of Lake Geneva ***
Grand Geneva Resort and Spa ****
If none of these options work for you, you can also check out my guide on where to stay in Lake Geneva. Not surprisingly, the city is home to some of the best lake resorts in Wisconsin.
Why Spend the Winter in Lake Geneva?
Should you choose Lake Geneva in the winter as a holiday destination? My opinion is that this area is a solid choice among several wonderful winter Getaways in Wisconsin. Here are the three most important reasons:
Winter prices are often more affordable. The quality is the same, but the competition from more famous destinations stimulates local businesses to offer attractive deals.
Even the most popular spots are less crowded. Strolling down the streets in downtown Lake Geneva, or working out on some of the best Southern Wisconsin hiking trails, is a completely different experience when you can enjoy some space.
Good choice of outdoor and indoor activities. The list of things to do in Lake Geneva in winter times is surprisingly rich. From a complete palette of winter sports, to year-round theater shows, to unique seasonal events.
I have picked 15 suggestions for you for amazing things to do in Lake Geneva in winter.
They do not cover one hundred percent of Lake Geneva winter events, but they are some of the best winter activities and cover a range of interestest and budgets.
1. Experience the magic of the Lake Geneva Ice Castles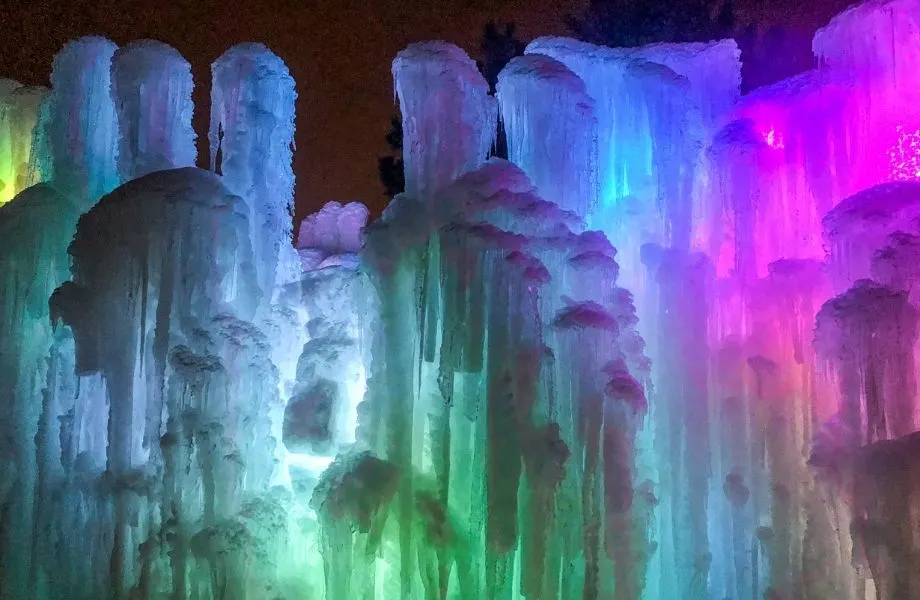 One of the most spectacular Lake Geneva winter events is available for several weeks.
The ice castles in Lake Geneva open in mid-to-late January and last through February or March, depending on weather conditions.
Professional ice artisans grow icicles, starting as early as November, and use them to build an incredible attraction park at Geneva National Resort and Club.
Lake Geneva Ice Castles are a shining frozen maze of tunnels, caverns, towers, fountains, slides, and crawl spaces, glistening with colorful lights at night.
If you are in search of cool things to do in Lake Geneva in Winter, be sure not to miss this icy fairy tale!
The ice castles are one of the main winter activities Lake Geneva can offer, and they even have plans to add sleigh rides to a larger, more immersive design in the future.
If you want to experience ice castles, Lake Geneva is one of five locations in the US where you can find this unique type of winter event.
This is definitely perfect if you're looking for cool weekend trips in Wisconsin during the winter.
The park was created by Brent Christensen in 2011.
Book here the best tours in Lake Geneva
2. Pamper yourself in a relaxing Spa Getaway
When outside temperatures drop, enjoying the tropical temperatures of a comfortable spa indoor is pure luxury!
Sweating in a sauna, getting a relaxing massage or a luxury face treatment are all things to do in Lake Geneva in winter.
The area boasts some of the best spa resorts in Wisconsin, so you know you're in for a treat!
Check out the Avani Spa at The Abbey Resort in Fontana, for example, a lakeside 90-acre property with comfortable rooms, suites, vacation villas, restaurants, and a fantastic panoramic inside swimming pool.
Or the Grand Geneva, one of the best luxury resorts in Wisconsin, that also organizes all sorts of winter activities in Lake Geneva: skiing, sledding, skating snowshoeing, and more.
Lake Geneva in the winter is one of the best lakes in Wisconsin.
When you are staying at a resort in Lake Geneva you can combine indoor spa treatments with lots of outdoor winter activities.
Many of the top winter resorts in Wisconsin offer spa packages to guests, making romantic getaways in Lake Geneva this time of year even better.
Book here the best winter cabins in Lake Geneva
3. Go skiing on Wilmot Mountain or Mountain Top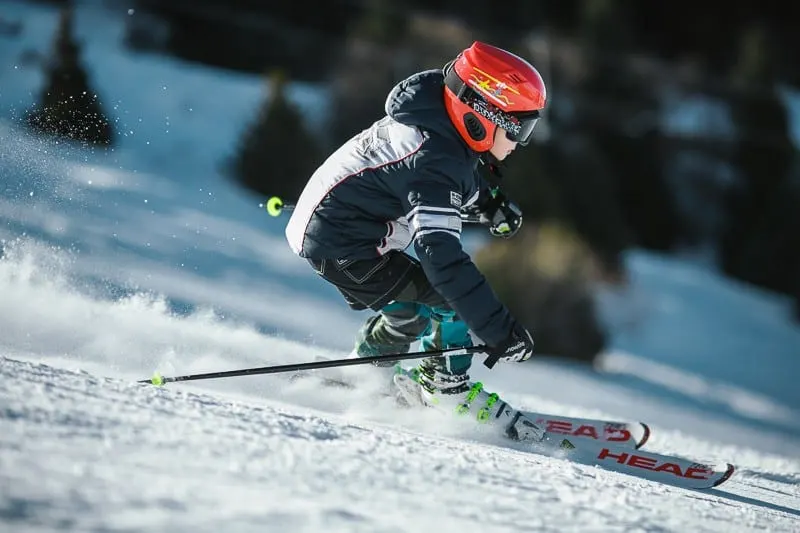 Wilmot Mountain, the oldest Lake Geneva skiing resort is also one of the best day trips from Milwaukee: about an hour's drive will take you to 120 skiable acres.
Discover the sport dimension of Lake Geneva in winter, with 25 trails, 7 lifts, 2 surface conveyor lifts, and 4 progression terrain parks with a double high-speed rope tow.
The trails are very diverse so you can find the right challenge for everyone, from beginners to experienced skiers. No wonder that Wilmot is high on the list of the best ski resorts in Wisconsin.
The resort is also one of those great Wisconsin vacation ideas for a family with kids: try snow tubing, if skiing or snowboarding are too demanding.
You have 22 lanes available to slide downhill on a tube and 2 surface conveyor lifts to take you back to the top.
For great skiing, check out also the Mountain Top, part of the Grand Geneva resort, another best-seller among the wonderful winter Getaways in Wisconsin.
And Alpine Valley, with over 90 skiable acres with 20 Runs, a vertical drop of 388 feet, and the longest run of 3,000 feet!
4. Discover the best rinks for ice skating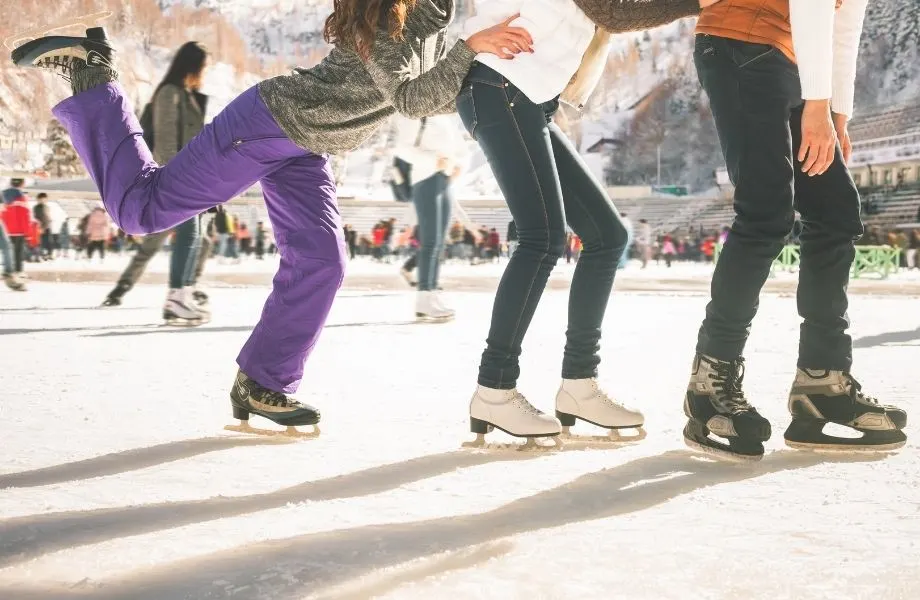 Acrobatics on ice are among my favorites in the list of cool things to do in Wisconsin in Winter.
Never mind being goofy, it's about having fun!
Lake Geneva ice skating offers several choices: there are both public rinks, free of charge (but you have to bring your own skates), and private resorts where you can rent the necessary equipment.
The Library Park, for example, is a community park on the north shore of Lake Geneva with a great lakefront view. Here you can enjoy free ice skating and admire the Historic Riviera Building.
Other free, bring-your-own-skates rinks are found at Pier 290 (Williams Bay) and Rotary Park (Walworth).
Or rent skates at one of several private resorts that offer ice skating in Lake Geneva.
Try The Abbey Resort in Fontana, one of the most romantic getaways in Wisconsin, or the Geneva Ridge Resort, the Lake Lawn Resort in Delavan or the Grand Geneva Resort.
These resorts offer a wide palette of winter activities in Lake Geneva, so they are among the most interesting places to Vacation in Wisconsin in the cold season too.
Buy here the ultimate Wisconsin itinerary
5. Feel adventurous snowshoeing in the woods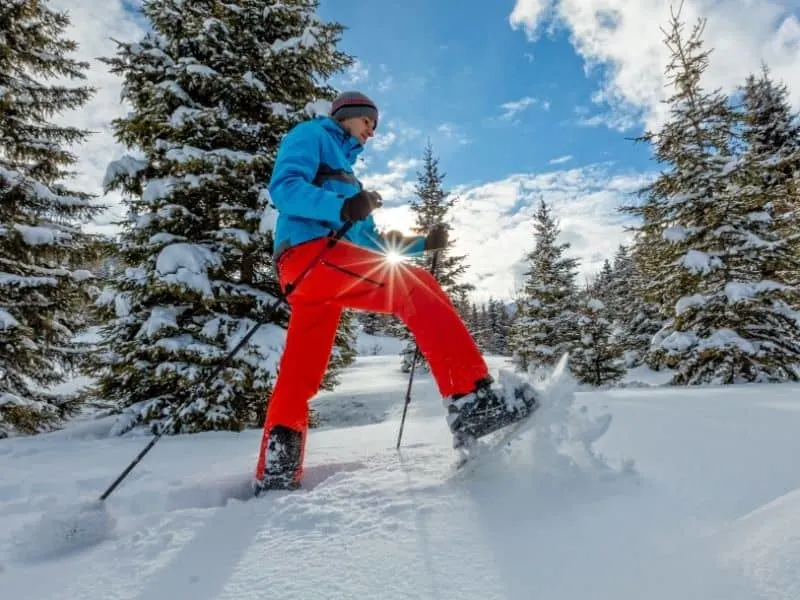 Lake Geneva in winter can make you feel a bit like one of Jack London's characters without wandering too far from urban centers.
Try snowshoeing without the risk of getting lost in the big wild and freezing all alone.
A great solution for beginners is Big Foot Beach State Park, one of the best state parks in Wisconsin.
Here you you can also rent snowshoes in the winter and go exploring.
The 271-acre park has restrooms and water, very close to the city center but with enough forest to satisfy your taste for adventure.
Another favorite snowshoeing destination is the Kishwauketoe Nature Conservancy.
Here you can get a peculiar Lake Geneva winter experience, learning the story of a piece of wilderness that was saved from commercial developers by the local community.
The KNC has a moving tagline: "Dedicated to the Children of Tomorrow."
If you are staying at a Lake Geneva skiing resort, you will probably find snowshoeing there too.
In case you desire a more rustic, "Great North" atmosphere, check out my list of winter cabins in Wisconsin.
There are so many of them, where you can get all the comfort and warmth you will need after romping in the snow, but still feel closer to the old trappers' spirit.
Buy here the best hiking guides to Wisconsin
6. Wow at the Dancing Horses Holiday Show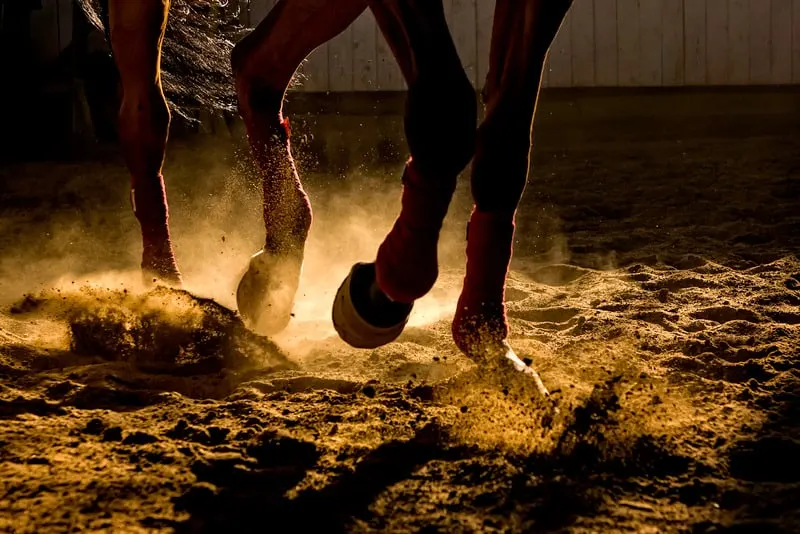 My choice of things to do in Lake Geneva in December is rich in indoor activities too.
The famous Dancing Horses theater, for example, organizes memorable holiday shows with its skilled riders.
In this very special equine arena the show is run by women: from the owner, Dana Montana, with her daughters Danelle and Danette, to the main trainers and performers.
Dana had a longtime dream to showcase the beauty and talent of her Arabian horses and created Dancing Horses twenty years ago.
The indoor arena is small but comfortable and climate-controlled.
The show is sumptuous and entertaining, with some 25 horses performing several Vegas-style routines for an hour and a half.
Do not miss a visit to the attached Animal Gardens Theme Park, a 40-acre venue housing 16 species of exotics and over 60 hay-eating animals that you can pet and feed.
A Wildlife Exhibit hosts animals that are indigenous to Wisconsin and some exotics too. In the deer park, you can even hand-feed the deer!
Book here the best Lake Geneva tours
7. Join the Electric Christmas Parade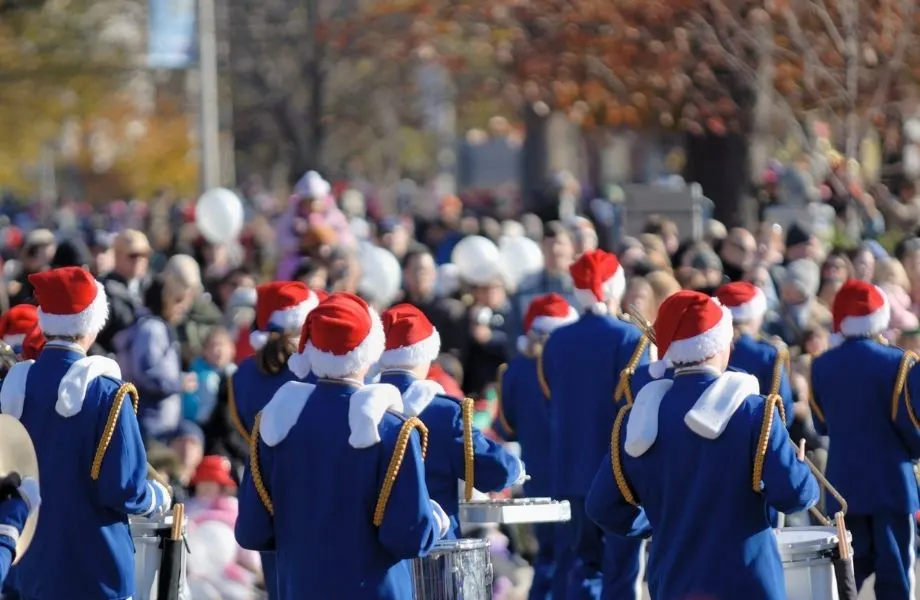 The Electric Christmas Parade is one of the main social events in Lake Geneva in December, with a tradition of nearly half a century.
On the first Saturday of the month, the colorful and light-filled parade walks down Broad and Main Streets in Downtown Lake Geneva.
Everyone, adults and children, are welcome to join.
The show is back in 2021 with the theme "Christmas Classics: Movies, Music & Stories."
Dozens of richly decorated floats, shining with colorful electric lights, and hundreds of marchers animate the streets, with thousands of spectators admiring the show and cheering.
Expect live music from marching bands, dancing, and all sorts of merry-making.
Diving into small-town fun is one of the best things to do in Lake Geneva in December.
Book here the best vacation rentals in Lake Geneva
8. Feel the magic of cross-country skiing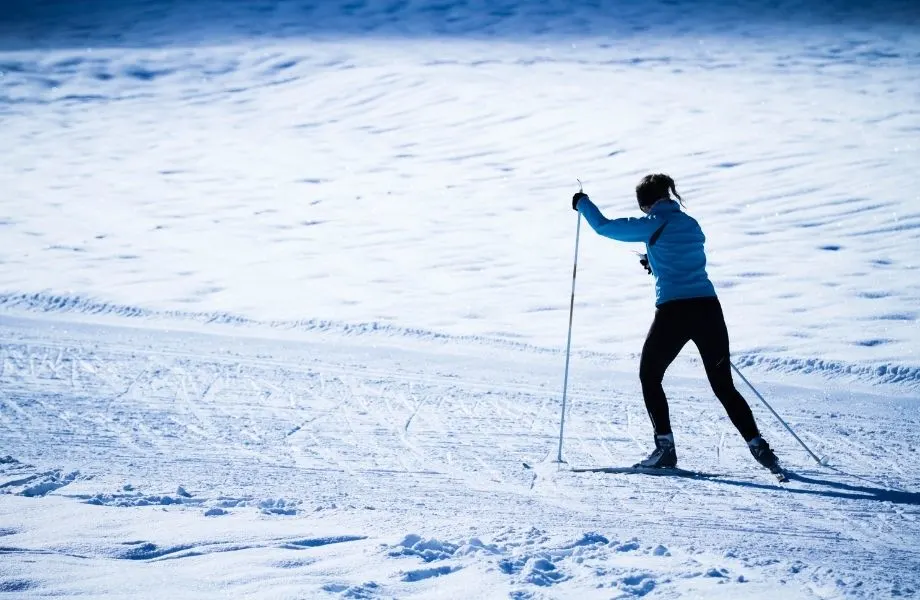 Winter activities in Lake Geneva offer so many outdoor opportunities.
The area hosts some of the best hiking trails in Wisconsin, and quite a few of them can be used for cross-country skiing when covered in snow.
The trails that are kept well-groomed and you can choose between the Duck Pond Recreation Area in Fontana, the White River County Park, the Big Foot Beach State Park, and, a little further, the Kettle Moraine State Forest.
If you need to rent the equipment, Clear Water Outdoors and Backyard Bikes can set you up.
Several private resorts, undoubtedly some of the most wonderful winter Getaways in Wisconsin, have their own scenic trails to accommodate cross country skiers.
Check out Grand Geneva, and Lake Lawn Resort in Delavan.
Buy here your Like a Local itinerary to Wisconsin
9. Experience the thrill of solving an escape room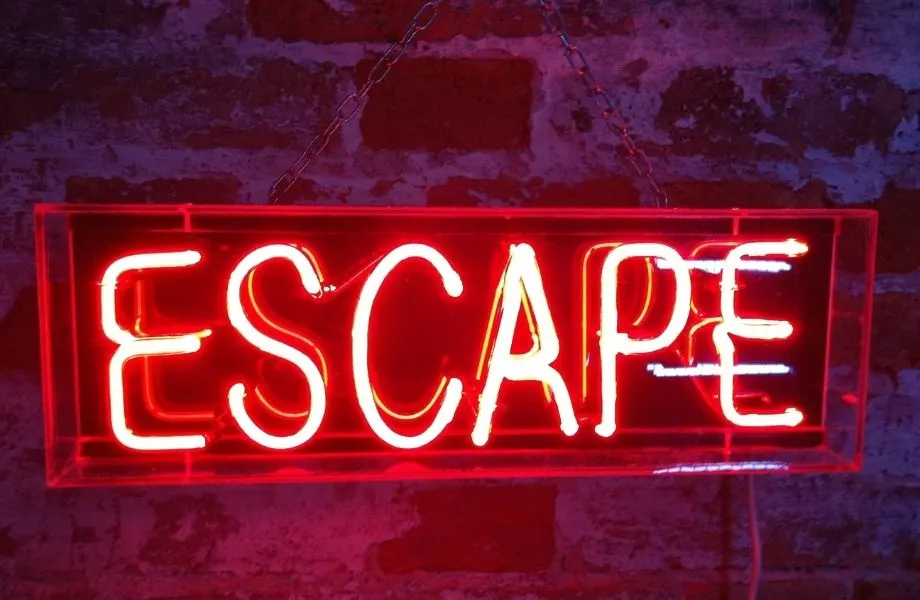 Have you ever tried one of the escape rooms in Wisconsin?
Unravel a mystery to unlock the room and regain your freedom.
This team game is one of the most entertaining indoor activities you can find in Lake Geneva in winter.
Lake Geneva Clue Room has four different challenges that you can try with your friends: "Gangster's Gamble", "The Double Agent", "Pilfered Playbook" and "Dark Carnival."
Each one has a specific storyline and a series of tasks for you.
Using the available clues, you need to solve the case in 60 minutes to unlock the room and escape.
Escape rooms are genial to stimulate team cooperation. Play with a group of up to 8 friends and learn to rely on each other's skills to achieve a common goal.
Buy here the best Wisconsin guidebooks
10. Snowmobiling, the forbidden fruit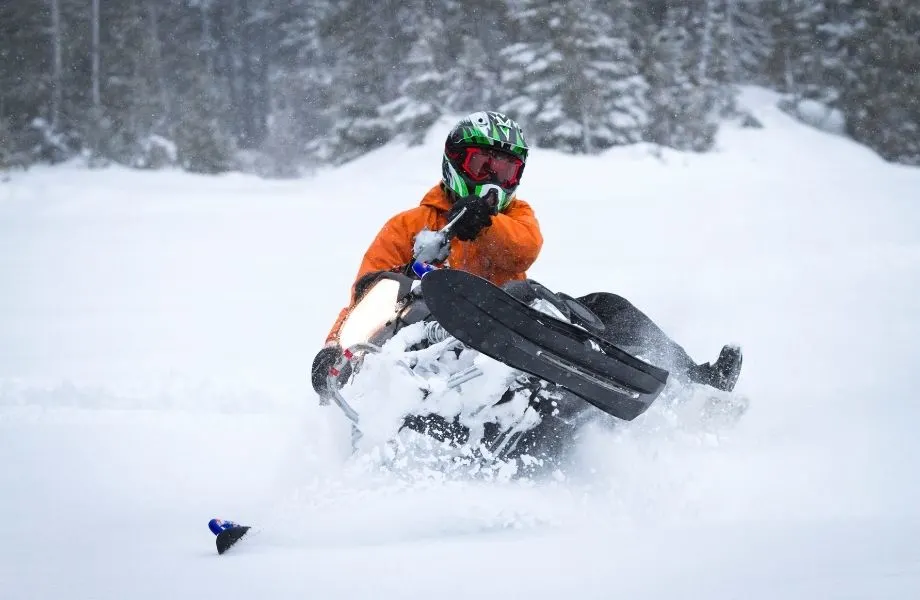 Snowmobile trails in Wisconsin are winter adrenaline adventures at their best.
The Lake Geneva area has some great trails, but it is not easy to get on them: they are mostly on private land, especially by the lake.
Get in touch with the Walworth County Snowmobile Alliance to get all the necessary information on what you can and cannot do and how.
The Alliance has a mission of installing, maintaining & grooming snowmobile trails.
They can also give you information on the possibilities to find a snowmobile unless you own one. You will need trail passes too.
Ask about the White River Bike Trail, a favorite local snowmobiling trail during the winter months.
A 12.6-mile former railway corridor, the trail runs from Elkhorn to Burlington.
Contact the County Highway Department, the Walworth County Visitors Bureau's Visitors Center (in Delavan), or the Elkhorn Chamber office for a trail pass.
Book here the best winter tours in Lake Geneva
11. Compete in the Abominable Snow Race at the Zipline Adventure Park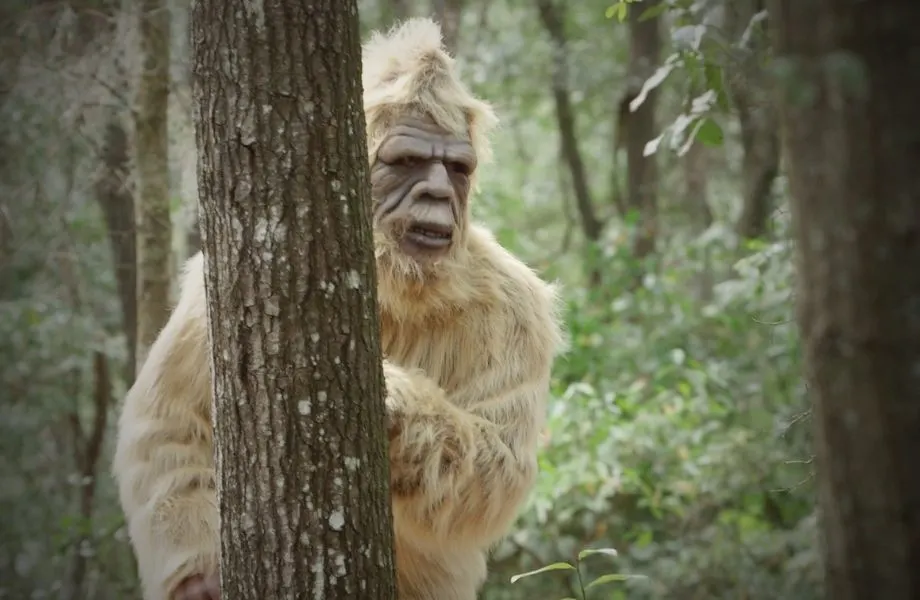 In its palette of winter activities, Lake Geneva does not forget the Yeti.
The Abominable gives its name to the craziest race of the season, a challenging 4-6 miles of snowy course with 20+ obstacles.
In the toughest winter climate at the end of January, you will rope-climb walls, crawl under a cargo net, race downhill on a tube, carry heavy hurdles, and much more.
You were not expecting to meet Yetis in Lake Geneva in winter, did you?
Well, join the Abominable Snow Race, and you will get to socialize with many of them.
Share gourmet food and craft beer by the firepit, enjoy music, dance, and live games.
The venue is the seat of Lake Geneva Canopy Tours, a zipline and high-rope climbing amusement park with 9 different zip lines, 5 sky bridges, 3 spiral stairways, and a double helix "floating" stairway.
Find yourself a cozy accommodation nearby with one of numerous Lake Geneva winter cabin rentals, and you have guaranteed fun and excitement for several days.
Book here cozy winter cabins in Lake Geneva
12. Get your portion of Jingle Bells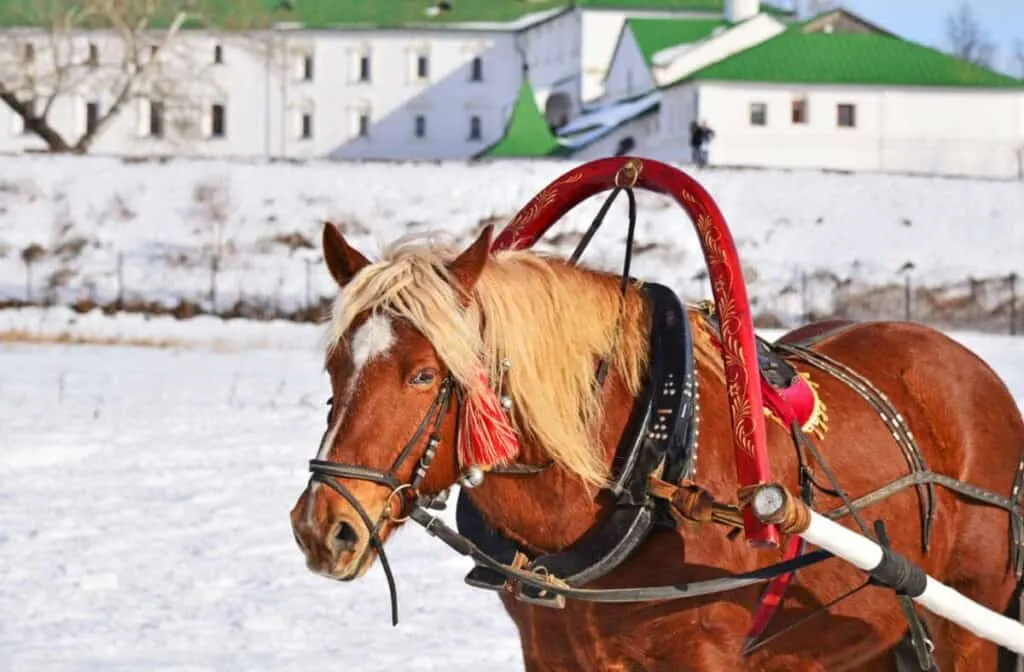 What about the most romantic winter picture of all, an open sleigh gliding down snow-covered roads in the forest?
If you want to experience Lake Geneva sleigh rides, the place for you is Dan Patch Stables at Grand Geneva.
This family-run business offers a diverse palette of equine experiences for visitors.
While these rides are limited to the Grand Geneva property, you can get a sleigh ride along the lake when visiting the Lake Geneva Ice Castles. Book one when buying your tickets.
These are short, 15-minute rides for groups of up to 12 people, free for children 3 and under.
Not enough for you? What about some additional Lake Geneva sledding?
The area hosts 12 local sledding hills where you can have fun for hours on end.
Several of them are located at local parks and trails. Plus, each and every Lake Geneva skiing resort offers sledding too.
Buy here the best Wisconsin road trip itinerary
13. Enjoy a Vegas-style show at Tristan Crist Magic Theatre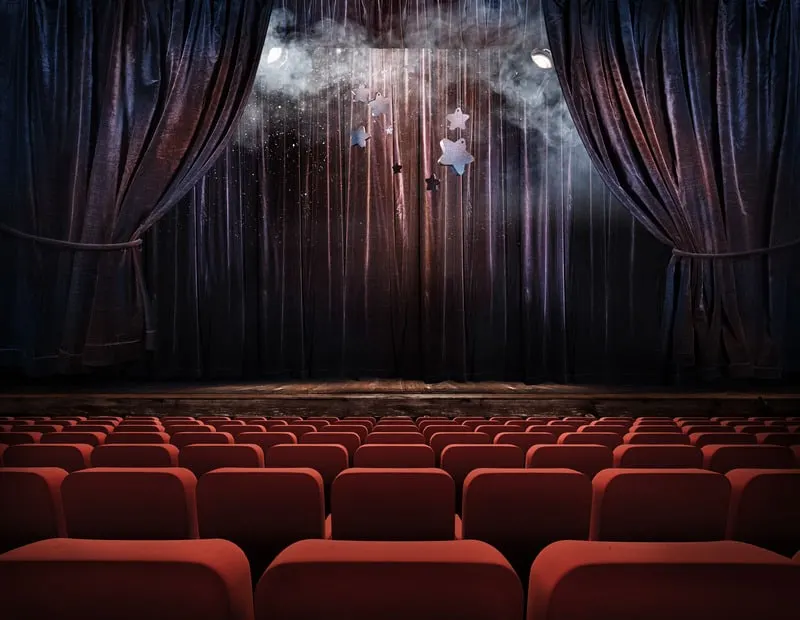 When I read a review of what happens in this small, 175-theatre, it sounded exaggerated, so I went to check it out.
Of all the attractions of Lake Geneva in winter times, this is the most surprising!
What about seeing a helicopter appear a few feet away from you?
Tristan Crist, the master illusionist, has been performing magic tricks since he was a child, but still… you will not believe your eyes during one of his fast-paced 60-minute shows.
Ladies cut in two, objects levitating, a 700-kg Harley Davidson appearing and disappearing in two seconds!
Tristan's show is among the most fun and unique things to do in Lake Geneva.
The theater is open year-round, so this Vegas-in-a-small-box entertainment is not strictly classified as one of Lake Geneva winter activities.
But it's also a great evening activity after enjoying some of the amazing outdoor activities in Wisconsin all day, if you want to enjoy a truly unique vacation.
Buy here the best guidebooks to Wisconsin
14. Sail on the lake with a Magical Christmas Boat Cruise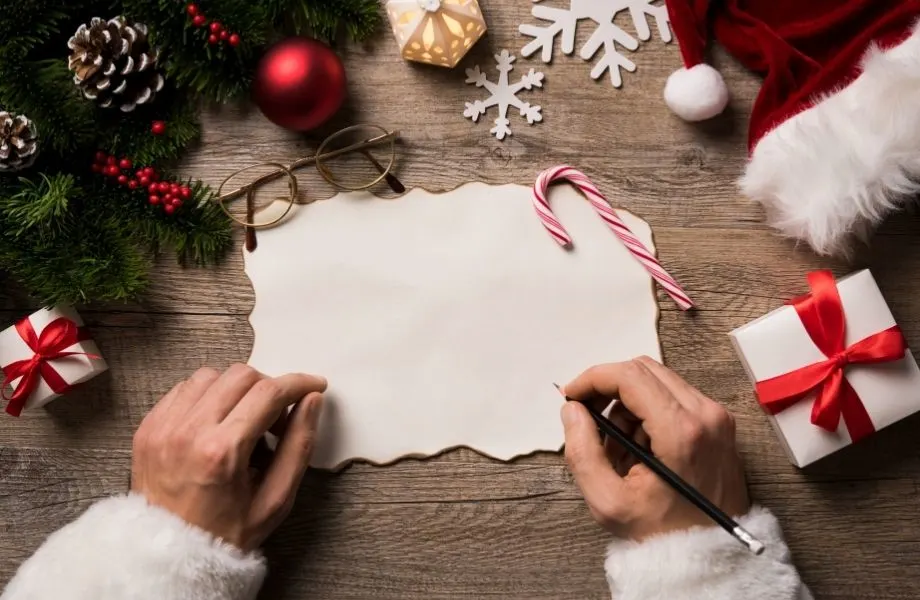 Did you know that among all the things to do at Christmas in Wisconsin, you can discover Santa's Hideaway?
Lake Geneva in December hosts this special place, and you can see it by getting on board the Santa Cruise!
While sailing on the lake, you will admire lighted displays on the shore and wave hello to Santa himself as he reads the names of the children on board who are on his "Nice List."
The cruises are organized by Gage Marine Corporation and run from after Thanksgiving to the end of December.
Before boarding, you can visit the "Charities of Christmas Tree Festival", an indoor exhibition supporting the Santa Cause fundraising event.
Additionally, several local charities benefit from the event.
If you're looking for fun Lake Geneva things to do in winter for kids, consider making Santa Claus happy by making a small donation for the less fortunate.
Book here the best tours in Lake Geneva
15. Admire the giant ice sculptures at Winterfest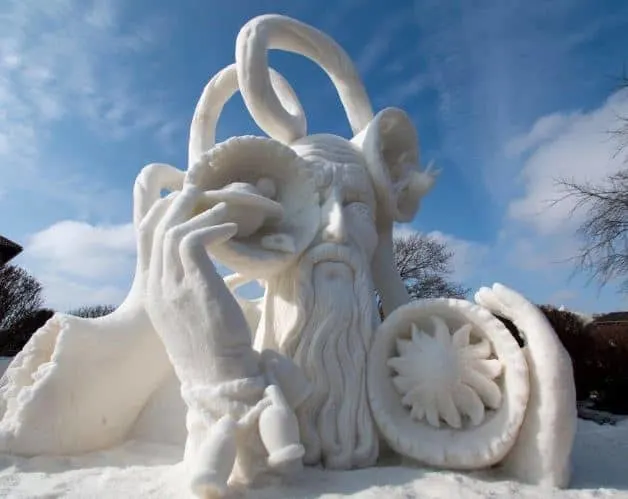 The Winterfest is one of the landmarks of Lake Geneva in winter, held for nearly thirty years at the end of February.
The festival features the National Snow Sculpting Championship, the only such show in the United States.
Lake Geneva Winterfest is famous for its 72-hour competition between 15 of the most talented, award-winning sculpting teams, state-champions from across the US.
Watch them at work while they create larger-than-life snow sculptures that will remain on display until they melt.
Of all the cool things to do in Wisconsin in Winter, this snow sculpting festival is one of the best choices.
Side activities like s'mores and bonfires on the beach, a cocoa crawl, fire & ice bar, and hovercraft rides can entertain adults or whole families for several days.
Couples can enjoy it too, also keeping into account that Lake Geneva boasts some of the most romantic hotels in Wisconsin.
Make sure to also check out one of the best Christmas markets in Wisconsin.
Book here the best winter cabins in Lake Geneva
---
Have you changed your idea of Lake Geneva as a summer destination only?
Small local environments can pleasantly surprise you when you take the time to explore them.
Winter in Lake Geneva has so much to offer. You can choose to be just lazy and relax or go for an active vacation. Even better, combine the two dimensions.
Be it indoor or outdoor, Lake Geneva is one of the most agreeable among all of the places to vacation in Wisconsin. So try it, and let me know about your experience.
---
Short FAQ About Lake Geneva in Winter
What to do in Lake Geneva in winter?
There are lots of winter spots available in Lake Geneva, such as snowmobiling and snowshoeing. But one of the best winter activities in Lake Geneva is visiting the amazing ice castles!
When is Lake Geneva Winterfest?
Usually the first week of February.
Does Lake Geneva freeze in the winter?
Yes. However, sometimes only parts of the lake freeze over rather than the entire lake.
You can't get enough of Lake Geneva in winter? Have a look at my Google Story here.
---
Before You Go: Top Tips for your Trip
---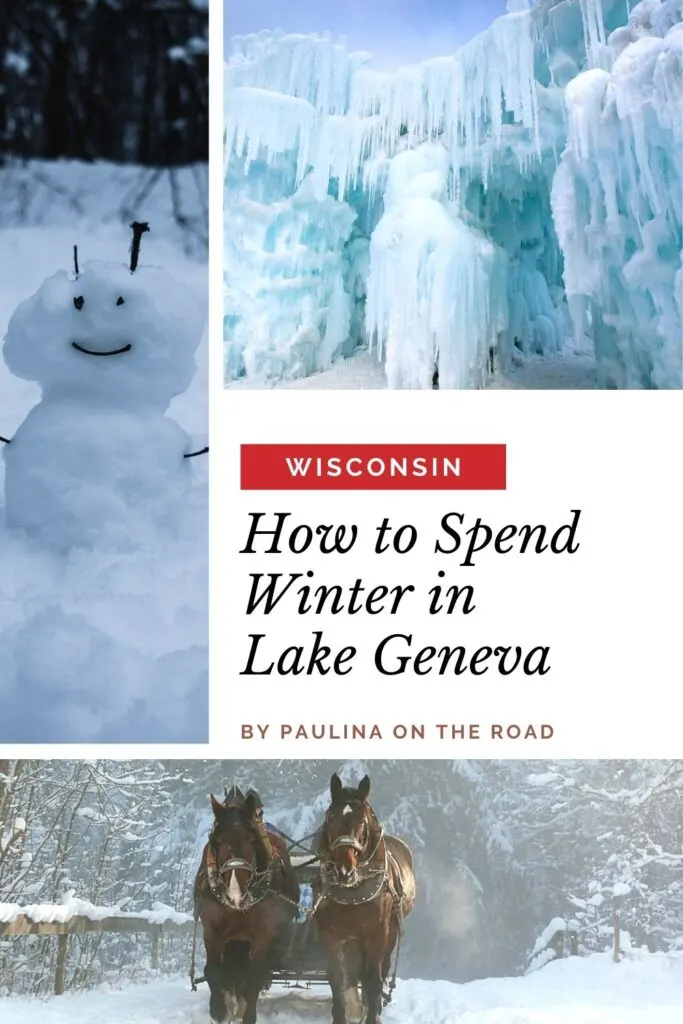 ---
Hola! I am Paulina, a fervent travelette who crossed the Atlantic Ocean by Boat HitchHiking. On my blog, you'll find all the tips to make the most of your holiday. Get ready to enjoy outdoor and sustainable travel like hiking, cycling or sailing. Let's hit the road together!