15 Best Things To Do in Apostle Islands, WI
A travel guide to the Apostle Islands, with gorgeous views, best beaches and rich heritage in Northern Wisconsin
One of northern Wisconsin's unmissable attractions, the Apostle Islands form a large archipelago with gorgeous views, famous red sandstone sea caves, and rich heritage.
For centuries, the islands were the site of logging, stone quarrying, fishing, and shipping. In 1970, the Apostle Islands National Lakeshore was established, turning most of the area into a nature reserve.
Now, its beautiful scenery and rich topography form the perfect location for rest, relaxation, and a range of outdoor activities.
Between the clear water of Lake Superior, the secluded sandy beaches, spectacular views, and fascinating historical sites, everyone's bound to find something of interest here.
In this article, I'll introduce you to the best ways to spend time in the Apostle Islands, whether you're looking for an outdoor adventure or a bit of relaxation in a gorgeous setting.
This post contains affiliate links. If you buy through them, I will earn a small commission that will help me run this blog. Without no extra cost for you. All opinions are always mine. Thanks a lot!
Useful Travel Information for Wisconsin
✎ Plan the ultimate Wisconsin road trip (no backtracking!) with the Perfect Wisconsin Road Trip itinerary – Get it here

✈ Book cheap flights to Wisconsin with Skyscanner

✔ Book tours in Wisconsin with Viator

➳ Book holiday and vacation rentals in Wisconsin with Airbnb

❖ Rent a car with at the best rates with DiscoverCars

☘ Get the best discounted outdoor gear (outlet) at REI.com

$ Get Wisconsin hiking guides and maps at REI.com

✎ Never leave without travel insurance. I get mine at SafetyWing. It is easy to set up, cheap, and reliable.
Best Airbnb in Apostle Islands, WI
Best Places to Stay in Apostle Islands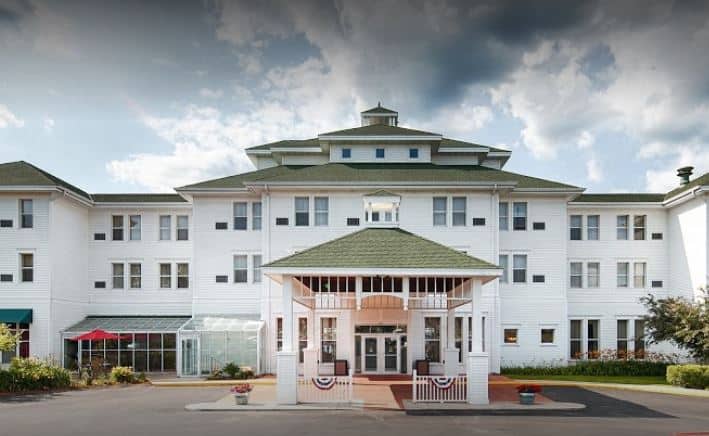 Located in Ashland on the shore of Lake Superior, the Best Western The Hotel Chequamegon is within walking distance of the Ashland Historical Museum, serveral shops, and over 20 restaurants.
This resort is considered to be one of the best resorts in northern Wisconsin and one of the top luxury resorts in Wisconsin.
From the hotel, it's a half-hour drive to Bayfield, the main point of access to the Apostle Islands archipelago. – Check rates here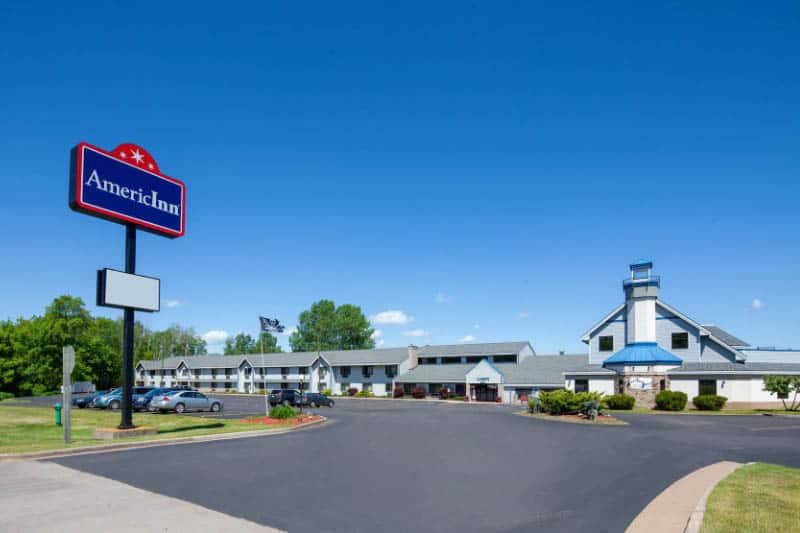 Also in Ashland, the AmericInn by Wyndham Ashland ** is a casual, comfortable hotel overlooking Lake Superior.
Close to local attractions, particularly the Ashland Breakwater Lighthouse, it's a great choice for exploring, both Ashland itself and the Apostle Islands, 20 miles away. – Check rates & reviews here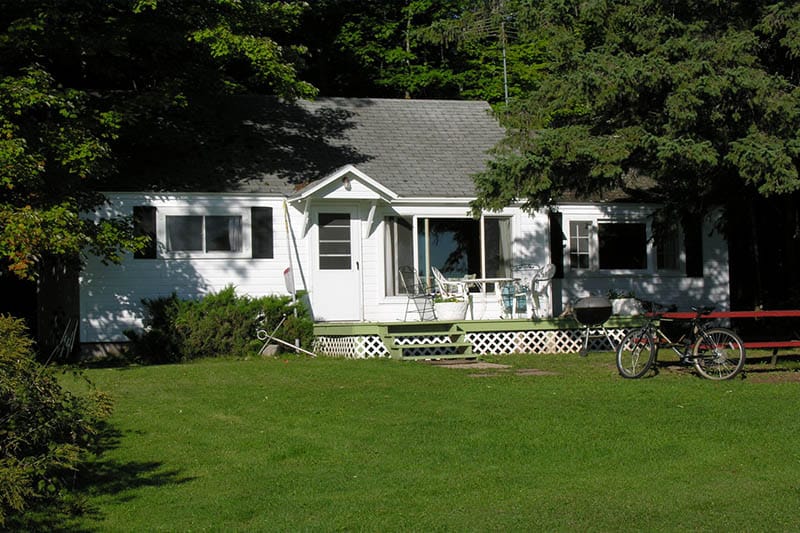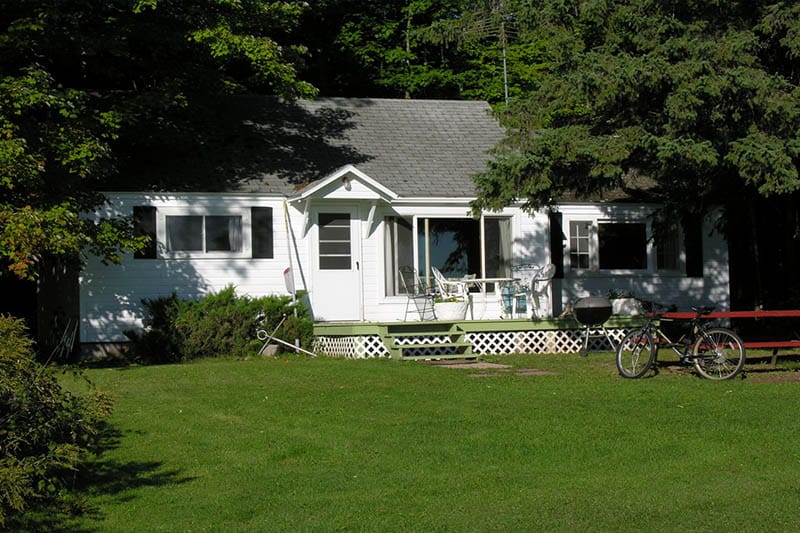 Bodin's Resort **** in Washburn, Wisconsin, is only 9 miles away from Bayfield and the Madeline Island ferry.
Right on the edge of the Haughton Falls State Natural Area, Bodin's Resort offers cozy cabins overlooking Lake Superior.
This area offers some of the most romantic cabins in Wisconsin. – Check rates & reviews here
---
1. Kayaking in Apostle Islands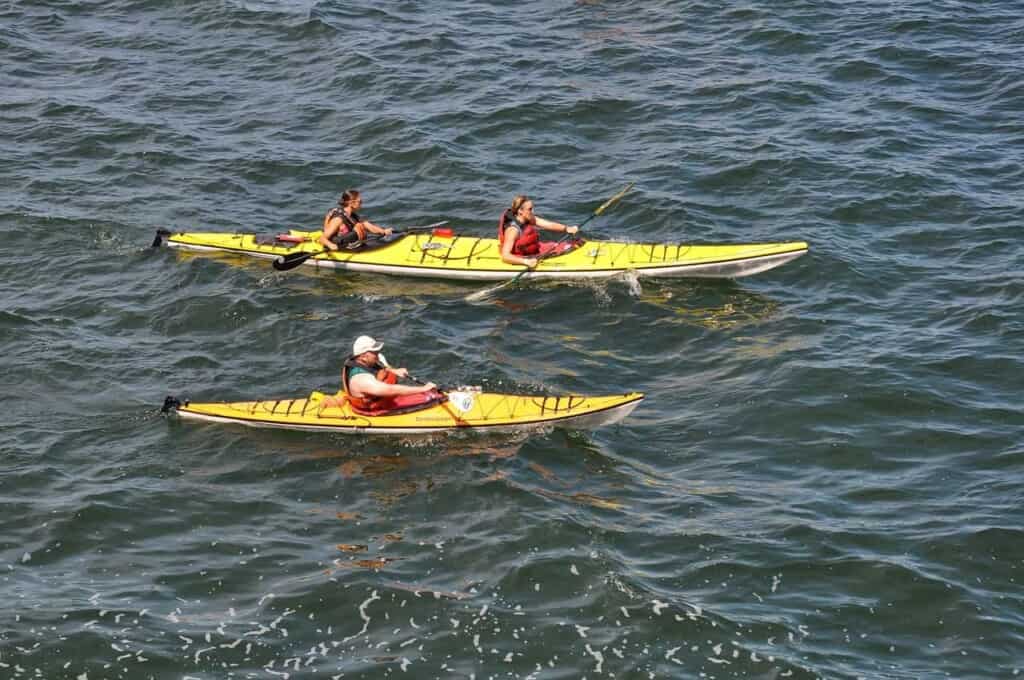 Kayaking is one of the best ways to explore the Apostle Islands, enabling you to discover hard-to-reach spots and unique points of interest.
While kayaking on Lake Superior, you can explore caves, see shipwrecks, go snorkeling, or just immerse yourself in the natural beauty of the area.
Experienced kayakers, confident in their abilities, can set out to explore the National Lakeshore on their own, taking advantage of the many kayak rental facilities in the Apostle Islands' area.
You can also bring your own inflatable kayak since they are light to carry. – Check prices here
Guided kayak tours are also available, providing training, equipment, and planned excursions, both during the day and at nighttime.
One of the best places to start your kayaking tour is Meyers Beach since it is extremely close to the scenic sea caves of the Apostle Islands. It's the perfect place to enjoy a ride in an inflatable kayak for whitewater.
2. Go camping in Apostle Islands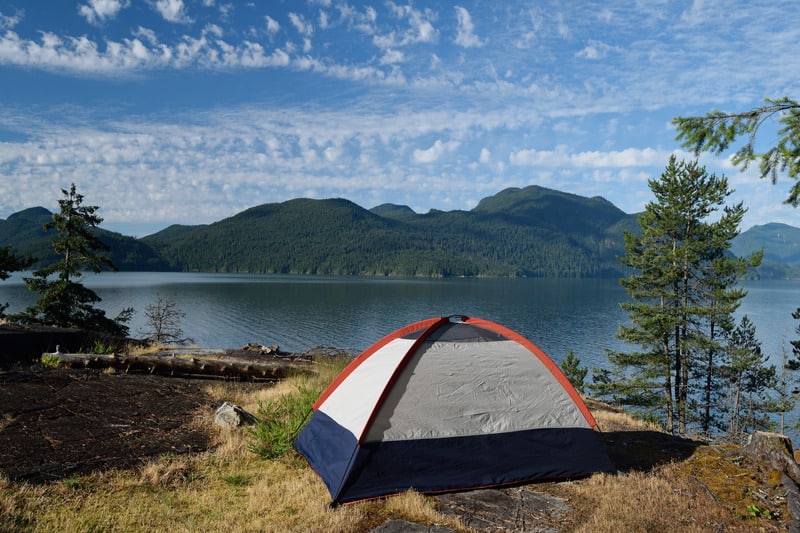 For a truly unforgettable outdoor experience, spend the night (or several!) camping in the Apostle Islands. There are plenty of campgrounds near the Apostle Islands, many offering full facilities.
Car campers and RV users will be limited to the mainland and Madeline Island campsites, as there is no automobile traffic in the National Lakeshore itself. – Check here RV rentals in Northern Wisconsin
19 of the other islands offer campsites that can be reached by kayak, a private water taxi, or a ferry service (to Stockton and Oak island).
From wooded serenity typical for the state parks in Wisconsin to pools and activities at private campgrounds, you can enjoy your vacation to the fullest. The state parks' fall foliage is gorgeous and this makes it one of the best fall activities in Wisconsin and certainly one of the best fall getaways in Wisconsin.
Camping on Sand Island
If sea caves and sandy beaches are what you're here for, consider camping on Sand Island. It's close to Little Sand Bay on the mainland, which offers free parking and is a great starting point for kayaking.
If you want to get into kayaking, make sure to check out the best inflatable kayaks for whitewater.
Camping on Oak Island
Hikers might want to consider camping on Oak island. For a more secluded experience and a gorgeous north-facing beach, York Island will be one of the best choices.
Adventurous campers will be glad to find out that 16 of the islands also offer primitive camping zones with no facilities or other camps nearby, allowing for a full immersion in the natural beauty of the area.
There is a set of rules to follow, such as a limit of five people per group, and keeping at a distance from streams, structures, and other campsites.
Backcountry campers are also required to adhere to the Leave No Trace principles and stay in groups of no more than five people.
Permits are required for all camping activities in the Apostle Islands. These can be obtained from recreation.gov. Fees apply $15-30 per night, plus a $10 reservation fee.
3. Explore the ice caves and sea caves at Apostle Islands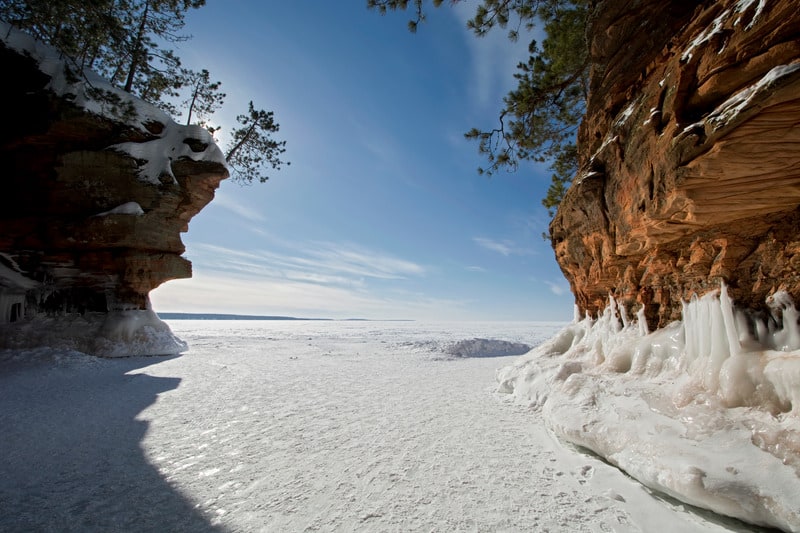 The spectacular red sandstone caves burrowing deep into the cliffs are one of the defining features of Apostle Islands.
Boat tours and hiking trails provide access to caves on the islands and on the mainland, respectively, in addition to kayaking excursions.
Numerous campsites along the shores, bike paths, and picnic areas are some of the attractions you can expect. It's definitely one of the best things to do in Northern Wisconsin.
During winter, when the conditions are just right, it's possible to visit the Apostle Islands' ice caves. Getting there requires a two-mile hike on the ice of Lake Superior, which makes for a unique experience in itself!
This makes the National Lakeshore one of the best national parks to visit in December.
The ice caves are sea caves burrowing into the sandstone cliffs of the mainland where water from the lake has frozen in huge icicles and formations. It's thus perfect when looking for cool things to do in Wisconsin in Winter.
No two Apostle Islands' winters are the same, and there's no guarantee that visiting the ice caves will be possible every year.
The path to the ice caves in the Apostle Islands is only open when it's reasonably safe to walk on the ice. For up-to-date information on the weather conditions, check the official website.
Related: 30 Top Winter Cabins in Wisconsin
4. Do an Apostle Islands cruise
The Apostle Islands Cruise Service offers yet another way to discover the islands and explore the area.
The narrated cruises average about 2.5 hours and take several thematic routes with different points of interest, such as sea caves, lighthouses, and shipwrecks. All of the cruises depart from Bayfield.
Overnight camping shuttles to Stockton and Oak Islands are also available, enabling visitors to combine a cruise with camping. If an overnight stay is not your thing, consider a day-hiking shuttle instead.
5. Rent a lodging cabin in Apostle Islands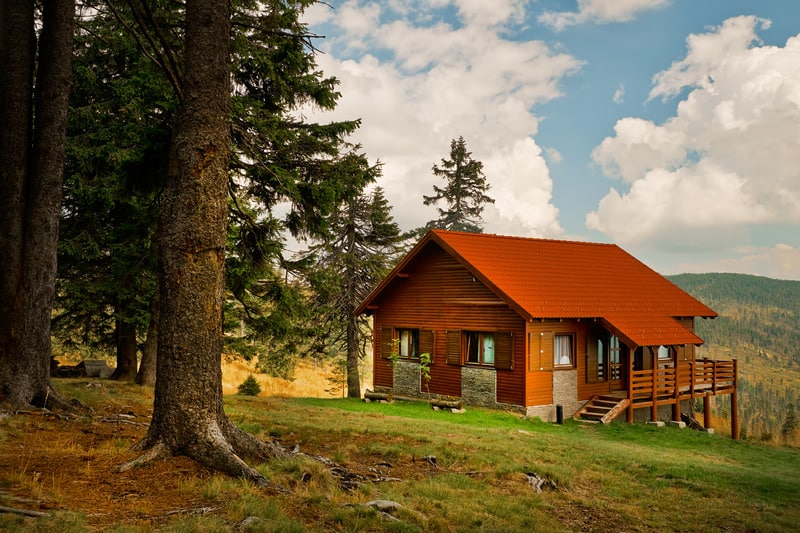 For a home away from home in the Apostle Islands, go online and book a lodging cabin.
A cabin offers a great alternative to camping and hotels, falling somewhere in the middle: the seclusion and peace of backcountry camping, but with full amenities. – Check cabins here
Some of the best lodging cabins in the Apostle Islands area include:
Hauser's Bayfield cabin ***** – Located in Bayfield, close to local attractions and to the departure points of cruises and kayaking trips. This quaint cabin in the woods allows pets, and has been rated as one of the most romantic places in Wisconsin! –

Check rates here
Red Fox Cottage – Also in Bayfield, the Red Fox Cottage is a cozy chalet that can host up to 4 people. It's located in the woods and extremely scenic. – Check rates here
6. Go sailing near Apostle Islands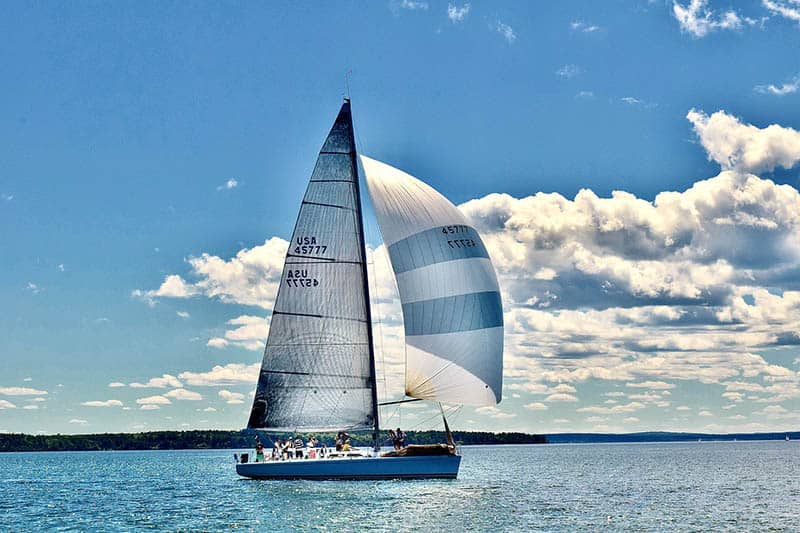 A sailboat is another wonderful way to enjoy the scenic views and see the unique points of interest of the Apostle Islands.
There are several companies in Bayfield and beyond, offering sailing adventures on Lake Superior, for both experienced sailors and sailing novices.
You can pick an active sailing adventure where you take charge of the sailboat, or enjoy the trip as a passenger.
Either way, you're in for some incredible sights and an unforgettable experience! And even spot some hidden gems of the Apostle Islands.
7. Take the Madeline Island Ferry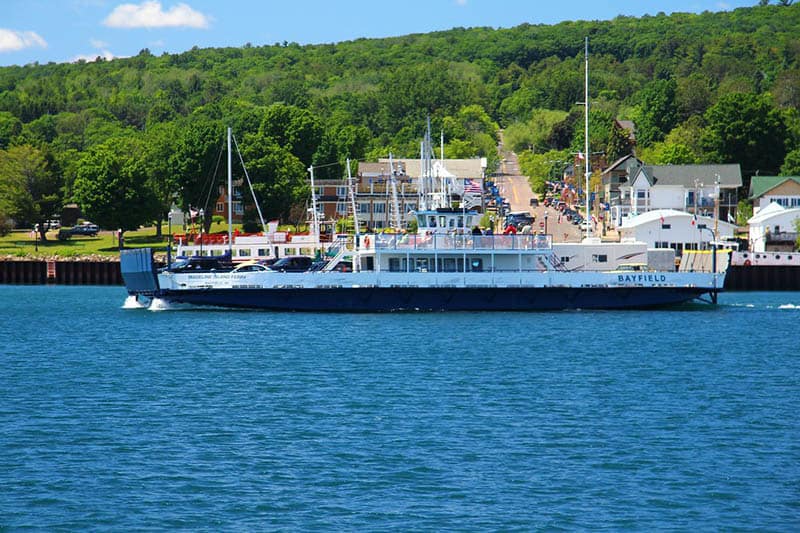 Kayaking, cruise ships, sailboats,… There's one more way to venture out onto the Lake Superior waters: the ferry from Bayfield to Madeline Island.
The trip takes about 20 minutes and gives you the opportunity to explore the largest of the islands on foot, by bicycle, or by car. This lake is considered among the best lakes in Wisconsin.
While the ferry ride itself is a great experience with spectacular views of the lake, there are plenty of things to do on Madeline Island itself.
There is a walking tour of the historical town of La Pointe, bicycle and moped rental, a history museum, and other activities to take part in, such as golf and hiking. This area is also home to some of the best hiking trails in Wisconsin.
8. Go hiking in Apostle Islands
The Apostle Islands are a hiker's paradise with over fifty miles of trails on the National Lakeshore islands. As well as enjoying the trip itself, you can reach historic sites, lighthouses, abandoned quarries, and other fascinating points of interest this way.
It's thus perfect to bring your vegan hiking boots along!
Stockton is one of the most popular hiking spots, owing to the 6 trails available there. The aptly named 1.5-mile Quarry Trail will take you to a historic abandoned quarry.
There are day-hiking cruise ship shuttles operating from Bayfield to Stockton, so the trails are easy to reach.
The Loop Trail, located on Oak Island and stretching for over 5 miles, will take you to the highest point in the lakeshore at 1081ft.
On the mainland, hikers can enjoy the 4.5-mile Lakeshore Trail.
From Mayers Road, Bayfield, the trail will take you past the cliffs above the sea caves, along cave overlook points, over a natural bridge, and to a backcountry campsite.
Check here the best discounted hiking gear at REI.com Outlet
9. Go cycling in Apostle Islands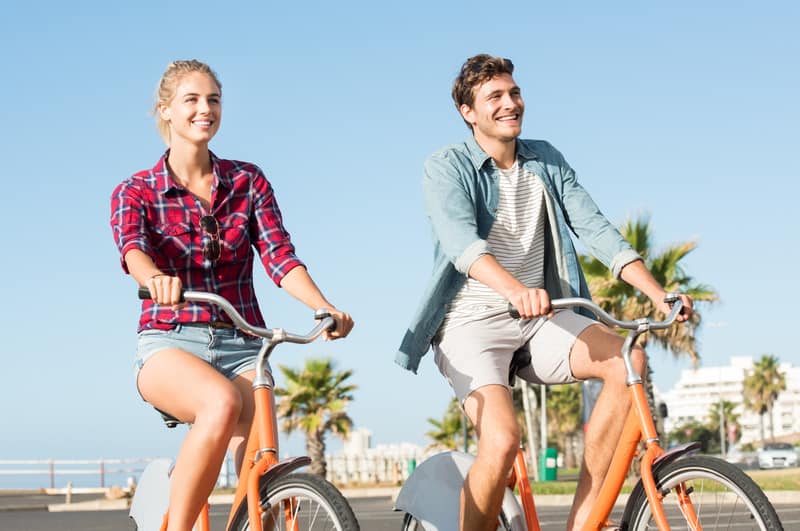 Cycling is a popular way of getting to know the mainland and Madeline Island. Both Bayfield and Madeline have bicycle rental and maintenance facilities, such as the Howl Adventure Center.
There are over 20 cycling routes in Ashland and Bayfield Counties, with varying lengths and degrees of difficulty. Among the most popular are:
Red Cliff to Little Sand Bay loop – A 16-mile route of moderate difficulty which includes incredible views of Lake Superior and the Apostle Islands. For a longer trip, you can start in Bayfield, extending the route to 27 miles.
Madeline Island loop – The best way to see the entire island. This route totals 33 miles. You can take bicycles with you on the ferry from Bayfield, or use bike rental facilities on the island.
Bayfield Orchard loop – As the name suggests, this route will take you to some of the most beautiful orchards on the outskirts of Bayfield. At approximately 10 miles, numerous hills make this route fairly difficult.
10. Do a Bayfield Heritage Tour
There's no better way to get to know the history of Bayfield than a heritage tour.
The thematic tours are available on a scheduled basis from mid-June until late September and may be available for booking at other times for private groups.
Particularly worthy of mention is the famous Ghost Walking Tour. It takes place in the early evening and revolves around tales of the supernatural.
Hear local ghost stories, see the sites of strange, unexplained occurrences, and find out all about UFO sightings over Lake Superior!
11. Do an Orchard tour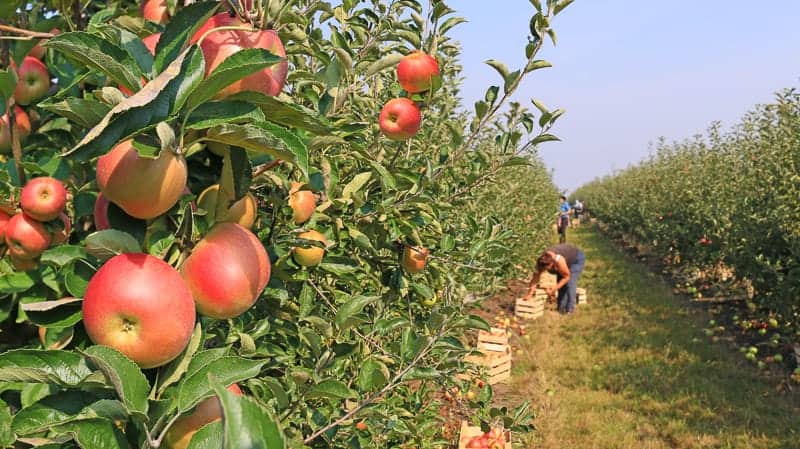 Not everyone knows that the micro-climate in the Apostle Islands area is perfect for fruit-trees and that Bayfield is surrounded by some of the most impressive orchards in Wisconsin. If you want to get surprised and spend an unforgettable vacation in Wisconsin, an orchard tour is a must!
The town is mostly known for its apples, though locals also grow other fruit, including cherries and pears.
The orchards offer fresh fruit, vegetables, and various products made with the local produce, such as jams, ciders, and juices.
There is even the Bayfield Apple Festival which takes place on the first weekend of October and offers guided tours, sampling, live music, and tons of other related events. You can plan your getaway and it's a great Wisconsin vacation idea when looking for family things to do since the event is considered one of the top Wisconsin fall festivals and one of the top things to do in Wisconsin in October.
Throughout the rest of the year, you can tour the orchards by car or bicycle, using the orchard map as a guide.
12. Go fishing at Apostle Islands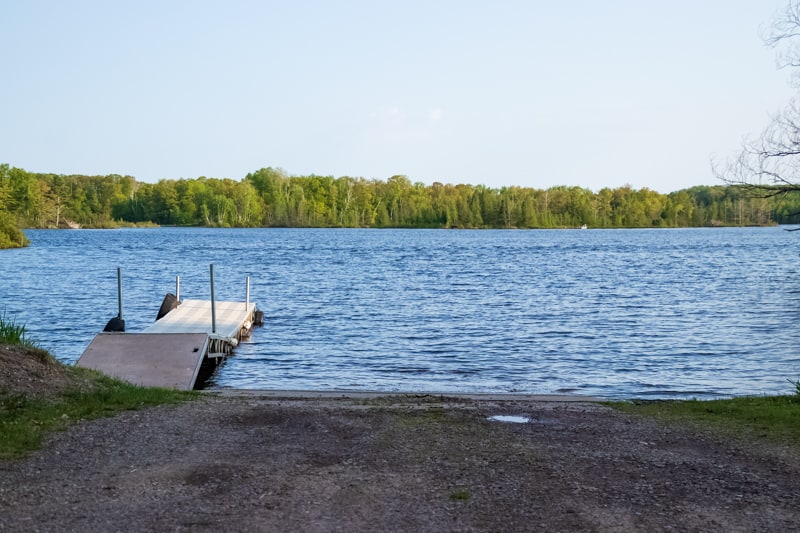 Fishing enthusiasts won't be surprised to hear that Lake Superior is the perfect place for catching trout and salmon.
The best time to go fishing at the Apostle Islands is during Spring when the trout and salmon are most plentiful in these waters.
As well as fishing along the mainland, you can also take a trip to one of the islands. The north side of Long Island is deemed to be one of the best fishing spots.
During the Summer, the best bet for catching a fish is targeting Lake Trout in deeper waters. In the summertime, the sportfishing area between Long Island and Madeline is a particularly popular spot.
A Wisconsin fishing license and a Great Lakes trout or salmon stamp are required for fishing in the Apostle Islands area.
It's also the perfect occasion to bring your inflatable kayak fro fishing. Read more in my guide here.
13. Go Scuba Diving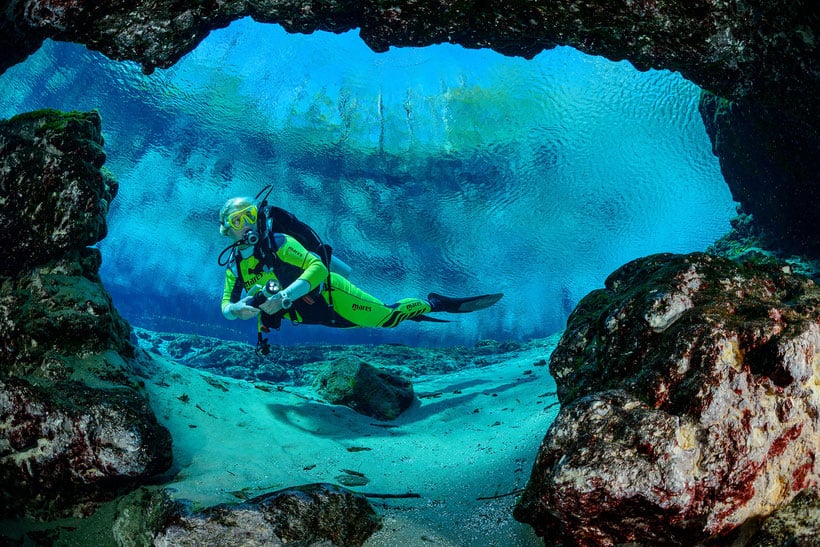 Shipwrecks, underwater caves, and rock formations make the Apostle Islands a great spot for scuba diving. The National Park Service website provides detailed information about all the underwater points of interest, complete with GPS coordinates of each site.
The underwater cliff nick-named "The Wall" is particularly impressive. This submerged sandstone ledge drops suddenly to over 100 feet!
Diving in certain areas of the Apostle Islands National Lakeshore requires a free permit, which can be obtained from the park headquarters in Bayfield.
14. Go Island hopping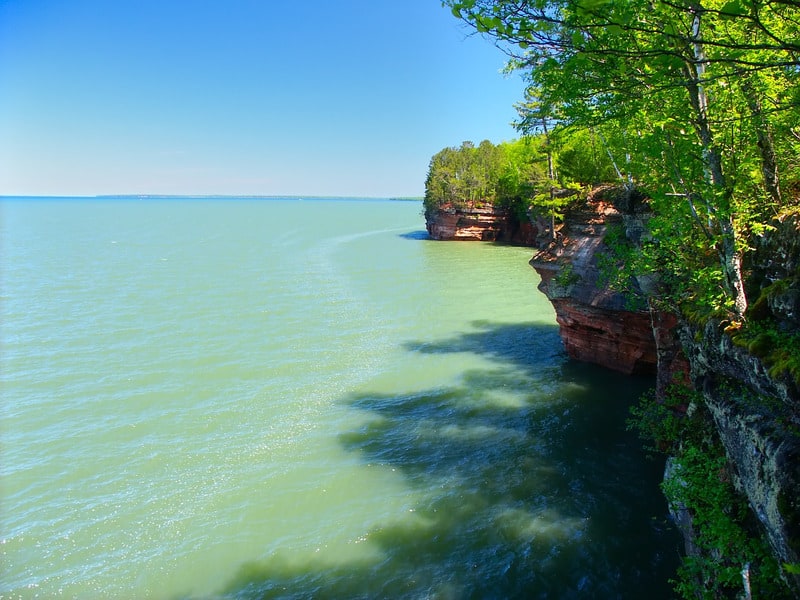 As we've already seen, there are several ways to get from one island to another within the archipelago.
Whether you choose a kayak or a water taxi, a relaxed day or two spent island hopping will let you explore the area and see as many of the sights as possible.
Though they're all close together, each island is slightly different. Some are entirely wild while others bear unmistakable marks of human presence, such as lighthouses and quarries.
Even if you're stopping at each island only for a little bit, you'll get a general idea of its topography and history.
If you haven't decided how to spend your time in the Apostle Islands yet, island hopping is bound to provide plenty of inspiration.
15. Enjoy typical Wisconsin food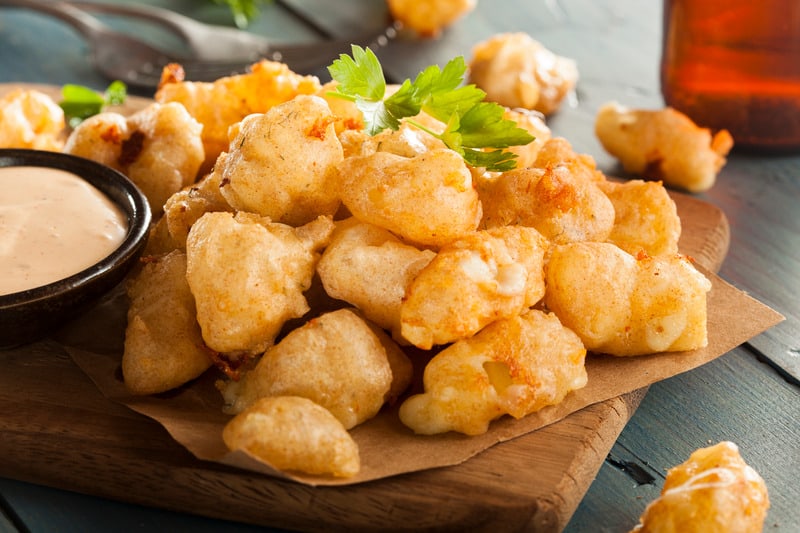 If you know anything at all about food in Wisconsin, it's probably that the Friday night fish-fry is king.
And you're not wrong! This traditional dish involves beer-battered fish served with chips, tartar sauce, rye bread, an onion slice, and coleslaw.
Another Wisconsin favorite is grilled "bratwurst" soaked in beer and onions, a dish known as 'beer brats'.
The beer-and-onion mixture can include other ingredients, such as herbs and spices, Worcestershire sauce, garlic, or sugar. Try beer brats with a side of breaded cheese curds, another Wisconsin delicacy.
For a lighter option, order the awesomely named Chicken Booyah, a broth-based soup with vegetables and shredded chicken, highly popular in northern Wisconsin.
The Blue Moon ice cream is an absolute must-try for visitors to Wisconsin! The secret recipe for the bright-blue ice cream is a Wisconsin tradition, and the distinct flavor has been described as everything from marshmallow to pistachio and Froot Loops.
Where to eat in Apostle Islands, WI
In Bayfield, try the local cuisine at Maggie's, Copper Trout, or Pier Plaza Restaurant.
On Madeline Island, check out Grampa Tony's and the highly unusual bar and venue named Tom's Burned Down Café.
Ashland is a larger city offering a broader choice of restaurants, from family-run cafes to fine dining.
Greenleaf Restaurant is one of the most popular options with a versatile menu and a huge selection of both local and global dishes.
---
Where are the Apostle Islands?
The Apostle Islands are located in northern Wisconsin, on Lake Superior, the largest of the Great Lakes of North America and the largest freshwater lake in the world.
They are a collection of 22 islands, 21 of which form the Apostle Islands National Lakeshore.
How to get to the Apostle Islands National Lakeshore?
The Apostle Island National Lakeshore is a nature reserve, which means that no car traffic is allowed on the islands themselves.
Madeline, the largest of the islands, is the only one reachable by car (via a ferry ride) and not part of the Lakeshore.
The city of Bayfield, located along Wisconsin Highway 13 on the shore of Lake Superior, is the main starting point for exploring the Lakeshore.
All of the cruises and guided trips depart from here, and the city offers kayak and sailboat rentals, water taxis, and other means of transport to the Lakeshore islands.
---
Apostle Islands Map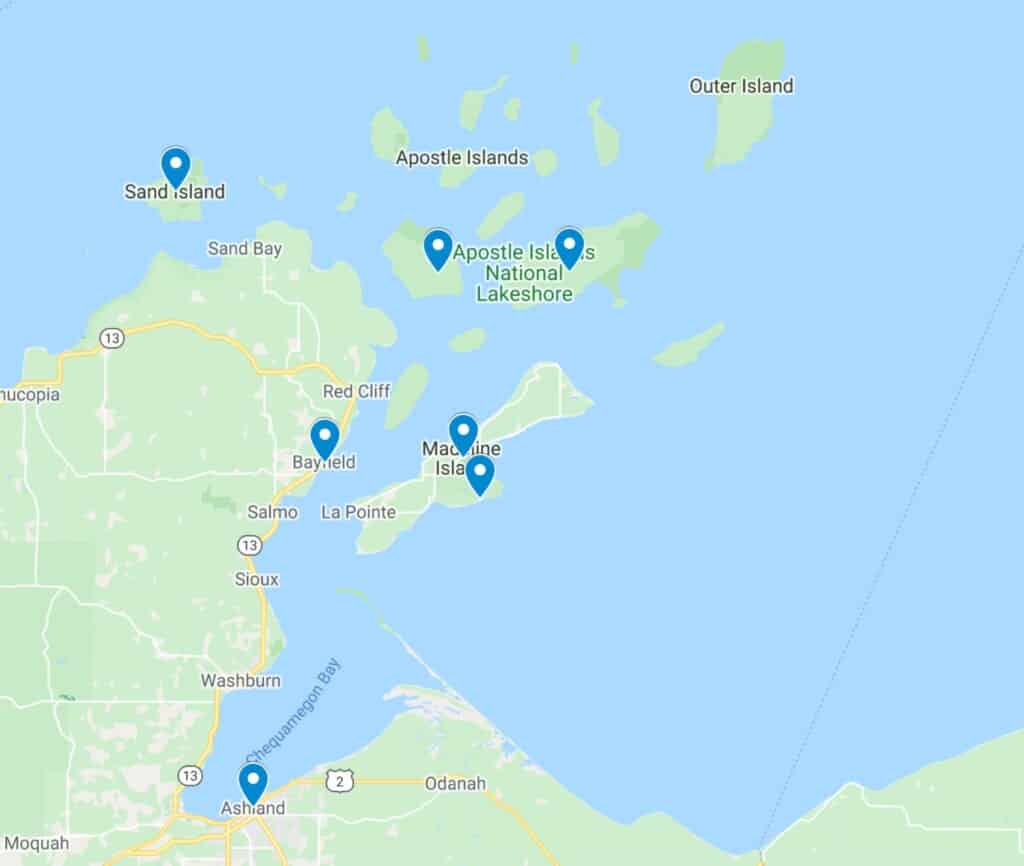 ---
FAQ about Things To Do in Apostle Islands
Where are the Apostle Islands located?
The Apostle Islands are located in northern Wisconsin, on Lake Superior.
What are free things to do in the Apostle Islands, WI?
You can have free parking at Sand Island. Diving in certain areas of the Apostle Islands National Lakeshore requires a free permit.
What are things to do in the Apostle Islands in winter?
During winter you can visit the Apostle Islands' ice caves, the frozen waterfalls, and spend time at the nearby ski hills.
---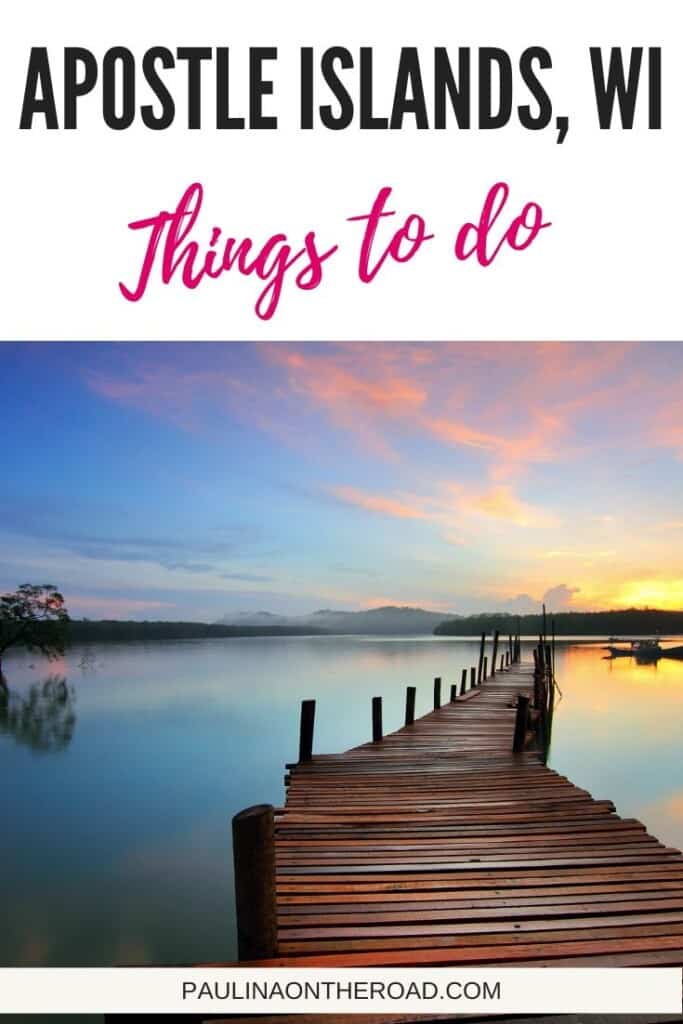 ---