Guide to the best unique date ideas Milwaukee has to offer, including seasonal activities and the best romantic places in Milwaukee
Looking for date ideas in Milwaukee? Well, you've come to the right place!
Whether you are planning to visit this rising holiday destination in summer or winter, Milwaukee has a lot to offer!
From scenic rides to amazing restaurants, this destination is one of the best romantic getaways in Wisconsin.
Milwaukee is becoming a more and more popular choice when it comes to choosing the perfect vacation.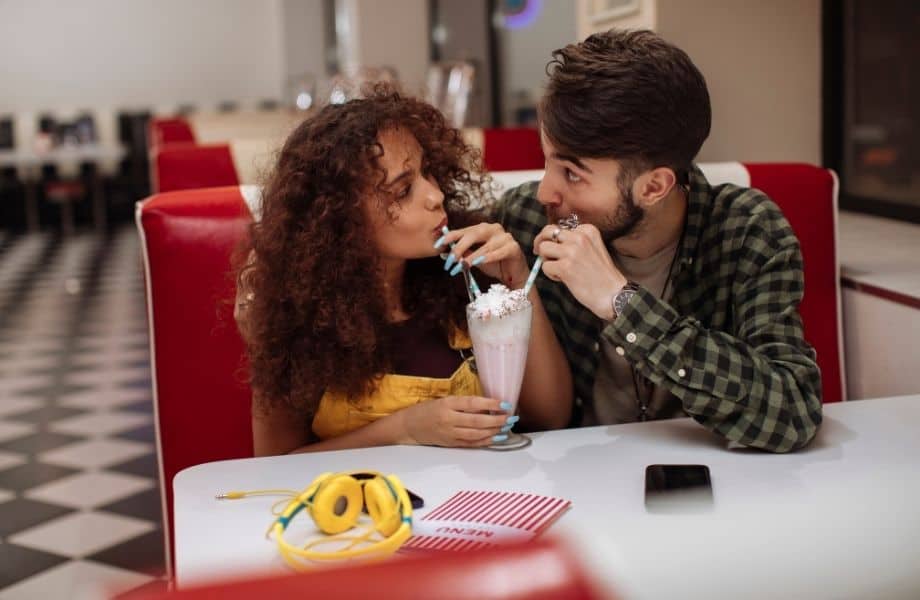 Regarding couple activities, Milwaukee is full of surprises.
You can find something for every taste, but what makes this destination so special is the welcoming feeling from the locals.
The warmth of the people along with the cozy atmosphere are the things that put Milwaukee on the top getaways and places to vacation in Wisconsin.
Step into the enchanting atmosphere of this area and surprise your significant other with some romantic things to do in Milwaukee, Wisconsin.
Discover unique activities and enjoy yourself and your loved one with some of the greatest Wisconsin vacation ideas.
You can get inspiration and create unforgettable memories by reading this list of date ideas in Milwaukee. So, what are you waiting for?
Thanks to affiliate links, I pay my bills. If you make a purchase through them, I may receive a small commission at no cost to you. As an Amazon Associate I earn from qualifying purchases. All opinions are always mine. Merci!
Useful Travel Information for Wisconsin
✎ Plan the ultimate Wisconsin road trip (no backtracking!) with the Perfect Wisconsin Road Trip itinerary – Buy now for less than 12$

✈ Find the best hotel deals in Wisconsin with Trivago

➳ Book vacation rentals in Wisconsin with VRBO

✔ Book tours in Wisconsin with Viator

☘ Get the best discounted outdoor gear (outlet) at REI.com

$ Get Wisconsin hiking guides and maps at REI.com

✎ Never leave without travel insurance. I get mine at SafetyWing. It is easy to set up, cheap, and reliable.
Where to Stay in Milwaukee
Of course, if you live in Milwaukee and just want a fun date night, you might not be interested in a nice hotel.
But if you're looking for romantic getaways in Wisconsin to escape to for a night or more, Milwaukee is a great option.
For those looking for suggestions on where to stay in Milwaukee, you will be spoiled for choice.
The city has some of the most romantic hotels in Wisconsin for a couples trip, many of which are downtown and close to some of the best Milwaukee date ideas.
For an extra special luxury getaway, book a stay at The Pfister Hotel.
Located on Lake Michigan, this of the most romantic hotels in Milwaukee, and offers couples packages in their spa and wellness center.
Another favorite is the Kimpton Journey Hotel, which has a rooftop bar that is perfect for a romantic evening under the stars.
For something truly unique, consider staying at Saint Kate, the art hotel.
Every room here is a piece of art, and is a hotel experience you and your partner won't soon forget!
Alternatively, if you would prefer to book a special evening at one of the more romantic AirBnbs in Milwaukee, there are also lots of great options.
The Penthouse Apartment in Heart of Downtown is perfect for a romantic stay with its stunning views and excellent location.
You'll be in Historic Third Ward, which is in the middle of the culinary and commercial areas.
Kasa Milwaukee is another perfect match that is located in the Third Ward area.
This guesthouse is a favorite of couples due to the views, charming decor, and cozy living area.
For those visiting this great city with pets, there are lots of romantic pet-friendly hotels in Milwaukee.
My favorite is The Plaza Hotel, which provides pet packages to make your stay – and theirs – extra special!
1. Grab your coffee and start exploring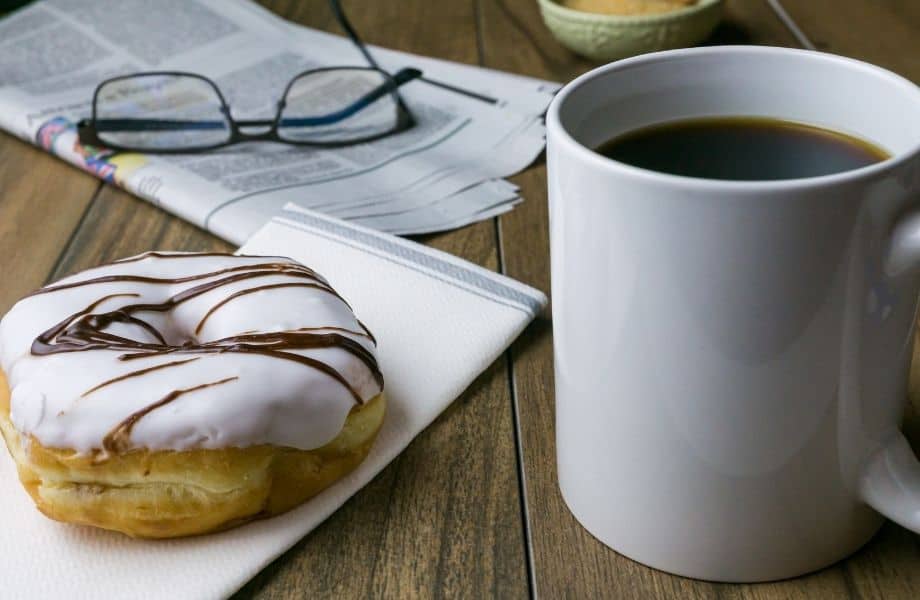 Whether you stay on-site at The American Club at Kohler Waters Spa, or in a comfortable B&B, the historic Village of Kohler has lots to see and do.
You'll find tons of fun activities to do here including golf, shopping, a variety of restaurants, and fun outdoor activities in Milwaukee for dates.
The Dragonfly Inn is the right choice if you prefer the romantic ambiance and is considered one of the most romantic places in Milwaukee.
Eat a fancy meal in downtown Milwaukee and spend the night at one of the magnificent hotels.
The next morning, stop by Holey Moley for doughnuts and coffee for some boost of energy.
Also, don't forget to check out Wake'n Bacon to enjoy the enchanting ambiance of the restaurant and share a romantic breakfast with your special other.
Kohler Waters Spa is also one of the best spa resorts in Wisconsin, and an excellent place to go for couples massages.
Book here the best food tours of Milwaukee
2. Enjoy a night under the stars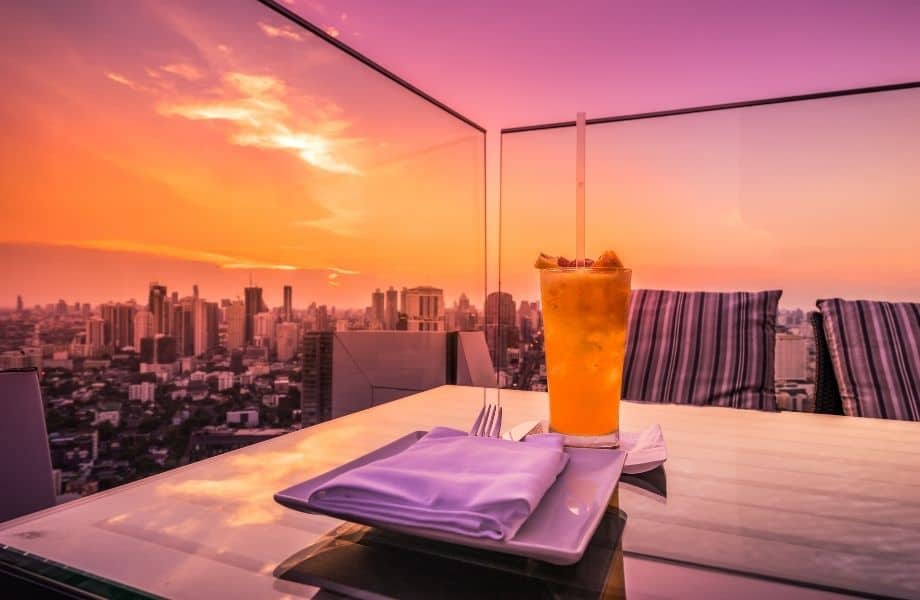 Sounds cheesy, right? Well, not at all!
When it comes to best date night restaurants, Milwaukee offers a multitude of spectacular rooftop and patio restaurant options.
So enjoy a beer and snack of fries on the roof of Cafe Benelux or get a private riverside seat at Stubby's.
Continue the evening by strolling down the Riverwalk, where there are so many spots to sneak a kiss (or two).
If you don't drink, or you just have something else in your mind when thinking of the best Milwaukee date night ideas what would you say about a movie screening outdoors?
Even summer blockbusters with gunshots and explosions are romantic under the stars.
Settle in at one of Milwaukee's many free summer outdoor movie theatres, like Veterans Park's long-running series or Waukesha's Monday Night at the Movies.
No matter how you choose to spend your night under the stars, it's definitely one of the best romantic date ideas Milwaukee has to offer!
Book here the best romantic cabins in Milwaukee
3. Take part in one of Milwaukee's many free outdoor concerts
If you're looking for great summer date ideas Milwaukee has plenty to offer, and one of my favorites is free concerts!
During the summer in Milwaukee, almost every weekday has a free outdoor entertainment show, whether in a park or on a hill.
The atmosphere is just perfect for a date and is one of the best cheap date ideas in Milwaukee.
Bring your significant other or that special person you've been dying to ask out and set up a picnic on a blanket.
You can pack some tasty sandwiches or snacks to share – make sure to ask what your date likes too!
Depending on the venue, you can even bring along your own bottle of wine.
After all, who doesn't need a little courage on a first date? Or the 100th?
Buy here the best Wisconsin road trip itinerary
4. Enjoy the company of one another at a nice restaurant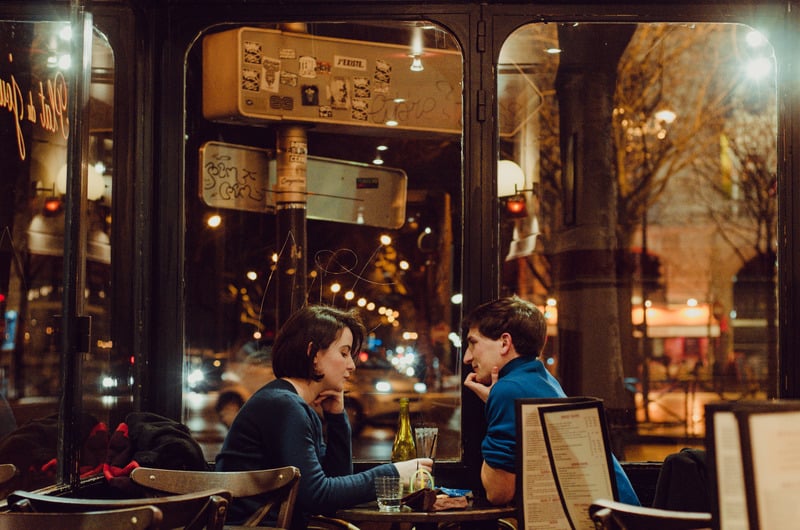 Milwaukee has stunning natural settings of rivers, lakes, and rolling hills that are ideal for romantic picnics.
But if you want to spend your date indoors, there are many date night restaurants.
Milwaukee has a fantastic range of cafés, restaurants, distilleries, and cuisines to choose from.
The Farmstead restaurant is a 150-year-old farmhouse that has been converted into a restaurant that will provide you and your date with a down-home rural dining experience.
This restaurant is well-known for serving the greatest steaks in Milwaukee.
Many residents believe it's one of Milwaukee's best-kept secrets!
This private yet relaxed atmosphere and the food cooked directly in the rear of the farm will keep you and your date coming back for more.
Alternatively, The Melting Pot is considered one of the best date restaurants in Milwaukee because Thursdays are "Thursdates".
Every Thursday, a romantic four-course lunch for lovers is served.
Fondue is an extra bonus! What would a romantic supper be without some hot, steaming, melting chocolate fondue?
Last but not least, pasta on a date makes you want to do a Lady and the Tramp remake.
You can try that at Pasta Tree! All of the kinds of pasta, sauces, and bread at this family-owned Italian restaurant are fresh and made from scratch!
After dinner, you and your date may walk back to their private garden, smell the flowers, kiss, and just fall in love.
Buy here the best guides to Wisconsin
5. Get competitive at a retro arcade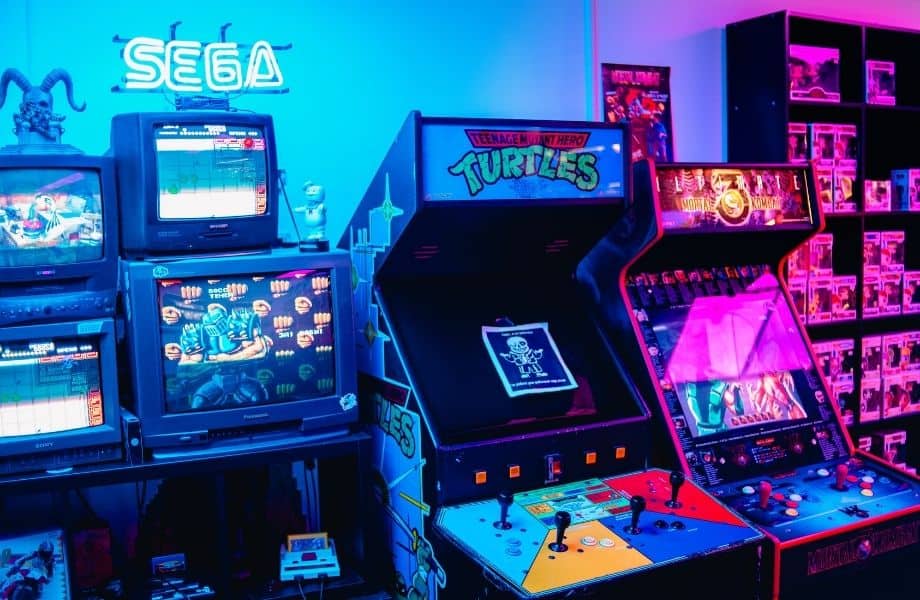 Sounds crazy? How do I get a romantic mood and tenderness when we fight for the highest score?
Well, this is a unique date idea that Milwaukee has in its portfolio, and just trust the process.
Fortunately for you, arcades are now often linked to or located in pubs.
They're no longer only for pimply teenagers but are becoming socially acceptable hangouts for anyone with a geeky bone in their body.
Up Down, the most recent addition is a multistory sensory assault of tongue-in-cheek neon signage, pop culture murals, and more than 60 games.
This is easily one of the most versatile date night ideas Milwaukee has to offer as you can find the right game for you!
Head to the upper patio to have a chat without the midi music playing in the background.
Book here the best tours of Milwaukee
6. Get locked in a room…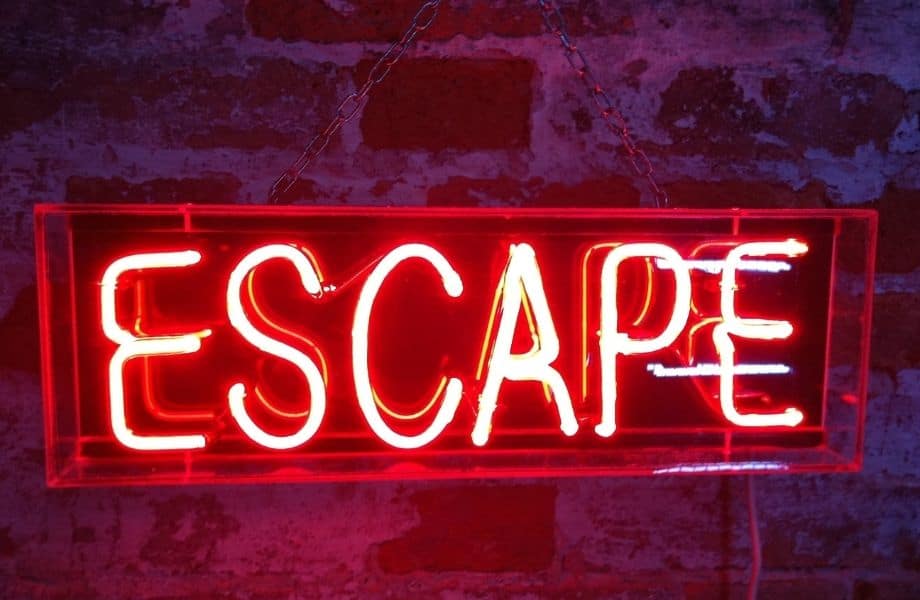 …And try to escape!
Quite unexpected? I assure you that if you're looking for fun things to do in Milwaukee for couples, escape rooms should be on that to-do list for sure!
Escape rooms are springing up all over the place, where you and a group must figure out how to get out of a locked room.
They may be quite advantageous to a relationship: if you'd rather be anywhere than that room after 20 minutes, you're probably not a good fit.
Pay attention to how your partner is reacting under pressure but also how teamwork is evolving.
Escape rooms are one of the most fun date ideas in Milwaukee for new and well-established couples alike!
Plus, Milwaukee has some of the best escape rooms in Wisconsin!
Book here the best food tours of Milwaukee
7. Take a trip to the tropics at The Domes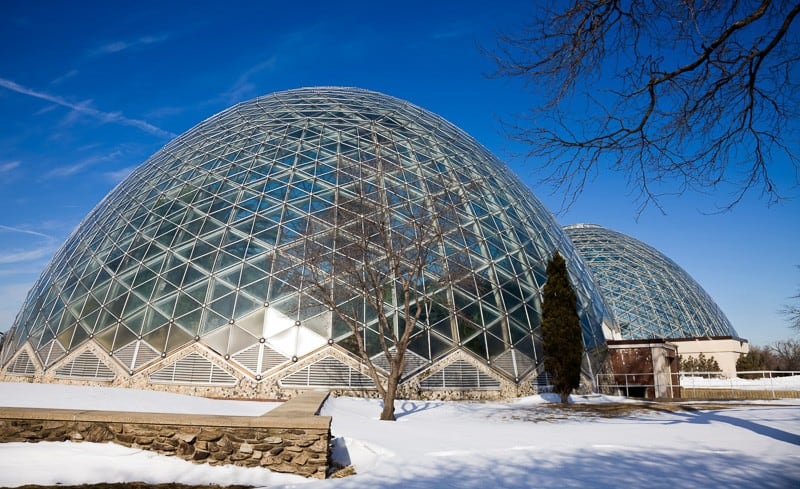 If a trip to the Bahamas is out of the question at this point in your relationship, travel to The Domes instead.
Palm trees, dampness, and hidden walkways abound in the tropical dome, perfect for a discreet make-out session.
These conservatories have varied themes, such as desert or tropical.
They also provide classes to teach you about gardening and other topics.
The Domes is easily one of the most romantic places in Milwaukee, and an ideal date spot.
Be it your first, tenth, or hundredth date, there is something so romantic about walking through The Domes.
You can grow in love with one another as you admire and learn about the amazing plants within.
Book here the best romantic cabins in Milwaukee
8. Double-kayak down the Milwaukee River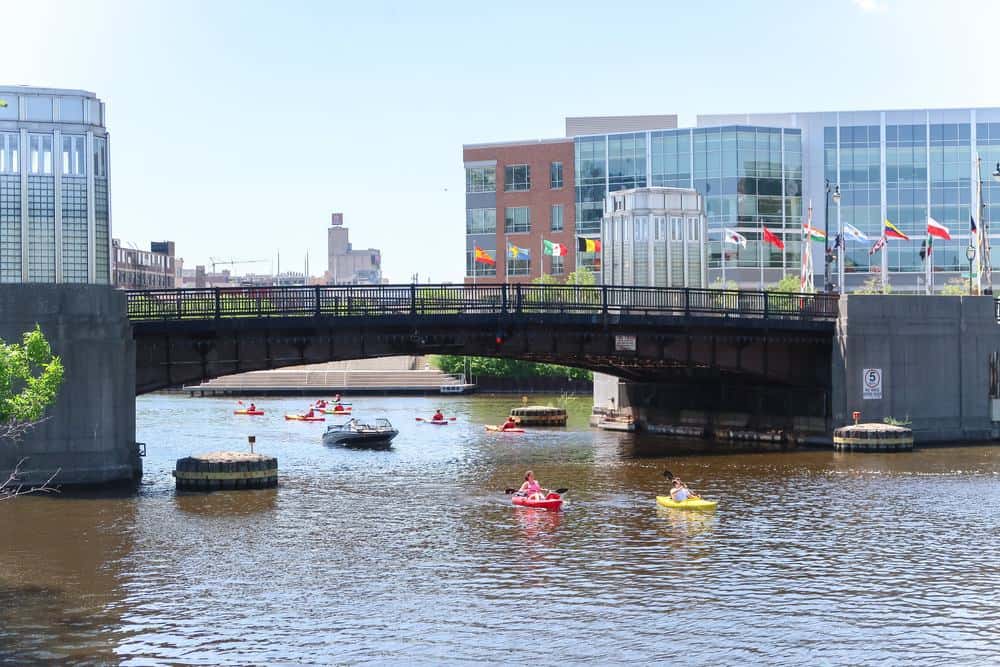 One of the most unique couple's activities Milwaukee has to offer is double kayaking because nothing says romance like sharing a kayak with someone.
And Milwaukee River is the perfect spot to experience one!
Alternatively, you can go it solo, which is still one of the most fun date ideas in Milwaukee.
Couples can rent a kayak at the Urban Ecology Center or the Milwaukee Kayak Company.
Spending the day out on the water with your date will let you know just how well-matched you really are!
Afterward, if you're hungry from all the paddling, stop at Water Street Brewery or Milwaukee Ale House and eat on their riverfront terraces.
Buy here the best Wisconsin road trip itinerary
9. Take a hike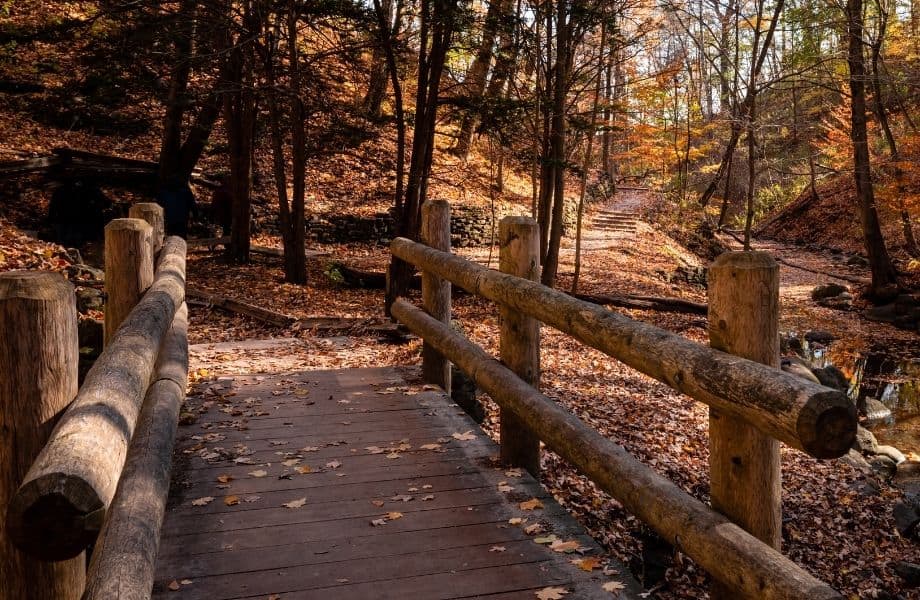 Hiking is one of my favorite date ideas in Wisconsin as the state is full of amazing hiking trails.
And Milwaukee has some of the best Southern Wisconsin hiking trails, making it the perfect romantic getaway spot for active couples.
Take your date for a trek at one of the best hiking trails in Wisconsin, the Riverside Urban Ecology Center, or at Schlitz Audubon Nature Center to show off your abilities to avoid tripping over roots.
Continue your rough outdoor adventure with a few drinks at Camp Pub, a camping-themed bar with locations in the Third Ward, Shorewood, and Wauwatosa.
For all the adventurous couples out there: Adventure Rock is calling your name!
Experience the magnificent adrenaline rush of reaching the top of the wall with your partner at our indoor climbing gym.
After that, satisfy your hunger at a local North Avenue eatery, such as Beans & Barley.
The Seven Sisters trail is one of the best places to enjoy fall colors in Wisconsin, making it one of the most romantic fall date ideas Milwaukee has to offer.
In fact, hiking is one of the best things to do in Milwaukee in October as the weather is cooler, the colors are beautiful, and there are fewer crowds.
Buy here the best guides to Wisconsin
10. Go for a bowling session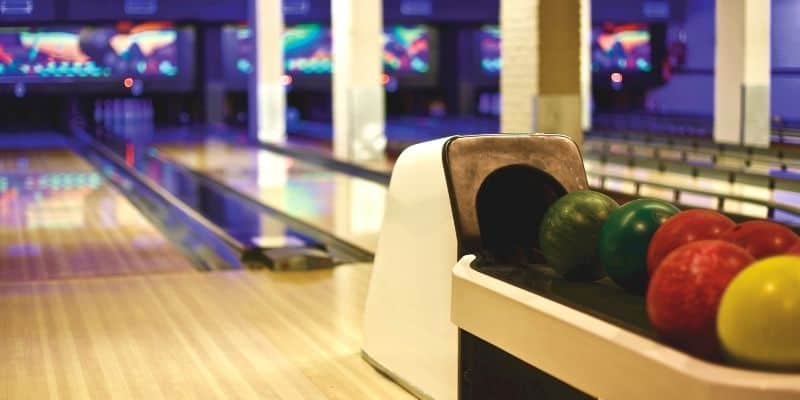 What do you think about bowling?
Not the ideal place for a date you might say, but I guarantee that it is surely one of the best Milwaukee date night ideas.
If you agree, then Koz's Mini Bowl is waiting for you! This vintage bowling alley is ideal for a fun dating night.
Adults can enjoy mini pins as well!
You and your companion will have more than just a little bit of fun with affordable lane rentals and cheap refreshments.
And, of course, it wouldn't be a real Milwaukee experience without there being some drinking involved.
So grab a cocktail and set Uber on a quick dial for tonight.
Book here the best tours of Milwaukee
11. Go for a romantic sunset walk on the Lakefront Trail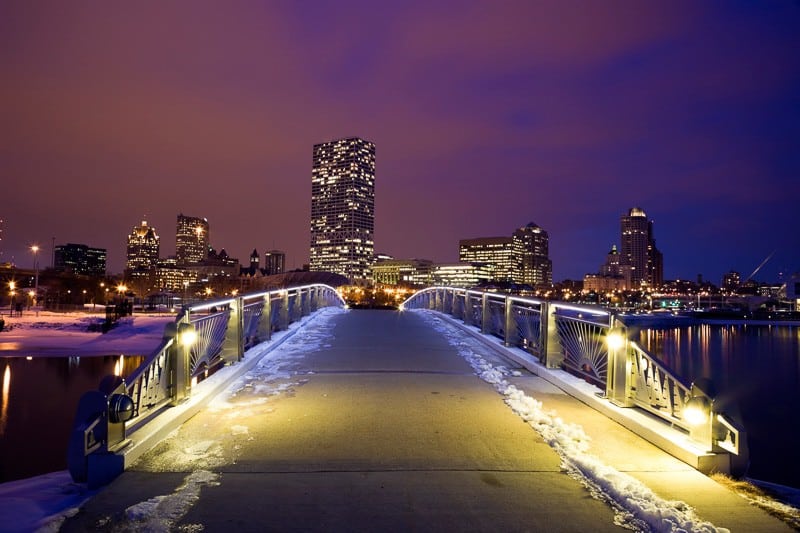 What could be more romantic than walking in the rays of a beautifully breathtaking sunset and holding hands with your lover while taking in the scenic views of the lake on the Lakefront Trail?
The Lakefront Trail is a peaceful, picturesque, and relaxing location.
It provides you with a quiet setting to connect with your sweetheart while casually strolling by the magnificent Lake Michigan.
Plus, the trail is not only scenic, but it's also one of the best cheap date ideas in Milwaukee as it's totally free!
Although there may be other people walking or running the route, you will have your own private space because the path is broad and long enough with several rest locations to savor the scenery and tranquil waters.
And the sunsets here are spectacular!
If you want to keep going, you can extend the walk to include part of the Hank Aaron State Trail and see the Milwaukee Pierhead Light, one of the best lighthouses in Wisconsin.
Book here the best food tours of Milwaukee
12. Go ice skating at the Red Arrow Park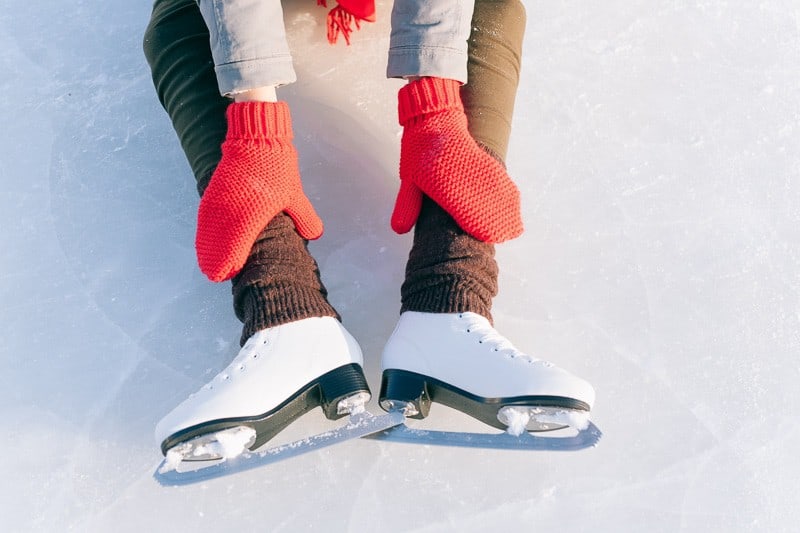 This is one of the most appreciated couple's activities that Milwaukee has during wintertime.
The Red Arrow Park is an amazing spot to visit, located right in Milwaukee's own "Rockefeller Center" downtown.
This magnificent refrigerated ice rink is housed in a gorgeous mansion and includes a café.
Skate around the rink holding hands with your partner to spend valuable time together.
This magnificent park is also jam-packed with fun and activities, so there will be no dull moments throughout your visit.
The skating is free, and the view of the surrounding buildings is spectacular.
This is one of the best things to do in Milwaukee in winter, especially for couples.
Book here the best romantic cabins in Milwaukee
13. Make your own mini golf at Nine Below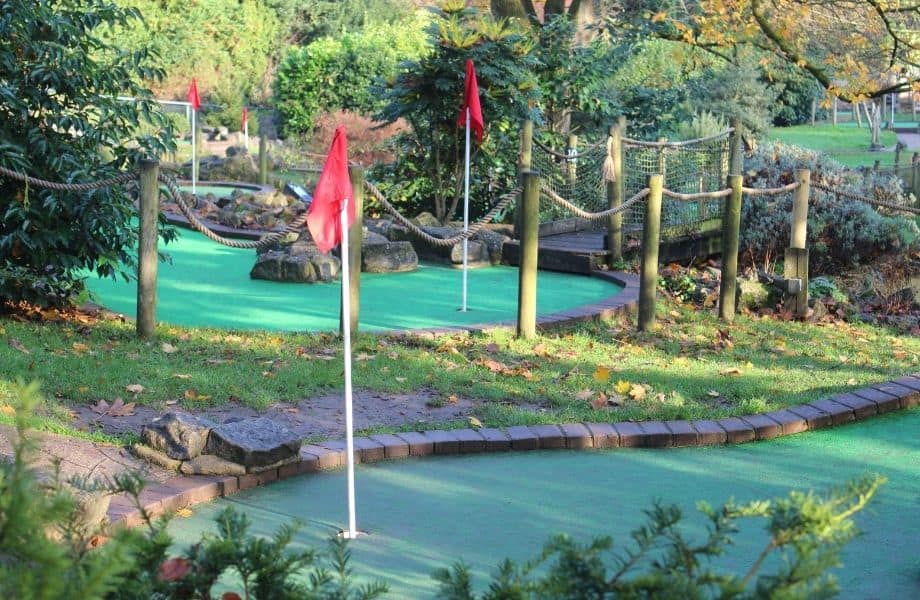 Imagine a location where you can make your own mini-golf holes out of odd obstacles, then play them while drinking in an underground pub.
That place exists and it is called Nine Below!
Nine Below it's a must-see for everyone who grew up playing Putt-Putt and one of the most unique things to do in Milwaukee.
This is a wonderful one for group dates, so get up with some friendly couples and go big – of course, it's fun for two, as well, but the more the merrier.
Additionally, Nine Below is one of the most fun date ideas Milwaukee has to offer for all ages.
Buy here the best Wisconsin road trip itinerary
14. Milwaukee Ghost Walks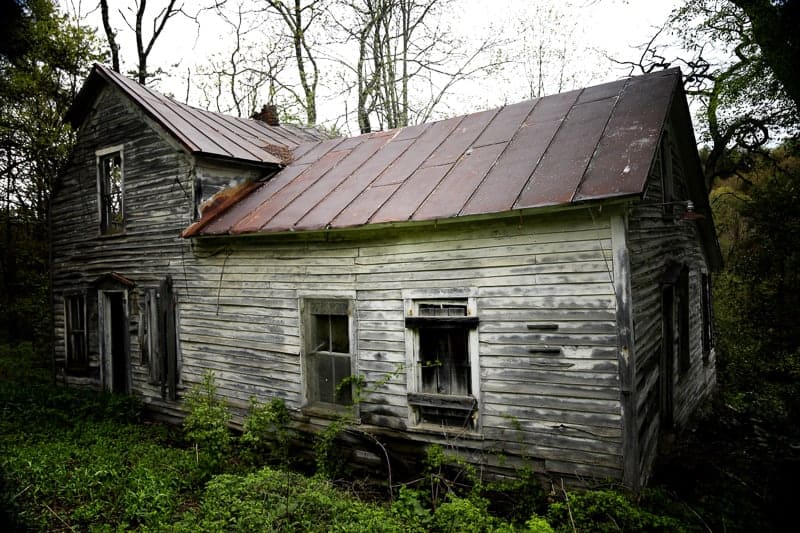 If you're not into typical hikes and romantic walks by the river I have the best idea for a unique date night in Milwaukee.
You and your date can take a tour of historic Milwaukee and may even get to see some ghosts or other supernatural creatures.
Well, maybe you don't want to run into them, but at least you can pretend to be brave if a ghost decides to show up.
It might force a little hand-holding during the date, at least.
With many ghost walk tours to choose from, you might even find yourself trying out a different one for a later date.
This, of course, is also perfect for Milwaukee date night ideas in the fall during the spooky season.
Buy here the best guides to Wisconsin
15. Team up at Icombat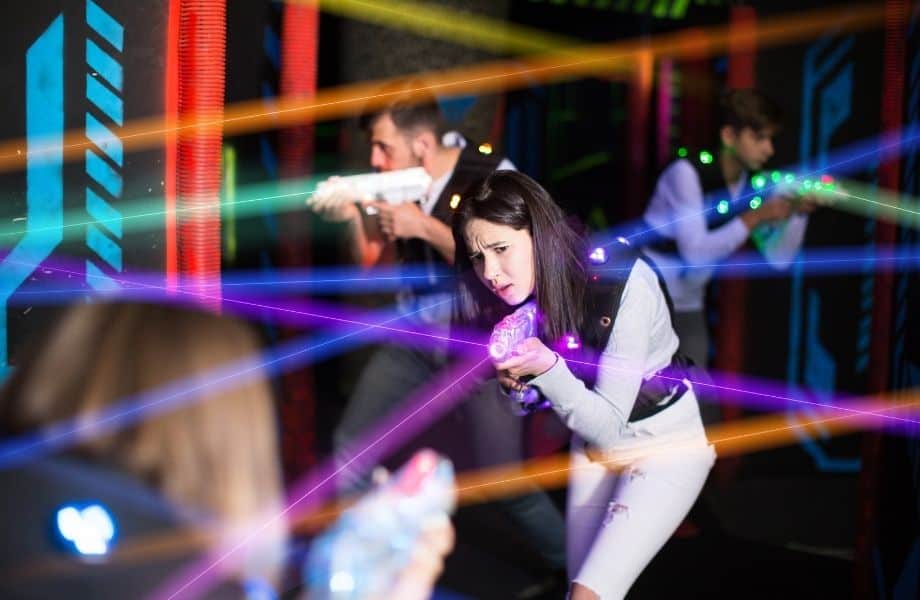 The enemy is closing in on you and your date, and you have two choices: defeat the enemy or lose. Phew!
Icombat is a tactical laser tag game facility with over 50 scenarios, and one of the best date spots in Milwaukee.
After each task, you collect points to unlock accomplishments and be highlighted on their wall as a gamer of the week.
Sign up and find out if you and your lover have a flawless aim or if you'll be a casualty of war.
There are many things for couples to do in Milwaukee but no other can beat the adrenaline and joy of a laser tag competition pretty similar to a counter strike game in real life.
If your partner is passionate about gaming, wait no more and reserve two spots for the fun!
Book here the best tours of Milwaukee
16. Visit a museum together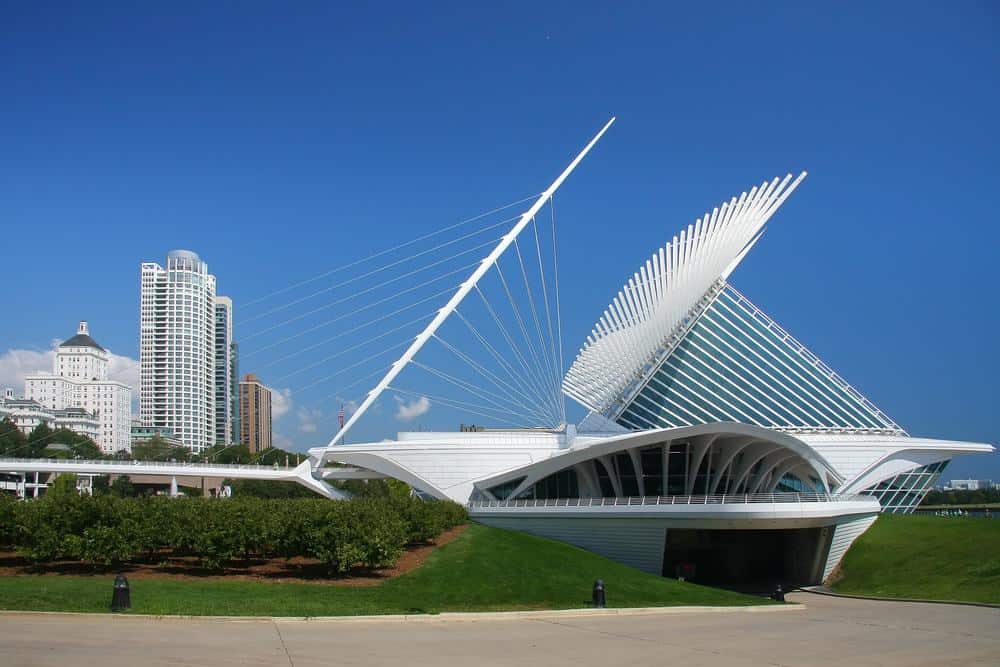 If you are the kind of person who enjoys art, Milwaukee has the right thing for you!
Stop by at the Milwaukee Art Museum and feed your passion for artistic beauty.
Located near the lakefront, this landmark should definitely be on your list.
You and your loved one can admire the museum while holding hands and sipping hot chocolate.
To boost the romantic atmosphere, you can choose to visit this attraction in the evening.
What could be more romantic than that?
For those who are not so enthusiastic about art, Milwaukee has to offer the Harley-Davidson Museum.
Learn about the success and evolution of this iconic company and discover some stunning motorcycles.
Just sit there with your loved one and imagine driving away on a vintage Harley-Davidson at sunset!
Book here the best food tours of Milwaukee
17. Take a day trip
That's right, one of the most fun things to do in Milwaukee for couples is to… escape the city for the day.
There are tons of great options for amazing day trips from Milwaukee to choose from.
Some of the most romantic options are Lake Geneva, Door County, and Wisconsin Dells.
One of the best things to do in Lake Geneva for couples is to take a romantic cruise on the lake, which is one of the best lakes in Wisconsin.
Alternatively, if you visit Lake Geneva in winter make sure to enjoy the magical ice castles, which will make your day trip extra special.
Those looking for romantic things to do in Door County might find a day trip isn't enough!
Perhaps one of the best romantic outings is touring the wineries in Door County, which also lets you see the beautiful countryside.
Luckily there are lots of great resorts in Door County if you do want to stay for an extra day or two.
Lastly, Wisconsin Dells is one of the most popular romantic destinations in Wisconsin.
There are lots of ideas for romantic getaways in Wisconsin Dells, including visiting the breweries or going horseback riding.
There are also a lot of great trails for hiking in Wisconsin Dells, which shouldn't be missed if you love the outdoors.
You and your partner might also enjoy a day trip to nearby Kettle Moraine State Park, one of the best State Parks in Wisconsin.
Book here the best romantic cabins in Milwaukee
---
Falling in love is something magical and this love should be built with memories.
Every memory that you make together as one is a tiny brick in the relationship foundation.
I truly hope these fun date ideas in Milwaukee will help you in enforcing your relationship foundation and that help you to spice things up a little.
Don't fall into monotony, settle for prosperity, love and discover one another every day and with every occasion.
---
Short FAQ About Date Ideas in Milwaukee
1. What can couples do in Milwaukee?
There are so many unique date ideas Milwaukee has to offer. Some of my personal favorites are hikes, escape rooms, and kayaking!
2. Is Milwaukee romantic?
Definitely! People don't think of Milwaukee when they think of romantic cities, but there are tons of fun things to do in Milwaukee for couples. Additionally, the city has some great romantic hotels like The Pfister and Saint Kate.
3. What are the best date night restaurants in Milwaukee?
Everyone has different tastes, but my favorite date night restaurants in Milwaukee are The Melting Pot, The Farmstead, and Pasta Tree.
---
Before You Go: Top Tips for your Trip
---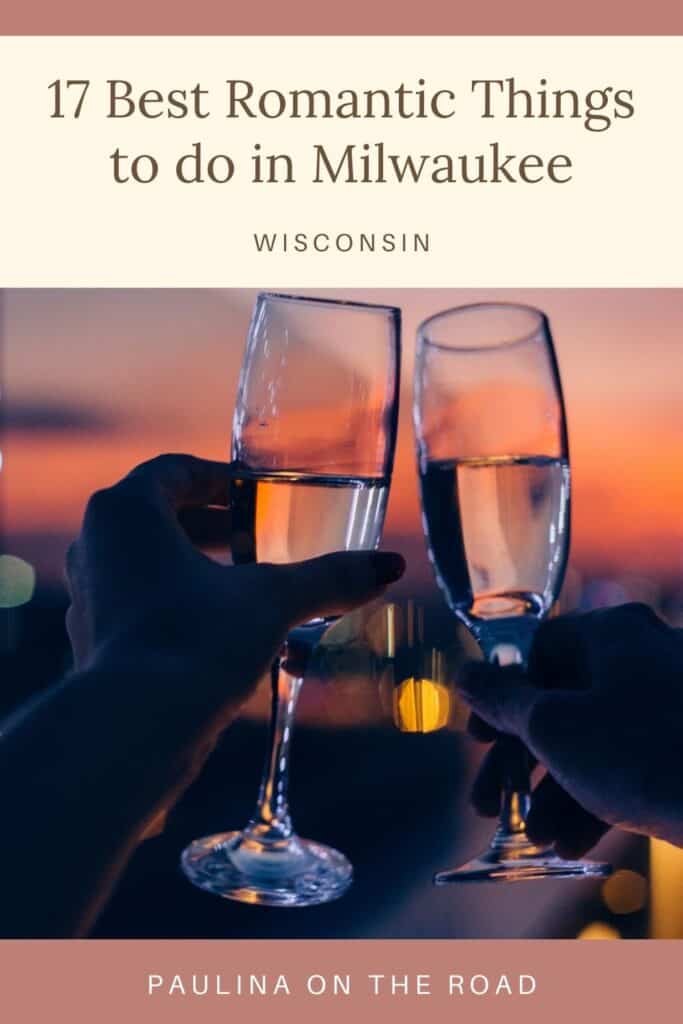 ---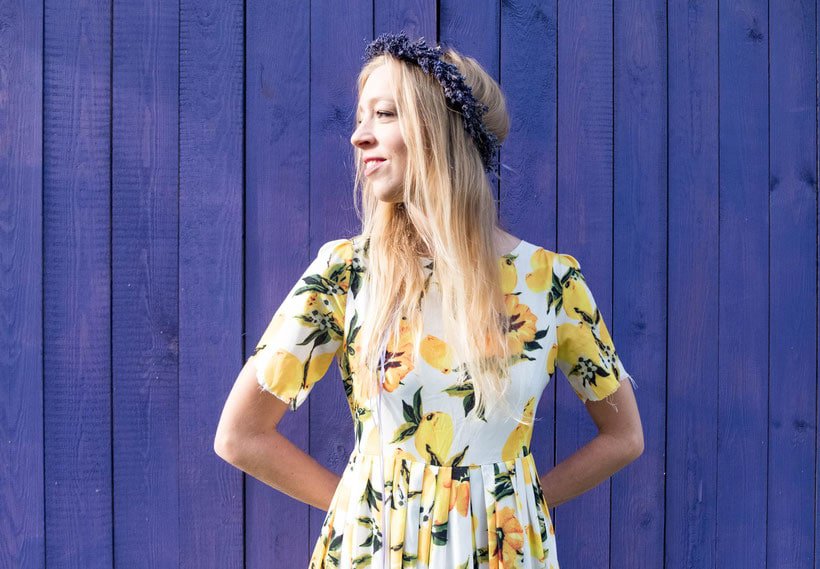 Hola! I am Paulina, a fervent travelette who crossed the Atlantic Ocean by Boat HitchHiking. On my blog, you'll find all the tips to make the most of your holiday. Get ready to enjoy outdoor and sustainable travel like hiking, cycling or sailing. Let's hit the road together!