Do you want to escape from your everyday routine and experience the best that Oshkosh has to offer?
You've come to the right place! Whether you're on a budget or looking for something more luxurious, Oshkosh in Wisconsin has plenty of excellent hotels with options for all tastes.
From cozy bed & breakfasts to opulent five-star resorts, explore my selection of 14 hotels in Oshkosh and get ready for an unforgettable stay. My travel Wisconsin guide can help you have a hassle-free trip.
"Paulina on the Road" is supported by you, dear reader. As you buy through my links, I earn a small commission. As an Amazon Affiliate, I earn from qualifying purchases. Thank you for your support
Psssst…!!?? You can't get enough of Wisconsin? Have a look at my other posts:
Luxury Hotels in Oshkosh
If you're planning a stay in Oshkosh, why not opt for the sleek and stylish Hilton Garden Inn?
While I stayed here I was treated to the highest quality amenities and services, ensuring a truly luxurious experience.
And when it comes time to dine, you won't even have to leave the premises – the on-site restaurant provides mouth-watering cuisine to please even the most discerning tastebuds.
And for those looking to keep their fitness routine going even while on vacation, never fear – the fitness facilities are top-notch.
Why settle for anything less than the best when you can choose Hilton Garden Inn Oshkosh over the run-of-the-mill comfort suites?
For those seeking a luxurious retreat in Wisconsin, I recommend the Best Western Premier Waterfront Hotel.
Located right by the water, this hotel offers gorgeous views and upscale accommodations.
Whether you're in town for a business trip or a weekend getaway, the convention center facilities are top-notch.
When it comes to dining, guests can indulge in a variety of delicious options offered by the hotel's restaurants.
Overall, the Best Western Premier Waterfront Hotel creates the perfect combination of comfort and elegance in the heart of Wisconsin.
Welcome to the Braywood Inn, your home away from home in Oshkosh, WI.
With luxurious accommodations like the John Rich Room and the Braywood Suite, you can enjoy spacious suites that are perfect for your needs.
Plus, every morning, you can enjoy a free continental breakfast to start your day off right.
And if you need a little relaxation, the Braywood Inn offers in-room massages that will leave you feeling refreshed and rejuvenated.
Whether you're visiting Oshkosh for business or pleasure, I think the Braywood Inn might be the perfect destination for a comfortable and accommodating stay.
Looking for a top-notch resort hotel in Oshkosh? I can't recommend the Best Western Premier Bridgewood Resort Hotel enough.
From their luxurious pool and hot tub, to their pet-friendly rooms, this hotel has it all. And if you're looking for more than just the basics, you won't be disappointed.
The Best Western Premier Bridgewood Resort Hotel offers upscale amenities and services like a free airport shuttle and a gym – perfect for the discerning traveler.
Plus, there are plenty of exciting local attractions nearby, including Lake Winnebago and the University of Wisconsin-Fox Valley.
From the moment you arrive, you'll feel right at home in one of the best Oshkosh resorts around!
Medium-priced Hotels in Oshkosh
If you're looking for cozy and comfortable accommodation in Oshkosh, look no further than Fairfield Inn & Suites by Marriott Oshkosh.
With rooms designed with both style and comfort in mind, you're guaranteed a comfortable and relaxing stay.
As a bonus, the hotel offers a free breakfast to give you a great start to your day before exploring the city.
And for those wanting to stay active like me, the on-site fitness center is available to all guests.
Come see why Fairfield Inn & Suites by Marriott Oshkosh is the perfect choice for your next visit to Oshkosh.
Looking for cozy and modern accommodation in Oshkosh? The Cobblestone Hotel & Suites Oshkosh is my recommendation to you.
With its comfortable and contemporary rooms, on-site bar, and pet-friendly atmosphere, this hotel is the perfect place to unwind after a long day of exploring.
Plus, don't forget to take a dip in the indoor pool or stay active at the fitness center during your stay.
So book your stay at Cobblestone today and experience all that this Oshkosh gem has to offer.
As someone who loves to travel with my furry friend, I was thrilled to discover the Holiday Inn Express & Suites Oshkosh-Sr 41.
Not only is it conveniently located, but it's also a pet-friendly hotel in Oshkosh, WI.
With its prime location and easy access to the highway, it's the perfect spot for travelers passing through or spending time in the city.
Don't miss out on the complimentary breakfast, especially since kids eat for free.
This hotel has a heated indoor pool and fitness center to help you relax and recharge during your stay.
I can't recommend this hotel enough for anyone looking for a cozy and pet-friendly place to stay in Oshkosh.
Are you searching for hotels in Oshkosh, WI that cater to families or provide a comfortable lounge area for working on your computer?
Look no further than Comfort Suites Oshkosh! The spacious suites are perfect for gathering the family or spreading out to work.
Plus, the free breakfast buffet will give you the fuel you need for the day ahead. The business center has a printing station so you can stay productive during your stay.
For anyone looking for hotels in Oshkosh WI, I highly recommend checking out the Comfort Suites for a top-notch experience.
Looking for the best hotel in Oshkosh, WI? As someone who has stayed here myself, I can attest to the comfortable rooms and excellent value for money.
Plus, the hotel is conveniently located near both Wittman Regional Airport and Appleton International Airport.
If you're looking for a way to unwind, take a dip in the hotel's indoor heated pool. And don't worry about leaving your furry friend at home – Quality Inn Oshkosh is pet-friendly.
The outdoor enthusiasts be sure to check out the fishing and boating opportunities at nearby Menominee Park, one of the best outdoor things to do in Wisconsin.
Overall, Quality Inn Oshkosh is the perfect choice for anyone looking for a comfortable and convenient stay in Oshkosh.
Budget Hotels in Oshkosh
I had the pleasure of staying at the La Quinta Inn by Wyndham Oshkosh during my recent trip to Wisconsin, and I couldn't have been happier with my experience
Set just a stone's throw from Menominee Park and Lake Winnebago, this hotel is in an ideal location for those who love spending time by best lakes in Wisconsin.
And with prices that won't break the bank, it's an affordable option for travelers on a budget.
Best of all, the hotel offers plenty of convenient amenities, from a free continental breakfast to a gym and dry cleaning and laundry services.
Plus, it's pet-friendly, meaning you can bring your furry friend along for the adventure.
All in all, the La Quinta Inn is one of the best hotels in Oshkosh WI for travelers seeking comfort and convenience.
As someone who loves a good bargain, I couldn't resist booking a stay at Motel 6 Oshkosh.
With its budget-friendly rates and simplistic decor, it's the perfect choice for those who prioritize practicality over luxury.
Plus, the property is conveniently located near Lake Shore Golf Course, an ideal spot for golf enthusiasts to take in the picturesque scenery.
And despite its no-frills approach, the rooms were surprisingly comfortable, providing everything you need for a good night's rest after a long day of exploring.
Plus, the fact that it's pet-friendly means you can bring your furry friend along for the adventure.
And if all that isn't enough, the outdoor pool is just the cherry on top of an already fantastic stay, making it one the best pet-friendly cabins in Wisconsin.
If you're planning a trip to Oshkosh, your budget doesn't have to take a hit.
The Super 8 by Wyndham Oshkosh Airport is a fantastic choice for affordable accommodations that don't compromise on quality.
With the airport just a stone's throw away, you won't have to worry about a long commute after your flight.
Plus, you'll be close to a great number of things to do in Oshkosh, like the EAA Aviation Museum and the Grand Opera House.
If you need to get some work done, the hotel also offers business services.
Overall, I was impressed with the affordability and comfort of my stay at Super 8 and definitely recommend it to anyone looking for a budget-friendly hotel in Oshkosh.
As someone who's always on the hunt for affordable accommodation while traveling, finding a hotel that offers budget-friendly rates and a comfortable room is a huge relief.
Set just three miles from the historic aircraft at EAA Aviation Museum, the welcoming AmericInn by Wyndham offers easy access to the city's top attractions.
Whether you're here for business or pleasure, you'll appreciate the thoughtful amenities that include a well-equipped gym, a free breakfast to fuel your day, and even a game room to keep everyone entertained.
So why not book your stay there today and discover all that Oshkosh has to offer?
Welcome to TownePlace Suites by Marriott Oshkosh – your ultimate budget-friendly destination when you're looking for comfort suites in Oshkosh, Wisconsin.
I was immediately drawn in by the emphasis on budget-friendly rates and comfortable rooms.
The cozy and well-appointed guest rooms are perfect for a weekend getaway or extended stay, leaving you feeling relaxed and rejuvenated.
If you're traveling with kids, you'll be thrilled to know that the hotel is just a stone's throw away from Pollock Community Water Park.
In addition to comfortable lodgings, they offer a host of amenities including a 24-hour gym, picnic area, and parking, ensuring your stay is everything you hoped it would be.
My final thoughts on the most amazing hotels in Oshkosh
After thorough research, I can confidently say that Oshkosh is a prime destination for any traveler with its diverse range of budget-friendly and luxurious accommodations.
Whether you're looking for an idyllic riverside spot, a chic downtown destination, or budget-friendly digs nearer to the city center, there is something for everyone.
There are so many fantastic places to stay in this city—from traditional bed and breakfasts to modern inns and family-friendly motels.
With its vibrant culture, bustling nightlife, and countless attractions, it's no wonder why Oshkosh is one of Wisconsin's top tourist destinations.
Whether you're in town for a romantic getaway or business purposes, there's something here for everyone.
So what are you waiting for? Start packing and head on over to Oshkosh—you won't regret it.
And while you're here check out some of the best family cabins in Wisconsin to help you and your family have a wonderful time here.
FAQ about hotels in Oshkosh for all budgets
---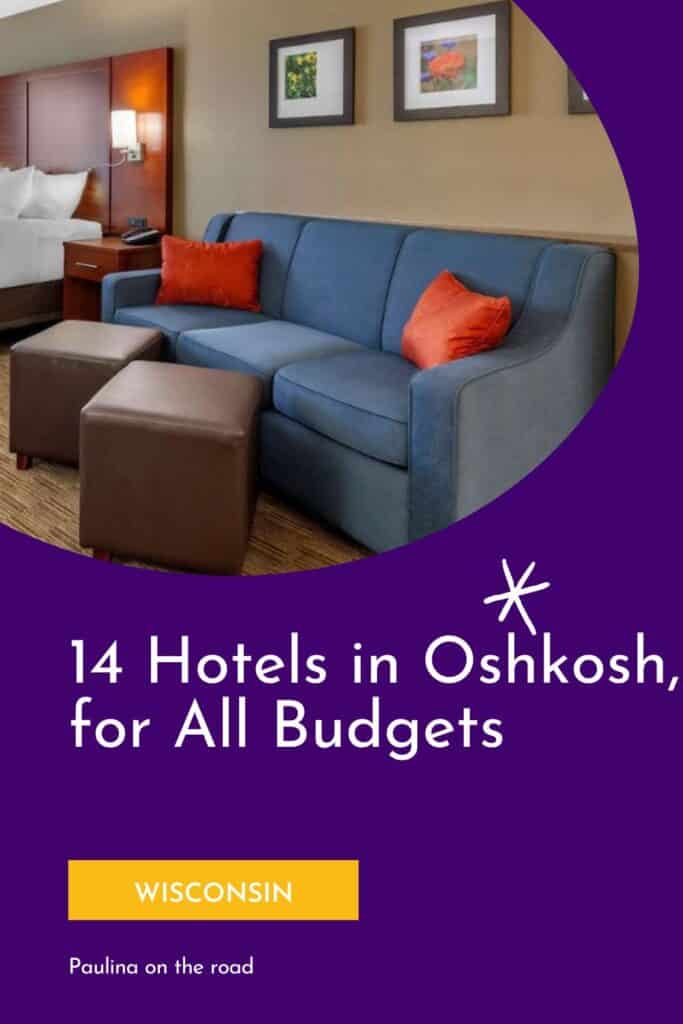 ---