A guide that will help you choose your best log cabin rentals in Wisconsin
Do you dream of spending a weekend or week in one of Wisconsin's amazing log cabins? Whether you are an outdoor lover or a rural retreat enthusiast, there's something here for you if you travel Wisconsin for its famous log cabins.
I'll explore (so you won't need to) different log cabin rentals in Wisconsin perfect for couples or families looking to getaway on their next adventure.
Not only do these cozy cabins offer unrivaled access to some of the best trails and sights in the Midwest, but they also provide an unbeatable homey atmosphere that will make your trip even more enjoyable!
If staying in nature is what you're after, consider booking one of the many log cabin rentals available throughout Wisconsin.
This blog is supported by you, dear reader. If you purchase through a link, I earn a small commission. As an Amazon Affiliate, I earn from qualifying purchases.
Pssst…!!?? You can't get enough of Wisconsin cabins? Have a look at my other posts:
Log Cabin Rentals in Wisconsin
This enchanting log cabin rental in Blanchardville is the perfect place for couples looking to escape and relax at one of the best secluded cabins in Wisconsin.
Nestled on a private lot amidst beautiful forests, this cabin offers stunning views of rolling hills and pristine rivers.
You can enjoy plenty of outdoor activities such as fishing, hiking, mountain biking, skiing, and snowshoeing.
After a day exploring, come home to the cozy wood-burning stove, peaceful gardens, and outdoor firepit – perfect for star gazing at night.
I recently stumbled upon the coziest cabin in the heart of Hayward, Wisconsin. This place is perfect for a couple looking for romantic getaways in Wisconsin or just some quality time together in a serene environment.
Tucked away amidst lush greenery, the cabin is situated right by Lake Hayward and is surrounded by towering trees.
The outdoor grill and fire pit area make it ideal for summertime cookouts or late-night marshmallow roasting sessions.
And what's more, it's pet-friendly! So you can bring all the members of your family along on this adventure.
If you're looking for one of the best cottages in Wisconsin, do yourself a favor and book this cozy cabin in Hayward.
As someone who loves exploring the great outdoors, I can't recommend this handcrafted log cabin rental in Wisconsin enough.
Located in Rhinelander, this rustic getaway is the perfect escape for families and couples alike. Tucked away in a private location, you'll feel like you have the whole world to yourself in this cozy cabin.
Inside, you'll find everything you need for a comfortable stay, including a luxurious whirlpool tub for two and two queen-size beds.
The kitchenette comes fully equipped with a microwave oven, countertop indoor grill, toaster oven, toaster, coffee pot, dishes, and utensils, so you can prepare delicious meals for yourself and your loved ones.
When you're ready to enjoy the great outdoors, head outside and fire up the grill at the picnic area or roast marshmallows over the campfire ring.
Don't worry about bringing your own wood – this rustic log cabin offers that as well.
With mountain biking, hiking, fishing, and boating all within easy reach, this log cabin rental in Wisconsin is the ultimate destination for anyone looking to reconnect with nature and stay at luxury cabins in Wisconsin.
If you're looking for peaceful and pet-friendly cabins in Wisconsin Dells, you might want to check out the rustic cabins for rent in Wisconsin.
I recently stumbled upon a private Amish log cabin getaway in Black River Falls, and I have to say I was blown away.
The cabin is nestled in the woods, and you can enjoy the clean air on the porch or swing away on the balcony while taking in the surrounding beauty.
If you're looking for some adventure, the cabin is conveniently located near ATV trails and water ski opportunities.
And after a day of exploring, you can gather around the outdoor picnic area for some delicious grilled food.
I highly recommend this cozy and tranquil retreat for anyone looking to recharge their batteries with things to do in Wisconsin in October.
There's nothing quite like a beautiful log cabin nestled amongst the trees, surrounded by picturesque views, and boasting all the amenities you need for a perfect getaway.
And that's exactly what you'll find with this stunning Ponderosa Pine cabin located in Ladysmith, Wisconsin.
With an indoor wood stove, an outdoor fire pit, and both indoor and outdoor hot tubs, this cabin has everything you need to relax and unwind.
And when it's time to eat, the fully stocked kitchen has you covered. With two bedrooms and a balcony with a sitting area, you won't want to leave this cozy cabin.
But if you do venture out, nearby fishing options and ATV and snowmobile trails await. Check out some of the best snowmobile resorts in Wisconsin to make your stay even more spectacular.
When it comes to the ultimate getaway, why not rent a cabin and experience all the beauty and comfort Wisconsin cabins with hot tubs have to offer?
I can't recommend the Rustic Personal Retreat Cabin near South Range enough!
This cozy cabin offers the perfect blend of relaxation and adventure, with the best hiking trails in Wisconsin around and a stunning sandy beach just a stone's throw away from the doorstep.
And perhaps the best bit? It's pet friendly, so your furry friend can enjoy the fresh air and rustic charm along with you.
Inside, the fully equipped cabin has everything you need for a comfortable stay, including a living room complete with a welcoming fireplace.
I've stayed at plenty of rental cabins in Wisconsin, but the Rustic Personal Retreat Cabin truly stands out as a unique and special spot.
Located among the trees and directly on Lake Hayward, this charming studio cabin is perfect for cool weekend trips in Wisconsin for those seeking a cozy and serene vacation.
Perfect for couples, the cabin boasts one queen bed, a bathroom, and a well-equipped kitchenette complete with a fridge, microwave, and Keurig coffee maker.
You can enjoy outdoor cooking with the convenience of an outdoor grill.
Two community firepits and numerous picnic tables offer plenty of opportunities for socializing and taking in the natural surrounding beauty.
With multiple docks available, there are plenty of ways to enjoy the water activities offered by this idyllic location. If you're on the hunt for cabins on the lake in Wisconsin, your search ends here!
8. Rustic Cabin – Lower Wisconsin River
Picture waking up to the sound of birds chirping and the stunning sight of the lower Wisconsin River from your porch.
Imagine spending your days exploring Frank Lloyd Wright's Taliesin, captivating House on the Rock, and indulging in Wisconsin Dells' excitement.
Then, retreat to your cozy rustic cabin with all the amenities you need for a peaceful getaway and experience the best at one of these luxury cabins in Wisconsin Dells.
With two bedrooms, two bathrooms, and enough space for four people, this cabin is perfect for a weekend rental in Wisconsin.
The outdoor sitting area with a fire pit allows for s'mores and storytelling under the starlit sky.
Don't miss out on this opportunity to escape to nature while still being close to exciting attractions!
If you're looking for a cozy and comfortable getaway in Wisconsin, the Lake Nebagamon cabin is the perfect choice.
Nestled near the Bois Brule River, Brule Glacial Spillway State Natural Area, and Lake Nebagamon, this fully equipped cabin offers a peaceful escape.
Whether you're looking to spend quality time with your family or you're interested in romantic cabins in Wisconsin, this two-bedroom pet-friendly cabin can accommodate up to four people.
With a wood-burning stove for those chilly nights and central heating and air conditioning for those hot summer days, the cabin ensures your utmost comfort.
The kids will love the playhouse, and the nearby activities will keep you entertained for days. So why not check out Wisconsin cottage rentals and book your stay today?
A private cabin on Upper Twin Lake is the perfect getaway for a couple or small family looking to experience the beauty of Wisconsin's lake cabins.
As someone who has spent many summers vacationing on the serene waters of Upper Twin Lake, I can attest to the charm and tranquility of this cabin.
With access to nearby trails and the lake just steps away, this private cottage offers the best of both worlds.
The cabin boasts two cozy bedrooms, a wood fireplace, and ample kitchen, living room, porch, and deck space.
The kitchen comes equipped with all the essentials, making it easy to whip up a delicious meal after a long day of fishing for musky and bass.
The outdoor area features a fire pit, picnic area, and dock for your boat, making it the perfect place to soak up the beautiful Wisconsin scenery.
Book your stay and experience the magic of the best lake cabins in Wisconsin at this private cabin on Upper Twin Lake.
Looking for a peaceful and charming cabin getaway in Wisconsin? The Honey Barn & Honey House was my ideal cabin.
Nestled in a quiet area of Westby, this cozy cabin boasts a covered front porch perfect for sipping a cup of coffee or enjoying a book.
Inside, you'll find an open living room area complete with a fireplace for those chilly nights.
And when you're ready to whip up a meal, the fully equipped kitchen has everything you need. With two bedrooms and the option to bring along your furry friend, this cabin has everything you need for the perfect retreat.
There's no shortage of outdoor things to do in Wisconsin and adventures to be had with bike trails and the Kickapoo River for canoeing and kayaking.
As someone who recently stayed at the Honey Barn & Honey House, I can attest to the relaxing and rejuvenating experience it offers.
If modern convenience paired with natural beauty is your thing, then you'll fall in love with the Nordic Modern cabin on Silverthorn Lake.
From the open-concept living space and contemporary furnishings to the spacious outdoor patio and dock access for swimming and fishing, this cabin has it all.
With one cozy bedroom and a double sofa bed accommodating up to four people, this luxury rental provides plenty of space to relax and unwind.
The fully equipped kitchen makes it easy to whip up a delicious meal or two while taking in the breathtaking views of Silverthorn Lake.
Whether you're looking for a romantic escape or an adventure-filled family vacation, this modern cabin is the perfect choice!
And I must mention that the cozy cabin might be one of the best pet-friendly cabins in Wisconsin, since pets are welcome as well.
Ever dreamt of staying in a cozy log cabin with your loved ones? I'm talking about one of the best family cabins in Wisconsin that I recently discovered.
This beautiful log cabin retreat in Wisconsin can comfortably accommodate up to six people with its three bedrooms and three bathrooms.
Situated within walking distance to White River County Park and only four minutes away from Lake Geneva Resort and ski hill, this private cabin rental is a nature lover's paradise.
My favorite part was the balcony with outdoor furniture and a hammock, perfect for stargazing with a glass of wine.
The porch has a BBQ grill, dining area, and a hot tub– ideal for a family cookout or a romantic evening soak.
Parents can relax while kids enjoy the on-site playground, and there are plenty of activities like kayaking, fishing, picnicking, hiking, or cross-country skiing on the endless trails.
Trust me; it's a vacation you'll never forget. If you're looking for private cabin rentals in Wisconsin or the best Airbnbs in Lake Geneva this is the perfect place!
As a lover of nature and all things cozy, I can't help but feel excited about the prospect of a pet-friendly cozy cabin rental tucked away in the tranquility of Williams Bay.
Surrounded by a shared, wooded landscape and ample recreational activities such as volleyball, horseshoes, and a campfire pit, it's the perfect retreat for families looking to unplug and unwind.
The outdoor sitting area with a barbeque grill and fire pit makes for a cozy evening of s'mores under the stars.
With room for up to three people, the cabin is just the right size for a small group seeking places to vacation in Wisconsin.
I highly recommend looking into log cabin rentals in Wisconsin for your next nature retreat.
Escape to the serenity of a log cabin retreat in the heart of Door County. Tucked away in the lush woods of Egg Harbor lies a stunning cabin, fully equipped with everything you need for a cozy and comfortable stay.
With spacious rooms, two bedrooms, and two bathrooms, this charming cabin is perfect for a family or a group of friends.
There's even a sunroom with a pull-out sofa and a 5″ 4K TV equipped with surround sound, making it the ideal spot to unwind after a long day of exploring the great outdoors.
Plus, with a fire pit gathering area and an area game table with games, you'll never run out of things to do.
And if you need to stock up on supplies or want to do some shopping, downtown Egg Harbor and the lake are just 4 minutes away.
Don't miss out on the opportunity to experience the beauty and tranquility of one of the best cabins in Door County.
My final conclusion on the best log cabin rentals in Wisconsin
From its stunning riverside and lakefront locations to its cozy accommodations perfect for a weekend escape or extended stays, Wisconsin's log cabins offer something for every traveler.
It's no wonder so many visitors flock to the area each year and create memories that last a lifetime.
Whether you're looking for a romantic rendezvous with your special someone or feeling adventurous with family or friends, I think there are plenty of charming log cabin rentals in Wisconsin that could be just the ticket to creating unforgettable experiences.
So, why wait? Go explore these beautiful cabins and start planning your adventure-filled day trips today!
FAQ about the best log cabin rentals in Wisconsin
---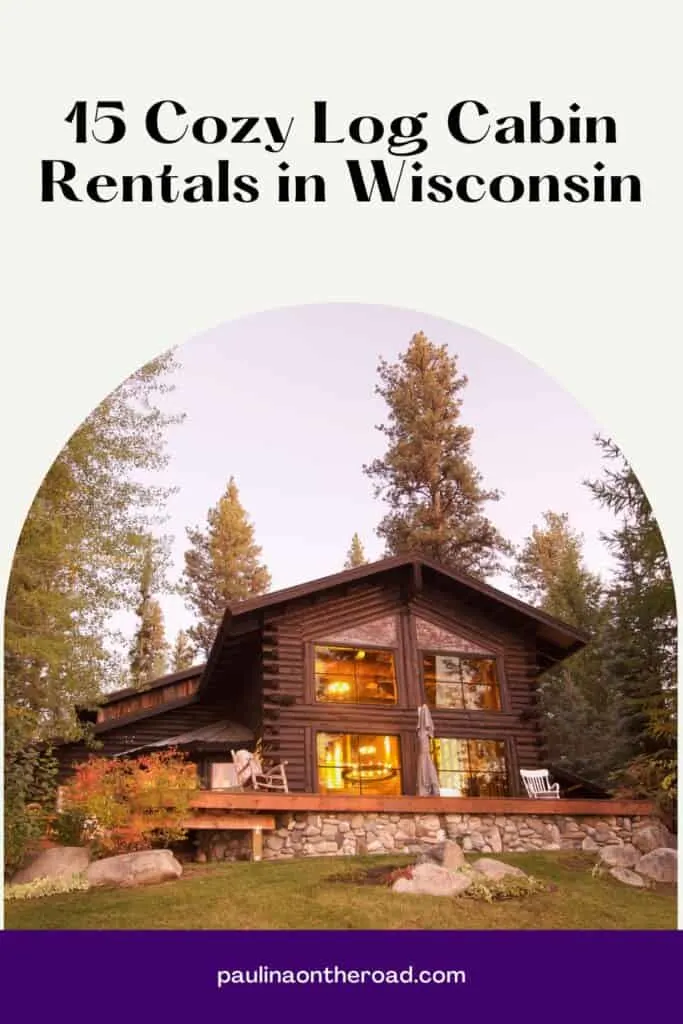 ---