A guide to the best luxury cabins in Wisconsin Dells for an unforgettable holiday
Do you dream of taking a trip that's luxurious yet full of adventure, all nestled in the heart of nature? If so, then luxury cabins in Wisconsin Dells are the perfect getaway for you!
From sprawling estates with gourmet kitchens to cozy hideaways tucked away among the natural beauty, if you travel Wisconsin you can get all that and more.
When it comes to spoiling yourself or having a romantic retreat in pure luxury and comfort, expect nothing less than first-class indulgence at these rental cabins.
Experience an unforgettable vacation full of relaxation as well as thrills by staying at one of these luxurious Wisconsin Dells Cabins.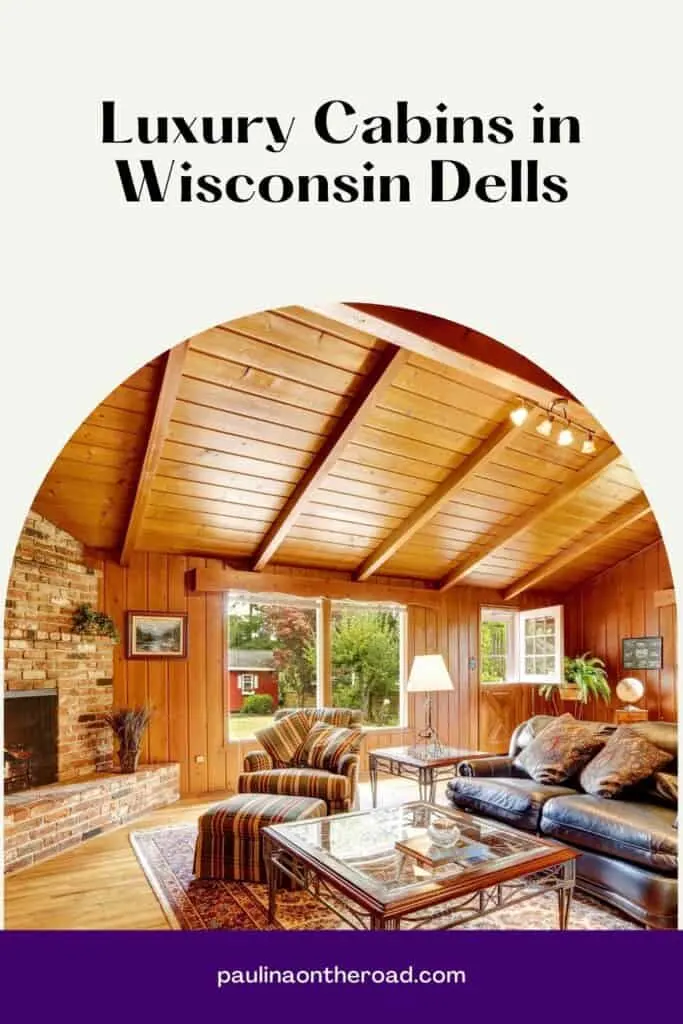 This blog is supported by you, dear reader. If you purchase through a link, I earn a small commission. As an Amazon Affiliate, I earn from qualifying purchases.
Psssst…!!?? You can't get enough of Wisconsin Dells? Have a look at my other posts:
Luxury Cabins in Wisconsin Dells
When it comes to family cabins in Wisconsin Dells, finding the perfect accommodation can make all the difference.
That's why Wisconsin Dells cabins with hot tubs are a great choice for those looking for a memorable getaway.
Located within the Chula Vista resort, this family-friendly condo offers two bedrooms and two bathrooms, accommodating up to eight people.
Whether you're enjoying the air conditioning inside or soaking in the hot tub outside, you'll have access to high-speed free WiFi and a cozy fireplace.
The highlight of your stay will be the Chula Vista Waterparks, located just one minute away. As someone who's stayed here before, I can confidently say that this is a vacation you won't want to end!
Sunshine Retreat on Vine is the perfect place to stay for romantic getaways in Wisconsin Dells! With three cozy bedrooms and one spacious bathroom, you'll have plenty of space to unwind and relax.
The separate dining area is perfect for romantic meals, while the front porch with its outdoor furniture makes for a great spot to enjoy some fresh air and take in the peaceful surroundings.
And with a fully equipped home, you'll have everything you need right at your fingertips.
From comfortable accommodation to plenty of outdoor space to enjoy, Sunshine Retreat on Vine has everything you need for a truly romantic getaway!
Overall, the Sunshine Retreat on Vine has quickly become one of my top recommendations for cabin rentals in the Wisconsin Dells area.
If you're searching for best luxury cabins in Wisconsin, look at the deluxe condo with an in-room Jacuzzi.
From the moment you step inside, you'll be greeted with a fully equipped home featuring a full kitchen complete with stainless steel appliances.
You can chill out in the comfort of your own jetted tub, or snuggle up by one of the two gas fireplaces.
And if that's not enough, step outside onto the balcony and take in the beautiful views from the room.
Plus, with access to the outdoor pool, your relaxation options are endless.
A stay at this deluxe condo is sure to provide the perfect balance of luxury and comfort. Cabins in Wisconsin Dells like this one is why I love it so much staying here.
Staying in luxury vacation rentals in Wisconsin Dells is always a treat, but finding one right in the heart of downtown takes the experience to a whole new level.
You'll fall in love with this charming 4-bedroom home that can accommodate up to 8 people comfortably.
Enjoy spending time in the outdoor sitting area, roasting marshmallows and telling ghost stories around the fire pit, or cooking up a delicious meal on the grill.
Whether you're traveling with family or friends, you'll appreciate the convenience of having a fully equipped kitchen that comes stocked with all the essentials.
When you're not lounging at home, you're only a stone's throw away from thrilling attractions like Wizard Quest and Old River Mini Golf.
There's no shortage of fun things to do in Wisconsin Dells, and this home puts you in the perfect location to experience it all.
As a lifelong dog lover, I was thrilled to come across the LeGros Chateau – one of the best dog-friendly cabins in Wisconsin Dells.
This gorgeous property boasts 4 bedrooms and 2 bathrooms, making it the perfect spot for a family getaway or a weekend with friends.
The wrap-around porch provides a perfect spot to relax with your furry friend, and the yard and dog kennel give them plenty of space to run around in.
The hot tub is a great way to rest at the end of a long day, while the separate dining area is perfect for enjoying meals together.
Best of all, this fully stocked house is just a stone's throw away from both Noah's Ark Waterpark and Kalahari Indoor Waterpark.
If you're looking for pet-friendly cabins in Wisconsin Dells that are also luxurious and comfortable, LeGros Chateau is the epitome of luxury cabins in Wisconsin Dells offering everything you need.
If you're looking for the perfect family getaway, this beautiful 3-bedroom condo suite at Chula Vista Resort is the one.
With amenities like a private and fully equipped kitchen, a hot tub in the room, and access to the best waterparks in Wisconsin Dells, this is the ultimate vacation destination.
Bring your furry friends along too, as the suite is pet-friendly! With 3 bedrooms and 3 bathrooms, the suite can accommodate up to 14 people – perfect for a family or group of friends.
During your stay, take advantage of the resort's gym, pool, and access to a large indoor and outdoor water park, full-service spa, golf course, zip lines, athletic center, and restaurant and bars at Chula Vista.
This was one of the most perfect luxury vacation rentals in Wisconsin Dells.
Living in a modern condo with a beautiful view of the golf course and a cozy fireplace sounds like a dream come true.
I can already picture myself relaxing on the balcony and taking in the stunning scenery. Its proximity to the Sundara Spa makes this spot perfect for a weekend getaway.
There are plenty of dining options and exciting activities like snowboarding and skiing, as well as sledding and ice skating, so there's always something to be done.
For those in search of the best cabin resorts in Wisconsin, this golf-front gem definitely belongs on the list.
With its fully stocked kitchen, this is the perfect place to stay for anyone looking for luxury rentals in Wisconsin Dells, myself included.
As someone who loves to escape the city every chance I get, I highly recommend checking out the private cabins in Wisconsin Dells, particularly the Cabin in the Woods.
Tucked away in the heart of Wisconsin's natural beauty, this pet-friendly cabin offers the perfect escape for families seeking a peaceful retreat.
Situated on 2/3 of an acre of untouched woods, you'll feel surrounded by nature while enjoying all the modern amenities of your home.
Watch the gentle waters of Dells Creek flow by as you warm up by the electric fireplace or recline on the cozy sofa.
With fully equipped appliances and an outdoor grill, preparing meals of your own is a breeze. S'mores under the stars are a must, so be sure to take advantage of the fire pit with its stunning river view.
And for those who enjoy a good fishing spot, the onsite option is hard to beat. You won't find many cabins as accommodating as this one in the best family cabins in Wisconsin – I promise you that!
I do love a good glass of wine and I was ecstatic to stumble upon the Winery House with its 36 acres of vineyard and walking paths.
Nestled in a beautiful location, this winery offers much more than its delicious wine. For those who enjoy outdoor activities, the Winery House has a 9-hole disc golf course and a large deck to relax on.
What's more? Visitors can experience live music every Saturday. So, if you're looking for a fun and unforgettable activity in Wisconsin Dells, you will want to take advantage of the Winery House.
And if that isn't enough to convince you to make a trip to the Winery House, just know that you're only a short drive away from skiing in Wisconsin Dells.
Don't wait any longer, book your stay at the Winery House today!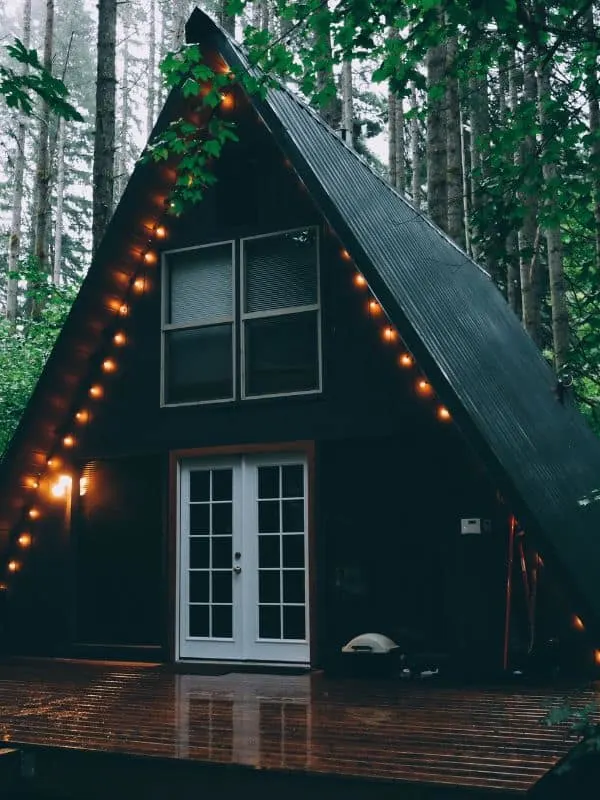 Nord Haus on Dell Creek is truly a hidden gem among the secluded cabins in Wisconsin. The A-frame cabin is perched atop a vista of mesmerizing greenery and boasts a picturesque view of Lake Delton Channel.
Every inch of Nord Haus is meticulously designed to ensure comfort and relaxation.
The living room features a wood-burning stove and plenty of seating, ideal for snuggling up with a good book.
The deck with outdoor furniture presents the perfect opportunity to spend some quality time with loved ones while grilling up a storm on the barbecue grill.
A stay at Nord Haus is incomplete without your furry friends, as the property is diligently pet-friendly.
When it comes to luxury cabins in Wisconsin Dells, Nord Haus on Dell Creek is the perfect blend of rustic charm and modern amenities.
I can vouch for a firsthand experience that Nord Haus on Dell Creek is the perfect haven for anyone seeking a break from the routine of everyday life.
My final thoughts on the luxury cabins in Wisconsin Dells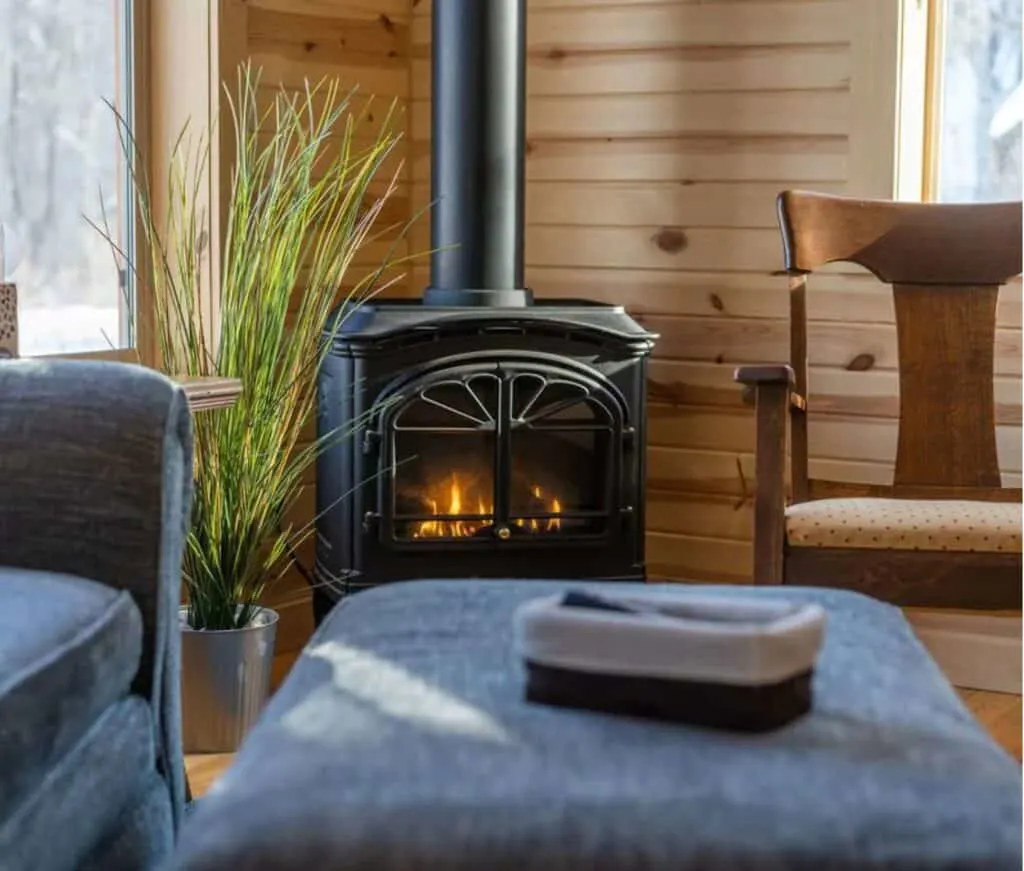 To make your next vacation an extra special one, experience the unparalleled elegance of the luxurious cabins that Wisconsin Dells has to offer.
It's a great way to relax in comfortable yet sophisticated interiors and envelope yourself with natural beauty—all at an affordable price point.
So why not take advantage of this delightful opportunity and book one of these luxury cabins in Wisconsin Dells today?
My goal with this post was to provide inspiration for a one-of-a-kind luxury cabin experience. I believe that everyone should have the opportunity to treat themselves from time to time!
I hope you can happily add some indulgent luxury cabin memories to your travel album soon!
FAQ about the best luxury cabins in Wisconsin Dells
What are the best Wisconsin Dells resorts?
Some of the best Wisconsin Dells resorts are Kalahari Resorts & Conventions, Delton Grand Resort & Spa. Condominium, or Chula Vista Resort.
What are the best cheap cabins in Wisconsin Dells?
Some of the best cheap cabins in Wisconsin Dells are Cedar Lodge Settlement, Birchcliff Resort or the Wren's Nest in the Dells.
What are the best luxury cabins in Wisconsin Dells with hot tub?
Some of the best luxury cabins in Wisconsin Dells with hot tub are the Family-Friendly Condo, LeGros Chateau, or the Beautiful 3 Bedroom Condo Suite at Chula Vista Resort.
---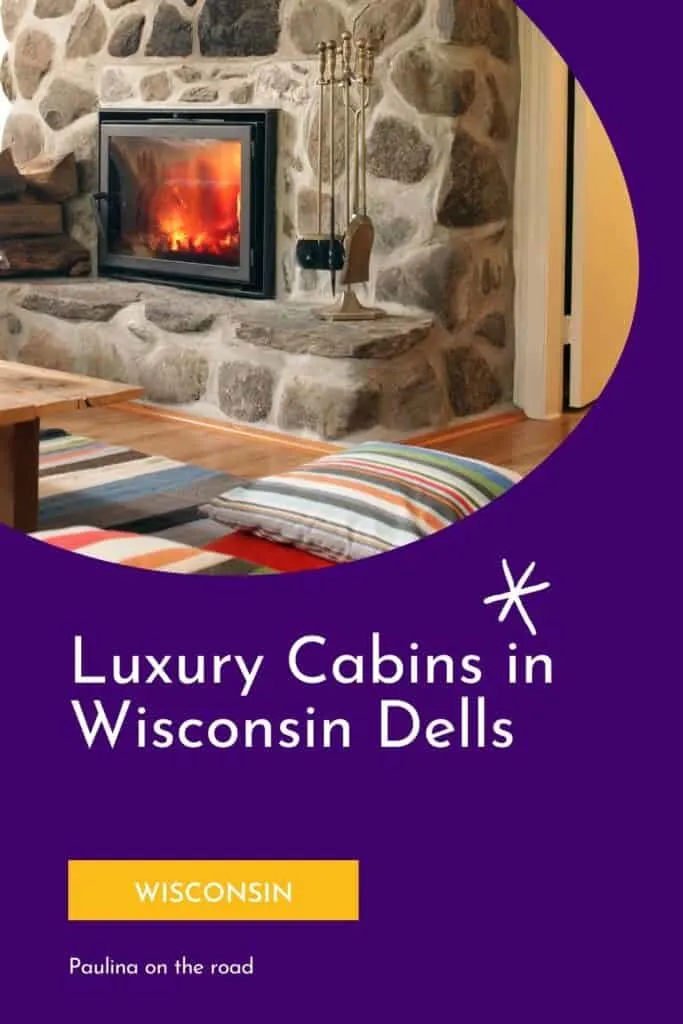 ---
Hola! I am Paulina, a fervent travelette who crossed the Atlantic Ocean by Boat HitchHiking. On my blog, you'll find all the tips to make the most of your holiday. Get ready to enjoy outdoor and sustainable travel like hiking, cycling or sailing. Let's hit the road together!