A guide to help you find the best Airbnbs in Sheboygan that fits your needs.
Dreaming of a vacation that offers the perfect balance between relaxation and exploration?
Sheboygan, Wisconsin could be just the spot. Located along Lake Michigan's vibrant shoreline, this port city is known for its sandy beaches, beautiful parks, and eclectic mix of restaurants.
But what makes it even more attractive is its variety of accommodation options that will fit any traveler's needs.
From luxury apartments with breathtaking views to private cottages on peaceful acreage – you'll find something here that absolutely suits your desires.
I've curated 10 best Airbnbs in Sheboygan so read on and get ready to travel Wisconsin and let the adventure begin.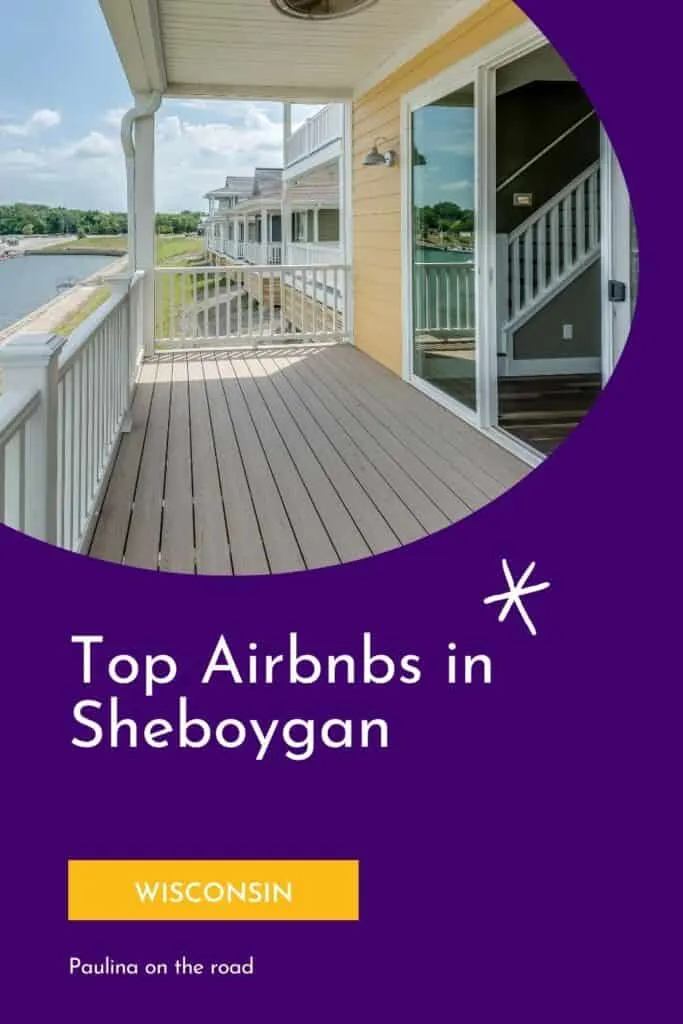 This blog is supported by you, dear reader. If you purchase through a link, I earn a small commission. As an Amazon Affiliate, I earn from qualifying purchases.
Psssst…!!?? You can't get enough of Airbnb in Wisconsin? Have a look at my other posts:
Best Airbnbs in Sheboygan, WI
As an avid traveler who explores the best hotels in Sheboygan and the best accommodations, I've come to appreciate the importance of comfortable and luxurious accommodations.
That's why I'm thrilled to recommend this stunning 4-bedroom apartment on Lake Michigan Beach.
This 2800 square ft home boasts four spacious bedrooms and stunning beach views, making it the perfect escape for anyone looking for a tranquil getaway.
The master suite is particularly impressive, featuring a therapeutic infinity edge soaking tub and oversized spa shower that will leave you feeling refreshed and energized.
And if you're in the mood for outdoor relaxation, the backyard offers a private pergola and grill to unwind with family and friends.
Best of all, the home is conveniently located in proximity to North Side Municipal Beach and the beautiful Lake Michigan shore.
You don't want to miss out on this newly decorated apartment located in the heart of downtown Sheboygan.
This stunning 3 bedroom property is what you need for a comfortable and enjoyable stay in the area.
With enough space to accommodate up to 6 people, it's perfect for families or groups of friends traveling together.
What's more, it's only blocks away from one of the best lakes in Wisconsin, Lake Michigan, and a stone's throw from the Stefanie H. Weill Center for the Performing Arts.
If you're looking for the perfect Airbnb in Sheboygan, WI, this is the place to be.
If you're looking for a charming escape in Wisconsin, you can't go wrong with the scenic lake views in Sheboygan.
As someone who loves being surrounded by natural beauty, I highly recommend checking out the pet-friendly condo that's within walking distance from Sheboygan Harbor Center.
Located right by the water, this cozy apartment has two bedrooms and a lovely balcony with a beach view.
And if you're feeling like splashing around, you're also close to the Blue Harbor Resort & Conference Center Water Park, one of the best lake resorts in Wisconsin.
This is just one of the many cool Airbnbs in Wisconsin that offer both comfort and stunning vistas.
Book your stay today and get ready for a relaxing getaway in Sheboygan.
Have you ever dreamed of waking up to the sound of waves crashing against the shore?
This charming house on Lake Michigan is almost too good to be true. From the moment you step onto the property, you are surrounded by stunning views of the water.
With 2 bedrooms and a balcony overlooking the lake, this waterfront vacation home is perfect for a romantic getaway or family trip.
As if the location couldn't get any better, the house also boasts a beautiful garden and a barbeque grill perfect for cookouts.
When you're ready to explore the area, be sure to check out the nearby Children's Museum and Blackwolf Run golf course.
Looking for a cozy, pet-friendly retreat nestled in the heart of Black River? Look no further than this gorgeous house for rent in Sheboygan. From my perspective, this charming abode is the perfect place to unwind after a long week.
You'll love watching the sunset from the terraced back deck, grilling up a feast on the gas grill or cooking in the fully-stocked kitchen.
On chilly evenings, guests can curl up by the fireplace with a good book – or take advantage of the family-friendly options available.
And with nearby things to do in Sheboygan like Kohler golf courses, biking and hiking, and charter fishing, there's always something to do.
So why wait? Book your stay at this wonderful Sheboygan retreat today.
Welcome to one of the coolest Airbnbs in the US – a pet-friendly newly remodeled 2 bedroom 2 bath townhouse nestled on a quiet cul de sac.
I can assure you that this place is the perfect mix of privacy and convenience.
You and your guests can benefit from a large yard with a hot tub, a pond, as well as a barbeque grill, making it the ideal place to relax and unwind.
Also, don't forget the natural stone fireplace where you can enjoy a quiet evening indoors.
If you're up for exploring, popular destinations in the area include Sheboygan Riverfront restaurants or Black Wolf Run Golf Course.
This beach and marina condo is not your ordinary place to stay. Located in the heart of North Beach in Sheboygan, Wisconsin, it highlights the beauty of having a convenient location.
I personally love the added bonus of having a balcony to watch the stunning sunset over the marina.
Guests can easily fill their day with nearby activities like going on mountainbike trails in Wisconsin or walking along the path, hitting the beach, or even going sailing.
With nearby restaurants and shopping, there's no need to worry about getting bored.
Apartments in Sheboygan Wisconsin like this one are what offer an unforgettable experience.
If you're looking for the ultimate waterfront experience, you'll definitely want to check out this amazing downtown waterfront condo.
In my opinion, it's one of the best lake cabins in Wisconsin that's the perfect getaway spot for anyone who loves water activities and stunning views.
Not only does it offer private direct access to the water from a large covered deck, but guests can also take advantage of the full hook-up boat slip.
On top of all that, this condo is also pet-friendly and has a balcony overlooking the lake, making it a great spot for nature lovers.
And if you're looking for more activities to do in the area, the Blue Harbor Resort & Conference Center Water Park is only a 5-minute walk away.
It's no wonder why this condo is one of the best Airbnbs in Sheboygan.
As someone who loves spending time by the water, I cannot recommend this beautifully remodeled home on Lake Michigan enough.
Able to accommodate up to seven guests, this three-bedroom house boasts unparalleled views of the stunning lake from its large balcony.
Plus, its proximity to Kohler-Andrae State Park provides endless opportunities for outdoor adventure.
If you're searching for Sheboygan house rentals, look no further than this gem on the shores of Lake Michigan.
Welcome to this lovely Sheboygan Airbnb home, just a stone's throw from beautiful Lake Michigan.
As soon as you settle into this charming residence, you'll appreciate all its great features, and on top of that, there are around it fun outdoor things to do in Wisconsin that will make it an unforgettable experience.
Guests can cozy up to a warm brick fireplace, cook up some tasty meals in the fully equipped kitchen, and relax on the spacious deck.
And don't forget about the lovely patio outside, perfect for enjoying some fresh air while sitting on comfy garden furniture and grilling up some delicious eats on the gas grill.
Trust me, you'll love staying at this Sheboygan home with a porch and all its amenities. Come for the lake, stay for the comfort.
My final thoughts on the best Airbnbs in Sheboygan, WI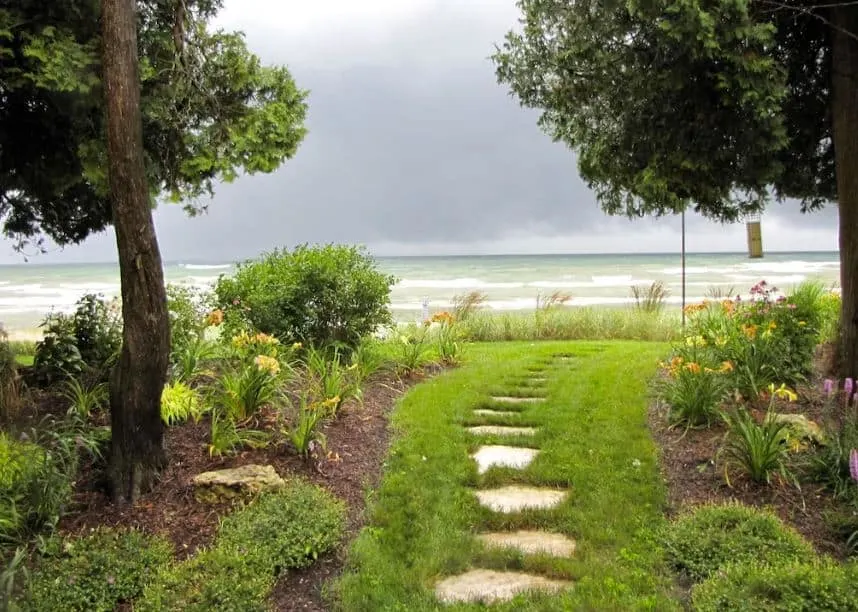 The charm of Sheboygan, Wisconsin makes it the perfect place for a great vacation.
With so many best Airbnbs in Sheboygan to choose from, visitors can find exactly what they are looking for without having to sacrifice budget or quality.
Whether heading up North for a weekend getaway or into town for an extended stay, be sure to check out these incredible places to stay first.
I think this form of vacationing should always be seriously considered when planning your next trip because of all the great advantages they provide—privacy, comfort, and most importantly savings!
So whether you're hoping for a quiet break or some lively adventure, Sheboygan could have something ideal awaiting. I'm feeling excited just thinking about all the possibilities.
FAQ about the best Airbnbs in Sheboygan, WI
What are the best Hotels in Sheboygan?
Some of the best Hotels in Sheboygan are Quality Inn, AmericInn by Wyndham Sheboygan, or GrandStay Residential Suites Hotel Sheboygan.
What are the best Sheboygan vacation rentals?
Some of the best Sheboygan vacation rentals are the remodeled home on Lake Michigan, Lake Michigan home with gorgeous views, or the River Bed.
What is the best bed and breakfast Sheboygan WI?
Some of the best bed and breakfasts in Sheboygan are Father Wind Bed & Breakfast, Lake View Mansion Bed & Breakfast or Hidden Serenity Bed & Breakfast.
---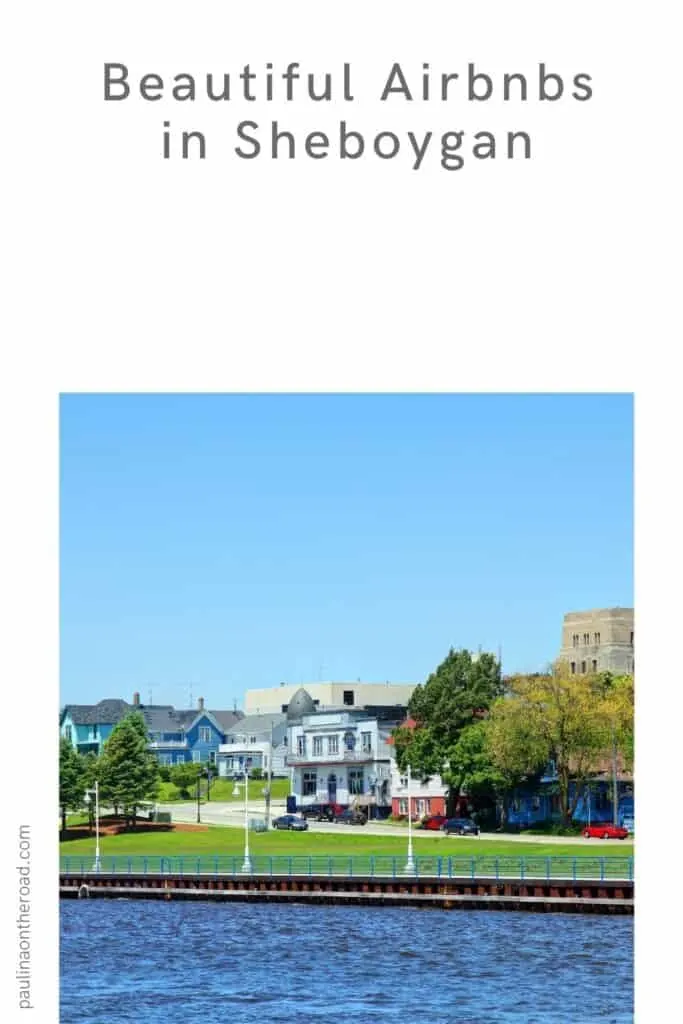 ---
Hola! I am Paulina, a fervent travelette who crossed the Atlantic Ocean by Boat HitchHiking. On my blog, you'll find all the tips to make the most of your holiday. Get ready to enjoy outdoor and sustainable travel like hiking, cycling or sailing. Let's hit the road together!