A guide to help you find cabins on Lake Superior Wisconsin for a lovely holiday
Do you dream to travel Wisconsin and spending a day or a weekend at the serene Lake Superior?
Have you ever imagined yourself sitting on the porch of your cabin, taking in breathtaking views of calm waters and open skies?
These charming cabins on Lake Superior Wisconsin can offer you everything you needed. My curated list features an array of sizes, from cozy one-bedroom retreats to spacious lakefront vacation homes.
Each unique retreat comes complete with all of the amenities needed for an unforgettable relaxation experience—perfect for family getaways, couples' retreats, or solo escapes.
Whether your ideal vacation involves 5-star dining experiences or self-guided fishing trips right out your front door, these cozy cabins offer something special for everyone!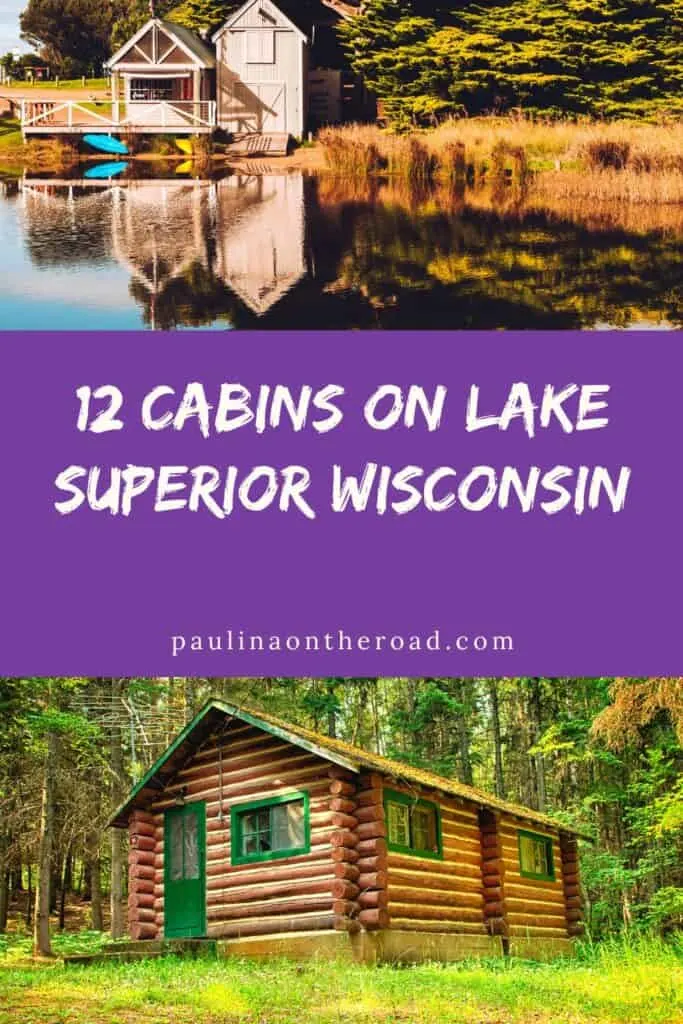 This blog is supported by you, dear reader. If you purchase through a link, I earn a small commission. As an Amazon Affiliate, I earn from qualifying purchases.
Psssst…!!?? You can't get enough of Wisconsin? Have a look at my other posts:
Top Cabins on Lake Superior Wisconsin
I recently found the perfect escape for a weekend away with my significant other – a remote cozy studio on the stunningly tranquil shores of Lake Superior.
This quaint little hideaway boasts a real wood-burning fireplace, a luxurious jacuzzi, and even a barbeque grill and fire pit outside for those warm summer nights.
Plus, if you're feeling like a swim, there's an outdoor pool just next door at Port Superior Marina.
If you're looking for romantic secluded cabins in Wisconsin, I highly recommend this spot for its breathtaking views and countless amenities.
And while you're here, check out the best resorts in Northern Wisconsin that will impress you for sure.
For anyone seeking a cozy place to stay in the peaceful and picturesque South Shore of Superior, renting a cabin with two bedrooms in Cornucopia is a great option to consider.
As someone who loves traveling with my furry friend, the fact that the cabin is pet-friendly is a big plus.
The beachfront location and wrap-around deck make it possible to soak up the stunning views of Lake Superior and breathe in the crisp northern air.
The gas grill and fire pit mean that cooking hot dogs with loved ones and roasting marshmallows for s'mores are the perfect ways to end an adventurous day.
The cabin's close proximity to Corny's beach, restaurants, taverns, and shops is a major perk, especially for those who want to venture out and explore the surrounding area.
Make sure you don't miss pet-friendly cabins in Wisconsin like this cozy cabin in Cornucopia.
As I stepped into the charming newly remodeled condo, I knew I had found the perfect place for a family or romantic getaway.
The private deck welcomed me with the promise of relaxation that would make my vacation unforgettable.
The condo has all the amenities I need with A/C to keep me comfortable, a flat-screen cable TV to unwind after a day of activities, WiFi to keep me connected, and a BBQ and fire pit for an outdoor cookout.
Two complimentary bikes were so thoughtful, and I can't wait to explore the surrounding forest on them.
The outdoor area with a barbeque grill, fire pit, and outdoor furniture surrounded by the forest is perfect for enjoying meals as a family or romantic evenings under the stars.
The condo's location is close to Port Superior and a heated outdoor swimming pool is fantastic. I can't imagine a better place to go on vacation than these secluded cabins in Wisconsin.
I cannot express how much I loved my recent stay at Pinecone Retreat!
Nestled between beautiful cabins along Lake Superior, the fully-equipped cabin I stayed in was pet-friendly, complete with a cozy living room fireplace that made me feel right at home.
The outdoor garden with fire pit and comfortable chairs provided the perfect setting for roasting marshmallows under the stars.
I was also thrilled to discover the indoor patio, which offered stunning views of the surrounding woods.
The location was ideal, just a short drive away from endless outdoor things to do in Northern Wisconsin and delicious local cuisine.
And let me tell you about Roman's Point – an absolutely dreamy hidden beach that was just a stone's throw away.
I highly recommend Pinecone Retreat for anyone looking for a relaxing and unforgettable getaway.
There is nothing quite like waking up to the sound of waves crashing on the shore and the cool breeze blowing off of Lake Superior.
The waterfront guesthouse that I had the pleasure of staying in was nothing short of breathtaking.
As I walked through the door, I was immediately struck by the cozy two-bedroom home, complete with a fireplace perfect for warming up on cooler evenings.
What's more, I was thrilled to find that my furry friend could join me, as the guesthouse was pet-friendly.
The house was fully equipped with everything I needed to make my stay as comfortable as possible, and I couldn't resist the lure of the outdoor fire pit and furniture, perfect for stargazing and marshmallow roasting.
With biking, hiking, motorsports, class one trout fishing, waterfalls, and XC ski trails nearby, there was never a dull moment during my stay in one of the quaint cabins on Lake Superior Wisconsin.
For a serene and beautiful getaway, look no further than this two-bedroom cottage near Herbster beach.
This spacious yet cozy retreat is perfect for family vacations or even couples and you can even bring your pet along since it's pet-friendly.
I was enamored by the waterfront location with sweeping views of Lake Superior—it truly felt like an oasis.
The cottage is modern and fully equipped with all the amenities I could want—including a gas grill for outdoor cooking sessions, flat-screen TVs in each room, free WiFi access, and even a Jacuzzi.
After long days exploring the beaches and trails nearby, it was relaxing to come home to this beautiful property.
If you're looking for romantic cabins in Wisconsin on Lake Superior, this should be at the top of your list!
Located just steps away from a private beach, Lake Superior Cottage is the perfect place to stay for an amazing lakeside getaway.
I was in awe at the beauty of this cottage when I entered—from its rustic yet modern interior to its luxurious amenities.
It had everything needed to make my stay truly comfortable and enjoyable, such as a gas fireplace, high-speed wifi, a fully equipped kitchen, and more.
But what made this cottage truly special was the outdoor space—a deck with breathtaking views of the river, an outdoor fire pit perfect for cozy nights under the stars, and even a BBQ grill for grilling dinners with family or friends.
The close proximity to Bayfield, ice caves, and Amnicon Falls also means that there are plenty of outdoor activities to keep everyone entertained.
If you're looking for luxury cabins in Wisconsin for a relaxing and breathtaking escape, cabins on Lake Superior Wisconsin like this cottage are your ideal choice!
Welcome to a cabin on Lake Superior, that is sure to take your breath away! With 21 acres and 600 feet of sandy beach waterfront, this private lakehouse is nestled in the secluded Bark Bay.
The cabin offers an idealistic retreat that is perfect for those who are looking for a sweet escape.
Whether you're traveling with your furry companion or you're an avid skier who loves to cross-country ski, this place has everything you'll need for a memorable stay.
In fact, you can take advantage of the 21 acres with your furry friend, explore the untouched winter landscape on cross-country skis or simply relax on the sandy beach amidst the natural beauty and calm surroundings.
Come and be captivated by the magic of the great Lake Superior, and discover what true serenity feels like at this private lakehouse, one of the best winter cabins in Wisconsin.
Some of the best lakes in Wisconsin are found up north, and Lake Superior is definitely among them.
If you're looking to experience the beauty of this majestic body of water, it's worth looking into log cabin rentals in Wisconsin.
Imagine waking up to the sound of the waves crashing against the shore, and heading outside to enjoy a cup of coffee on your deck overlooking the lake.
And when the sun starts setting, you'll have the perfect spot to enjoy a private firepit on the bluff. But what if it's chilly outside? No need to worry!
This cozy log cabin is heated by an electric and gas stove fireplace that will keep you warm and toasty.
Whether you're planning a romantic getaway or a family vacation, this private lakehouse has everything you need to make unforgettable memories.
For a truly unique and memorable experience, I highly recommend the Bayfield Fruit Loop Retreat.
Set on an idyllic location in Bayfield, this family-run cabin on Lake Superior offers all the comforts of home plus spectacular views of rolling hills and lush green forests.
The spacious house is fully equipped and has 2 huge panoramic windows and a cozy propane fireplace in the living room.
The large deck overlooking the lake is perfect for grilling out while taking in breathtaking views. And for those looking to explore the outdoors—you're in luck!
From biking trails and waterfalls nearby to snowshoeing, there are plenty of activities to keep you busy.
So don't hesitate—come for a stay at Bayfield Fruit Loop Retreat and discover the best that this incredible area has to offer!
Nestled in the tranquil Brickyard Creek, I found the perfect getaway cabin – Le Petit Chalet is the perfect escape for those seeking a private and cozy retreat surrounded by the beauty of nature.
With two stories, two bedrooms, and two bathrooms accommodating up to four people, this cabin offers plenty of space for a family or small group of friends to cozy up and unwind.
The fully stocked kitchen boasts an open space concept and a counter bar for all your cooking needs, while the screen porch is furnished for outdoor living and dining.
Located in proximity to the Living Adventure and the Madeline Island Ferry Line, you'll have plenty of adventure opportunities to explore the stunning Lake Superior cabins and cottages.
Come relax and unwind in this enchanting chalet and enjoy all the natural beauty it has to offer.
As a frequent traveler and lover of lake vacations, I have to say that the Washburn Beach House is one of the best lake cabins in Wisconsin.
The highlight of this cozy cabin is undoubtedly the large private sandy beach where kayaking and other water activities can be enjoyed.
And if you're looking for a stunning view of the lake, the deck with its table and chairs is the perfect spot to relax and take in the scenery.
The fully equipped kitchen also makes mealtime a breeze, and the electric remote-controlled fireplace with a heater adds to the cozy ambiance of the cabin.
Accommodating up to six people, this beach house is perfect for a family vacation or a group of friends.
My final thoughts on the best cabins on Lake Superior, Wisconsin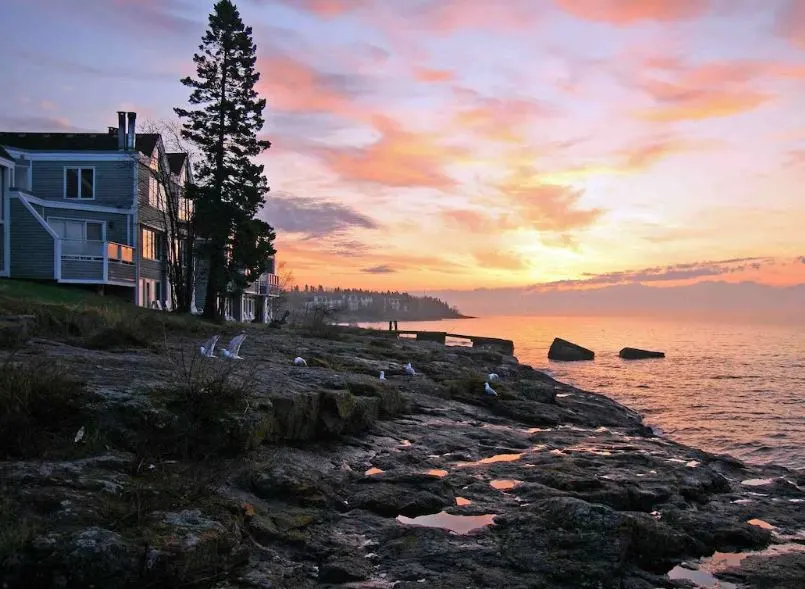 The experience of spending a weekend at one of the cabins on Lake Superior Wisconsin was an unforgettable one.
I was completely dedicated to my getaway and found myself coming back for more time after the weekend was over.
These cabins offer a unique, tranquil atmosphere that allows you to truly enjoy the natural beauty around you, while still having access to all the modern amenities you could desire (without losing that rustic charm).
Whether you're looking for a romantic getaway or a family outing – there's something here for everyone, and I highly recommend that anyone who is considering it should give one of these places a try.
There is absolutely nothing quite like it – feeling connected to nature and being able to rest deeply in peace. Goodbye Lake Superior Wisconsin; until next time!
FAQ about the best cabins on Lake Superior Wisconsin
What are the best pet-friendly cabins on Lake Superior?
Some of best pet-friendly cabins on Lake Superior are the Waterfront Guesthouse on Lake Superior, Cabin in Cornucopia, or Pinecone Retreat.
What are the best secluded cabins on Lake Superior?
Some of the best secluded cabins on Lake Superior are Hauser's Bayfield Cabin, Island View Lodging- Bayfield, or Woodside Cottages of Bayfield.
What are the best Northern Wisconsin Resorts on Lakes
Some of the best Northern Wisconsin Resorts on Lakes are The Pointe Hotel & Suites, Minocqua, The Lodge at Crooked Lake, Siren, or Eagle Waters Resort, Eagle River.
---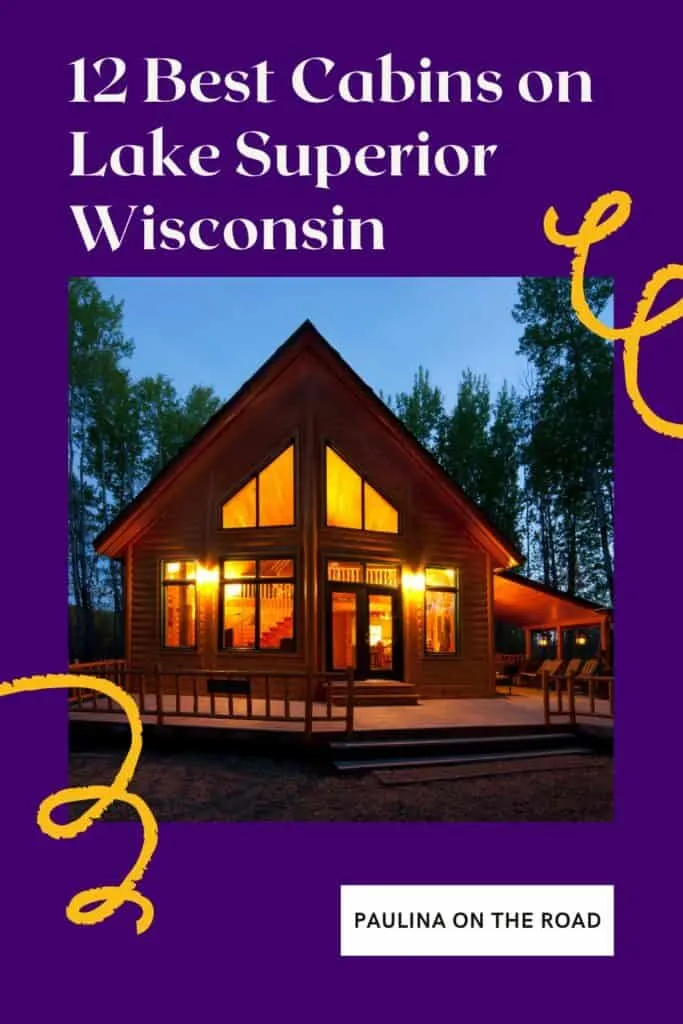 ---
Hola! I am Paulina, a fervent travelette who crossed the Atlantic Ocean by Boat HitchHiking. On my blog, you'll find all the tips to make the most of your holiday. Get ready to enjoy outdoor and sustainable travel like hiking, cycling or sailing. Let's hit the road together!