Guide to visiting Door County in September, including the top things to do in Door County in September and the weather
Door County in September is the first month in fall when the beautiful orange canopy reflects off of Lake Michigan, and the days draw in shorter.
There are many things to do in Door County in September as you wear your coziest sweater and prepare for the shorter days.
This article helps you to plan your September in Door County with great events and places to visit as you travel Wisconsin.
The weather isn't always great at this time of year, so my selected Door County activities in September combine indoors and outdoors so you can have a great time, whatever the conditions.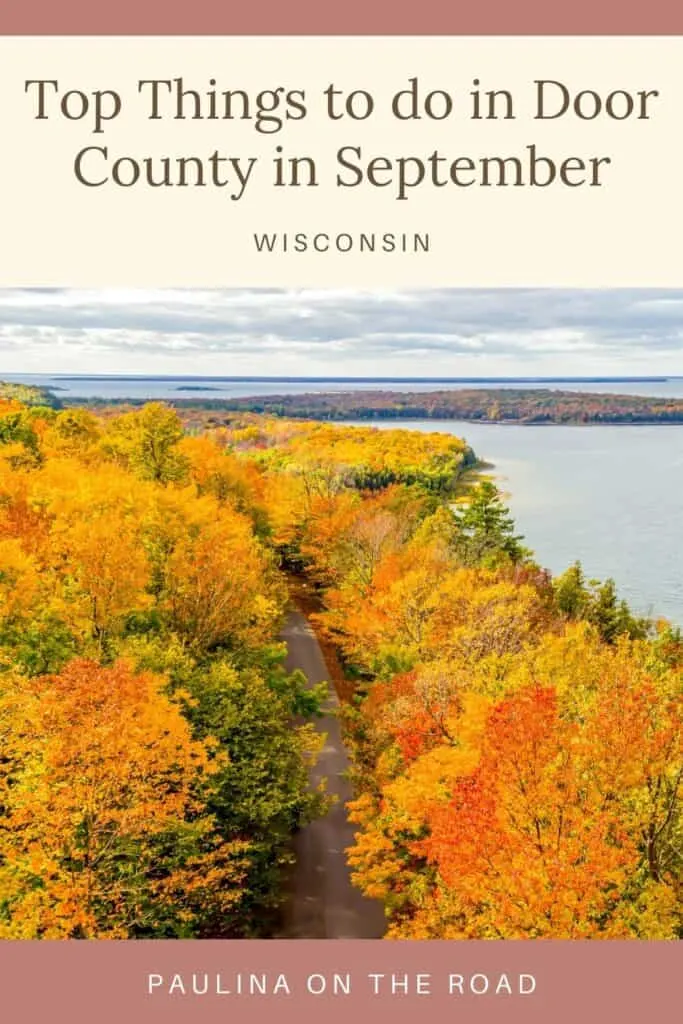 Pssst…!!?? You can't get enough of Wisconsin? Have a look at my other posts:
This blog is supported by you, dear reader. If you purchase through a link, I earn a small commission. As an Amazon Affiliate, I earn from qualifying purchases.
Top resources to travel Wisconsin
✎ Plan the ultimate Wisconsin road trip (no backtracking!) with the Perfect Wisconsin Road Trip itinerary – Buy now for less than 12$

✈ Find the best hotel deals in Wisconsin with Trivago

➳ Book vacation rentals in Wisconsin with VRBO

✔ Book tours in Wisconsin with Viator

☘ Get the best discounted outdoor gear (outlet) at REI.com

$ Get Wisconsin hiking guides and maps at REI.com

✎ Never leave without travel insurance. I get mine at SafetyWing. It is easy to set up, cheap, and reliable.
Overview: Top 3 Things to Do in Door County in September
Check out Harvest Fest in Sturgeon Bay
Attend Autumnfest in Bailey Harbor
Enjoy Labor Day Weekend
Top 10 Things to Do in Door County in September
1. Harvest Fest in Sturgeon Bay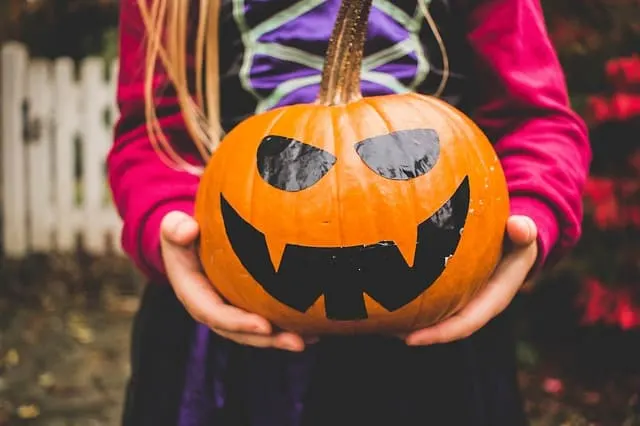 Harvest festivals have been celebrated in September and October around the world for centuries.
Door County autumn is ushered in with the Harvest Fest at Sturgeon Bay, which has swelled into a day of countless activities to keep you and your family entertained.
You can find the Harvest Fest on Third Avenue, with events starting from 8 AM.
These include a range of traditional Door County fall activities with a European influence, including the "Tapping of the Firkin," a stein-holding contest, and a range of other entertainment.
This is also one of the best events for art lovers in Door County in September. It's also one of the best fall festivals in Wisconsin.
Each year, a street art project comes to Sturgeon Bay, and you can participate in an auction if you want to bring any of the pieces you like into your home.
Book the best tours of Door County
2. Washington Island Literary Festival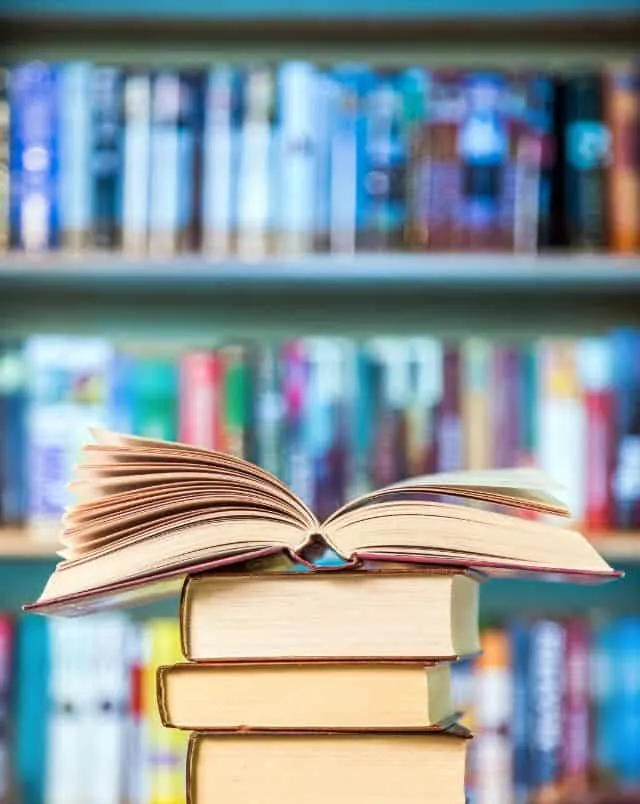 With a stunning setting in Lake Superior, one of the best lakes in Wisconsin, Washington Island has always been an inspirational place for literary figures.
You can get a view into this community if you are in Door County in September.
During this weekend in late September, you can attend a wide range of exciting literary and creative spaces and events.
Thursday and Friday are ideal times to work on your writing skills while you are enjoying Door County in the fall with a creative lab and multiple writing workshops.
Then Saturday is a great opportunity to catch up with your favorite authors with lots of panel talks to attend.
Book the best vacation rentals on Washington Island
3. Door County Lighthouse Festival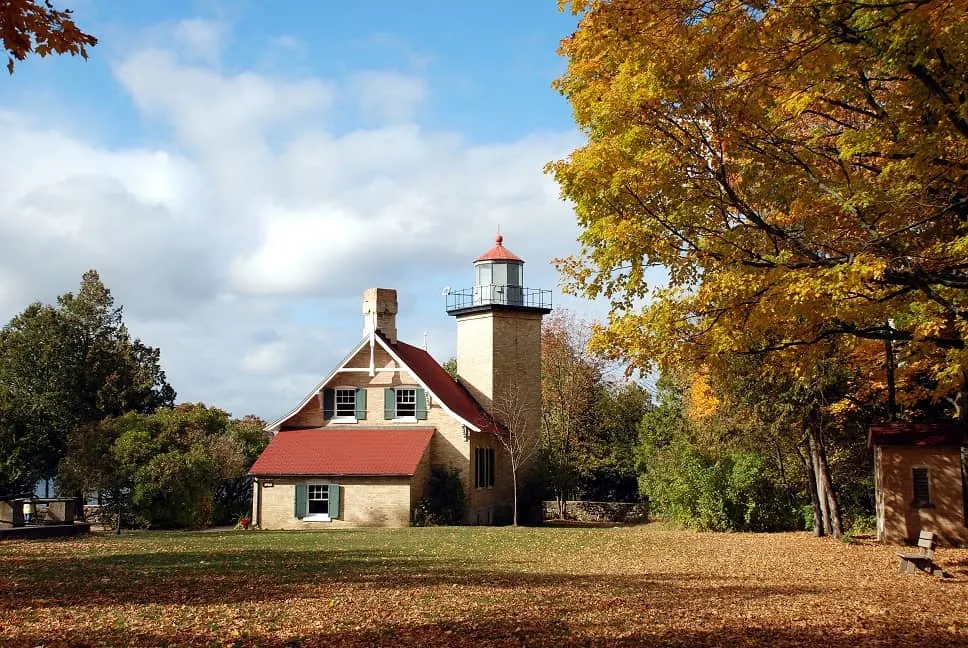 As a peninsula on Lake Superior, Door County has always been a treacherous location for ships who have occasionally run aground here.
To help them stay off the coast, 11 beautiful lighthouses were constructed, and now the county has some of the best lighthouses of Wisconsin.
The Door County Lighthouse Festival, run across a weekend in late September, gives you a unique window into this heritage and access to lighthouses usually closed to the public.
You can enjoy air, land, hiking, or boat tours to allow you to visit all of them in a single day.
Whichever type of tour you choose, experiencing the lighthouses is essential for your Door County September adventure.
This is yet another event held in Door County in September that supports a great cause. Profits from your ticket will go towards the Door County Maritime Museum & Lighthouse Preservation Society.
Without the work of this charity, the lighthouses of Door County would not be the iconic landmarks that they are today.
4. Taste Door County's Fruits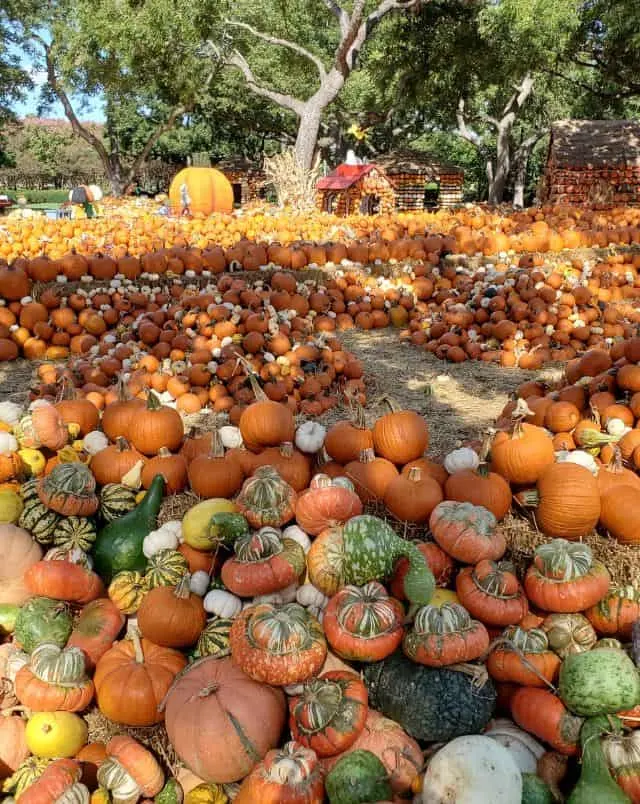 Door County in September is an oasis for fruit and vegetable lovers. The County is known for the huge number of orchards and farms overflowing with fresh produce during harvest season.
The farmers love to sell to tourists, and you will see plenty of roadside markets for a chance to taste something new.
The most common produce to find include pumpkins, gourds, apples, and more, and these will taste fresher than you have ever experienced before.
Some of these markets go beyond food to bring you traditional Door County activities in September. This includes hayrides and corn mazes, which your children will surely love.
5. Relaxed Hike-Camping
This location is full of campsites packed to the rafters during summer when people travel to Door County from all over America.
However, Door County in September might be the best time for you to camp in the area if you love hiking/
Hiking in general is one of my favorite things to do in Door County no matter the time of year.
There are plenty of hike-in or backpacking campsites for you to settle into after a hard day's walking, and these will be far quieter in the off-season.
With a less densely packed campsite, you will feel like you are truly sleeping under the stars and can peacefully rest in preparation for your next day's walking.
Another reason to include hike-camping when you visit Door County, Wisconsin, in September is that the weather will be much cooler.
Cooler weather means the available hikes in Door County will be less physically demanding, and you will have more energy to take in your stunning surroundings.
However, remember that the Door County weather in September can be unpredictable. Bring waterproof layers and a thick sleeping bag to keep you warm and dry.
Book an RV for camping in Door County
6. Enjoy Labor Day Weekend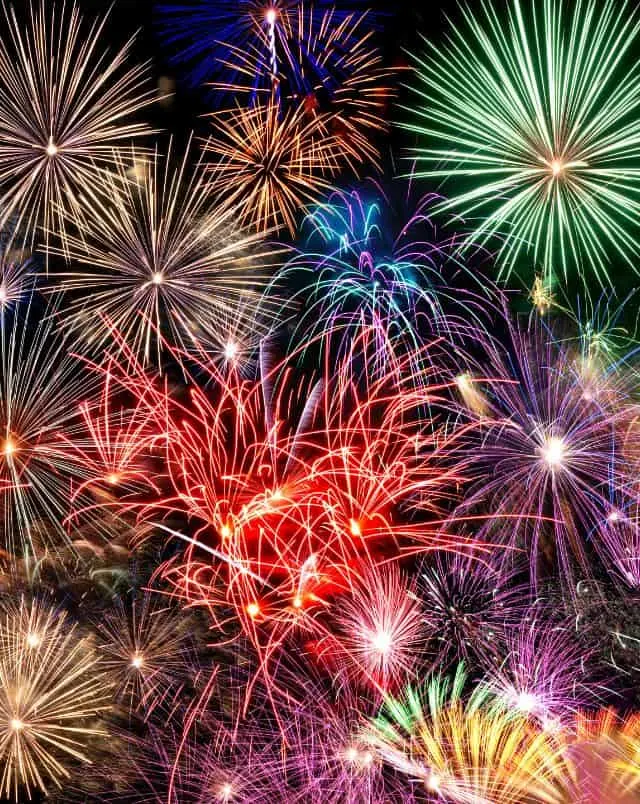 Labor Day weekend is the perfect time to enjoy Wisconsin fall getaways, and there is no better time to enjoy festivals in Door County in September.
A great option is Mariana Fest which runs from 10 AM to 5 PM every day across the Labor Day weekend.
This is the perfect event for the whole family, including food and drinks, arts and crafts, and an unforgettable fireworks show over the bay.
If you want to connect with Door County's heritage, this is also one of the great September events in Door County, Wisconsin.
Make sure you take a look at the itinerary and don't miss the vintage boat show, where you can learn more about the vessels that have carried Door County residents across Lake Superior for generations.
7. Join the Hey Hey 5k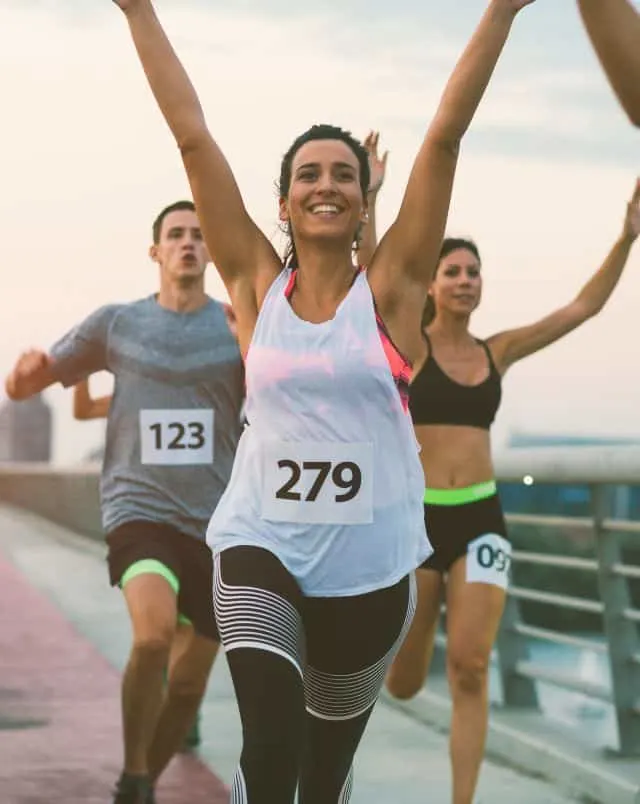 Door County is known for producing fantastic craft beer, and Door County Brewing Co., based in Baileys Harbor, is one of the best.
In late September, they hold the Hey Hey 5k, named after the favorite saying of the iconic figure in Baileys Harbor Freddie Kodanko.
Kodanko is better known in Baileys Harbor as the Polka King and was loved as a grassroots Polka DJ throughout his lifetime.
This race finishes at Door County Brewing Co.'s dedicated tap room, where you can try their fantastic range of signature beers. It's one of the best breweries in Wisconsin.
All participants get a free Hey Hey 5k branded pint glass, an orange Hey Hey 5k official t-shirt, and a beer on the house.
If you want to keep trying beers after the 5k has finished, the tap room will stay open until late.
Although it is beer-themed, this is still one of the great Door County events September can offer if you are bringing your family. Kids entry for under-15s is half price.
8. Autumnfest in Bailey Harbor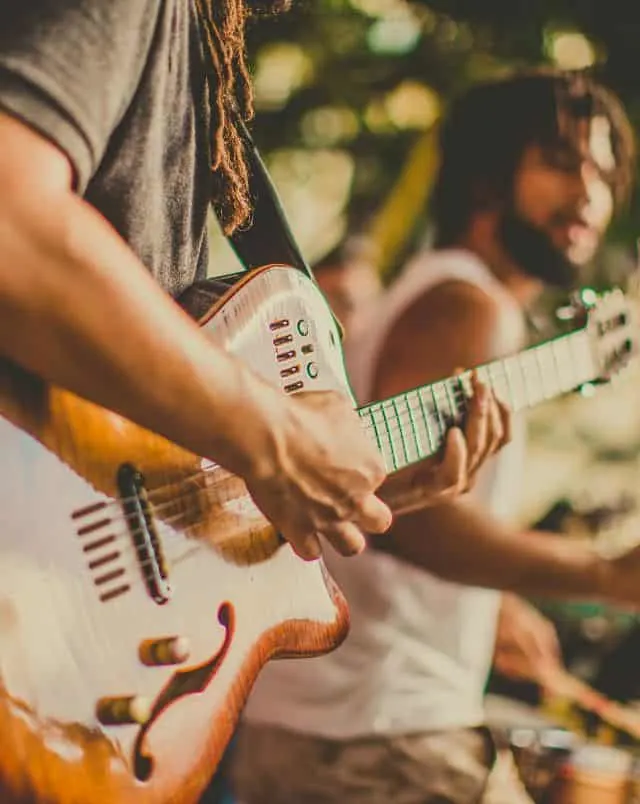 The Hey Hey 5k fits perfectly with Autumnfest, held on the same day and one of the best September events in Door County, WI.
This is a full day of entertainment with plenty of arts and crafts stalls where artisans sell traditional Door County products.
You can also enjoy live music in Kendall Park with a lineup of the most loved local artists at one of the best fall activities in Wisconsin.
Autumnfest is also partnered with the Pin-Ups and Pistons Car Show.
Young and old family members will surely love viewing the cars, hot rods, motorcycles, trucks, and emergency vehicles dated from 1956 to the present day.
If you bring your own antique vehicle, you can also compete for a range of awards, including the prestigious Louis Oldenburg Best Motorcycle.
9. Ride Sportive Cycling Events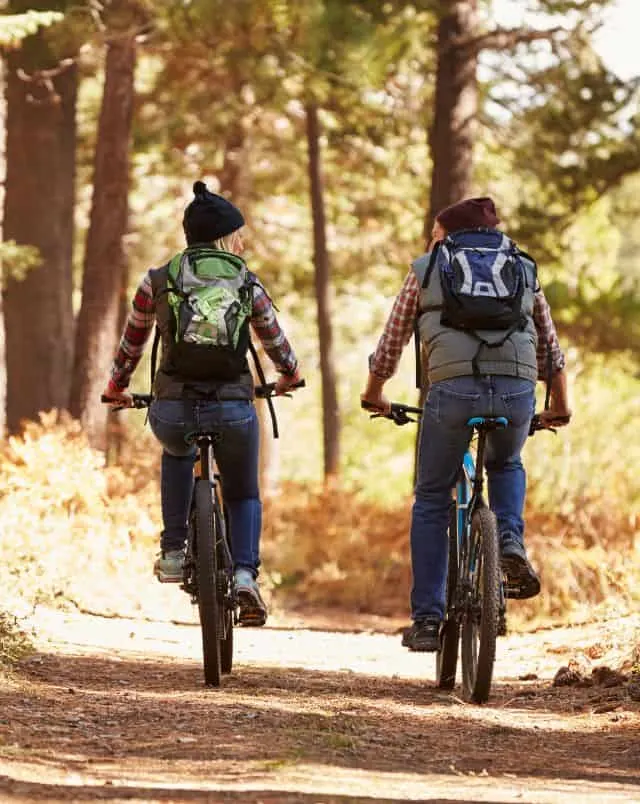 Much like hiking in Door County, cycling is immensely popular during the fall as riders can benefit from lower temperatures.
Sportive cycling events are a great chance to challenge yourself against your friends and the clock.
I considered several such events on my list of things to do in Door County, Wisconsin, in September. However, the top of the pile is undeniably the Peninsula Century Fall Challenge.
There are four rides to choose from – 25 miles, 50 miles, 62 miles, and 100 miles – each of which starts and finishes at Sister Bay's Waterfront Park.
Six hundred riders take part each year, and each route allows you to ride through scenic forests, stunning shorelines, and orchards that seem as old as time.
After you finish your long day in the saddle, all riders can enjoy a post-ride meal provided by some of the best local caterers.
There are also lots of great Door County bike trails for all experience levels where you can enjoy less competitive cycling.
Buy the best maps of Wisconsin trails
10. Find Peace at the Edgewood Orchard Galleries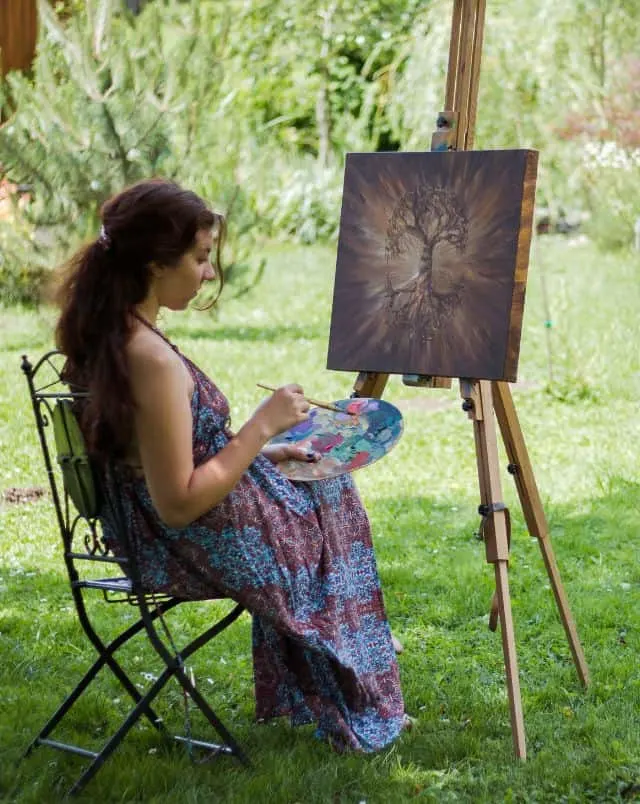 With so many Door County things to do in September, you will definitely need a break from your busy schedule.
The perfect place to take a moment to relax is Edgewood Orchard Galleries. This third-generation family-owned gallery has been named Door County's "Best Art Gallery" for the last decade.
This gallery brings together work from 150 artists in a stunning woodland setting. Unforgettable paintings, jewelry, sculptures, wood and clay, and glasswork can be seen.
Although this is one of the best things to do in Door County September offers, the Edgewood Orchard is open from May to October each year.
Therefore, if you visit in September, the gallery will just have started to wind down for the year but will still have plenty going on compared with October.
Weather in Door County in September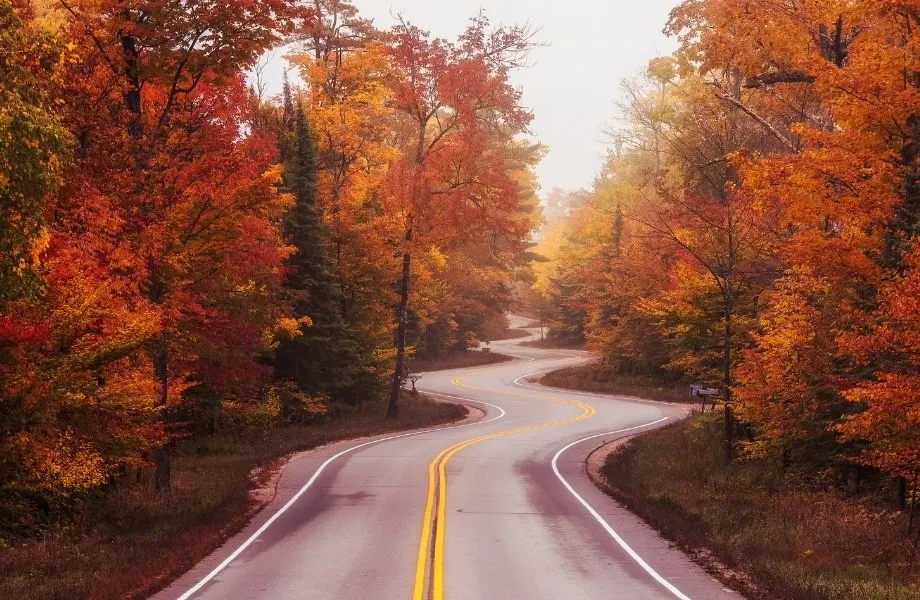 The weather in Door County in September makes for perfect sightseeing. You can expect highs of 71°F and lows of 52°F.
Most days, you will be warm enough with just a light jumper, and it will rarely get hot enough to stop you from being outside.
This temperature lets you take in as many Door County things to do September offers as possible.
Moreover, the climate at this time of year brings an otherworldly beauty to Door County, further enhancing Door County attractions in September.
Fall brings orange into the canopy of the Door County forest. The best time to catch these colors is late September or early October, but you can see the trees in transition whenever you visit the area.
Door County in September: Best Places to Visit
Sturgeon Bay certainly has the majority of the famous Door County events in September, including the fantastic Harvest Fest.
It is the largest city in Door County, with a population of 9,600.
While this city is packed with tourists in the summer, September is the off-season, and you will be able to become more connected with the locals during your visit.
However, there are also plenty of quaint and charming villages to stay in, which will allow you to get closer to nature and forests that have brilliant colors during the fall.
Ephraim (population 290) is your gateway to Peninsula State Park and is the quintessential charming Door County village.
If you choose to stay somewhere like Ephraim, make sure that you hire a car so you can properly access the Door County attractions in September.
Meanwhile, the most convenient town to act as a base for your vacation is Egg Harbor which has unrivaled access to the best September events in Door County.
This is because it is the home to Door County Trolley, which offers fantastic trolley scenic tours across the County.
Buy the ultimate road trip itinerary for Wisconsin
---
Door County in September is unmissable if you are heading to fall in Wisconsin.
You will never get bored with the Door County events September can offer, including literary, beer, and car and motorbike festivals.
When planning your vacation itinerary, make sure that you properly consult my list of things to do in Door County in September so that you can get everything perfect for your needs.
Whatever you choose to do, your whole vacation will happen in the backdrop of the stupendously beautiful fall colors in Wisconsin.
Door County offers the very best as the recipient of multiple awards through the years for having the best fall colors in the US.
The most important thing about any Door County activity is to remember to look up and don't forget to check out the best resorts in Door County on the water.
---
Short FAQs About Door County in September
Is September a good time to visit Door County?
September in Door County is a great time to visit! You will avoid the crowds of summer but still get to enjoy plenty of seasonal activities and events.
What is the weather like in Door County in September?
The weather in Door County in September is very pleasant and great for visiting the area. You can expect highs of 71°F and lows of 52°F.
How long to spend in Door County in September?
A few days will let you enjoy many of the top fall activities in Door County. But if you can, try to visit for a least a week!
---
Before You Go: Top Tips for your Trip
---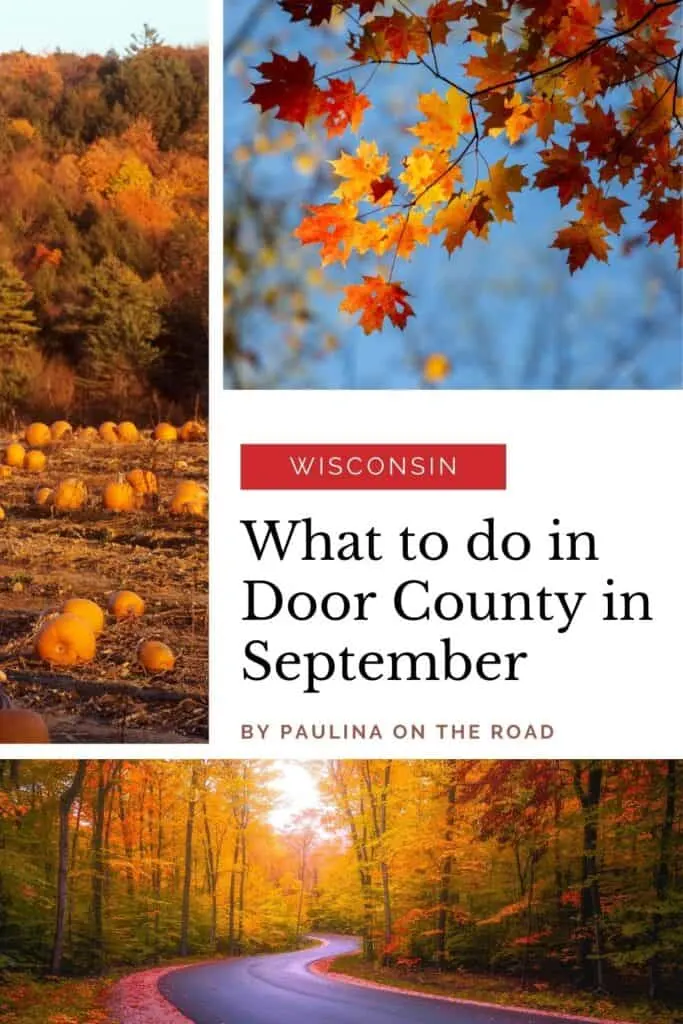 ---
Hola! I am Paulina, a fervent travelette who crossed the Atlantic Ocean by Boat HitchHiking. On my blog, you'll find all the tips to make the most of your holiday. Get ready to enjoy outdoor and sustainable travel like hiking, cycling or sailing. Let's hit the road together!